Hong Kong is a city famed for both its modern metropolitan setting and its deep ties to its cultural roots. This is often reflected in the wide array of street markets that one can find throughout the city and their different ambiences.
Yes, they're often noisy and chaotic but for me, street markets are the perfect place to embrace the local culture. It's where you'll find unique souvenirs and get to soak in the atmosphere as locals peddle wares in their local dialects.
To experience the full spectrum of street market culture that Hong Kong has to offer, here's a handy list of 18 must-visit street markets in Hong Kong, categorized by their locations!
Street markets in the Kowloon Peninsula:
1. Ladies' Market
The Ladies' Market is possibly the most popular street market in Hong Kong. With over 100 stalls stretching over a kilometre, this is the best place to hunt for a bargain on unique souvenirs, imitation fashion goods, and quirky accessories. Make sure to sharpen your haggling skills before you visit because most merchants here will be up for a spirited bargaining session with customers!
And while the market itself does not sell any food items, its surrounding area is filled with some the best restaurants and eateries in the Mong Kok area, so you can fill your tummy after a great day of shopping!  
Location: Tung Choi Street, Mong Kok
Nearest MTR Station(s): Yau Ma Tei and Mong Kok
2. Temple Street (Night) Market
As the name suggests, this lovely night market is more cultural compared to the Ladies' Market. As the sun sets, the street is transformed into a night bazaar filled with stalls selling jade ornaments, tea ware, and antique trinkets.
Bearing the unmistakable ambience of a traditional Chinese market, it's not odd to find opera singers and fortune tellers here either. In fact, Temple Street Night Market has been featured as the backdrop for many Hong Kong dramas and movies thanks to its cultural significance! So, you'll definitely not want to miss visiting this gem of a night market!
Location: Temple Street, Yau Ma Tei
Nearest MTR Station(s): Yau Ma Tei (Exit C) and Jordan (Exit A)
3. Yau Ma Tei Jade Street and Market
Symbolizing virtues such as longevity, fortune, and purity, jade was once highly sought after as a jewel and even till this day, it remains a prestigious gift to be awarded to others. The jade market in Yau Ma Tei offers a wide range of jade ornaments with varying prices according to the quality of the jade.
What's more, the infamous Jade Street is just right outside the actual market! Located along a strip of Canton Road, Jade Street is filled with numerous jade stores peddling the precious stone. Even if you're not planning on buying anything, just strolling through Jade Street is enough to give you a sense of the cultural significance of jade within Hong Kong's Chinese community,
Location: Junction of Kansu Street and Battery Street, Yau Ma Tei
Nearest MTR Station(s): Yau Ma Tei (Exit C)
4. Flower Market
The Hong Kong Flower Market in Prince Edward is the largest market of its kind in the city and attracts sizable crowds every day. Boasting an incredible variety of exotic plants and flowers, the Flower Market becomes a bustling cauldron of activity in the weeks leading up to the Lunar New Year.
Many families throng the area in search of auspicious and luck-bringing blossoms to adorn their houses with in preparation for the festive celebrations. While you might not be looking to buy anything, it's worthwhile to just visit the market and enjoy the kaleidoscope of colours and aromas that fill the area!
Location: Flower Market Road, Prince Edward
Nearest MTR Station(s): Prince Edward (Exit B1)
5. Yuen Po Street Bird Garden
Designed to look like a traditional Chinese Garden, the Yuen Po Street Bird Garden is more of a cultural attraction that it is an actual street market. While you will find peddled wares such as bamboo bird cages, porcelain water dishes and even some exotic birds, the true attraction of this place lies in the people.
Here, you get to witness the traditional Chinese hobby of songbird preening: bird owners gently feeding and doting on songbirds to draw a tune out of them. The visually pleasing garden setting adds to the serenity of the place and helps you forget the hustle and bustle of city life.
Location: Yuen Po Street, Prince Edward
Nearest MTR Station(s): Prince Edward (Exit B1) – roughly 15 minutes walking time
6. Goldfish Market
It may seem that people in Hong Kong have an odd fetish for the sale of small animals but I assure you, there's a legitimate cultural rationale for the Goldfish Market.
These underwater pets are regarded as essential feng shui elements that bring good fortune. As such, business is blooming here with many stalls raising many different, colourful species of goldfish, some of which may fetch outrageous prices!
While it's unlikely that you'll bring home a fish from Hong Kong, it is still a worthwhile experience to walk through the market and enjoy the day-to-day proceedings in the bustling area.
Location: Tung Choi Street (North), Mong Kok
Nearest MTR Station(s): Prince Edward (Exit B2)
7. Shanghai Street
It's no surprise that with a name like Shanghai Street, this area in the Yau Ma Tei district is famous for traditional Chinese cuisine. But while the food here is unbelievably good, Shanghai Street is also THE place to visit if you're in the market for proper Chinese cooking utensils.
Featuring accessories such as traditional utensils and chopping boards, Shanghai Street offers kitchenwares that are affordable and of reasonable quality. One item many tourists look out for is the traditional bamboo steam basket used to make delicious dim sum! So, all you cooking enthusiasts, make sure to leave some extra space in your luggage!
Location: Shanghai Street, Yau Ma Tei
Nearest MTR Station(s): Yau Ma Tei (Exit C)
8. Apliu Street Electronics Market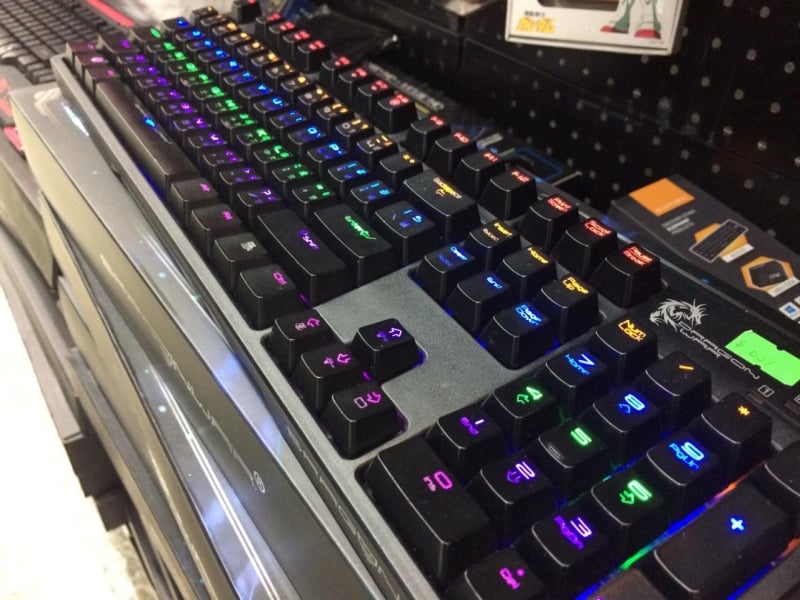 Looking for electronic goods on a bargain? Then head on over to the electronics flea market on Apliu Street! You'll be able to find a satisfyingly large variety of new and secondhand electronics such as phones, computer accessories, cameras, and more for bargain prices!
Additionally, you can also visit the Golden Computer Arcade (Sham Shui Po MTR Exit D2) for even more amazing gadgets and gizmos to choose from! Any self-respected techno-geek will surely want to pay this area a visit. Just make sure you don't rush into a purchase because you'll more than likely find something even more interesting a few stores down!
Location: Apliu Street, Sham Shui Po
Nearest MTR Station(s): Sham Shui Po (Exit C2)  
9. Granville Road (Fashion)
If you love shopping and fancy yourself as an ardent fashionista, then be sure to check out Granville Road in the Tsim Sha Tsui area.
Lined on both sides with branded boutiques selling budget to mid-range priced clothing, Granville Road is one of the best places to visit for an affordable fashion shopping spree! And because Hong Kong Polytechnic University (rated one of the best design schools globally) is nearby, you'll also be able to find many up and coming designer boutiques selling their own designs (especially in the Rise Shopping Arcade)!
What more can I say? Go ahead and shop till you drop!
Location: Granville Road, Tsim Sha Tsui
Nearest MTR Station(s): Tsim Sha Tsui (Exit B2)
10. Fa Yuen "Sneakers" Street
Since the 1980s, Fa Yuen Street has been one of the places most frequented by Hong Kong youth. Why? Because the entire street is lined with shops selling the latest sneakers and shoes!
Featuring branded footwear such as Nike, Reebok, New Balance and more, Fa Yuen Street is the epitome of a (shoe) shopping paradise! If you're looking for a new pair of kicks, this is where you'll most likely find a pair that perfectly suits you!  
One thing to note is that prices may sometimes vary for the same item, so make sure to survey all the shops first to get extra value for your money!
Location: Fa Yuen Street, Mong Kok
Nearest MTR Station(s): Mong Kok (Exit D3)  
11. Sino Centre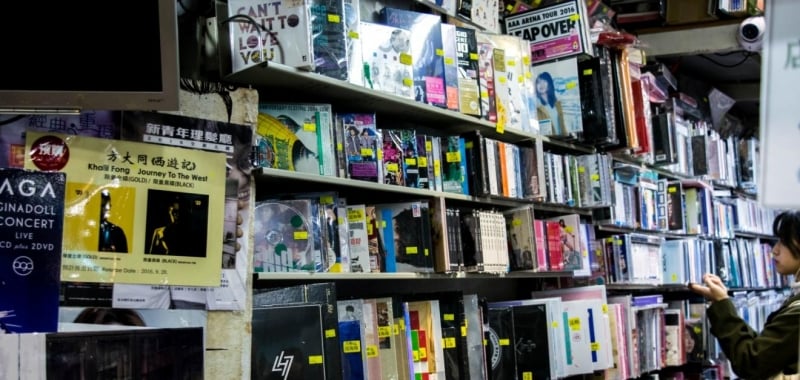 Okay, the Sino Centre isn't exactly a street market per say, nor is it even a street! But I just had to feature it! Located on Nathan Road between the Mong Kok and Yau Ma Tei MTR Stations, the Sino Centre is a four-storey East Asian Pop Culture flea market!
You'll be able to find the latest (and some vintage) music albums (Cantopop, J-pop, K-pop etc.), Anime figurine collectables, Manga, official K-pop merchandise, quirky pop culture memorabilia and more!
It's one of my favourite places to visit and I never leave empty handed! Pop culture fans MUST visit this place, I insist!
Location: Nathan Road, Mong Kok
Nearest MTR Station(s): Mong Kok (Exit E2) and Yau Ma Tei (Exit A2)
Street markets in Hong Kong Island::
12. Chun Yeung Street Wet Market
As more international retail chains and supermarkets invest in Hong Kong, traditional markets have gradually disappeared. This makes places like the Chun Yeung Street wet market even more valuable in the midst of Hong Kong's rapid modernisation.
The streets here are lined with stores selling fresh produce, from fruits and vegetables to various cuts of meat and seafood! It is one of the few places in Hong Kong where you can still witness traditional market business, offering you a vivid window into how things used to be in the past!
It can get pretty crowded during the weekends but then again, maybe that's exactly when you should pay the area a visit!
Location: Chun Yeung Street, North Point
Nearest MTR Station(s): N/A. Instead, take the tram towards the North Point Terminus at Causeway Bay
13. Li Yuen Street Market a.k.a. The Lanes of Central
Located in the middle of Hong Kong's modern financial district, this traditional Asian bazaar may seem oddly out of place at first glance but it is a throwback to a time when shopping was done outside the confines of tiled floors and air-conditioned buildings.  
On both the eastern and western stretches of Li Yuen Street, you can find a wide variety of Oriental-inspired fashion wear and accessories, including tailored garments and raw silk and leather products.
As with most street markets in Hong Kong, be prepared to talk your way into a bargain if you're on a budget!
Location: Li Yuen Street (East and West), Central
Nearest MTR Station(s): Central (Exit C), walk towards Sheung Wan
14. Gough Street
The area where Gough Street is located used to be where Hong Kong Island's European and Chinese communities used to live during the colonial era. Because of this, the area looks and feels different compared to the rest of Hong Kong.
This is best reflected in the designer homeware that is sold here. You will find lots of unique, chic household items on sale in this area, most of which bear unmistakably colonial vibes. Even if you're not looking to buy a new set of dining utensils (you probably aren't), Gough Street is worth a visit simply for its slow-paced, colonial era vibe!
Enjoy your lovely stroll!
Location: Gough Street, Sheung Wan
Nearest MTR Station(s): Sheung Wan (Exit A2)  
15. Cat Street
Antique lovers, you'll want to mark this down on your list! Located on Hollywood Road, Upper Lascar Row (popularised as Cat Street) is where you'll find a healthy load of antique furniture, trinkets and souvenirs, some of which date back to the Ming Dynasty!
This is also where you'll want to head to if you're in the market for some exquisite antique jade ornament, handmade wood carvings and handicraft, calligraphy, silk or any other antique item that you fancy!  
Cat Street may be a little difficult to find on your first visit, so if you ever feel lost, just look for the Central Mid-Level Escalators and ride it towards Hollywood Road.
Location: Hollywood Road, Sheung Wan
Nearest MTR Station(s): Central (Exit D2)
16. Dried Seafood and Tonic Food Street
Dried seafood is quite a common ingredient in Chinese cuisine (Kailan stirfry with crispy salted fish is love) and in Chinese medicine. While you'll find many traditional medicinal shops in Hong Kong, the bulk of the trade can be located along a stretch on Des Voeux Road West.
From premium ingredients like abalone and dried scallops to the truly bizarre such as dried snakeskin and black moss, the area is a cauldron of activity, especially during Chinese New Year, when families shop for premium ingredients for their new year dishes!
And the best part? Packaged dried food items are probably much easier to bring home compared to flowers, goldfish, and songbirds!
Location: Des Voeux Road West, Sheung Wan
Nearest MTR Station(s): Sheung Wan (Exit A2)
17. Ko Shing Street
Not far from the Dried Seafood Market is Ko Shing Street, which specialises in traditional Chinese herbal remedies.
The employees in shops selling these remedies on Ko Shing Street have highly-esteemed reputations for being extremely knowledgeable. In some of these stores, people arrive early in the morning for a consultation with the resident physician, to the point where lines extend out into the streets!
While you probably won't be on the lookout for medicinal herbs or a healing tonic, you could also shop for health items such as ginseng and birds' nest here to bring home as souvenirs! I hear they're pretty healthy!
Location: Ko Shing Street, Sheung Wan
Nearest MTR Station(s): N/A. Take the tram towards Kennedy Town from Central and alight at Eastern Street. From there, walk towards Des Voeux Road and then to Ko Shing Street.
18. Tai Yuen Street
They (literally) don't make toys like they used to. For those born in the early 80s, a walk through Tai Yuen Street will likely bring you a surge of nostalgia as you come into contact with toys from a time long forgotten!
Of course, you'll also find modern toys (like fidget spinners) but the main attraction here are the vintage toy collectables from the late 80s and 90s. If you know of anyone who loves toys and who were born during these times, getting them something from Tai Yuen Street will surely be an extremely meaningful gesture!
Location: Tai Yuen Street, Wan Chai
Nearest MTR Station(s): Wan Chai (Exit A3)
Explore away!
And there you have it! 18 amazing "street markets" in Hong Kong to visit and really get into the cultural atmosphere of Hong Kong's street market scene! So with that, the only thing left to do is to pack up, make a list of things to buy/see, and it's off to Hong Kong to explore the street markets!