Bali is one of the go-to destinations of beachlovers. It's an island after all. But sometimes, deciding which beach to prioritise can be frustrating. So, to save you from further research and possible headache, here's our list of must-visit beaches in Bali that you shouldn't dare miss during your trip. It's going to be easier to narrow down your choices from here!

Also read: Top 20 Fun & Free Things to Do in Bali
1. Amed Beach
If you've heard of Mt. Agung, then you've probably heard about Amed Beach, too. The beautiful volcano is just behind the Amed beach. An excellent spot for snorkelling, the beach also prides its underwater playground with historical shipwrecks. No wonder that it's a popular destination among divers visiting Bali.
Address: Tulamben Village, Kec Kubu, Karangasem, Bali
2. Atuh Beach
Reaching the Atuh Beach is not easy. You have to take a long walk from your car to the entrance then go downhill to get to the beach. But don't worry because the view is worth it. It's so breathtaking but we advise you not to walk while taking photos. You have to be careful, or you might fall from the private path. Also, try to schedule going to the beach when the sun isn't too hot. It may be pretty challenging especially if you don't have an active lifestyle.
Address: Penida, Nusa, Pejukutan, Nusa Penida, Kabupaten Klungkung, Bali
3. Balian Beach
Whether or not you're fond of surfing, Balian beach is worthy to be on your list. Balian is also famous for those who would like to relax, do yoga, and join meditation retreats.
Address: Lalanglinggah, West Selemadeg, Tabanan Regency, Bali
Also read: Eat, Pray, Haggle in Bali: My 5-Day Solo Trip on a Budget
4. Canggu Beach
You can find the Canggu Beach, between Seminyak and Tanah Lot temple. Canggu is Bali's expatriate neighbourhood, and a lot of surfers come to visit the black sand beach as well.
Address: Jl. Batu Bolong, Canggu, Bali
5. Crystal Bay
If you're touring around Nusa Penida, you might have included visiting the Crystal Bay in your itinerary. Don't forget to bring at least your snorkelling gear. Other tourists go diving here to have close encounters with large fish like Mantas or the Oceanic Sunfish called Mola Mola.
Address: Sakti, Nusa Penida, Klungkung Regency, Bali
Also read: The Ultimate 4-Day Bali Itinerary: Things to Do and Where to Eat
6. Dream Beach
Dream Beach is a stretch of white sand in Nusa Lembongan. It is pretty small and enclosed with cliffs. There are bars and restaurants in the area because a lot of tourists visit this beach. So, if you want to enjoy the beach all to yourself, try going early in the morning before 10am when it's much quieter. Dream Beach is also the usual stop for those who wish to see the Devil's Tears to watch the sunset.
Address: Nusa Lembongan, Jungutbatu, Nusa Penida, Kabupaten Klungkung, Bali
7. Echo Beach
If you are interested in surfing, Echo Beach is a must-visit for you. The black sand beach is also great for sunset viewing, that's why most restaurants in this area open later in the afternoon. You will love how the beach looks well kept because of the combined efforts of the surfing schools who do regular cleanups in the area.
Address: Jalan Pura Batu Mejan, Canggu, Kuta Utara, Canggu, Kuta Utara, Kabupaten Badung, Bali
8. Green Bowl Beach
One of Bali's most secluded beaches, the 30-metre strip of white sand is reachable after a steep descent from the top. It's an attractive spot not just for surfers but adventure seekers as well. Green bowl beach is famous for the two large limestone caves which provide shade to its visitors. During low tide, it's nice to go snorkelling or paddleboarding.
Address: Ungasan, Bali
9. Karma Beach
If you want to have some privacy during your trip, Karma beach is the best option for you. It's a members-only beach club, but they also accept reservations and walk-in guests. A day pass costs IDR 500,000 including entrance fee of IDR 200,000 and IDR 300,000 food and beverage credit. You can have picnics by the beach or enjoy water sports. For your lunch or dinner, you can have some freshly caught seafood from the lagoon.
Address: Karma Kandara Bali, Jalan Villa Kandara, Ungasan, Kuta Selatan, Ungasan, Kuta Sel., Kabupaten Badung, Bali
Also read: My 5-Day Solo Trip to Bali: Highlights & Realisations
10. Kuta Beach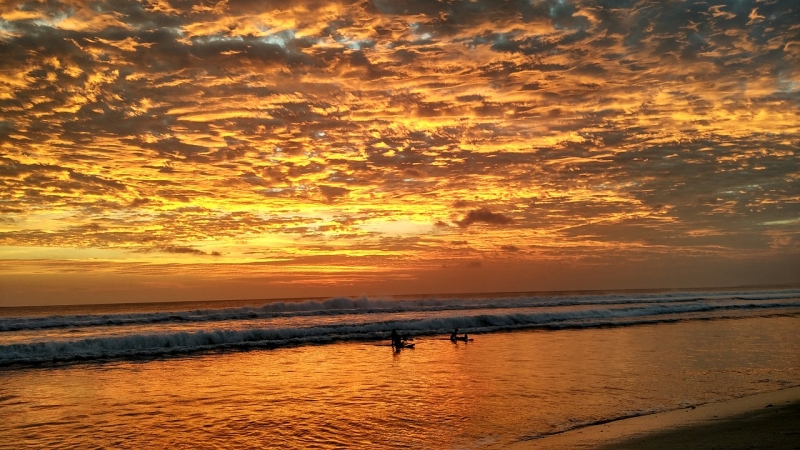 What's a visit to Bali without dipping in the crystal waters of Kuta beach? Kuta beach is Bali's most famous beach destination. It used to be a fishing village, but over the years, it has transformed into one of Bali's prime location for tourists. There are a lot of accommodation, bars, restaurants, and shops in this area.
While there are plenty of accommodation options dotting the popular Kuta stretch, one hotel stands out: Holiday Inn Express Baruna Bali. Located just ten minutes from Ngurah Rai International Airport, it is also near major attractions such as Negara Beach and Kuta Art Market. Book your stay here now!
Address: Kuta, Bali
11. Nusa Dua Beach
The azure waters of Nusa Dua Beach make it so attractive not just to tourists but locals as well. The waters are shallow, so even kids enjoy it so much. If you 're staying in one the beach front hotels in the area, consider yourself lucky.
Address: Semenanjung Nusa Dua, Nusa Dua 80517, Indonesia
12. Nyang Nyang Beach
Taking the word secluded to another level, you won't find any stalls or restaurant on this hidden beach in Bali. Nyang Nyang beach is a must-visit for those who are in love with white sand. You can casually find some local children spearfishing here, too. Just prepare all your essentials, from your sunblock to water and food, so you can last for a day in this unfrequented paradise. You need to make around five hundred plus steps downhill to get to the beach so ready yourself for that, too.
Address: Desa Pecatu, Kecamatan Kuta Selatan, Pecatu, Bali
Also read: Our Squad Goal in Bali: A Personalized Guide & Tips
13. Padang Padang Beach
Also known as Taplau, Padang Padang beach is not too far from the touristy area of Uluwatu. You also have to descend the stairs to get to the beach like in Nyang Nyang. You can take your surfboard with you especially when you're coming to Padang Padang during the dry season.
Fun fact: Julia Roberts shot a scene for Eat Pray Love in this beach
Address: Jl. Labuan Sait, Pecatu, Kuta Sel., Kabupaten Badung, Bali
14. Pandawa Beach
Pandawa is about 3km away from Nusa Dua area and Uluwatu Temple. The white sand beach is open to the public. Locals and tourist used to call it Hidden Beach but now you can find a lot of restaurants and shops that make the area busy and crowded.
Address: Darmawangsa St., Kutuh Village, Kuta, Bali
15. Seminyak Beach
Are you heading to W Retreat and Spa or Potato Head Beach Club? Then you're also setting yourself up for a visit to Seminyak beach. Surfing on this beach is more for the advanced surfers. But you can also enjoy activities like horseback riding if you're not sunbathing.
Address: Seminyak, Bali
Also read: What to Expect When Travelling to Bali: Expectations vs Reality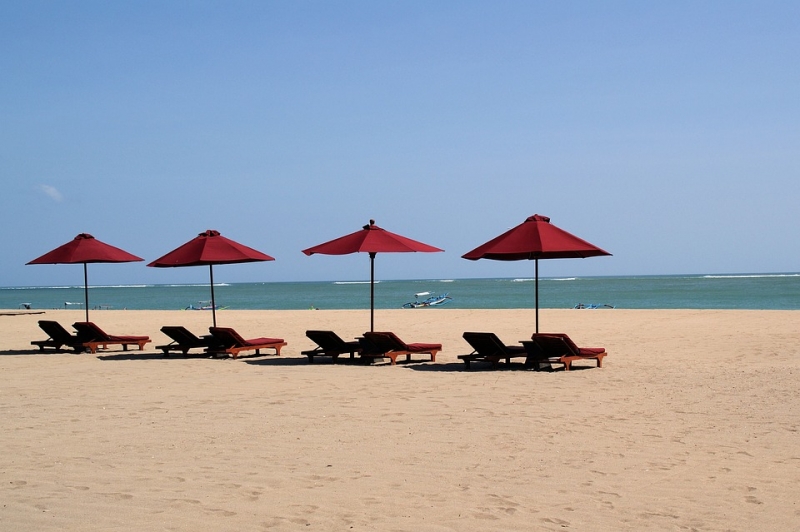 We feel you, it's hard to resist booking a flight or extending an already scheduled trip to Bali after reading through our list. Bali is indeed a paradise, it's no wonder people are so in love with the island. Honestly, we only need some fresh coconuts and bottles of sunblock. Then, you can leave us here for two months. We won't complain!