Have you ever visited the sunny shores of Singapore? Contrary to popular belief, Singapore isn't just all sun or rain. We might not have four seasons, but we do have a PERPETUAL SPRING!
That's right, Singapore is home to the world's LARGEST glass greenhouse as listed in the 2015 Guinness World Records, and floral displays are held there regularly. So if you're an avid flower lover, or just simply love immersing yourself in nature, you HAVE to head down to Tulipmania at Gardens by the Bay from 1st April to 7th May 2017, where you can experience the extraordinary at Flower Dome!
Book your tickets to Singapore now and believe us when we say – you're in for a real awesome time.
Besides, if this mesmerising sight doesn't tempt you, I don't know what else will. At Gardens by the Bay, you'll be transported to a wonderland of colours. Escape from the summer heat and step into a spectacular world of blooming flora at Flower Dome, and you might never want to leave. So, let us tell you why this Tulipmania display is a must-go event to add to your Singapore itinerary!
1. Cross the World's Largest Glass Greenhouse (Guinness World Records 2015) off your bucket list!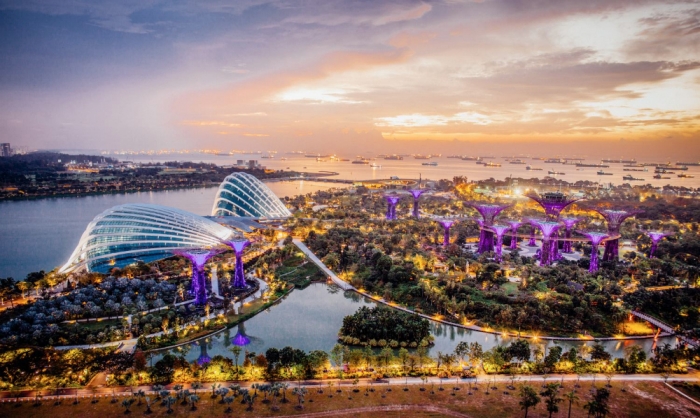 This cool-dry conservatory, also known as Flower Dome, is (literally) a breath of fresh air amidst the concrete jungle of Singapore.  Replicating the cool-dry Mediterranean climate of places like South Africa, Spain and Italy, and parts of Australia, it provides a soothing ambience for a leisurely stroll alongside fresh flowers in every colour of the rainbow.
As big as 75 Olympic-sized swimming pools, Flower Dome's innovative design comprises of glass that sits on an external steel structure, and a remarkable absence of columns in the interior. There's a total of 9 different sections within Flower Dome itself, such as the Baobabs and Bottle Trees, Succulent Garden, Australian Garden, South African Garden, South American Garden, Mediterranean Garden, Olive Grove and Californian Garden.
Does that sound awesome or what? Wander through the meandering walkways and you'll find something delightful with every step you take. The hours will zoom by as you spend your time exploring this surreal and cooling enclave. World's largest glass greenhouse? Check!
2. Immerse yourselves in the artistic world of Van Gogh
Many of us may be familiar with Van Gogh's paintings, but to witness them being recreated with tulips?! How interesting is that? What a unique twist to these masterpieces! Vincent van Gogh was a highly skilled self-taught artist, who made his mark in history as one of the most famous and influential figures in Western art. Want to know which paintings will be recreated with tulips? Come on down for a complementary blend of floral appreciation and artistic inspiration, right here in Singapore!
3. Tulip GALOREEEE! Here, there, and everywhere
Oh my, what an impeccably glorious sight. Get ready for tulips in a multitude of colours coming your way! We'll let the pictures do the talking, because these charming beauties will definitely tempt you into making your way to Singapore. Be blown away by an assortment of tulip varieties featured in the exhibition, such as the Fringed Tulips, Darwin Hybrid tulips, Lily Tulips, Parrot Tulips, Double Petalled Tulips and more! Can you tell which is which? We've got five showstoppers that you'll definitely love.

#1: Double Petalled Tulips
While a normal tulip has six petals, Double Petalled Tulips have more (as you can tell from its name). They are sometimes referred to as "peony tulips" because their lush blooms resemble those of peonies! Some cultivars have a sweet fragrance, and their blooms can easily reach a span of 10 cm across. Wouldn't you love to see them up close in person?
#2: Fringed Tulips
Ever seen Fringed Tulips before? These Fringed Tulips are called so because their petals look like the frayed edge of a satin fabric, exuding elegance and style! Don't they just look so soft, delicate and dreamy?
#3: Darwin Hybrid Tulips
Known for their long stems, lovely pyramid shape, and brilliant colours, the Darwin Hybrid Tulips (in the foreground) are the first variety that comes to mind whenever tulips are mentioned. And the best part? They come in a myriad of kaleidoscopic colours that will certainly brighten up even the gloomiest of days!
#4: Lily Tulips
Are these lilies or tulips? They're BOTH! Another wondrous sight to behold, these Lily Tulips have long-pointed petals that arch outwards.
#5: Parrot Tulips
Can you guess why these tulips are named after parrots? They get their name from their flamboyant petals, which closely resemble the feathers of a parrot!
Head to Tulipmania 2017 in Singapore and try to spot all these different types when you visit!
4. Instagram-worthy photos, because who can resist?!
With such a splendid backdrop, there's no reason for you to resist! Come prepared with your cameras and phones and snap away. You'll definitely make all your followers jealous with this surreal view. Grab an #OOTD shot or an artistic picture of the gorgeous tulips. At Tulipmania, you don't need excellent photography skills to get an Insta-worthy shot, because every corner you turn is literally picture-perfect!
Take a look at these Instagram photos shot by visitors at Tulipmania last year… Don't you wish you could add such jaw-dropping shots to your Insta-profile too? Make sure you have sufficient memory space in your cameras or phones before you head down, because I'm sure you'll be walking away with tons of splendid shots!
5. FREE guided tours for everyone
If you want to learn more about this enchanting wonderland, you can even join a FREE guided tour! They will be available daily at 11am and 3pm, and between 2pm and 5pm on 8 & 9 April.  Simply grab your family, friends, or partner and gather at the "ASK Me!" poster near the Flower Field. Tours will begin when a group of five or more visitors are assembled!
You'll be led around Flower Dome on a comprehensive fifteen minute tour, where you'll learn all about the different species and gain a behind-the-scenes glimpse into all the hard work that went into organizing this exhibition.  
6. You can even DINE amongst this floral bonanza
Aptly named Pollen, this restaurant is set within a lush Mediterranean garden in Flower Dome, offering you a fabulous dining experience unlike any other! Immerse yourself in the fragrance of sweetly scented tulips, as you tuck into an eclectic assortment of dishes that revolve around seasonal produce and back-to-basic techniques.
Exuding pure sophistication amidst stunning waterfront views of the Marina Bay waterfront, this dining experience is certainly one for the books. You'll even get to taste pure herbs and vegetables taken directly from the in-house garden when you reward yourself with Pollen's modern European gastronomic delights!
Are you tempted yet?! Gardens by the Bay is one of the most innovative and exciting gardens in the world – you'll never find one quite like it anywhere else. So book your tickets and hop onto a flight to Singapore for this incredible Tulipmania display happening from 1st April to 7th May 2017!
Opening Hours:  9am to 9pm daily, last ticket admission is at 8.30pm
Getting There: Take the Circle Line or Downtown Line to Bayfront Station and take Exit B. Follow the directional signs to Gardens by the Bay, Flower Dome.

---
Brought to you by Gardens by the Bay