While travelling normally doesn't really allow us to sit down and read all day at our leisure, we sure like to try. In a world that says don't judge a book by its cover, here at TripZilla, we're saying that maybe you can judge a place by its library!
We're kidding, of course. But libraries are a common stop for a reason; they're a literal powerhouse of knowledge and a common outlet for some of the grandest architecture we will ever lay eyes on. Not to mention, some of these have been standing since the dawn of time. And we mean it when we say that the books they house are as impressive as their architecture. Take a look at our list of the most beautiful libraries in the world below!
Also read: Beautiful Libraries & Bookstores To Visit Around Asia
1. Admont Abbey, Admont, Austria
If you're anything like me, the library from Beauty and the Beast has been seared into your memory since the first time you watched it as a kid. Now, meet a real-life library that rivals it.
Located in Admont, Austria, Admont Abbey is the oldest and largest monastic library in the world. It looks like heaven's version of a library with its high baroque style, complete with angelically frescoed ceilings depicting the stages of enlightenment.
Aside from Admont Abbey, Austria is filled with a multitude of breathtaking libraries. So if you're not keen on visiting Admont anytime soon, there are plenty of other options like the Vorau Abbey Library, St. Florian Monastery, and the Austrian National Library.
2. National Library of Prague, Czech Republic / The Abbey Library of St. Gall, Switzerland / Strahov Monastery Library, Czech Republic
Gilded, frescoed, and full of knowledge, the National Library of Prague in the Czech Republic is exactly how most of us picture the elaborate libraries portrayed in film and in the past. The same goes for the Abbey Library in Switzerland and the Strahov Monastery (also in the Czech Republic), all of which hold great historical significance. 
The Abbey Library boasts of tall windows, immaculately polished wooden floors, and interesting viewing cases; while the National Library of Prague dazzles you with its floor-to-ceiling shelves and collection of gilded globes. Strahov does both of them better, in my opinion, mostly because of its secret passageways hidden behind bookshelves with fake books.
3. Trinity College Library, Dublin, Ireland
A sudden dark turn after the sunny libraries before it, Trinity College Library's shadowy interiors remind us of the Hogwarts Library, whose darkness was justified a bit more with its very own restricted section that was home to many ancient texts. But let's digress.
Trinity College Library is the oldest library in Ireland by far and is a copyright library. This means every book published in Ireland has to have a copy on their shelves. For eagle-eyed Star Wars fans, the library might also bear resemblance to the Jedi archives from Episode II. However, George Lucas has denied any basis.
4. State Library of Victoria, Melbourne, Australia
Probably one of the more accessible entries on this list, the State Library of Victoria is smack dab in the middle of Melbourne's Central Business District. It's Australia's oldest public library and was actually one of the first free libraries in the world.
Exceedingly classic on the outside, most of the library's interiors are actually pretty modern with the exception of the famous LaTrobe Reading Room. On each of this reading room's five floors are glass-cased antiques and archives — with the top floor having a stained glass window of William Shakespeare. No wonder it's one of the most beautiful libraries in the world; it has the face of one of the world's greatest storytellers embellished on it!
5. Biblioteca Real Gabinete Português De Leitura (Royal Portuguese Reading Room), Rio De Janeiro, Brazil
Goth galore! The Royal Portuguese Reading Room looks like something out of Guillermo Del Toro's archives. If anything, the structure is a symbol of the time it was built — during the Portuguese occupation. FYI, the Gothic-renaissance style was very much in fashion during the Portuguese colonisation of Brazil back in the 1800s. But that's not the only influence Portugal left Brazil. This library, in particular, houses the most Portuguese writings outside of Portugal!
Inside, the magnificent library is lit up by a stunning iron skylight. With it is a dazzling chandelier — the first of its kind in the country — while a marble and ivory altar welcomes visitors to the study's vast collection of books.
6. The Public Library, Stuttgart, Germany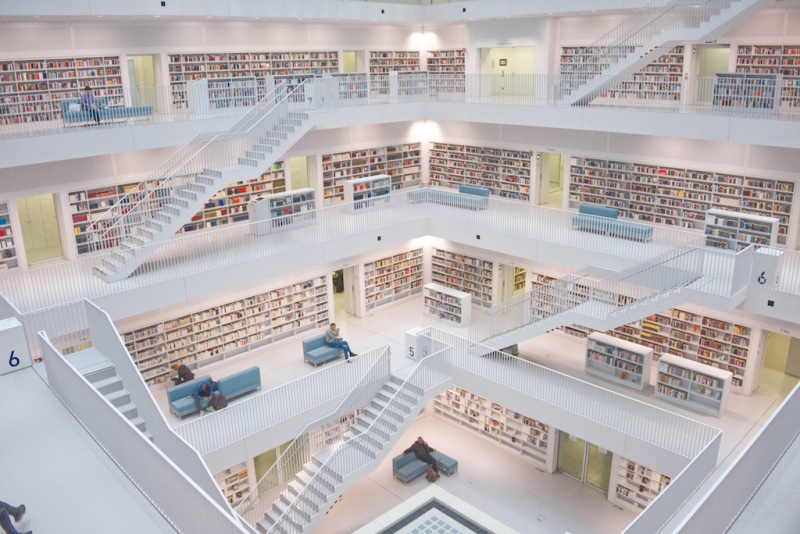 Next on our list of the most beautiful libraries in the world is this somewhat different study which has ultra-clean, minimalist and modern interiors. The Public Library of Stuttgart in Germany was designed by Korean firm Yi Architects and opened in 2012.
It's literally a white cube of concrete that lights up blue at night while the interiors turn a stark light grey, designed to keep your attention on the colourful books. Private reading rooms are also available and they all keep the same philosophy: quiet, bright, and isolated. (The library was also featured on Season 1 of Killing Eve.)
Other libraries with the same design sensibility are Philips Exeter Academy Library in New Hampshire, USA, as well as the Tama Art University Library in Tokyo.
7. Starfield Library, Gangnam, Seoul / Tianjin Binhai Library, Tianjin, Beijing
Another unusual entry is Starfield Library, which is located at the centre of COEX Mall, where anybody can sit and relax near its (nearly) floor-to-ceiling two-storey shelves built with over 50,000 titles. While renting isn't available, the area is filled with seating for in-house reading.
If you want a more extreme version of this, there's also the Tianjin Binhai Library in Beijing, also known as "The Eye" because of its shape; the "pupil" is actually an atrium, while the curves serve as shelves that give you a proper workout. 
8. Library of Alexandria (Bibliotheca Alexandrina), Egypt
Its namesake was one of the most famous libraries in the ancient world until Julius Caesar burned it down. As the world still mourns its loss several thousand years later, Egypt honours it with the Library of Alexandria's circular granite structure, designed by Norwegian firm Snøhetta. Along with this stoney feature are the carvings from local artists and a cool reflecting pool.
With a shelf space for over eight million books, the library also houses museums, art museums, a planetarium, facilities for the blind and visually impaired, and a special area that works on restoring ancient texts and manuscripts.
Also read: 10 Bucket List Libraries You Must Visit Once In Your Lifetime
There are many more libraries that are bucket list-worthy, I'm sure. Some tantalising libraries may yet be discovered too. But these are the ones that definitely stand out today. Which of these beautiful libraries in the world suit your style? Let us know in the comments below!