Contributed by A Girl and a Bald Traveller
When people realize I run a travel blog, the usual questions of "where have you been?" or "where are you going next?" immediately follow.
So when I reply that I'm visiting the Middle East (not Dubai or Egypt) on my next solo trip, Singaporeans have been quick in offering a few sets of responses. "Siao ah (crazy)? Going there to join ISIS?" Or, "isn't it dangerous? What on earth do you expect to find there besides deserts and terrorists?"
But is the Middle East truly a region fraught with danger? And could most locals possibly be members of ISIS with a kidnapping agenda with the end goal of stringing me up in an orange jumpsuit on live TV? Travelling in the oil-rich Middle East isn't cheap. Would I be wasting good money to see nothing but sand and dust?
I really wanted to find out.
Countries Travelled:
1. Lebanon
2. Bahrain
3. Kuwait
4. Cyprus
5. Iraq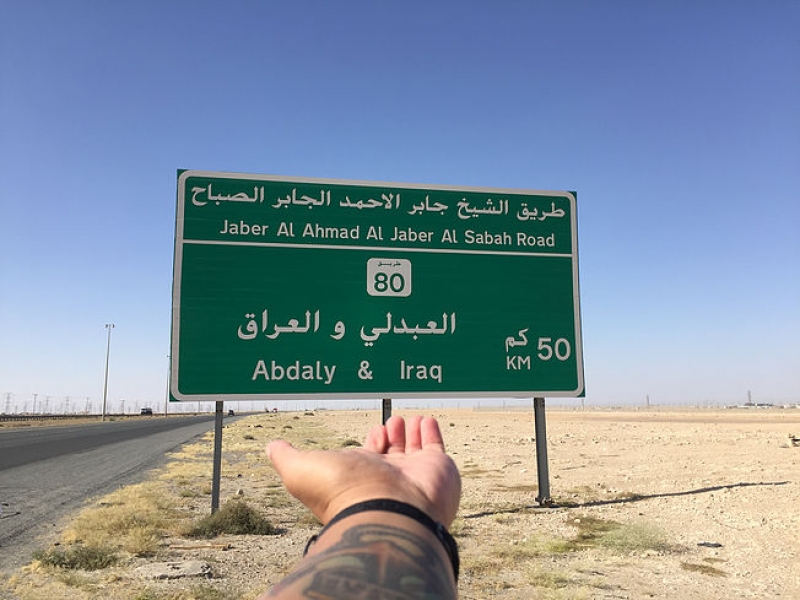 (Nah, this doesn't count. They turned me away at the Iraqi border crossing)
So there you have it. Lebanon, Kuwait, Bahrain, and Cyprus. Not your typical Egypt or Dubai kind of Middle East, but the kind that this blog has become known for, the quirky, "Singaporean-less" kind of Middle East; just the way I like it.
Getting There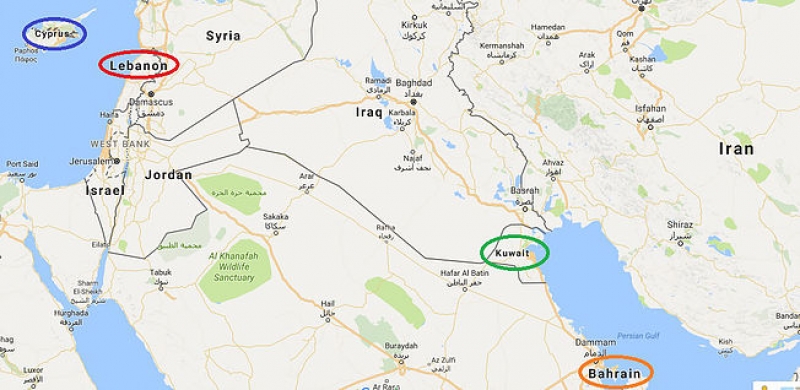 On airfare alone, I spent a total of SGD1,662, 7 flights in all. It could be done cheaper if you don't mind connections. Despite my reputation for travelling "less expensively", I insisted on direct flights and didn't mind paying more to cut down on unnecessary travel time.
I flew to Dubai by Emirates, next to Bahrain, then Cyprus by Gulf Air (who lost my luggage for over six hours). From Cyprus, I flew Middle East Airlines to Lebanon, and then to Kuwait; finally back to Dubai by Jazeera Airways for my return flight to Singapore by Emirates who decided to lose my luggage as well (the second time on this trip).
For Singaporeans (those not trapped like a frog in a well at least), you'll be glad to know getting a visa for these countries won't be an issue. Queues are short (lack of tourists apparently), Visa is available on arrival for both Bahrain and Kuwait and cost less than SGD10 each. We don't need a visa for Cyprus and apparently also Lebanon (Note: The Ministry of Foreign Affairs said a visa was necessary but the Lebanese immigration just let me through. Saved USD25 here.)
What's There to Do/See?

Lebanon is bordered by Syria and is a recipient of "overflows" from the occasional "ISIS-related" activity. The current situation in Lebanon is pretty interesting though. Hezbollah, an Islamist militant group (basically a terrorist organization) with a military more powerful than the Lebanese Army, controls a number of territories in the country and even has seats in the Lebanese Government. (Imagine the SDP or WP in Singapore with an army stronger than the PAP-controlled SAF.)
Sounds like a nightmare, I know. But that aside, Lebanon is probably the most amazing country to visit in the Middle East. In fact, its capital Beirut was once known as "The Paris of the Middle East".
Visit the ruined Port City of Byblos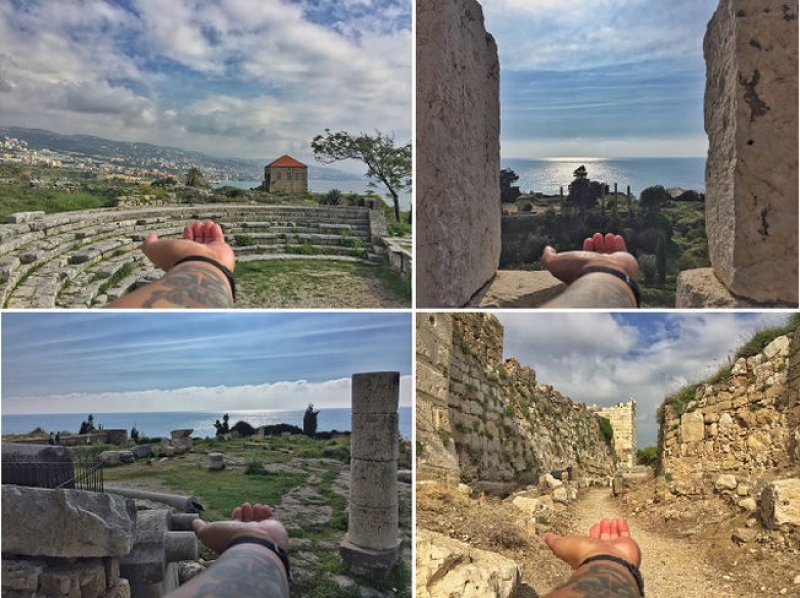 Byblos is one of the worlds oldest cities, dating back as early as the stone age. With civilizations upon civilizations built upon it, the modern Byblos is a mix of modern influence built upon a city of ruins. This city is amazingly well preserved in a "touristy sort of way", with cafes built into ancient stone walls overlooking the port and providing an amazing view of the Lebanese coast.
Almost the whole of Byblos is an archaeological site in itself; piles of old rock for the men to climb on, and within the stone city, the Byblos Souk (bazaar) promises an excellent shopping experience for the ladies. For some family fun, there are countless "captains" waiting with their boat should you desire to sail out of the port for another view of Byblos. Singaporeans with their love for spending on cafes and shopping would most definitely love Byblos.
Explore Jeita Grotto: The longest cave in the Middle East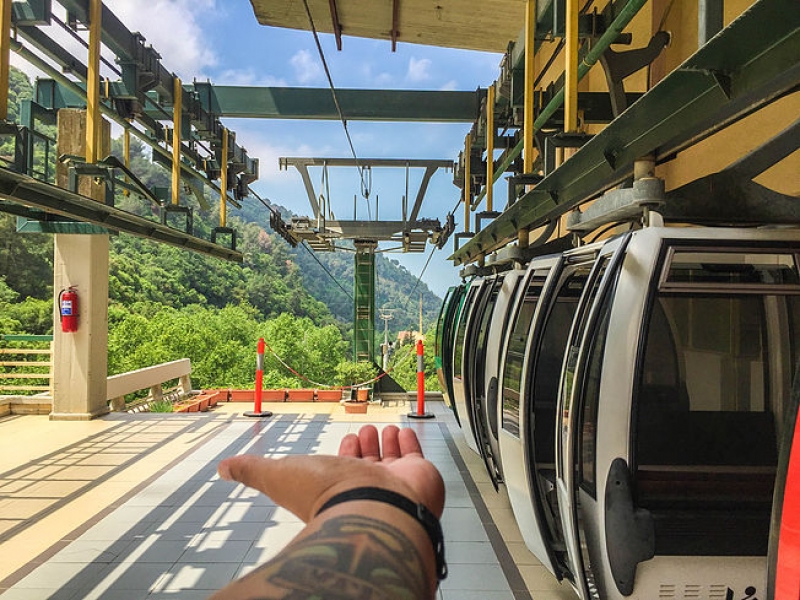 The limestone caves of Jeita Grotto are one Lebanon's biggest attractions. After paying an entrance fee of roughly USD12, a cable car brings you right up to the upper caves. The caves are pretty impressive, apart from the fact that it is pretty annoying to keep having to "sneak photos" of the caves because photography is "not encouraged" – apparently because of tourists who used to climb on the limestone for pictures.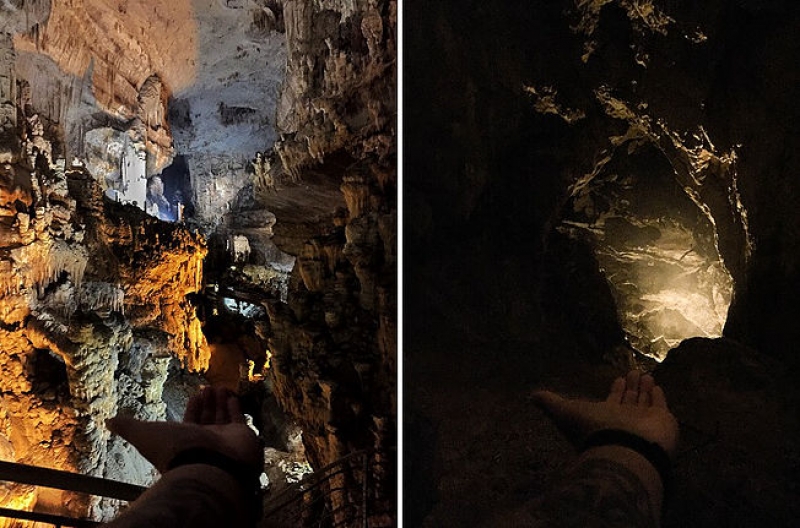 An underground river flows through the lower caves, and part of your ticket price includes a short river ride through the caves. I couldn't take pictures of the underground river here because I got told off by another tourist who was annoyed that I was taking photos and she couldn't as she surrendered her phone at the entrance.
Wander about Beirut, the "Paris of the Middle East"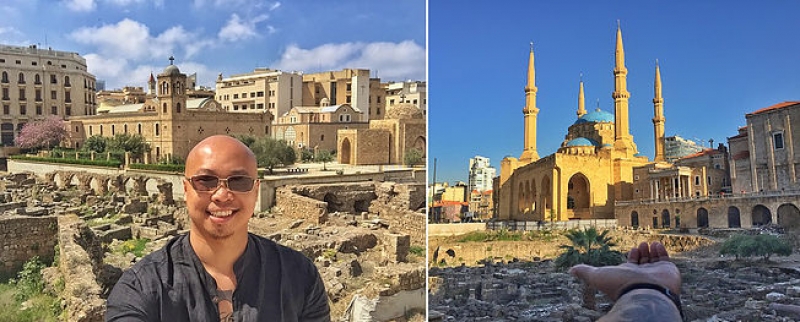 Beirut is by far the most fascinating city I've travelled to in the Middle East. Part of the city lies in ruins (preserved of course) while the other half is as modern and opulent as it gets. Half the city reeks of poverty and most locals have to work two jobs a day to get by. The other half? Condominiums, yachts, and super-cars around every corner.
Many Singaporeans have the impression that aside from Dubai, the Middle East is a rundown part of the world and therefore, things can't be expensive. Beirut certainly isn't cheap though.
The average monthly wage is as low as USD300–600, and let's just say that a Starbucks coffee or Subway sandwich costs at least USD6 – pretty much similar to what it costs in Singapore, which is crazy. An authentic Lebanese meal cost at least USD10. I had one of those, and decided I was better off having burgers and fries, which was easier on my wallet at USD3–4. In relation to what the locals earn, the cost of living in Lebanon is anything but cheap.

In the day, most of Beirut is a labyrinth of streets. I needed the MapsMe app to successfully find my way around the city. At night, the city comes to life. My hostel was five minutes away from the Armenian Street, the "pub street" of Beirut. If I got lost, all I had to do was follow the blaring loud music and bright lights and I'd find my way back in no time.
For lonely singles hoping to "score" a date, Beirut at night is the place to be. The pubs are filled with lonely backpackers, most of whom have not seen home for months (or even years). Anyone without even a single attractive bone about their person should score after a few drinks after the alcohol and the loneliness sets in.
Be charmed by the "rawness" of Tripoli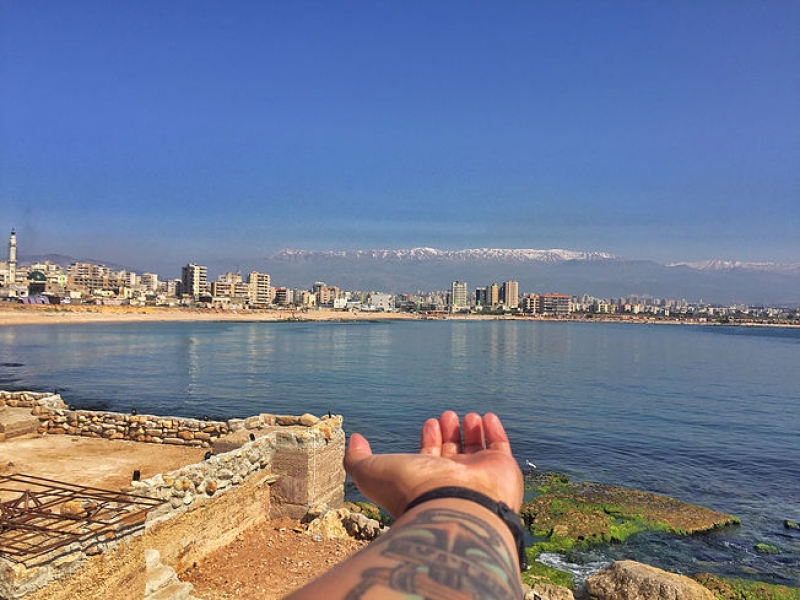 If you look up Tripoli in Wikipedia, the first thing that pops up on your screen is a "Travel Advisory Alert" in bright red, warning of the danger when visiting Lebanon's second largest city because of its proximity to Syria. Keeping a low profile is advised.
Tripoli had more of a raw charm about it and none of the touristy/metropolitan feel found in both Byblos or Beirut. While I wouldn't go as far as to say I sensed a "danger vibe", let's just say Tripoli felt "very local".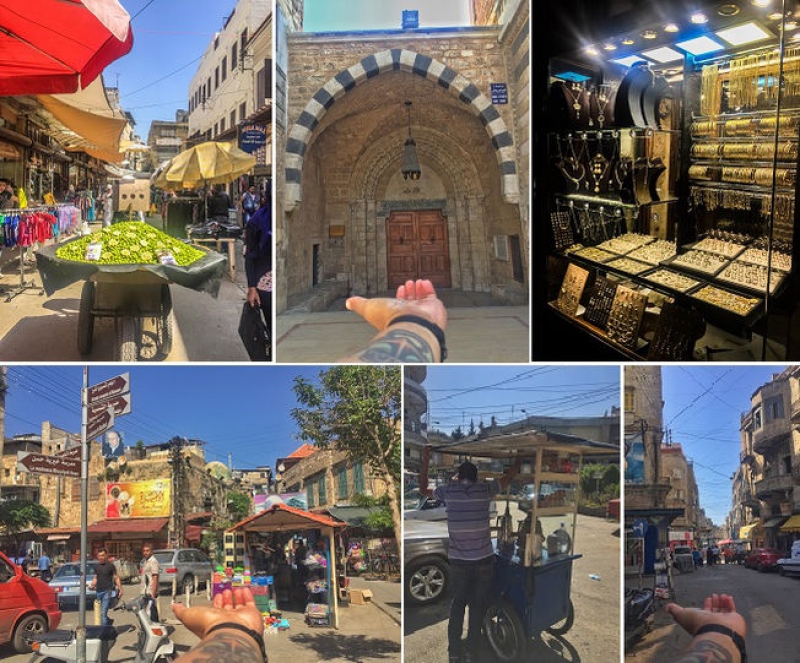 The Souks (bazaar) are one of Tripoli's main attractions. Anything from low-quality Rolex watches, to fashion apparel, to Lebanese soap, or even gold jewellery can be found in this part of the city. Tripoli is also known for the many "mobile coffee-shops" which can be found pretty much around any corner of the city.
Arguably, the biggest attraction in Lebanon would be the impressive ruins of Baalbek, located near the Syrian border in the Hezbollah-controlled territory. The folks at the hostel had gone for a visit the day I arrived. I was alone and was advised by the hostel reception and my taxi driver that visiting Baalbek alone might not be the best idea. What a pity because everyone else who went said that Baalbek was astounding.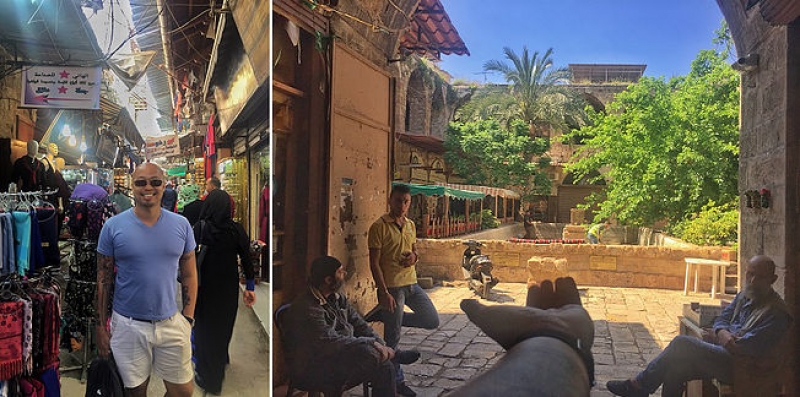 I found Kuwait to be a total opposite of Lebanon and probably the most "uninteresting country" in the Middle East. Oh, and let's just say the locals are the most arrogant among all the Arabs I've ever come across. There are modest Arabs (like those in Oman) and the "Kuwait Arabs" whose brains have been addled by an overdose of oil and oil money.
I decided to visit Kuwait because I was fascinated by its role in the "Gulf War". I really wanted to visit the country Saddam Hussein had invaded, and drive along the "Highway of Death", perhaps check out the remains of an abandoned Iraqi tank left behind from the 1990s.
I couldn't have been more mistaken about this country.
Drive along the "Highway of Death"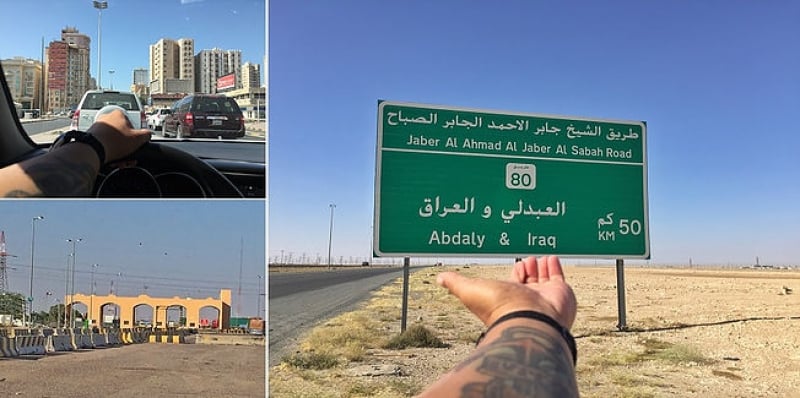 So I rented a car and drove toward the Safwan Border Crossing in Iraq where I was turned away because I had neither a visa nor did I pay to hire a "security detail" for my safety. I didn't see any abandoned tanks and virtually all traces of the Gulf War had been removed, they didn't even keep parts of it around as a memory. Disappointing.
Surprisingly they haven't had contact with many Chinese which is weird because I've come across PRCs (People's Republic of China) in every single country I've travelled to. In Vanuatu or even in the mountains of Lesotho I've come across "Chinese-run grocery stores". When the Arabs saw me at the Kuwait–Iraq border, they exclaimed "You are Chinese?!?!", with an incredulous look on their faces.
The Kuwait Towers & City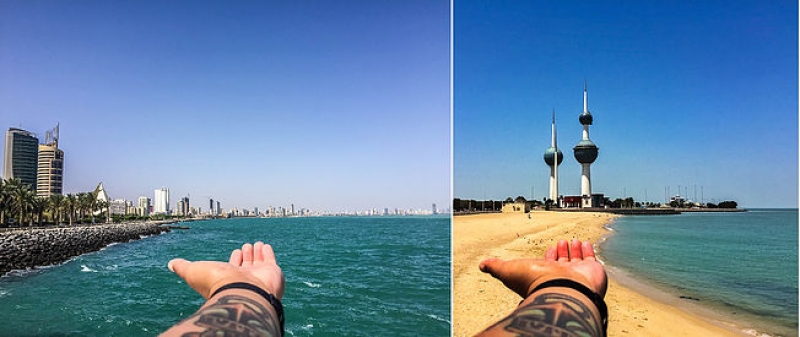 Kuwait City itself is as "Dubai-like" as it gets. Weird buildings, overpriced restaurants, and loads of Bangladeshi/Indian/Pinoy workers hired by the local Arabs who pretty much view and seem to treat them as "modern day slaves" hired to do the jobs beneath their position paid for by oil money. The locals? Well, they do go for regular morning jogs along the park connectors by the Corniche and enjoy the sea view as they settle down for a Starbucks breakfast.
I struggled to find anything remotely interesting in Kuwait. "Arrogant Arabs" I saw plenty of though.
*Disclaimer* Most Arabs I met were decent people, it's just those in Kuwait who need to get off their high horse
Bahrain is a tiny island country in the Persian Gulf, almost unheard of as a tourist destination, and visited by almost nobody. You'd struggle to find a Singaporean who could point out Bahrain on a map (then again, most Singaporeans would struggle to point out almost anywhere that isn't Korea or Japan on a map).
For once I wouldn't blame them because like Kuwait, there's almost nothing to do in Bahrain (besides the F1 Grand Prix). The Arabs in Bahrain are more personable than those in Kuwait though.
Seek out the "Tree of Life"
The "Tree of Life" is somewhat the "Icon" of Bahrain, like what the "Tower Bridge" is to London. Which is kind of sad, because this solitary "tree" is over an hour's drive away deep in the Bahrain desert and sees at best 50,000 visitors a year (most of which are locals).

For over 400 years, this tree has continued to grow in the scorching oil-filled sands of the Bahrain desert without water for sustenance, baffling scientists all over the world. As silly as it might sound to drive all the way out into the desert, we can all learn something here: miracles do exist, even if science (or everyone else) says it can't be done.
Experience the merging of civilisations

It was a pretty awesome experience to be standing in an ancient civilization, with the modern world just one kilometre from where I stood. Bahrain Fort (which isn't exactly impressive compared to those in Lebanon or Cyrpus) is one of the most significant archaeological sites left in the the country; the only other "things" to see besides this are mosques (which are all over the Middle East).
Self-drive the Bahrain International Circuit
"You're going Bahrain? It's the F1 weekend isn't it?"
This is what Bahrain is known for from the eyes of tourists and the select few Singaporeans who can actually name a country in the Persian Gulf besides Dubai (which is a city, not a country). I arrived during the F1 weekend, which meant the circuit was closed to tourists in preparation of the upcoming race. Most other days though, you'll be able to pay for a "Circuit tour" where you'll be able to drive around the track, take photos at the grandstand; a proper "tourist experience".

Cyprus (depending on which source you refer to), is a Mediterranean island country, which is considered part of the Middle East (geographically), but is a member of the European Union, and also uses the Euro.
When people (not Singaporeans who haven't the faintest idea where Cyprus is) think of Cyprus, they think of beaches, blue water, and loads of non-stop partying. But, the thing is, there's more to "beach parties" on this beautiful Mediterranean island. I spent four days here and it was in no way enough; I'd recommend at least a week.
Stroll the seafront of the Limassol Marina

Limassol is really popular among tourists and locals alike and is worth a good 1.5 days. Stroll along the magnificent seafront, have a relaxing seafood lunch in the marina, and in the evening, possibly hire a small boat for a quick sail and get great photos of the coastline.
Within close proximity of Limassol are a few archeological sites, the most amazing being "Ancient Kourion", a 30 min bus ride away from the Marina.
Paphos – Sun, Sea & Archaeological Sites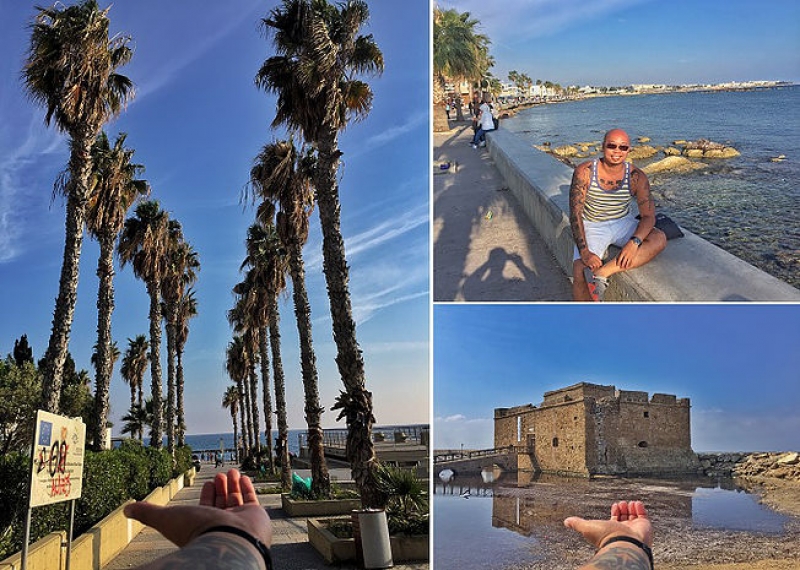 I didn't realize until I arrived that Paphos is the current "European Capital of Culture", which means there's surely more than just "beers and a nice view". The two main Archeological sites in Paphos are "The Tomb of the Kings" and the "Archeological Park" (housing large ancient roman villas).
From Paphos, tours are available to hike the Troodos Mountains from as low as 17 Euros. Oh, and I must add, the coastline and "chilling ambience" here in Paphos are even better than that at Limassol. The coastline in Paphos is breathtaking, and the number of cafes with a great view of the harbour are so many, the typical Singaporean "cafe hopper" will probably need a year to visit every single one of them.
Climb Aphrodite Rock – The birthplace of Greek Goddess Aphodite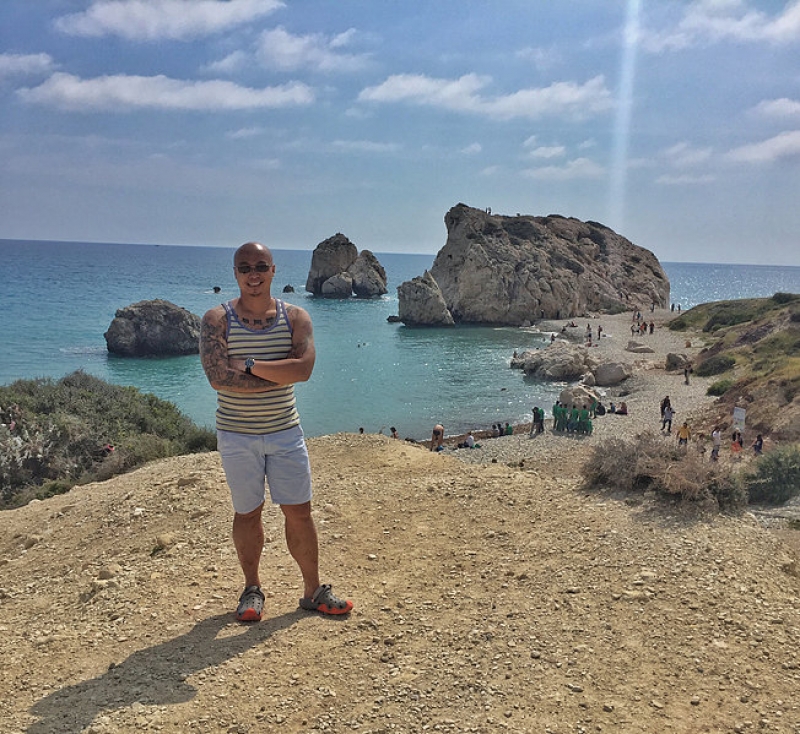 This iconic rock is the mythical birthplace of Aphrodite, the "Goddess of Love" in Greek mythology. For those who are wondering, "eh? isn't it supposed to Venus?" Well, the goddess Venus is Aphrodite's "Roman equivalent".
This "rock" is a must visit. Here's a disclaimer though: you aren't supposed to climb the rock. If you do so, it's entirely at your own risk. Everyone else was climbing though, so what the heck right? If you aren't a "climbing" sort of person, just do what most other tourists do: bathe in the warm Mediterranean sea or have a picnic with a book on the rocky beach. Its a good way to chill half the day away.
Party your heart out in Aiya Napa

There are two party capitals in the Mediterranean, Ibiza (Spain), and Aiya Napa (Cyprus). The latter attracts two main groups of tourists. The first group, retirees who hope to feel younger by relaxing on a beach surrounded by young people and escape the cold of Europe. And the other, hordes of young Europeans seeking parties, booze and sex.
Me? Well, I'm married.

Not a party animal (neither am I)? You'll be glad to know that Cape Greco National Park is 20 mins away from the "Sin City" of the Mediterranean. Here, you'll be rewarded with beautiful trails, you can have a go on an ATV, or even try jet skiing.
Accommodation & Transport

If you've been following me for a while, you'll know I much prefer hostels over hotels because I don't see the value of paying hundreds of dollars for a night of sleep (and also because it's easier to meet travellers in hostels). In the Middle East, however, my hands were tied; I couldn't find any hostels. Either that or the hostel and hotel prices were somewhat similar. With the exception of Lebanon (because hotels were way too expensive), I stayed in hotels for most of my trip.
Hotel prices:
Bahrain – From SGD35
Kuwait – From SGD60
Cyprus – From SGD30
Lebanon – From SGD45 (Note: Hostel Beirut is USD25 and has a great common room to meet other travellers)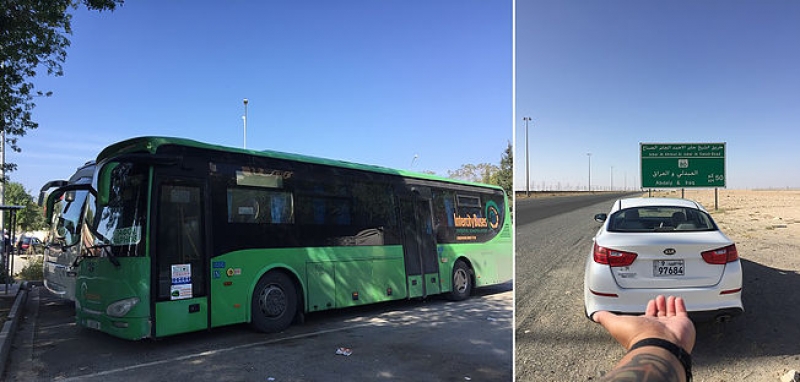 In Bahrain and Kuwait, renting a car is absolutely necessary. These countries have limited (overpriced) day tours, and their public transport isn't the greatest. Walking or taking the public transport under the 40 degree heat isn't exactly my idea of a vacation. Cars can be rented for as low as SGD50 a day, petrol is cheaper than water, and parking is free. Look out for the speed cameras though – they are all over the country. Yes, even along the desert roads.
Public transport in Cyprus is really efficient. Buses are comfortable and relatively cheap at 4 Euros per way for an Intercity bus. Within the city, get a day pass for unlimited bus rides. If you have plans to spend at least four days in Cyrpus, rent a car for roughly 30 Euros per day.
As for Lebanon, it all depends on how adventurous you are. A two-hour bus ride from city to city (say Beirut to Tripoli) can cost just USD1 or less. All you have to do is stand by the road, flag down any minibus, and shout your desired destination. They'll tell you if its the right bus or not. The other way is to pay 150 Euros to book a car for the day and they'll drive wherever you wish. I tried both, and I'll say this: if you have money but a lack of time, book a car. If you're one of those long term travellers (or nomads, as they call themselves), take the bus. Never rent a car in Lebanon, everyone drives like an idiot.
In Conclusion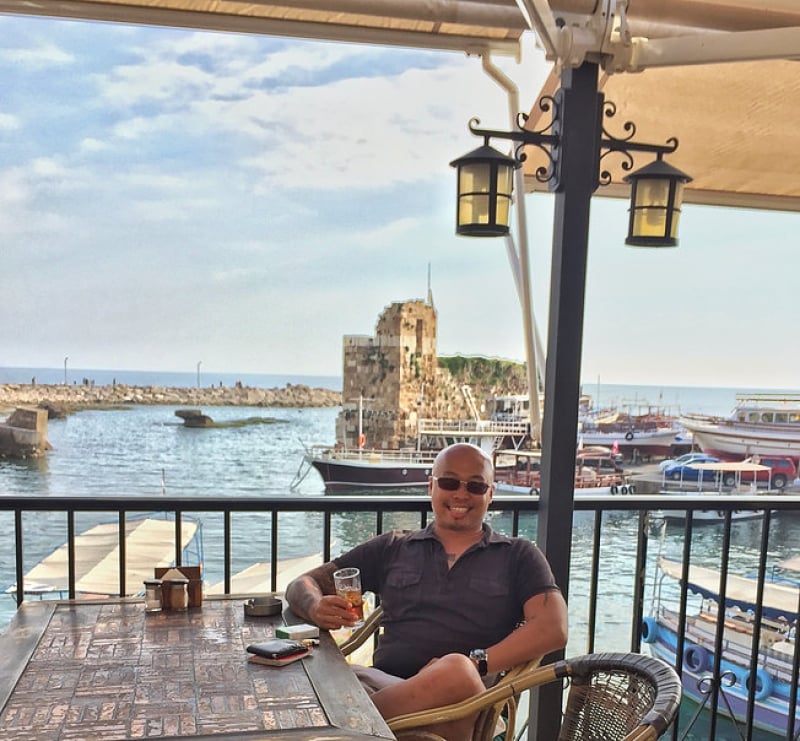 The two main reasons (misconceptions rather) why we Singaporeans don't visit the Middle East are because:
We have no idea what there is to do
We think terrorists/Jihadists roam the streets, hunting for foreigners to sacrifice in the name of Allah
I hope this post has answered misconception number one well enough, because the Middle East truly is a treasure chest of beautiful landscapes, fascinating history, really interesting cultures, and is in no way inferior to the experience of a typical European vacation. (Yes, I would know since I've visited more of Europe than probably 99% of Singaporeans. No, make that 99.9%).
As for misconception number two, with terrorists spreading their wings all over "Touristy Europe/Middle East", Paris is no safer than Cyprus, neither is Egypt (the most touristy Middle Eastern country) any safer than Lebanon. We Singaporeans are a nation of "sheeple" , travelling where everyone else is visiting without questioning if more fascinating vacation spots are available (take Iceland for example. 10 years ago, Singaporeans wouldn't even have wondered about Iceland. Today, everyone visits Iceland, posts it on Facebook and Instagram like it's a badge of honor). Muslim/Arab countries are generally safe, and have mostly decent and friendly folks, save for the few who give the whole region a bad name.
Perhaps it is time to recognise that nowhere is truly "safe" anymore. It's time to venture on the "path less travelled" before things escalate and most paths become "no longer safe" to travel. When that day comes, as Singaporeans, we will truly and surely be the provable "frog in the well".
Widen your horizons everyone. Tear up your existing travel plans, and make new plans – fascinating plans. It's time to "discover" the world.