Contributed by hANnaeYTHING 
It was year 2012 when I started writing down my travel bucket list, dream bags and shoes, latest must-have gadgets, make up and all sorts of girly things. At the start of the year, I list them all and somehow do my best to tick them out within that year. Maldives is always on my list. I believe that it is one of the dream destinations of any beach bum (like me!) but not until 2015 that I was able to make that dream vacay a reality. How did I (we) do it?
On November 4, 2015 when we booked our ticket to paradise. Cebu-Singapore-Male-Singapore-Cebu via Tiger Airways. Subsequently, I researched and read reviews on how to enjoy the island to the fullest yet within our budget. After thorough readings, here is the itinerary that we followed and I recommend this to budget travellers with style and a go-go attitude.
Also read: How to Travel Maldives on a Budget
Day 1: Airport Day
We boarded the plane from Cebu to Singapore with glee. Our lay over was just 3 hours so after we got the boarding pass to Malé, we ate at the airport to load up for the next leg of our trip. Singapore Changi Airport is one of the best airports in the world, there are plenty of food stalls and duty free shops to choose from, and despite the limited time, we had fun checking out their shops until it was time to board the aircraft to Malé.
We landed safely at Ibrahim Nasir International Airport after almost 5 hours and immediately went to a bank within the airport vicinity.  1 US Dollar  =  15 Maldivian Rufiyaa.
We then proceeded to the cellular shop at the airport to buy a sim card. It took a long time for our hotel transfer to arrive because apparently some hotels like ours (Coral Hotel) do not own a van, they just rent it. After almost an hour of delay, we settled in our rooms. We were upgraded as a way of making up to the transfer delay. We dozed off after a day at the airport.
Day 2: Hulhumalé – Maafushi – Bikini Beach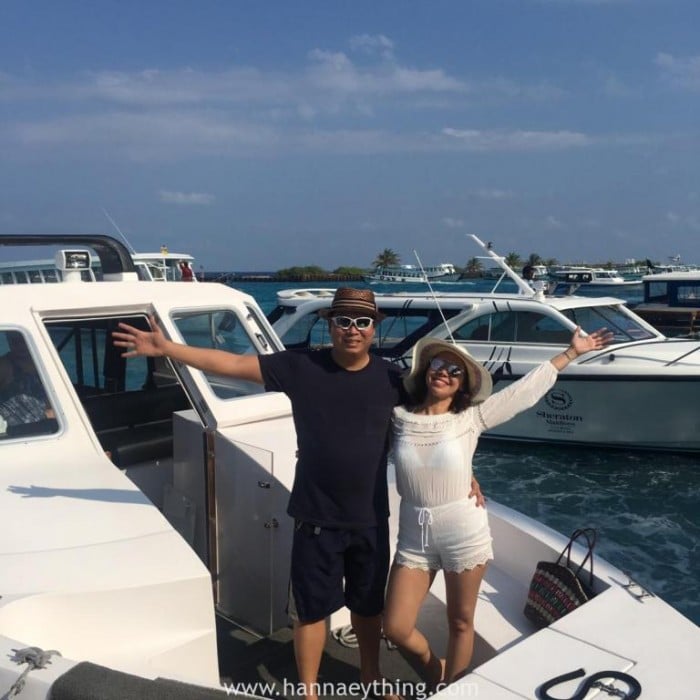 Woke up very early the next day and strolled around Hulhumalé. There is a long stretch of beach just behind our hotel. It was a calming way to start our day. After breakfast, we immediately took off and walked towards the bus stop going to the jetty port which is just across the airport. We took a public speed boat to Maafushi via the biggest speedboat of ICom Tours.
It was a 20 minute ride to Maafushi Island port. The hotel we booked was just a 5-minute walk from the port and a few steps away from Bikini Beach, the only part in Maafushi where one can use swim wear. Male is a Muslim majority country and they do not allow women to dress showing more skin.
After hours of swimming, we went around Maafushi to arrange our transfers the next day and fortunately, we found a great deal at our own hotel, Arena Beach Resort. Aside from having the best location in the island, they have the best day trip deals and very accommodating staff.
In the afternoon, while we watched the sunset at Bikini Beach, two of our friends went fishing for two hours for 25 USD each. Afterwards, the fishes they caught were cooked and were served to us by the hotel staff where they booked the activity. The gracious staff even gave us food from their dinner buffet.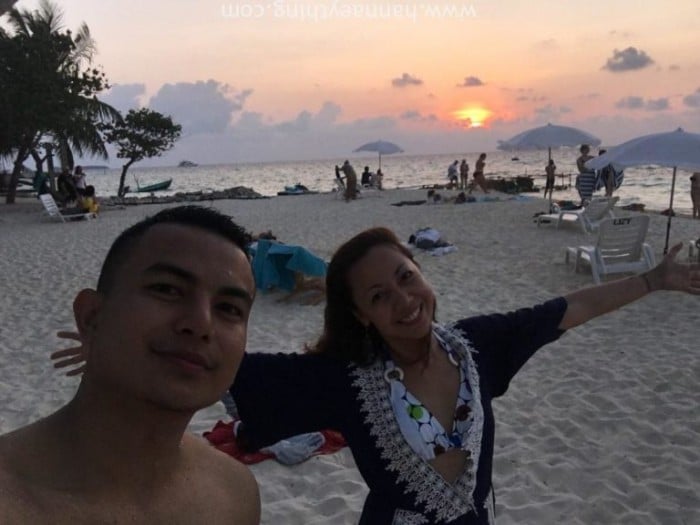 Day 3: Fihalhohi Island Resort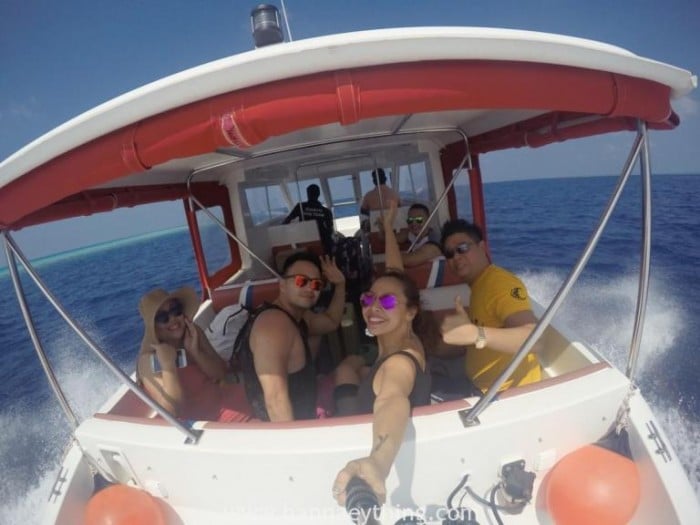 Everyone was in high spirits that day because we are going to Fihalhohi Island Resort.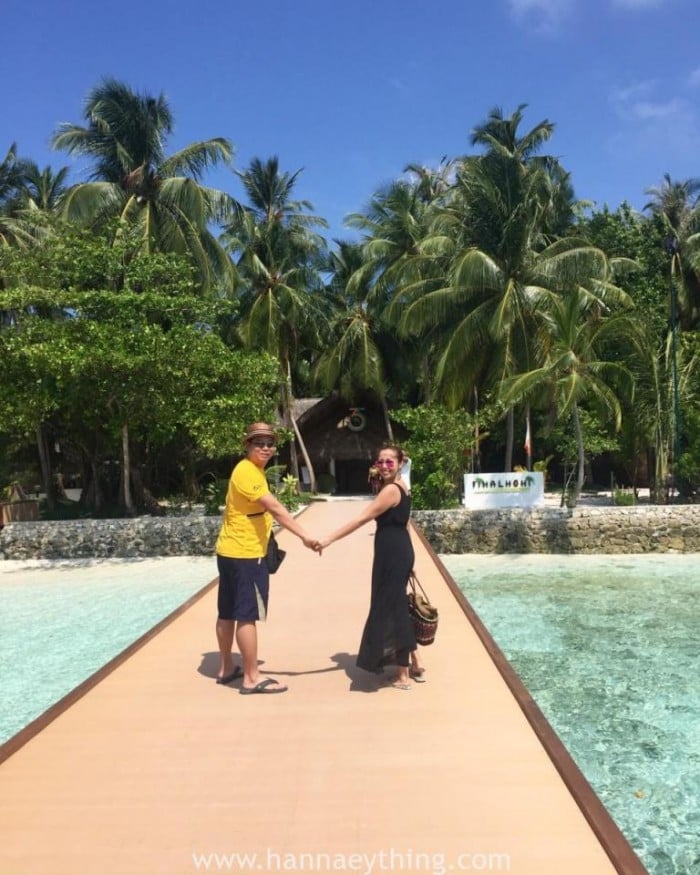 We were lucky that our room was already available despite the fact that we arrived earlier than the standard hotel check in time. Upon settling into our rooms, we explored the beautiful island of Fihalhohi.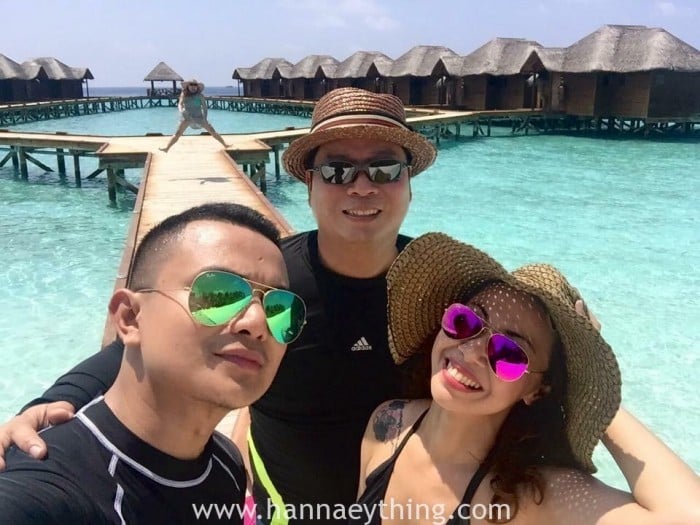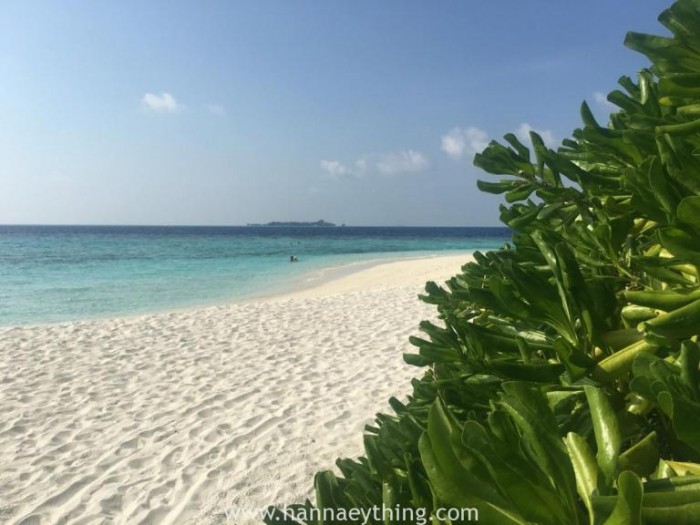 It has a long stretch of creamy white sand beach. It was such a magnificent view! The waters are so clear and you get to swim with the fishes and baby sharks too! How awesome is that?
Two of my friends availed of the drink-all-you-can for USD 40 and the drinks include all alcoholic and non-alcoholic beverages.
Every night at 8 pm, there is a fish feeding activity in front of the resort restaurant. This is the perfect way to relax after a big dinner buffet. There's  also a band performing every night at the island bar if you just want to chill and unwind.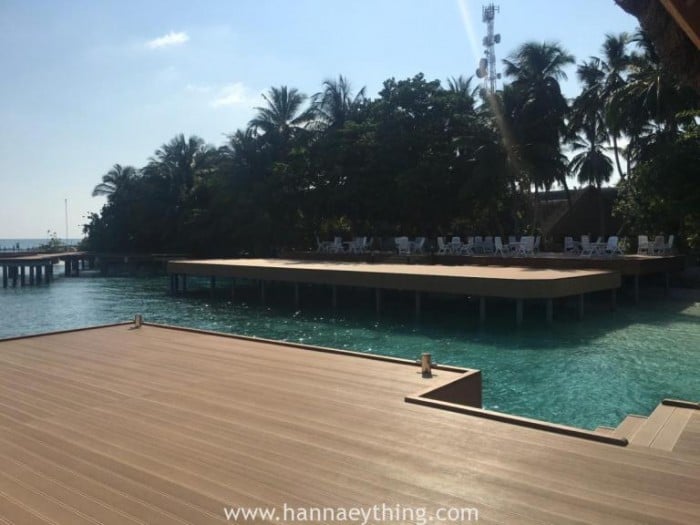 Day 4: Fihalhohi Island Resort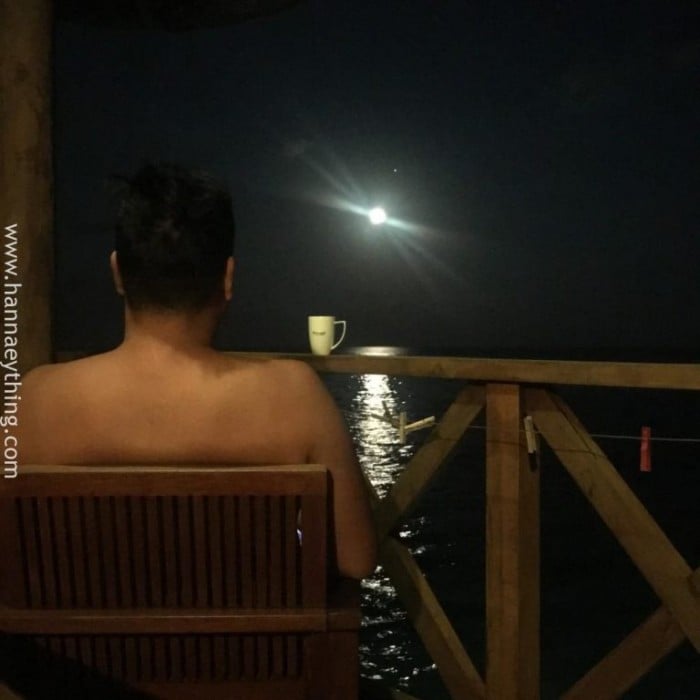 Even after four days here in Maldives, I still wake up at around 3 am everyday. I get a chance to see the moonlight shine over the vast Indian Ocean while enjoying a cup of coffee and a good conversation with my favourite person.
I look forward to the breakfast buffet of this resort. They have this rule that each room is assigned with the same table each time you eat breakfast, lunch or dinner. So you can actually leave your bottle of water and the waiter will put it back on your table when you eat.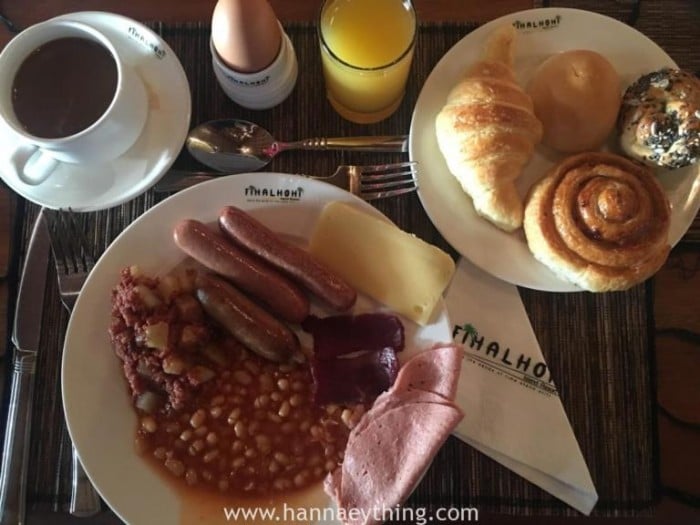 It was another day of basking under the sun for us. I can never get enough of Maldives. I admit that usually I just swim for a maximum of 30 minutes but here I swim for hours!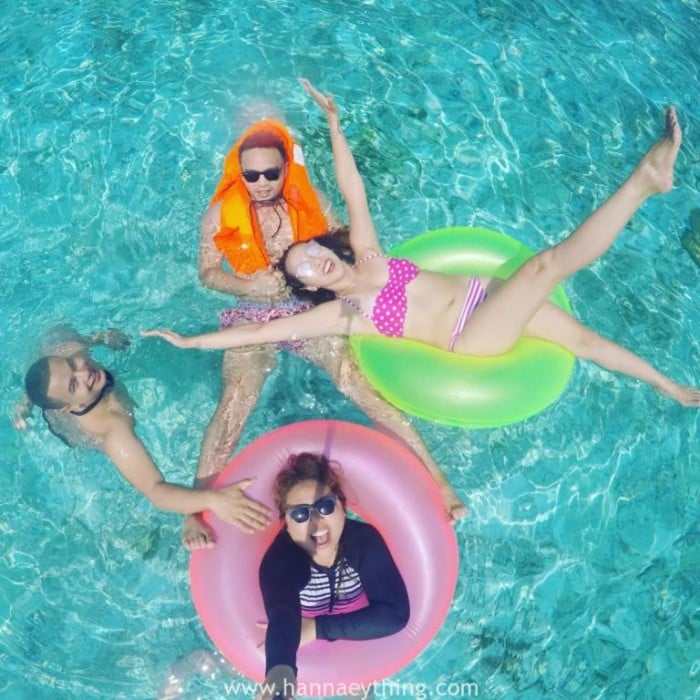 We enjoyed jumping into the water from our water bungalow. We were like kids swimming and laughing and not minding the skin colour. You can never actually feel that your skin is burning not until the evening.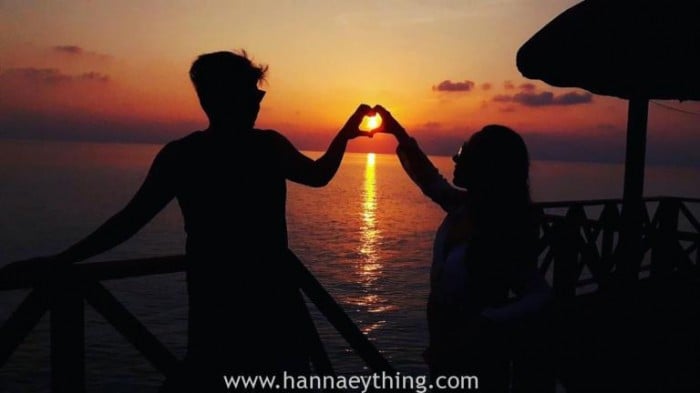 Day 5: Maafushi Island
We are heading back to Maafushi Island and the speed boat service was on time. We checked in at Horizon View Hotel. Ashraf, the hotel manager even allowed us use his kitchen after he learned that we have a Chef in our group. We shared dinner with the hotel owner, manager and his staff. It was fun!
After dinner, we asked Ashraf to arrange a speed boat going to the party boat. Drinking alcoholic drinks at Maafushi is only allowed at the Safari boat. If you want to go there, you just have to call them and they will pick you at the jetty port and take you back as well free of charge. The drinks there were quite expensive. A bottle of beer or a glass of wine costs USD 6 each.
Day 6: Adaaran Vadoo Resort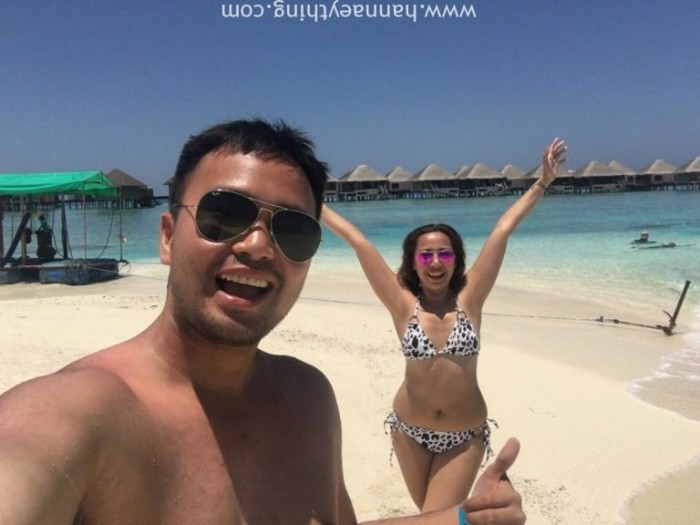 We checked out at 8 am to visit another island, Adaaran Vadoo Resort. We took the Day Tour package for USD 100 each because we were heading out to Singapore that night at 9 pm. The package includes a welcome drink, lunch buffet and unlimited alcoholic and non-alcoholic beverages.
We can never get enough  swimming. We tried snorkelling too! The food at the buffet lunch was delicious and there was unlimited ice cream for dessert, perfect for the scorching summer heat!
At around 5 pm, our speed boat transfer to Male arrived promptly. They took us to the mainland. We tried their famous restaurant located along the Male jetty port, Sea House. We were glad to meet two Filipino waiters there. After dinner, we went around the city by foot to look for souvenir shops. A piece of ref magnet at Hulhumalé or at the private resorts costs around USD 4-10 . We bought ours at Male mainland at USD 2  each.
We took the airport ferry going back to Hulhumale island to reach the airport. The public transport was on time and very efficient. We paid for 10 Rufiyaa each.
We went to the airport tired but with a happy heart. I personally felt a little sad that our Maldives trip is about to end but our 10 day vacation has not yet ended. We still have Singapore and Johor Baru to explore! Our plane to Singapore took off on time. We dozed off and we woke up rejuvenated and ready for our Singapore adventure.
Also read: 4 Things You May Not Know About the Maldives
Here are a few tips I would like to share for those interested to visit Maldives:
When in mainland Male, dress appropriately. Always respect the traditions and culture of the country you visit.
We bought just one sim card for everyone to share and made use of free hotel Wi-fi. Much to our delight, all the hotels we stayed has a good Wi-fi connection that even reached to our rooms.
Never be afraid to ask around. We got good deals by asking around and engaging with the locals.
We always bring USD when we travel because when changed to another currency like Maldivian Rufiyaa, the rate is usually higher.
Be adventurous in food! I like trying out local dishes each time I travel.
I find it interesting to strike conversations with fellow tourists and locals because most of the time, they also share their experiences and give out helpful tips.
When in Maldives, I suggest that you will really experience their signature water bungalow accommodation. Pricey but worth it!
We bought water at Maafushi Island before heading to Fihalhohi Island Resort because bottled water costs USD 4  at the resort and we bought ours at 7 Maldivian Rufiyaa (USD 0.5) only. Talk about savings and practicality.
We only paid half board at the Fihalhohi Island Resort, meaning we were only served with breakfast buffet and dinner buffet so we bought along chips, coffee, cookies, chocolates and bread with us that we munched on as we enjoyed beach bumming and swimming.
We moved from one place to another so if you follow this itinerary, bring along luggage bags that you are not afraid to be scratched. We brought our Rimowa luggage and we were always concerned of the handling.
Bring neck pillow for this long flight. I was glad I brought along mine.
They said that Maldives is a honeymoon destination but we proved that it can also be a good vacation place for a group of good friends sharing the same interest on travelling and beaches.
Take a lot of pictures. Although pictures do not give justice to the beauty of this island, but I wish I took a lot of them.
Bring a whole lot of sunblock lotion for skin protection and tanning lotion for those of you who want to get a glowing Maldivian tan.
Memories are treasures that nobody can take away from you. So travel as much as you can. You don't have to be rich to travel. You can enjoy just the same even with a trip on a budget.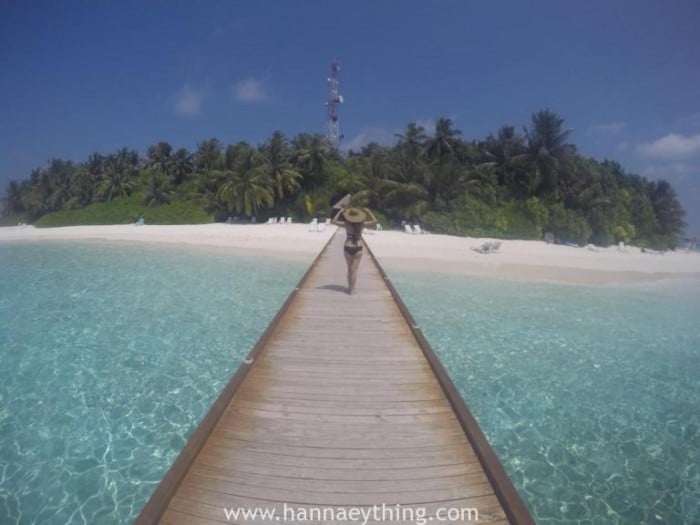 Budget
ESTIMATED EXPENSES FOR OUR MALDIVES TRIP (PER PERSON)

| | PRICE (USD) |
| --- | --- |
| Airfare via Tiger Airways  Cebu – Singapore – Male – Singapore – Cebu | 400 |
| Travel Tax and Terminal Fee | 50 |
| Accommodation at Coral Queen Hotel   60 USD per night /2 | 30 |
| Accommodation at Arena Beach Hotel 100 USD per night/2 | 50 |
| Accommodation at Horizon Inn Hotel    50 USD per night / 2 | 25 |
| Accommodation at Fihalhohi Island Resort Peak Season Water bungalow – 2 x 600 USD per night / 2 | 600 |
| Day tour at Adaaran Vadoo Resort | 100 |
| Speedboat transfers and  fares | 100 |
| Food drinks and other miscellaneous expenses | 100 |
| TOTAL ESTIMATE | USD 1,455  |
I am a budget traveller who usually finds a day or two to splurge.  Here are some suggestions to make your Maldives more pocket friendly.
Cheaper airfares can be bought from Tiger Airways website as long you are flexible with your travel dates.  We travelled during Holy week with specific dates in mind so we did not get the best prices for airfares.
For transfers to / from  Male and Maafushi, you can take the public ferry at USD 2 each per way instead of  private speedboat.
You can spend your day with activities like fishing, sand bar hopping, etc.  Also you can take day tours to Resort Islands instead of booking a room in the resort.  You can arrange your excursions easily by several tour operators found in Maafushi.
Visit Maldives during low season (June – October) as resorts are cheaper.  Book in an inland room.  They are usually half the price of the water bungalow.
Also read: 8 Reasons a Maldives Trip is Worth Breaking the Bank
Feel free to comment or contact me for more information about our Maldives vacation.