Contributed by Dons Travels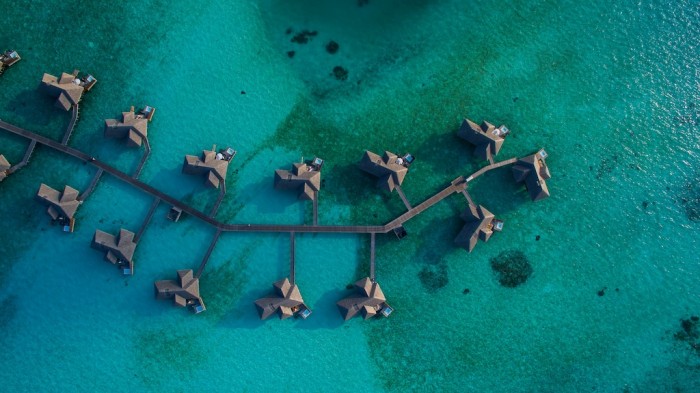 Welcome to paradise!
The Maldives is home to the best beaches in the world; they are available on almost every one of the country's nearly 1,200 islands and are so consistently perfect that it's hard to fault them. With the white sandy beaches, serene turquoise lagoons, richly colourful coral reefs renowned for their biodiversity, the radiant flora and fauna and the hospitable Maldivian people, this is an attractive year-round tropical destination for those who are looking to soak up some sun, sand and the sea.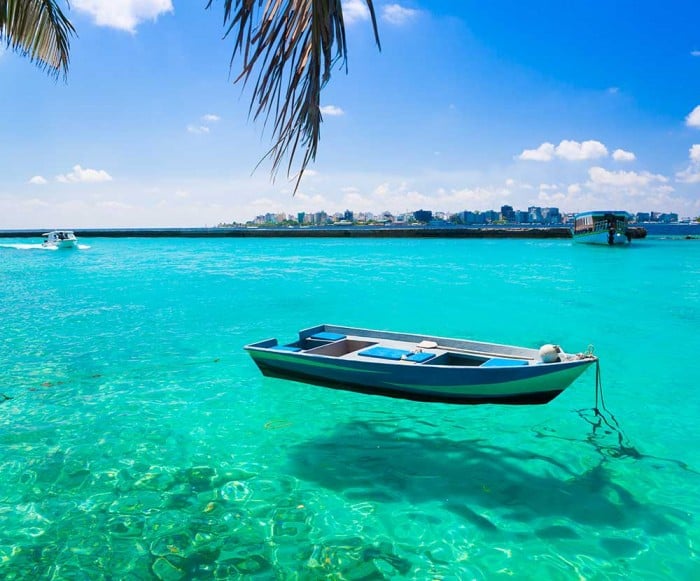 While most people associate Maldives with honeymooners, I would beg to differ as my solo trip to the Maldives was amazing. I made a bunch of new friends and got to see the local side of the country without costing me an arm and a leg.
Until 2011, tourists were restricted to stay only in tourist resorts and not on locals-inhabited islands. However, a new government ruling changed this and thus Maldives is now more affordable to backpackers as they have the choice of staying in guesthouses, experiencing local culture and tradition at the same time.
Read on to find out more about how budget travelling through the Maldives is possible. If you are planning a honeymoon there, you can also contact me for more info as I have friends in the Maldives who are able to customise a specific package for you including resort stays that would suit your budget.
Here are six money-saving tips for you to consider while planning your trip to this paradise!
1. Look out for cheap flights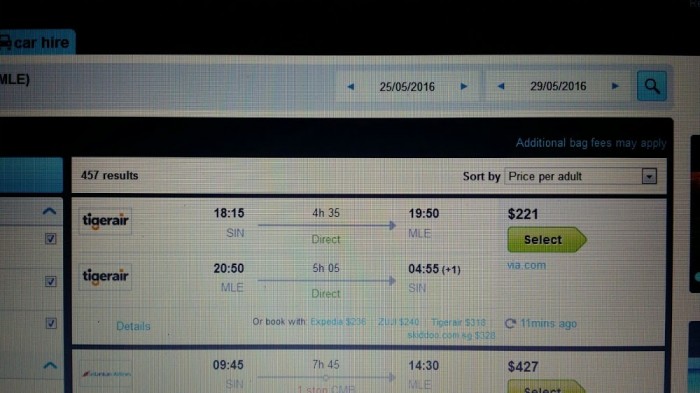 It's possible to travel to Maldives for less than SG$250!
Tigerair flies to Male from Singapore four times a week (Mon, Wed, Fri, Sun) and their fares are quite cheap. I paid SG$230 for a round-trip ticket. Alternatively, Singapore Airlines has two daily flights to Male, albeit at a more premium price (SG$550 and above for a round-trip ticket). Use flight comparison sites to find the best flight deals!
2. Accommodation: Couchsurf, Airbnb or guesthouses

With my Couchsurfing friends, life is never dull
Since I had only a short five days in Maldives, I decided to stay on the mainland and make day trips. Thanks to my awesome Maldivian host Ibrahim who allowed me to crash at his apartment in Hulhumale for the duration of my stay. He introduced me to the local food, gave us tips on which island to visit and brought us to local areas. He also told me interesting stuff about politics and education in his country. I learnt that the first university in Maldives only opened in 2011, so before that, most people seeking higher education had to go to nearby Sri Lanka or other countries for their studies.
For those venturing to the lesser-known islands, there may be fewer or even no Couchsurfing hosts, so you can choose to stay in a guesthouse (SG$40–60) instead.
3. Travel by local transport
Ferries between the airport island to the capital city of Male only cost 10 rufiyaas (or US$1). It operates every 15–20 minutes, or every 30 minutes after midnight (US$2). Take note that the Ibrahim Nasir International Airport is located on the artificial island of Hulhumale. From Hulhumale town to Male, it costs 5.5 rufiyaas (US$0.50).
Public ferries to further outlying islands usually depart from Male and they cost $4–6 depending on the distance travelled. You can also travel on cargo ships, as my friend did in order to get to Thulusdhoo.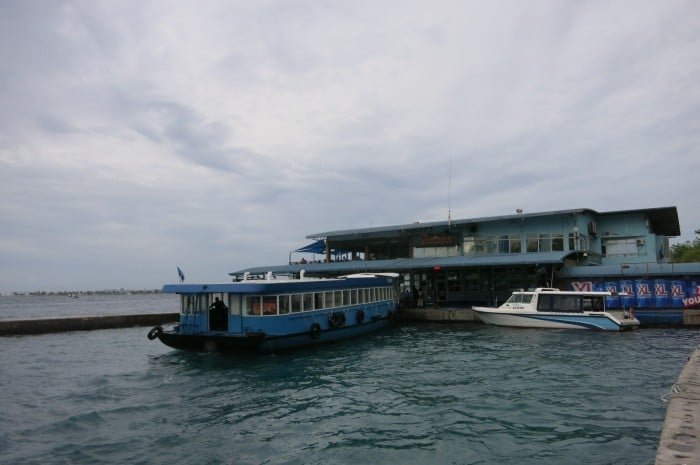 For those who are in a hurry and do not want to spend more than one hour sitting idle on a public ferry, there is also the option of taking a speedboat (more expensive, at US$100) or a seaplane (freaking expensive, at US$200-300).
Check out MTCC for their ferry schedules between islands. Note that for further outlying islands, the ferries depart on alternate days. There are no ferries on Fridays from Male to other islands, except for Hulhumale, because it is a rest day.
4. Do a day trip to a resort island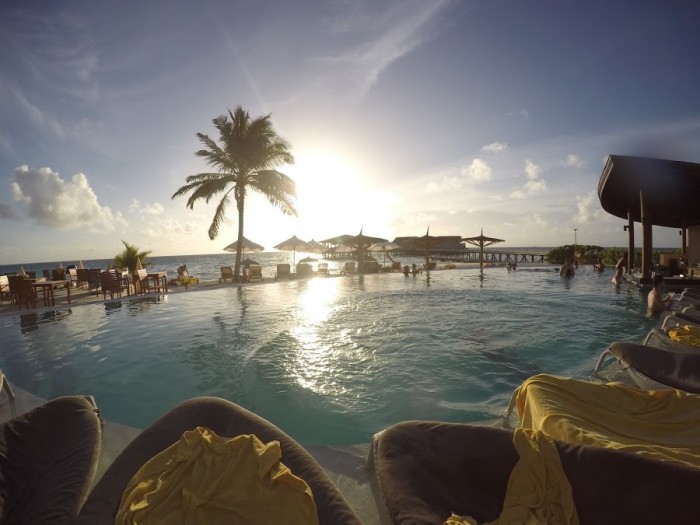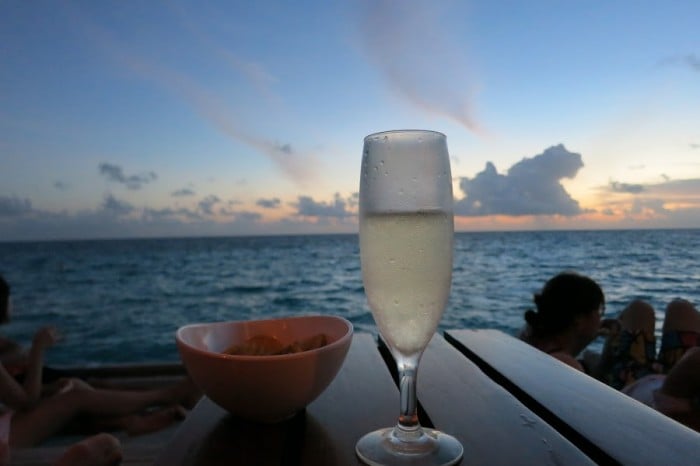 If you want to experience the resort life but are unable to fork out the amount of money to stay for one night, you can go to one of the resort islands on a day trip. I went to Centara Ras Fushi Resort Camp & Spa Maldives which is a 45-minute boat ride away from Maldives. There are two time slots, 9am–6pm (with lunch) or 2pm–11pm (with dinner).
For a fraction of the cost of staying overnight, you can indulge in free-flow alcohol, buffet lunch/dinner (depending on the time slot that you choose) and all-inclusive activities (such as swimming, snorkelling, paddle-boarding) and access to their facilities like gym and spa. At first I thought US$120 was quite pricey, but I decided to go in the end and I made sure to drink and eat to its worth.
5. Stay on a local island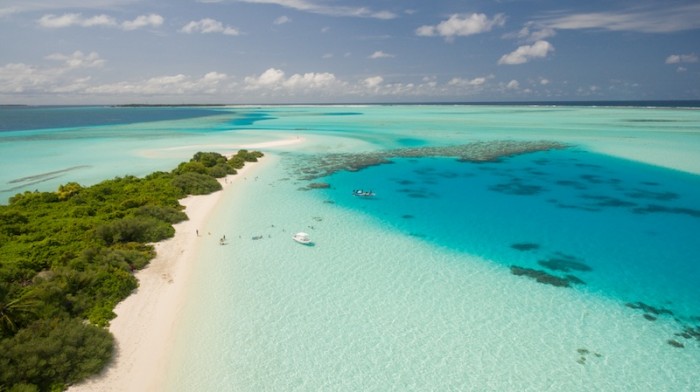 Alternatively, to experience much clearer waters off the shores of Hulhumale or Male, you can stay on a local island by taking a public ferry there. Here is a brief summary of some possibilities for visiting the various islands. The list is not exhaustive as there are so many islands to check out. These are the ones more accessible from Male and you can drop by to experience a slice of Maldivian life.
Maafushi
1.5-hour public ferry from Male. It is one of the inhabited islands of Kaafu Atoll. Great snorkelling and sandbank trips.
Daily departures from Male at 3pm except on Fridays.
Return 7.30am from Maafushi every day except on Fridays.
Rasdhoo
3 hours by public ferry from Male. It is the capital of Alif Alif Atoll. Great for diving and to see hammerhead sharks.
Depart from Male at 9am on Sundays, Tuesdays, Thursdays.
Return from Rasdhoo at 11am on Saturdays, Mondays, Wednesdays.
Thulusdhoo
2.5 hours by public ferry from Male. It is the capital of Kaafu Atoll. Good place for surfing as they are known for their huge waves. Check out the wave schedule first before heading there so that you would not be disappointed with one-foot waves.
Daily departures from Male at 2.30pm except Fridays.
Return 7.25am from Thulusdhoo every day except Fridays.
Himmafushi
45 minutes by public ferry from Male. It is located in North Malé Atoll. Best recognised for its world-famous surfing and diving spots.
Daily departures from Male at 2.30pm except on Fridays.
Return 8.45am from Himmafushi every day except on Fridays.
6. Eat like a local

There are several cafes and teahouses on each island, so a meal there should cost around US$3–5. Maldivian food consists mainly of fish and curry, and some people may not be used to the spiciness of the food. The main carbohydrate source is either rice or roti (a kind of flatbread). Coconut is also featured heavily on the menu, be it in the form of coconut milk or grated coconut.
Maldives is surrounded by the sea, so it is not surprising that fish (mainly tuna) is the most important staple of the Maldivian diet. The cuisine is influenced by a mix of Arabic, Indian, Sri Lankan and Oriental food.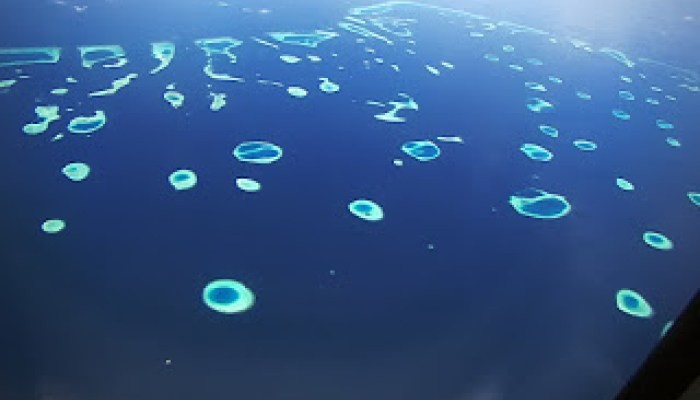 The window seat view. Adios Maldives, I'll be back again!
Hope that this article will help you with your trip planning to Maldives! It is not as expensive as you think unless you stay in the tourist resorts.
Also read: How to Travel Maldives on a Budget