Got a long weekend coming up and don't exactly want to be cooped up at home doing nothing? Well, we've got the perfect solution for you! How about taking a short trip to treat yourself for the past few months (or years) of hard work?
These countries are relatively near to Singapore, meaning that it will only take you a couple of hours to get there. And because travelling to your destination won't take up most of your day, it'll leave you with more time to explore and do whatever you like! What's more: We've sought out budget-friendly options for each of these countries to help you save you some extra cash while you get out there and enjoy yourself. You're welcome!
Johor Bahru, Malaysia
Johor Bahru has always been a popular short getaway choice among Singaporeans because of how near it is to Singapore. And seeing how it's located just across the causeway, it means that you won't even need to spend money on flight tickets (more money for shopping and eating!). Say hello to the many mega malls like Johor Bahru City Square, Paradigm Mall Johor Bahru, KSL City Mall, and be prepared to shop till you drop!
If you haven't had enough of shopping, well good news! There's still Johor Premium Outlets for you to explore. Housing a total of 130 stores (think: Michael Kors, Nike, Adidas, Tommy Hilfiger and others), a visit here will guarantee that all you shopaholics out there will leave satisfied… and without a big hole in your pocket!
Johor Bahru's café scene is brimming with hipster cafés. Not only do these cafés serve up yummy food, they also provide perfect Instagram-worthy backdrops for your food pictures! With cafés like Chaiwalla & Co. Container Café, Faculty of Caffeine, Monsta Cafe and more, are you ready to eat to your heart's content?
While in JB, you can stay in a budget hotel for as low as S$40 a night. While these budget hotels may not be the most luxurious or stylish, they still provide you with the basic amenities and a comfortable space to rest your head for a few nights. Here are some hotels to check out in the S$30-S$40 range: Hermess Hotel Johor, Hotel CIQ and Baguss City Hotel.
Total estimated cost for transport and accommodation: ~S$100 – S$150
Batam, Indonesia
Only a short ferry ride away, Batam can be reached in less than an hour. The ferry tickets will set you back about only S$50 two-way, leaving you with more money to spend at all the shopping malls that Batam has to offer. Don't forget to stop by the various factory outlet stores while you're here, if you're looking to snag up a good bargain. There's 1st Factory Outlet, Golden Factory Outlet, and the iconic Polo Ralph Lauren outlet store – take your pick!
If you're seeking a little respite from the city, you can head to Barelang Bridge. Feel the wind blowing softly on your face while you take in the views in front of you. There are also food vendors selling items like grilled corn on the cob and fresh coconut, so rest assured that you won't be going hungry while you're here. And the best part? You can access Barelang Bridge for free!
Batam's weather can get quite relentless sometimes, but there's a way to escape the heat! Just drop by Aqua Adventure Track (located in SeaForest Adventure), an inflatable water sports park for everyone – young or old – to have a splashing good time. There's even a Floating Snack Bar where you can enjoy snacks and drinks on floating bean bags! Basic entry fee into SeaForest Adventure costs IDR 35,000 (~S$3.25) for adults and IDR 25,000 (~S$2.30) for children, while entry into the water park costs IDR 75,000 (~S$6.95) for 30 minutes, IDR 120,000 (~S$11.10) for 60 minutes and IDR 175,000 (~S$16.20) for 120 minutes.
Things in Batam are priced relatively cheap, and that goes for accommodation too. Room rates at budget hotels can be as low as S$20 a night (Sky-Inn Hotel, Venesia Hotel and Standard Hotel and others), while those at higher-end hotels can start from S$60-S$80! These include Allium Batam Hotel, Sijori Resort and Spa and Harmoni Hotel Batam. If that isn't a steal, we truly don't know what is.
Total estimated cost for transport and accommodation: ~S$100 – S$250
Bangkok, Thailand
Just a 2.5-hour plane ride away, Bangkok is another popular destination for short getaways. With its abundance of night markets offering amazing street food along with lots of great bargains for apparel and other items, it's really no wonder why. Flight ticket prices can range from less than S$100 to S$200 (round trip) depending on the day you fly, so it's always good to watch the prices of several dates and book your tickets early!
While we're on the topic of Bangkok's remarkable number of markets, let's not forget the classic Chatuchak Market. Well-known for being one of the largest markets in Asia, Chatuchak Market is a must-visit on any trip to Bangkok! With over 15,000 stalls selling a wide variety of goods like clothes, shoes and food, Chatuchak Market is your best bet if you're looking to get the best bargains in town.
In need of some fresh air? Lumpini Park is the place you should be heading to. Covering a total area of about 57.6 hectares, this park is a tranquil respite from the city right in the heart of the city. Because of the many trees that provide shade, we also recommend having a picnic while you're visiting! Keep a lookout for the many wildlife species that can be found here – we heard that there are many birds, water lizards and fishes to be spotted!
You can also take a stroll by the riverside at Asiatique. Apart from taking a relaxing stroll, there are plenty of other things you can do here too. Navigate through the different alleys of the night bazaar to see if there's anything that catches your eye, or grab a bite at the many restaurants and eateries that can be found here. If you're looking for some form of entertainment, how about catching a live Muay Thai show (~S$50.45) or a Thai puppet performance?
Let's face it: after a whole day of walking and shopping, all we want is a nice and comfy hotel room to go back to. From S$50 to S$80 a night, you can get a pretty good hotel room from Baiyoke Sky Hotel, A' Hostel Bangkok, or I-Residence Hotel Sathorn – with adequate space for you to rest and recharge, before doing it all again the next day.
Total estimated cost for transport and accommodation: ~S$250 – S$350
Hanoi, Vietnam
Vietnam's capital city of Hanoi is certainly a charming one. This city has a rich history comprising Chinese and French influences and is sure to wow you as you explore its busy streets. Approximately 3 hours away from Singapore by flight, your flight tickets will cost you about S$200 both ways.
While in Hanoi, you can catch a water puppet show at the Thang Long Water Puppet Theatre. These water puppet shows give you a glimpse into the Vietnamese culture and various subcultures – an entertaining and one-of-a-kind experience that shouldn't be missed! Tickets for these shows cost between VND 60,000 to VND 100,000 (~S$3.45 to ~S$5.80).
Head over to the Hanoi Opera House to marvel at its beautiful architecture, and catch a show or two there if you'd like! There's also Dong Xuan Market, where you can shop for a variety of goods – from clothes to toys and many more. If you feel peckish while walking down the market's different lanes, fret not, for there a bunch of food stalls serving up yummy local dishes!
Accommodation in Hanoi is relatively cheap. Furthermore, you might even be able to get your hands on a steal – you just have to be constantly on the lookout for special deals! While majority of hotels in Hanoi have rooms going for S$45 to S$75 a night (like Artisan Boutique Hotel, Essence Palace Hotel and Oriental Suites Hotel), there's Hanoi Hibiscus Hotel which has rooms starting from only S$25 a night.
Total estimated cost for transport and accommodation: ~S$300 – S$400
Phnom Penh, Cambodia
Though it doesn't boast the world-famous Angkor Wat, Phnom Penh still has plenty to offer! Located between the Tonle Sap and Mekong rivers, the bustling capital city of Cambodia is home to a number of temple complexes, monumental sites that serve as a remembrance to the city's past, and more. The flight there will take around two hours, costing you about S$200 in total (round trip).
Make a stop at the Royal Palace, where you'll be able to see for yourself the intricate architecture of the different buildings. You can also see hints of French-style architecture in the buildings from Cambodia's time as a French colony. While you're there, make sure you also stop by the Silver Pagoda, or also known as the Temple of the Emerald Buddha! For entry into the Royal Palace and Silver Pagoda, foreign visitors have to pay an entrance fee of KHR 40,000 (~S$13.20).
If you'd like to learn more about Phnom Penh's history, you can head over to the Tuol Sleng Genocide Museum. The museum depicts the horrors of the Khmer Rouge occupation in Cambodia and is definitely not for the faint-hearted. Entrance fee into the museum is $5 per person, with an additional fee of $3 for an audio tour.
Phnom Penh's streets are painted with vibrant street art. Though some of these artworks are hard to find, you'll definitely be amazed if you do spot any. One good place to look is Street 93!
For S$50 to S$80 a night, you can get yourself a comfortable room in many of Phnom Penh's hotels – V Hotel Phnom Penh, Le Grand Palais Boutique Hotel and SUN & MOON Urban Hotel to name a few. If you don't mind scrimping a little on your accommodation, Kha VI Guesthouse has rooms going for S$18 a night.
Total estimated cost for transport and accommodation: ~S$300 – S$400
Cebu, Philippines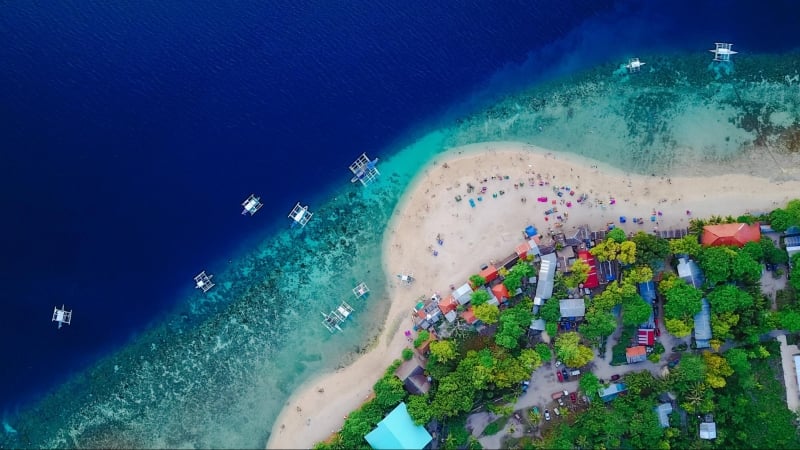 Approximately four hours away from Singapore is the city of Cebu in the Philippines, where sunny days, white sandy beaches and the many islands await you. Round trip flight tickets to Cebu cost about S$200 on average.
To get panoramic views of Cebu City, head to Tops Lookout! With an admission fee of only PHP 100 (~S$2.50), the views you get while you're atop this observation deck is surely well worth it. In addition to restaurants offering casual dining options, there are also stores selling snacks and beer, so you don't have to worry about getting hungry while you enjoy the gorgeous city views. There's also ample space for you to lay a mat out and have a picnic, if you fancy!
Yearning for some sun, sand and sea? Lambug Beach is your answer! One of Cebu's finest public beaches, Lambug Beach boasts clear blue waters and fine white sand. The smell of saltwater and sound of crashing waves will definitely help put you at ease. So, it's time to throw your head back and relax!
You can consider staying in Sugbutel Family Hotel's dormitory-type accommodation with beds starting from only PHP 265 (~S$6.70) a night. But if you prefer having a whole room to yourself, most hotels have rooms going for S$30-S$70 a night. Here are some names to get you started: Main Hotel and Suites, Quest Hotel Cebu, Dynasty Tourist Inn. Sometimes, the pricier hotels might be having sales on their rooms when you're searching for a place to stay. Some of these hotels – Alpa City Suites and Azia Suites for example – shave 50% off (or more!) their original room rates, making it a total bang for your buck!
Total estimated cost for transport and accommodation: ~S$300 – S$400
According to HotelsCombined, Malaysia, Thailand and Indonesia are actually among the top few countries that Singaporeans travel to during long weekend holidays in 2017. And with how affordable things in these countries are, it's really no surprise why they're your top choices huh! You don't always have to have a long holiday overseas to get your travel fix. Sometimes, a few days is all we get and we honestly think that it's better than nothing!
All price points listed are based on estimation only – actual prices may differ depending on your dates of travel. Nonetheless, we hope that this list gave you some inspiration and that you'll be jetting off to one of these destinations in the near future! After all, we all deserve a short little break from time to time, don't we?