Possibly the travel capital of the world, London draws over millions of tourists annually and continually secures a lead in the World Tourism rankings. Expect an unrivalled mix of history and culture at every nook and cranny of the city when you're here.
However, it is also notorious for being one of the most expensive places in the world to visit — or so you thought. Without skimping on the food and fun, here's how you can enjoy London in a span of five days without breaking the bank!
Day 1
Visit the matrimonial site of Prince Charles and Lady Diana Spencer at St. Paul's Cathedral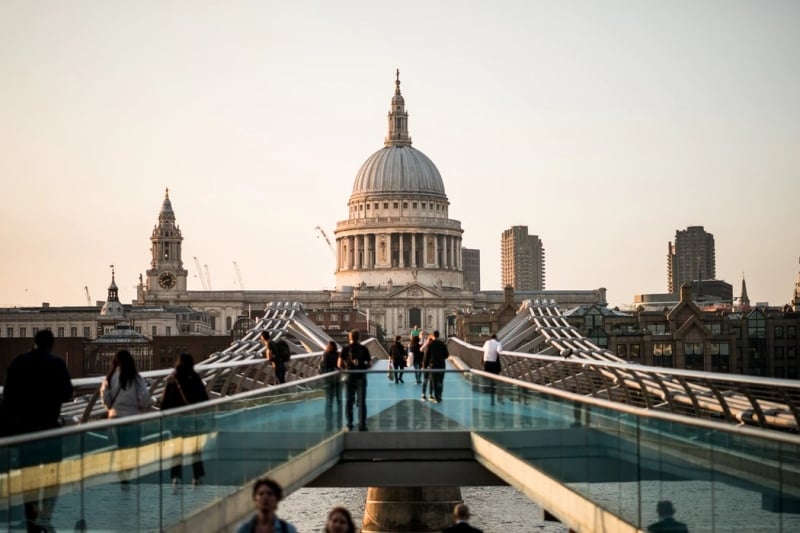 What better way to begin your vacation than with a stunning 360-degree view of London at  St. Paul's Cathedral? Step out of the Golden Gallery atop the Dome and survey the entire city in the twinkling of an eye.
What's more interesting is that the cathedral is also the matrimonial site of Prince Charles and Lady Diana Spencer. For history buffs, St. Paul's Cathedral is more famously known as the place where Winston Churchill's state funeral was held.
Admission prices are varied from £7 to £18 (~S$13 to S$33) depending on your age. For a better rate, purchase tickets online at only £16 (~S$29) for adults. But if you're hoping to get just a glimpse of the cathedral, you can do so for free by attending a service.
Appreciate international and contemporary works of Art at Tate Modern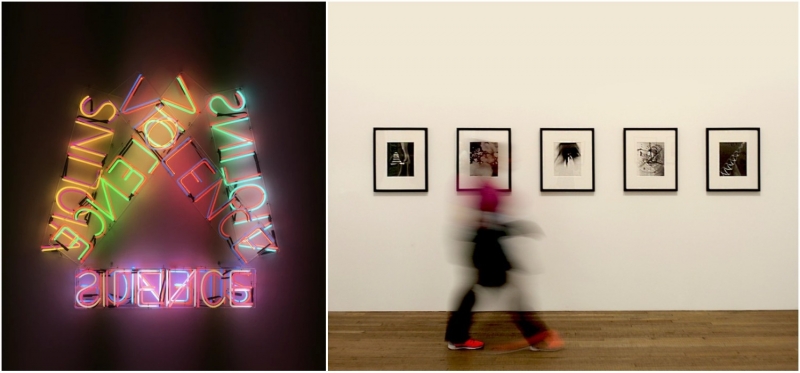 At the Tate Modern, expect flashy installations, muted exhibitions and most importantly, heartfelt works of art at absolutely no cost. Get acquainted with domestic and international artists, and be inspired by their profound pieces.
For naysayers, don't turn away just yet. Participate in the free guided tours conducted at specific timings all around the building and discover the mysterious beauty of modern and contemporary art. This place also makes for an Instagram-worthy backdrop!
Take an afternoon's amble around Borough Market

Only a stone's throw away from the Tate, head down to London's oldest market for an experience like no other. Watch the market buzz with life through a riot of aromas and a cacophony of voices.
At an average price of £7 (~S$13), sample a dizzying array of tip-top street food like freshly shucked oysters or handcrafted paellas. For a restaurant recommendation, Padella has world-class pasta as testified by the frequent long, snaking queues.
If you're looking to buy fresh produce, Borough Market offers a splendid selection of fruits and vegetables. They even have renowned culinary ingredients like truffle!
Catch a play at Shakespeare's Globe for only £5 (~S$9)!
No visit to London is complete without dropping by The Globe Theatre. As a tribute to the greatest influential figure of the English language, The Globe Theatre, also fondly known as Shakespeare's Globe, only performs William Shakespeare's plays. Revel in the likes of the ever-popular Hamlet and Othello as well as lesser-knowns like The Winter's Tale.
For ardent fans of Shakespeare, get a chance to explore his theatre with an English guided tour that lasts approximately 40 minutes, from as low as  £8 (~S$15)! If you're unfamiliar with English, complimentary information sheets in seven different languages will be provided to help you out.
Finally seeing the London Bridge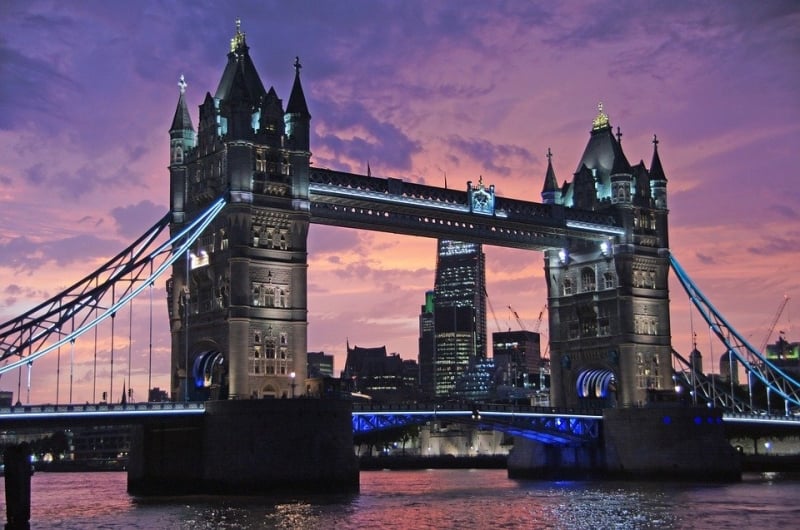 After the wonderful show put up by The Globe Theatre, take a stroll along the River Thames and look out for the spectacular Tower Bridge, commonly depicted as the London Bridge, or catch the beautifully illuminated London Eye. Let your hair down and soak in the remarkable city landscape as you relax and unwind.
Day 2
Circle the globe at the British Museum
Start your second day at The British Museum — one of the world's largest and most complete international museums comprising of over eight million artefacts ranging from Culture, Art and History collections. Prized possessions include the Rosetta Stone and the ever controversial Elgin Marbles or Parthenon Marbles.
The British Museum has such a massive collection that it's impossible to cover them all within a day so cherry-pick your areas of interest and let the jaw-dropping experience begin. Better yet, return the next day if time permits since it's free admission. But be warned: this is one museum that can actually give you gallery fatigue.
Slide into Poppie's for some scrumptious fish and chips
Oh my cod, it's Poppie's! Get some of London's quintessential fish and chips at Poppie's for some proper grub. Dig into the perfectly battered fish of your choice with a generous portion of chips to match and have a belly good time. At £12.20 (~S$22) for a regular and £16.90 (~S$31) for a large, this is definitely worth its weight in gold.
The only downside? Having to wait in line!
Grab your magnifying glasses and sleuth your way to the home of Detective Sherlock Holmes
Your detective work begins as soon as you step into Baker Street whether via the tube or walking. London's famous 221B Baker Street where the fictional Holmes lived and worked is a real piece of work, literally and figuratively. Here's a hint: It's located between 237 and 241 Baker Street! Elementary, my dear reader.
For a price of £15 (~S$27) per adult and £10 (~S$18) per child, enter into Holmes' famous study as described in the books and explore Dr Watson's bedroom in The Sherlock Holmes Museum. Don't miss the nine-foot bronze statue of the great detective as well when making your way here.
Day 3
Sightseeing in Trafalgar Square
Your next pit stop would be the iconic Trafalgar Square. This is a place built to remember the Battle of Trafalgar in 1805 and specifically, to commemorate Lord Horatio Nelson's valour and sacrifice for his country. Be sure to snap a picture with the 52m-high Nelson's Column and the surrounding four lion statues for keepsake.
In present times, this is a place of community gatherings and political demonstrations such as the first Aldermaston March.
Blast to the Past at the National Portrait Gallery
Located a few steps away from Trafalgar Square is the National Portrait Gallery which holds the world's most extensive collection of portraits. Marvel in paintings ranging from the Tudor and Regency periods to those of the Victorian times for free. If you can't tell them apart, there are guided tours to help you every step of the way.
Special exhibitions on display include a Michael Jackson edition but they come at an additional cost.
Grace the shopping streets in Covent Garden
From the National Portrait Gallery, take a short walk down to Covent Garden and immerse yourself in the city's hustle and bustle. For shopaholics, lose yourself in the long rows of boutiques offering luxury items and household brands. If you want more options, London's prime shopping streets, Oxford Street and Piccadilly Circus, are only a few minutes away. Primark, the crowd favourite, has two big establishments in the area that will satisfy you.
If you have spare cash, catch a musical when you're here because the bulk of theatres are only a short walking distance away. We would recommend The Lion King (~S$68) and The Phantom of the Opera (~S$45) for unadulterated entertainment.
Sizzle up at Flat Iron
For some delectable beef steak at an affordable price, Flat Iron will rank top of your search. At only £11 (~S$18) for a succulent flat iron steak and complimentary salted popcorn, this is a deal you won't be able to resist.
And only at Flat Iron, you get to cut up thick slices of beef with a mini chopper! Despite having five outlets in London, all restaurants continue to receive a large flux of customers during meal times so do go early to avoid the queues as they don't take reservations.
Pop some shots in Simmons Soho
Oh, did we mention that London's nightlife is pretty awesome? While there are many bars in Soho, there is none quite like Simmons. At only £2.50 (~S$5) a beer and £10 (~S$18) for a bottle of wine, you and your friends can go as many rounds as you like.
If you're pining for some cocktails, Simmons have their own signature cocktails from £8.50 (~S$16) a glass and £20 (~S$36) for a teapot that you can share among friends. If you're conflicted, pick the Espresso Martini (~S$17) which is the most popular cocktail on the menu.
Day 4
Meeting Big Ben, the Palace of Westminster and Westminster Abbey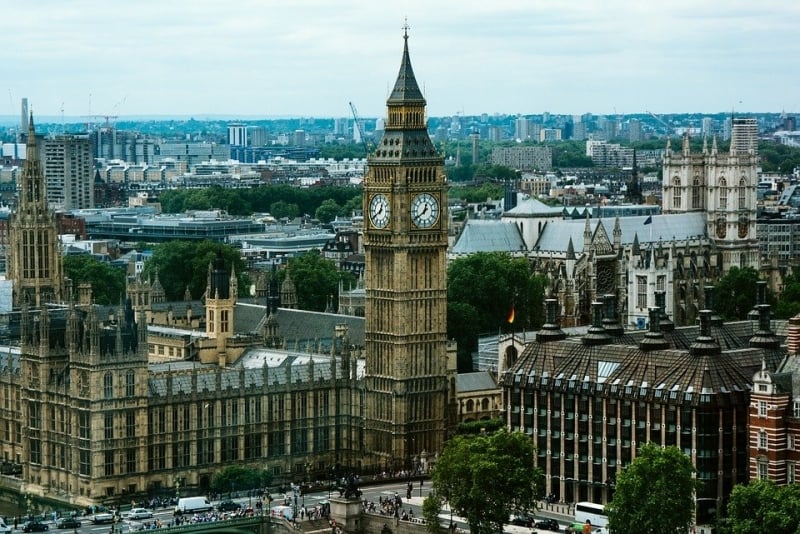 When in London, you definitely have to visit the Big Ben. This iconic landmark is so well-loved by people that it even has its own Twitter account. Its image adorns everything, from souvenirs to sauce bottles. While it's currently under maintenance until 2021, don't turn and leave just yet!
Continue down the path and admire the quaint architecture of the Palace of Westminster, also known as the Houses of Parliament. It is here that Britain's past, present and future is decided upon. Don't forget to take the obligatory phone booth photo during your stroll as you'll find many red telephone booths along the streets.
As Westminster Abbey is in the vicinity, be sure to drop by and witness its beautiful stained glass and magnificent relief sculptures. For those with cash to spare, buy a ticket (~S$36) to explore the collection of paintings and monumental sculptures in its treasury. Art lovers, you will enjoy this!
Dine at the Regency Cafe
For a taste of the traditional English fry-up, the Regency Cafe will not disappoint. Expect plump juicy sausages with a perfect fried egg in every meal — breakfast, lunch or dinner at an average price of £5.50 (~S$9). In 2013, it was even voted the fifth best restaurant in London.
Aside from its culinary hype, this little joint is also famous for its Art Deco style and has been featured in various movies such as Layer Cake and Pride. Take a trip down here to feast your eyes and nourish the body.
Witnessing Royalty in Buckingham Palace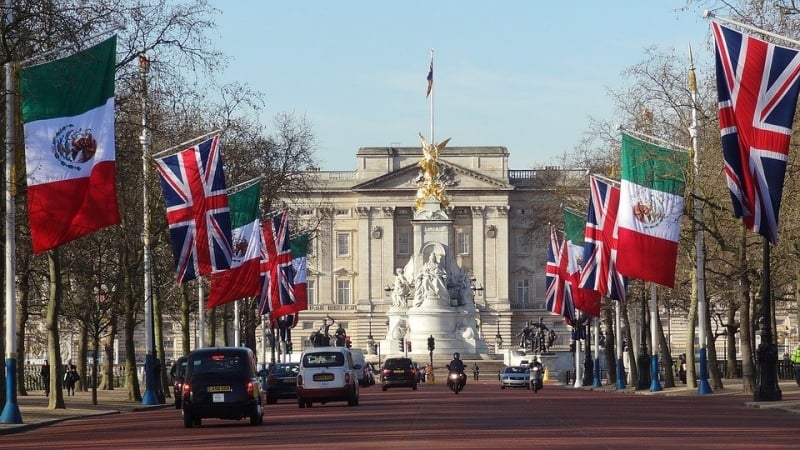 Home to Britain's sovereigns since 1837 and also the administrative headquarters of the Monarch, it's safe to say that Buckingham Palace is Britain's crowning jewel. Being one of the very few working palaces today, visiting Buckingham Palace is a must.
From £13 (~S$21), get a residential tour of 19 State Rooms which are fully furnished with treasures from the Royal Collection. Not only that, these are rooms that have hosted official events and ceremonial occasions. Fun fact: You might even be in the same room that Obama was in! What's more, you'd get a chance to walk through the garden overseeing the Palace and the famous lake.
For those on a tight budget, skip the tour but be sure to catch the formal changing of the guards at 11am. This unique display of British pomp and pageantry is definitely a sight to behold.
Lay down a picnic mat and have afternoon tea at St. James's Park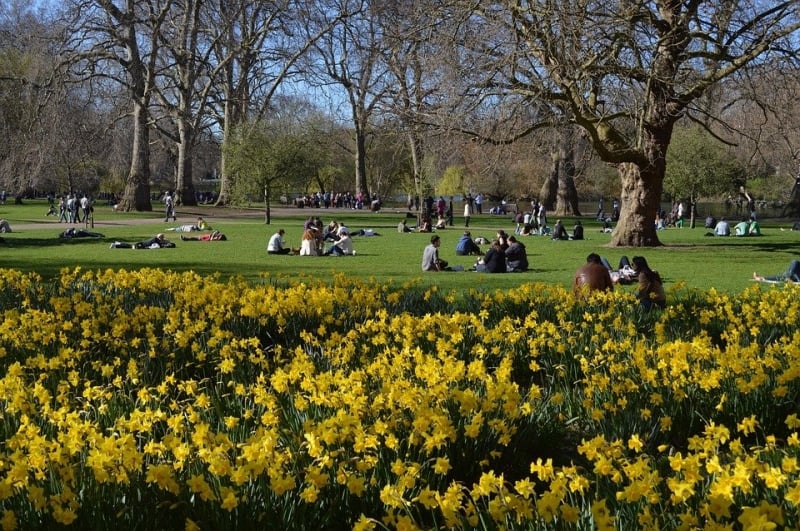 This lush, verdant garden is the perfect spot for a picnic after your visit to Buckingham Palace. Spread your picnic mats and indulge in some tea with the classic scones or cakes. Admire the vibrant flower beds and the occasional horse trotting by. If you're lucky, you may even catch the pelicans that have been kept here since the 17th century!
Day 5
Take a science expedition in the Natural History Museum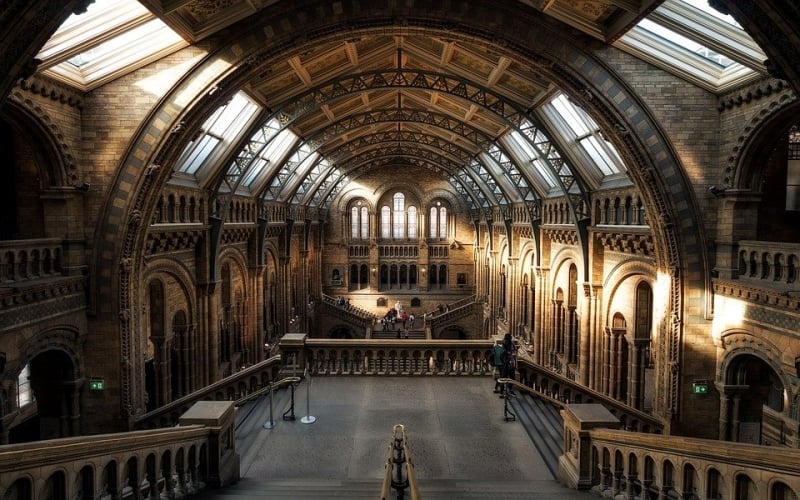 Boasting a rich tapestry of British scientific endeavours, the Natural History Museum has great historical and scientific value. Being a storehouse of some 80 million specimens within its ecclesiastical architecture, the Natural History Museum has been dubbed 'a cathedral of nature'.
Find yourself in centuries worth of research and lab work that ranges from botany to zoology and even entomology amongst others. In particular, this museum is famous for its dinosaur skeletons.
Victoria & Albert Museum
As its name suggests, the Victoria and Albert Museum (V&A) was founded in 1852 by Britain's beloved Queen Victoria and Prince Albert. With over 2.3 million objects, this treasure trove holds the world's largest collection of decorative arts and design.
Set your eyes on the exquisite Raphael Cartoons painted by the great Italian Master, Raffaello Sanzio da Urbino, more commonly known as Raphael, or trace the evolution of wedding dresses from past to present. Previously, there was even an exhibit that included the bridal gowns of Hollywood celebrities like Gwen Stefani and Kate Moss so if you're lucky, you may still be able to see them!
Fuel up with Leon
Unlike other fast food chains, Leon serves quick yet healthy meals that taste just as good as burgers and fries. What's more, vegan options are available as well. Sample delicious Mediterranean cooking and sip on homemade lemonades when you're here.
Popular picks include Chargrilled Chicken Aioli Hot Box (~S$13) and The New Original Salad (~S$9). If you're hoping to get a side, the Leon Baked Fries (~S$5) should be your first choice. Enjoy your meal guilt-free! As the saying goes, health is wealth.
Glow-up at Harrods
Harrods is a retail store selling both luxury and everyday items across seven floors in a whopping 330 departments. However, it's most famous for its homegrown merchandise. You may have spotted their hottest item, the tote bag, on the streets in charming colours of green or black with 'Harrods' at the front in bold.
Even if you're strapped for cash by the end of the trip, Harrods won't let you leave empty-handed. Snap pictures with the beautiful exterior light display and after you're done with that, head inside to grab a picture with their adorable bear mascot.
Now, London doesn't seem so intimidating after all right? Contrary to popular beliefs, it is definitely possible to enjoy Great Britain without bursting a giant hole in your pocket. Even better if you're a student or an elderly because then you'll receive discounted rates at several places. So what are you waiting for? Book your next flight to London today!