Fruits are highly valued in South Korea, evident by its high cost despite its high availability. One short trip to Seoul is all you need to witness firsthand how health-conscious South Koreans are willing to spend big bucks on top-grade produce. And don't miss out on it yourself! Be sure to taste some of these plump, juicy and vibrant seasonal fruits that come in all kinds of flavours, textures and colours.
Here's a guide on what fruits you can expect to find, depending on which season you visit:
Season: From Spring to Summer
When: From March to August
During the bright spring and summer days in South Korea, the locals have the habit of having fruits before, after and even in between meals to beat the heat. Most of the fruits available during this period of the year taste amazing on its own.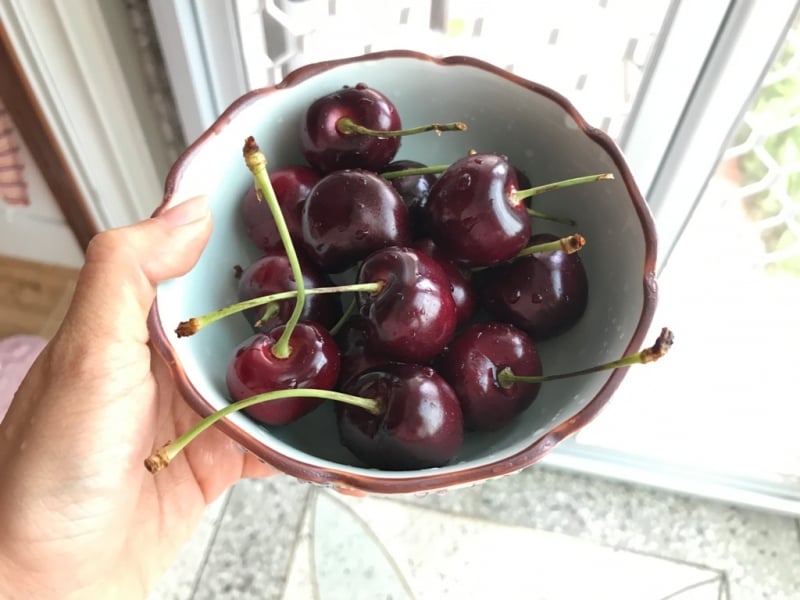 It is very common for locals to serve their loved ones and guests with fruits like fresh cherries as a mid-day snack!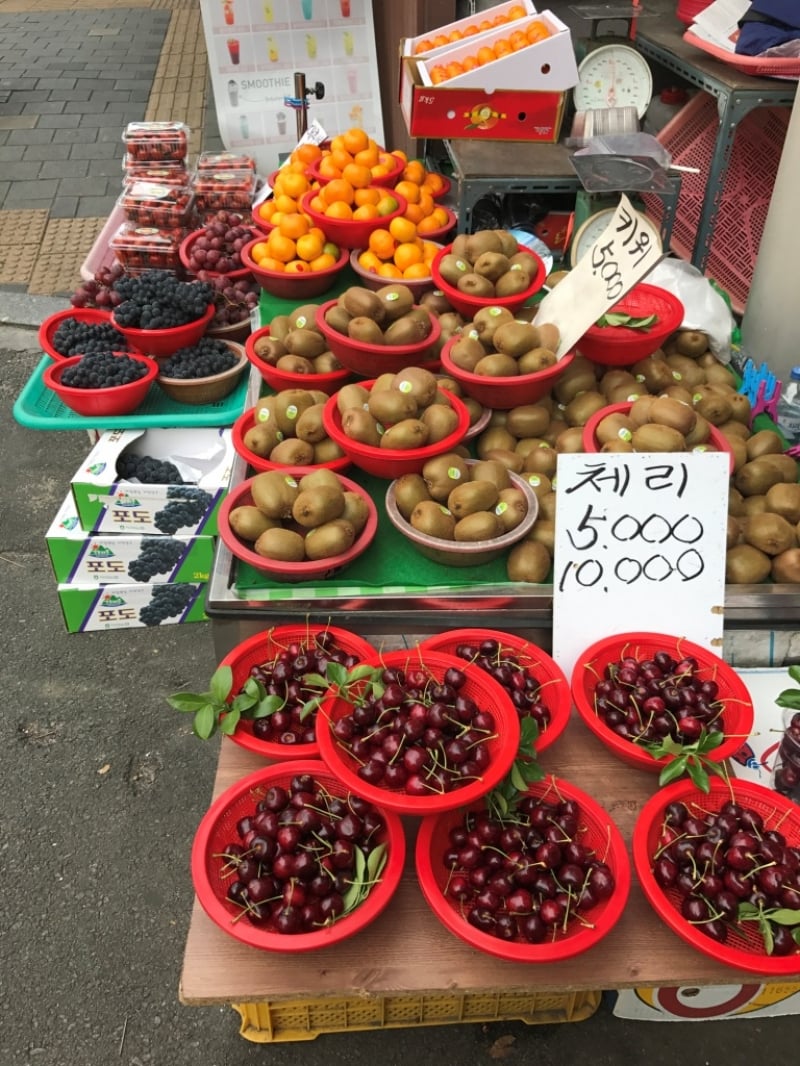 Cherries, cherry tomatoes, kiwis and clementines are just some of the many fruits you will see at a typical fruit stand when summer is approaching.
Though significantly pricier, juicier fruits like watermelon and Kyoho grapes are really popular and sold in abundance.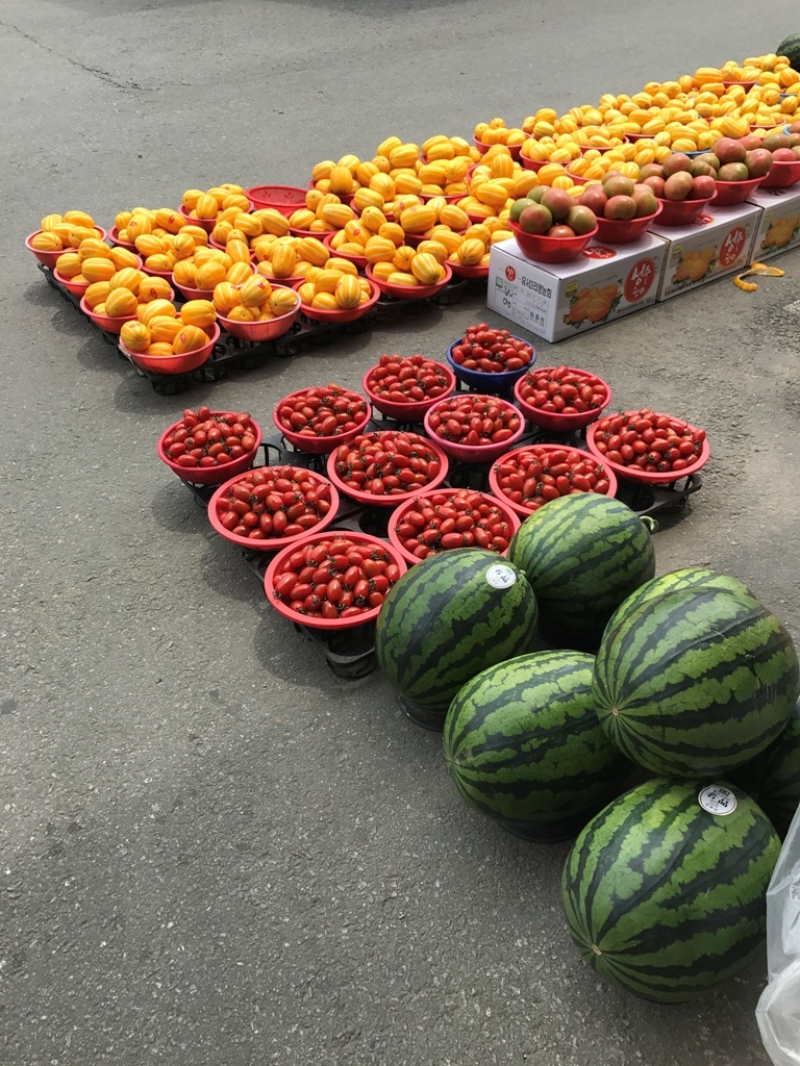 Korean yellow musk melons (pictured in the foreground) taste much sweeter than it looks. Its sweetness level is comparable to honeydews but it has a texture that is akin to a cucumber. You either hate it or love it but it is a definite must-try for those looking to add a new flavour to their taste encyclopedia!
Season: From Fall to Winter
When: From September to February
Though equally mouth-watering, fruits available during this time of the year are often consumed in different forms, shapes and often appear as main or side ingredients of various local delights.
Korean snow pears are to-die-for. Not only do they taste great by themselves, they also make a refreshing match when pureed to season BBQ meat. It also works very well to give a unique, sweet-tangy yet delectable boost to raw dishes like this Yukhoe (raw beef) dish from Gwangjang Market since it has a clean and crisp yet moist texture.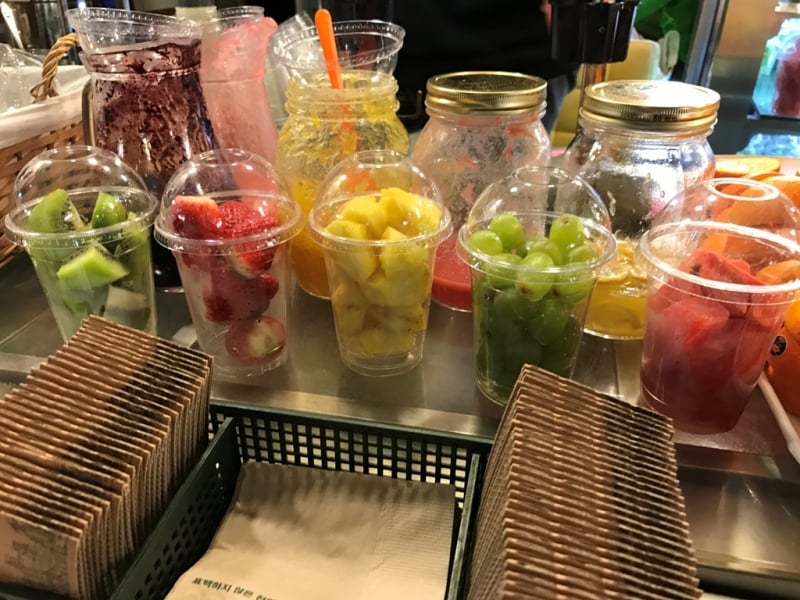 Albeit costly, fresh blended fruit juices sold at most wet markets and food streets in Korea offer great refreshments especially after a greasy all-mung-bean-pancake or grilled fish night-out!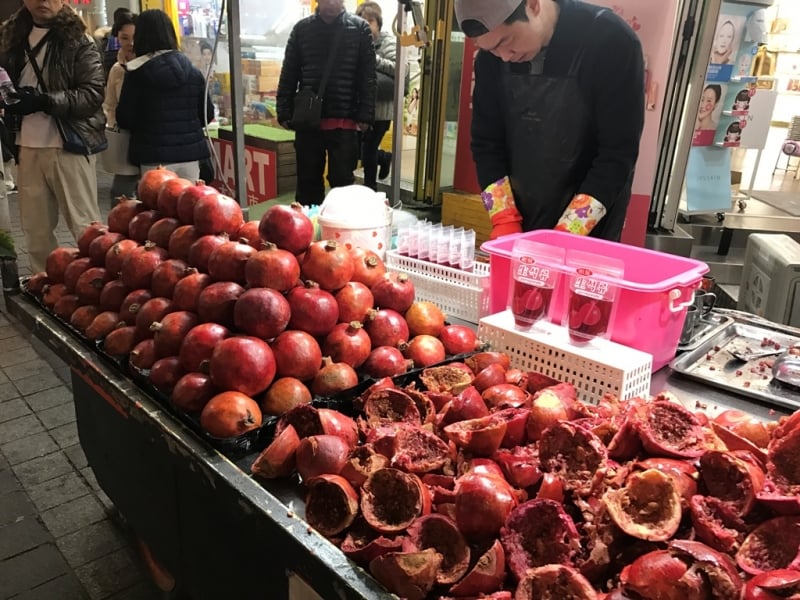 Another unique fruit concoction you can easily find in Korea would be their fruit-ades that are oh-so-refreshing! Pomegran-ades is just one of the freshly-squeezed fruit-ades available on the bustling streets of Myeongdong.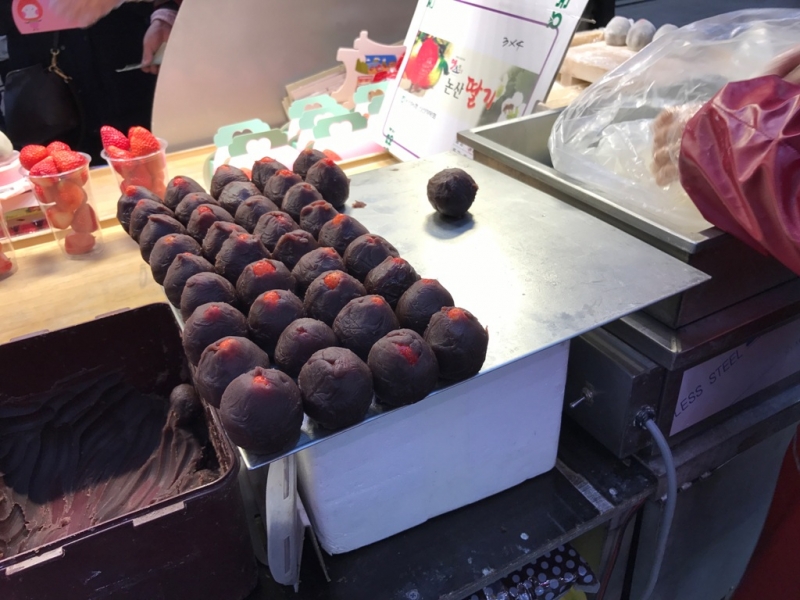 I instantly fell in love with these fresh whole strawberries that were first carefully smeared with a layer of homemade semi-sweet red bean paste, followed by a layer of ultra-smooth, soft, melt-in-your-mouth mochi, and held in place with some just a little bit of flour that worked surprisingly well in balancing the sweetness level!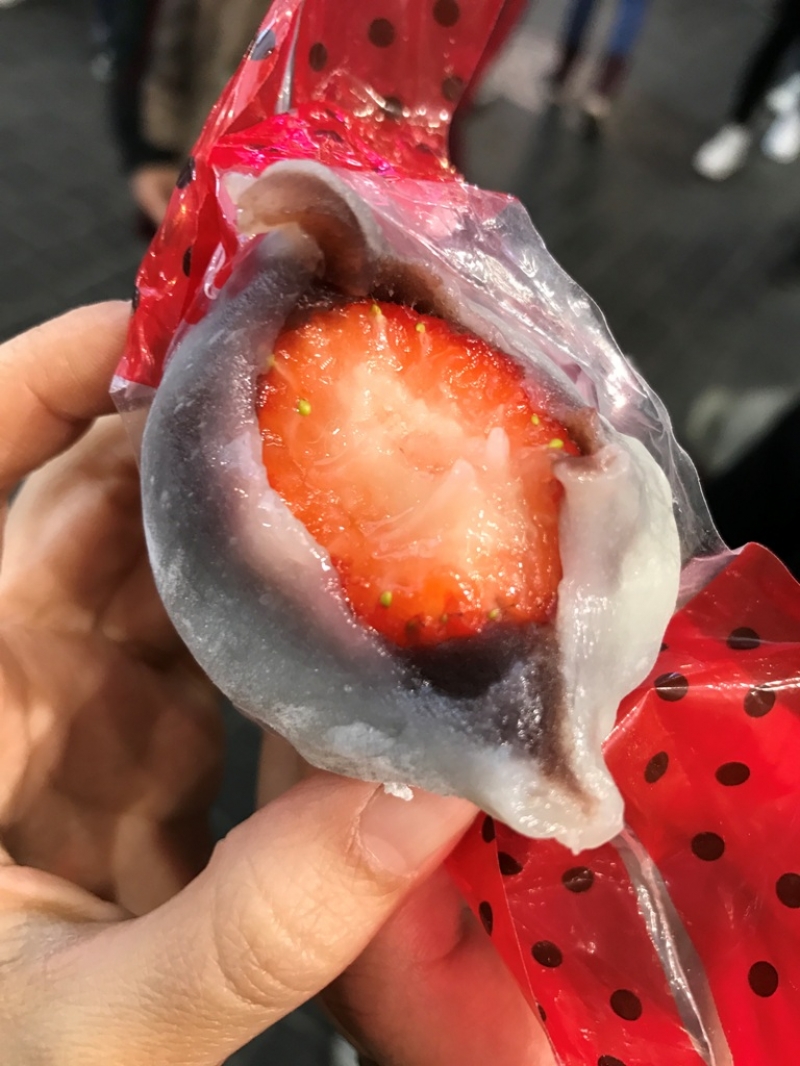 I promise these taste much better than they look. In fact, I wanted so badly to purchase some back home for my loved ones. Unfortunately, I couldn't because these "fruit gems" are made on-the-spot daily and have to be consumed as soon as possible! They are also sold in packs for about 2,500 won and can be brought back to your accommodation, but do not keep them in your refrigerator or the mochi will lose its silky texture.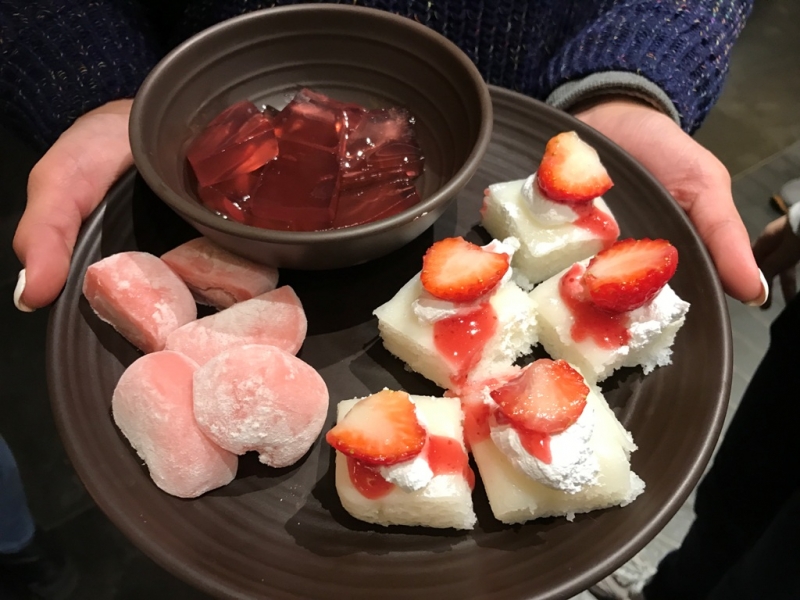 More evidence that the strawberry craze is real: Strawberries of different grades are sold everywhere, from high-end supermarkets to roadside trucks! You will also see plenty of strawberry sweets in the dessert counters of fancy restaurants all around Seoul.
All Year Round
Thanks to the advent of modern technology and greenhouses, there are some quality fruits that can be enjoyed in Korea all year round. Fret not, local farmers are very protective of their fruits so even imported fruits are carefully packed when being transported. It is almost a 100% guarantee that they will be worth every won!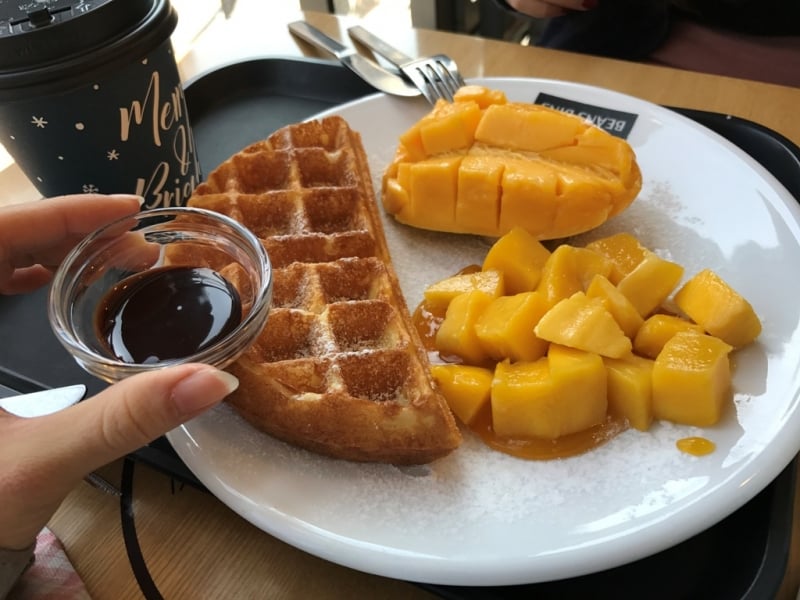 South Korea's love for this tropical little golden fruit is undeniable. Mangoes could be seen on menus of many dessert shops and are ALL so sweet and perfectly-ripe!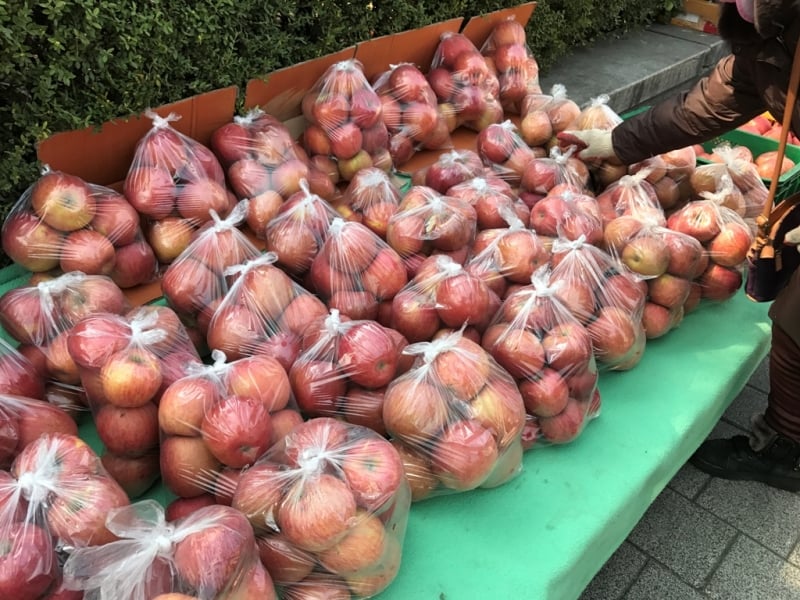 Honey apples are perhaps one of the most underrated fruits in Korea since they face strong competition from fancier fruits. Nonetheless, they do not disappoint at all and they pack so much sweetness in a crunch. They sometimes go on sale by the roadside so do keep a lookout! These were found by the path leading to Gwanaksan Mountain near Seoul National University.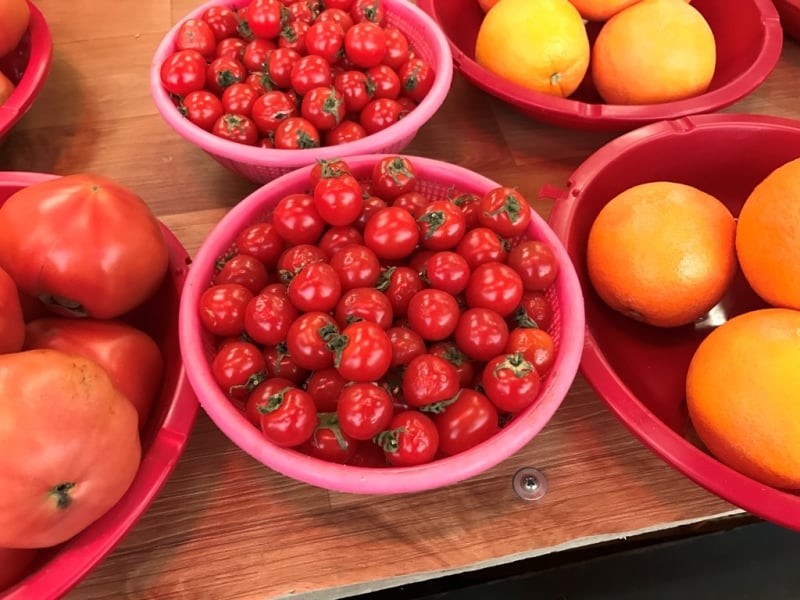 Where else in Asia can you find such bright, red cherry tomatoes with the green little stems still attached? They make great hiking snacks and can also be used for whipping up some hearty pasta and salad.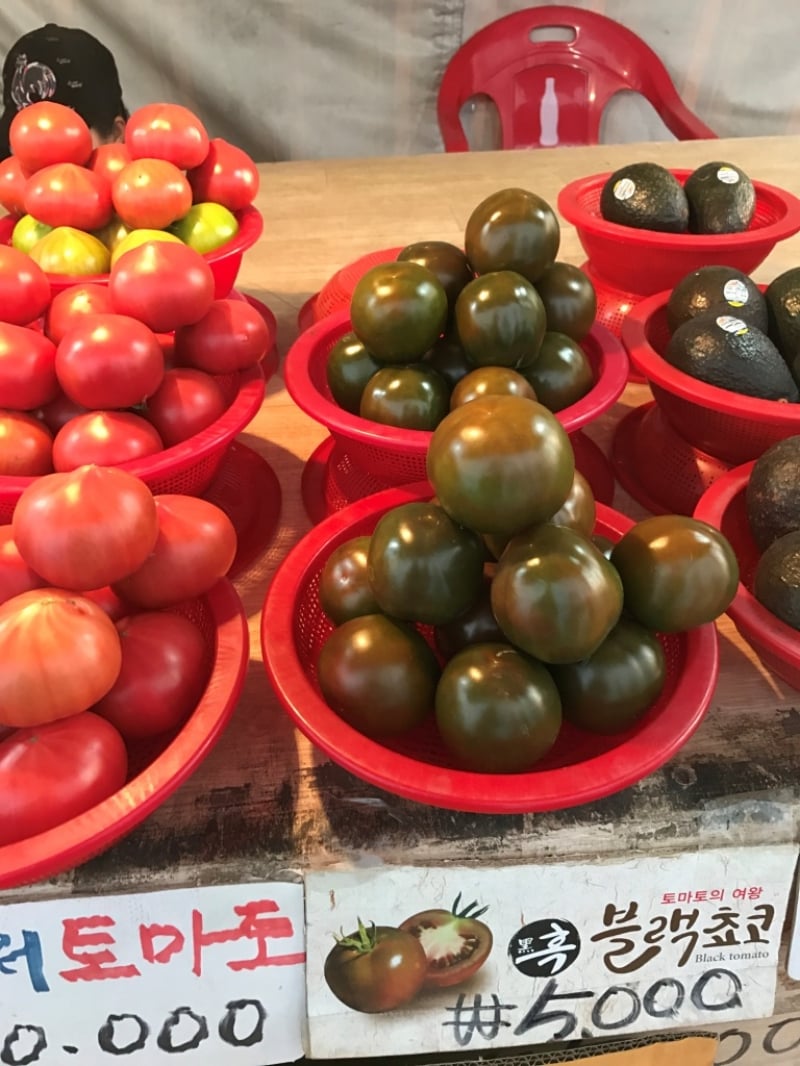 If you are game, you may want to pick up some of these black tomatoes. They are said to have even more health benefits than its red counterparts as they contain the same antioxidants that blueberries have!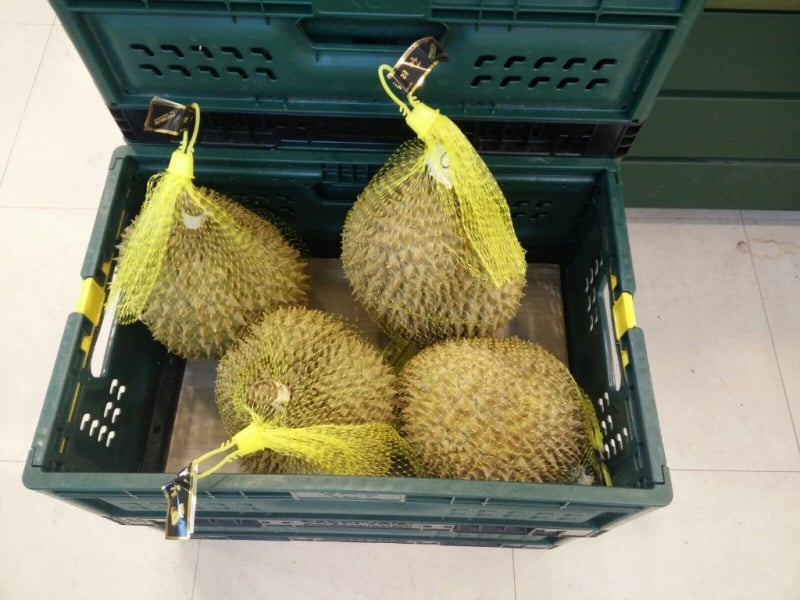 Sudden craving for durians? Yes, you can still find the King of fruits in Korea, but only in supermarkets. Do take note that they cost about two to three times the price in Singapore and they are sometimes sold frozen.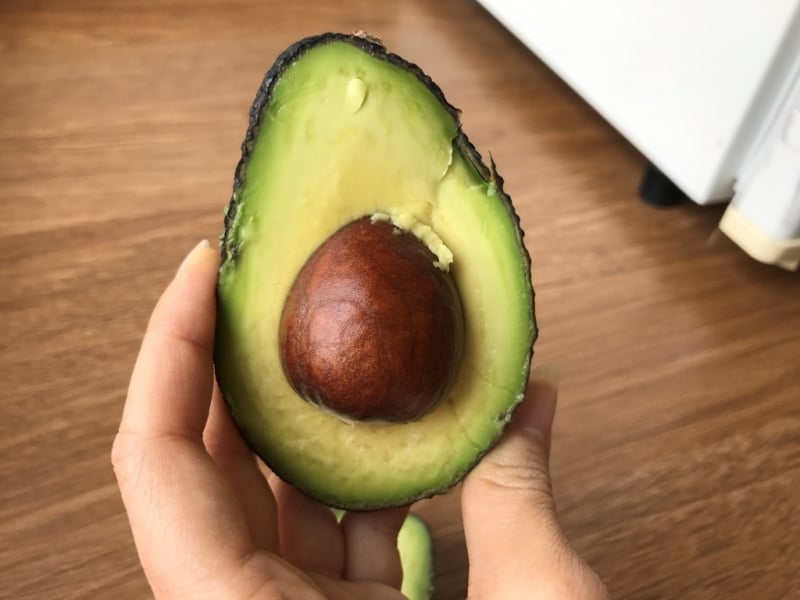 Avocado lovers would be thrilled to know that fine avocados, mostly imported from the United States, are available at supermarkets and random fruit stands around Korea. 
Tips for savouring fruits during your trip
Not sure how to fit fruit-tasting into your travel schedule? Take it easy and consider incorporating some of these fuss-free ways to do just that!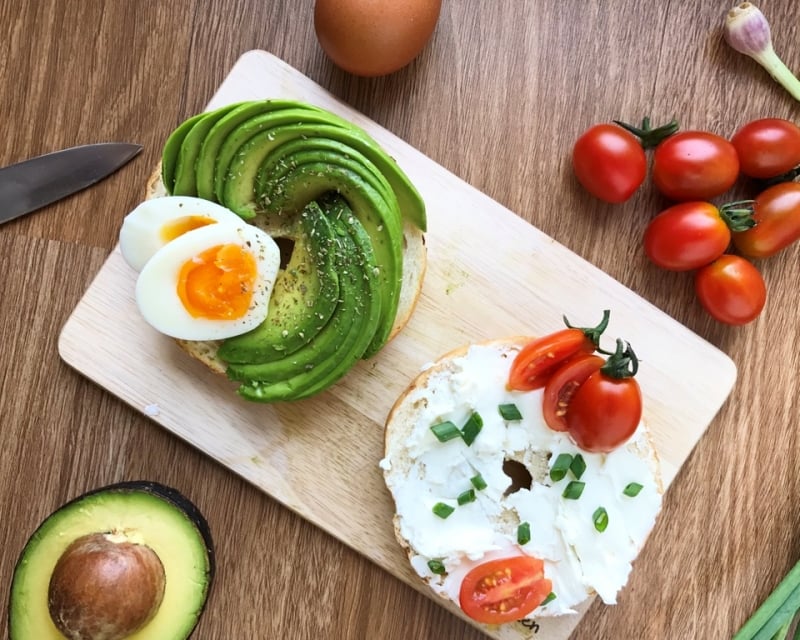 Fresh and ready-made ingredients from the supermarkets are a huge plus for those who love to prepare their own wholesome meals when abroad! Here is my version of a quick lunchtime avocado toast: onion bagel smeared with cream cheese, topped with chopped spring onion on half and a sprinkle of oregano on sliced avocados and hanjuku egg on the other half.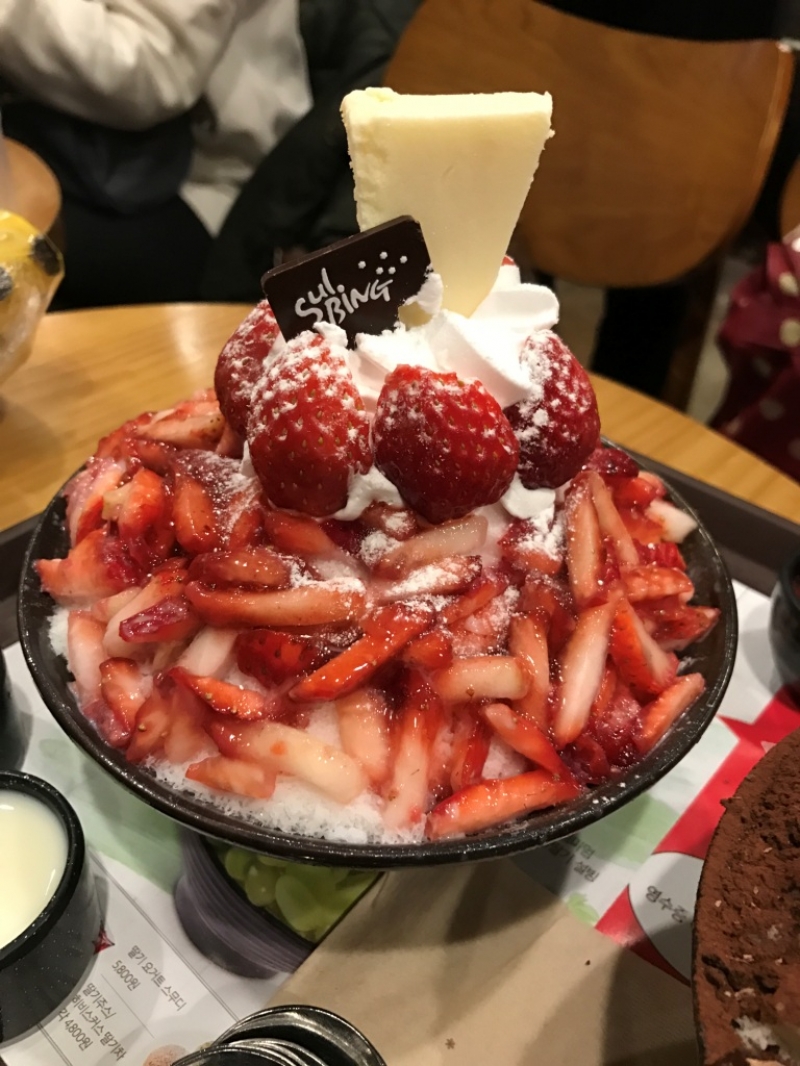 Be sure to try bingsus (Korean shaved ice) topped with fruits of the season! My friends and I tasted this bingsu from a popular dessert chain called Sulbing and they had a vast difference in quality and taste when it was past strawberry season (in late winter to early spring).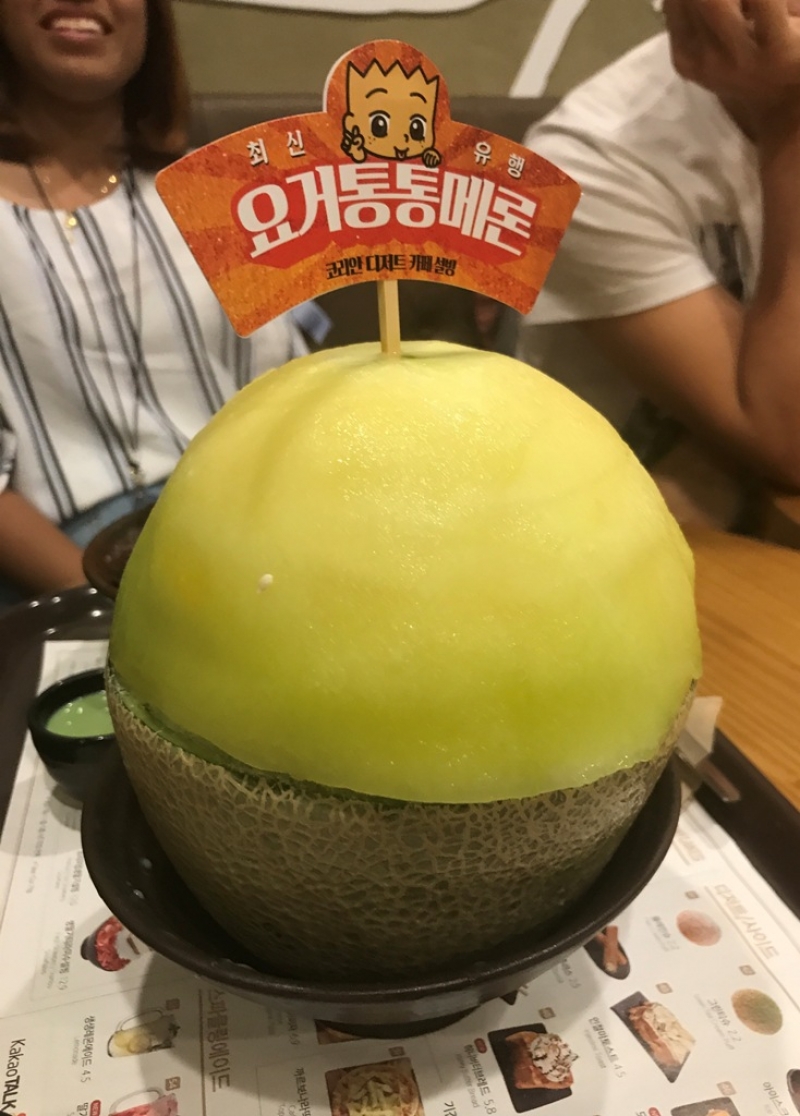 Consider having a melon bingsu when it is summer! Any bingsu which are topped with fruits that are in season will always taste the freshest!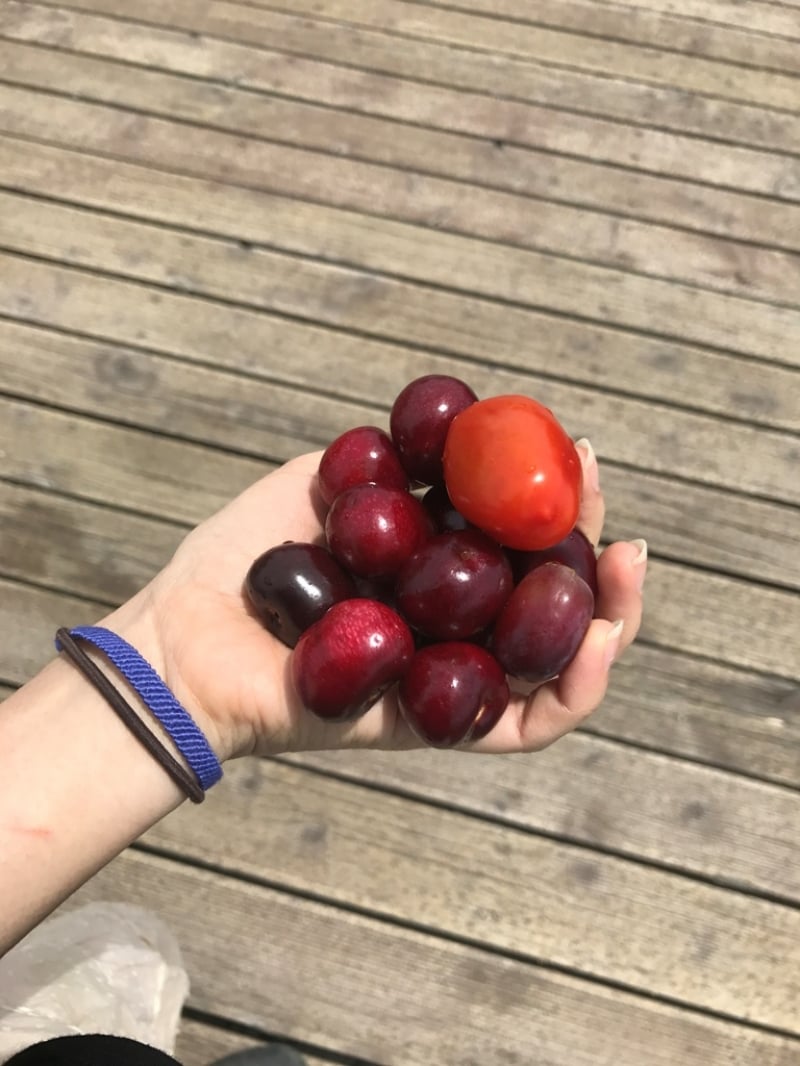 A brilliant idea for hikers, from hikers: Here are some shiny cherry tomatoes, cherries and grapes that a few kind ahjummas insisted my friends and I have for our "peak-nic" on the Nogodan peak of Jirisan (a mountain a little bit out of Seoul)! These fruits provide a great antioxidant boost and also work to reduce post-exercise muscle pain. No wonder the elderly in Korea are all so fit!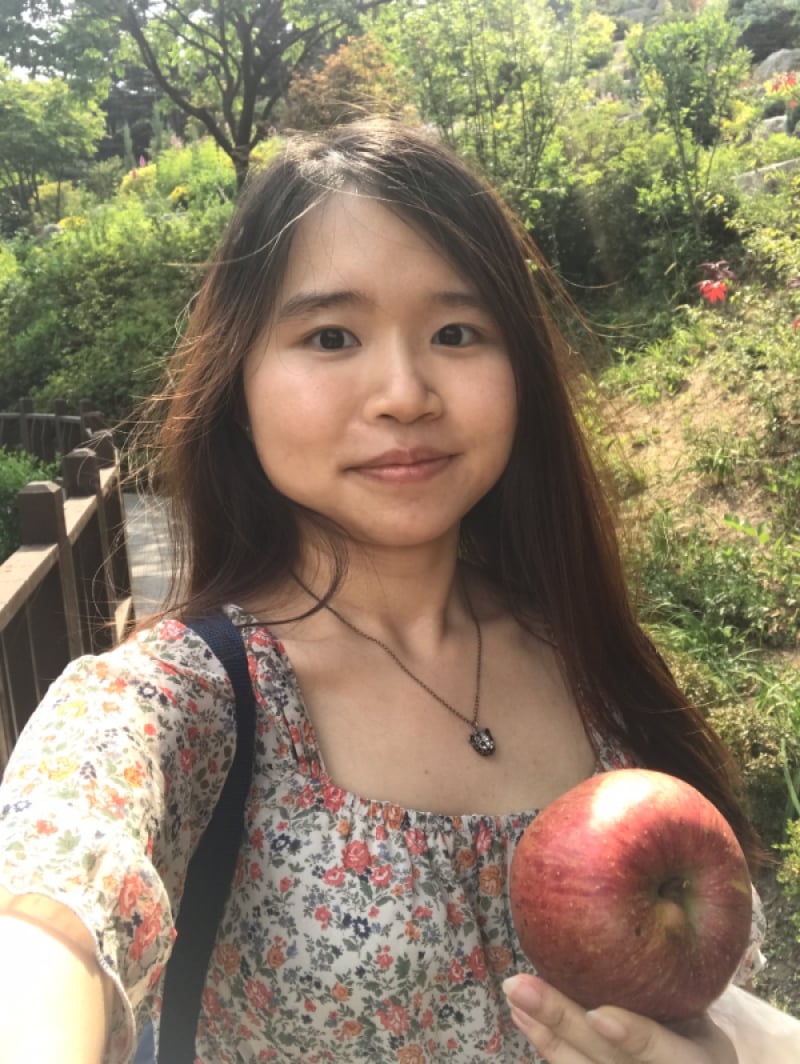 If you prefer something easier to pack and also something to keep you awake during your long road trips, try an apple! You'll be surprised how it works wonders! You can even have a go at splitting an apple into half – a very handy skill that many Koreans have!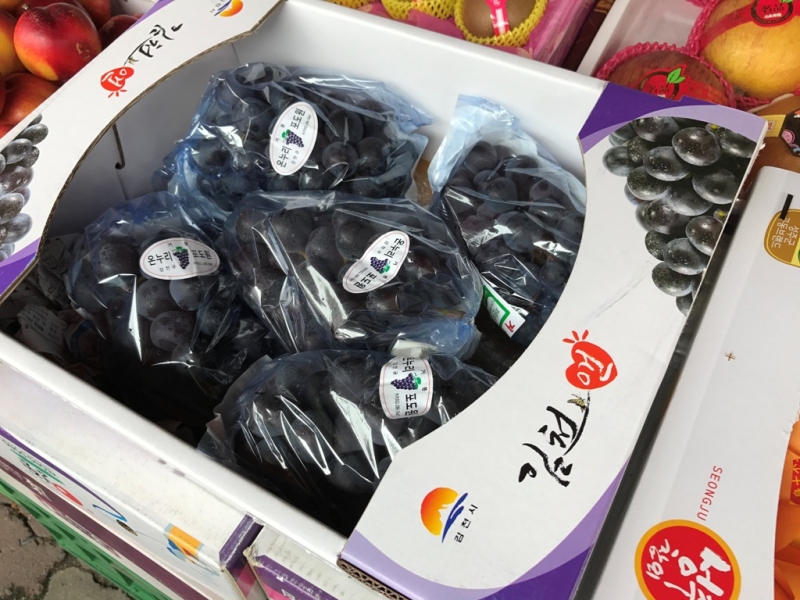 Take note that fruits in Korea are usually categorised into different grades. Locals usually buy fancily packed fruits such as these succulent Kyoho grapes as gifts as they taste much better than lower-grade ones. These gradings also serve as a good indication for those looking to try more premium fruits and are willing to splurge to satisfy their sweet tooth.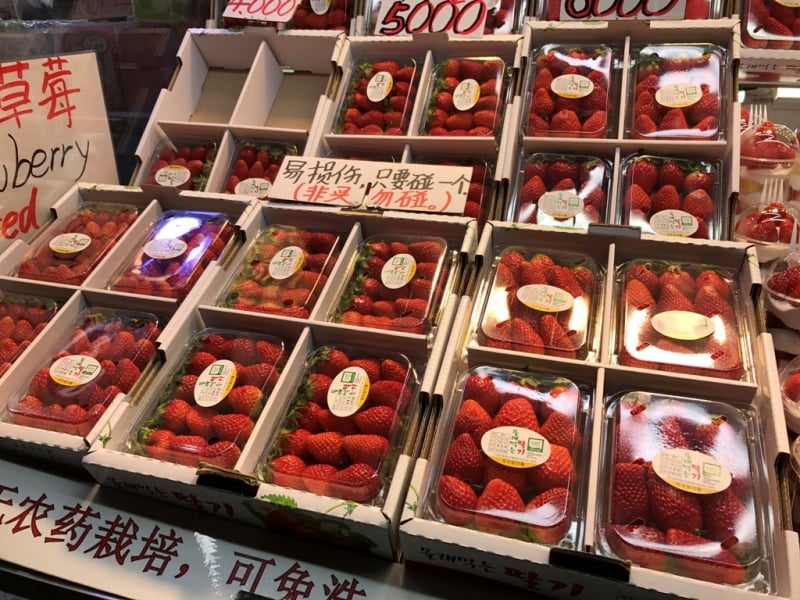 During winter, premium strawberries can be purchased off the streets at about 5,000 won instead of in high-end supermarkets that sell them at about 12,000 won per punnet. Mid-range strawberries can range from 2,500 to 4,000 won.
Lastly, if you love outdoor adventures, do consider activities like strawberry-picking across breathtaking landscapes near Nami-Island (where "Winter Sonata" was filmed), Petite France and the Garden of Morning Calm (where "Love in the Moonlight" was filmed). One-day tours that are available for sign-ups at many agencies. 
Not only do the changes in season brighten up the fresh fruits scene in Korea, it is also certainly a game-changer for fruit lovers and foodies who are looking to savour dishes at their optimum taste. You never know, these tips might just help you "pick" which season to visit Korea next!