Contributed by Wanders of Eve
Whenever I travel, I want to immerse myself in the culture of other countries so as much as possible, I prefer to stay in accommodations that reflect their traditional homes. I already stayed in a ryokan in Nara, Japan last year. It was a minimalist room with woven straw flooring. And I felt like a real Japanese even for one night.
Also read: My 7-Day Trip to Japan: Travel Tips & Cost Breakdown for Filipino Travellers
So when we went to Cambodia in December 2016, I was delighted when I stumbled upon Khemere Maison D' Angkor. It is a traditional Khmer mahogany guesthouse with a modern twist. The property has been operating since 2015 so it is quite new. Guests who have stayed in this property since it opened has only good words to say. This humble guesthouse sits in a quiet area inside Wat Kesararam compound and is very near the city centre, like a 10-minute walk or a 3-minute ride by Tuk Tuk.
Room with free Tuk Tuk
We stayed for 4 nights last 29 Nov-3 Dec 2016. We booked a Deluxe twin room at US$42/night but since there were three of us, we had to add an additional charge of US$10/night. That's US$52/night, and it was already a very good deal. Converted to peso, that's only around ₱870 per person.
When we arrived, we were delighted to know that our room was upgraded to a Family Suite at the same rate. That does not end there yet. Included in the room package are free toiletries, complimentary bottled water, coffee and tea, traditional Khmer night clothes, Khmer scarf as gift on your departure, and free round trip airport transfers. And this is the best part, it was also inclusive of free Tuk Tuk around the Angkor complex.
In our case, we went temple hopping for two days. We paid for separate fares when we went around the city (like from the guesthouse to Old Market or Pub Street). That costs only US$2-3 in a day (US$1 per person). If Tuk Tuk is not included in your room package, hiring one for the whole day would cost you US$20-25, depends on how good you negotiate.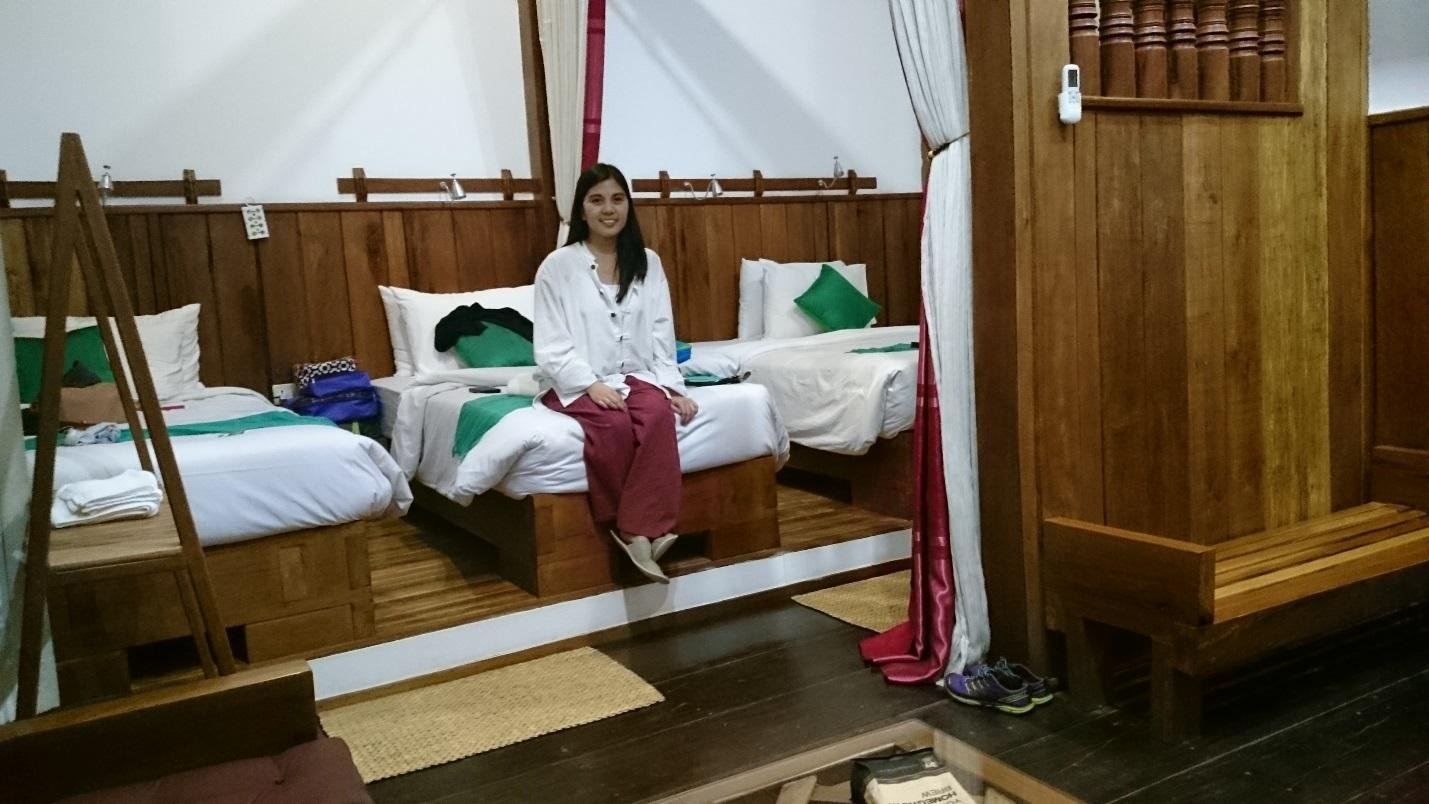 Our room for four nights, a mahogany air-conditioned high-ceiling room with two single beds and one queen bed. It also has a wooden dresser. My friend here wears a traditional Khmer night clothes. | Image credit: Sheryl Pesito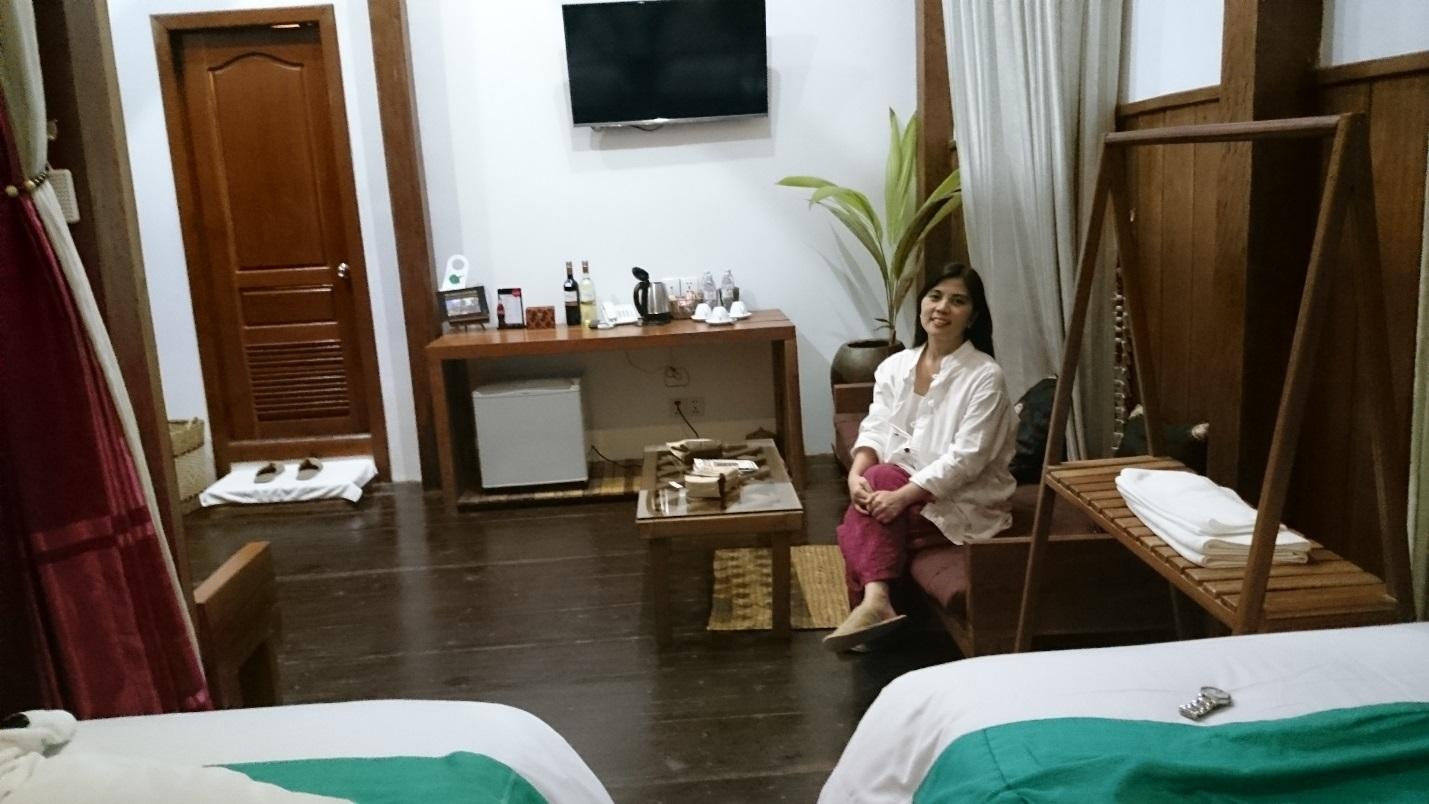 Our room has a seating area, a private rain shower bath with 24-hour hot and cold water and a bar. | Image credit: Sheryl Pesito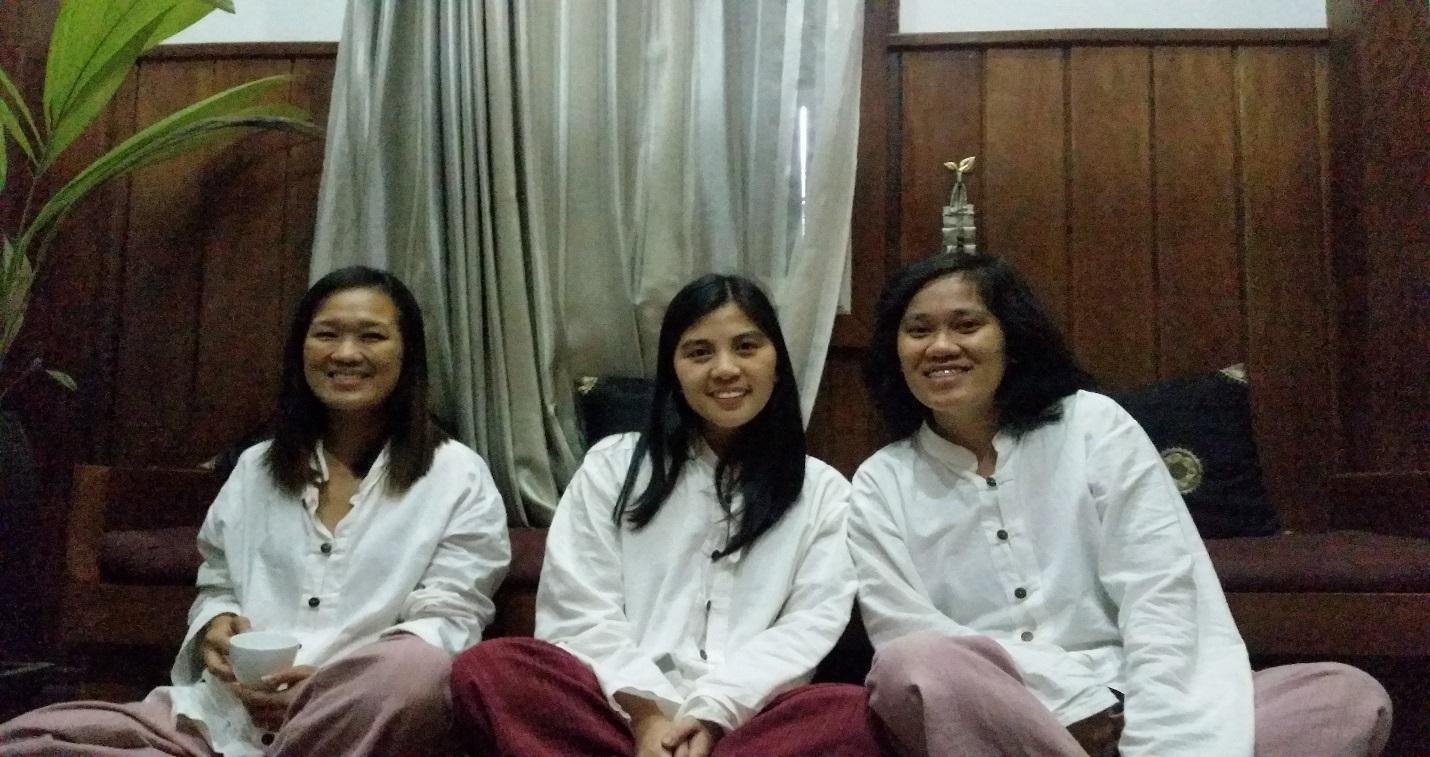 In our traditional Khmer night clothes. This is something I looked forward to every night during our stay. Cambodia is known for its textile industry. These night clothes are made of very good material. | Image credit: Mary Lyn Tenorio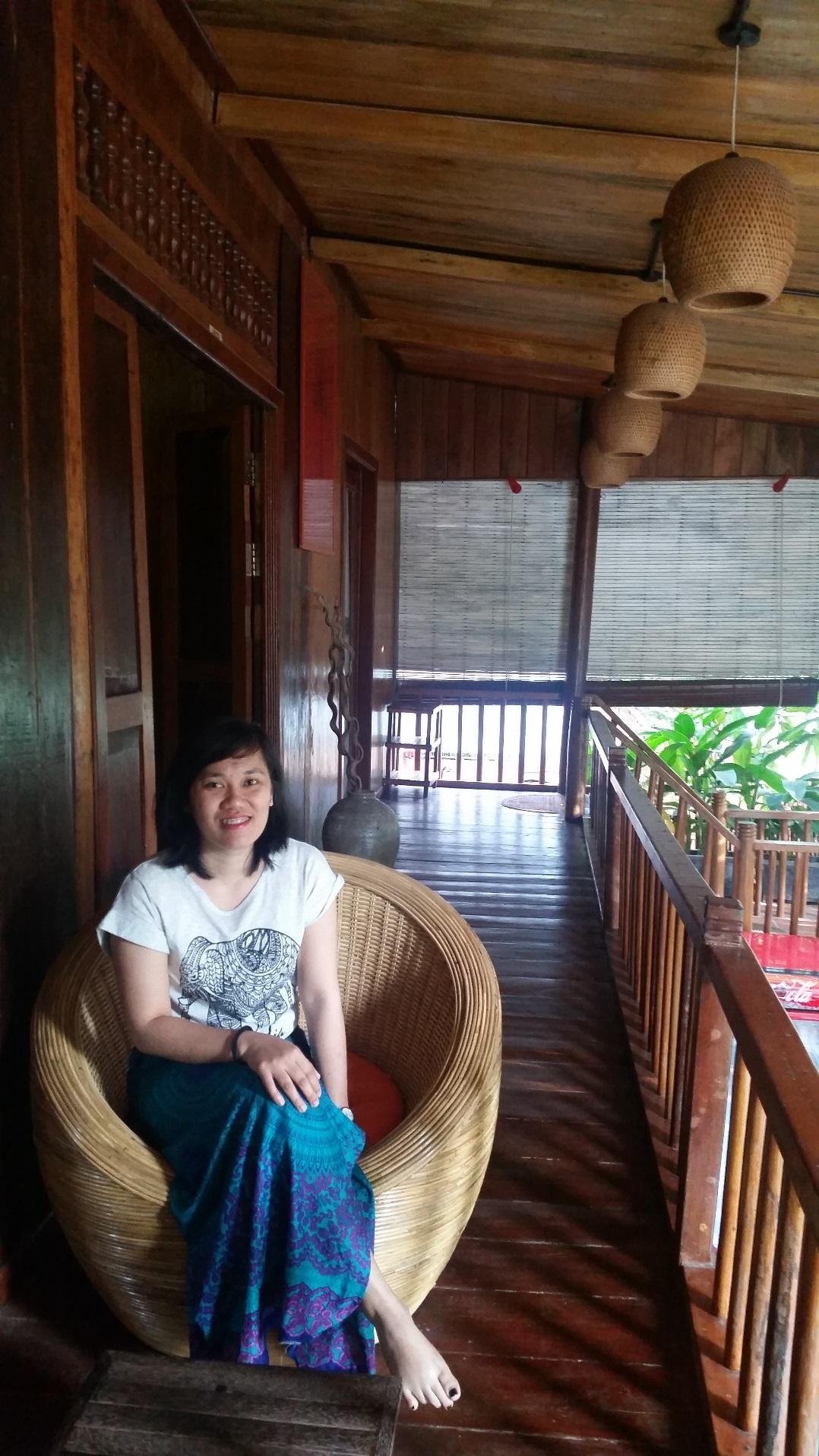 My friend, Mary Lyn, in her Khmer skirt at the balcony. Our room was on this floor. By the way, the guesthouse has only two floors. There are private rooms upstairs. The dorm is on the first floor adjacent to the reception area. | Image credit: Mary Lyn Tenorio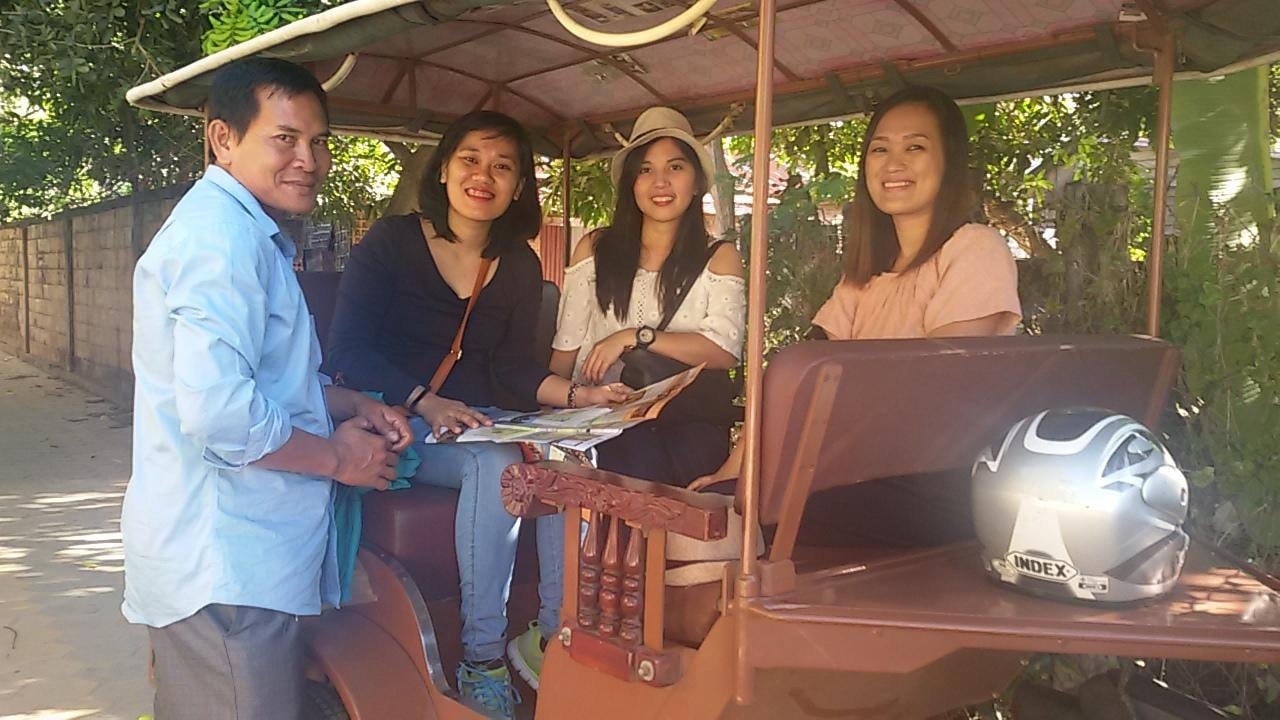 This is Mr. Ron, their resident Tuk Tuk driver. He would patiently wait for us outside the temples and would always wave his hand at us with a big smile after every temple visit. | Image credit: Wanders of Eve
Khmer hospitality
On our arrival, we were welcomed with cold drinks and the staff, Pitou, spoke English well, I am quite impressed. Before we went upstairs to our room, he discussed briefly the places we can visit and marked them on the city map. He even lent us a selfie stick and umbrella. I've stayed in several hostels for the past two years but this guesthouse so far has the most helpful staff I encountered. Another staff, Iseung, was very attentive to our needs, from arranging our tour to Tonle Sap to providing flat iron.
The owner, Mr. Jacky Long, is a very nice guy. I even saw him help carry one of his guest's bag when he checked out. He manages the property with the help of his wife, a modest lady we also met during our stay. We decided to extend our stay until 6pm on the day of our departure because our flight was 10.30pm. According to the guesthouse policy, we should be charged a night's rate but Jacky was kind enough to charge just half the rate at US$26.
Also read: My Siem Reap Adventure: Travel Tips & Expense Guide for Filipino Travellers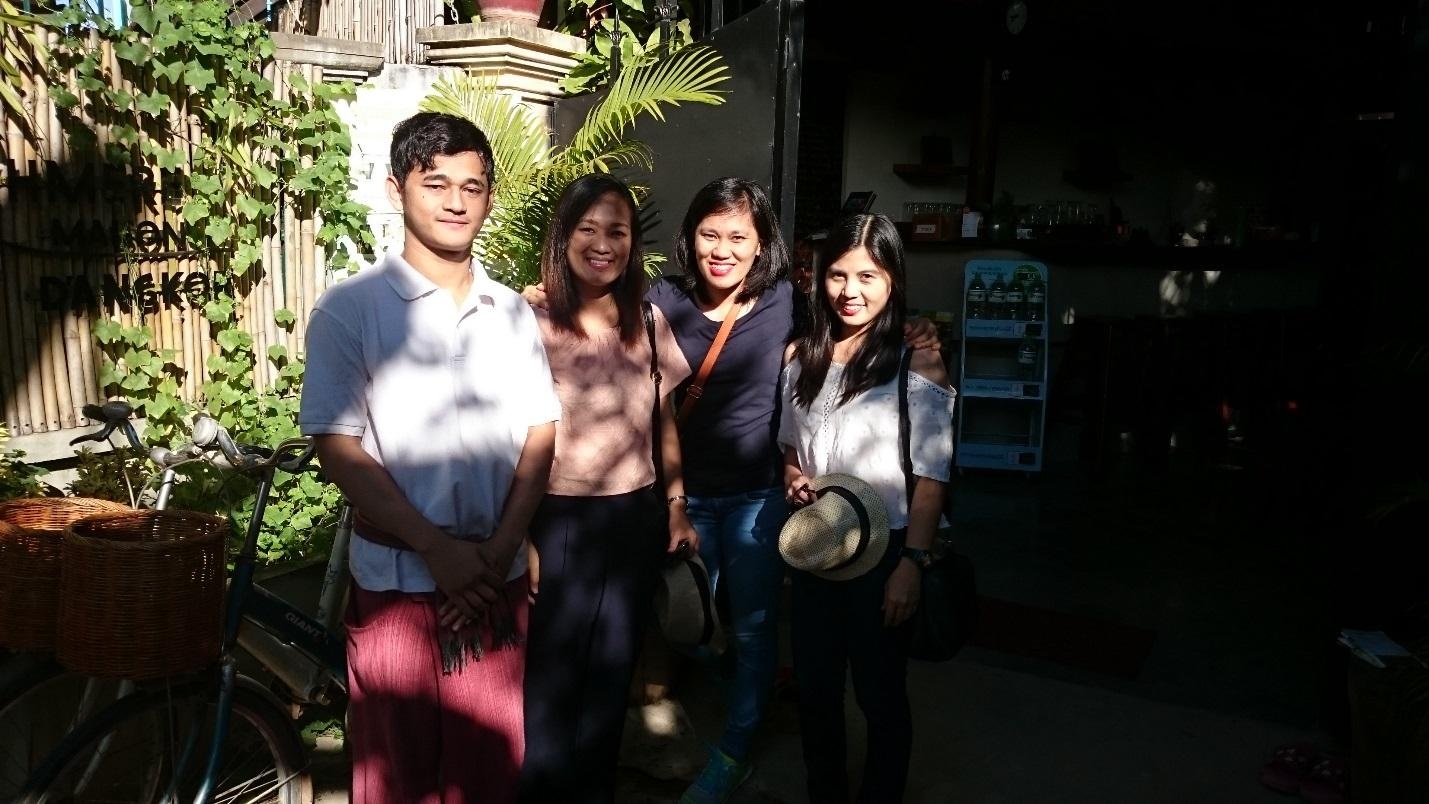 With Pitou during our first day in Siem Reap. | Image credit: Sheryl Pesito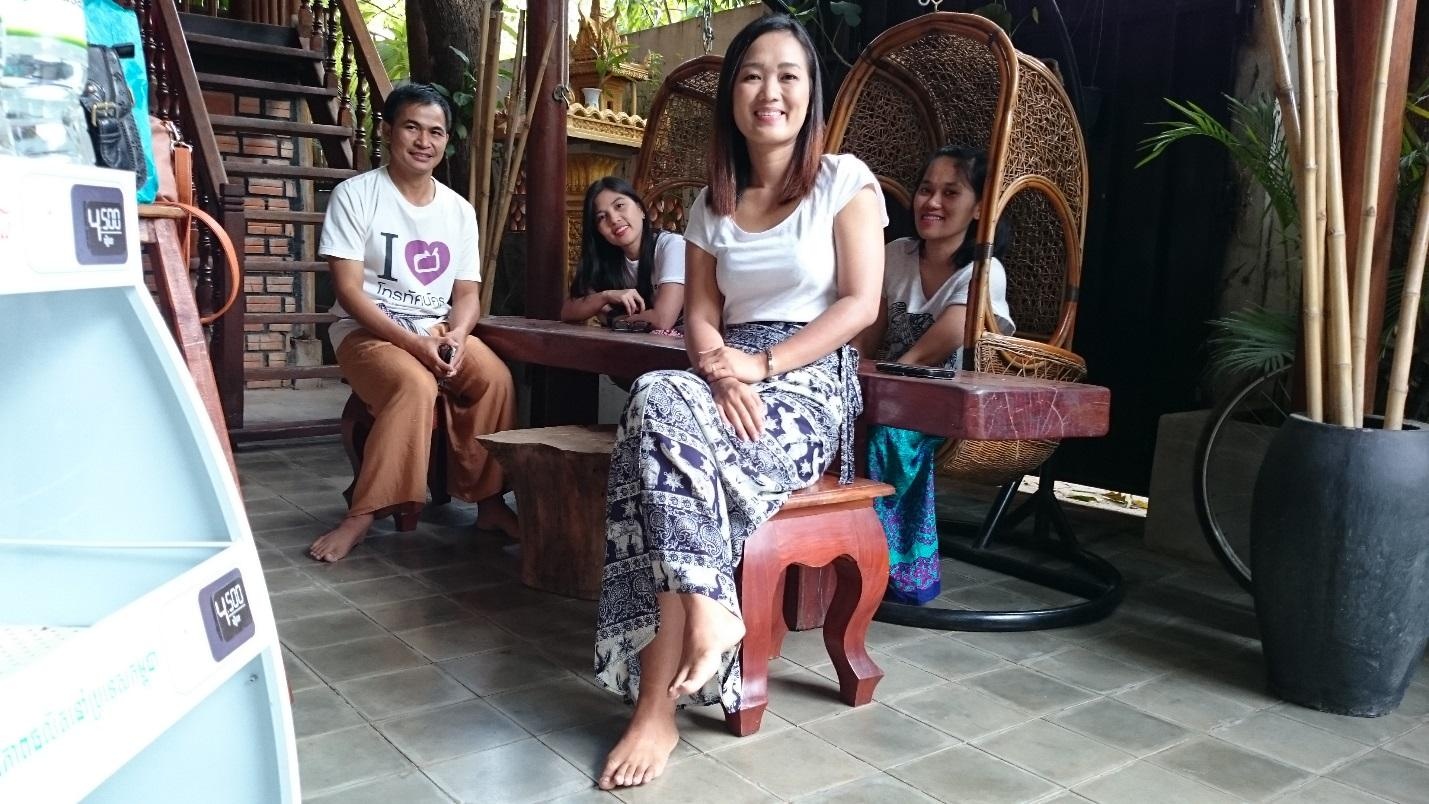 With Jacky at the reception area. | Image credit: Sheryl Pesito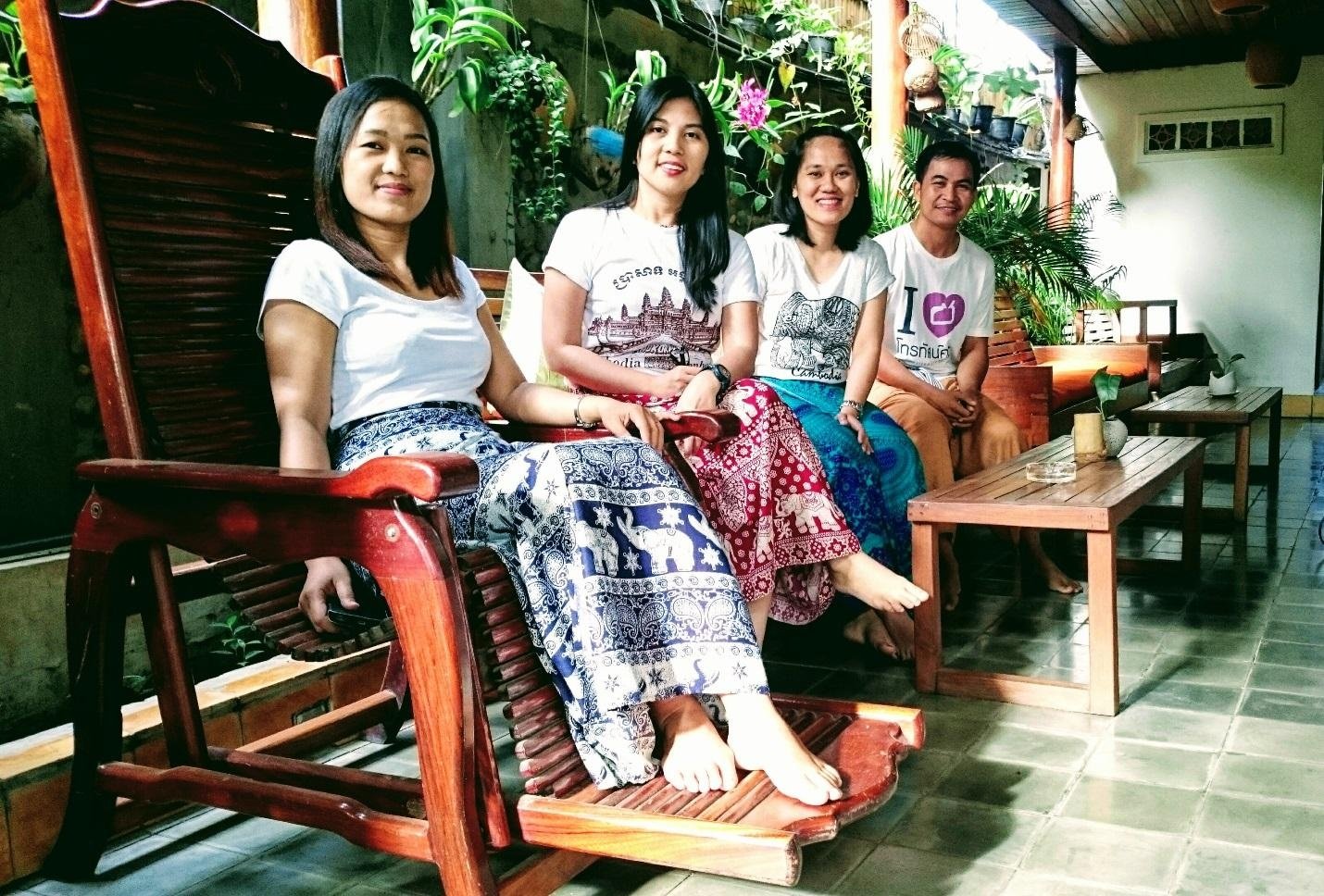 Another seating area at the reception. | Image credit: Sheryl Pesito
Airport transfer
On your stay, you will be picked-up and dropped off at the airport by a Mercedes-Benz. Few days before our trip, the car has to undergo some repairs so we rode a Tuk Tuk instead. Either way, it's free, so sit back and enjoy the ride.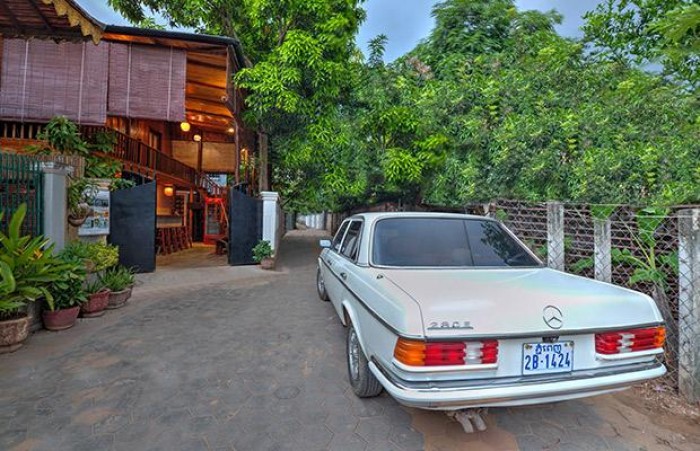 Airport transfer. | Image credit: Khmere Maison D' Angkor
Bookings and payment terms
For bookings, you can contact Jacky directly at [email protected] or his staff at [email protected] He will need your credit card details to guarantee your booking. You will pay upon check out. And mind you, there are no hidden charges.
Just a tip, though, if Jacky is not around and his staff does not know some of the arrangements you made with him like the inclusions in your room rate or tour bookings, just ask the staff to kindly clarify the details with Jacky to avoid misunderstanding.
The only drawback I found in this guesthouse is that they are not serving meals so you have to go out for breakfast early in the morning. But there are many restaurants and eateries across the street so this should not be a big deal. When I brought up this issue with Jacky, he told me that they are already planning to put up a food corner in the property which will open in early 2017.
Also read: 13 Photos that Show You the Beauty of Siem Reap Beyond Angkor Wat
Other charges and tours
When we went to see the sunrise at Angkor Wat on the second day, we paid an additional charge of US$7 as the driver has to wake up early so we can leave at 4.30am. We also visited Banteay Srei, a temple off the track, 30 kilometres away from the city centre, so we paid an additional US$10. To me, that's quite reasonable. They arranged our Tonle Sap tour for US$18 per person and we also bought our National Museum pass from them at US$12.
If you are planning to visit Siem Reap soon and want to experience the traditional Khmer accommodation and hospitality at a very reasonable price, come stay at Khmere Maison D' Angkor. You can also check their official website for more details.
Arkoun Chraen (Okun charan – the Khmer way of saying Thank you very much)! ☺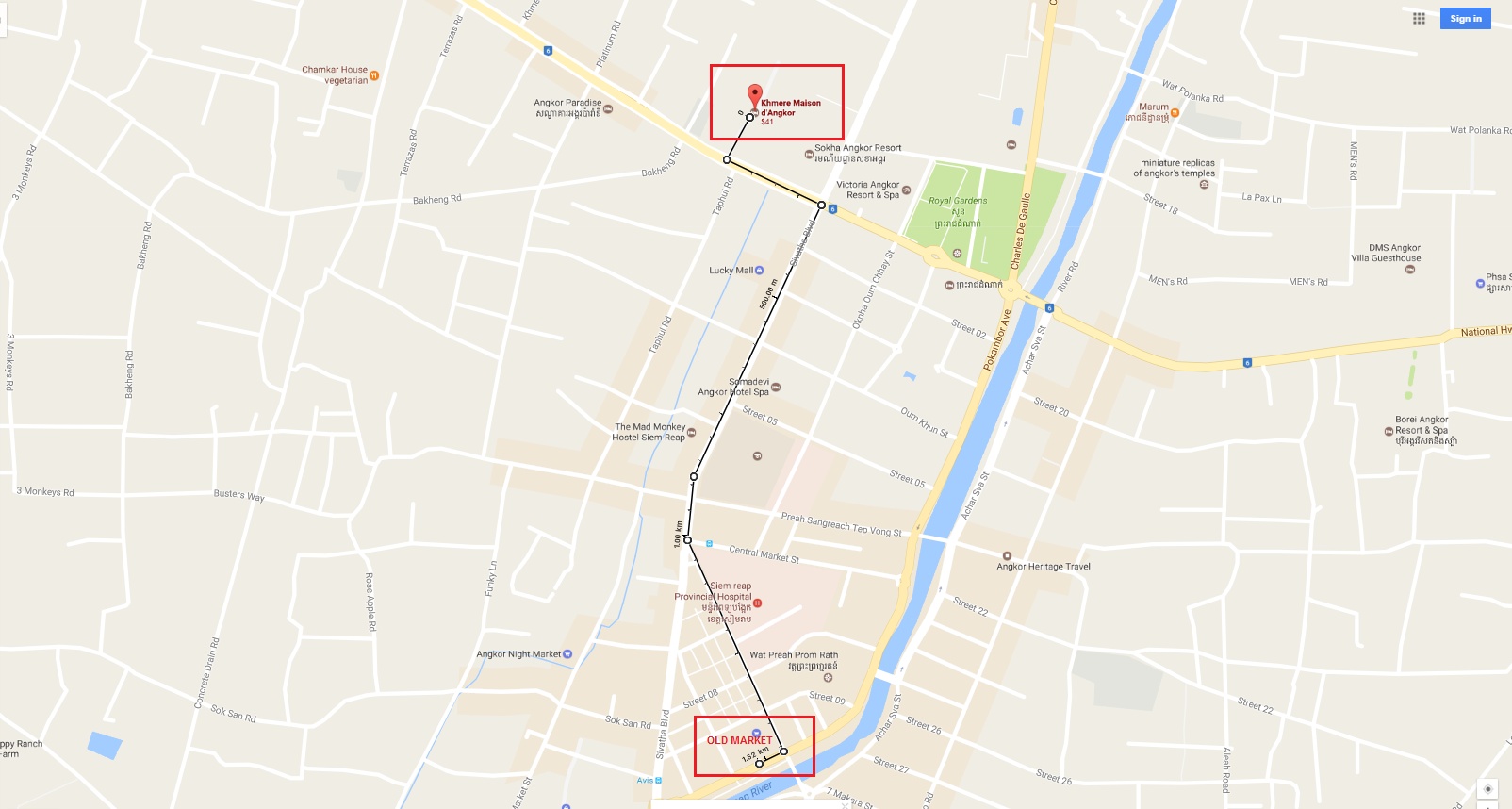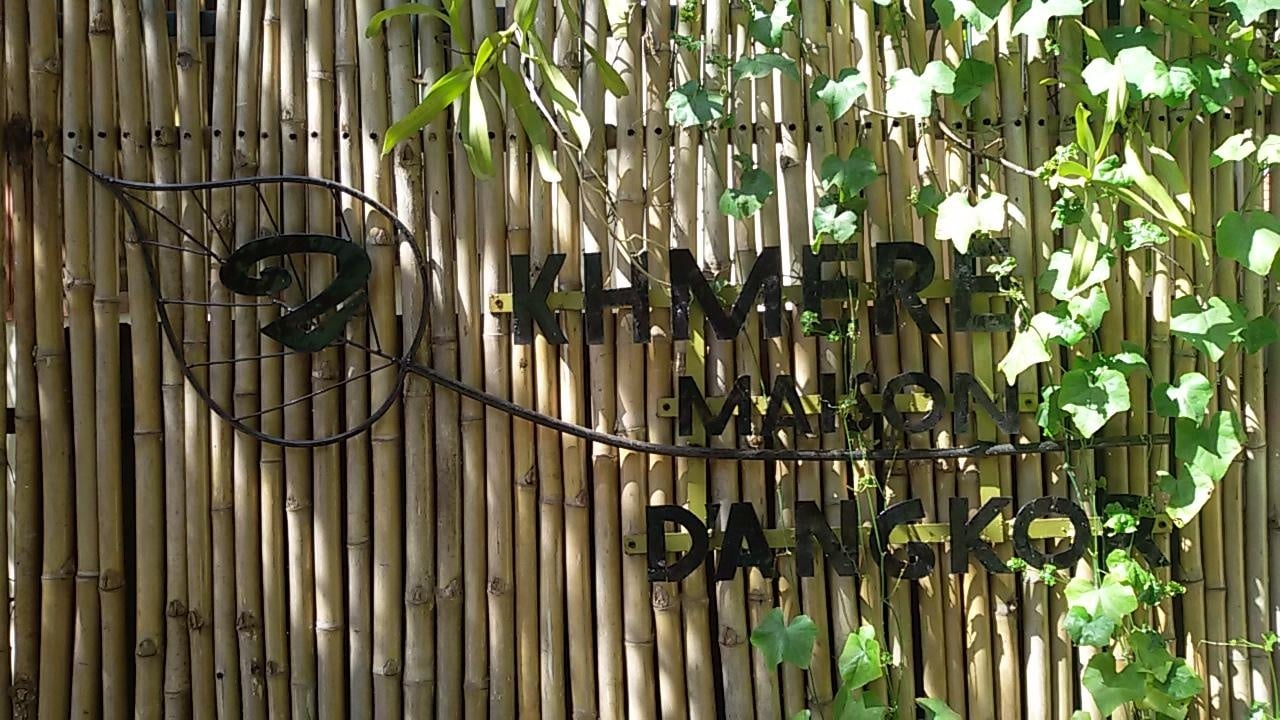 Khmere Maison D' Angkor is located at #482, City Centre, National Road No.6, Wat Kesararam Street Group 17, Phum Taphul, Siem Reap City ,P.O Box 93090, 17000, Cambodia. | Image credit: Wanders of Eve