Mount Bromo, one of the top travel destinations in East Java Indonesia, is an active volcano situated in a surreal but spectacular massive caldera. While very busy with tourists, almost to the point of being a put-off at the sunrise viewpoints, it is definitely still worth a visit.
The case in point is that from night till sunrise, tourist jeeps are already plying the Sea of Sand – the name given to the flat ashy ground of the Tengger caldera where Mount Bromo is. Some head towards the Mount Bromo crater itself, while most others, towards Mt. Pananjakan, where "Viewpoint 1", the most popular sunrise viewpoint stands.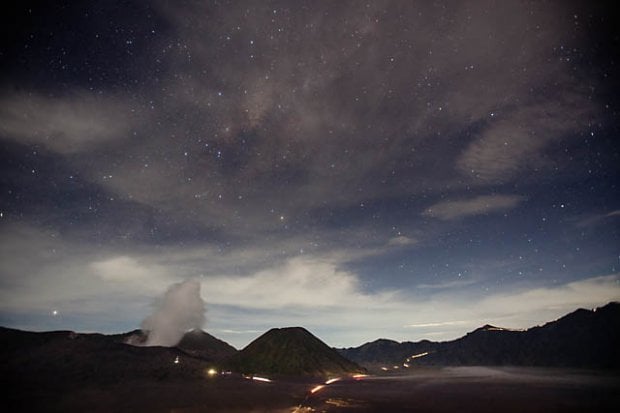 Light trails of the jeeps heading towards the smoking Bromo crater and Mt. Pananjakan
The view from Cemoro Lawang, the access town on the edge of the Tengger caldera is already quite something, but from the higher viewpoint at Mt. Pananjakan, it is even more spectacular. Even when we set off at 3:30 AM, we were almost deprived of viewing space at the viewpoint. With the number of people increasing as the hours go by, and with locals and tourists alike smoking while waiting, it is perhaps not the best of my "sunrise moments", but all is forgotten when the light touches the volcanoes! Not to forget too, the light on the mists, as well as the views of the town of Cemoro Lawang itself!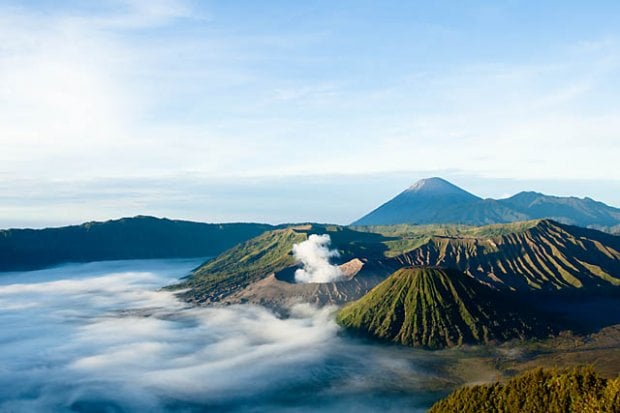 Beautiful morning light on the volcanoes and the swirling mists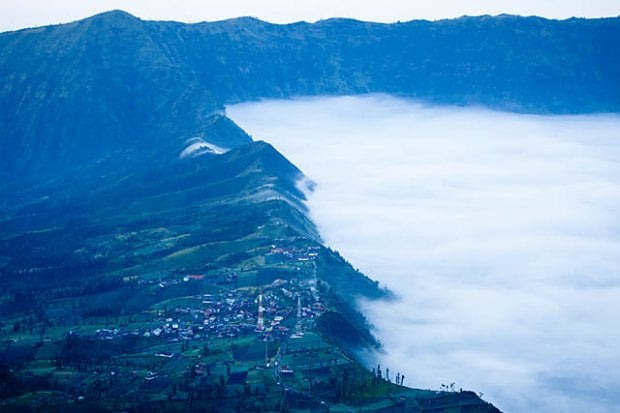 Cemoro Lawang on the edge of the caldera, as morning mists float within
After the sunrise viewing, most would proceed to the Bromo crater itself to peek into the smoking crevice. For first-timers to a volcano, it is indeed an interesting experience, sans the crowds of course.
Also read: Braving the Toxic Fumes of Ijen Crater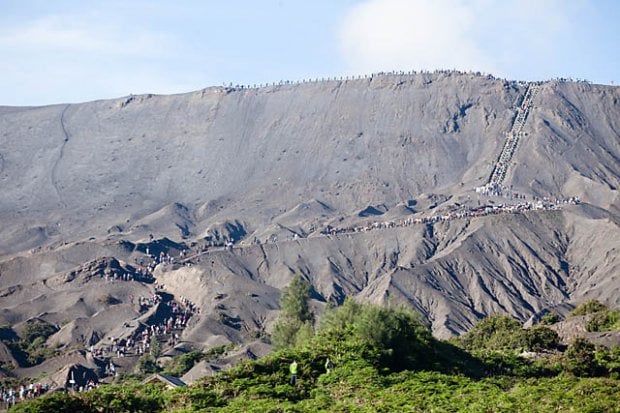 The line of tourists going up to the crater of Mt. Bromo
However, for those who have an extra day, the areas around Cemoro Lawang are worth a walk. The contrast of the barren caldera and the lush green around Cemoro Lawang is stark and definitely yields different photographic opportunities. Moreover, it seems that many of the locals have their own viewpoint for sunrise, just behind the famous Lava View Lodge! And if you are lucky, perhaps you could also catch a 'Glory' cast onto the mists on the Sea of Sand.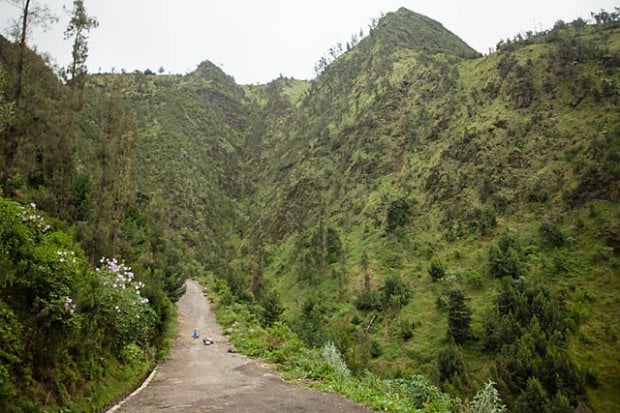 Lush green around Cemoro Lawang, a stark contrast to the caldera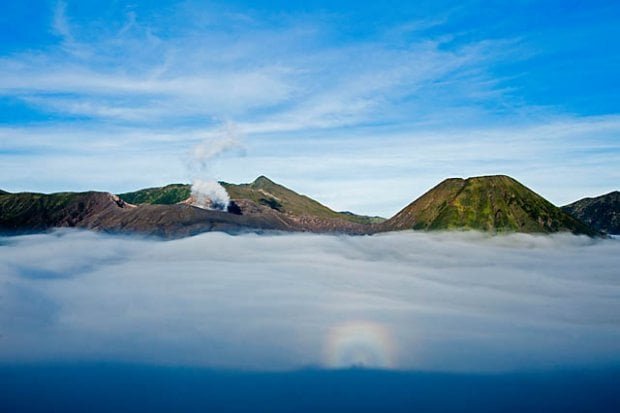 Morning light on Mt. Bromo and Mt. Batok, as well as a 'glory' on the mists
For Singaporeans or those in Singapore, there are quite a few low-cost airlines flying to Yogyakarta and Surabaya, the common access cities to Bromo, at really low prices. On Jetstar Asia, it could go as low as USD80 (approx. SGD106) for a return flight! And there's plenty of agencies in these cities to arrange for a weekend trip. So, check it out!
Also read: Surabaya Travel Tips and City Attractions
Contributed by Roving Light.