Johor is a great getaway destination for beautiful nature, cultural sights and satisfying pampering. It is a wonderful city filled with attractions that are often overlooked by travellers – from across the border in Singapore or elsewhere – who simply come for the affordable shopping and dining. On your next trip to Johor, we'd like to challenge you to something different. We want you to be a proper tourist in Johor, so we've created this fuss-free 2D1N Johor itinerary for you. Let's get going!
Day 1: Be an urban explorer in the city
Morning: Self-guided tour along the Johor Bahru Heritage Trail
Arrive in Johor bright and early! Drop your luggage at your hotel and it's time to explore Johor Bahru's beautiful history on this lazy Saturday. Spend your morning strolling along the Johor Bahru Heritage Trail, as seen on the map below.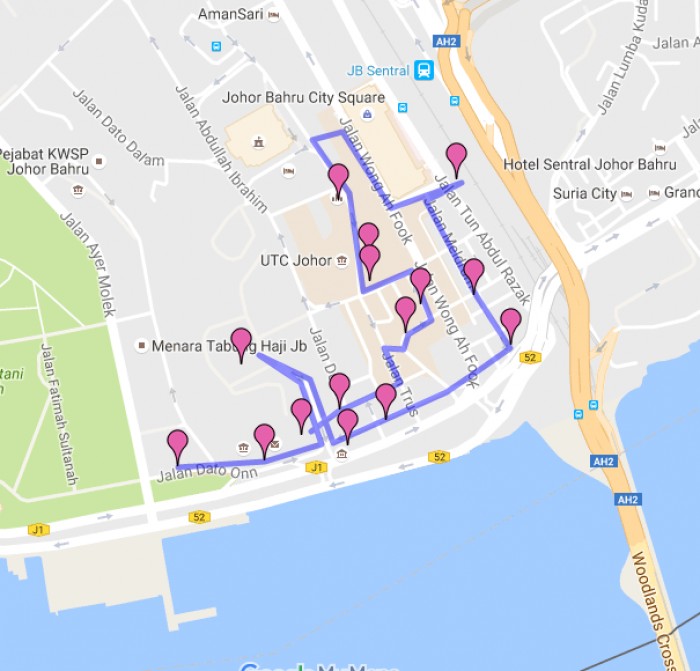 This trail will bring you to classic colonial buildings, Chinese museums and Indian enclaves. The best part about the walking trail is that it doesn't cost a single cent, unless you want to enter an attraction with entrance fees.
The tour starts off with two buildings built by foreigners in Johor. The first is the Mahkamah Tinggi High Court Johor Bahru, an imposing High Court constructed by the British Colonial administration, and the second is the Sultan Ibrahim Building built by the Japanese in 1940. Next, discover Johor's Chinese roots at the Johor Bahru Chinese Heritage Museum (RM 3 entrance fee) and at vibrantly red Jalan Tan Hiok Nee. We recommend taking your OOTD here against the beautiful white detailing on red walls.
After you are done marvelling at Chinese heritage, walk on and discover the 1914 Sentral Police Station (Balai Polis Sentral JB) and once-popular areas such as Kampung Ah Fook and Old Johor Bahru Railway Station. From here, go to Jalan Trus to visit a 130-year-old Chinese Temple juxtaposed with Gurdwara Sahib, a Sikh temple, and Arulmigu Rajamariamman Devasthanam Temple. Lastly, check out the Broadway Cinema and perhaps you might even stay to watch the latest Bollywood blockbuster!
Afternoon: Eat Beggar Chicken for lunch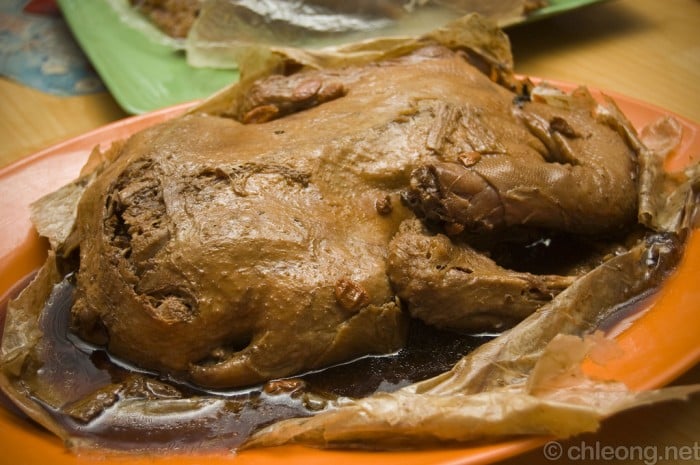 Image credit: Chee Hong
By now, you are probably in the mood for food. But not just any food. Indulge in a classic dish to complete the morning of history and culture. Cab down to Bang Heong Seng which is 15 minutes down the road.
The chefs here take eight whopping hours to prepare their charcoal-baked Beggar Chicken and Duck. It is served encased in a clay shell which they then break open for you. The clay pieces fall apart to reveal a soft, plump whole chicken with amazing herbal soup. We promise that you will be positively salivating while you wait for the magic to unveil, and it tastes even more magical than it looks!
Address: 34B, Jalan Bertingkat Skudai, Danga Bay, 80200 Johor Bahru, Johor, Malaysia
Contact: Call 016-757-1887 or 07-237-5194
Tip: Be sure to call them a day in advance to make reservations because their dishes need careful and long preparation.
Enjoy Johor's modern side at Danga Bay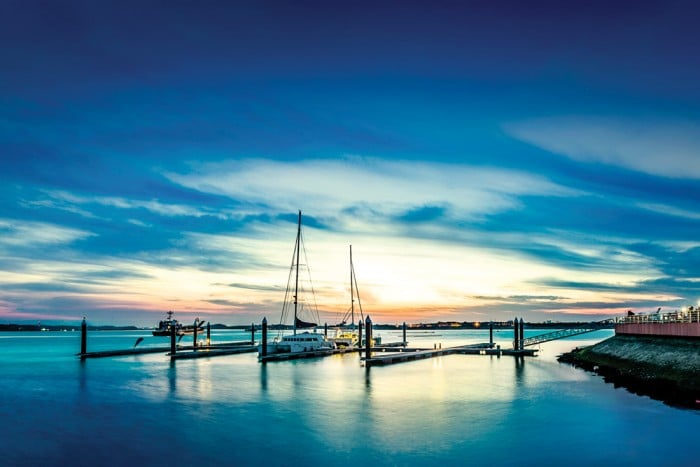 Image credit: Danga Bay Country Garden
Tada! You are actually next to Danga Bay, Johor's waterfront recreational park. Here, choose from the seemingly endless variety of activities.
If you feel like working off the calories from your last epic meal, rent a cute bicycle and let your hair flow in the wind as you breeze past the water. You can also take a tram ride, ride a skateboard, or even race cars at their RC car racing circuit.
The really enchanting part, though, is the Danga World Mini Theme Park which is lit with soft, warm lights at night. Are you here with a loved one? Enjoy a romantic ride away from crowds while watching the lights spin and dance.
Night: Have dinner while cruising along Johor
The perfect way to enjoy the great view is dining on Danga Bay 8. It is a fine dining restaurant on an exclusive cruiser. It sails along the straits of Johor while you are served a delicious variety of Chinese-style cuisine. You can also have an international buffet for RM 50.
Opening hours: 7.30pm to midnight, Friday to Sunday
Contact: +607-2352333
Tip: We recommend for you to call Danga Bay 8 and book in advance to ensure you have a spot.
Day 2: Relax and destress
Morning: Take a trek in Gunung Pulai Recreational Forest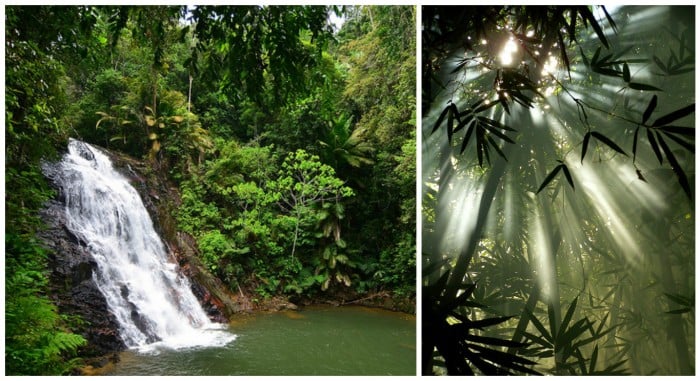 Image credit: Amani Hasan & Nicolas Lannuzel 
The first stop is just one hour away from Johor Bahru city centre. We recommend either hiring a taxi or renting a car for the whole day (the prices are covered below in the "Getting Around" section). Head to Gunung Pulai Recreational Forest for the Pulai waterfalls where water cascades in several shimmering layers. Hop over the tree trunks if they are blocking the trails, and enjoy the lush greenery and cool waters.
You are bound to get hungry after the invigorating walk! Next, make your way down to Anggun Cafe at the entrance to the mountain for delicious Roti Canai (chewy fried pastry) with homemade savoury chilli. The owner, Kak Ita, has been making these fried golden-brown pastries for decades and her chilli sauce is the BOMB.
Address: Mount Pulai, Gunung Pulai Recreational Forest, 81000 Pekan Nanas, Johor, Malaysia
Afternoon: Pet sheep at UK Agro Resort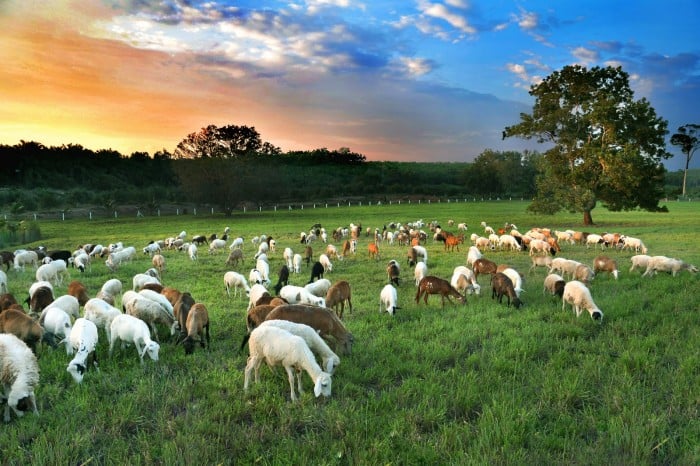 Image credit: UK Farm
After you've dried off and had lunch, it's time to visit a farm! The UK Agro Resort is another hour away. If you're a city-dweller, you will love this farm experience. In UK Agro Resort, you can learn about modern farming techniques, enjoy the company of thousands of fluffy sheep, and also visit a passion fruit farm.
More food awaits here too! Feast on fresh lamb chops, mutton soup and salt-baked chicken. Save room for dessert and satisfy your sweet tooth with goat milk butter cakes, ice creams and puddings. Of course, don't forget to try a classic glass of fresh goat milk!
Address: Projek Pertanian Moden Kluang, KM13 Jalan Batu Pahat, Kluang, 8, 86000 Kluang, Johor, Malaysia
Contact: Call +607-759 7555 or email [email protected] for farm tour enquiries
Evening: Pamper yourself with treatments at Holiday Plaza
Next, return to the city centre of Johor Bahru. It's time to head to Holiday Plaza to relax after a whole day out. Holiday Plaza used to be a haven for pirated CDs, but it's now a quiet mall filled with massage parlours and nail and hair salons. The good news is the quietness means better and cheaper service!
Choose from the many types of massages ranging from a simple leg massage to a full-on spa experience. You can also get a makeover, have a facial, dye your hair, or get a gel nail manicure for only RM 40–55. The prices alone make you wish you had the time to do everything! After you're done, check out the rest of the mall for tech gadgets and cheap, stylish phone cases. This mall is a real oldie but goldie!
Address: Holiday Plaza, Jalan Dato Sulaiman, 80250 Johor Bahru, Johor, Malaysia
Night: Dinner at Soon Soon Heng Bak Kut Teh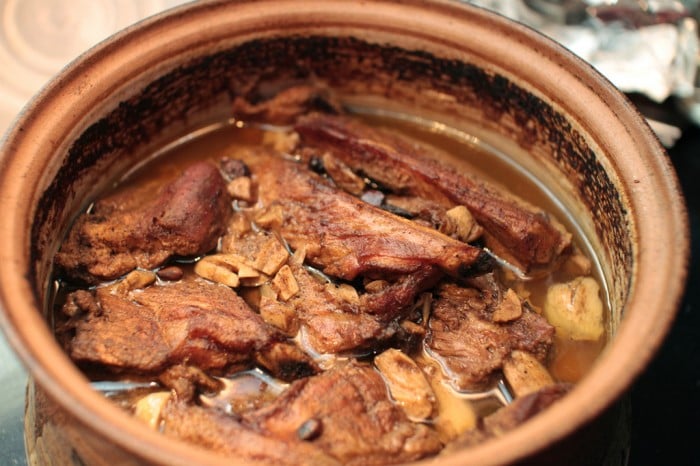 Image credit: profernity
Walk over to Soon Soon Heng Bak Kut Teh, which is opposite KSL City Mall. It is one of the most famous Bak Kut Teh restaurants in Johor. They prepare it Teochew-style, where the broth is both peppery and herbal. The pork is high quality, cooked perfectly and goes incredibly well with the side dishes. You can order fried beancurd skin, enoki mushrooms, you tiao (light fried pastries) and more. It will be hands-down the most delicious Bak Kut Teh you have ever tried! If you don't feel like pork, you can order sesame oil chicken instead.
Opening Hours: 8am to 8pm
Address: 43, Jalan Serigala, Taman Abad, 80250 Johor Bahru, Malaysia
Optional: Savour durians at Ah Tong's Durian stall
If it's durian season, take the opportunity to sample mother nature's king of fruits. The main season runs from June to August and there is a smaller second season from December to January.
Ah Tong's durian stall, located next to KSL City Mall, stocks a variety or durians, each with a unique characteristic and taste. Unleash your inner durian connoisseur (or inner glutton) here! You can sample their famed Golden Phoenix D198, Red Prawn or Mao Shang Wang. Ask the shop owners for their recommendations! If you're a seasoned durian expert, tell them your preference.
Address: 28 Jalan Serigala Taman Century, Johor Bahru, Malaysia
Contact: 017-646-8859
Also read: 8 Hidden Gem Destinations In Johor That Are Worth Discovering
Getting Around
We recommend renting a car or taking a taxi in Johor. Public transport is often erratic, confusing, and unreliable. You can easily pick up a car in the Johor city centre for RM 160 onwards per day. You can find even cheaper rates if you book in advance. Make sure you have a photocopy of your passport and license, and also prepare money for a car deposit.
Otherwise, taxis cost about RM 5–15 for rides within the city. Taking a cab to Gunung Pulai Recreational Forest will cost approximately RM 30, while journeying from there to UK Agro Farm costs RM 60. The ride back to Holiday Plaza might cost RM 80 onwards. Make sure the taxi uncle is either using the meter or that you have an agreed-upon price before embarking.
For convenience, you can use Grab, which is quite popular in Malaysia and allows you book either a taxi or a Grab driver. Alternatively, try Uber.
Where to Stay
Luxury: Doubletree by Hilton Johor Bahru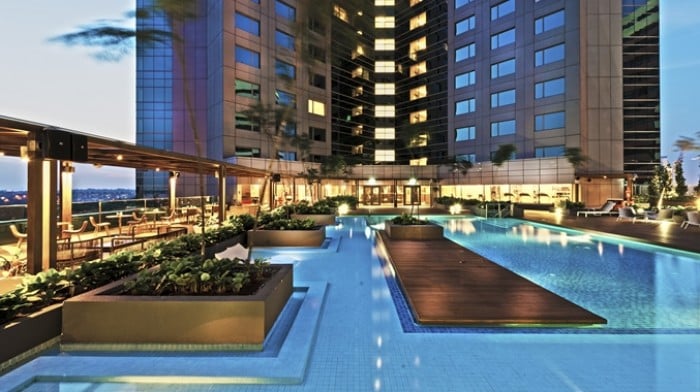 Image credit: DoubleTree by Hilton Hotel Johor Bahru
Doubletree by Hilton is one of the most highly-rated hotels in Johor Bahru. It offers a spectacular view of the straits of Johor and the city skyline. Their suites and rooms are bathed in natural light and decked in soft rose gold walls and beautiful minimalist furniture. Large, spacious and airy, it's definitely one of the most luxurious accommodations one could hope to experience!
Price: RM 505 onwards per room
Address: No. 12 Jalan Ngee Heng, Johor Bahru, 80000, Malaysia

Mid-Range: Hermess Hotel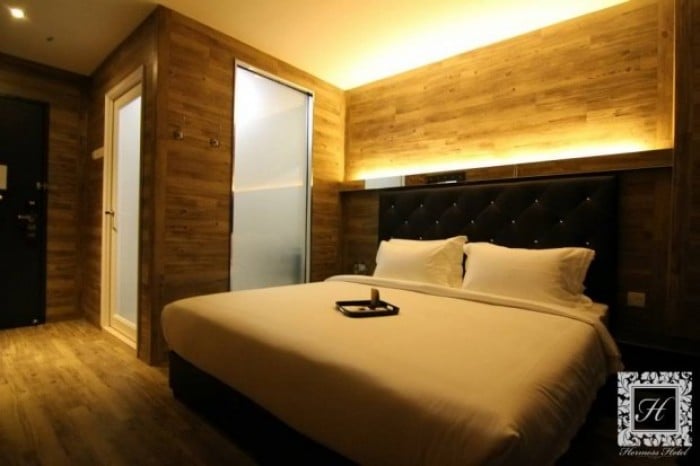 Image credit: Hermess Hotel
There is no need to break the bank to get a luxury option. The Hermess Hotel is an affordable yet classy place. The rooms are panelled with wood, glass, and metal for a chic yet rustic vibe. It may almost be too temptingly comfortable when coupled with soft lights and a perfectly plump bed. Make sure you have the discipline to get out of bed and do things!
Price: RM 90 per room
Address: 51, Jalan Bestari 1/4, Bandar Nusajaya, 81300 Sekudai
Budget: Warm Blanket Hotel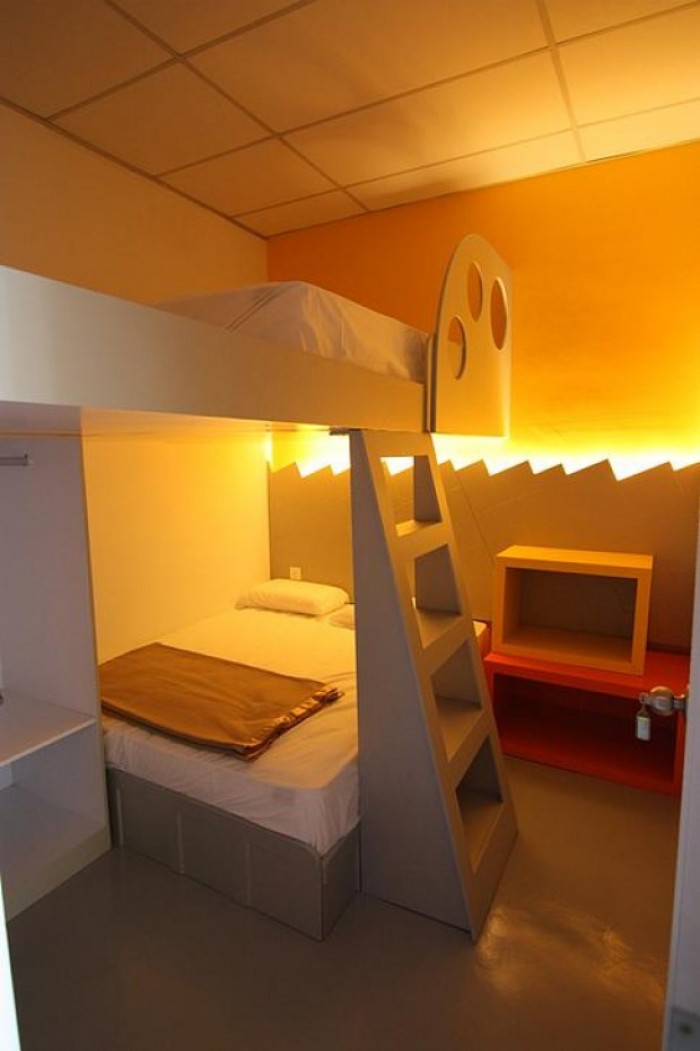 Image credit: Warm Blanket Hotel
If you're looking for something even more affordable, check out Warm Blanket Hotel. It really lives up to its name with warm lights and a very cosy interior. It is clean, minimalist and the staff service is excellent.
Price: RM 17 onwards per person for a quad room with a shared toilet.
Address: 22A & 20A, Jalan Indah 25/16, Taman Bukit Indah 2, 81200 Johor Bahru, Johor Darul Takzim
See, Johor is more than just for shopping and feasting. On your weekend trip to Johor, discover its natural attractions, history and heritage too with this itinerary.