There are many things that you can only experience in a Japanese winter. Here are some recommendations that you should definitely try when you visit Japan during winter.
1. Eat Japanese nabe (hot pot): sukiyaki and chanko-style
Nabemono or, nabe for short, is a traditional Japanese hot pot dish mainly eaten during the cold season. Traditionally, it's eaten in groups sitting around a table while the food cooks on a gas burner.
First, I am going to talk about sukiyaki, one of the most popular nabe dishes, and chanko, a style of nabe deeply intertwined with sumo.
Sukiyaki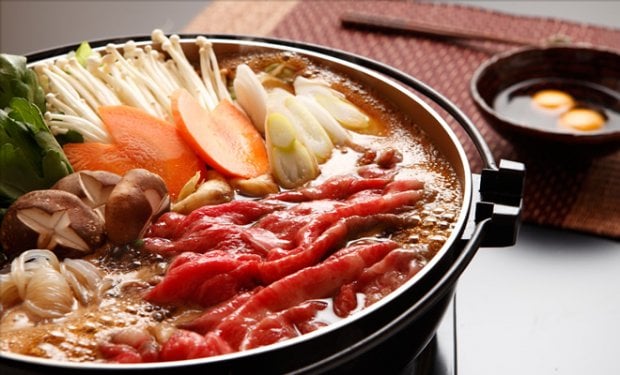 Image credits: kobebeef.co.jp
Sukiyaki is usually prepared by cooking beef, onions, tofu, and other ingredients in a sweet soy sauce-based soup. Ingredients may vary by region, but the flavour and contents are very similar and is a nostalgic dish for many Japanese.
Also read: Where To Go for A Taste of Traditional Japanese Cuisines
On a side note, "Sukiyaki" a song by Japanese singer, Kyu Sakamoto, which hit number 1 on the American Billboard chart in 1963, had nothing do with this dish. This song title was used because at the time it was the most well-known Japanese word among Americans. The Japanese title "Ue wo muite arukou" translates to "walk with your head held high" in English.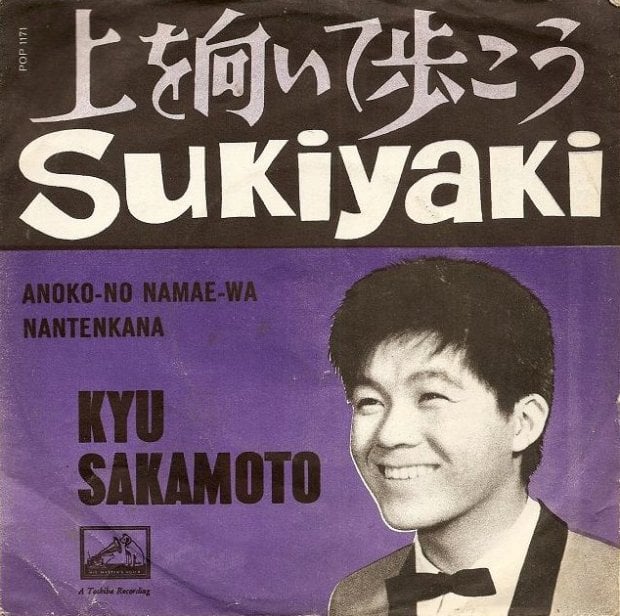 Image credits: matome.naver.jp
Chanko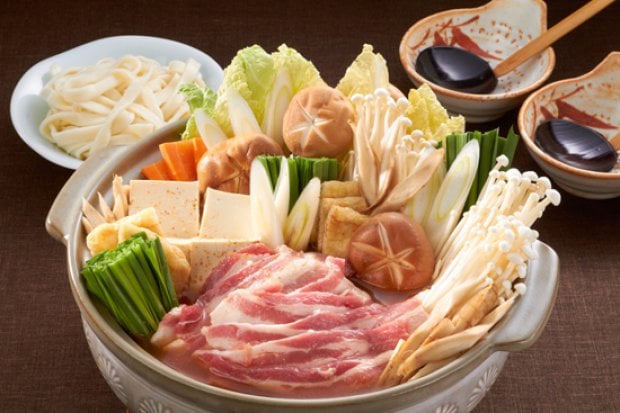 Image credits: hibiki-food.jp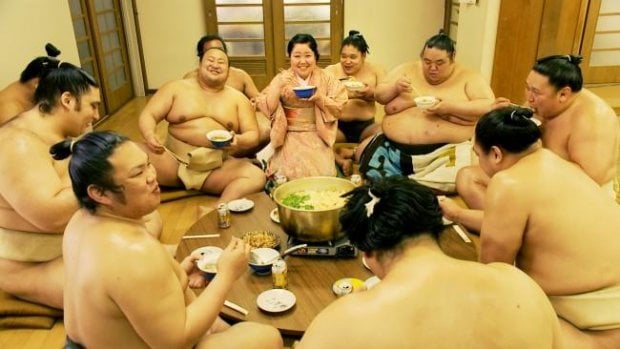 Image credits: news.ameba.jp
Chanko usually refers to any dish served to sumo wrestlers. Usually it is a nabe dish served in the sumo wrestlers' training house, the sumo-beya. This nabe dish can vary among different sumo-beya. The soup can be flavoured with salt or soy sauce, with a stock base of chicken or fish.
Today, reasonably priced and tasty chanko can be found at many chanko restaurants near Yougoku, an area where many sumo-beya are located.
You might want to try visiting some sumo-beya which are open to public for sumo training viewing and when they serve chanko.
Sumo Tour: Tokyo Tournament & Chanko Dinner Plan
2. Winter BBQ: Kitami Yakiniku Festival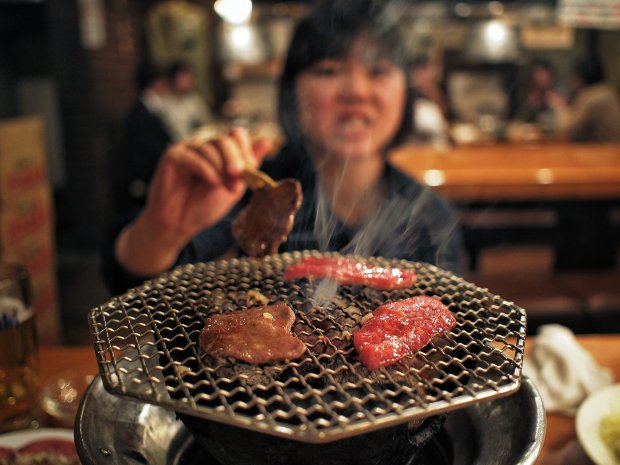 Image credits: Jonathan Lin
Why BBQ under the snowy sky when temperature is dipping to minus 10 degree Celsius? It would be much more comfortable gathering inside, right? But such naïve questions would soon evaporate if you meet the feverish fans of this mid-winter festivity. You will be running to the table with your own chopsticks. This festival happens every year in February in Hokkaido.
3. Experience an unusual tradition: Yonekawa Mizukaburi
Image credits: www.city.tome.miyagi.jp
Just who on Earth are these men? This is the appearance of a Miyagi prefecture tradition called "Yonekawa Mizukaburi." Men in straw costumes with their faces heavily painted in black ink act as divine messengers as they prepare buckets of water and throw them on houses in the area in order to protect them from fire. During the winter in Japan around the New Year season, many unusual traditions from ancient times are still practised. If you're interested you are by all means welcome to check it out; just be sure to thoroughly observe the safety precautions to prevent any interference.
4. Enjoy snow art at the Sapporo Snow Festival
The Sapporo Snow Festival is the No. 1 winter festival known by most Japanese people. This annual festival actually has a history dating back to 1950. Giant snow sculptures of anime characters such as Pokemon and Hatsune Miku or historical objects like buildings and Buddha are lined up by the dozens.
There are giant sculptures reaching heights of close to 20 metres and now even teams from Canada and the United States participate as well.
In 2015, the Sapporo Snow Festival will be held from February 5 to 11.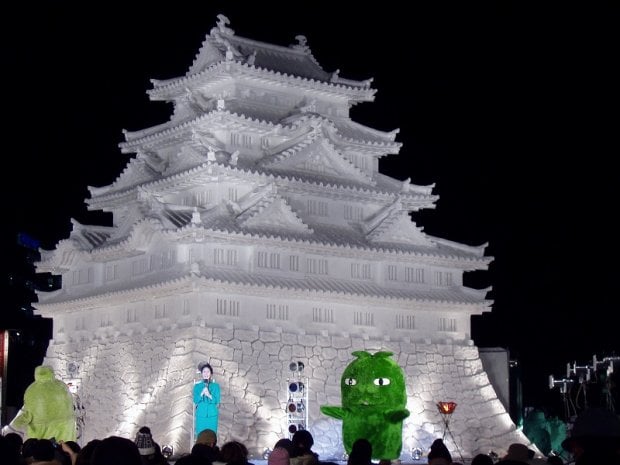 Image credits: plaholi.com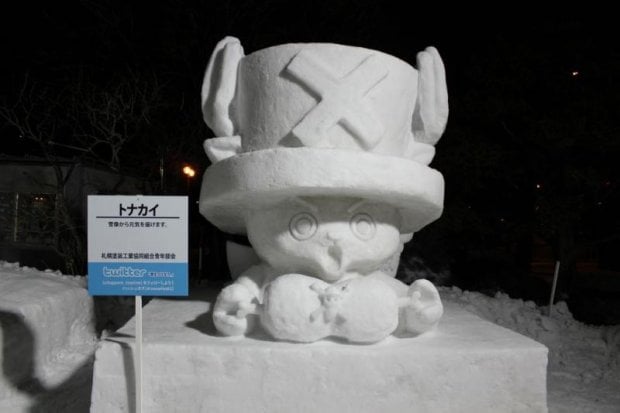 Image credits: ameblo.jp
5. Enjoy winter sports in Niseko
Foreign skiers love skiing in Hokkaido because of the powdery snow.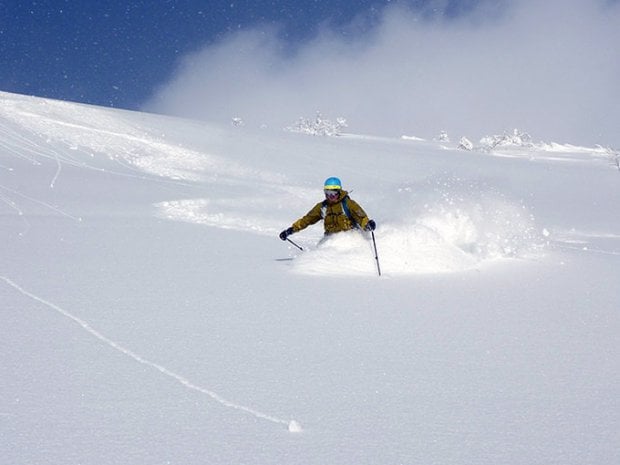 Image credits: hokkaidolikers.com
Advertising displays and restaurant menus in Niseko are written in English because this town is popular among foreigners and tourists.
Also the population of foreigners living there has been increasing.
Of course, there are many winter sports resorts other than in Niseko, so if you're interested, please take a look at the article linked below.
38 resorts for ski and snowboard lovers in Japan
6. Experience the beautiful illumination around Tokyo Station
In Tokyo, there are several winter illuminations in places such as Roppongi, Ginza, and Shinjuku. Two of the more popular illuminations are the ones at Marunouchi and Tokyo Station called Tokyo Michi Terrace 2014.
The illumination at Marunouchi stretches over dozens of metres around historical buildings surrounded by skyscrapers, allowing you to enjoy both the modern and traditional. The exhibit is up from November 11, 2014 to February 15, 2015.
Marunouchi Illumination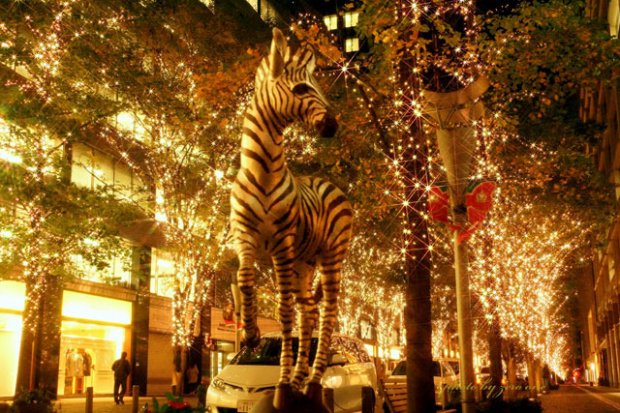 Image credits: jorudan.co.jp
Tokyo Michi Terrace 2014 is a celebratory light up event in the area around Tokyo Station. The main event is the light up of the Tokyo Station Marunouchi Building in recognition of the 100th anniversary of the station's opening. The illumination's theme is "The Color of Taisho Era Romance." The illumination was seen from December 24-28, 2014.
Tokyo Michi Terrace 2014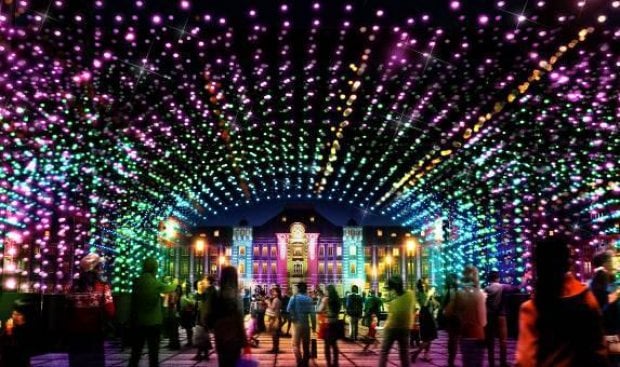 Image credits: blog.livedoor.jp
Around Tokyo Station, there are a number of hotels and shopping malls, with several leading brands and Michelin restaurants. We recommend you to doing shopping in the evening and slowly enjoy the lights after an early dinner in the area.
7. Enjoy New Year events in Japan
Missed the New Year events in 2014? Prepare for next year's! The Japanese New Year events are the ringing of the bells on New Year's Eve held at temples the night of December 31, watching the first sunrise of the New Year, and the first visit to the Shinto shrine before January 7.
The bells on New Year's Eve (Joya no Kane)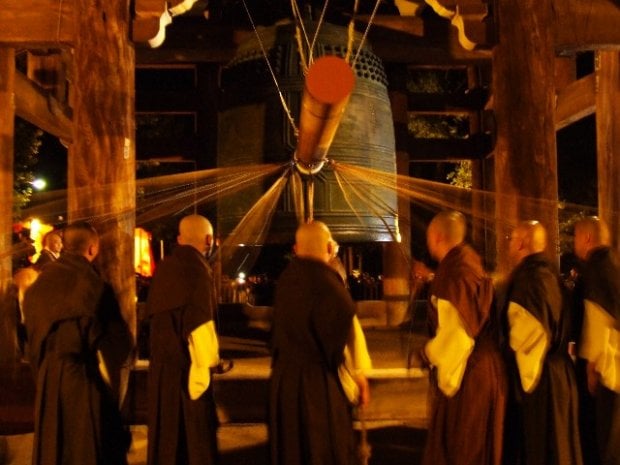 Image credits: blogs.yahoo.co.jp
This ritual takes place on the night of December 31 at a Buddhist temple. There's typically a large bell inside the temple that is struck 108 times. The point of the 108 strikes is to symbolize the number of types of "Bonnou" or "worldly passions and desires" that exist in the minds of humankind. (These worldly passions and desires are generally said to disturb and corrupt the mind as well as taint the heart.)
While listening to the sounds of the temples in Japan, there is a main hall to go inside to pray and finish off the end of the year. Also, depending on the temple, some actually let you strike the New Years Eve Bell.
Temples in Tokyo that let you strike the New Year's Eve Bell:
The first sunrise (Hatsuhinode)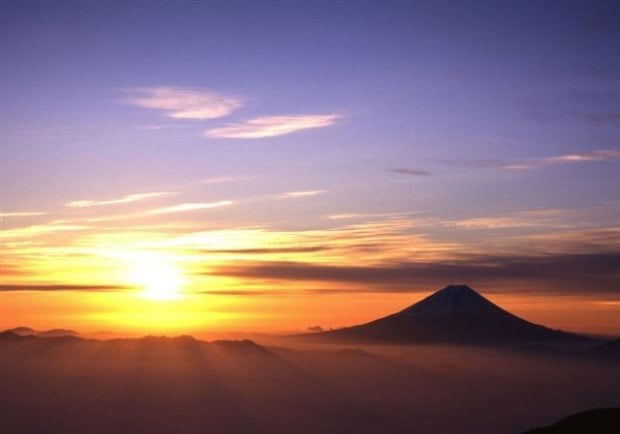 Image credits: plaza.rakuten.co.jp
The first sunrise refers to the first sunrise of the New Year. It is so popular that there are even recommended spots and tours all around Japan to see the first sunrise. The most famous and extremely popular first sunrise would be the goraikou seen on Mt Fuji. Goraikou refers to seeing a sunrise on top of a mountain, especially for sunrises rising above the horizon, and it is an extremely auspicious sign.
Also read: 15 Best Places to Watch Sunset in Asia
There are many people who come from abroad to see Goraikou on Mt Fuji, crowding it to the point that people are unable to climb the mountain.
If you are interested, it's recommended that you go with a tour.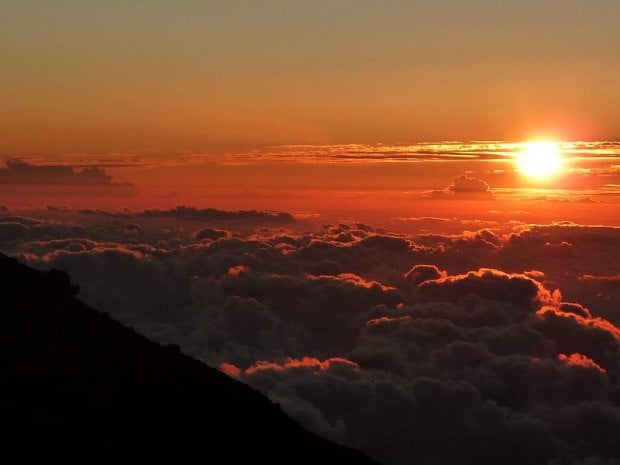 Image credits: blog.omotefuji.com
New Year's visit to a shrine or temple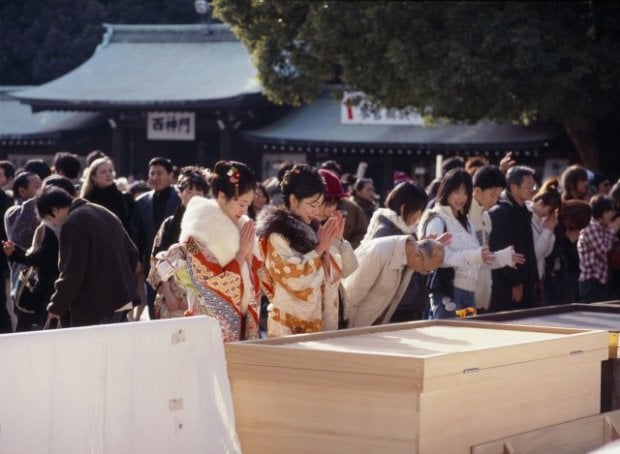 Image credits: plaza.rakuten.co.jp
Visiting shrines or temples for the first time in the New Year is to show thanks to the gods for your life over the past year and to pray for your safety and peace in the New Year. Generally, people go between January 1 and 7.
Please read the following article about shrine etiquette before you go.
Proper Shrine Worship Etiquette
8. Go bargain shopping
In Japan, many retail stores including department stores and shopping malls hold bargain sales from the middle of December to the middle of January. It is a good opportunity for you to shop reasonably because some expensive items are sold at unbelievable prices.
Also on New Year's, many shops sell fukubukuro ("lucky bags"). Products are packed into a bag where you can't see the inside and are sold as is; the price of the items inside is much higher than the price of the bag. For example, if you buy a fukubukuro worth 10,000 yen, you won't know what the items are but they may be worth 30,000 yen or more.
Even though you can't see what's inside, knowing that you're getting a great deal gives one an excited and nervous feeling when they buy it!
Items inside a fashion brand's fukubukuro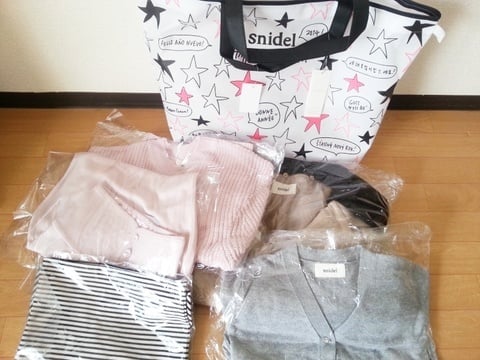 Image credits: img.yaplog.jp
Items inside an electronics store's fukubukuro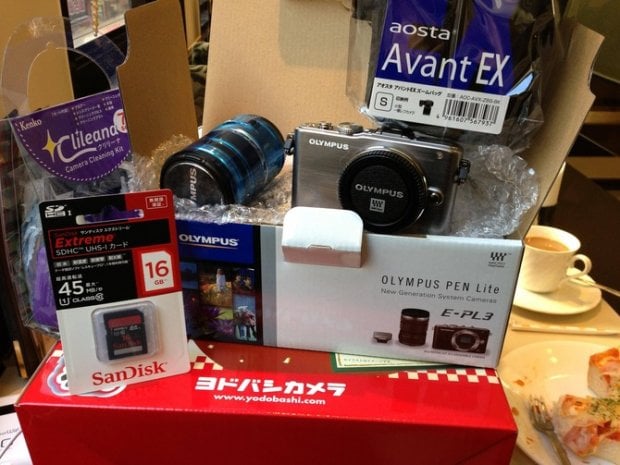 Image credits: blog.livedoor.jp
9. Enjoy a cafe made of snow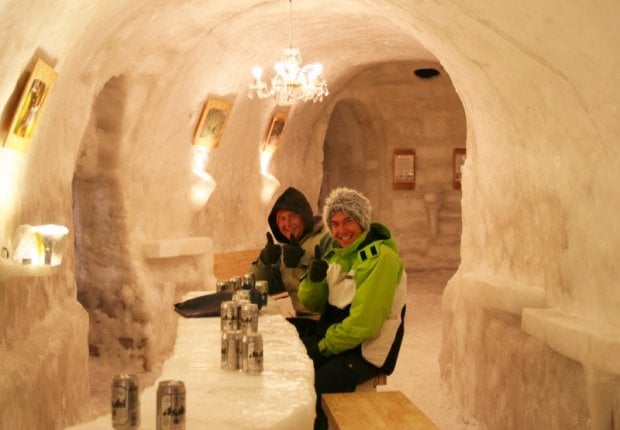 Image credits: furanotourism.com
The "Furano Kan Kan Mura" is an event held every year at a ski resort in Furano City, Hokkaido.
Particularly recommended is the completely snow-made "Ice Cafe". Chairs, tables, counters, everything is made out of snow. After you enjoy your skiing, doesn't having a drink at the Ice Cafe sound good? This year the event runs from December 23rd until March 10th.
10. Watch monkeys enjoying themselves in hot springs in the snow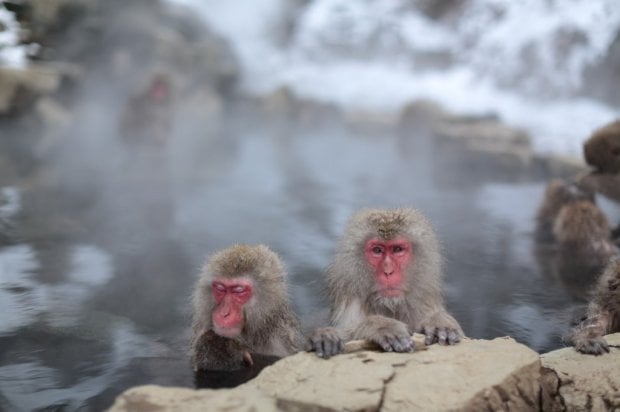 Image credits: tamawakaba.exblog.jp
There are natural hot springs all around Japan, and there are many tourists that enjoy the open-air hot springs. Wildlife in the mountains also utilize them for medicinal purposes or just to keep warm.
The most famous hot springs where you can see monkeys enjoy the hot springs is Yaenkoen (wild monkey park) in Jigokudani (Hell's Valley) in Nagano prefecture. The park opened in 1964 and ever since then you could view monkeys in close proximity. Recently, there have been many videos of monkeys relaxing in the hot springs.
There is an official site, so please check it out!
Jigokudani Yaen Koen Official Site
11. Enjoy a stroll down the Yuki no Otani walk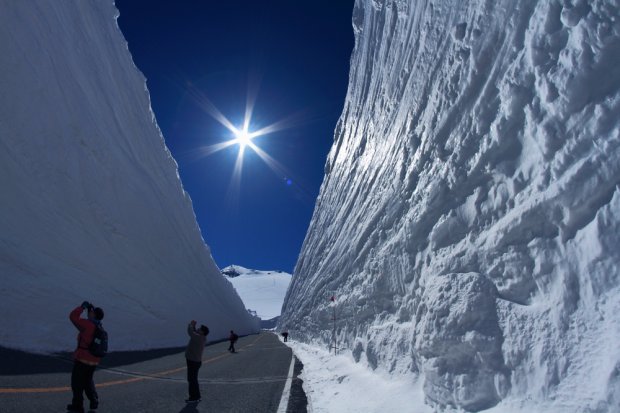 Image credits: rise.xsrv.jp
Yuki no Otani is located in Tateyama, Toyama Prefecture. The wall reaches a height of 20 metres in some spots. What makes this wall's construction possible is that it is made from the snow that is ploughed away from the road. It's a great spot to take some commemorative photos.
12. Enjoy fireworks in the clear winter skies
Usually in Japan many fireworks festivals are held in the summer, but in several regions there are also many fireworks festivals held even in winter. Shizuoka Prefecture's Atami city, about an hour away from Tokyo by train, holds a big winter fireworks festival as big as the one in summer.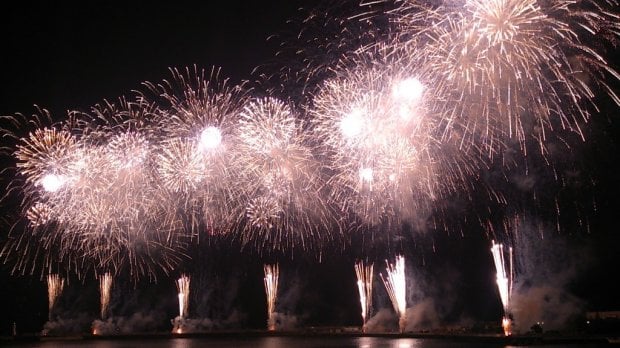 Image credits: atami-furuya.co.jp
Atami Fireworks Festival Official Site (Japanese Only)
13. Eat lots of crabs
It is said that winter is the season for crab cuisine. It has that strong image because December is the peak time with a large amount of crab being delivered from Hokkaido, Hokuriku, and other areas on that side of the Sea of Japan. But the timing when crab tastes the best actually differs slightly depending on the species of crab.
The amount of crab being consumed is the most during December to January, which leads to the image of crab cuisine being winter dishes.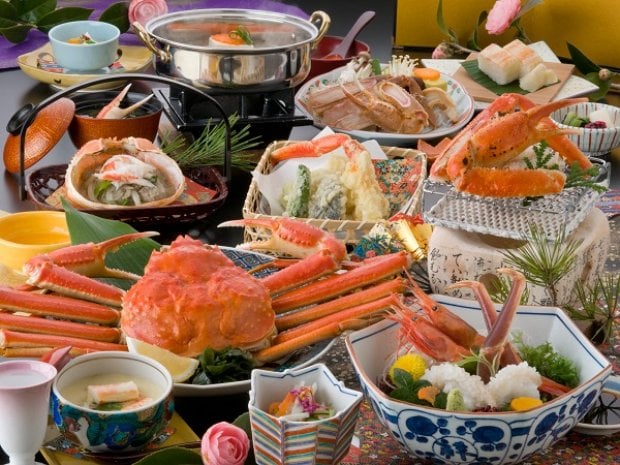 Image credits: yamashiro-spa.or.jp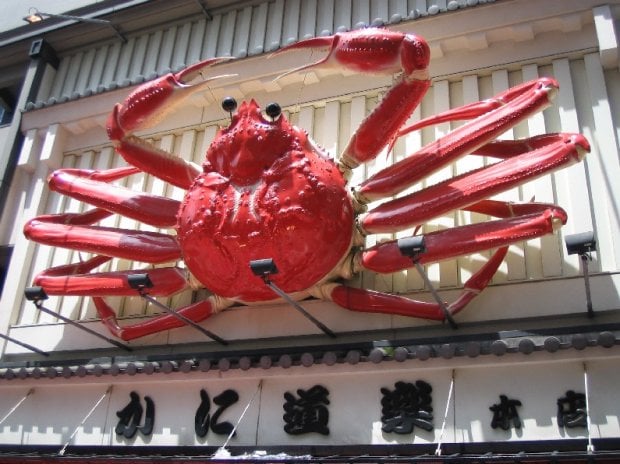 Image credits: blog.goo.ne.jp
The most famous for crab cuisine is "Kani Douraku." Originally from Osaka, this chain restaurant has spread around the country. The shop fronts are adorned with a huge model of a crab that often moves, making it an overwhelming experience from the get-go. All of the dishes include crab; of course, crab hot pot is a standard, but they also have crab sashimi, crab sushi, crab tempura, grilled crab, fried crab, and a plethora of other meals.
14. Soak in the open air bath to relieve the day's exhaustion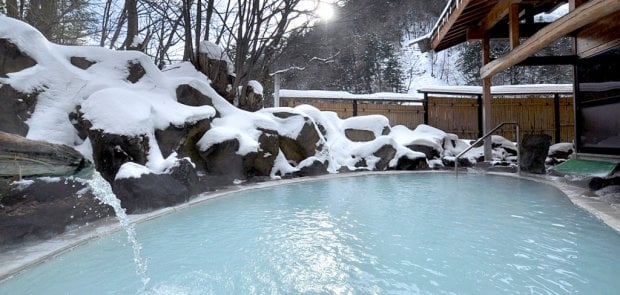 Image credits: shirahone.net
These open air baths are located so you can have a view of the snow fields. The photo is from the Shirahone hot springs from Nagano prefecture. In these baths, you can feel the extremely cold air while your body is warmed by the water as you look at the never ending pure white snow. If you visit Japan in the winter, please try to enjoy an open air bath.
Also read: Bathe in Glory: 23 Soak-Worthy Hotel Bathtubs in the World
15. Use beans to ward off oni
In Japan, February 3 is Setsubun no Hi (the first day of spring) and there's a tradition of throwing soy beans.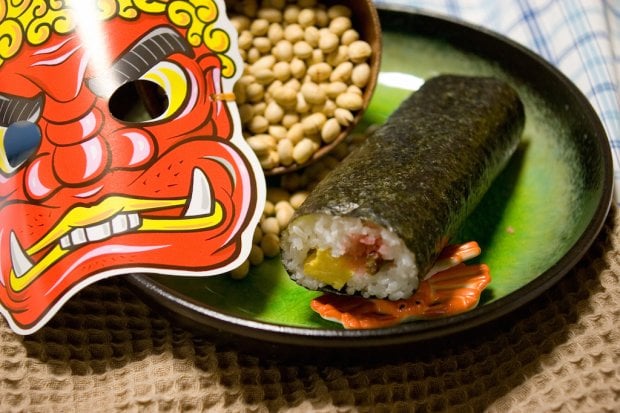 Image credits: wikimedia commons
With the passing of seasons, it's easy to get rid of evil energy. Oni, meaning demon or orge, symbolises the evil energy, so one throws soy beans at it. The person throwing the beans shouts "demons out!" while throwing beans at the entrance of the house or an open window before quickly shutting it so that the demon cannot come back inside. Then they say "fortune inside!" while scattering soy beans inside.
In each event, a staff or a family member will act as the oni, and people will throw beans at them to kick them out of the house in an anthromorphization of the evil energy.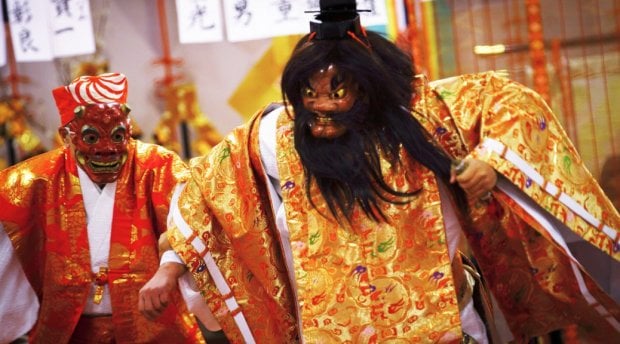 Image credits: humanjapanese.com
If you happen to be in Japan on February 3, please try to experience this.
Also read: 10 Weird and Wacky Things to Do in Japan
16. Laze around under a kotatsu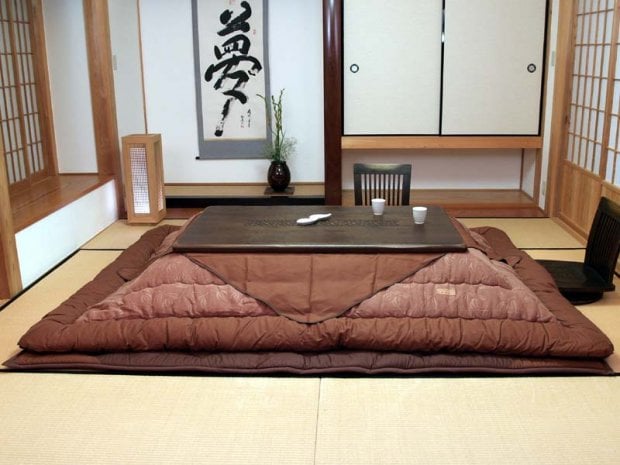 Image credits: punipunijapan.com
A kotatsu is a table with a blanket draped between the surface of the table and a heater. It shows up often in TV shows and anime, so a lot of foreigners are familiar with what it looks like.
In Japanese homes, it is standard in the winter for families to eat together at the kotatsu then spend time together like watching TV.
There are inns and hotels with kotatsu prepared for foreigners to enjoy, so if you stay at one, please try to experience this warmth.
Contributed by tsunagu Japan.