As a teacher, I look forward to the school holidays. I make no apologies of maximising every hour of my paid leave to travel. When my husband asked for suggestions for our December holiday trip, I merely said: "I don't know where but I know it's going to be long." I love long travels, it is what sets me apart from being a tourist and a traveller.
Looking at our budget and duration of the trip, I decided to go for a full-on train ride in Indonesia, stopping in between cities for a couple of days before heading to the next. The plan was to fly into Bali island and fly out of Java island from Jakarta. The rest of the time, we just threw caution to the wind, making arrangements as we go along.
Day 1 to 5: Kuta & Ubud, Bali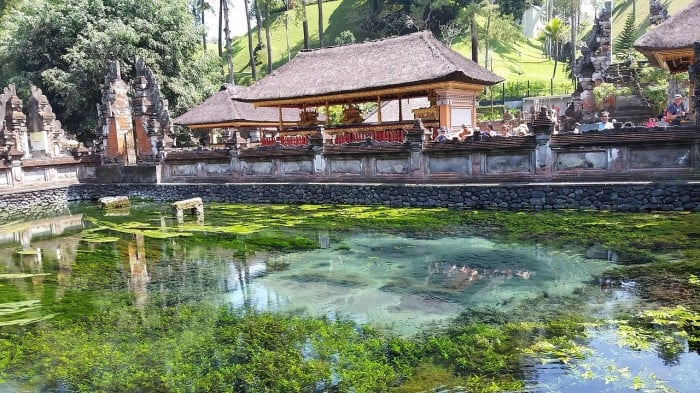 Tirta Empul, a Hindu Balinese water temple
I have not been back to Bali since the bombings of 1997 and was taken aback at how much it has changed. Or maybe it was me that changed? What used to be street stalls that filled the streets of Kuta are now concrete retail havens. We stayed in Kuta for 2 nights and visited some of the must-sees of Bali – Kintamani, the holy water temple, the fire dance and coffee plantation – before moving on to Ubud for a change of scenery.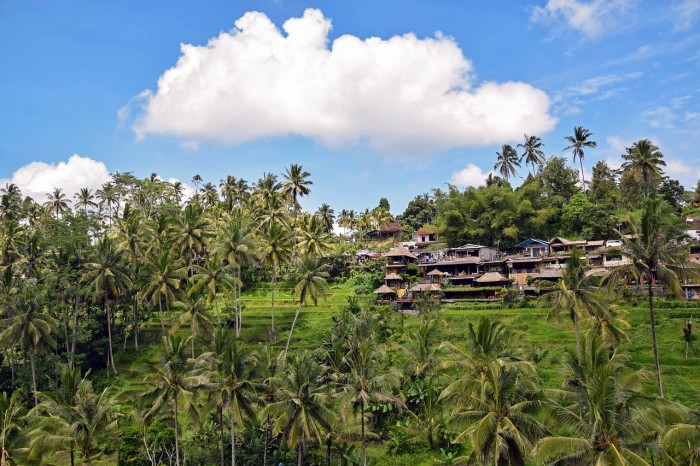 Rice terraces in Ubud
In Ubud, we were upgraded to a villa with a private pool to ourselves. It was great because we get to live up a little but it turns out the villa proves to serve us much more than a luxurious stay. It was hard to find halal and Muslim-friendly food in Ubud and after a lacklustre dinner in an Indian restaurant, we were forced to head to the local supermarket and cook our food with the villa's kitchen facility.
Getting to Java: After 5 days in Bali, it was time get to another island. Java. It is the fifth largest island in Indonesia and separated by sea from Bali which is just 5 kilometres away from its eastern tip. Yet, it will still take us a 4-hour non-stop bus ride from Terminal Ubung in Ubud to reach Gilimanuk before resuming a 1.5-hour ferry ride to bring us across into Java in Pelabuhan Ketapang, Banyuwangi. You don't even have to get off the bus. The bus itself will board the ferry. I figure you can drive your own car if you are commuting between Java and Bali which I thought was pretty neat. I made the mistake of assuming the bus will make a pit stop at some rest areas but it didn't and I was forced to use the toilet on the bus. It was not an experience I would like to remember. Tip: go to the toilets as often as you can before boarding a long bus ride in Indonesia.
Day 6: Ketapang, Banyuwangi, East Java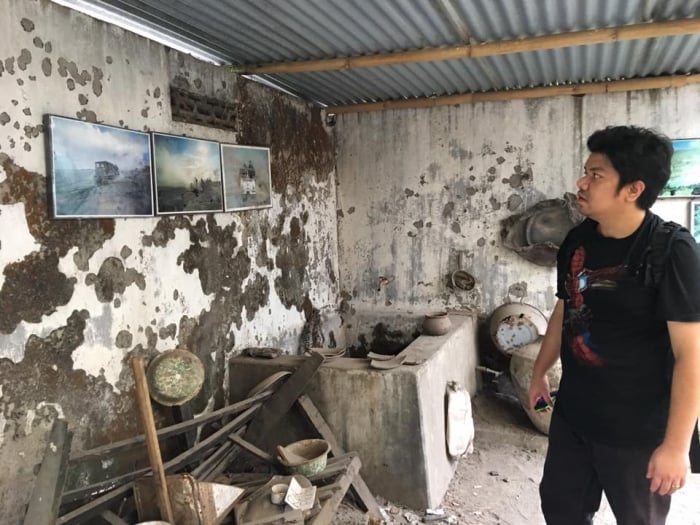 When we reach Pelabuhan Ketapang, it was dark. Ketapang was the first stop in Java for many buses there, but hardly anyone drops off in Ketapang. My husband and I were the only ones to get off by the roadside in a dark street. It was rather unnerving. I knew that there is a train station near the port, based on my research. Getting to a landmark like a train station is important because it meant, first, that there will be personnel who can help you with information for getting around and second, I can get train tickets to my next city destination. I had to muster enough courage to ask the grumpy bus driver if this is the train station. He said yes and it was near, he helped us with our luggage, got on the bus and left us by the roadside. I looked around for anyone who I can get directions from and there was no one. In front of me was a signboard and when I squinted my eyes to see, I faintly saw in the dark…'STASIUN KA KETAPANG'. The train station! Lugging our luggages, we walk through a dark alley and not 200 metres away, the train station appeared before us. We meant to stay in Ketapang for a night so we bought our train tickets to Surabaya that departs the next night. The train ride from Ketapang to Surabaya is about 6 hours with a distance of 297 kilometres. Our executive train seats cost 200,000 rupiahs each (SG$21) and our train departs at 10pm the next night.
Day 7 to 10: Surabaya, East Java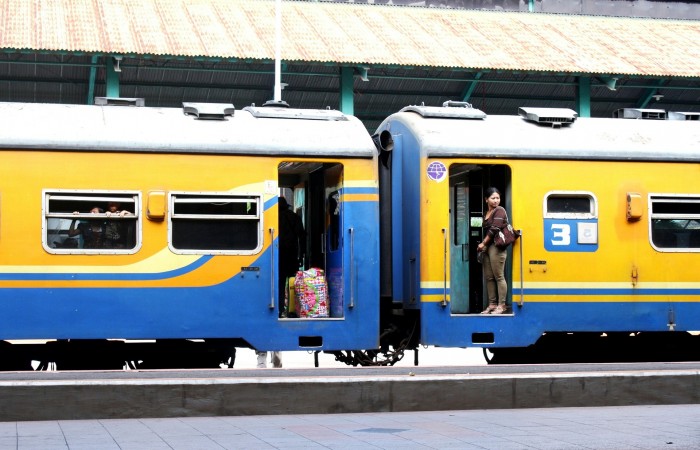 Trains in Java
We reached Surabaya at 4am. Executive train rides are comfortable and clean but sleeping on a chair for 6 hours are not the most comfortable sleep you can have when you are travelling – but alas, there are no sleeper trains in Indonesia. Don't scrimp on train tickets when you are in Indonesia, pay a bit more so you can at least sleep with decent comfort. Your back will thank you for it.  We had the best cuisine fare in Surabaya, and the city reminds me so much of Singapore. It is the second largest city in Indonesia and is extremely metropolitan. We stayed in Surabaya for 3 nights before departing for the next city, Jogjakarta
Day 10 to 13: Jogjakarta, Central Java
Our morning train ride from Surabaya to Jogjakarta took 4 hours which wasn't too bad. It is our first time taking a morning train ride in Indonesia. Typically, in our past trips, we will take the night train so we can save on a night stay in a hotel. That would mean, however, that you would have to sleep at hotel lobbies if you cannot get an early check-in. In Surabaya, we were so tired from the train ride that we willingly paid for a room even though it meant incurring a full night rate because no rooms were available for an early check in at 4 in the morning. Taking the morning train was such a great idea because we were able to see Java in the day. It was such an amazing view. So scenic, as it passes through lush rural areas, padi fields and mountains after mountains. It was the quintessential train experience.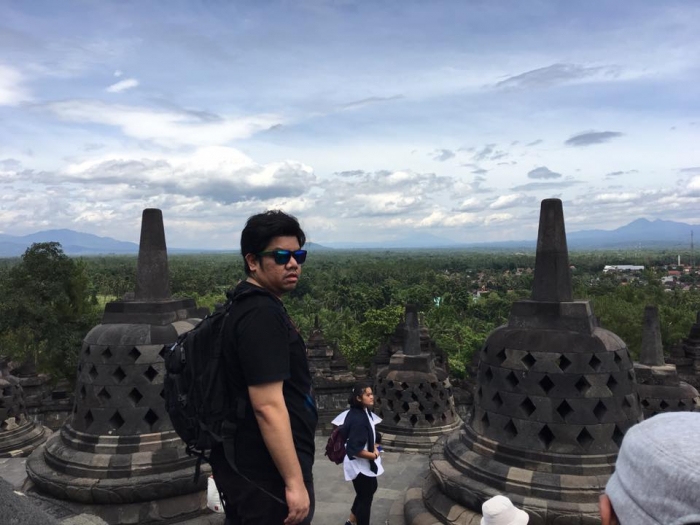 Borobudur Temple
This was our second trip to Jogja. We came here in 2014 to see the Borobudur Temple but our plans were halted because of Mount Kelud's volcanic eruption. The entire city of Jogja was covered with ashes and Borobudur was closed for cleaning. So this time around, we made sure we got to see Borobudur. This is one of Indonesia's most visited attractions and one of the oldest Buddhist temples in the world. According to Wikipedia, no one in the world knew about its existence until Sir Stamford Raffles (that's right, Singapore's founding father) who was then a British ruler of Java in 1814 was advised of its location by native Indonesians.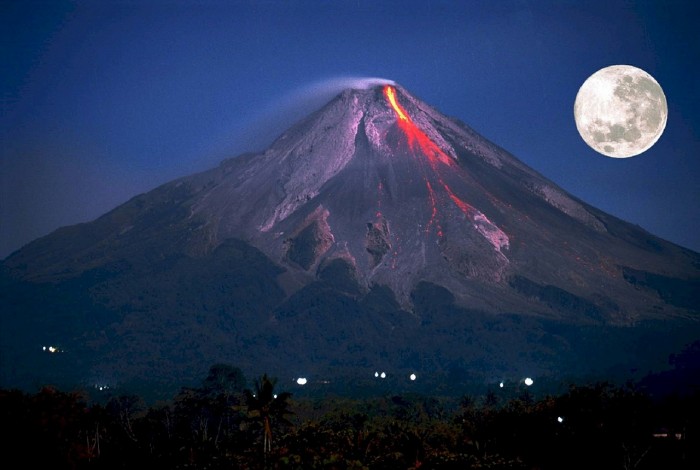 Mount Merapi
Borobudur is breathtaking and is an absolutely a must-see if you are in Jogja. After Borobudur, we were off to Gunung Merapi which was just an hour drive away. There is just something mysterious about volcanoes and Indonesia has the largest number of active volcanoes –147 in total with 76 of them still active. I learned that Gunung Merapi last erupted in 2010 and claimed 347 lives, making it one of its largest eruption. The eruption was so massive that it changed the landscape of Merapi. We explored  Merapi on a jeep and the landscape still reeks from its eruption. The land was black with ashes, and according to our guide, it would take a year before the land heals and can be used for agriculture. In some areas, rebuilding had already begun but the process was slow. What surprised me was that people still wanted to come back and live in volcanic areas despite Merapi still being active, erupting every 3 to 7 years. I had so much respect for the volcanoes and the people who lived there, maintaining the balance in this delicate relationship with a volcano.
Day 14 to 17: Bandung & Jakarta, West Java
We were exhilarated being in Jogja but we had one final leg of our trip to complete before we head home, that is, to head to the west of Java. It proved to be the longest train ride of the – 8 hours from Jogja to Bandung. The longest but also the most scenic. We head out in Jogja in the morning so by the time we reach Bandung it was almost dusk the and the sun was setting. It was such a surreal experience being on a train and looking at the sunset that seems to set amongst the padi fields and mountains and almost, like the train trying to chase after the sunset. For the entire time that the sun was setting and me in the train, I was in awe.
Bandung is a shopping haven for me. The food and fashion scene have the same kind of vibe with Singapore. A fusion of old and new, rather 'hispter-fied' I must say. We spend the day in lunching at local stores serving Padang food. Where the foods are laid out in front of you before you can even think of what you like to order, and in most cases, I ended up trying every dish because of the look and smell so appetising. It is the perfect fast food system in my opinion because you serve the food fast and you upsell in one fell swoop.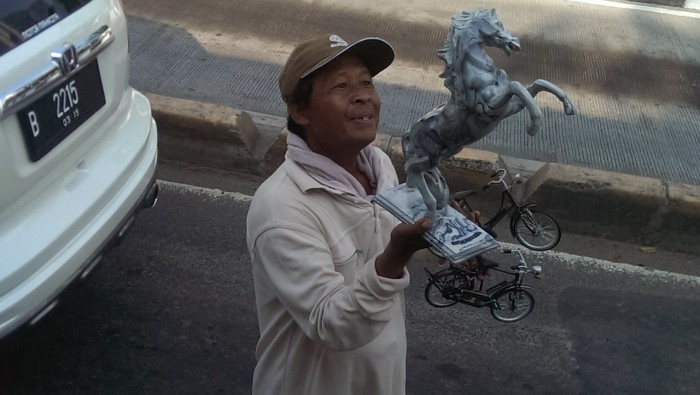 Street seller in Jakarta
After Bandung, we took a 3-hour bus ride to Jakarta. It was Christmas when we were in Jakarta and it was also the day we took the flight home to Singapore which kind of make us feel that we get to be home in time for Christmas from a 17-day journey across Indonesia.