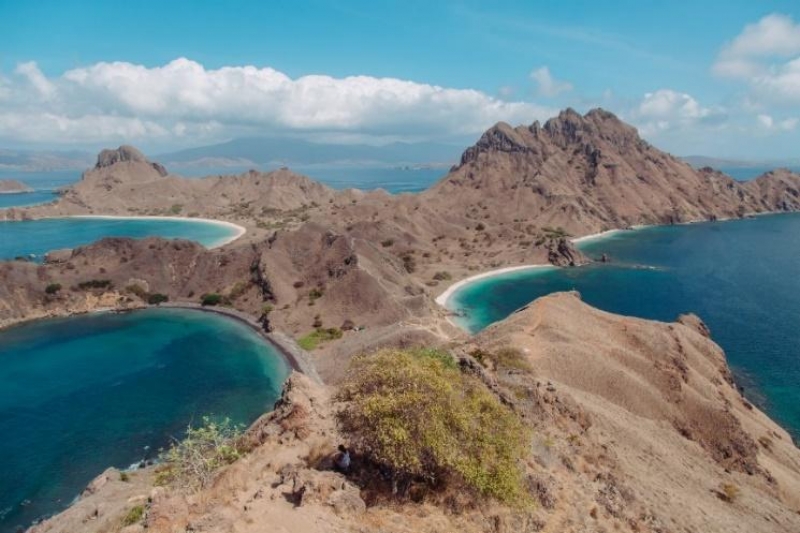 If you've been making Bali or Jakarta your go-to getaway for every Indonesian holiday, then it's probably time to switch things up. As the largest archipelago in the world with over 17,000 islands – of which around 8,000 are inhabited – Indonesia has so much more to offer. We single out five underrated destinations in Indonesia with amazing experiences for you to discover.
Whether you're looking for laid-back beachy bliss, unforgettable adventures or a combination of the two, these places are sure to hit the spot.  
1. Catch a glimpse of the world's largest lizards and marvel at the tri-coloured crater lakes in Flores
Travel just 90 minutes away from Bali and you'll discover Flores, a place that's a world away from its bustling neighbour. While Bali might have you jostling with the crowds to get the best spot on the beach or queuing for ages to get into one of its buzzing nightclubs, Flores lets you have your pick on its deserted, pristine beaches and gives you a front-row seat to some of nature's most spectacular sights.
And nothing is more stunning than the views up at Mount Kelimutu. Just 15 minutes away from the local village of Moni, this extinct volcano is home to one of the world's most enigmatic crater lakes. Each of the three lakes have a different, vivid colour which supposedly changes frequently.
They were red, blue and white when they were first discovered in 1941 but black, turquoise and brown just a few years back. Locals regard the lakes as mystical because of their colour-shifting properties but scientists have put this phenomenon down to the interaction between the minerals in the lakes and volcanic gases.
We think it's pretty magical, whatever the reason, and that you should check them out in person! Best time to visit is in July or August, and be sure to make the trek up before sunrise to catch the lakes in their full glory.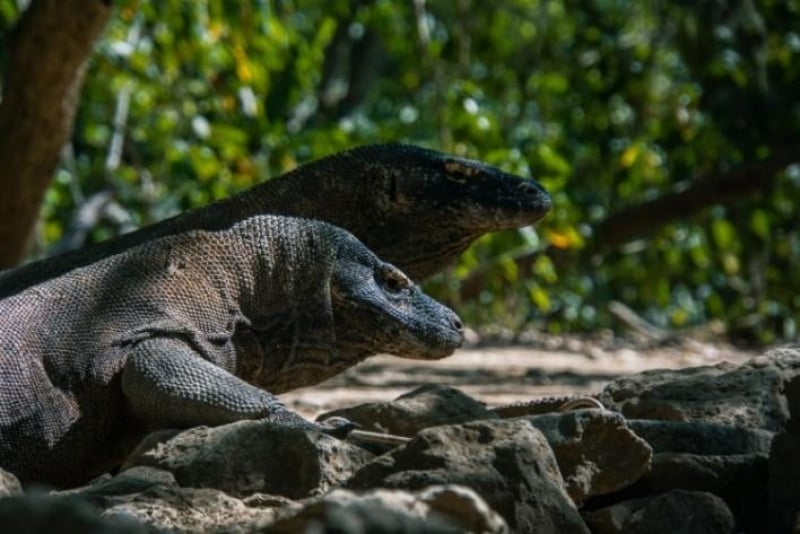 While you're here, don't miss out on catching a glimpse of Flores' legendary dragons at the UNESCO-listed Komodo National Park. Measuring over three metres in length, these flesh-eating creatures are the world's largest lizards. They are so huge and carnivorous that they're able to feed on much bigger animals such as deer and water buffaloes. For the best chance of spotting these famed scaly beasts, go with a guide in the early morning.
2. Be enchanted by the blue flames of Mount Ijen in Banyuwangi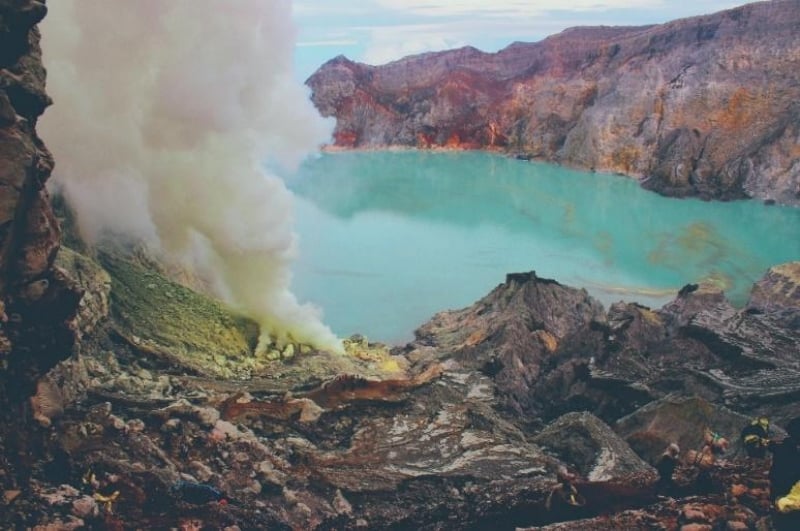 Located in Banyuwangi, East Java, the beguiling Mount Ijen lies 2,000m above sea level and features the world's largest acidic volcano. Making your way up to the Ijen crater, or Kawah Ijen, as the locals call it, is no easy feat, thanks to its treacherous terrain and foul sulphuric fumes. But for those who dare, you'll be richly rewarded with astoundingly beautiful views of the sweeping vista and the magnificent turquoise expanse of the 200m-deep sulphur lake.
To get the full out-of-this-world effect though, you have to make the trek at night. The electrifying display of blue flames shooting up from the volcano and blue lava-like rivers of light streaming down the mountain is bound to rank right up there on your list of remarkable experiences.
And that's not even the end of it. Once you've had your fill of the magical blue fire, climb up to the crater rim and get set for another spectacular view – the orange, red and pink hues of the sunrise colouring the rugged landscape.
3. Spot the world's smallest primate and be mesmerised by unique sea critters in Manado
Lush forests, dramatic underwater landscapes, authentic villages and bustling malls – Manado has everything to keep the entire family occupied. Make your first stop the Bunaken National Marine Park for some world-class diving.
Located some 40 minutes away from Manado, this protected marine park plays host to some of the most stunning sea critters and colourful coral reefs that you'll ever see. A hairy frogfish? A mimic octopus? Pygmy seahorses? Check, check and check! Find these and other fantastic-sounding creatures right here. On land, the wildlife is no less fascinating. Head for the Tangkoko Nature Reserve for a safari adventure and keep your eyes peeled for the smallest primate in the world – the endangered Tarsius.
Despite its many charms, the capital city of North Sulawesi has stayed relatively under the radar so far. But that's bound to change. Recently earmarked by the Indonesian government as one of the '10 new Balis', Manado is expected to offer greater connectivity and improved facilities in future. With its popularity set to soar, there's no better time to visit than now.
4. Swim under spectacular waterfalls and explore amazing calderas in Bandung
Come weekends, Bandung is filled with locals keen to swap the hustle and bustle of Jakarta for the cool climate and tranquil vibes of the highlands. It's also becoming a firm favourite with international visitors, especially Singaporeans, given that it's just a few hours' flight away from our sunny isle. For surreal sights, the most-bang-for-your-buck shopping and fantastic food, Indonesia's third largest city is definitely the place to be.
Top highlights and 'gram-worthy attractions include the well-known Tangkuban Perahu, where you can explore its three craters, and Tebing Keraton for the panoramic views of the surrounding areas. The surreal-looking Kawah Putih, a crater lake of the lightest turquoise colour and often shrouded in cool mist, is equally popular.
There are also plenty of stunning waterfalls. Curug Cimahi or Rainbow Waterfall, located an hour away from Bandung, is one example. At night, it literally lights up in a kaleidoscope of colours. Sure, the vibrant hues are man-made – a result of lights installed behind the curtain of water. But, at about 90m high, Rainbow Waterfall is one of the highest waterfalls in Bandung and watching the waters cascade down a sea of lights is still pretty spectacular.
Equally wondrous is Curug Malela or Malela Waterfall. Measuring 70m tall and 50m wide, and contoured like a staircase with five different lanes, the waterfall is often dubbed the 'Little Niagara of West Java'. For the uninitiated, Bandung is truly one of Indonesia's secret gems!
5. Frolic in some of the country's best beaches and save the turtles on Bangka-Belitung islands
For some of the most unforgettable beaches in the country, look no further than the Bangka-Belitung islands – just a flight away from Batam. Located off the east coast of Sumatra, these islands boast clear turquoise shallow waters, powdery-soft white sand and giant granite rock formations that make for unique coastal scenery. Best of all? No need to wait for the crowds to clear before you can take that perfect selfie.
Bangka and Belitung are the two main islands but there are plenty of beautiful islets surrounding them where you can swim, snorkel, sunbathe and island-hop to your heart's content. Bangka's Matras Beach, which is also known as 'Heaven Beach', and Belitung's Tanjung Tinggi and Tanjung Kelayang are some notable highlights. Kepayang Island is also an excellent choice, especially if you're planning on going during the turtle nesting and hatching season. Visit the Conservation Centre and catch tiny sea turtles hatching or join the workers in rescuing the turtle eggs.
For some cheap thrills, swing by Danau Kaolin or Kaolin Lake. With its bright blue lake and surrounding white mineral deposits, this former tin mine-turned-lake is said to closely resemble the brilliant white terraces and hot springs of Turkey's UNESCO-listed Pamukkale. Taking a pic here is sure to give you all the right feels and none of the sensation of breaking the bank.
Say goodbye to Bali for now
With a multitude of gorgeous islands, captivating cities, diverse cultures and unique attractions to discover, Indonesia is one location where you can return to again and again and come away with a unique experience every single time. So next time you're venturing a trip to the country, skip the usual tourist hotspots for a change and check out these underrated destinations instead!