For all you train lovers out there, we've got just the thing for you! Scenic train rides in Southeast Asia, America, and other European cities have been popular options for travellers all around the world. However, did you know that India is a country that is best explored by train as well?
On top of beautiful panoramic views that will take your breath away, the country has a comprehensive rail system that makes travelling across India by train a popular and convenient choice. Take the road less travelled and explore the exotic country of India by train right now! Here are 7 scenic train routes that are perfect for any traveller visiting India for the first time.
Also read: 25 Photos That Will Make You Fall in Love With India
1. The Palace On Wheels

Image credit: Indian Tourism Singapore
The Palace-on-Wheels is a unique experience offered by Indian Railways, and offers a luxurious ride we bet you'll be dying to try. It runs between September to April, and takes you through the imperial cities of Rajasthan – think deserts, forts, palaces, and the vast expansewilderness! Just take a look at that gorgeous, glistening interior. Aren't you tempted yet?
Image credit: (left) Indian Tourism Singapore; (right) Edwin Poon
Every Wednesday, the train leaves from Delhi Cantonment Railway station and travels to a different destination each day. The route is as follows: Delhi > Jaipur > Jaisalmer > Jodhpur > Sawai Madhopur > Chittaurgarh > Udaipur > Bharatpur > Agra > and then back to Delhi. Each carriage has a lounge, a mini bar, a kitchenette and modern toilets – plus you even get liveried waiters at your beck and call. Relax in comfort and style as you journey through India's royal cities!
2. Desert Circuit
Image credit: (left) Indian Tourism Singapore; (right) Well-Bred Kannan
The Desert Circuit is the perfect option for travellers who want a similar experience to that of Palace-on-Wheels, but with a more affordable price tag! The train route takes a total of 5 days and 4 nights, starting from Delhi's Safdajung Rail Station and heading to Jaisalmer and Jaipur before going back to Delhi.

Image credit: (left) Tim-Proffitt White; (right) Russ Bowling
You get to visit the Sam Sand Dunes, Gadi Sagar Lake, Patwon Ki Haveli, City Palace, Jantar Mantar, Hawa Mahal, Chokhi Dhani, as well as prominent UNESCO Heritage sites like Jaisalmer Fort and Amer Fort. How often do you get a train ride that passes through picturesque sand dunes, palaces and heritage sites?! This is a train journey you've got to add to your bucket list for sure.
3. Tiger Express

Image credit: IRCTC
Doesn't the name itself pique your curiosity? The Tiger Express is the Indian Railway's first wildlife tourism train that will take you to the world-famous Bandhavgarh and Kanha National Parks in Madhya Pradesh. A tour of India on the semi-luxury train will take six days and five nights and it departs from Delhi's Safdajung Rail Station. If you're an avid wildlife lover, this is the train route for you!

Image credit: (left) Mandala Travel; (right) Meghdut Gorai
Designed to create awareness about India's national animal – the majestic tiger – you'll get to visit THREE different safaris and catch sight of these majestic animals up close. In addition, you'll also visit the renowned Dhuandhar Waterfall and Marble Rocks at Bhedaghat. Get ready for a roaring journey ahead if you embark on the Tiger Express!
4. Darjeeling Himalayan Railway – 'Toy Train'

Image credit: (left) RPM; (right) Frederik Rowing
The Darjeeling Himalayan Railway, also known as the Toy Train, runs between New Jalpaiguri and Darjeeling in West Bengal. It has even been accorded UNESCO World Heritage status, which tells you how special this train route is! This mini steam locomotive passes through steep mountains, breathtaking landscapes, and rewards you with a superb view of the Himalayas. This is surely a train journey you will never forget.


Image credit: (left) Big Dubya; (right) Frederik Rowing
Feast your eyes on panoramic views of snow-capped mountains such as Everest, Kanchenjunga, Kabru, Jannu and other peaks from the window of your train carriage.! In addition, Darjeeling is also famous for producing one of the finest teas in world – pretty sure you've tasted or heard of Darjeeling tea before right? Its unique and delicate aroma is a hot favourite amongst tea lovers. Visit the Happy Valley Tea Estate, the Makaibari Casteleton Tea Estate, or the famous Lopchu Tea Estate for an eye-opening experience!
Also read: 20 Exciting Things to Do in India that Will Completely Change Your Perception of the Country
5. Kalka-Shimla Hill Railway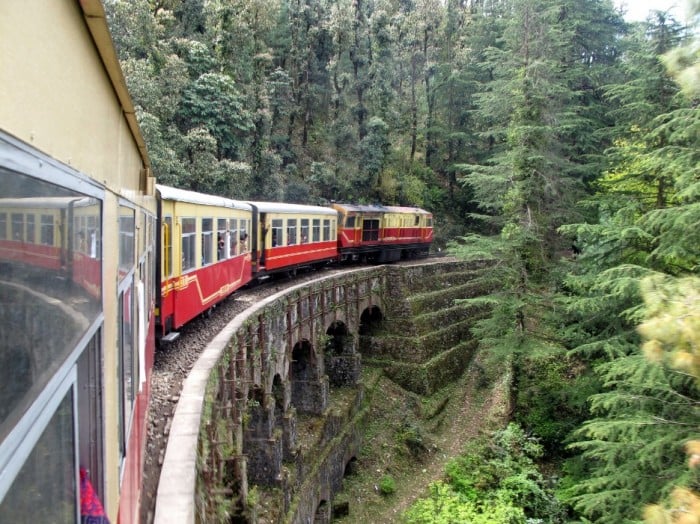 Image credit: Christopher Porter
Known for its gorgeous dramatic views of the rolling green hills and surrounding villages, the Kalka-Shimla Hill Railway travels along a mountainous route from Kalka to Shimla – just like its name suggests. Passing through 102 tunnels, viaducts and brick arch bridges, this journey on a vintage steam locomotive will be a ride to remember. Savour the lush greenery of dense pine and oak forests and the spectacular scenery along the way!
6. Kangra Valley Railway
Image credit: Rene Passet
Making the journey from Pathankot to Joginder Nagar, the Kangra Valley Railway passes over a whopping 971 bridges and only 2 tunnels! Meandering through the captivating Himalayan countryside, you will pass through Jawanwala Shahr, Jawalamukhi Road, Kangra, Nagrota, Palampur, and Baijnath Paprola. These towns boast lush, picturesque valleys, enchanting tea gardens, and a sublime view of the Dhauladhar mountains! Be warned: you'll probably fall helplessly in love with India's pristine, unspoilt beauty.
Also read: In 20 Photos: Why India Could Just Be The Most Beautiful Country in Asia
7. Buddhist Circuit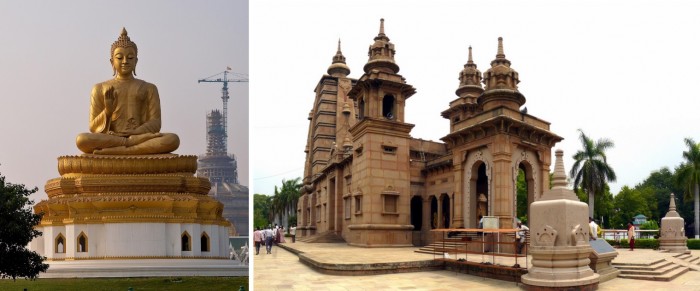 Image credit: (left) Stephen Cysewski; (right) Kunal Mukherjee
If you're a devout Buddhist, this train itinerary will be perfect for you! Specially tailored to take you to main Buddhist sites in India and Nepal, this journey follows the trail of Buddha's entire life. From his birth, to his enlightenment, and finally to his death, you will be able to gain a deeper spiritual understanding through this 8 day tour on the Maha Parinirvan Express.

Image credit: (left) Bo Jayatilaka; (right) Daniel Mennerich
Setting off from Delhi, the train will bring you to Sarnath, where Buddha first preached; Kushinagar, where he breathed his last; Varanasi, the oldest living city in the world; as well as to renowned sites such as the River Ganges and the Agra Fort. The tour also concludes with a befitting visit to the majestic Taj Mahal – one of the 7 Wonders of the World!
Keen to explore the exotic country of India yet? Make sure you do it by rail for an experience like no other.
Be adventurous and discover what the vibrant and historically rich cities of India have in store for you! For more information, you can visit the official website of the Indian Railway Catering & Tourism Corporation (IRCTC), as well as Incredible India's website and their Facebook page.
---
Brought to you by India Tourism Singapore.