Contributed by Willow Bones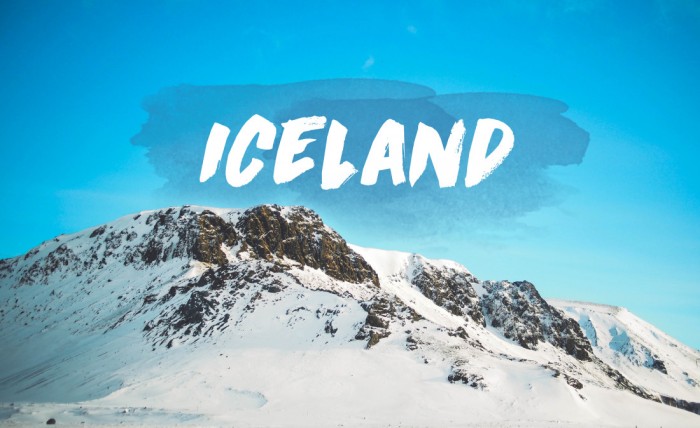 1. The Drive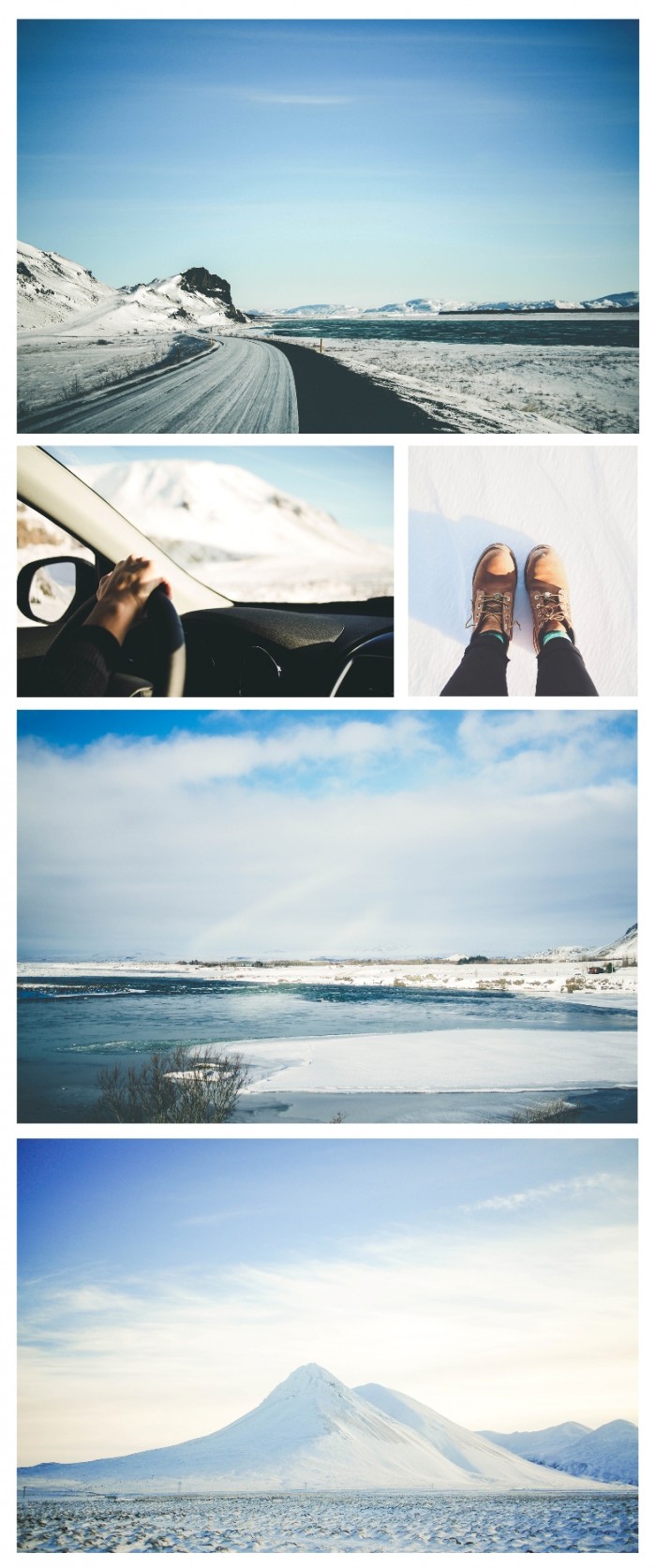 Driving in Iceland is definitely another experience on its own. The visit this time round to Iceland is during the winter season, so everywhere was covered in fresh snow. There're less people visiting Iceland during this period due to the cold, so it made driving on the roads a lot easier. We drove up from Reykjavik to Akureyri, which took about 5-6 hours. During this entire time, we were surrounded by picturesque sceneries like what you'd see on souvenir postcards. It's amazing, trust me.
We rented our car with Blue Lagoon Car Rental, however, I'd recommend that you go for a car rental company that allows you to upgrade your insurance to a full damage waiver. We were only given the option to have our liability waived to a minimum payment of £400. Also, do note that 90% of the car rental companies in Iceland only takes credit card for payment, so if you've decided to drive, make sure you or your friend has got one!
Also read: 13 Important Things To Know Before Visiting Iceland
Tip for car rental: Insurance is really important, don't save on the money! The weather in Iceland could be unpredictable and sometimes harsh, making it really hard to avoid sand and gravel from flying into your windscreen. It's good to be protected, so you won't have to cover the cost of any damages done due to mother nature!
2. Where to go, sights to see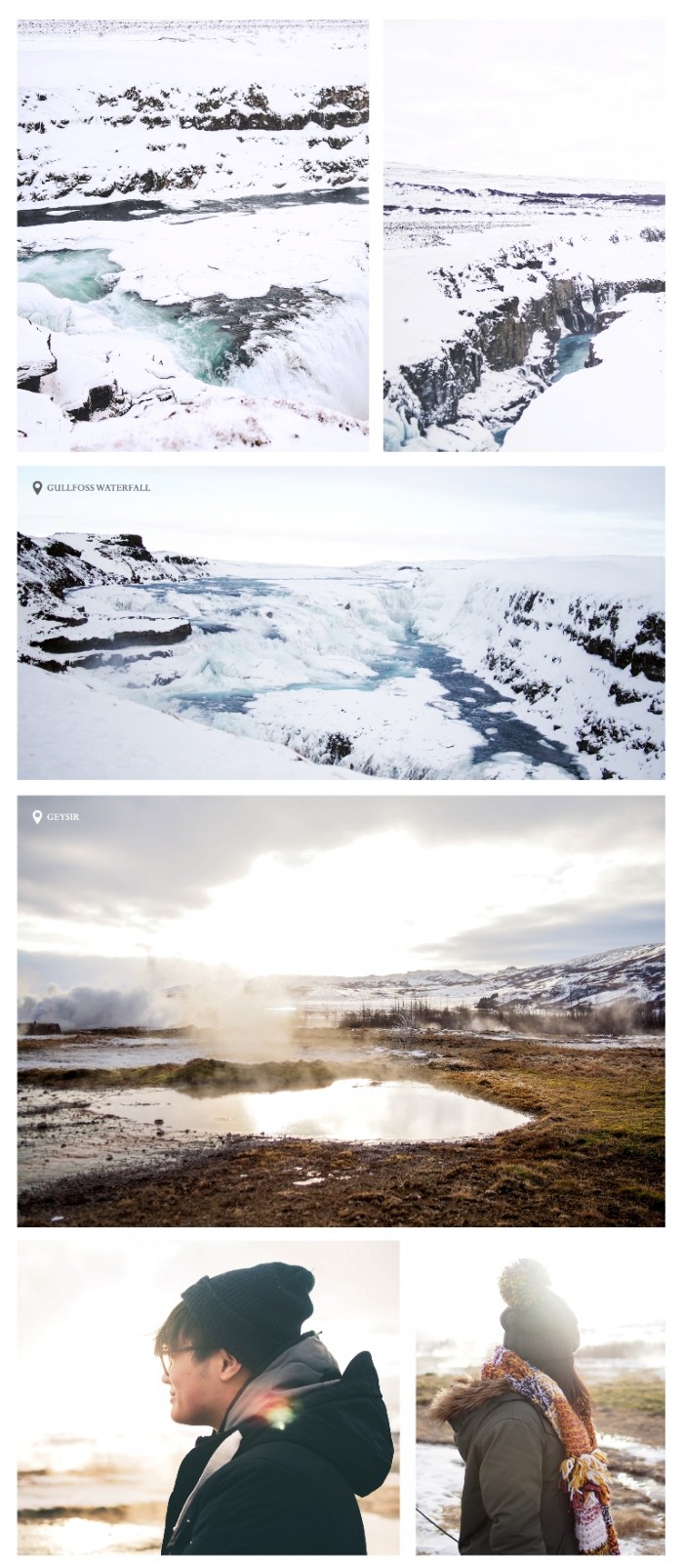 Golden Circle Route (Gullfoss Waterfall, Geysir and Thingvellir National Park). If you're in Iceland for a short period of time, you could go drive up to cover these 3 tourist spots, or take a one day tour out of Reykjavik. Note that these places look different with every season.
Hallgrímskirkja Church (You can overlook Reykjavik from the top of the church). It costs about £5 to go up to the top of the church. The view at the top overlooks almost the whole of Reykjavik. You'd be able to see rows and rows of houses with colorful roof tops, and further out towards some icy mountains.
Goðafoss Waterfall (One of my favorite spots). This place is pretty amazing. I loved it. I've seen photos of it in summer where you could see a rainbow stretching across it. However, it looks as good in winter too, with icicles hanging over where the water dips.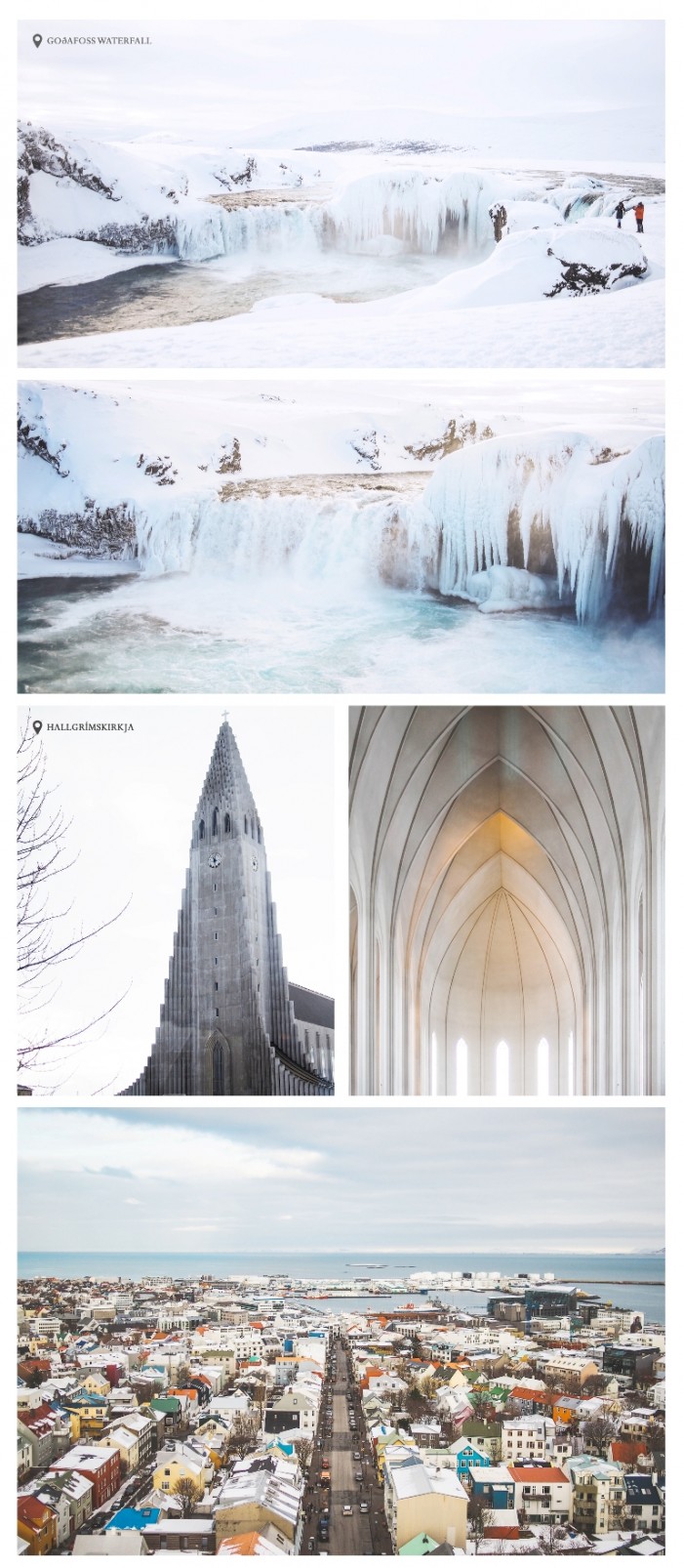 Icelandic Ponies. This one is trickier as there is no specific location to see them. You could see groups of them randomly along the highway, and all you've got to do is find a small road that you're able to turn into or stop over. If you wanna win them over, apples might do the trick! ?
Blue Lagoon. This place speaks for itself. The only thing is that the walk from the exit of the building to the lagoon itself is nail-bitingly cold. So, either you wrap yourself with a towel and make sure you're wearing some footwear, or just brisk walk really quickly and dip yourself into the lagoon. It's pretty inconvenient to carry a camera with you as you would be swimming around, and wouldn't be able to look out for your belongings. So if you have a phone with a waterproof casing, or waterproof camera, that'd be the best! It gets really crowded in the day, so I'd suggest going early in the morning, or towards the evening.
Plane Wreck Crash Site. This took us the longest to get to. It isn't the easiest place to find as there are no signs along the highway to the place.

3. Northern Lights

Again, there are no specific locations to get the best view of the northern lights. However, it definitely has to be some place with really low light. We drove up to Akureyri with the aim of catching the northern lights as we thought the chances might be higher if we were further up north. Seeing that we only had one night in Akureyri, and we drove for more than 5 hours just to get there, our hopes were high. We chilled in the apartment till it was almost midnight and we decided to leave the house and drive up towards a ski lodge. The best and most amazing thing happened when we stepped out of the house. The northern lights was already there! It was fading slowly into the night sky and we got so thrilled. All of us fumbled to try and get the best shot we could. When it started disappearing, we drove off to another location, and managed to catch another small glimpse of it again.
I think personally witnessing the northern lights for the first time ever is something I'd never forget. I'd say it's one of the best moments in 2016 so far for me.
Tip: They don't turn up every night, but sometimes they do. Keep yourself warm if you're intending to chase the northern lights, as it might take hours just to catch a glimpse of it. But it's worth the wait. ?? If you're not driving, they have tours that leave Reykjavik every night just for the northern lights! 
4. Food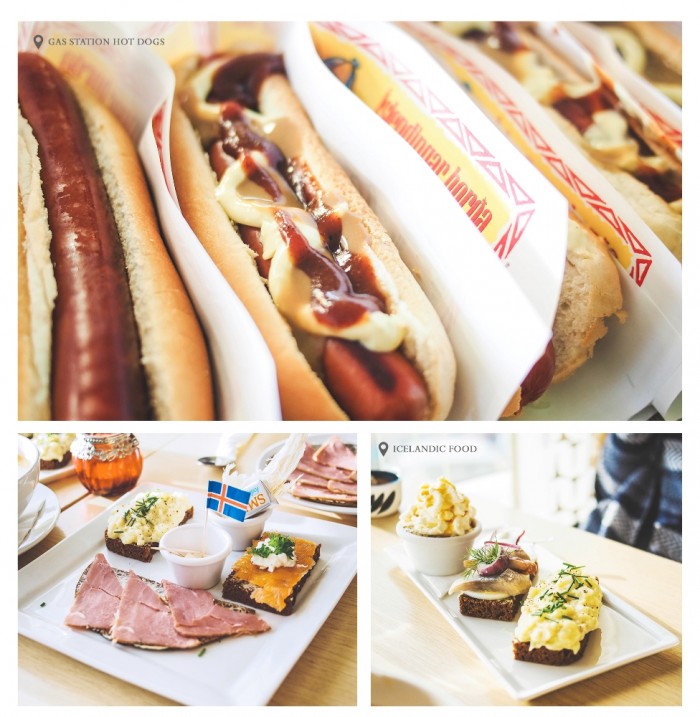 Food can be pricey in Iceland especially if you're travelling on a budget. I'd recommend you to be filling your stomachs with Icelandic hotdogs! They're filling and taste really yummy especially with their fried onions and combination mustard. We had a go at Icelandic Cuisine, namely mashed fish, rye breads and stuff, and also FERMENTED SHARK. At least now I can say I've tried it, but definitely not a fan. The smell and taste of it reminded me so much of hair dye?? Urgh, not a good taste. But yes to hot dogs.
5. Chasing Sunsets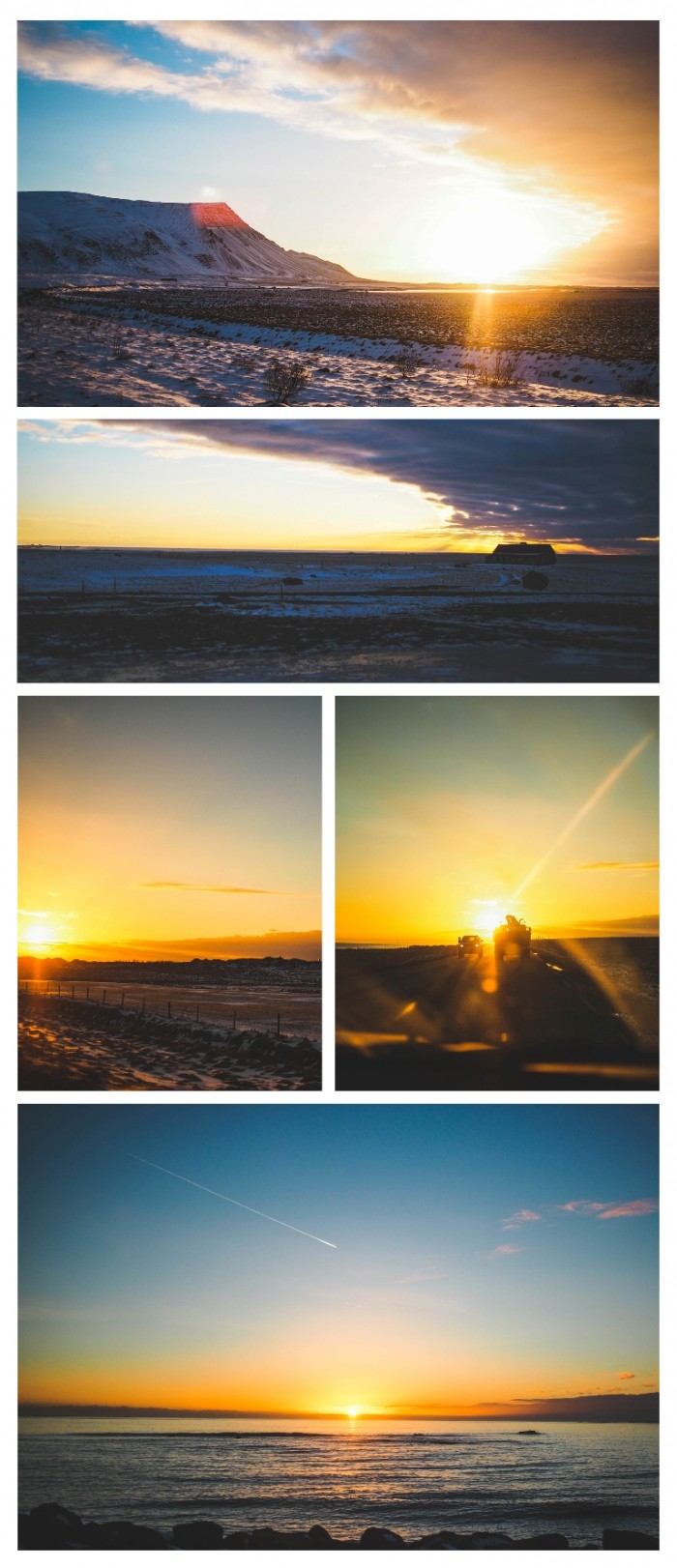 Other than the northern lights, I find that the sunsets in Iceland are equally gratifying to watch. There's something about the ray of light hitting the tip of the mountain / icy waters that makes the whole landscape come to life. Definitely keep a lookout for gorgeous sunsets when you're in the car!
Also read: How to Travel Iceland on a Budget