Hi world. My 33 days trip in Europe was one hell of an experience! I am really happy that I did it even though I came home really broke. In total, my travel mate and I covered 8 countries and 15 cities within 33 days, and I spent about 5.5k (this is including my long haul flight which costs SGD 1200). The 8 countries I visited were Iceland (Reykjavik), Greece (Athens, Santorini, Mykonos), Turkey (Nevsehir, Denizli, Izmir, Istanbul), Hungary (Budapest), Austria (Vienna, Salzburg), Czech Republic (Prague), Germany (Munich, Berlin) and UK (London).
Also Read: 13 Important Things to Know Before Visiting Iceland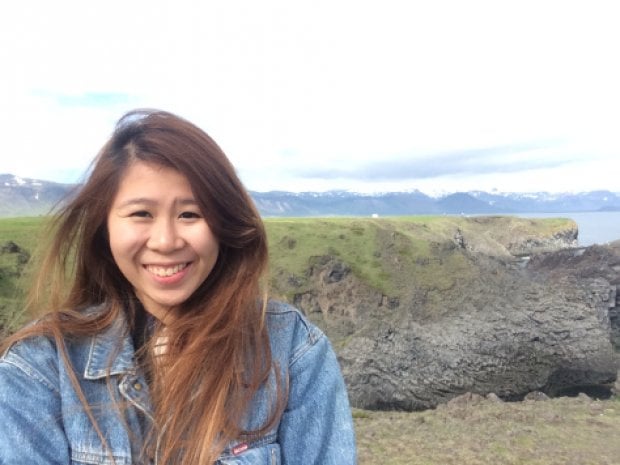 This post is going to be just about my four days in Iceland, the first stop in my Europe trip.
DISCLAIMER!
You need to be in Europe already in order to only spend just SGD 900 for a trip to Iceland. I flew from Singapore to London first, and that ticket to London is like the entrance to the entire Europe. This SGD 900 included a return ticket from London to Reykjavik plus accommodation, expenses and everything else in Iceland.
There are bound to be people who love comparing prices, but seriously I am not here to boast about how great I am at travelling on a budget – there are travellers who are even better and more experienced than I am. I am hoping that by sharing my experiences, I will be of help to those intending to travel to Iceland on a budget. My sole intention is to inform and guide. I want to show people the possibilities out there, with hopes that one day they will let go of their fears and inhibitions which are the biggest obstacles people have prior to making decisions.
All the photos are unedited (because I am too lazy) and they are taken by my humble yet trusty iPhone 5s and Samsung camera. So this is really how Iceland looks like, guys.
DO SHARE/DROP FRIENDLY TRAVELLING TIPS HERE SO WE CAN ALL LEARN! Let's all work toward debunking misconceptions about how expensive travelling is.
Iceland was A M A Z I N G!
It was like we were in Narnia (at least for me)! Even though Iceland sounds like quite an exotic destination and many people imagine Iceland's climate to be freezing cold/extreme, it was actually quite pleasant. Well for me, it was slightly cold but for my fellow travel mate, it was like a breeze. Iceland's summer is really short and never scorching hot like how it can be in the rest of Europe. (Yes, yours truly here went to Athens straight after Iceland, fml.) Also, the sun doesn't set in the summer (midnight sun) so it was bright 24/7.
Iceland is so picturesque and full of great photo opportunities. Everywhere you turn, there are glaciers, waterfalls, fjords, lava fields, volcanoes, streams and mountain ranges. You just feel this urge to stop and snap a photo everywhere because it's just so beautiful and scenic – I am not lying! Many of my photos were taken during bus rides where I couldn't bear to fall asleep because it was just so pretty out there. Iceland is never boring. There are plenty of things you can do in Iceland. Hiking in mountains/glaciers/volcanoes, scuba-diving, hunting for the elusive Northern Lights (in winter), whale watching, bird watching, swimming in the geothermal pools, riding an Icelandic horse, sailing, camping, caving, road-tripping, etc.
Also read: 4 Days in Iceland – Best Places to Go and Things to Do
FYI: Don't have to go to The Blue Lagoon for some geothermal excursion because
1) It is not the natural wonder that many people think it is. In fact, it's man made. It was actually constructed while building a geothermal power station, and the lagoon is filled with surplus water from the plant.
2) Entrance is expensive
3) You can just go to any neighbourhood geothermal pool with the same sulphur water in The Blue Lagoon and pay not even 10% of the price.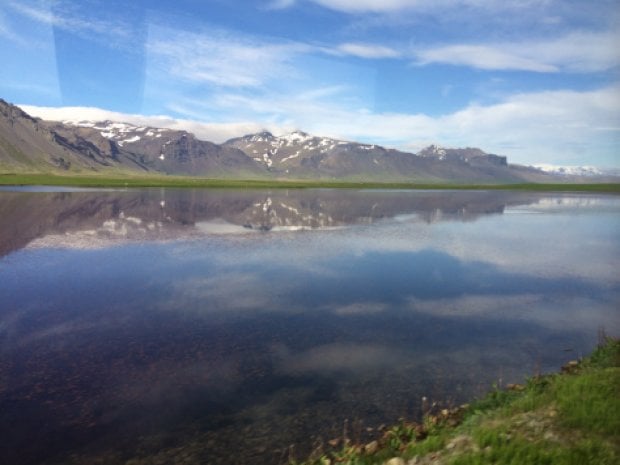 Here are some fun facts about Iceland
1. Iceland is quite authentic as it is rather isolate. Even its language – Icelandic is an insular language and it has not been influenced greatly by other languages. Hence, the language has changed very little from how it was in the ninth and tenth centuries.
2. Icelandic horses are one of the purest breed on Earth. The country has very strict regulations on the import and export of horses. Once a horse is exported out of Iceland, it is never coming back.
3. There are no trees (or I should say very short trees) in Iceland because of Iceland's harsh condition (vegetation is mostly imported). There is even a saying that you will never get lost in an Icelandic forest. Even if you do, all you need is to stand up.
4. In Iceland, a country with a population of 330,000 where almost everyone is somehow related, dating your cousins is a real risk. That's because the whole population of native Icelander is derived from a single family tree and thus, the gene pool is very small. An Icelandic software engineer actually came out with a software to prevent incest!
5. 60% of Icelanders have Irish blood.
6. Icelanders have very strong belief in elves and dwarf, some of these creatures supposedly existing in the form of rocks. If the elves feel offended or feel that certain roads are unnecessary, they will get in way to stop its construction.
Also read: 13 Important Things To Know Before Visiting Iceland
I learnt all of these fun facts on a tour! (TOURS IN ICELAND IS A MUST, and I will explain why later.)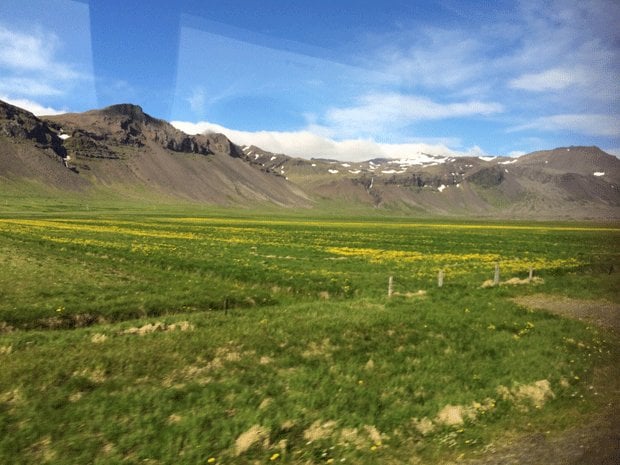 1. Getting the right ticket
Once you are in Europe, moving around is simple because there are intercity trains, buses, ferries and of course, planes. One good way to travel around Europe is to take the European budget airlines. There's lot to choose from like Ryanair, Easyjet, Wizzair, Pesagus, Germanwings and more. Make sure you compare prices through Skyscanner first to gauge the market rate.
For your information, the only way to get to Iceland is to fly because there are no trains connecting the rest of Europe to Iceland. Airlines like WOW air and Icelandair offer really good deals. Since Iceland is strategically located between North America and Europe, if you happen to be in New York (which a lot of my friends will be for student exchange) you might want to drop by this amazing, beautiful land. Icelandair offers attractive flight deals from US to Reykjavik so don't miss it! I flew to Iceland from London (a 3hour flight) and we flew by Easyjet which was selling the ticket at GBP 147 (Pound) which is around SGD 300. It could be cheaper if we booked it early. A point to note is that European budget carriers are very strict on baggage. One cabin luggage means only one cabin luggage, and it must be able to fit into the cage (they will have one in front of the counter to check if it is oversized). You cannot even bring a tiny handbag else they will charge you so make sure you pack everything inside your big rucksack, or just buy a check-in luggage. If you're checking-in baggage, it is definitely cheaper to pay for it online than at the counter.
2. Getting a shelter
This time round, me and my travel mate decided to book everything from Airbnb. Not only are accommodations affordable, we also personally feel that Airbnb is a good platform to meet locals and other travellers and for cultural exchange. We had so many great recommendations on what to eat, where to go and what to do from our hosts. Most apartments also have cockboards where other travellers leave maps, brochure and name cards for the next guests.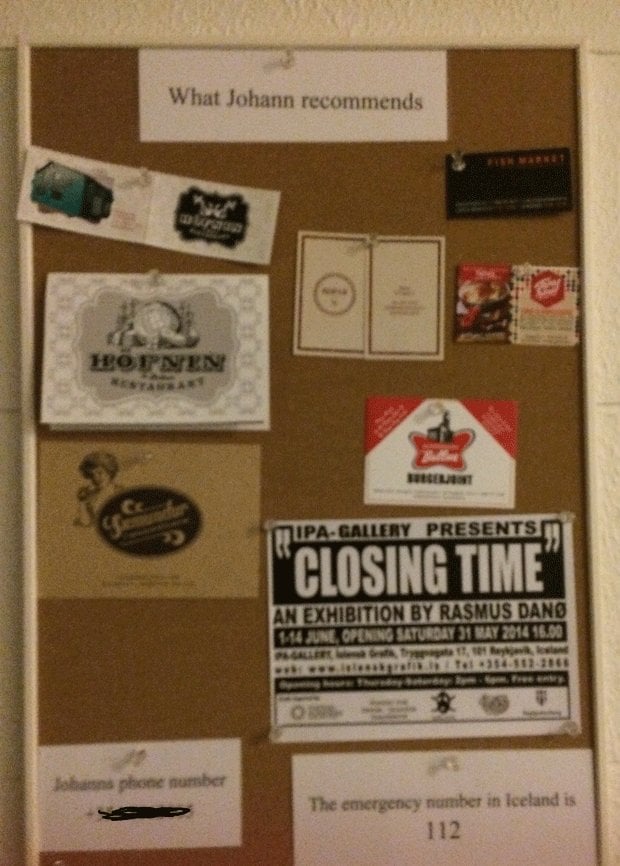 We met many interesting travellers along the way through Airbnb and learnt so much from our hosts about the local cultures. For example, we met Hayley and Liz from Canada who invited us for a drink in their room one night. (By drink I mean vodka with lime, champagne, red wine). This is how we became friends with them: our apartment's door was faulty, and we were locked out of the apartment which was really unfortunate because we already didn't have enough sleep for two consecutive nights. Since the apartment has no doorbell, we decided to yell for help. Hayley and Liz's room was nearby in the same shared apartment and they came to our rescue!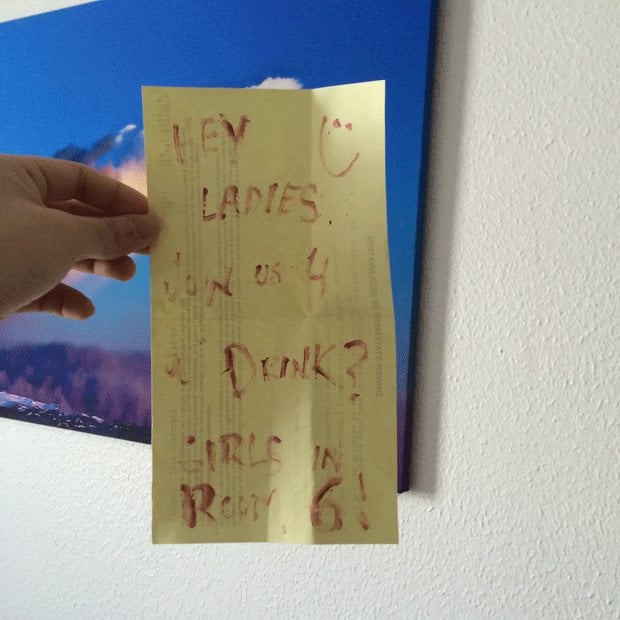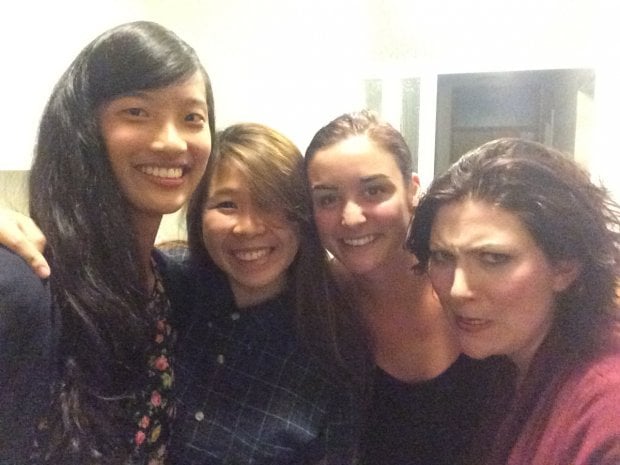 There are many cool listings in Airbnb and the website is easy to use thanks to its filter function. There are entire apartments, private rooms and shared rooms to choose from and the price range is clearly specified. In Iceland, I spent less than SGD 200 on accommodation. So go ahead, and pick one that caught your eyes. Don't forget to read the reviews and check if the location is convenient. In Reykjavik, staying close to the BSI Bus Terminal or downtown is a good choice. We stayed a walking distance away from downtown and had a really great time.
Be prepared to face tap water in Iceland that smells like egg/sulphur. This is partly due to the geothermal energy that powers the entire country, i.e. water heated by volcanoes and geothermal springs which naturally contains a lot of sulphur. Rest assured that you won't smell like rotten eggs even though you used the hot water to bathe. Iceland is famous for its pure/safe drinking water, by that I mean the spring water (the cold one). In order to enjoy the unique taste of the pure spring water, just remember to let the cold tap water run for a while before tasting it, so that minimal hot water is mixed in. You can also buy it in bottles from convenience stores.
3. Getting around
Iceland has no subway! So you have 2 choices: rent a car or book a tour. I will suggest renting a car only if you have 3 or more people. In general, travelling around Scandinavian countries is expensive but that doesn't mean that we can't find ways to reduce cost. 😀  I opted to  book 2 tours online from Reykjavik Excursions during our preparation stage. This is to avoid the possibility that a tour is fully-booked if we book it on the same day itself. A tip: Always book tours in advance, and always remember to print the invoice. Going for a tour is really a good option because you get to learn so much. All my Icelandic knowledge comes from going on a tour.
Also read: 'I Heart Reykjavik' Tours Reveal Iceland's True Beauty
Remember me saying that one of the most convenient places to stay in Reykjavik is near BSI Bus Terminal? The Reykjavik Excursions tour buses depart and terminate there. Most tours start really early and you have to be there 30 minutes before the actual time, which makes staying nearby a really good choice. Besides that, BSI Bus Terminal is really close to the city centre of Reykjavik – talk about killing two birds with one stone. Reykjavik Excursions also provides Flybus service that offers return airport shuttle service. So once you reached Keflavik Airport, you can purchase your 2-way ticket from the counter. It costs ISK 3500 (SGD 37 – very expensive, I know!) A bonus is that all Reykjavik Excursions buses have free wifi which means that you can get connected with your loved ones back home and share how beautiful Iceland is, as well as post photos on Instagram.
a. Where did I go
1. Golden Circle tour. This tour costs ISK 8500 (SGD 92) and though it is rather expensive, it brings you to the places that you must see in Iceland. There are three attractions that you will see: Geysir geothermal area, Gullfoss waterfall and Thingvellir National Park.
The Geysir geothermal area is well known for its spouting springs, including Strokkur, the most active geyser in Iceland. It spouts water into the air every few minutes. The formation of geysers is due to particular hydrogeological conditions (located near active volcanic areas) which exist in only a few places on Earth, so they are considered a rare phenomenon.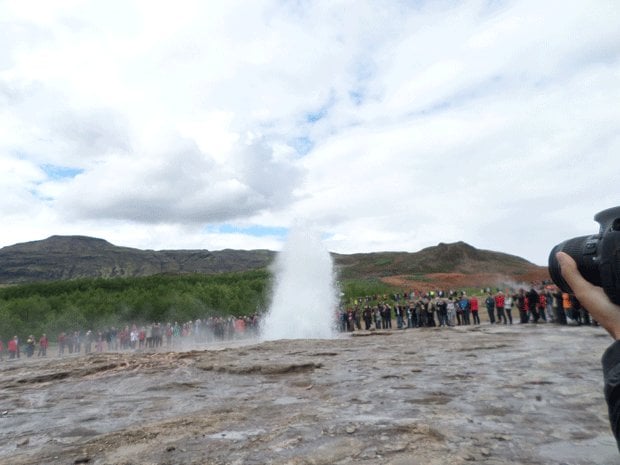 Gullfoss, when translated means "Golden Falls". Fed by Langjökull, the second largest glacier in Iceland, Gullfoss is one of Iceland's most beautiful waterfalls. You can walk really close to the amazing waterfall and feel the mist of water in your face. It was my first time seeing a natural waterfall and I was in awe because it was so majestic. We managed to see rainbow as the light shineed through the mist! :O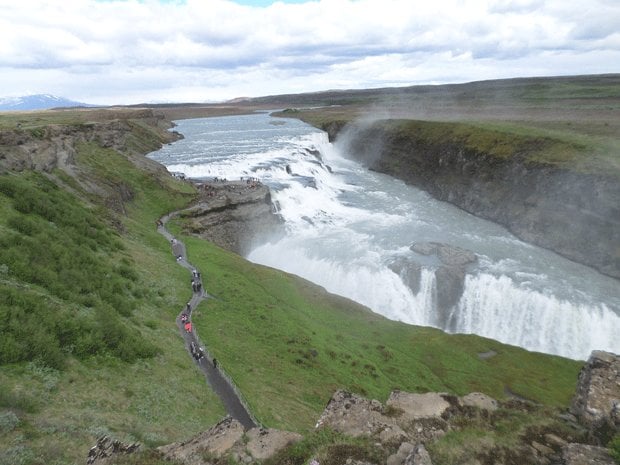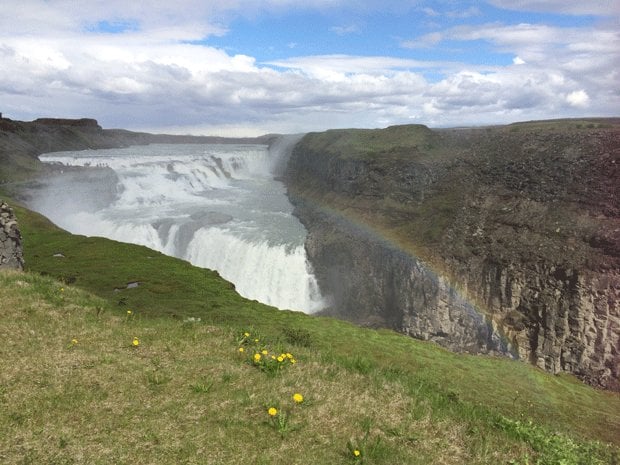 Thingvellir National Park is part of a fissure zone running through Iceland, situated on the tectonic plate boundaries of the Mid-Atlantic Ridge (Earth science knowledge :D). It is classified as a UNESCO world heritage site due to the tectonic and volcanic environment as rift valley. From here, you can see/dive in the continent drift between the American and Eurasian plate and observe the faults and fissures which is damn cool. I feel like I have applied my Earth science knowledge well in Iceland. Thingvellir National Park also houses the largest lake in Iceland!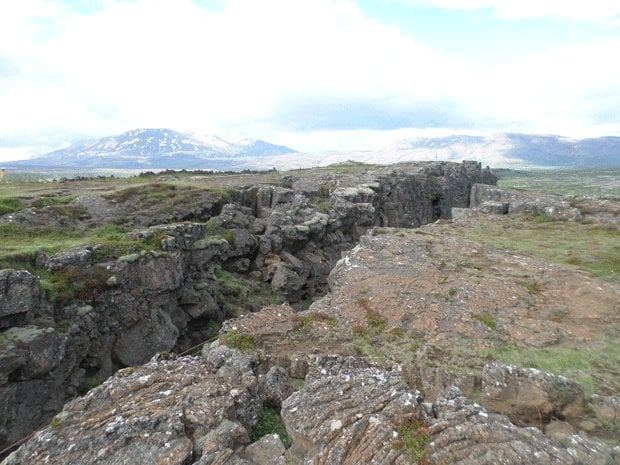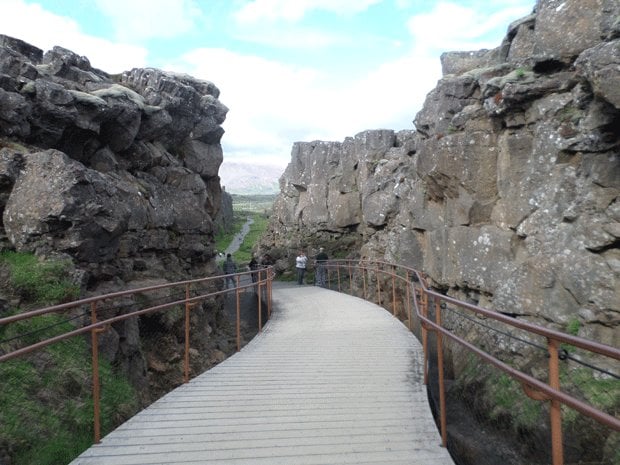 2. Snæfellsnes peninsula. The tour to Snæfellsnes peninsula costs ISK 18900 (SGD 204) and is a 13 hour tour from 8:30 AM to 9:00 PM. THANK GOD FOR MIDNIGHT SUN! It is situated at the western side of the country. What really attracted us was that the tour would bring us to one of the filming sites in the movie, Secret life of Walter Mitty. Our thoughts: WE MUST GO THERE! We went to the place where they filmed the "Greenland" scene, the one when Mitty jumped up to the helicopters. Anyway that town is called Stykkishólmur and from the lighthouse on the hill, you will be able to overlook the whole town in a bird's eye view! Not only that, you could also see the fjords and glaciers along Breiðafjörður, AND THE FLOWERS ARE BLOOMING! *insert heart shaped eyes*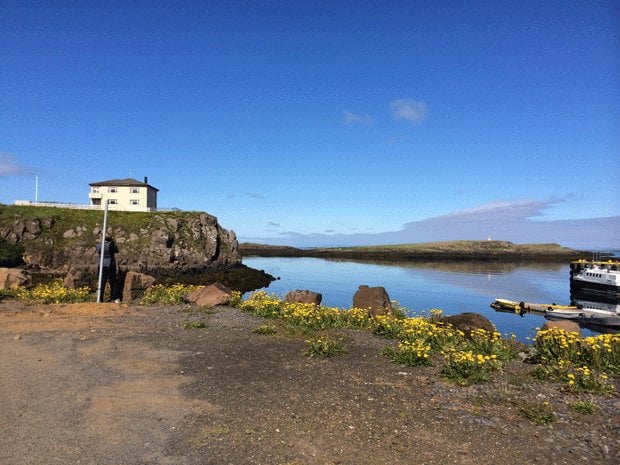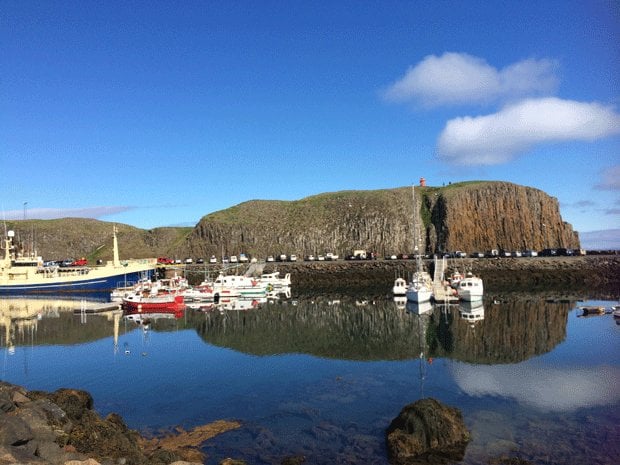 The entire journey (13hours) was so scenic! I totally understand why it is called Iceland in Miniature.
We also saw Kirkjufell mountain, one of the most beautiful mountains in Iceland because of its unique shape.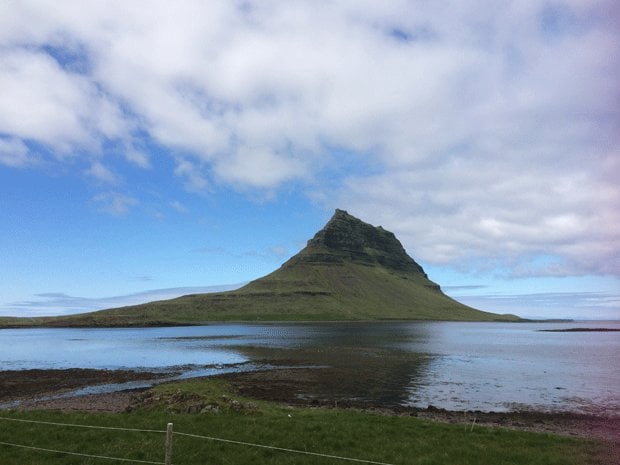 We visited Djupalonssandur which is a beautiful pebbled beach. It is often called the Black Beach due to its basaltic black sand. It is also one of the few areas that lead down to the sea along this coast with high dramatic cliffs. The remains of a shipwreck can be seen on the beach.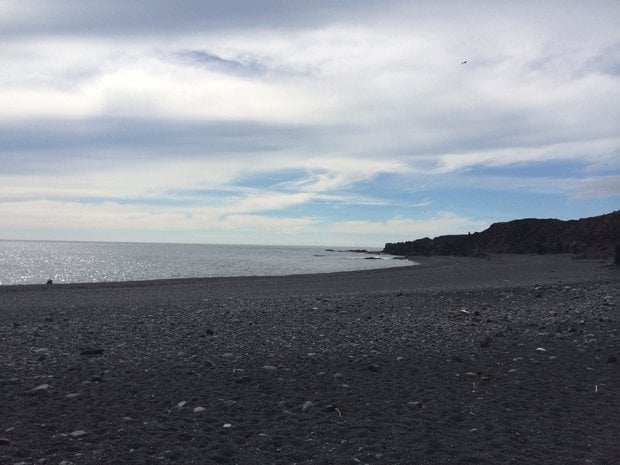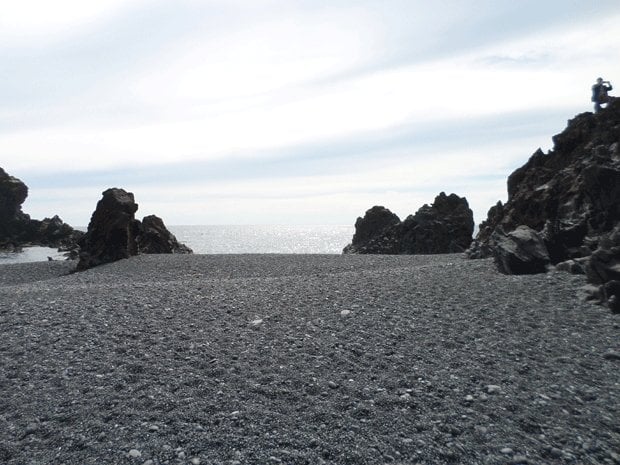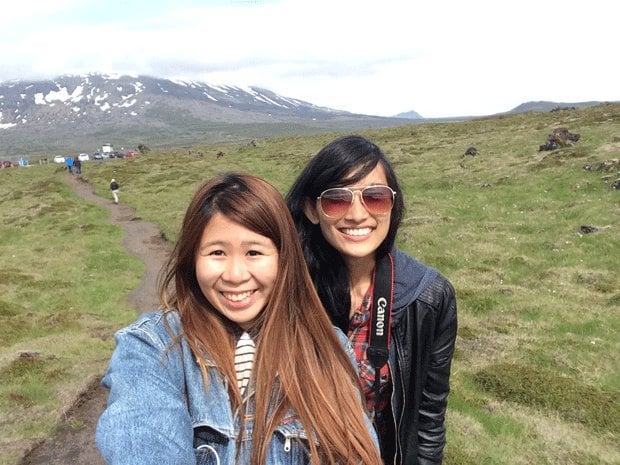 We visited Hellnar, largest fishing villages beneath the Snaefellsjokull ice cap. One of Iceland's most peculiar caves, Badstofa, is located there. It is known for its special light exposure and colourful interior. A cold water spring is to be found at the lava's edge.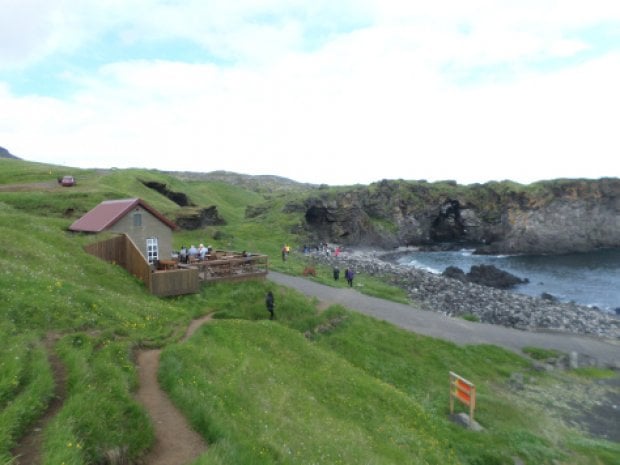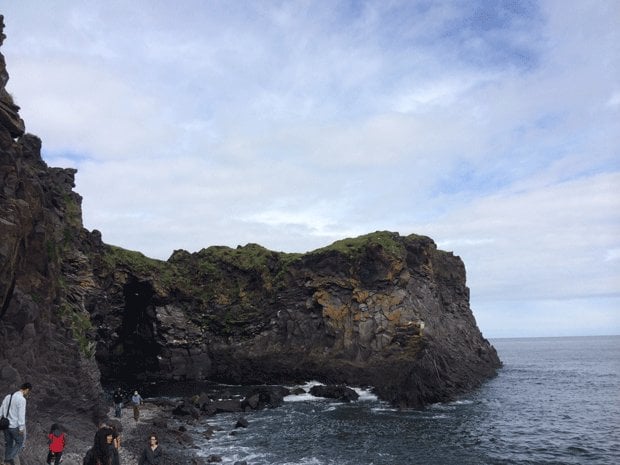 We went to Arnarstapi too, an important trading post in the past. A walk along the coastline is recommended to watch the birds and the magnificent lava formations. The seaside and the cliffs between Arnastapi and Hellnar have been made a Natural Reserve in 1979.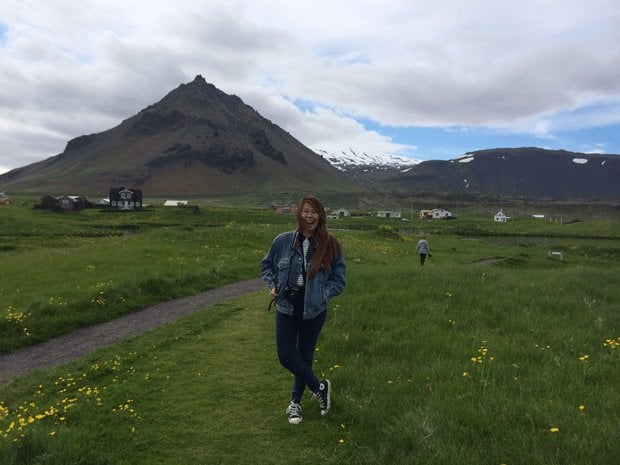 Spot Gatklettur Arch Rock is a cliff with a circular arch.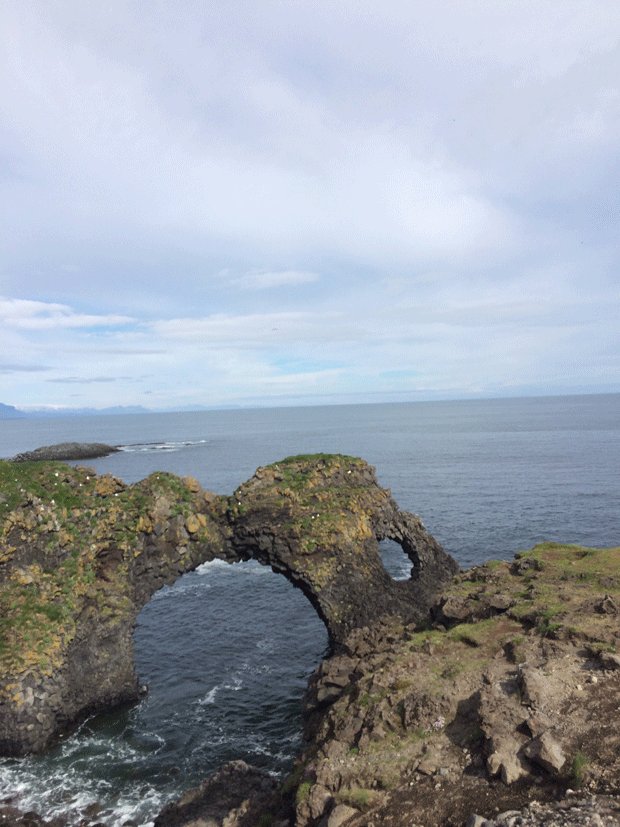 3. Downtown Reykjavik. Even the city centre of Reykjavik is well-endowed with mother nature. It is surrounded by the Atlantic Ocean with waterfront paths stretching around the entire peninsular. There are many beautiful places to stop and admire the scenery on these coastal paths, which are very popular among joggers and cyclists. It is also home to the striking Sun Voyager – the symbol of Reykjavik, a massive steel sculpture by Jon Gunnar Arnason which may resemble a Viking ship, but is in fact a dream boat and ode to the sun. From here, we can spot the view of Mount Esja standing tall and mighty.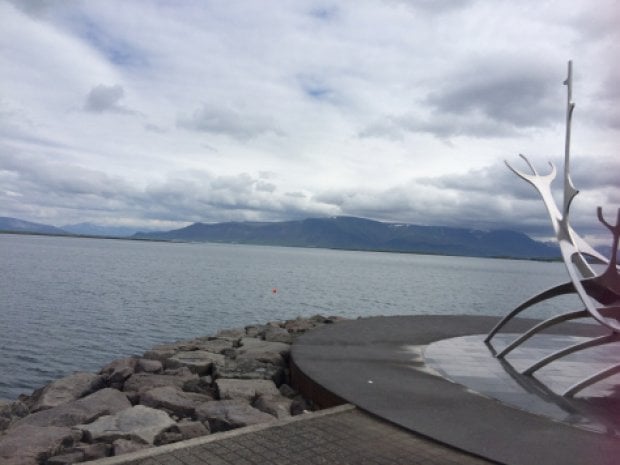 Do walk over to the Old Harbour. Apart from it being a beautiful place for a walk, offering stunning views across the bay to Mount Esja, the Old Harbour area is where the majority of marine activities such as whale watching and puffin tours are concentrated; it's also home to the excellent Viking Maritime Museum. There are numerous businesses ranging from rental of scooters and tour services to cafes and bookshops along the dock. Also, they are so vibrantly painted, which is an instant mood-lifter. Besides that, I really love how knitted the community is. Mothers will bring their kids to the Old Harbour and the kids will build their own Viking ship using the materials around. Icelanders are indeed one of the sturdiest people. From young, they are taught to be independent and start doing community service work like weeding, planting of new flowers, helping out in road constructions just to earn bits of pocket money.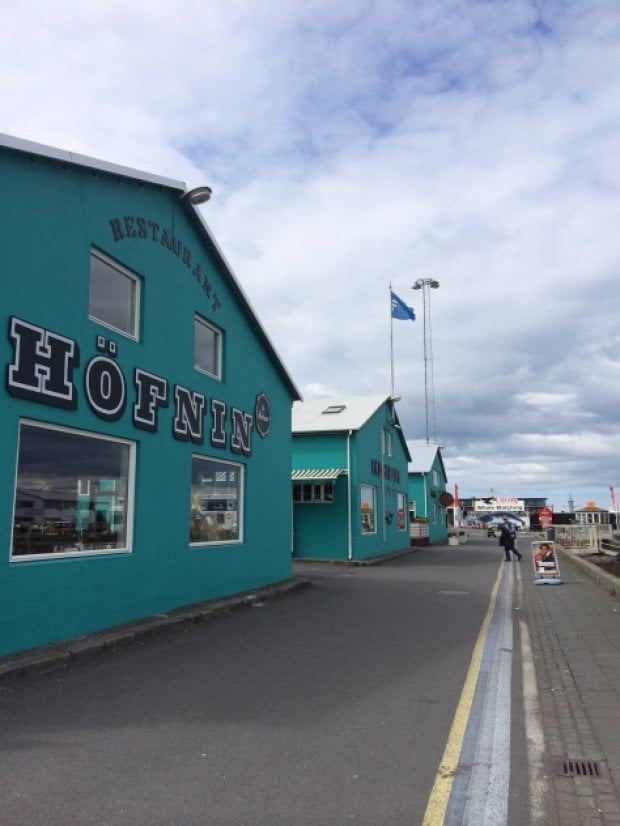 Visit Hallgrímskirkja church, Reykjavík's main landmark and its tower can be seen from almost everywhere in the city. So if you are lost in the city, spot for its tower.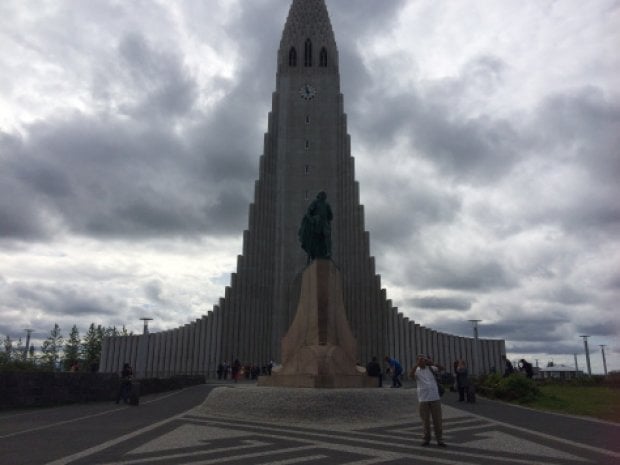 Remember to chill along Tjörnin pond. Tjörnin, which is surrounded by the impressive Reykjavík City Hall and numerous beautifully coloured old houses, is a natural pond and home to countless ducks, swans and geese that even stay for the entire winter season thanks to a little geothermal heating. (THANK GOD FOR VOLCANOES) It's also a great place to just sit and htht with your friends and enjoy the scenery.
The streets of Reykjavik is full with life! Buskers, fleas, graffiti everywhere! I love how they painted their building so beautifully! We joined the Free Walking tour that departs twice from the clock tower at Laekjartorg Square everyday at 12:00 and 14:00. (So just be there and spot the guy in green holding a signboard) THE FREE WALKING TOUR IS SUPER DUPER USEFUL OMG! It is not only "free" but super informative and we visited so many places like Althingi Parliment, Old Cathedral, Church Hallgrimskirkja, City Hall, National Theater, Harpa Symphony Hall and most importantly, we really learned a lot about the history and culture of Reykjavik from the tour. The tour is just over an hour long and you decided on how much you want to tip the guides so it is totally up to your budget.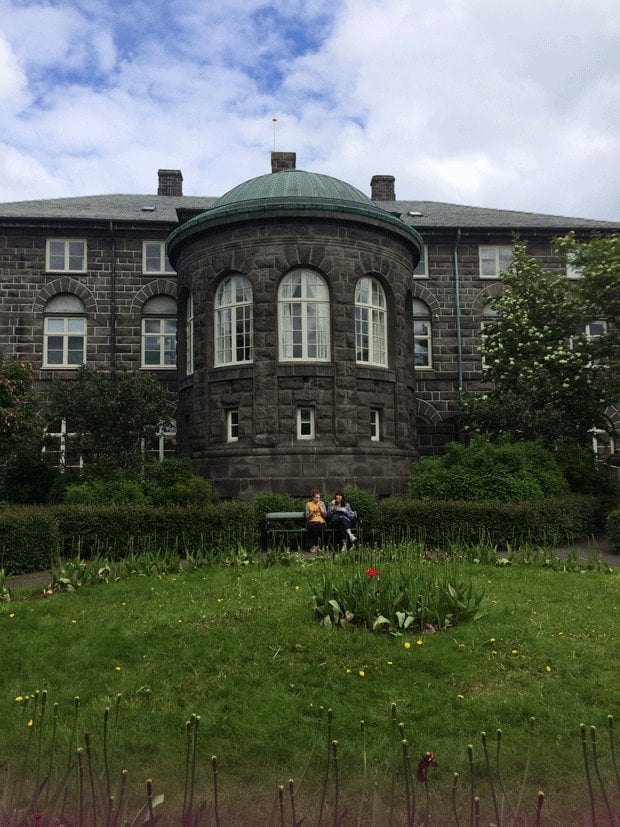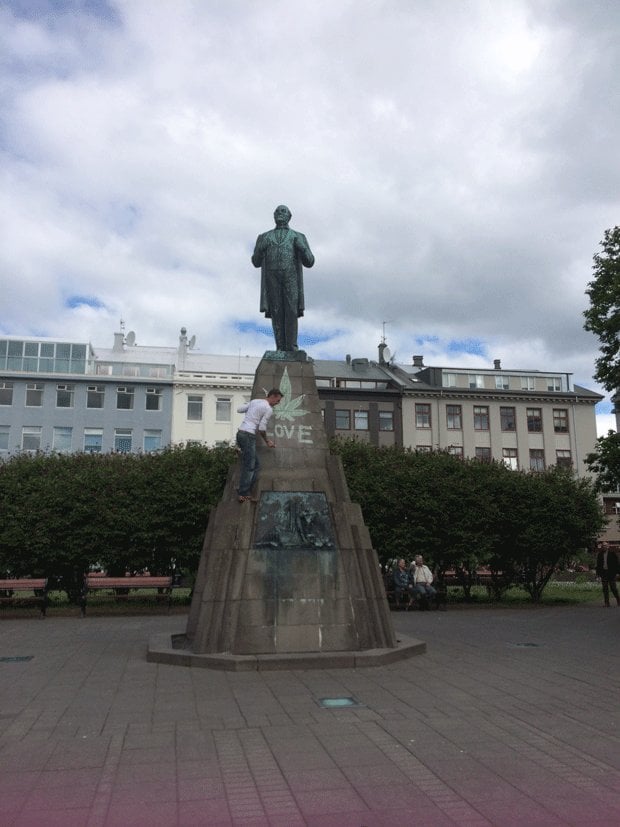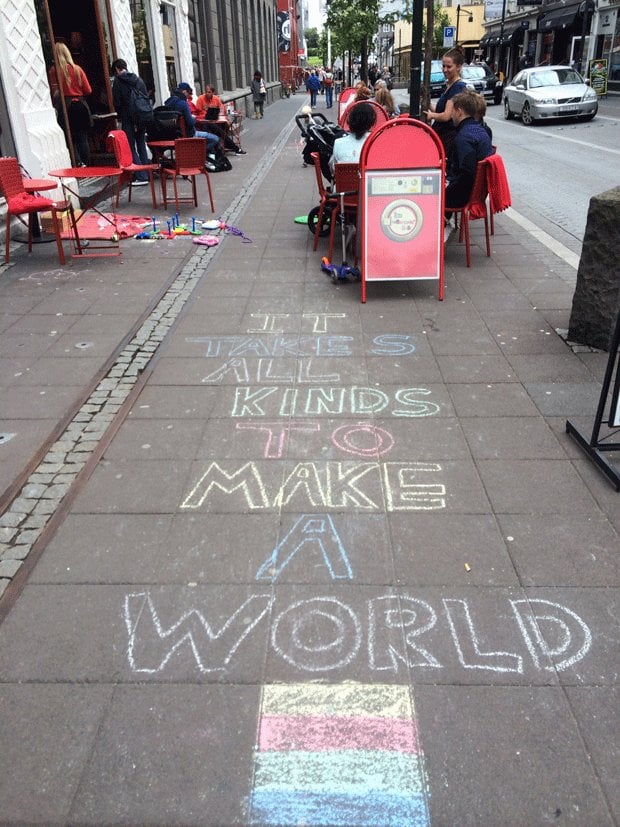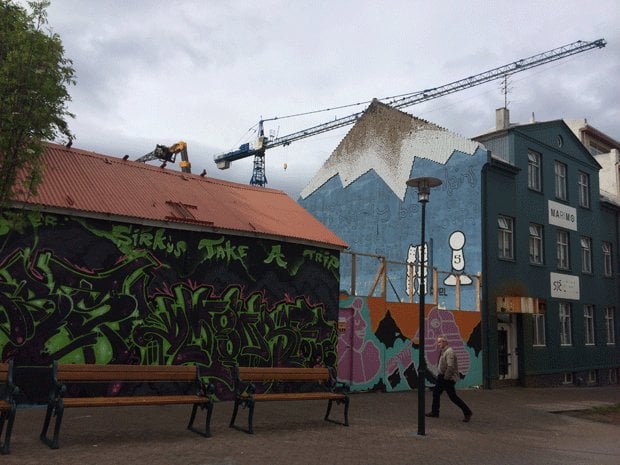 b. What I ate
Having spent SGD 300 on tours, SGD 200 on accommodation and SGD 300 on the flight tickets, I only changed EUR 70 to ISK 10433 (which is SGD 100) for other expenses. I did wonder how I was going to survive 4 days in Iceland with that little money, since Iceland is well-known for being expensive, but I managed to do it!
For the two days spent on tours, we bought bread and cookies from the local supermarket to eat along the way. The tour also brought us to petrol kiosks to buy food, but prices in local supermarkets are cheaper. Plus you can get free coffee! For cheap meals, you can make your own sandwiches in the morning and bring it along.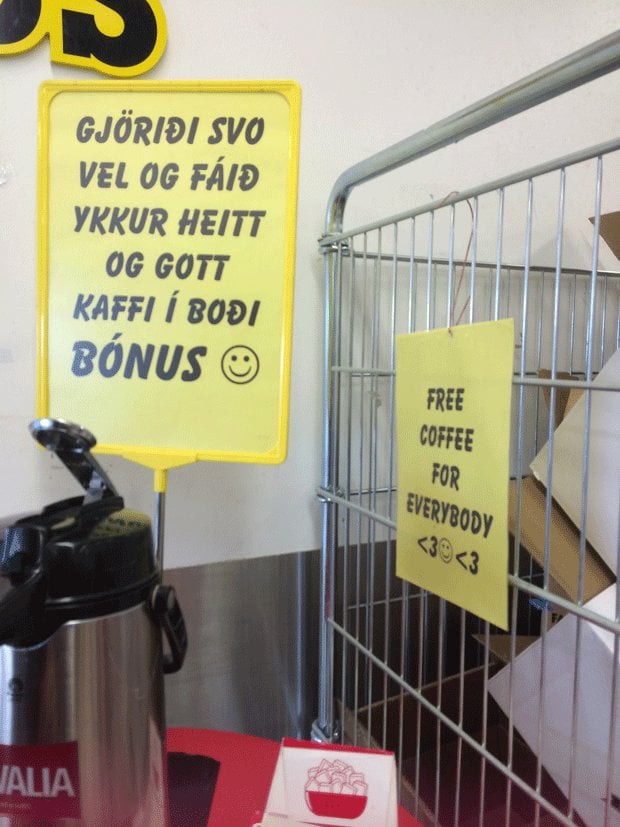 We also had pizza for two of our dinners in Iceland. One huge advantage when it comes to travelling with friends is that we can share food, which will significantly reduce our expenses. European pizzas are really good and I didn't mind having it for 2 days straight. (Sorry for the blurry photo – I am too excited to eat it!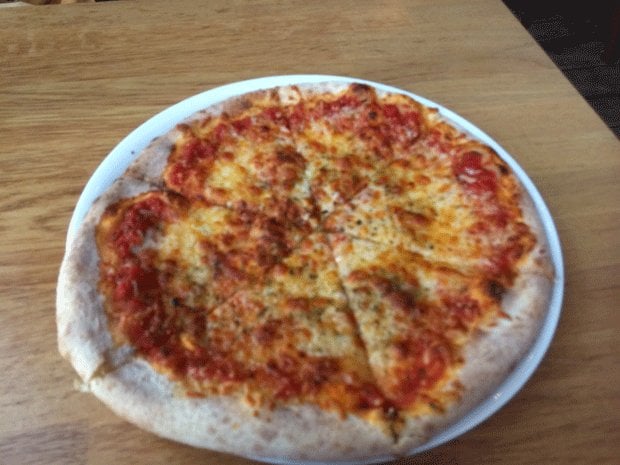 Then there's the famous Icelandic hotdog, which you can find everywhere in Reykjavik. Actually, I don't know what is so special about the hotdog, plus it is not very cheap either.  But then again, it tastes quite good.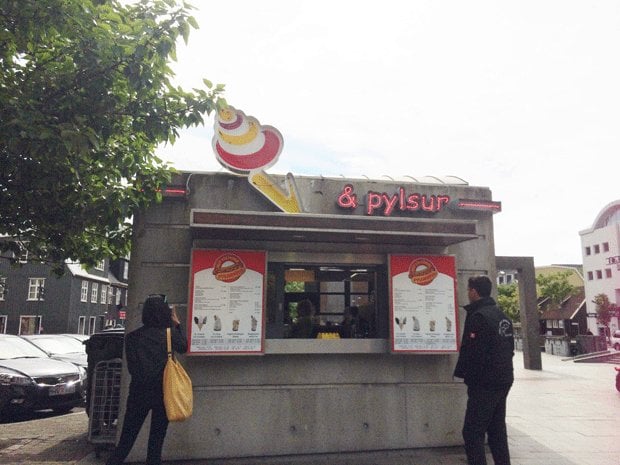 You also have to try Iceland's lobster soup! Iceland is well endowed with seafood because it is surrounded by the ocean and one of the most important industries here is fishing. Iceland has very strict laws on fishing too. Anyway, lobster soup is everywhere in kiosks around city of Reykjavik. It can be considered as "street food", and it is so good! I know my photo doesn't do any justice to it because being a glutton I am, I could not wait to slurp it. Sadly, it is not cheap at all, unlike the Tom Yum Goong in Bangkok selling at SGD 4 a bowl. Make a guess. Can you believe that it costs SGD 13 for a small bowl like this?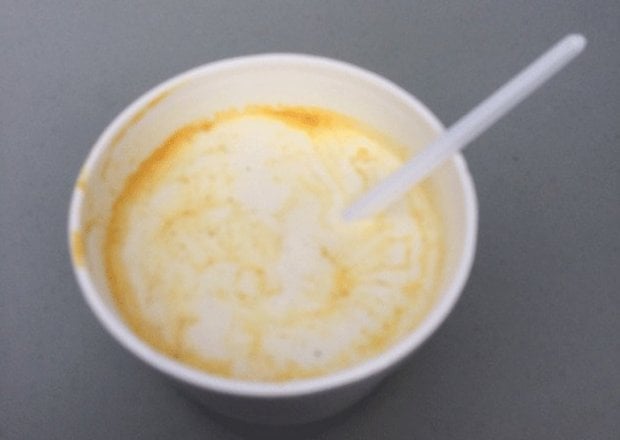 Even though we were on budget, we felt that it was a must to at least try one authentic local cuisine in every country we were at. In Iceland, we decided to have tapas because we could try everything albeit in a small portion. We hunted for restaurants with set meals, and finally spotted "Icelandic Gourmet Fiest" written on the black board of this restaurant that is tucked in one small tiny basement along the street. This meal set us back ISK 6690, which is around SGD 70. Thank God for a travel buddy, because we could share the meal. Even though it was tapas, it filled both of us up.
The meal consisted of smoked puffin with blueberry Brennivin (Brennivin is an Icelandic spirit) I know what you're thinking: Ewww puffin! But seriously, do what the locals do, guys. I would say the puffin tastes hmmm… funky? We came to the conclusion that puffin is a confusing dish because it is a bird, looks like a meat but tastes like a fish.
p.s. The restaurant offered us shots to start off the meal and also provided us breads with tapas sauce!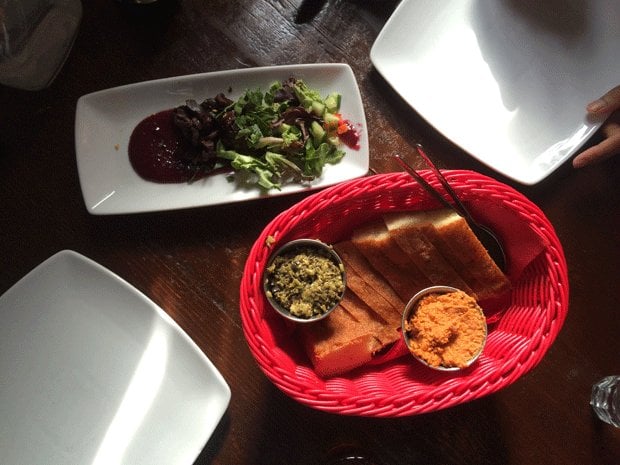 Lobster tails baked in garlic, Grilled Icelandic lamb Samfaina, Minke whale with cranberry and malt sauce.
Yes I tried whale. Feeling guilty but telling myself that it's for experience.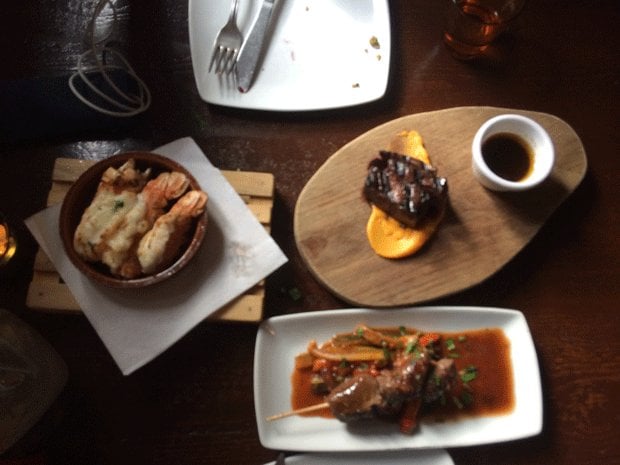 Pan fried caught Blue ling with lobster sauce
Tastes like salmon to me. DAYUM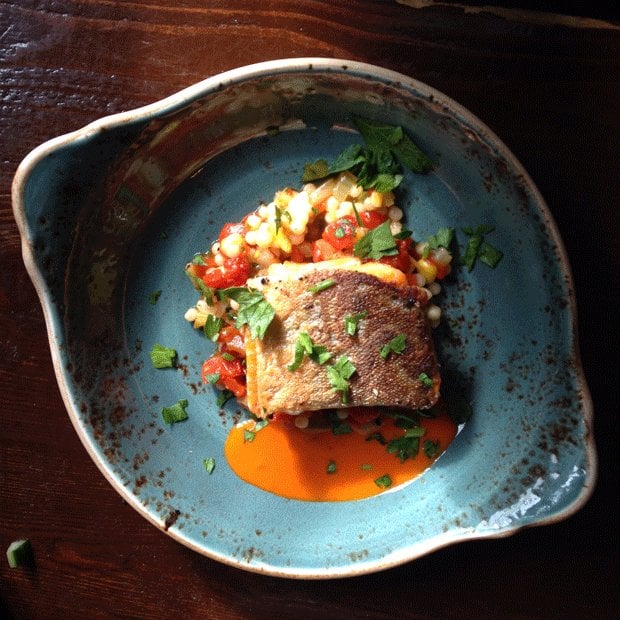 Icelandic sea-trout with peppers-salsa
This is so good! I could taste how fresh the seafood was!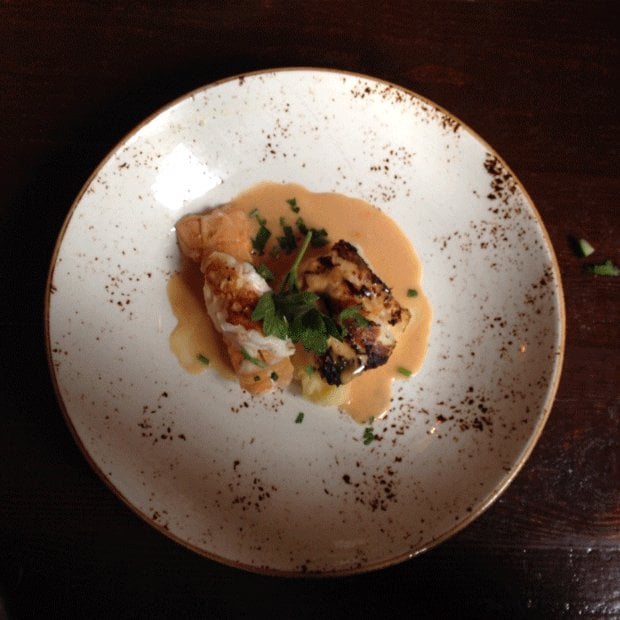 And we ended off our heavenly meal with White chocolate "Skyr" mousse with passion fruit coulis
Also read: 21 Famous Local Foods to Travel The World For
Look at the plate decorations! Talk about putting in effort to deliver the best! This is one thing I love about European countries.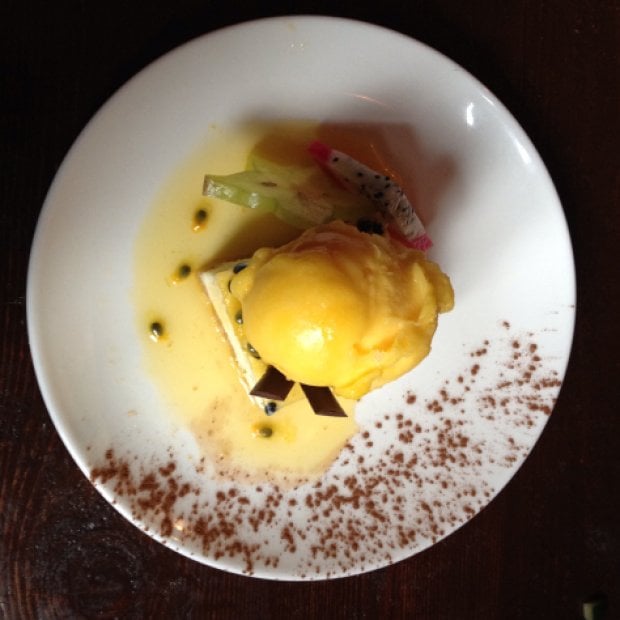 * * *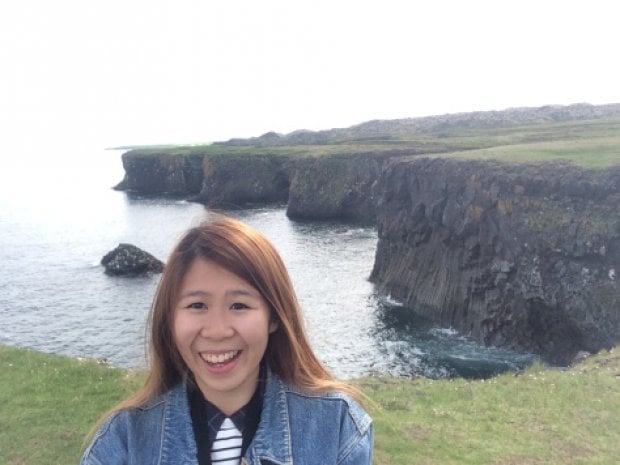 Surprisingly, I didn't even finish using my Icelandic Krona though. Basically, SGD 100 is enough to cover 4 days of food expenses. Having said that, different people have different spending habits and I am merely providing a gauge. There are still many things that I didn't manage to do in Iceland like caving, hiking in glaciers, swimming in a geothermal pool and of course seeing the Northern Lights because I visited Iceland in summer. Still, I loved every minute spent in Iceland. Iceland in summer (sounds like an oxymoron, doesn't it?) is really beautiful,  and I am so coming back here again. Thank you Iceland for allowing me to have a taste of Nordic culture during my 33 days of travel. You truly had your own ways to charm me upside down and inside out. I really wished that my camera could capture what my eyes were seeing,  but photos just cannot do any justice to this amazing, magical land. I LOVE YOU ICELAND!
Contributed by buttergoesbudget.