Winter in Norway feels a little like a Disney fairy tale. Picturesque snow-clad villages, pristine ski slopes, and the magical Northern Lights dancing across the nighttime sky — everything you need for a snowy holiday to remember. And in this dazzling winter wonderland, there's no better place to stay than ice hotels that are as frozen as their frost-covered backdrop. Yes, you read that right: Ice hotels are a thing in the Arctic. Time to channel those dreams of a white holiday. Here, we've put together the best ice hotels in Norway for your snowy vacation under the Northern Lights.
Also read: 13 Tips for Packing Light for Winter Trips
Ice hotels in Norway for your magical winter getaway
1. Sorrisniva Igloo Hotel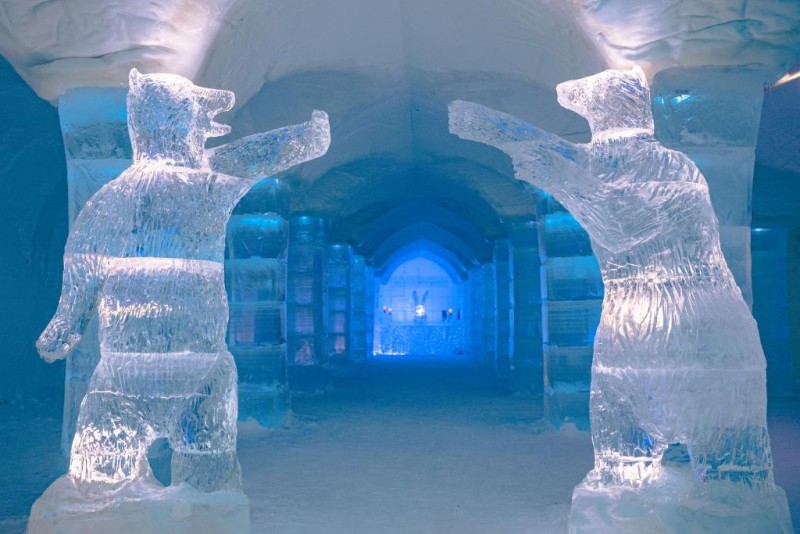 Stepping inside the world's northernmost ice hotel is nothing short of enchanting. Rising every winter on the banks of the famous Alta River, Sorrisniva Igloo Hotel is a masterpiece carved out of 250 tonnes of ice and 7,000 cubic metres of snow. All furnishings and structures inside the hotel are made out of ice, and each frozen room is designed by a local artist.
When it's time for sleep, fur beddings and cosy sleeping bags will keep you warm in your ice-filled sanctuary. But don't miss exploring the impressive facilities of Sorrisniva Igloo Hotel before turning in. Savour delicious Norwegian cuisine at Laksestua Restaurant, then grab a drink at the ice bar. Need a little warmth? The sauna is popular among guests of this winter wonderland. Snow sports like sledding and snowmobile riding are also available in the area.
2. Snowhotel Kirkenes
Tucked in the mountains near Bjørnevatn, Snowhotel Kirkenes lets you choose between two different hotel experiences. Travellers can book one of the traditional wooden cottages. But if it's a one-of-a-kind staycation that you're seeking, we recommend staying in one of the icy suites in the Snowhotel.
Each room in the ice hotel features a different theme, with intricately carved beds and headboards. One room is inspired by Disney's Frozen, of course. Unlike some ice hotels in Norway that only open during wintertime, Snowhotel Kirkenes welcomes travellers all year long. And with adventures like dog sledding, king crab safaris, and Northern Lights tours, Snowhotel Kirkenes is an escape we're bookmarking for our Arctic getaway.
3. Hunderfossen Snow Hotel
A part of Hunderfossen Hotel & Resort, Hunderfossen Snow Hotel emerges every winter to give travellers the ultimate snowy holiday. Ice artists from all over the world come to sculpt the building to life annually. That means this is one of the ice hotels in Norway that transforms into something new every year. Plus, it puts you right next to a fun-filled winter park: the Hunderfossen Winter Park, a theme park inspired by Norwegian fairy tales.
Indeed, this picturesque property promises a fairy tale experience, with suites filled with delightful sculptures and colourful mood lighting. At night, snuggle down in bed, where you'll find sleeping bags and authentic reindeer hide for maximum cosiness and warmth.
4. Tromso Ice Domes
Last on our list of ice hotels in Norway to visit is Tromso Ice Domes. Surrounded by the Tamok Valley, this dazzling hotel is built from scratch every year for winter lovers. Although travellers can simply tour this ice hotel for the day, we recommend making the most of your visit by spending a night in one of the tastefully appointed ice suites.
It's easy to be mesmerised by Tromso Ice Domes, whether you're staying overnight or just passing through. Marvel at the incredible ice sculptures and carvings that portray Norwegian culture and local life. Hotel amenities also include an ice bar, an ice restaurant, and an ice cinema.
Other unique accommodations in Norway
5. The WonderInn Mirrored Glass Cabin
Beyond the ice hotels of Norway, there are a multitude of other imaginative stays in the country for travellers on the lookout for a one-of-a-kind vacation. Case in point: WonderInn, a mirrored glass cabin tucked away in the wilderness. This remote waterfront cottage for four is a dreamy Norwegian hideaway with breathtaking views of nature and a unique mirrored façade that lets it blend into the lush forest backdrop.
6. Birdbox Fauske
Ever dreamed of experiencing life as a bird? Well, now you can stay overnight in a human-sized birdhouse at Birdbox Fauske in Norway. This tiny-house-style Airbnb sits amid the epic mountain range of Blegja and the Førdefjord — you'll wake up to awe-inspiring views of the Norwegian wild every day. And when you're not chilling indoors and gazing at the scenery, swimming and hiking are excellent in this area.
7. Følvika Northern Retreat
Remote on the island Sandhornøya, Følvika Northern Retreat is a year-round retreat that's all about the views. The two glass domes — Følvika Eye and Følvika Eagle Eye — were built to wow, with 360° views of the secluded forests, wild beaches, and starlit skies. While sleeping under the stars is special any time of the year, this Airbnb in Norway is especially extraordinary during the Northern Lights season. Imagine seeing the aurora borealis tucked inside your own private dome!  
Also read: How to Capture the Northern Lights in Iceland
Winter is the most magical time of the year, and we deserve a vacation as enchanting as the season. What do you think of our picks of ice hotels in Norway and other great accommodations?
Got a property you'd like TripZilla to feature? Inquire with us here.
---
Special thanks to Visit Norway for providing information in this article.
This article contains affiliate links. When you book through these links, we may earn a small commission at no additional cost to you. All images courtesy of the respective property listings unless otherwise mentioned.