Expect to have hope rekindled.
Expect your prayers to be answered in wondrous ways.
The dry seasons in life do not last.
The spring rains will come again.
– Sarah Ban Breathnach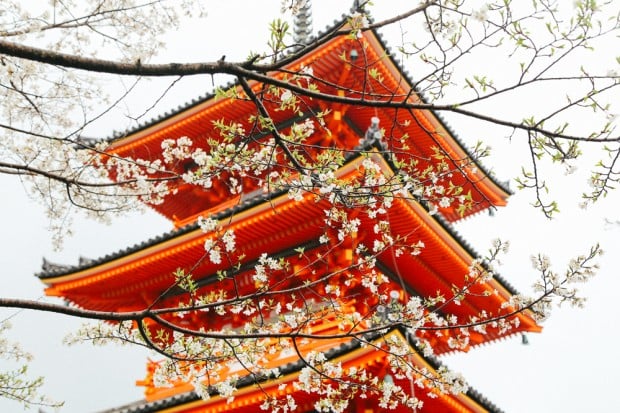 A visit to Japan is definitely not complete without visiting its cultural and historic centre – Kyoto. We took a bullet train or shinkansen from Tokyo Station to Kyoto Station. Our hotel in Kyoto is conveniently located near the station and it's just a 10-minute walk.
Kyoto is in Kansai region and was the Imperial Capital of Japan. Due to its historic value, Kyoto's treasured shrines, temples, numerous gardens and palaces are spared from air raids and atomic bomb during World War II.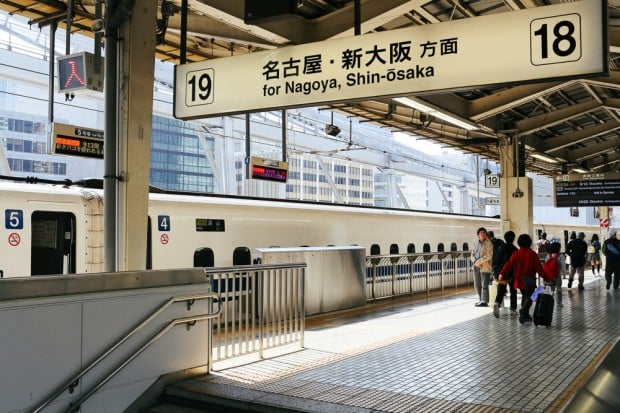 How to get around Kyoto?
Depending on how many days you have, you can buy an unlimited bus pass (1 or 2 days). Outside Kyoto Station, there is a kiosk where you can buy the pass to get around the city. We suggest that you use the unlimited pass if you are on a budget. Please bear in mind that this pass only covers city bus route and does not include trains or subway.
Outside Kyoto Station are multiple bus stops that bring you to different tourist sites around Kyoto. Since our hotel is near Kyoto Station, it was very convenient for us to hop on and off to these buses to visit the sites. On the pass itself, you will see timetables on what time the buses come and go, plus the bus numbers you will use to go back and forth. The pamphlet they will give you has all the information you need. (Note: After arriving at Kyoto Station, it is always advisable to ask the tourist information for a map so it's easy for you to visualize and plan your route. The friendliness of the people at the tourist information centre in Japan is notable.)
Like Tokyo, we carefully planned what to see and do to maximize our stay. On our first day, we planned to see the spots on the east side of Kyoto Station while on the second day we planned to see the sites west of Kyoto Station. If you have a lot of time to kill, walk around Kyoto Station since it's a pretty unique and modern looking building. The station has a department store and several restaurants inside. This station has massive steps and escalators. At night, they have a light show on the steps. It was pretty cool!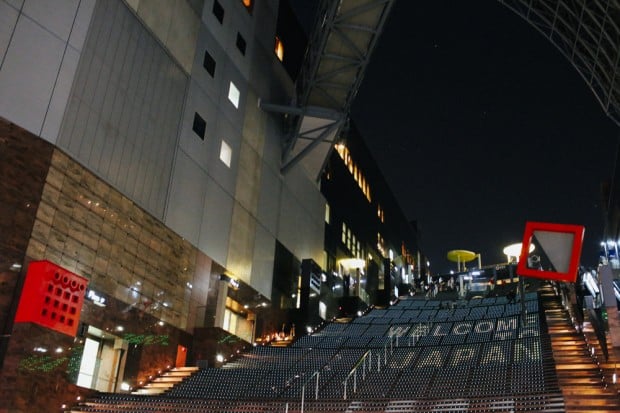 Thankfully, this historic city was spared from bombings and because of that, we are lucky to see and appreciate the old Imperial Capital till this very day. We absolutely love our stay in Kyoto.
Also read: The 100+ Things You Should Definitely Do In Kyoto
And, here are the reasons why: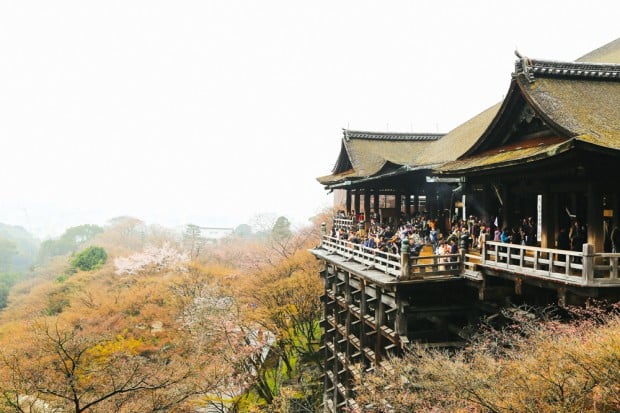 1. Because Kiyomizu-dera Temple is worth fighting the crowd
This temple is one of the most celebrated temples in Kyoto. At the grounds, there is a lot to see from pagodas, beautiful gardens and Buddhist temples. If you are lucky, you will see Japanese people wearing traditional clothes. To reach Kiyomizu-dera, you have to walk up at Matsubara Dori for at least 15 minutes and you won't get bored checking out the shops and stalls leading to the temple.
Why is it worth it? First of all, it is a UNESCO World Heritage Site. Not only that, when it was built in 1633, not a single nail was used in the process. You will be really amazed how they did it since it juts around a corner on a hill top. Plus, the amazing view from the top is equally amazing as the temple itself.
Tip: If you have time, eat at Okutan. One of Kyoto's specialty food which is hot tofu. Okutan was founded more than 375 years ago in 1635 and it is near Kiyomizu-dera.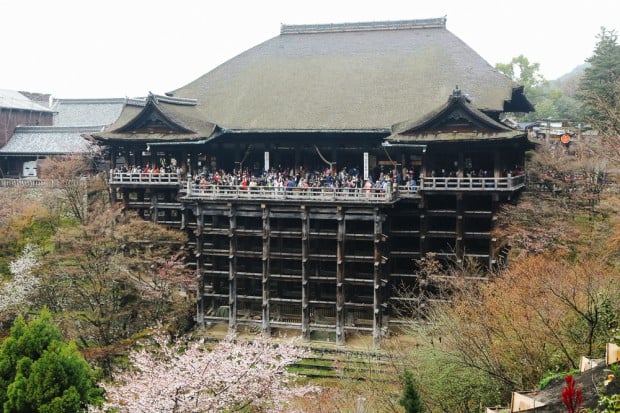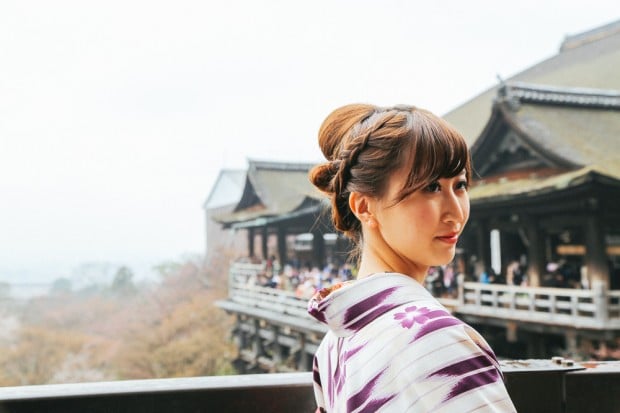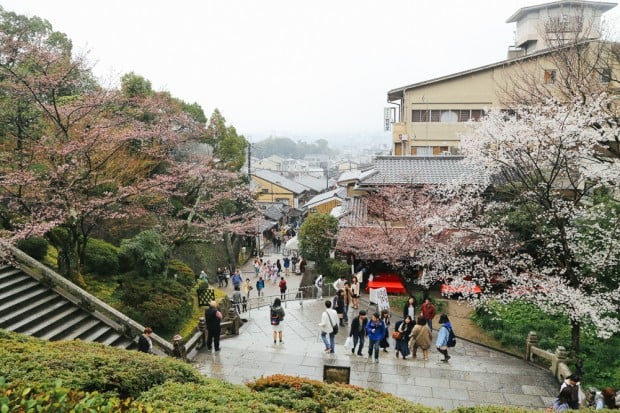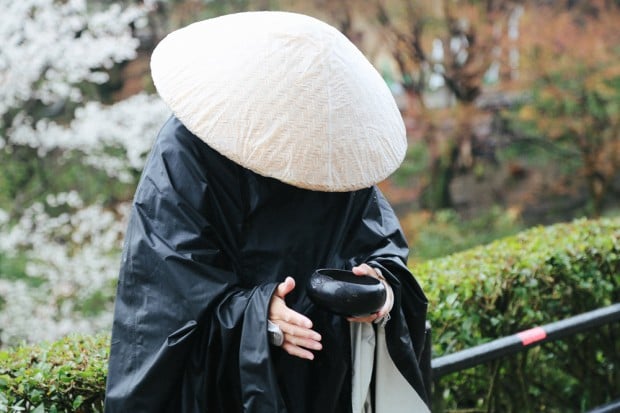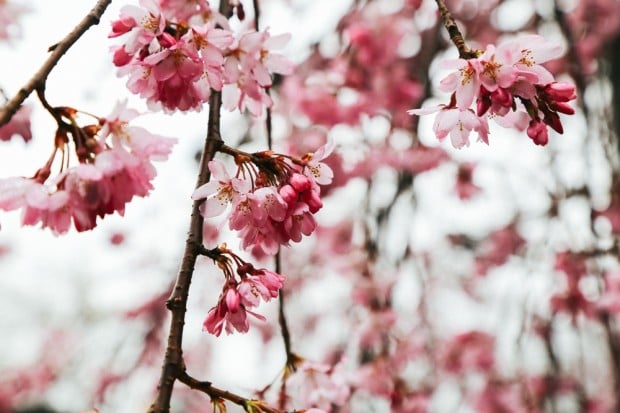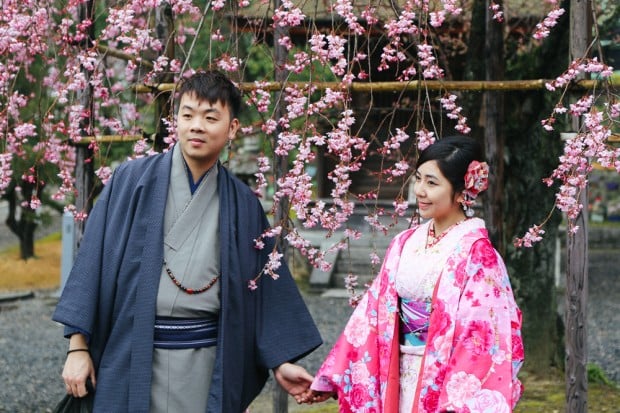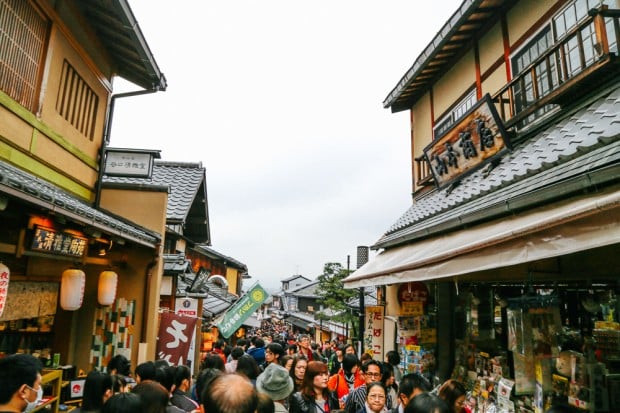 Also read: 5 Magnificent Temples You Must Visit in Kyoto, Japan
2. Because in Nishiki Market, you can always get snacks on-the-go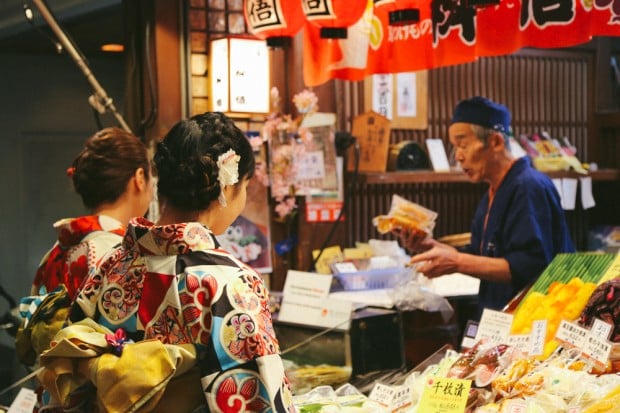 Near Kiyomizu-dera Temple is Nishiki Market. This market is on a narrow alley consisting of small restaurants and shops. It is known to be "Kyoto's Kitchen". It offers culinary delights that Kyoto is known for. You can get different snacks that will satisfy your Japanese food cravings ranging from sushi, sweets, pickles, dried seafood and other specialty snacks.
Also read: 8 Must-Try Japanese Street Food in Kyoto
Why is it interesting to visit? Nishiki Market has been operating for centuries and usually the people who own the shop are operated by the same families for generations. And of course, if you travel for food, this is a no brainer destination to anyone who is hungry for a food adventure.
Tip: Do not leave here if you haven't eaten Takoyaki and Dashimaki. We will discuss this more on a different post.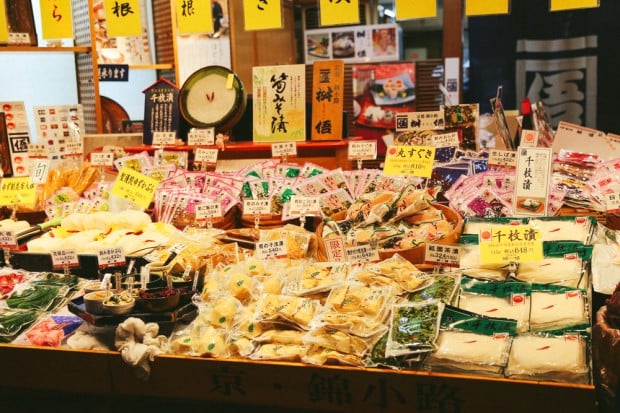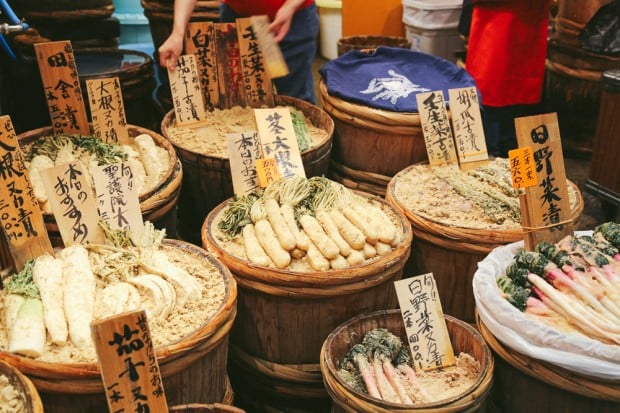 3. Because Kyoto Tower is awesome at night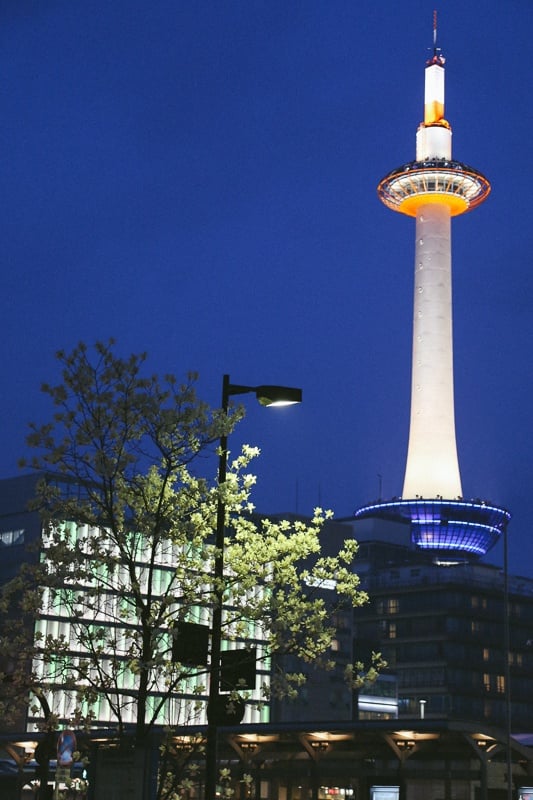 Kyoto Tower is the first thing you will see from the shinkansen when you arrive. This tower is the tallest building in Kyoto. In a city full of historic shrines and temples, this is a rare modern wonder for Kyoto. This was built during the Olympics.
Why is it worth to see? There is a viewing deck at the top that offers 360 degrees view of the city and on clear days you might be able to see Osaka. If you have money and time to spare, why not visit the top deck?!
4. Because Shirakawa River at Gion District is too beautiful for words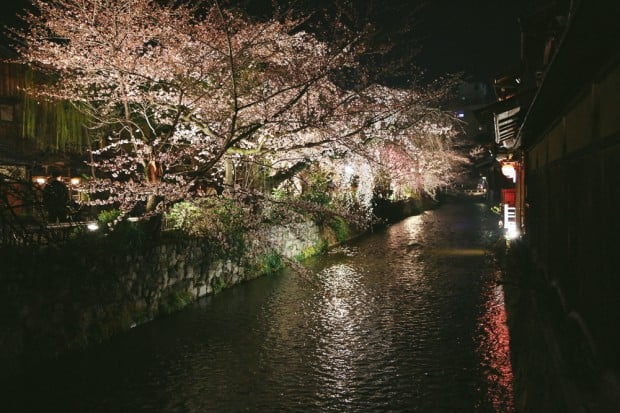 When we arrived here at night, it was just truly a "wow" moment. You can't help but say it out loud. If you are here during sakura season, you must visit this place especially at night. Often dubbed as the most beautiful street in all of Asia. It might be packed with tourist but you really have to see it for yourself.
Why is it worth it? Need to say more? Perhaps, spot a geisha here! Sadly, we did not see any on this trip.
Tip: You might not want to eat here since it's quite touristy but there are certain few that serves really good food, just do a little bit of research.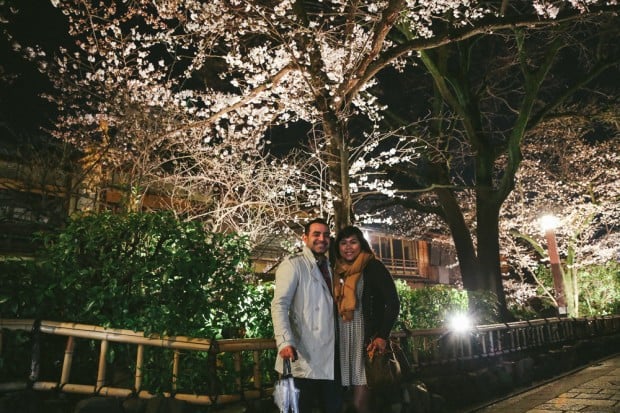 Stumbled upon this street while meandering at night and it was indeed a happy accident. Despite the rain that welcomed us, it didn't stop us from enjoying Kyoto. It just proves that, rain or shine, nothing can stop you from adventuring. Tokyo has an opposite vibe than Kyoto and it's a totally different experience. When you visit Japan, all roads must lead to Kyoto if you really want to experience historic Japan. It truly has everything – good street food, historic sites, cultural shows and culinary delights. Your visit in Japan is not complete without experiencing Kyoto first-hand.
What good is living
A life you've been given
If all you do is
Stand in one place
– Lord Huron | Ends of the Earth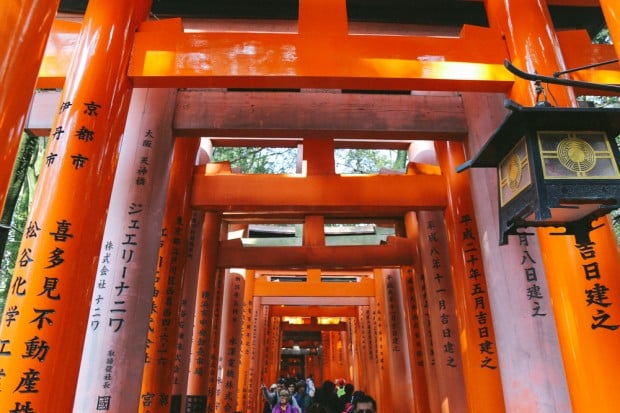 The sun was out when we woke up and it was such a nice day to go around. Kyoto is one of those places that whatever you do, you cannot finish seeing it all. Kyoto has a thousand shrines and it will take you years to finish it, well unless if you are a native of Kyoto. We picked and chose the spots we would like to see on this trip, planned it well so we can maximize our stay.
We want to continue to share with you why we love Kyoto.
Here are more reasons why: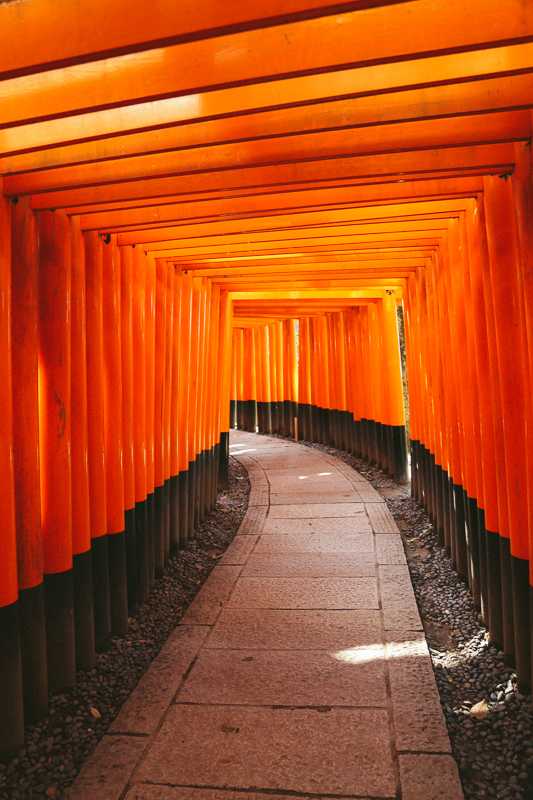 5. Because Fushimi Inari-taisha is the most impressive spot in the city
Fushimi Inari-taisha is a Shinto shrine. It is well known for the thousands of Torii gates that line up the path to the shrine. The gates are donated by different businesses in Japan. A Torii gate is a traditional Japanese gate found in the entrance of any Shinto shrine. Fushimi Inari is the god of crops and agriculture.
Why is it impressive? Colours make us happy and so will you! The Torii gates that lined up the walking trail path to Mount Inari were just pretty amazing. The most interesting about these gates is that the gates signify how big or small the donation was. Along the path, you will first see small gates and as you walk along, bigger gates will appear. On each Torii gate, the name of the individuals or companies is written at the back of the gate. The donation costs 175,000 to 1,300,000 yen. Pretty expensive, huh?
Tip: The good part about visiting this shrine is there is no entrance fee!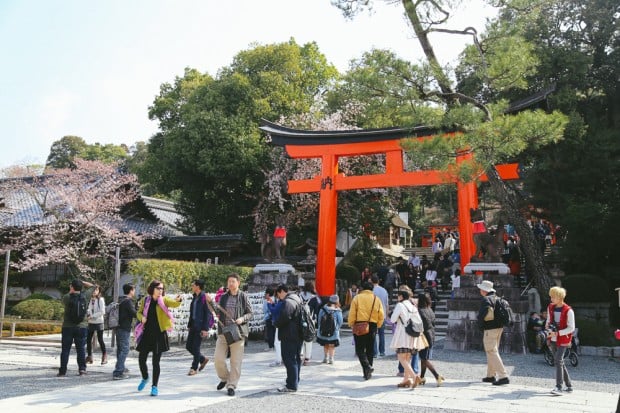 6. Because Arashiyama is a class of its own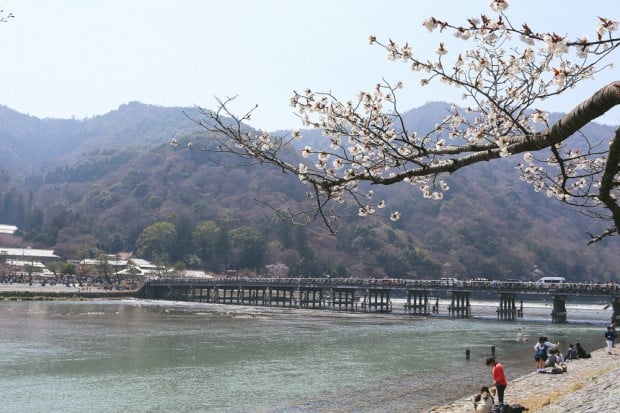 Tucked in a small area down by the mountains is Arashiyama. Arashiyama shouldn't be missed! Since it is further away from the city, people tend to miss it. Arashiyama has the Japanese vibe you are looking for, from Japanese traditional shops, ryokans (traditional Japanese guest houses) and the quaint Japanese restaurants that serve kaiseki (vegetarian Japanese meal).
Why was it worth it? The town's backdrop is set on a beautiful landscape – mountains, trees and a river flowing in between. You will specially enjoy this area during spring and autumn, wherein nature is dancing with colours. We really enjoyed the spring season in Japan and sakura was just inexplicable. Best appreciated while walking in the heart of Arashiyama, the romantic bridge called Togetsu-kyo or the Moon Crossing Bridge.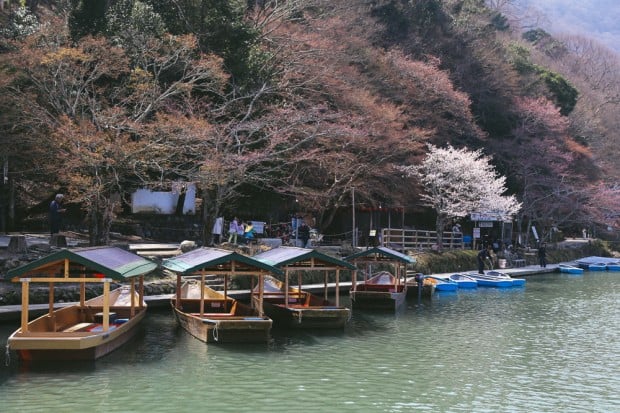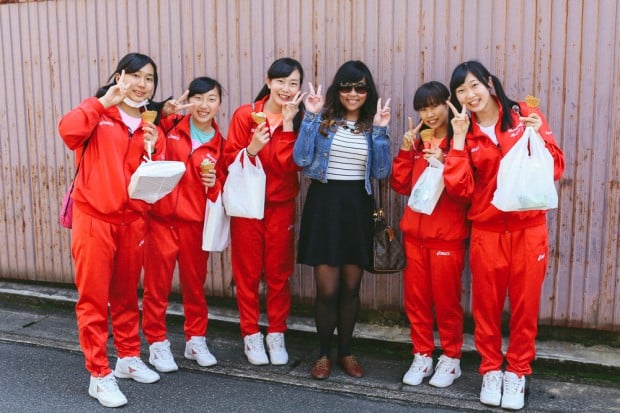 7. Because the Sagano Bamboo Forest seems magical
In Arashiyama, you can find the famous Sagano Bamboo Forest. While you are there, don't miss this place. The bamboo is so high and it almost covers the sky.
Why is it worth it to see? As soon as you step into the forest, you really can't help but admire the bamboo stalks grow towards the sky. The lighting in the forest is so pretty with a little sun coming through. The ambiance and the light seem to conjure drama of a magical land.
Tip: From the station, it is at least a 10-15 minute walk or you can always hire rickshaw pullers to tour you around. Don't get disappointed if it's packed with tourist, they come and go in batches.
8. Because Tenryu-ji Temple is pretty all year round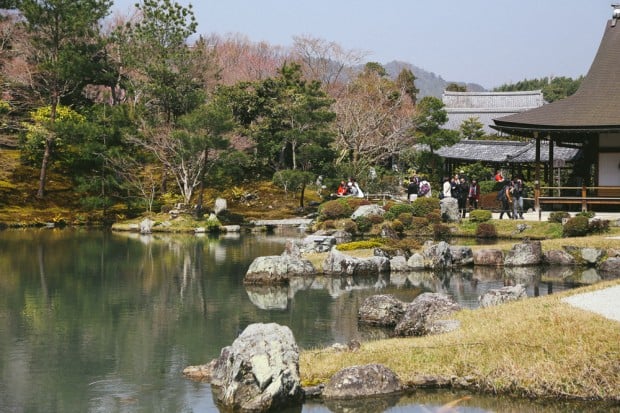 Tenryu-ji Temple was founded to venerate Gautama Buddha. It has been destroyed by fire over the years. The latest construction was made during the Meiji Period, 1860's to early 1900's. The temple's garden is one of the oldest in Japan.
Why is it cool? The temple garden is a site to see. Visit it all year round and the garden will give you the promise of spring, the lotus blooms of the summer, the colourful autumn leaves and snow covered ground that makes the temple gardens very attractive. Any time of the year, there is something for you to see.
Tip: You will pass this temple before seeing the Sagano Bamboo Grove.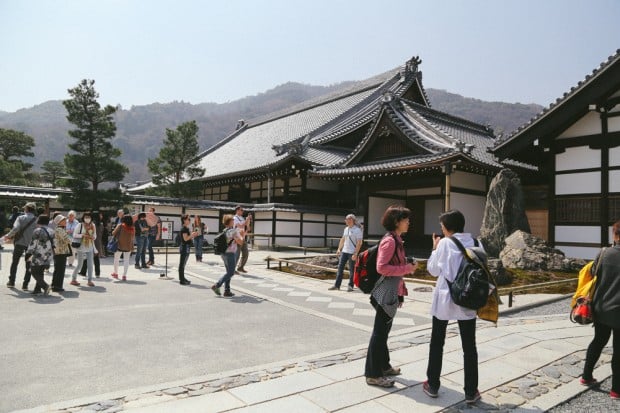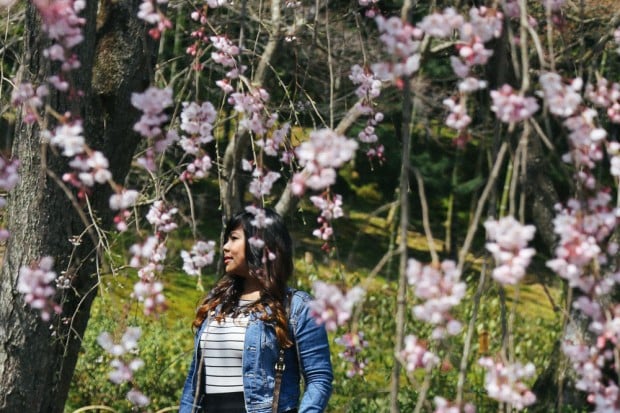 9. Because all that glitter is gold at Kinkaku-ji Temple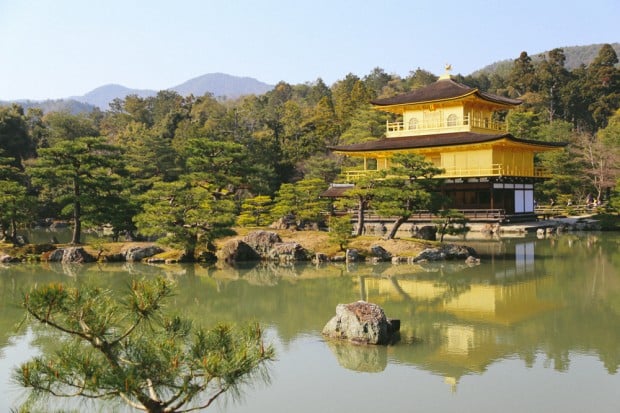 Kinkaku-ji Temple or the Golden Pavilion is the place to see in Kyoto. Do not miss it for the world. This is the top spot to see while in Kyoto. Kinkaku-ji is a Zen Buddhist Temple.
Why is it impressive? The top two stories are actually made with gold leaf. The design is a perfect example of the Muromachi Period in Japan wherein architecture should correlate with its settings in an artistic way. The zen garden complements the structure perfectly while it glistens a stunning gold reflection on the pool.
Tip: There is only one way in and out. This is the iconic spot in Kyoto so do not fret with huge crowds. The traffic is quite manageable though you will be annoyed with the selfie sticks.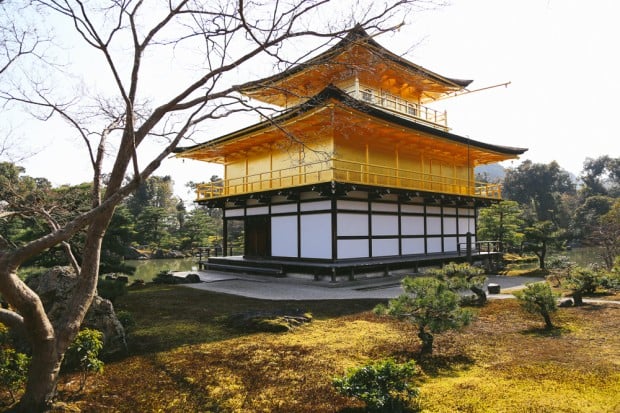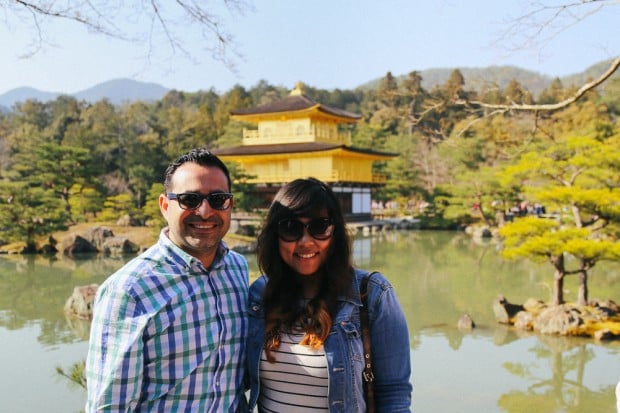 10. Because Kamo-gawa River is a relaxing spot to sit and people watch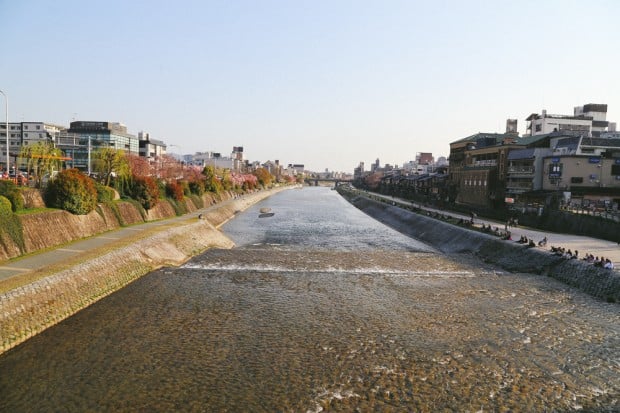 Feeling tired of the overwhelming sights that Tokyo has to offer? Perhaps the Kamo-gawa River is the good spot to sit down and relax. This is a popular walking spot for residents. It is a sight to behold during sakura season since the cherry trees are lined up alongside the river.
Why not go? If the cherry trees are not reason enough, probably the lovers along the riverside will hypnotise you to pick up your camera and take candid shots! Oftentimes, those stolen moments captured on camera are way better than the sight itself. At least for us, we like taking those kinds of shots.
Tip: You might want to wait sunset over here while relaxing.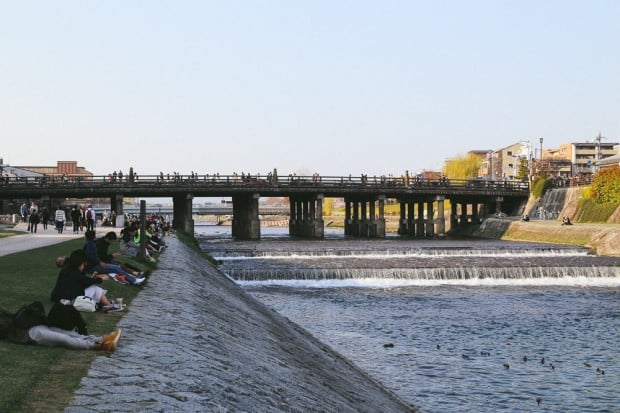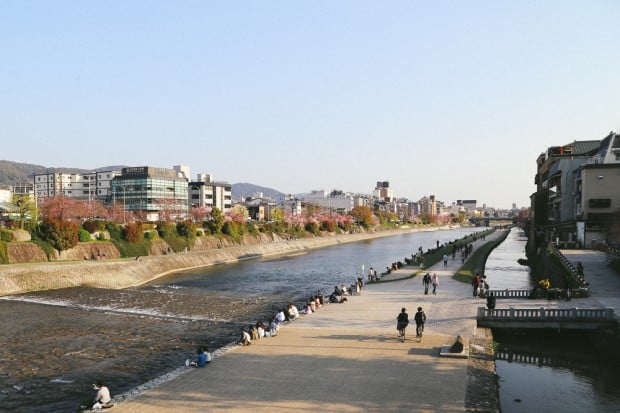 11. Because the cherry blossoms at Ponto-cho District is a sight to behold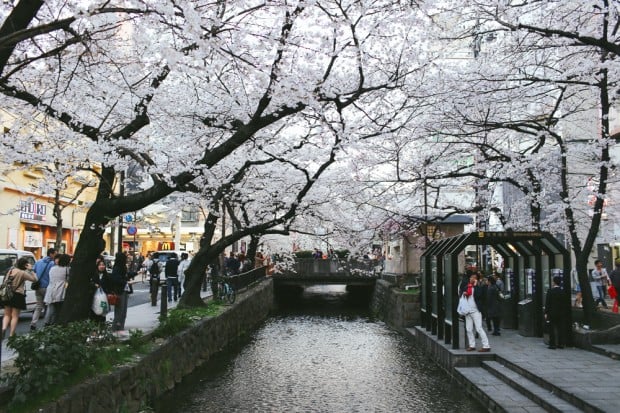 Sometimes some places are left unexplained let the visual storytelling capture you. If you are just thinking where to go to get lost in little streets, this is the spot for you. Right in the heart of Kyoto is Ponto-cho District. It's quite wonderful to stumble upon the back alleys of Kyoto to have a glimpse of its old world charm.
Why visit? Experience its authenticity for all its worth! You have to visit day and night to experience the difference.
12. Because you might be able to spot a geisha
Ah, yes… the elusive geisha! Sadly for us, we didn't see one but maybe it will be a different story for you. In Gion and Ponto-cho Districts, you feel like you are in the past. The streets are lined up with traditional Japanese buildings.
Why go? There are plenty of entertainment options in Gion, perhaps watch a geisha show or try speciality restaurants or traditional Japanese food.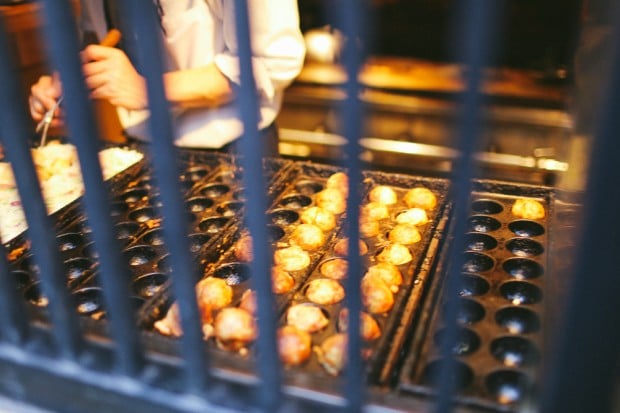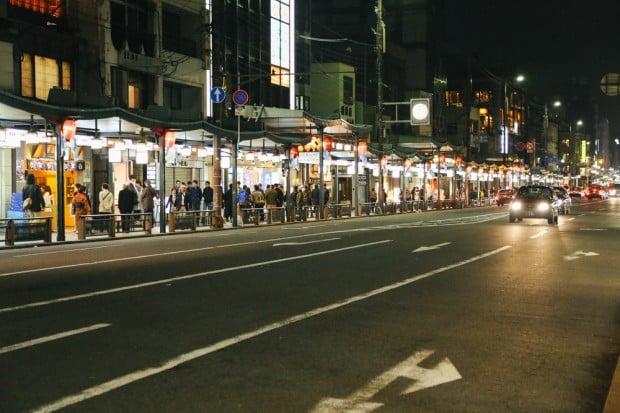 It is a city that shows its strong ties to its traditional culture without making it a cliché. Yes, it's a city that attracts a lot of tourists but Kyoto does it without being too gaudy. It is a city that upholds its pride and shows off its heritage with class.
Also read: The Ultimate Kyoto Travel Guide
Perhaps, Kyoto and us have some unfinished business because we weren't able to spot a geisha. Maybe, next time…. There is always a next time.
Contributed by A Travelogue By Brock and Tanj.