Mention Tokyo and many would think of a futuristic city that is one of the world's top tech-capitals. However, it's not all about technology and development – Tokyo's identity also lies in its super unique and quirky style. Not only do the streets of Tokyo host Starbucks outlets, they are also home to thriving independent coffee houses that offer more than just a plain dining experience. With uniquely-themed cafés such as Pokemon cafés and Victorian butler cafés, it's no wonder that people travel to Japan from all over the globe just to get a seat at these interesting dining establishments.
When in Tokyo, ditch those usual hangouts and try these eight unique cafés instead!
1. Kawaii Monster Café, Harajuku

Harajuku is known for its funky fashion trends and odd styles. Naturally, this Harajuku café joint does not disappoint the city's quirky spirit with its vibrant colours, bold fashion statements and psychedelic decor.
Walk into the café, escorted by your waitress (a.k.a. monster girls), and step into an otherworldly realm where garish colour combinations and a wild mishmash of kawaii elements envelope you. The interior is segregated into four sections: Mushroom Disco, Milk Stand, Mel-Tea Room and Bar Experiment. The crazy doesn't subside just yet! From colourful pasta to chocolate chicken (yes, chocolate!), the dishes here truly embody the spirit of the café aptly!
Address: YM Square Building 4F, 4-31-10, Jingumae, Shibuya, Tokyo
2. Pokémon Café, Pokemon Center Tokyo DX

Pokémon fans, this one is for you! After celebrating its recent opening on 14 March, Pokémon Center Tokyo DX, better known as one of the largest Pokémon retail stores, will also host the iconic Pokémon Café. The café welcomes its patrons with an intriguing display of decorations comprising Poké Balls and super-cute Pokémon characters!
But of course, beyond the décor, the food is definitely the main highlight of the café. Each and every item on the menu features different themes from the beloved franchise. With the prices ranging between JPY800-JPY1700 (~S$10-20), get to tuck into Pikachu Omurice, nosh on Jigglypuff cakes, savour Eevee's Teriyaki Chicken Burger or quench your thirst with Vaporeon Float Drink. All in all, this café is sure to captivate fans from across generations and around the world.
Address: 5F, Nihombashi Takashimaya S.C. East Building, 2-11-2 Nihombashi, Chuo-ku, Tokyo 103-0027
3. With Bunny Cafe, Asakusa
Animal cafés are abundant in Tokyo, from the usual cat cafés to even owl and reptile cafés. Although everyone has different animal preferences, practically no one can resist adorable rabbits! Rabbit cafés are on the rise in Japan and a notable example is With Bunny Café. Patrons get to spend time with the adorable fluff balls here while noshing on some snacks and drinks. The café comes replete with a museum gallery of their rabbits napping, nibbling on their feed and just generally being cute!
Spanning five floors and a terrace, With Bunny Café, is one of Tokyo's largest animal cafés. When it comes down to getting your playdate, choose from over a selection of 30 bunnies in the café, including Dutch Lop-ears and Netherland Dwarfs! While you munch away on some café bites and sip your coffee, frolic around with them, feed them or even take them for a walk on the lovely terrace.
Address: 1-7-1 Hanakawado, Taito-ku, Tokyo
4. The Straw Hat Café, Mitaka
If you are an avid fan of Studio Ghibli's animated films, this spot should not be missed! Linked to the Ghibli Museum, this café revels in Studio Ghibli movie themes with patrons requiring the museum ticket to be able to access the café. Immerse yourself further in the Ghibli experience as you dine on food items that were featured in the captivating films!
After filling your bellies, step outside the café and take a refreshing stroll around the gardens as you try to spot movie characters, including the five-metre tall Robot Soldier. Since Studio Ghibli is a hot favourite and attracts fans from around the world, it comes as no surprise that the museum tickets require advance bookings (several months to be exact!). Also, be prepared to wait for more than an hour just to be seated. But remember, this dining spot will be worth it.
Address: 1-1-83 Shimorenjaku, Mitaka 181-0013, Tokyo Prefecture
5. Aiseki Café, Ginza
If you are single and looking for love in Tokyo, Aiseki Café is a good place to meet new people. This unique café provides casual speed dating service. Patrons must fill up a form detailing their information before getting seated. Once seated, they will be randomly paired and the small talk shall begin! They are encouraged to strike up conversations like they would on a typical date to get to know each other better. While the ladies stay seated, the men are rotated every 30 minutes.
Beverages and refreshments are provided to ease the experience. So, if you sense chemistry, remember to get their numbers before they leave!
Address: 104-0061 Ginza, Chuo-ku, Tokyo 6-4-12 KN Building 4th floor
6. Swallowtail Butler Café, Ikebukuro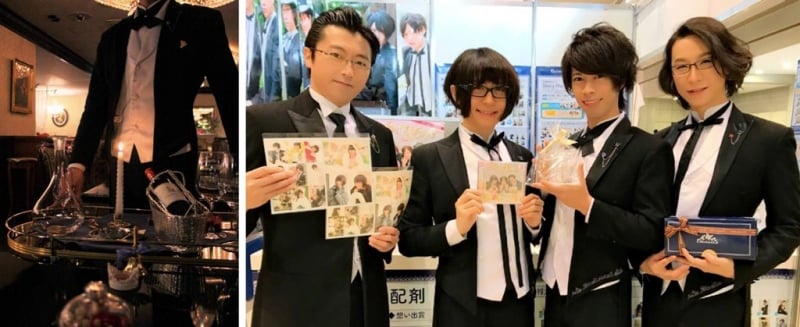 It is no doubt that maid cafés are popular in Tokyo. But did you know that you can also be served by handsome, young butlers? Make a beeline to Swallowtail Butler Café and get ready for an incredible dining experience in a Victorian setting. Get royal treatment as you are waited on by tailcoat-clad butlers every step of the way while being addressed with endearing Japanese terms.
Their menu, which consists of lunch, dinner and high tea sets that rotate every month, are served using expensive delicate China sets. All patrons are also provided with handbells, which can be used to summon the butlers whenever plates need to be changed, drinks refilled or even when you want to be escorted to the toilet. In the midst of all the maid café hubbub, this is an experience you do not want to miss.
Address: 3-12-12 Higashi Ikebukuro | Seiwa Bldg B1F, Toshima 170-0013, Tokyo Prefecture
7. Chatei Hatou, Shibuya
Before the era of global café brands, such as Starbucks, the Japanese frequented their kissatens (traditional coffee houses) for their caffeine fix. The slow and detailed technique of the local coffee-making, such as the pour-over method, can be sighted at Chatei Hatou. This kissaten offers a large selection of coffee beans stemming from different roasts for you to choose from.
Take a seat at the counter and watch the barista, dressed in a formal shirt with a tie, brew your coffee skillfully. The atmosphere of the coffeehouse is drawn from the traditional Japanese interior that is complete with dark wooden furniture, dim lighting and fake potted sakura trees. The detail that goes into the brewing process and the atmosphere definitely puts Chatei Hatou at the top our must-visit spots!
Address: 1 Chome-15-19 Shibuya, Tokyo 150-0002, Japan
8. Rakugo Café, Chiyoda
If you're a passionate fan of Japanese culture and tradition, it'll be a shame not to experience Rakugo when you're café-hopping around Tokyo. This traditional art of storytelling dates back to the 17th century, where one storyteller plays all the roles and recites the monologues before his audience.
With only the aid of his body gestures, expressions, a fan and a hand towel, the Rakugo storyteller puts in a lot of effort in getting the story across. Although Rakugo theatres can be spotted in many areas, the Rakugo café allows you to appreciate this ancient art while sipping on their coffee and wine! Books, CDs and DVDs related to the art of Rakugo, are also available in the café to educate the patrons.
Address: 2-3 Kandajimbocho | 5f, Chiyoda 101-0051, Tokyo Prefecture
Well, there you go! It is impossible to resist any of these unique aforementioned cafés. From trendy to traditional, these coffee spots provide undeniable interesting experiences that are sure to mark your next trip to Tokyo as an unforgettable one!