143182
Going on my first solo trip overseas was indeed a humbling and eye-opening experience. Not only that, but I also discovered a new version of myself: the good-at-reading-maps version of me that I never knew had always resided in me. Plus, there are a lot of things I learnt throughout my journey, be it from the culture or the people themselves. So, brace your wanderlust self as I'm about to unveil 16 things I wish I had known before going to Hong Kong! 
Also read: This Hong Kong Local Shares Her Recommended Places & Activities for Tourists
Hong Kong solo travel guide for first-timers
1. Buy a Hong Kong sim card for Internet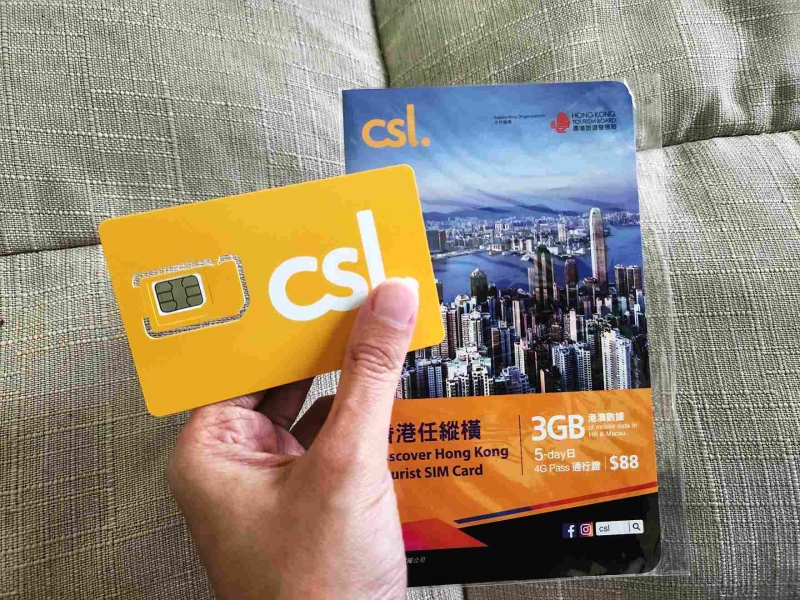 For a solo traveller in Hong Kong, staying connected is essential. As soon as you land at Hong Kong International Airport (HKIA), search for either 1O1O (CSL Mobile) store, 7-Eleven, China Mobile Hong Kong store, or a Travelex currency exchange counter. You can easily get a Hong Kong sim card above for an affordable price. The cost really depends on the type of pass you are purchasing. I got a 3GB, 5-day, 4G pass for HKD88 (MYR52.23). 
Another tip is to use Hong Kong's free wireless internet every chance you get. You can connect to these WiFi hotspots at most public places, such as the airport, MTR stations, and other public transport areas within the city. 
2. Download these essential navigation apps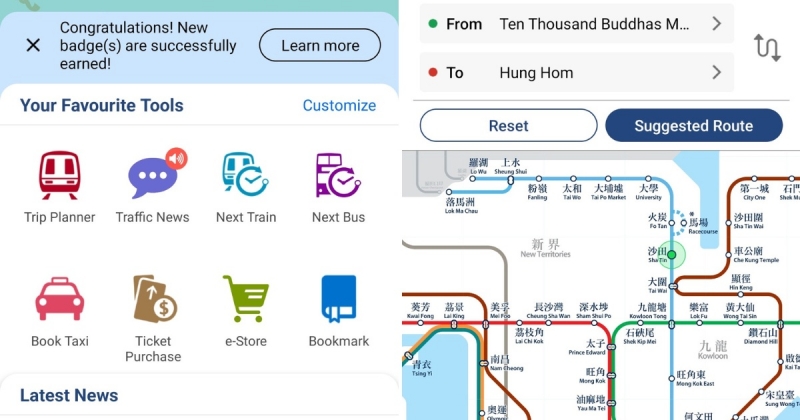 Whoever invented Google Maps and Hong Kong's MTR Mobile apps are heroes! I survived Hong Kong only with these two navigation apps on my phone. Google Maps was great in helping me navigate the winding streets of Hong Kong and reach even those hard-to-find spots tucked away amidst the metropolis. 
For solo travellers, the best way to get around in Hong Kong is to use the MTR. The MTR Mobile app allows you to see the overview routes of the MTR lines you're getting on. I find it helpful to plan my entire journey as I get to see all the stops on each line and where I should change my stations if needed. Plus, you can also view the latest traffic news in the city and book a taxi via this app!
3. Ride the double-decker trams
There's more to Hong Kong's public transport than just its MTR. There are buses, taxis, and even the iconic colourful, double-decker trams. If you're a solo traveller in Hong Kong on a budget, riding the trams are an experience in and off itself. Not only are these trams to get around the streets of Wan Chai, Western District, Causeway Bay, Happy Valley, and North Point, but they also allow you to soak up the nostalgic vibes of Hong Kong as you travel along the busy routes.  
Bonus tip: Try to get a front-row seat on the top deck. It offers the best vantage point! 
4. Get yourself an Octopus card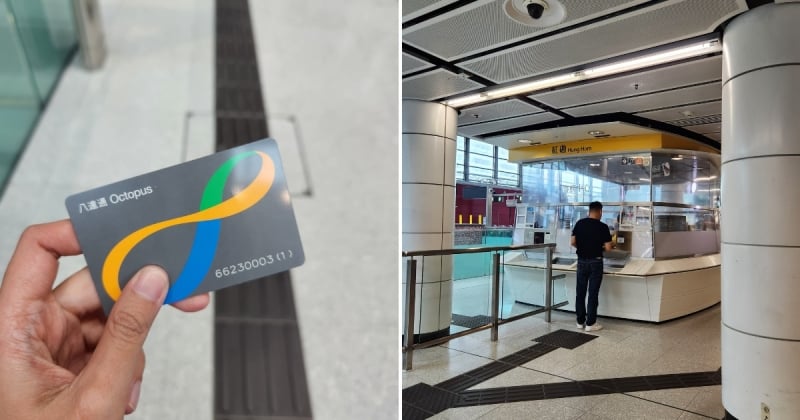 To make riding public transport in Hong Kong easier as a solo traveller, get an Octopus Card.  It allows you to pay for all major public transport services cash-free! You can even pay for dining and shopping in Hong Kong.  You can even use it to pay for the Star Ferry that takes you from Hong Kong Island to the Kowloon Peninsula or to the Outlying Islands! 
I recommend purchasing your Octopus Card at the airport or at an MTR station as these come with an initial stored value. Note that you will need to pay a HKD50 deposit, which is refundable at the end of your trip when you return the card at the airport. You can also get these cards at 7-Eleven or Circle K outlets in the city, but you will need to top up these yourself.  
5. Ask the locals for help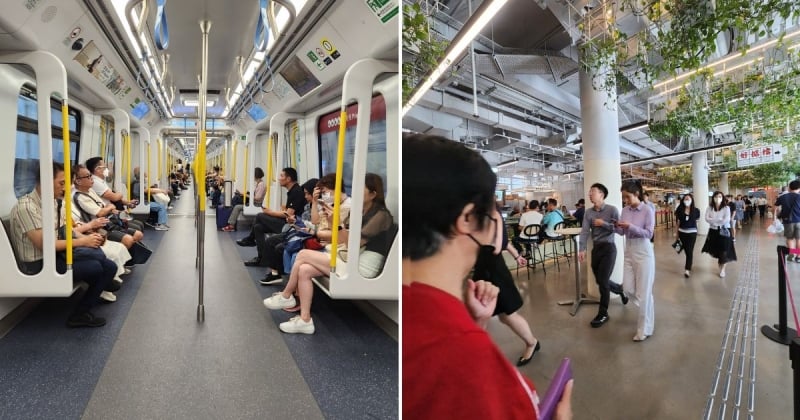 If you ever need help in Hong Kong, fret not; the locals in Hong Kong are quite well-versed in English. You can ask them for directions, prices, and other general information; they will be ready to help. Another good alternative is using the "Hong Kong Travel Buddy" live chat to navigate the city better. This online service is available on the Hong Kong Tourism Board official website. 
Just say hi to their Travel Buddy via the LINE app, and you're good to go! Expect prompt replies from the virtual tour guide, who will suggest the best places to visit and the nearest and fastest routes for you to take. Psst, don't forget to ask them for recommendations on the city's best eateries every chance you get! For solo travellers, it's like the perfect pocket travel companion! 
6.  Plan your trip to coincide with Hong Kong's annual events
The best way to get the most out of your trip to the Fragrant Harbour is to time your visit to coincide with some of the city's vibrant events, where you are sure to meet many new people and make a lot of new friends. FYI, there are a lot of annual events in Hong Kong you can look forward to, depending on the month of your visit.
Take a sampan tour in Aberdeen during late May or early June, and you can witness the annual dragon boat races. In September, you can join any Causeway Bay walking tour that covers Victoria Park as one of its stops. You'll be enchanted by the magical sights of the colourful lanterns aglow during the yearly Mid-Autumn Festival. Going to Hong Kong in October? Make your way to Disneyland or Ocean Park and see the lively wonderlands turn into Halloween havens like you've never seen them before.
Suppose you're going to Hong Kong in some other months; fret not, because the city has at least one annual event in every month of the calendar that will surely excite you! 
7. Join exciting walking tours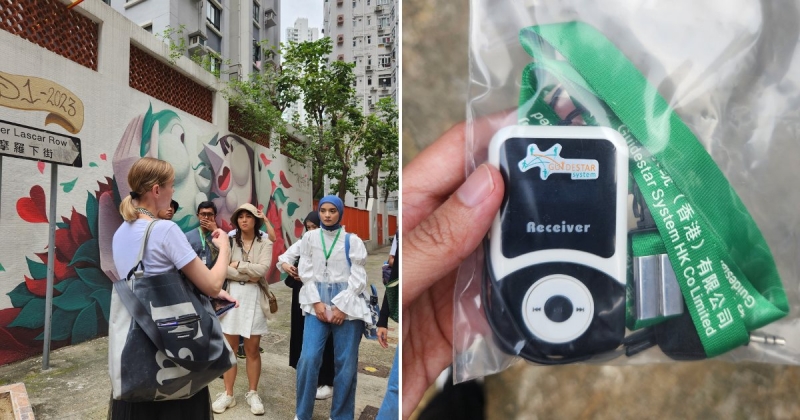 As a solo traveller one of the best Hong Kong travel tips is to join walking tours with other solo travellers. These walking tours are a great way to explore the city and connect with like-minded travellers. Plus, the guides are quite friendly and knowledgeable, offering plenty of tips and fun trivia along the way. 
I joined an art-filled walking tour when I was in Hong Kong and it was a colourful one! They guided us around the Central area to see some of the best street art in the city. Another walking tour you can join is the Hong Kong landmark tour that brings you to must-see hotspots in the city, especially for first-timers. Some of the landmarks you'll find in the itinerary are Man Mo Temple and Western Market. While some walking tours are free, some come with a charge. 
If you're interested in joining walking tours in Hong Kong, check out the available packages and dates here.
8. Explore the beauty of Hong Kong's Islands
As a solo traveller, the coolest thing to do during your free time is to explore the beautiful islands of Hong Kong. After all, solo travellers have the luxury of free time and planning their own itineraries, which makes it perfect for day trips to Hong Kong's lovely islands. 
One of my favourite locations is the  Tai O Fishing Village, tucked away in Lantau Island. To get here, ride the MTR to Tung Chung Station and board Bus No. 11 to the fishing village. It takes around an hour to get there but the scenery there is well worth it, especially the sunset vista over the bay. 
Another worthy island trip to take is to Cheung Chau Island. To get to this island, you can board the ferry from Central Pier Ferry No. 5. As soon as you arrive, you can rent a bike for as low as HKD50 per day at the main Tai Hing Tai Road or hop on a 360-degree island tour that lets you enjoy the island's scenic views via the waterways. 
If you visit during May, you can catch the annual Cheung Chau Bun Festival, known for its electrifying lion dances, 60-foot bamboo towers, and crazy bun snatching competitions! Alternatively, you can also hike along some of the popular hiking trails in Lamma Island to enjoy the lovely scenery. 
9. Go cafe and tea-hopping around the city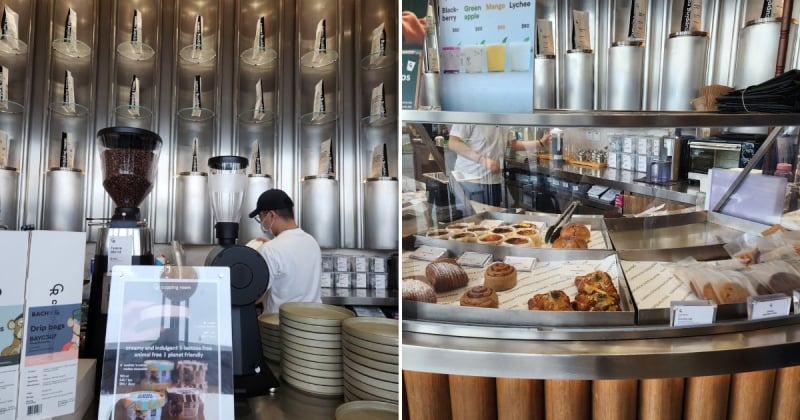 The thriving cafe scene in Hong Kong offers solo travellers the best opportunity to people-watch and enjoy their me-time in a comfy environment. You'll be spoilt for choice, from ambient vegetarian cafes to Instagrammable coffee shops! Some of them, such as the Cupping Room in Kowloon Bay, Pacific Coffee on Victoria Peak, and Solo Balcony in Tai-O, even offer splendid scenery to enjoy as you sip your cup of brew. 
Also, be sure to spare some time tea-hopping around the city. I recommend you go to MingCha Tea House on Lee Chung Street, which welcomes you with a unique tea-tasting experience. Here, you'll be able to chew and steep the dried tea leaves before you soak in the aroma and finally sip in the tea soup like it's the best drink you've ever tasted. Also, join their tea-pairing activities that call for a vivid experience. I mean, pairing Chinese tea with dark and white chocolate? Tea-rrific!
10. Sample Hong Kong's must-try cuisines the solo way
If you're a foodie on the hunt for the best gastronomic adventure in the city, there are plenty of ways to savour Hong Kong's must-try foods the solo way. During my stay in the city, I had authentic Chinese dim sum and meals at the Islamic Centre Canteen (Masjid Ammar). Instead of ordering a lot of dim sum, I ordered smaller portions of everything to not miss out on their signature dishes and crowd's favourite menu. And you should do that too! 
If you're trying to eat through Hong Kong without spending too much, fret not, as many of the local favourite eateries are solo dining-friendly, and easy on your wallet too. Look for dai pai dong (open-air food stalls) or cha chaan teng (HK-style diners) which offer delicious set meals comprising of authentic local eats.  
Another fun way to get the most out of your local food-hunting adventure as a solo traveller is to join a cooking class! And you can try the one held by Bake Your Own, where you'll learn how to make Hong Kong's famous egg tarts. 
Fun fact: Sharing a table (dap toi) is common practice at crowded eateries in Hong Kong. So if you find yourself without a seat, don't be surprised if you're directed to share a table with a stranger. 
11. Visit Hong Kong's street markets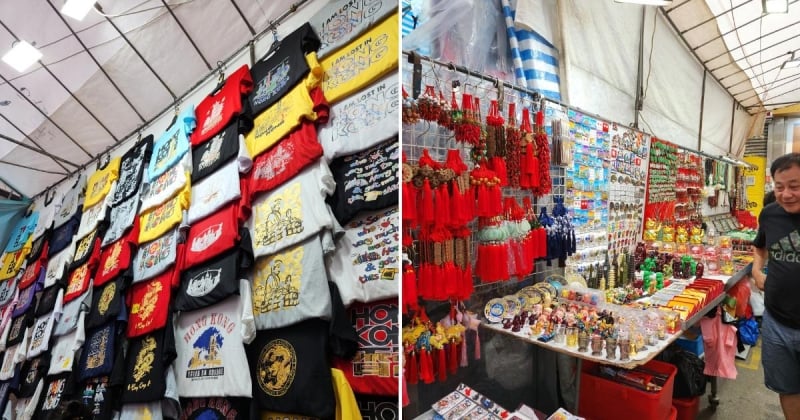 For solo travellers in Hong Kong, I highly recommend visiting Ladies' Market in Mong Kok. Not only is it easily accessible by the MTR, but it's also near plenty of popular eateries! 
Shopping at the Ladies' Market was one of my most interesting experiences in Hong Kong due to its haggling culture. I'm not much of a haggler, but seeing everybody bargaining for their desired items along the street market triggered me to try it out just for fun. The trick: Always go for about half the first price offered. If you can't get them to lower the cost, pretend like you're going to another stall; 99% of the time, they will call you back; take my word for it!
Another tip is to not buy a desired item from the first stall you encounter. You'll notice some shops sell similar items at much lower prices than others. Stalls at the entrance usually sell their items at higher rates, while those in the middle offer lower prices.
Apart from this location, other street markets solo travellers should check out are Temple Street Night Market, Stanley Market, Li Yuen Street East and West (Fashion), Jardine's Crescent Street Market, and Fa Yuen "Sneaker" Street.
12. Visit some of the free, iconic locations of Hong Kong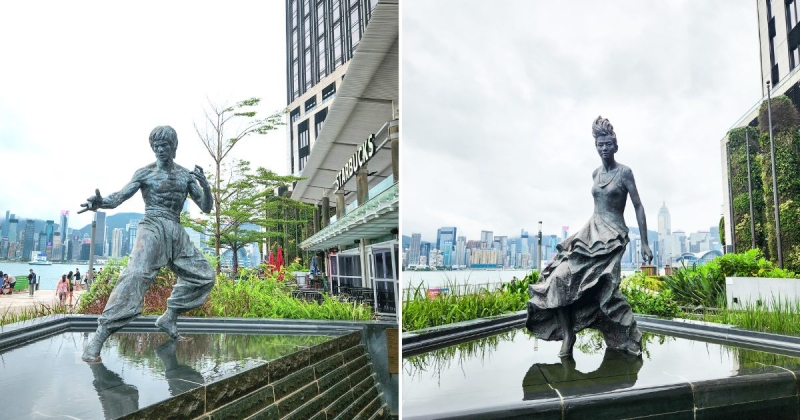 What better way to elevate your solo travelling game than to explore some of  Hong Kong's free attractions? These free attractions are a budget-friendly way for solo travellers to experience Hong Kong without spending extra pennies.
And you can easily seize this opportunity by visiting Avenue of Stars promenade, a famous landmark that pays tribute to Hong Kong's biggest entertainment figures. Be sure to take a lot of pics of you with the bronze statues of Stephen Chow and Anita Mui while you're there! Other breathtaking promenades you should check out are the Waterfront Promenade & Wan Chai Pier Playground and East Coast Park Precinct Promenade.
Apart from that, you can bring yourself to Kowloon Walled City Park, a fantastic place to catch a break from the hectic city. The historical site boasts ornate traditional Chinese architecture, scenic ponds and gardens, and storied ancient relics that stand the test of time. Remember to spend some time at the Yamen, the only building that remains of the Walled City.
13. Experience the vibrant nightlife as a solo traveller
If you're a night owl trying to make the most of your trip in Hong Kong, rest assured that the city doesn't sleep before you do. You can go to Lan Kwai Fong if you're up for some partying as the area has over 90 bars operating at night. 
If you're looking for solo traveller-friendly bars, some of the recommended ones are The Old Man in Soho and Blue Supreme in Sheung Wan. For female solo travellers, you can opt for bars such as Scarlett Cafe & Wine Bar in Tsim Sha Tsui or Oolaa Restaurant and bar in Central. Both offer free-flow drinks and fizz to ladies on Thursday and Wednesday respectively. 
Alternatively, for a more relaxing way to experience Hong Kong at night, check out some of the city's iconic night scenery, such as the Hong Kong Observatory Wheel bathed in neon pink, or hop on the Big Bus Night Tour that will take you around Kowloon. You could also head to Victoria Harbour for the nightly Symphony of Lights show if you've never seen it before. 
14. Discover hidden gem for solo travellers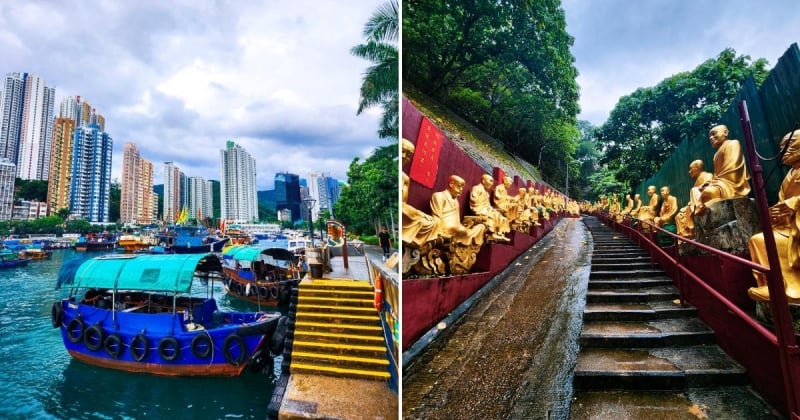 If you think Hong Kong is all about city life and glitzy malls, think again. Truly, there is more than just meets the eyes, especially when it comes to their well-preserved cultural scene. One of the most memorable cultural experiences I had was when I visited the Aberdeen Fishing Village. 
I recommend you take a sampan tour with Seayou.hk for the best experience. I secured a one-hour tour worth HKD 186.64 (~MYR 109.20). One of the stops was a houseboat museum that displays various artefacts and photographs that depict the lives of Aberdeen's fishing community. Psst, they will serve you a bowl of traditional boat noodles at the museum too! 
Another interesting cultural adventure I had was hiking at the Ten Thousand Buddha Monastery. Nestled in the foothills of Hong Kong's countryside, the monastery features over 400 steps dotted with gilded Buddha statues with various poses and expressions. At the top, the main hall that houses more than 12,000 golden Buddha statues awaits! 
15. Take photos as a solo traveller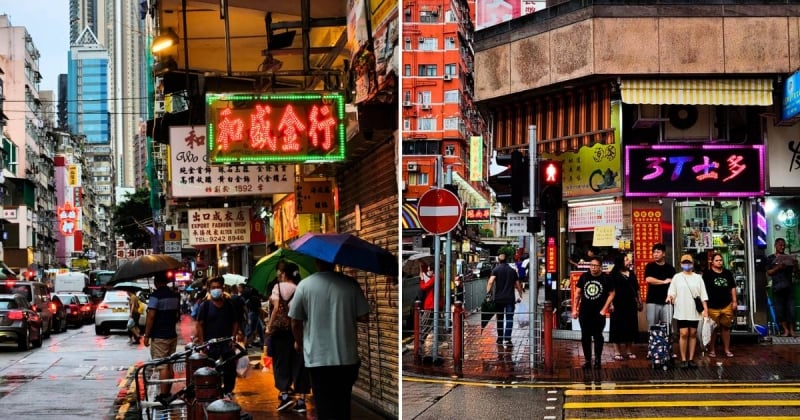 One look at the bustling city and its skyscrapers, and any avid photographer would agree that Hong Kong is a haven for street photography. One of the many faces of Hong Kong that captivates photographers is its busy neon-lit streets, such as those in Yau Ma Tei or Sham Shui Po. The collision between the old and the new is just astounding.
If you're sick of selfies, you can purchase a selfie stick at one of the aforementioned night markets, or an affordable tripod at Sham Shui Po, which is known for selling wallet-friendly electronics. However, do take note that tripods and selfie sticks may not be allowed in certain locations, like in places of worship or crowded spaces. 
16. Redeem your Hong Kong goodies voucher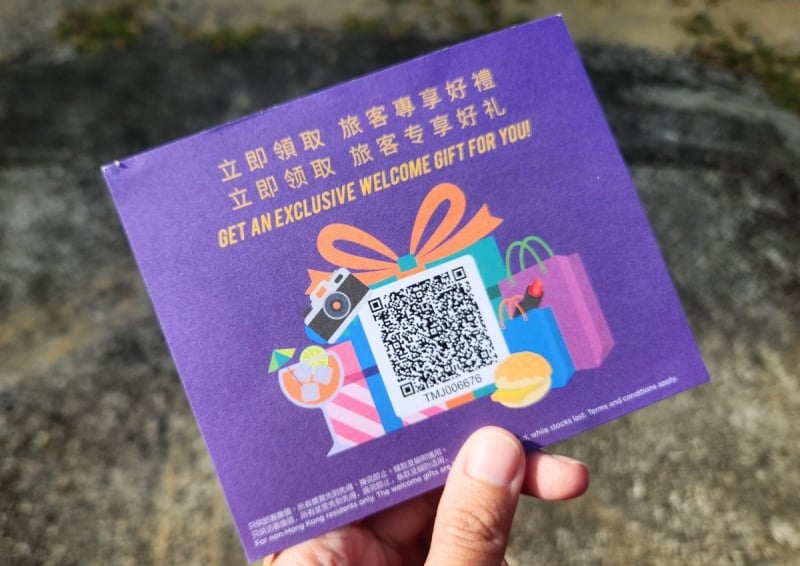 Good news! Hong Kong Tourism Board is giving away goodies vouchers as welcome gifts to non-Hong Kong residents who visit the city for 90 days or less. You can get this voucher from any of these Hong Kong Tourism Board Visitor Centres/Redemption Centre: Hong Kong International Airport Visitor Centre, Kowloon Redemption Centre, or Hong Kong West Kowloon Station Visitor Centre. Afterwards, redeem your voucher at any designated merchants around the city, and you're up for the best surprises on your trip!
Also read: 10 Movies Set in Hong Kong and Their Filming Locations
And that's pretty much it. Hope you learned a thing or two from this Hong Kong solo travel guide for your next trip to the metropolis. All that's left to do now is to book your flights and experience the wonder of Hong Kong yourself! 
---
Brought to you by Hong Kong Tourism Board