Hailed as the birthplace of ramen, one mention of Sapporo and you'll see mouths water in connection to the Japanese gastronomic delight. While some view Sapporo as merely a place of transit to Hokkaido's mountains and other majestic scenery, Japan's fifth-largest city is in fact rich in offerings – flavourful cuisines, sprawling shopping districts, bustling nightlife and  arts scene, and even a healthy dose of greenery.
Don't forget other festivities that Sapporo is well-known for such as the Sapporo Snow Festival or the Hokkaido Shrine Festival, or you might miss out on unparalleled ways to submerge yourselves in the season.
Got some time to spare in Sapporo? While we've previously covered top Sapporo attractions here, this guide offers a treasure trove of Sapporo's lesser-known wonders. Read on and take your pick, there's something for everyone in this alluring city.
1. Get some fresh air at Odori Park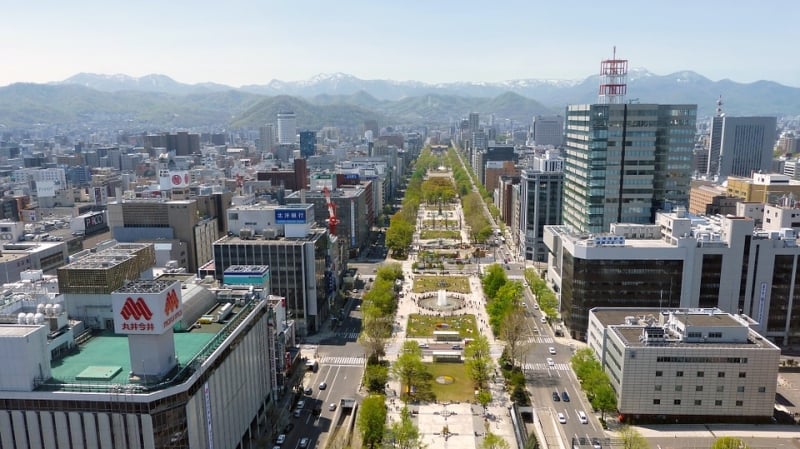 In the middle of Sapporo sits a park-street hybrid that stretches over twelve city blocks and offers a green respite for citizens and tourists alike. The Odori Park was originally constructed in the 1870s to serve as a firebreak that separated the northern downtown and administrative districts from the southern commercial and residential ones.
Today, Odori Park boasts a paradise of 92 different types of trees, spacious lawn and picturesque fountains. Grab a cute picnic basket and a few friends to bask together in the warm glow of the Sapporo sun. If you're interested in getting a bird's eye view of the city, head up to the observation deck of the nearby Sapporo TV Tower in the evening, where the lights and the expansive horizon make for beautiful pictures.
Looking to get involved in Hokkaido's seasonal celebrations? Odori Park is also a renowned venue for major festivals in the city. Check out the dates to the Beer Garden and Summer Festival in the summer, or the White Illumination and Snow Festival during the colder months to see if you can be part of it all.
2. Revel in stunning aerial views
If you're a true blue romantic at heart, whisk your significant other away up to Mt. Moiwa's observation deck. Let the cool wind caress your faces as you embrace the impressive panoramic views of Sapporo city.
In a bid to seal your love, you can also purchase a lovelock and lock it onto the handrails. Mt. Moiwa has comparably thinner crowds and more impressive views, and you can even ring a 'Fortune Bell' together to ask for blessings for your relationship.
3. Bask in the nostalgia of Otaru Canal
If a picnic's not quite your taste, consider perhaps a languid stroll alongside the Otaru Canal. Located just ten minutes away from Otaru Station, the canal was completed in 1923 as a waterway to facilitate maritime trade in the port city of Otaru.

The canal has since long been remodelled into an idyllic promenade and roadside garden. The row of old buildings, untainted by the present, and the continued use of gas lamps during the evenings saturates Otaru Canal in a serene, romantic atmosphere.

The canal is especially beautiful during the winter, where the snow sits heavy on the landscape, reminiscent of other Western countries in Europe. If you want to immerse yourself in the experience, the 'Otaru Canal Cruise' or a rickshaw route can take you on a convenient and informative tour around the area.
4. Catch a glimpse of an active volcano at Lake Toya
If you've got a car and a soft spot for the wonders of Mother Nature, make the drive down to Lake Toya, a volcanic caldera lake located in the Shikotsu-Toya National Park. With thin fog hovering in the air, the landscape seems almost ethereal. One of the most active volcanoes, Mt. Usu, sits near the lake with white smoke slowly rising from its peak, and has eruption cycles of between 30 and 50 years.
For those wanting to stay a little longer, book a stay at one of the many hotels in the area (or even in the great outdoors, where there are fully facilitated camping sites available) and indulge in the Toyako Onsen. Or perhaps try your hand at smelt and trout fishing – both are fairly popular sports around the lake.  
5. Discover a slice of country life at Sapporo Satoland

City life can restrict your experiences with nature at times, but you can now (re)discover your green fingers right here at Sapporo Satoland. The amusement park offers a rich agricultural experience, where kids and adults alike can spend hours with the great outdoors.
If you don't want to rush through the experiences, dedicating a day-trip to Satoland may be in order. Roam around to feed the animals, attend a butter-making class, harvest vegetables (seasonal) and finish the trip with a hearty dollop of creamy ice-cream. The kids may be tired out from all the outdoor fun thanks to the obstacle courses, tricycle rentals and toy-train rides around the park. Do bring along enough water, snacks and sunscreen to keep everyone safe and happy!
6. Indulge in Japanese tradition at the Hokkaido Shrine
No trip to Japan is complete without paying homage to its plethora of historical temples and shrines. While in Hokkaido, visit the Hokkaido Shrine! The monument was built as a tribute to the Shinto deities in 1869 to offer both spiritual support to its pioneers in addition to acting as a space for the community to meet and interact with one another.
Delight in the sighting of red squirrels that frolic in abundance around the shrine, and if you're lucky enough to visit during the cherry blossom season, the sight of 1,400 sakura and 250 ume trees in full bloom is magnificent. Be sure to take home some plum wine (Jingu no Ume)  or cherry blossom tea (Jingu no Sakura) for your loved ones. The elegant curve of the sake-like wine vessel and delicate aesthetic of cherry blossoms in tea make for thoughtful souvenirs.
7. Witness more cherry blossoms at Hiraoka Park
More plum and cherry blooms for you? Whip out that spring outfit and arm yourself with a camera for a trip down to the Hiraoka Park. The annual Hiraoka Park Plum Festival is held around early May, when visitors can snag one of the benches around the plum groves or perhaps bring a picnic blanket to plop themselves on, while admiring the contrast of red and white flowers against the green landscape.
If you're a bird-watcher, you're also in luck – migratory birds often fly over during the season to eat the buds. At other times of the year, it is common for athletes to visit the park on a daily basis to put the tennis court, baseball field and golf course available to good use.
8. Watch the animals reign in their natural habitat at Sapporo Maruyama Zoo
Animal-lovers, this one's for you! A trip to the Sapporo Maruyama Zoo transports you into a land unlike any other. The zoo's philosophy is to blur the lines between nature and concrete in order to provide a natural habitat for the animals so that they feel truly at home.  
Make sure to visit the 'Forest of the Zoo', which sits on the edge of the zoo and the Maruyama Primeval Forest. This area aims to recreate Sapporo of 50 years ago when the environment was not actively subjected to the effects of industrialization. As the zoo is not very large and relatively easy to navigate, you don't have to worry about spending more than a few hours there all for affordable prices.
9. Catch penguins at play when touring the Otaru Aquarium
Still unable to satisfy your appetite for animals? Get up close with our friends of the sea at the Otaru Aquarium. As one of the oldest aquariums in Japan, the attraction has been very well-loved over the years and exhibits a whopping 250 different species, with around 5,000 animals in total!
We recommend catching the Penguin Hike to the Sea, where you can catch a 20-minute performance of Humboldt penguins waddling right past you to play in a pool just partitioned off the rest of the sea. There are also seal and sea lion shows among others. If you want to catch them all in action while viewing the rest of the extensive aquarium, you might want to check out the various show timings and plan ahead.
10. Hold a skiing competition at Sapporo Kokusai Ski Resort
As the chill starts coming in and the winter coats come out to play, we can't help but let our minds drift to sporting activities with all things white. When visiting Sapporo during the winter, you can't afford to skimp on ski resorts. A ski resort is both romantic and family-friendly, making the experience a must-have for any individual who wants to try out a winter sport.
Sapporo Kokusai Ski Resort is just one of the many available at Hokkaido during the holiday season, and offers exciting varied terrains for most levels of skiers. While you're there, be sure to have a taste of snowboarding and take a dip at the nearby Jozankei Hot Springs before you leave. The curious yet relaxing sensation of warm meeting frigid brings yet another memorable experience to check off your bucket list.
11. Loosen those knots at Hoheikyo Onsen
Speaking of hot springs, it's time to head over to an onsen for a quick recharge after a few long days of exploring Sapporo. Soothe your aching muscles while soaking in aesthetically-pleasing open-air bath. Fret not on accidentally hurting yourself on the jagged rocks present in this photo, the rough ones are strategically placed out of contact from the onsen users.
Bonus surprise for those with tattoos, the Hoheikyo Onsen is ink-friendly! You can indulge comfortably in this unique piece of Japanese bathing culture surrounded by the mountains.
12. Shop 'til you drop at Sapporo Chikagai and its neighbouring malls
At some point, nature starts to blend together and look the same. When you've had enough of the outdoors and are looking to get some shopping done, hop on the subway to Sapporo Chikagai and its neighbouring shopping streets.
Get ready to be spoilt for choices with popular shopping destinations like Aurora Town, Stellar Place, Esta Malls and the Tanukikoji Shopping street all within reach of one another.  
13. Feast your eyes at Sapporo 500m
Whether you're an art buff who's on the lookout for fresh contemporary ideas or just someone who likes to look at pretty things, the Sapporo Odori Underground Walkway Gallery is the place to go. Walk freely along the 500m stretch to admire the work of local (and sometimes foreign) artists while you're in the area.
In addition to serving as a great space to kill time while waiting for the rain to stop, the underground walkway is also a connection to other popular shopping malls in the district. The annual Sapporo International Art Festival and the Sapporo Art Stage takes place here as well, so make sure to take note of the dates for a kaleidoscope of artistic experiences that fill your ears, eyes and soul if you're planning on visiting when they go live.
14. Marvel at Japanese cultural theatre at Sapporo Children's Puppet Theatre Kogumaza
All that adventuring and shopping to catch a glimpse of Nature's wonders might not be your little one's idea of fun, but perhaps an old-school trip to Sapporo Children's Puppet Theatre 'Kogumaza' might cheer them up! Opened in 1976 in Nakajima Park, the theatre is Japan's first public theatre dedicated to supporting puppet shows and Sapporo children's culture.
Performances are available almost every weekend and every day during longer school holidays at affordable prices. If your kids need a little pick me up or you just have some time to spare before your next destination, check out their performances, which mostly run under 60 minutes for some authentic cultural entertainment.
15. Be part of the vibrant night scene at the Susukino district
Hankering for the city life again? As the street lamps begin to glow, the Susukino district starts coming to life as well. With over 4,000 bars and and restaurants to leave you spoilt for choice (we recommend checking out their ramen; after all, that's what Sapporo is famous for), indulge in great food and soak up the vibes of everyday humdrum.
After dinner, stop by a bar or two for a quick drink and mingle with the local bartenders, or meander the streets to check out the cinemas, myriad of shops, hotels, soaplands, and pachinko parlours. Take care not to take up the offer of touts that might be in the area and you'll generally be in good hands for the rest of the night!   
If you've not been to Sapporo or are thinking of it, wait no longer. The magic of the city is its effortless blend of nature and urbanisation. This breath of fresh air from our typical concrete jungles is also one well-stocked with creature comforts.
Whether you're here to experience the much-acclaimed Sapporo winter festivities, take in the cherry blossom season or just looking to while away some time in the city, there's something for every individual and every budget.