Phra Nakhon Si Ayutthaya, or simply Ayutthaya, is the former capital of Thailand (then known as the Kingdom of Siam). During its time, from 1350 to 1767, the city was prosperous for its culture and as a main international trading post connected through the Chao Phraya River. With a heavy influence of Buddhism in the culture of Ayutthaya, former kings commissioned and built numerous beautiful, gigantic temples and monasteries, making it a rich historical space recognized as a UNESCO World Heritage Site. Listed sites include Wat Ratchaburana, Wat Mahathat, Wat Phra Sri Sanphet, Wat Phra Ram, and Viharn Phra Mongkhon Bophit.
Therefore, it is no surprise why countless guides recommend sight-seeing to all the spectacular ruins. But if it's not your first time in Ayutthaya or the ruins are not your thing, here are some other hidden gems in Ayutthaya you can also enjoy.
Getting there
Ayutthaya is located around 80km north of Bangkok, approximately 1 to 1.5 hours drive from the capital. You can take a train from Hua Lamphong station or public vans from Bangkok Bus Terminal (Chatuchak). Alternatively, you can take one of the cruise tours from Bangkok.
When in the city, you can hire a tuk-tuk (or rod-tuk as locals in Ayutthaya call it) to go around.
SEE
Wat Chaiwatthanaram
Wat Chaiwatthanaram is one of the biggest and most famous temples and hidden gems in Ayutthaya. In the 48sq.km. area, the main prang (Khmer-style shrine with a tall tower-like spire, usually richly carved and receding in size as it ascends) sits in the centre, surrounded by four smaller prangs – symbolising mountain Meru and the four continents from the Buddhist cosmology. On the east side of the main platform lies the main ordination hall, facing the river.
The temple has gained immense popularity (to both locals and foreigners) after airing of the historical Thai drama series 'Love Destiny' (Bupphessanniwat) with the set based on the olden days in Ayutthaya. For interested viewers, you can watch 'Love Destiny' at MeWatch.
Opposite the temple's main entrance, you'll see several shops offering traditional Thai costume rental and makeover service. Fees start from THB100.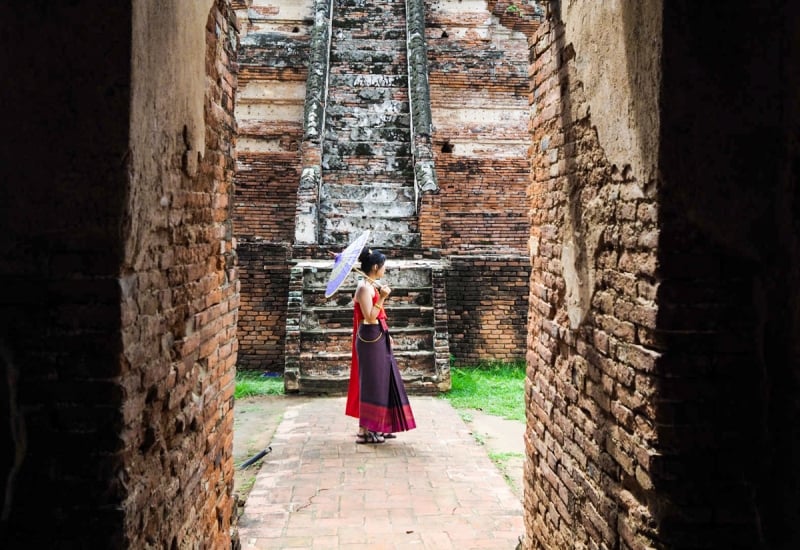 Pro Tip: For the fee, you can wear the costume for hours, only having to return it by 4pm. Keep this in mind while planning your photo-taking schedule in Ayutthaya.
Open daily 8:30am-4:30pm
Entrance fee: THB30
Wat Phu Khao Thong
Seated in the middle of an empty field, the all-white 90-meter tall Chedi Phu Khao Thong is a stunning landmark you can spot from afar. This hidden gem of Ayutthaya was first built in the Mon style at Wat Phu Khao Thong by King Bayinnaung of Myanmar who took over Ayutthaya in 1569. Two centuries later when Siamese King Boromakot wanted to restore the ruined chedi, he did it in traditional Thai design atop the same base of the ruin, resulting in a unique hybrid between the two styles.
Pro Tip: Plan your outfit to get a striking contrast with the white temple. Arrive early for a clean background for your picture before the crowd arrives.
Open daily 8:30am-5pm
Wat Niwet Thammaprawat
Despite not being one of the Ayutthaya-era's ruins, Wat Niwet Thammaprawat is another must-visit because of its uniqueness. First, it's a Buddhist temple housed in a Gothic Revival-style building–like a Catholic church. Designed by an Italian architect during King Rama V's reign, the temple is a reflection of the country's exchange of culture with Western countries back in the day.
As the temple is located on an islet, visitors can take a one-of-a-kind Thai pavilion-shaped cable car from Bang Pa-In Palace.
Open Mon-Fri 8am-5pm, Sat-Sun 9am-6pm
Founded by Krirk Yoonpan, an award-winning illustrator and professor in children's literature, Million Toy Museum feels like a place with an exaggerated name until you enter and see for yourself.
As soon as you walk into the museum, you'll be greeted by thousands of figurines exhibited throughout the level, ranging from nail-sized to human-sized, from Japanese to US origins. Mickey Mouse, Toy Story, Pokemon, Hello Kitty, SpongeBob, Snoopy, Winnie the Pooh, Sesame Street, Mario, Captain America, Doraemon, Miffy–just to drop some names!
Besides plastic figures, there are also tin toys, model cars, miniature liquors, illustrations and murals by the owner himself and so much more. Take your kids there and they can spend the whole day looking at each and every display. Adults can also find bits and pieces of their childhood scattered throughout the mesmerizing 2-storey house.
Open Tuesday-Sunday 9am-4pm
Entrance fee: Adults THB50, Children THB20
EAT
Located in a shophouse right in the heart of Ayutthaya, this four-storey cafe offers a great view overlooking the famous Wat Mahathat. It may take quite a climb to the top floor for the best view but it'll be worth it, especially when topped with some yummy baked goods and drinks.
Their menu is a combination of cool creativity and good execution, featuring yummy treats that are also great for photos. The dessert list includes toast with different toppings, scones, ice cream on a stick and chiffon cake with interesting flavour combinations. For drinks, try the Busaba latte, a cafe latte topped with Ayutthaya's famous candy floss.
They also have a restaurant, called Busaba Cafe & Meal, located not far from the cafe. (Open Mon-Fri 9am-8pm, Sat-Sun 9am-9pm; Map)
Open daily 9am-6pm
If a shop only sells one dish and can survive for generations, you know that they are doing something right. But if they are still selling out before 1pm on most days, then it absolutely cannot be missed. Moo Satay Hear Kae is THE shop falling into this category in Ayutthaya.
Like other old-school street food establishments, an iconic pushcart stands in front of the shop. Next to it is the ever-broiling charcoal grill, topped with fragrant turmeric-heavy pork skewers, perfectly charred on its ends. They also serve up skewers of pork liver and intestine, which often sell out before the meat.
Open daily 8am-3pm (sells out before 1pm on most days)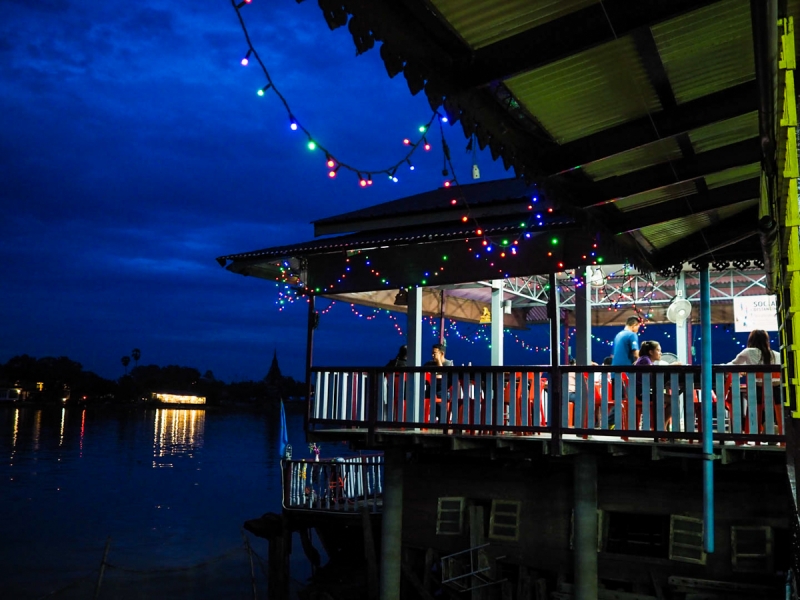 As a city with a river running through its centre, river produce has become a mainstay in Ayutthaya's traditional local cuisine, with the obvious star none other than River Prawns charcoal-grilled to succulent perfection, complete with its rich creamy head fat and the kick from spicy Thai seafood sauce. A trip to Ayutthaya wouldn't be complete without a Grilled River Prawn feast.
Rim Nam Bangsai is a perfect spot for this, and since you're in Ayutthaya, we recommend ordering dishes like Tom Yum (spicy soup) or Choo Chee (dry curry) where you can swap the usual sea bass for some fresh seasonal river fish.
Pro Tip: Since the restaurant is quite far from the historical parks and is nearer to Bangkok, plan to start/end your trip here.
Open daily 9am-8pm
This hidden gem of Ayutthaya, Suriyan Chandra is a century-old mill/warehouse-turned-restaurant. Lunch/dinner at Suriyan Chandra starts from THB2,500 for 2-4 persons. A meal includes delicate royal Thai cuisine and rare dishes like Chor Muang (purple flower-shaped dumplings), Moo Sarong (minced pork wrapped in golden mee sua threads) and Hor Mok Bua Luang (steamed Thai curried fish custard served in lotus flower).
Alternatively, if you prefer something unique, opt for the full river tour package (THB13,900 charter for 2-6 persons) that takes around two hours, where they'll serve some Thai snacks and stop at a couple of places where you can alight and snap some pictures. The tour is followed by a wonderful feast. There are two rounds for the river tour: 9am and 2pm. There's also a one-day trip option (9am-10pm) available for charter at THB65,000 for 8 persons. Reservations are required.
Open daily 11am-10pm
Also read: Explore Hidden Gems of Old Town Bangkok Through the New MRT Stations
TAKE HOME
Roti Sai Mai
Apart from Grilled River Prawn, Ayutthaya is famous for Roti Sai Mai, a snack made of candy floss wrapped in crepe sheets. From our research, we found close to 100 shops/stalls in the city selling this popular treat. If you drive past Uthong Road, opposite Ayutthaya hospital, you'll see rows of shops selling it.
Roti Sai Mai is a symbol of the Islamic community in Ayutthaya. Bangpia Sangarun developed the technique to make pulled candy floss from caramel to pair it with Roti (hand-made crepe sheets). After it became popular, his siblings started to sell it too. And that's why you'll see several shops with 'Sangarun' in the name.
We visited the Abedeen Pranom Sangarun shop, where customers are allowed to observe the process of making Roti and Sai Mai (candy floss). This is highly recommended as it's almost impossible to find skilled craftsmen making Sai Mai from scratch right in front of you in other provinces. Please check each shop's opening hours before you go, as they may vary.
Open Saturday-Thursday 9am-6pm
Apart from the beautiful ruins in the historical park area, Ayutthaya also has many other things to do and see. We've introduced some hidden gems of Ayutthaya but we're sure this province wouldn't fail to surprise you with more. Ayutthaya awaits you to explore!
---
Brought to you in partnership with AroiMakMak.com and the Tourism Authority of Thailand (Singapore).
AroiMakMak.com is your one-stop platform for all things Thailand. We bring you the latest trends, best eats and most up-to-date travel tips from the Land of Smiles.