Hello Kitty fans, an exciting shinkansen route connecting Osaka and Fukuoka will soon debut on 30 June, with trains calling from Shin-Osaka station all the way to Hakata on a daily basis.
Highlights of this Hello Kitty-themed shinkansen include pink interiors adorned with images of Japan's top-favorite, as well as a generous adornment of its iconic bows and ribbons to tie the whole concept together. Say hello to this one-of-a-kind shinkansen with its usual jingle even replaced with a Hello Kitty theme song!
Walk down the carriages and flail in feline cuteness inside the train's Hello-Kitty themed photobooth car, aptly called the Kawaii! Room. The designs are based on the artist renditions released on the West Japan Railway website, and will also include seats with Hello Kitty windows, floors, armrests and headrests.
Another car named the Hello! Plaza features an exhibition area and a gift shop featuring regional specialities inclusive of souvenirs and food products. If you're looking to give your home that ultimate Hello Kitty makeover, don't miss a ride on this train to get your hands on exclusive merchandise and a rare opportunity to immerse yourself in all things Kitty!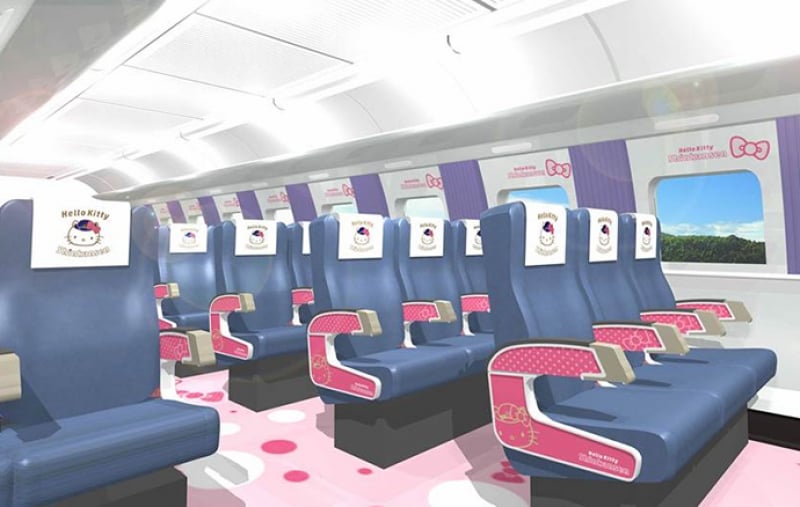 According to Japanese website SoraNews24, the Hello! Plaza car will promote various areas in Japan, beginning its showcase on the prefectures of Shimane and Tottori from June until September. Other regions to be featured include Yamaguchi, Okayama, Hiroshima, Osaka, Fukuoka and Hyogo.
Rail operator JR West has confirmed that the shinkansen will operate on most days from 30 June to 29 September, with dates from October onward to be released once confirmed.
The shinkansen was conceptualized in collaboration with Hello Kitty creator Sanrio, which is also in the midst of working together with a airline company and sightseeing bus operator for similar themed projects. Sanrio fans, rejoice — it might soon be possible for you to travel in full glory of your favorite characters!