Contributed by Eudaimoniacs
With only two weeks left to the end of 2016, we decided to squeeze in one more itinerary from our bucket list. Just like how the magnificent Taj Mahal is to India and the indestructible Great Wall is to China, Medan is famously known for the largest volcanic lake in the world, Lake Toba. It is a MUST in Eudaimoniacs's bucket list.
"Mejuah-juah"
That's how a local ethnic Batak Karo will greet you; wishing you an abundance of good health and prosperity.
Famous for one of the largest explosive reactions on earth, Lake Toba caused the entire human population to bottleneck into central Africa and India, the only regions not affected by the volcanic ash and drastic weather changes which eliminated all flora and fauna. Toba has now evolved into a peaceful touristic town with breathtaking scenes and lovely weather.
Lake Toba in a nutshell
Largest volcanic lake in the world
100 kilometres long
500 metre in depth
1,000 km² bigger than Singapore
Has an island in its centre called Samosir.
Formed around 77,000 years ago when a supervolcano erupted causing a massive climate-changing event
95% of the population in Samosir Island are Batak Christians
Four hours away from Medan city
Getting to Lake Toba
The easiest way would be to fly to Medan's Kualanamu International Airport and then travel by car to the town of Parapat. Parapat is located along the lake and will take four hours by car from Medan or 4–6 hours by public bus. There are actually lots of ways to get to Lake Toba, but we are just going to guide you with the obvious and most efficient method.
Traveller tip: If you're from Singapore, you're in luck! The flights from Batam to Medan is half price. Just take a ferry to Batam and then fly to Medan.
By private car – the fastest way but a bit more expensive
Medan Airport → Lake Toba or wherever you're staying at
Since we only had a small window of opportunity to explore Lake Toba, we decided not to waste any time; hence, we rented a car for the entire trip. We requested for car rental from our hotel (Taman Simalem Resort) and for the driver to pick us up at the airport and then directly to Lake Toba, with stops in between.
Rental of car from Medan city to Lake Toba: IDR 1 million – IDR 1.2 million (depending on your bargaining skills) for a 10-hour rental with driver, which includes petrol.
By bus – the budget way
Medan Airport → Amplas Terminal → Parapat → Samosir Island
From Medan's Kualanamu Airport, take a public bus to Amplas bus terminal. When you walk out of the airport ask any airport official for the bus to Amplas.
Ticket cost: IDR 15,000
Duration: 30 minutes
From Amplas terminal, get on a public bus that heads to Parapat. Once at Parapat, take a ferry to Samosir Island which is that small island in the middle of Lake Toba.
Ticket cost for bus to Parapat: IDR 40,000
Ticket cost for ferry to Samosir Island: IDR 15,000
By train – for people who have a lot of time in their hands
If you're backpacking, there's a train that connects the airport to Medan city. You won't miss it. It's located just outside the arrival terminal.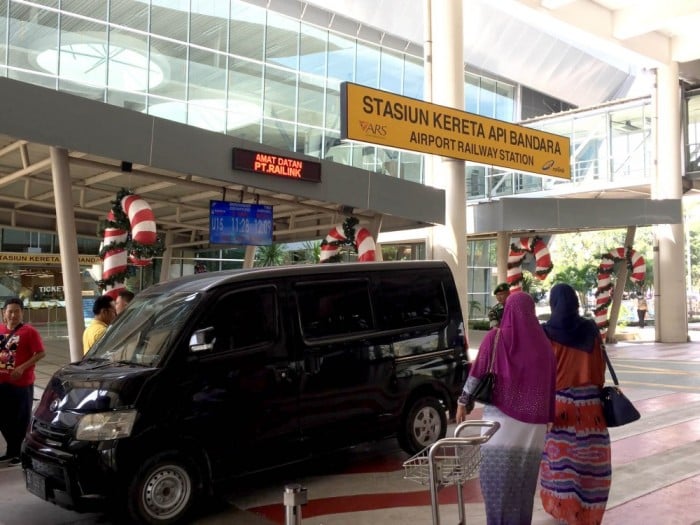 Step 1: Take the airport railway to Medan city.
Duration time: 30 minutes
Ticket price: IDR 100,000.
Step 2: Once at Medan city, get a taxi or becak, and tell them Lapangan Merdeka and Setasiun Kereta Api Medan.
Duration: 9 minutes
Step 3: From the station, take the train to Permatang Siantar (or Siantar) at 1.30pm.
Ticket price: IDR 40,000 per person
Duration: About four hours
Step 4: Take a becak or walk to the bus/taxi hub to travel to Parapat.
Here's a summary of our 3D2N itinerary of Medan and Lake Toba:
Day 1: Arrival and pick up from Kualanamu International Airport directly to Lake Toba. Check in at Taman Simalem Resort and explore Merek Hill.
Day 2: Explore Lake Toba vistas, jungle trekking and back to Medan.
Day 3: Explore Medan and return to Singapore.
Traveller tip: You need at least a week to explore the place fully.
Stops along the way to Lake Toba
1. The Raya Al-Mashun Mosque – the largest and one of the oldest mosques in Medan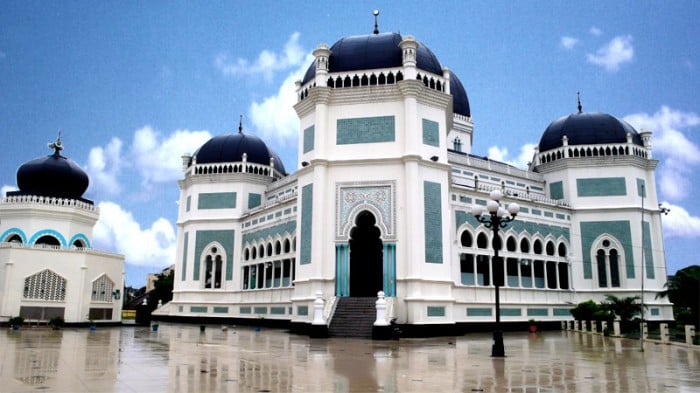 One of the oldest mosque in Medan which predates back to the Dutch Occupation
Here's a sneak peek of the mosque interiors during Friday prayers:
2. Cinde Lara's Nasi Ayam Penyet (Medan)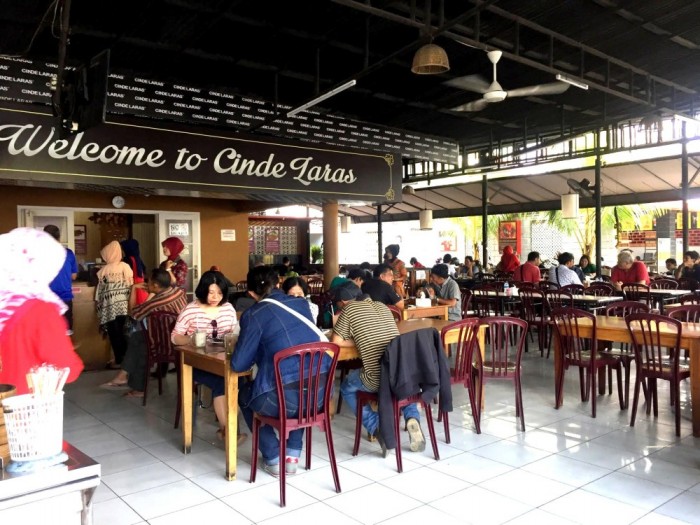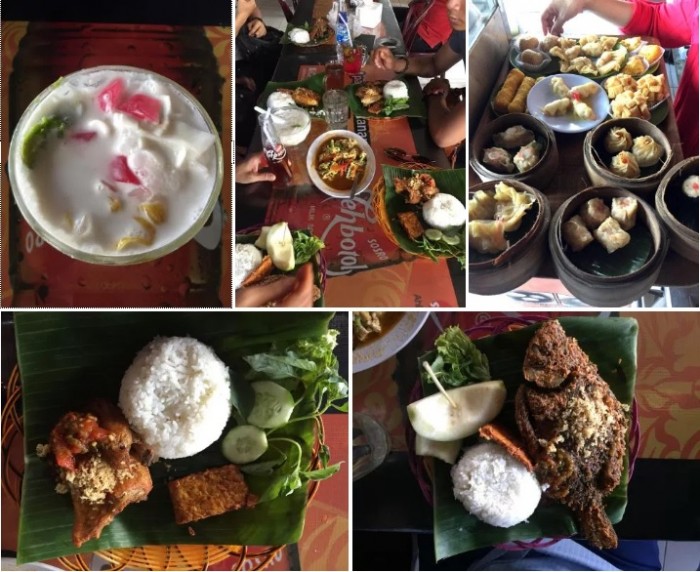 "Go where the locals go, eat where the locals eat." This is one of the mantras you should heed when you travel. Cinde Laras is a local secret. Though unlisted in TripAdvisor, it is well-known for its tasty Nasi Ayam Penyet, lunch cost us a cool S$17 for 5 pax meal. Brace yourself. Your taste buds will be spoilt by deliciously fried chicken coupled with fiery chilli and broth-marinated rice.
Address: Ayam Penyet Cinde Laras, Teladan Medan
Tel: 08153350774
Facebook Page: Cinde Laras
3. Durians Galore at Berastagi + Gundaling Hill for a viewpoint of the active volcano Mount Sinabung and the extinct Mount Sibayak
There will be loads of durian stalls along the way to Gundaling Hill in Berastagi. It's not as sweet at the ones we tried in Thailand and Malaysia but the taste is light on the senses. Give it a try! Somehow, it's common here in Medan that the stall owner will keep on stuffing you with durians after durians. Kind of like a durian buffet. But an old school one by the side of the road. Cheaper too.
Traveller tip: We found out the durians in Berastagi and other local villages around here are collected and distributed to Medan city. Which means, it will cost you a lot lesser to buy the durians in Berastagi.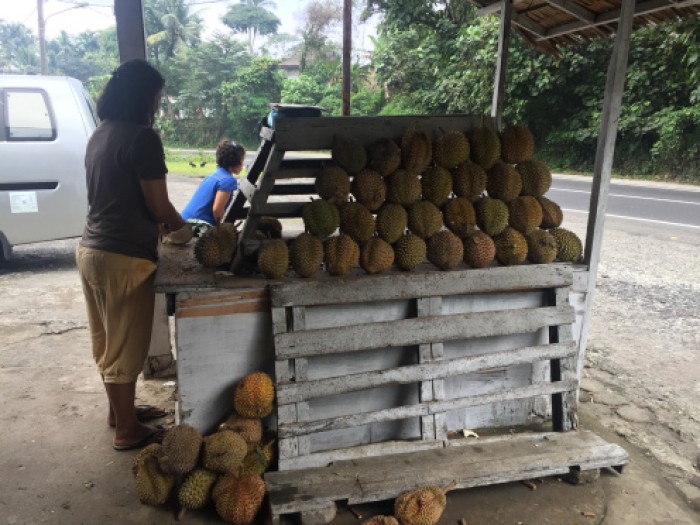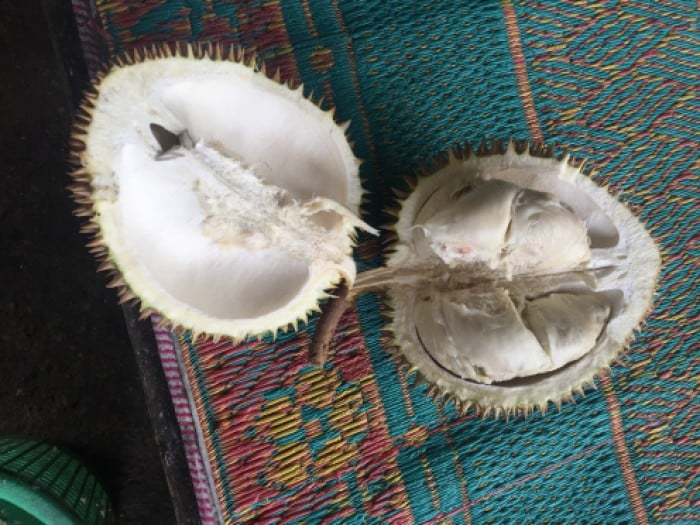 If you like some peace and a nice view, Gundaling Hill is the best lookout point to see the sunset in between the two volcanoes, Mount Sinabung and Mount Sibayak. If you're lucky, you'll get to see eruptions over at Mount Sinabung. Unfortunately for us, it was a cloudy day but we were blessed with an amazing landscape of the sun setting over Berastagi.
There's not a lot of people at Gundaling Hill which what makes it a perfect vantage point to see Mount Sinabung and Mount Sibayak.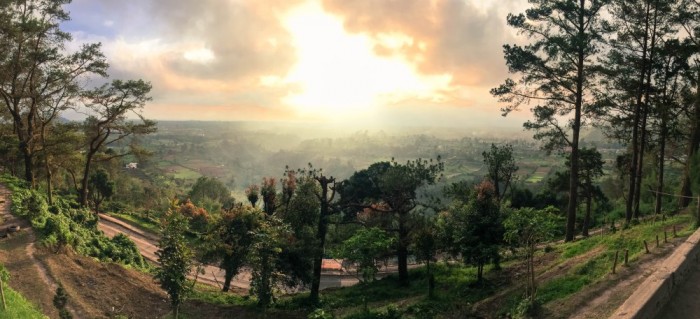 Gundaling Hill Viewpoint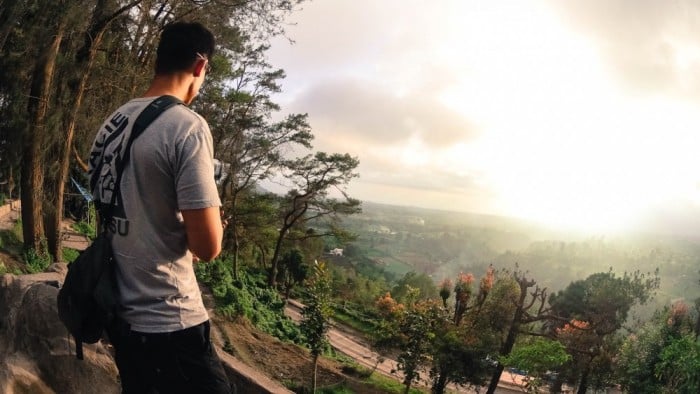 Karo Regency, North Sumatra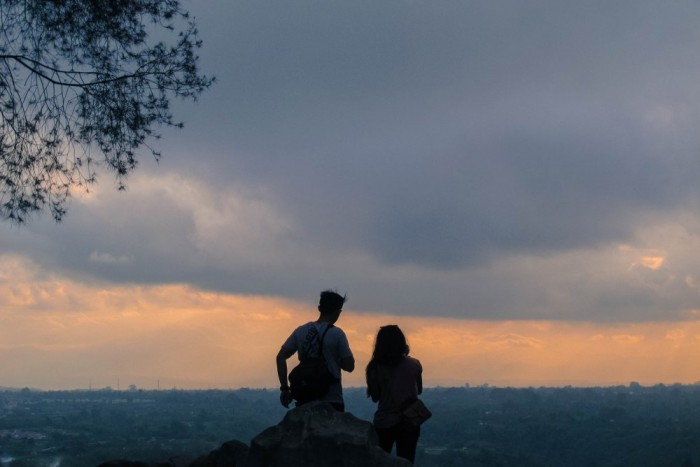 4. Sipiso-piso waterfall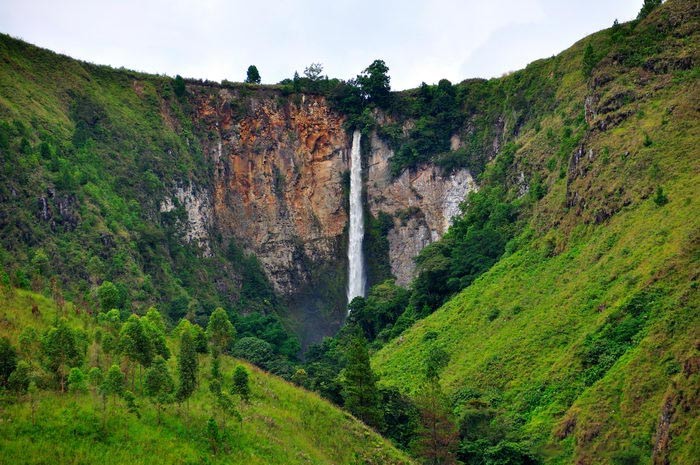 Known as the highest plunge waterfall in Indonesia, Sipiso-piso stands tall at 120 metre. The waterfall is actually formed from a river that curls into a cave at the side of the Lake Toba caldera. If you've got time in your hands, do trek down to the waterfall and have a go in its cooling water. Better yet, try drinking the water from the falls. So refreshing!
The Taman Simalem Resort Hospitality
A four-hour car ride from Medan International Airport brought us to Taman Simalem Resort, a humungous area with plenty of activities to participate in, other than admiring the lake from one of the best vantage points in Lake Toba.
Day 1
If there is one perfect word to describe this resort, it would be 'holistic'. There are loads of Batak-themed resorts, guesthouses, and hotels along Parapat which is the town by Lake Toba. Yes, it will be a nice experience to swim in the world's largest volcanic lake. However, we were there to be mesmerised by the gigantic size of Lake Toba. In order to do that, we want a bird's eye view of the WHOLE caldera. Plus, knowing me, I love to take timelapse videos of spectacular sunrises/sunsets around the world. The only place I can do that from the comfort of my own room while I gawk at the beauty of Lake Toba is at Taman Simalem Resort.
At 1,200 metres above sea level, the 206-hectare Taman Simalem Resort has the bird's eye view of the entire caldera. A few minutes further up from the resort lies the One Tree Hill. The view from Taman Simalem Resort is already magnificent. The view from the One Tree Hill, however, will take your breathe away. You will get to see the perfect landscape consisting of the mountains surrounding the lake. Being from Singapore, I don't get the luxury of witnessing such breath-taking views.
I couldn't ask for more from the guest relations at the resort. They were exceptional. From the countless emails to help us with the booking of rooms, rental of vehicle, tours, checking in, to the day we checked out. Everything was flawless. As for the room, well, see it for yourself…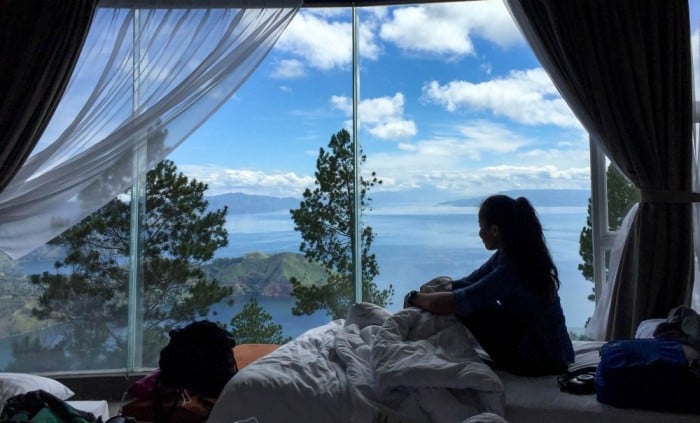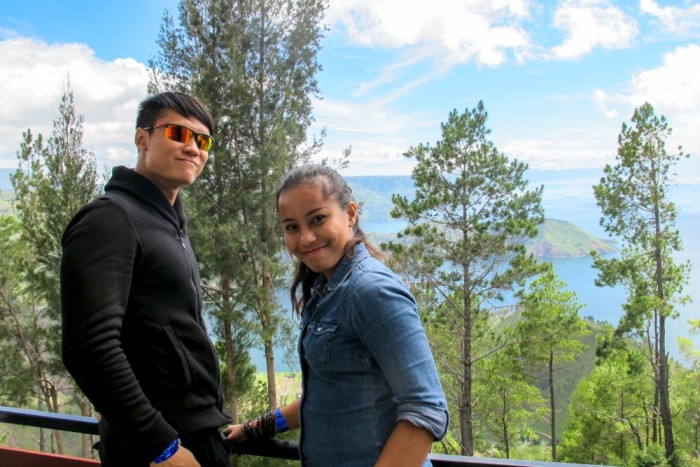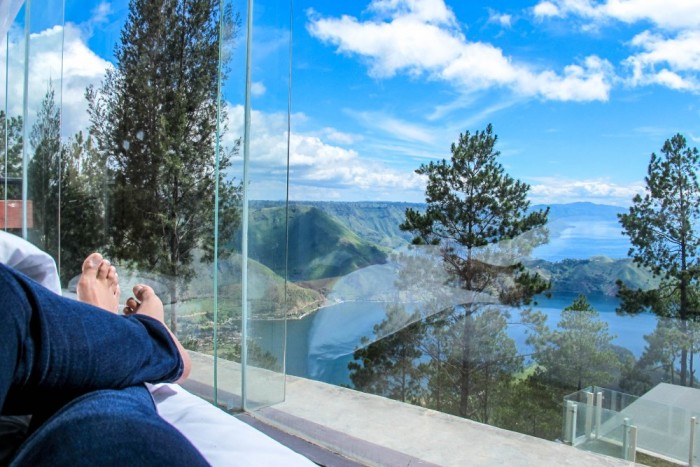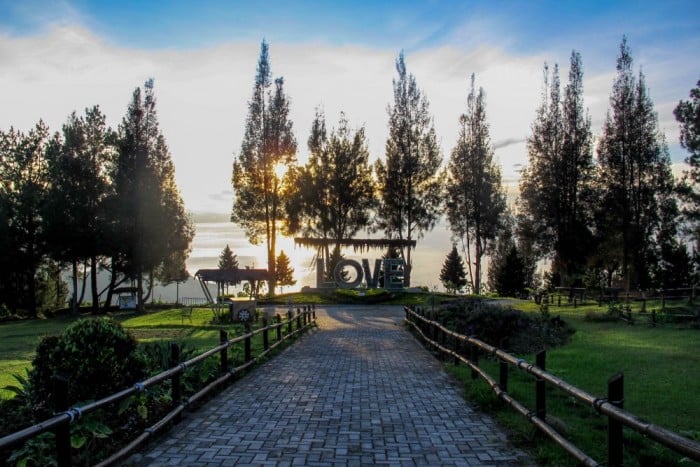 At that was just Day One! Phew! *drinks water*
Day 2
The second day started as early as 5am to scout for the ideal spot for a sunrise time-lapse at Taman Simalem Resort Ampitheatre. As the sea of pre-dawn clouds cleared and sunlight slowly crept in, we were in awe at the gigantic size of the lake which is supposedly bigger than our homeland, Singapore. This doesn't look like a lake. It's an OCEAN!
Illusioned by the first rays of light, the lake looked like clouds and it reminded us when we were trekking in Nepal where we were living above the clouds rather than underneath it.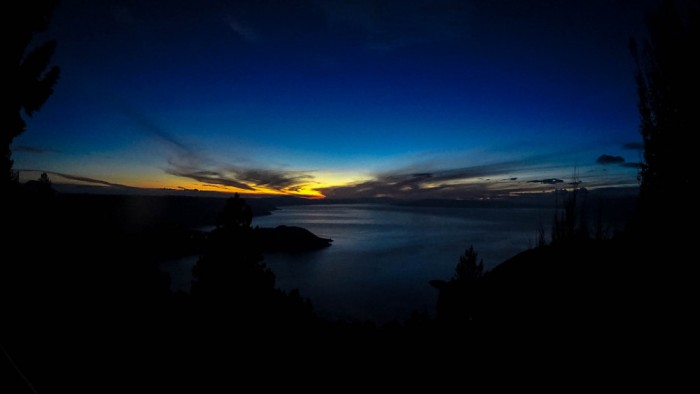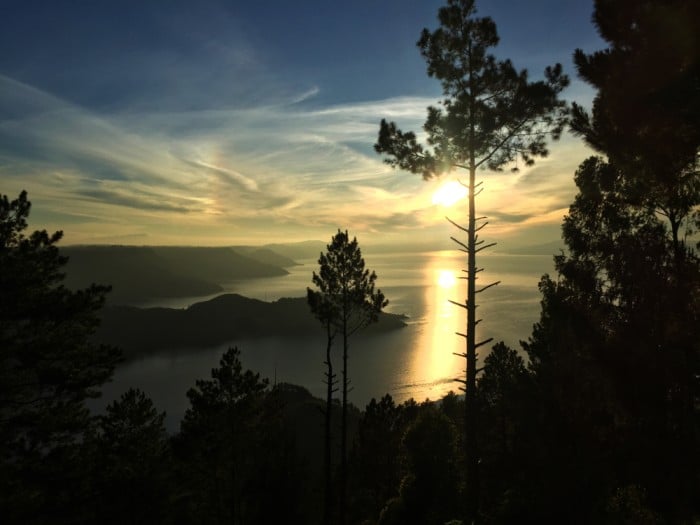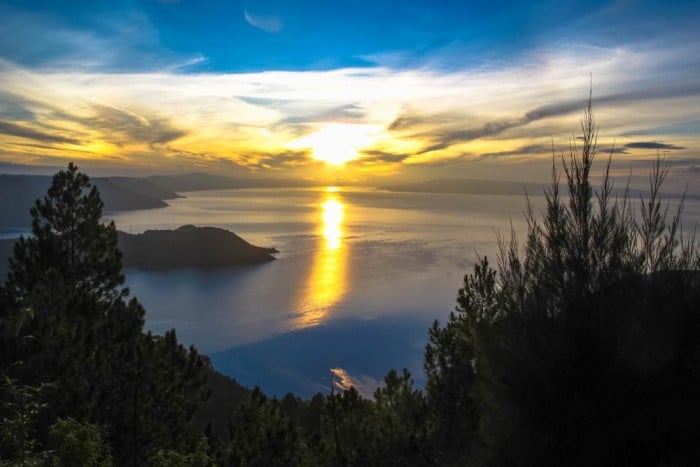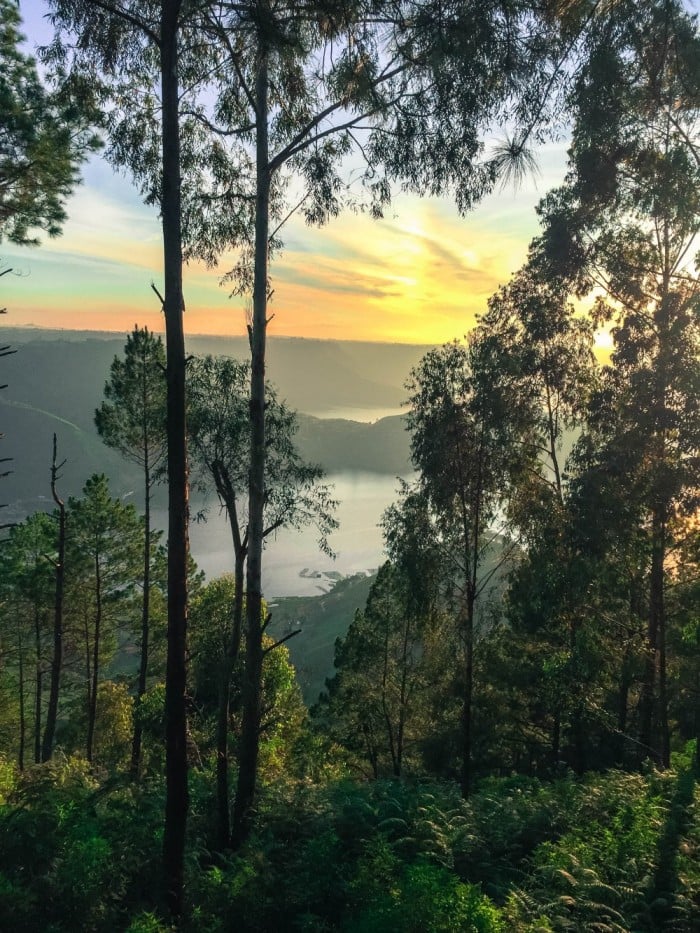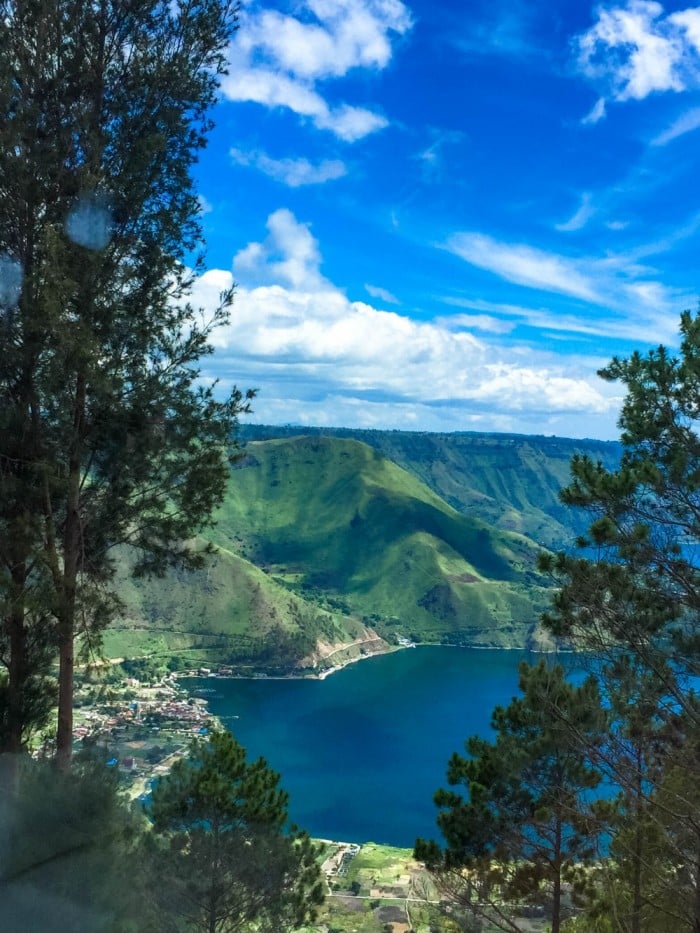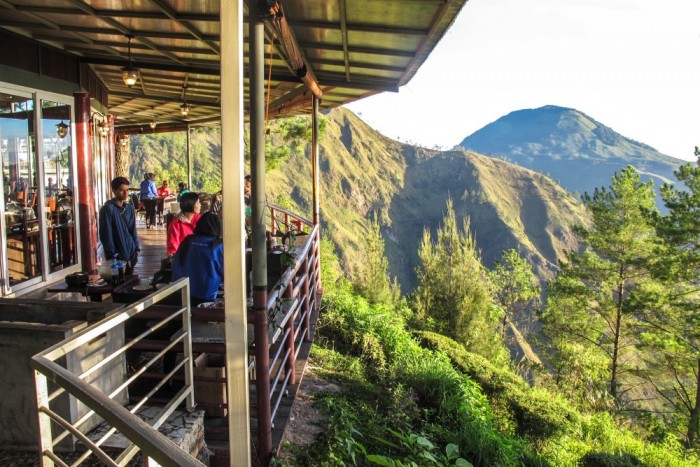 Breakfast with a view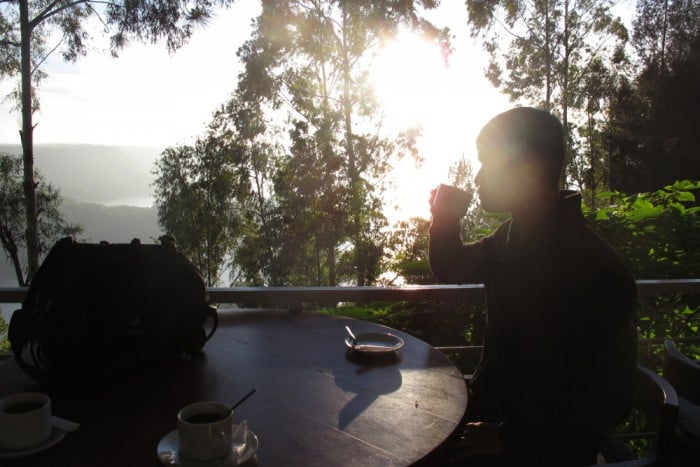 Remember the volcano, Mount Sinabung, that we didn't get to see on the first day? Well, we got a clear view of it from our breakfast area.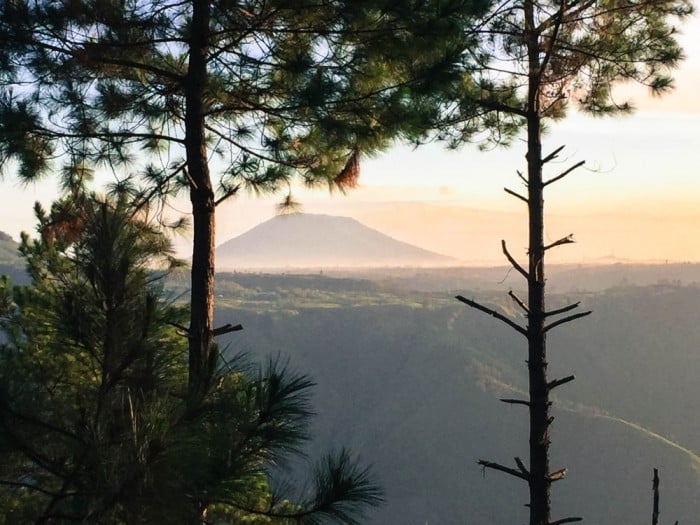 We headed for breakfast afterwards before getting a free buggy ride to a drop-off point to start our 1.5 hour jungle trek. The jungle trek is one of the complimentary activities at Taman Simalem Resort.
The pace was slow but fun with the guide showing us how the locals use certain leaves for different purposes. The Liana branches overhanging from the trees were strong and well-developed such that we took turns swinging around like Tarzan.
The end of the trek led us to a twin waterfall where we drank mineral purified water shooting out from rocks. We trekked back to our hotel rooms and got a quick break before starting our return journey back to Medan City.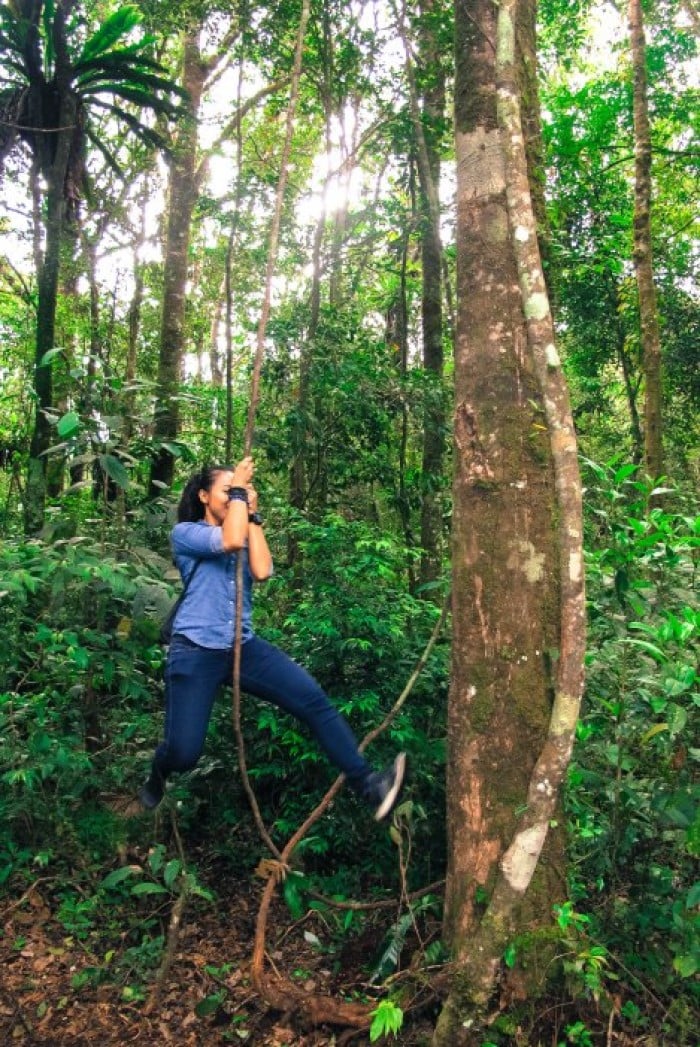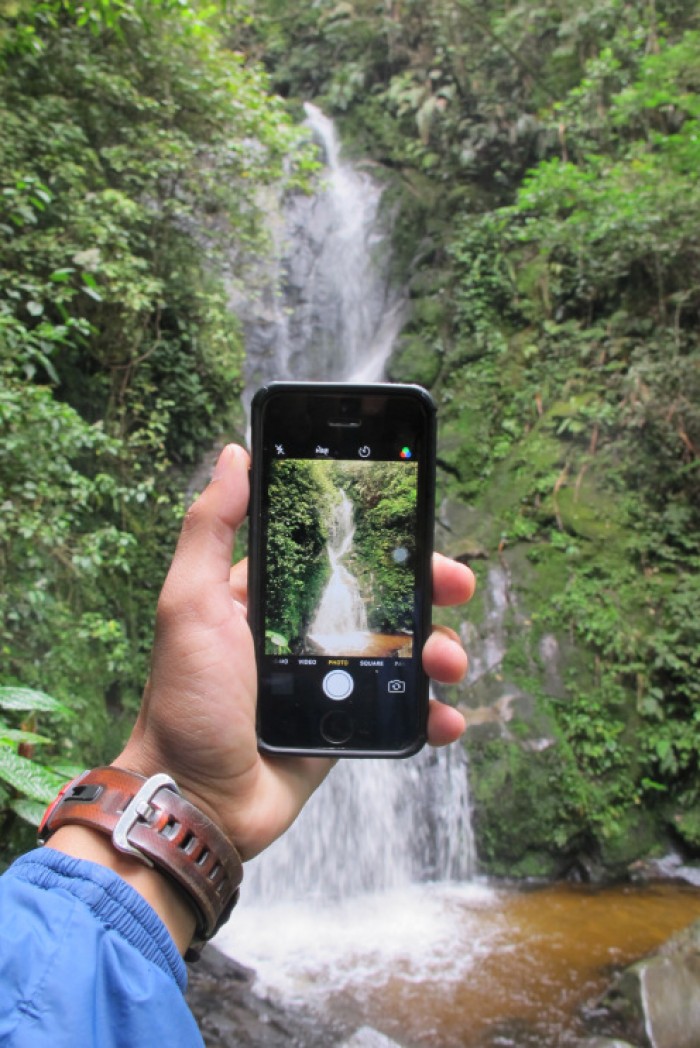 It's time to make our way back to Medan city and into the glass doors of Grand Swiss-Belhotel Medan.
Day 3
Unlike Yogyakarta, Bali and Surabaya where there are ancient sites, temples or volcanoes close to the city area, there's nothing much to do in Medan city except for pampering yourself with spa massages, shopping, and souvenirs. Medan is usually the transit/stopover for people going to/from Lake Toba. We do, however, recommend staying at Grand Swiss-Belhotel Medan solely because of the buffet breakfast. Oh yes, and the uber comfortable bed.
Also read: 8 Easy Destinations to Visit Outside Medan, North Sumatra
Personal thoughts: Due to time constraints, we didn't explore Samosir Island but we had the chance to see ancient Batak-inspired palaces and houses located at Parapat. We also talked to locals of Batak origins who shared with us about Lake Toba, their culture and history. We get to see Samosir from a high vantage and most importantly, we got our sunrise time-lapse video.