Camila Cabello's hit song, Havana, has placed Cuba under the spotlight again with its catchy tune. Coupled with iconic scenes in "The Fate of the Furious" of the Fast and Furious movie franchise, travellers like you might be inspired to visit this exotic nation.
And did you know that Havana is the birthplace of mojito and Bacardi rum? Fascinating, huh! It's practically impossible not to be charmed by Havana's irresistible allure – just picture classic vintage cars cruising down the Malecón, stoic buildings ablaze in a spectrum of colours and narrow alleyways full of community spirit.
But before you get all eager to pack your bags and fly halfway across the world, there is still much more to know before travelling to this intriguing city. Here are eight tips which I learnt from my trip to Havana, that can help you better prepare and manage your expectations for your trip.
1. Settle the necessary visa for entry into Cuba
Visitors to Cuba must obtain a visa before travel or a tourist card obtained from one of the Cuban diplomatic missions, travel agencies or authorised airlines. It allows the holder to stay in Cuba for 30 days and is valid for a single entry. At the boarding gate of your departure, obtain a Cuba Admission stamp from the staff at the counter. Once you have the stamp on your passport, you're all set to go to the exotic land of Cuba!
2. Learn basic Spanish words
Hola, buenos dias! Although English is more commonly spoken in larger cities and tourist areas, the majority of Cubans only speak Spanish or Spanglish (Spanish and English combined). Brushing up on key words and useful phrases will certainly ease your travel!
You can learn essential travel phrases for greetings, getting directions, bargaining prices and more. Instead of relying on Google Translate, you should download an offline translator app for the very reason below…
3. Internet in Cuba is not readily accessible
Unbeknownst to most, there is no broadband internet access in Cuba. It's best to inform your family that you will be uncontactable for the period you're in Cuba. Maps.me is a must-have application for offline navigation. Just download the map of Havana on the app prior to your arrival and turn on your GPS when in use!
If you really need the internet, WiFi cards are available for purchase. They are available at two rates – 1 CUC (~S$1.40) for an hour and 5 CUC (~S$7) for five hours. As tourists, just make sure you get the bigger card (the small one's for locals).
Tip: If you ration your WiFi usage, 1 CUC worth of WiFi can last you for a week!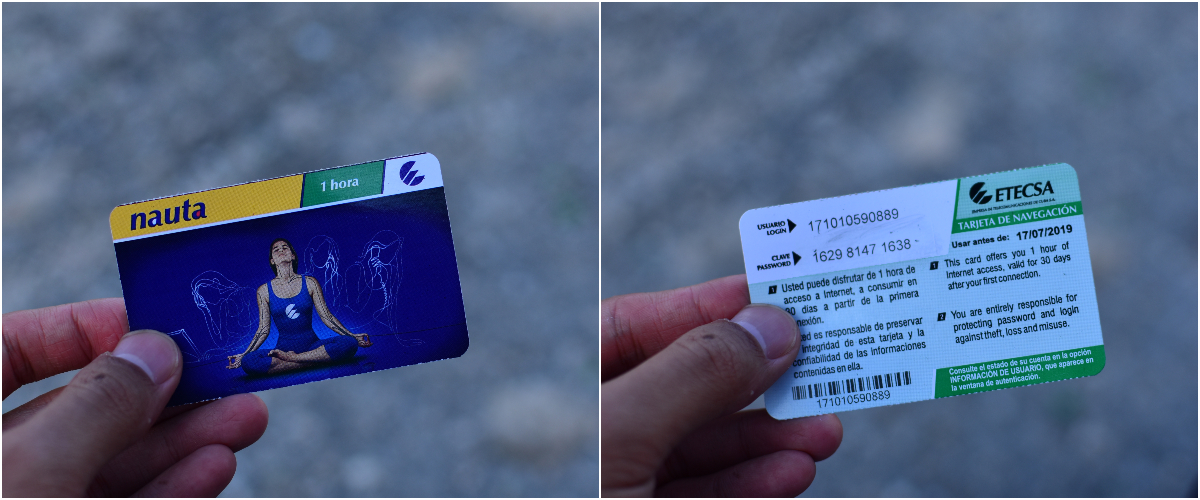 You can get your WiFi cards at WiFi shops or telcom booths. These cards are usable only in WiFi booths sparsely distributed across Havana.
Look out for groups of people sitting/standing around a location and staring at their phones in silence – this is a sure sign of a WiFi spot.
WiFi spots are usually located in parks, but it can be randomly located by the roadside as well. It's funny and ironic how parks in the typical cosmopolitan cities are for people to disconnect from technology and immerse themselves in nature, whereas in Cuba, it's the exact opposite.
4. Book a Casa Particular
"Casa Particular" is the term used in Cuba for private accommodation. If you don't fancy the most prominent hotel in Havana – Hotel Nacional de Cuba, there are tons of options available on Airbnb. This is a good way to interact with the locals and engage in a more localised experience. I booked the All English House of Havana for my one-week stay and that made my experience in Cuba much more enjoyable!
For one, my casa particular provided fantastic hospitality and an array of services. From tour guides to the booking of taxis, the hosts afforded me with much convenience that made my trip incredibly smooth-sailing!
I was able to also engage a local guide at an affordable 10 CUC (~S$14) per day (excluding tips and meals) who brought me around Old Havana and told me fascinating stories about the Revolution and the Cuban way of life.
5. Convert your cash into CUC currency
Unlike countries like Vietnam which accept cash payment in Vietnam Dong or US Dollars, Cuba only accepts notes in their own currencies – Cuban Peso (CUP) and Cuban Convertible Peso (CUC). Foreigners and tourists must use the CUC currency. You may exchange your currency at the airport, local banks or hotels e.g. Hotel Nacional de Cuba.
Pro-tip: Avoid converting from USD as there is an additional 10% tax.
6. Plan your budget wisely
How much money should you change? How much money should be allocated for food? Are the attractions costly? Here are some things you should consider when planning your budget!
Water is not potable here hence you must buy bottled water. They are sold in restaurants at about 2 CUC (~S$3) for a 1.5 litre bottle. For those who drink Vodka more often than water, you'll be delighted to know that alcoholic drinks such as mojitos cost around 4 CUC (~S$6). If you crave for soda drinks, try to get those which are locally produced instead of those that are imported, which cost almost double in price.
With regards to food, you can enjoy a full meal at 5 CUC (~S$7). For this price, you get to try some notable Cuban dishes like the Platanos Maduros Fritos (fried banana) as a side dish, with Bistec Empanado Del Pollo (breaded chicken steak) and Moros y Cristianos (black beans and rice) as main dishes.
7. Plan for day trips to nearby provinces
You can't spend your entire time just dwelling in Havana! Do take day trips out to nearby provinces like Vinales or Trinidad. They offer you a different perspective of Cuba, from the mountain valleys in Vinales to the jungles of Trinidad. Compared to the relatively urban landscape in Havana, these day trips will provide you with a nice change in scenery.
I took a day trip out to Vinales and it was arranged by my casa particular host. I paid about 120 CUC (~S$164) for a personal taxi the entire day. In Vinales, I did a three-hour horseback ride for 20 CUC (~S$28) around the valley which provided views of plantations, tobacco and cocoa farms. Remember to leave some money aside for meals (both for the driver and tour guide) and tips!
8. You might want to grab a taxi to travel around, but..
There are various modes of transportation in Havana, ranging from Coco Taxi, convertible taxi, shared taxi, trishaw and bus. Due to the language barrier, it is advisable to note down your address for ease of travel and communication.
Apart from the usual metered yellow cabs, there are other forms of taxis in Havana like the Coco Taxi. These cute mini scooters sit up to three passengers, but know that there are no seatbelts or doors to keep you in!
Convertible car taxis are ubiquitous, but they are obviously way pricier. In a bid to return to our casa particular from a salsa club which was six minutes away, my friend managed to bargain for a convertible car taxi at 5 CUC (~S$7) when the initial asking price was 10 CUC (~S$14). You can hire one for the sake of feeling like Vin Diesel in Fast and Furious 8.
Shared taxis are meant for people who are going in a common direction, much like GrabShare. I was told by my guide that these shared taxis follow a designated route and cost only 0.50 CUC (~S$ 0.70) per person.
Another transport option around Havana is the trishaw. The plus side of the trishaw is that it can maneuver through alleyways, but it's slow and obviously not a viable option if you're travelling quite a distance.
Wait, what about public transport? There are buses, and it's about 0.20 CUC (~S$0.30) per ride but it is not advisable to take them because the public transport system is not as established as the ones in most developed cities. The buses are overcrowded, and if you are a foreigner, you would have no way of knowing where to alight because of the language barrier and lack of proper directions.
While it is certainly the easiest to get around Havana in a taxi, the best mode of travelling is still walking. Slow your pace down and take in the unique and beautiful architectural sights. Walk down the alleyways and you might just discover a quaint cafe or gift shop that you'd end up falling in love with.
Watch boisterous local kids play football with chairs and slippers as makeshift goal posts. Or simply walk along the Malecón where you can listen to the symphonic crashing of waves against the breakwaters.
Use your trip to Cuba as an opportunity to take a hiatus from social media. Immerse in the local culture and exchange interesting stories with the locals. Generally, Cuba is a safe country with friendly people who will smile and nod at you. Keep this guide in mind and enjoy your trip to Havana. Adiós!