South Korea brings to mind the dazzling neon lights of Seoul and the refreshing scenery of Jeju, but rarely do you hear of Daejeon as a destination that everyone's clambering to visit. While you might have heard mention of it in passing conversations, chances are you've yet to include it in your next itinerary. Why's that?
From stunning forests to the bustling downtown, Daejeon merges the beauty of a quiet country village and a metropolitan city to offer an escape away from the hustle and bustle of Seoul while still immersing yourself in Korean culture. Even if it's located outside of popular tourist destinations, it's easily accessible by train, making it a perfect day trip destination. Once you're there, Daejeon's unique charms will easily sweep you off your feet.
Now that 2019 to 2021 has been officially declared the Year of Daejeon Visit, it's time to pack your bags and discover what this town has to offer. Not sure where to start? Here's our guide on how to spend 48 hours in Daejeon!
Getting there
Getting to Daejeon proves to be easy enough. It's conveniently connected to Seoul and Busan by the KTX, the Korean high-speed bullet train service, shuttling you straight to Daejeon's main station. It takes just an hour to get to Daejeon from Seoul and under 2 hours from Busan.
TIP: KTX tickets tend to sell out on Sunday afternoons and well into the late night, so do get your tickets in advance!
If you'd prefer a budget alternative and don't mind additional travel time, the Mugunghwa-ho train gets you to Daejeon for half the price at double the travelling time.
Once you've arrived at Daejeon station, it's a one-minute journey to get to Eunhangdong station and begin your adventure!
Sung Sim Dang Bakery (성심당)
We don't suppose anyone's surprised that this famous bakery has made its way into our itinerary. Ask anyone where to find the best bread in Korea and they're sure to point you to Sung Sim Dang, a historic bakery dating back to 1956.
As expected of any place that's featured in the Michelin Food Guide, the bakery tends to get really crowded though there's no need to worry as the queue moves rather fast.
It goes without saying that all of the baked goods are delicious, but the most highly sought after is the Twi-kim Soboro, a fried bread filled with red bean paste. While there, we'd highly recommend buying more bread to bring along for the rest of your journey and even as souvenirs (yes! They even have gift boxes!) as they're just that good.
Eunhaengdong – Jungangno Underground Shopping Centre, Culture Street & Sky Road
Once you're stuffed, it's time for some shopping! Head on under to Jungangno Underground Shopping Centre where you'll find one of the biggest thrift shopping havens on earth. Not only are there tons of clothes at crazy cheap price points, but they're also all of great quality and pretty fashionable.
Back above the ground is Euneungjeongi Culture Street. Touted as Daejeon's very own Myeongdong, the old downtown similarly sees plenty of booths selling a wide variety of street food stretching from one end to another. Even if you're not in the mood for food, the smell of bubbling spicy toppoki and the eggy wafts of gyeranppang are sure to entice you.
As you walk along culture street, it's so easy to get lost in the world of fashion. It's pretty much impossible to turn a corner without running into a shop pushing out the latest sneakers or a trendy jacket at a huge bargain, even your most frugal buddy is sure to emerge with a bag or two. There's also a stationery shop that spans five levels and contains everything you want and need, and what you never knew you needed. In fact, the urge to spend is so potent that some might even joke that if you stayed for more than 10 minutes, you might just end up buying the entire shop!
Oncheonkalguksu (온천칼국수)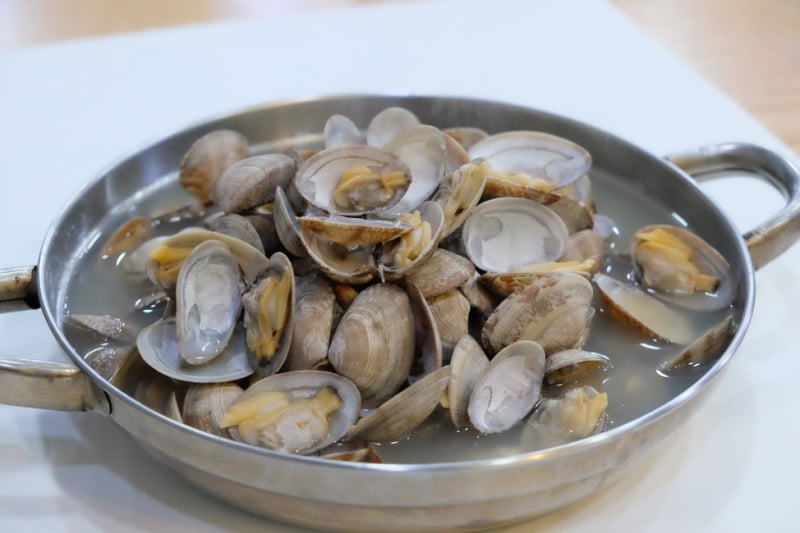 Hop onto the train and alight at Yuseong station for a meal at Oncheon Kalguksu. Daejeon, in particular, is known for their traditional kalguksu – handmade, knife-cut noodles in seafood broth topped with clams. The portions served here are nothing short of generous, for just 6,500won you can get an enormous serving with so many clams that you can eat them by the spoonful! If you're a seafood enthusiast, you'll definitely enjoy this.
They're also well known for their stir-fried squid. When mixed with rice and bundled into a bite-size seaweed wrap, it's a fiery mouthful that's equal parts addictive and numbing and has you shovelling more into your mouth before anyone can utter the word "diet".
Yuseong Hot Spring (유성온천)
Of course, no trip is complete without a relaxing pampering session, and what better place to unwind than at a hot spring? After a day's worth of shopping, it's only right that you treat your feet to some well deserved R&R.
Yuseong Hot Spring is particularly well known for its free public footbath. Anyone can feel free to soak if they'd like, as long as they thoroughly wash their feet before soaking. The water here is abundant in calcium and sodium which not only helps to nourish the skin but also soothe any irritations you might have! Once you're done, an air gun is available for you to dry your feet with.
Seven Factory Moment (세븐팩토리 모먼트)
Just before the sun starts setting, why not drop by Seven Factory Moment for a drink? Located on the 15th floor of a building complete with floor length ceilings, it would be stating the obvious to say the view is stunning. It's arguably one of the highest points of Daejeon, offering a breathtaking panoramic of the Yuseong area.
The drinks might be regular cafe drinks, but they've got a free-flow snack bar for just 2,000won where you can pig out at while watching the sky dip from pink to blue. If you're there in winter, you might even see some locals try to cross the frozen river just outside the building! We'd highly recommend staying until the sun completely sets as the night view is a completely different experience.
(Optional) Noraebang
If you're not quite ready to retire for the night, there are plenty of noraebang (karaoke) places around Daejeon for you to party the night away. After all, the night is still young!
Day 2: Jangtaesan Recreational Forest (장태산자연휴양림)
For a change of pace from the previous day's shopping spree, Jangtaesan Recreational Forest offers a quiet break away from reality. To get there, hop onto bus 200 from Daejeon station, before changing to bus 22 at Heukseok Negori station which brings you right to the foot of Jangtaesan Mountain.
Tall bald cypress and gingko trees loom over the footpaths, bathing the area in swathes of emerald in summer and vermillion and gold in autumn. The entire area is a visual feast in itself, and it's plain to see why it's considered one of the 12 most famous sightseeing spots in Daejeon. If you're feeling up for it, you could take a hike throughout the entire park and enjoy some of the quirky features around such as a bare-footed walking path, suspension bridge or an ecology pond.
Alternatively, you could make a quick trip to the famous sky tower that's inside the park. Warning though, this isn't for the faint of heart; the sky tower is rather tall, and during strong winds, you might even feel the tower shaking! Should you be brave enough, the resulting view is absolutely worth it. Thanks to the high vantage point and incredible backdrop, it's also a fantastic spot to snap some pictures and #ootd for the gram.
Daejeon Station Garak-Guksu (대전 역 가락국수)
Another staple you ought to try while in Daejeon is garak-guksu – Korean-style udon. Daejeon Station Garak-Guksu is easily one of the most famous noodle restaurants around, and perhaps the second most popular pitstop in Daejeon. Despite the limited menu, you're bound to see passengers popping by specifically for their bowl of slurp-worthy noodles in between trains.
With your stomach satisfied and arms filled with shopping bags, it's time to hop back on the train and head back.
Of course, this is just the tip of what Daejeon has to offer, but not to worry! Since Year of Daejeon Visit has only just started, there'll be plenty more opportunities for you to discover the rest of Daejeon.
For more information on Korea's lesser-known spots, visit Korea Tourism Organization's official website and Facebook page.
---
Brought to you by Korea Tourism Organization (Singapore).