Taiwan's capital is entirely surrounded by mountains, making it almost a sin if you don't visit at least one. However, as there are mountain peaks pretty much in every direction, it can be hard to figure out which one to climb.
Before any climb, I'm sure countless questions run through every hiker's mind. Which has the best view? Which is best for trekking? Which is the easiest to climb? Well, I took my boots one weekend and went exploring in hope of coming back with a few answers to some of these questions. Here goes!
Also read: 3 Gorgeous Waterfalls Near Taipei That You Can Hike To
Which mountain offers the easiest climb?

Image credit: Vincent Lin
If you only have the energy to climb up one mountain, then Elephant Mountain is the one for you. Located in the east of the city centre, it is also the closest reachable summit. Needless to say, Elephant Mountain is thus the most popular mountain to climb in all of Taipei! Plus point: Taipei 101 can be seen spectacularly from the peak of Elephant Mountain, offering stunning views both in the day and at night.
Try to avoid climbing the mountain on weekends, especially if you are allergic to crowds. The mountain gets especially crowded at around 4pm, with many camera savvy folks trying to secure a place for themselves and their tripods. Not to worry, the climb up to the summit should be fairly manageable for all fitness levels! You should be warned that there are plenty of narrow steps leading to the top. However, don't let that daunt you – trust me when I say the view is well worth the effort!
Getting there: There are several points of entry to the mountain. I would recommend taking the MRT to Xiangshan Station and then finding the closest trailhead. It takes about an hour from the MRT to the top of Elephant Mountain, or even less if you move briskly. Sweet!
Which mountain gives you the best National Park experience?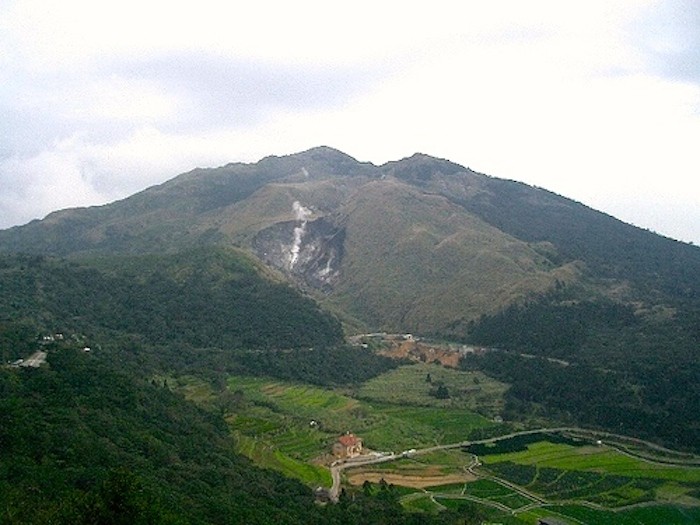 Image credit: Dr. Blofeld
Located in the north of Taipei, this hike is quite literally on the other side of the spectrum when compared to the Elephant Mountain. While Taipei 101 remains in the far distance, nature lovers will be fascinated with other views. Qi Xing Shan is also the highest peak in the Yangmingshan National Park. Yangmingshan is reputed to be absolutely beautiful, so take the chance to explore while you're there!
One of my personal highlights was the crater that spews out hot steam, leaving a strong sulphur smell in the air. Be advised to pass the visitor centre before climbing the mountain (unless you have a very good travel guide with you), as you most likely will need a map. As the area is quite vast, one shouldn't risk getting lost in the national park.
Getting there: Make your way to the Beitou MRT Station and continue with S9 to the Tongjun Station.
Which mountain lets you have the best adventure?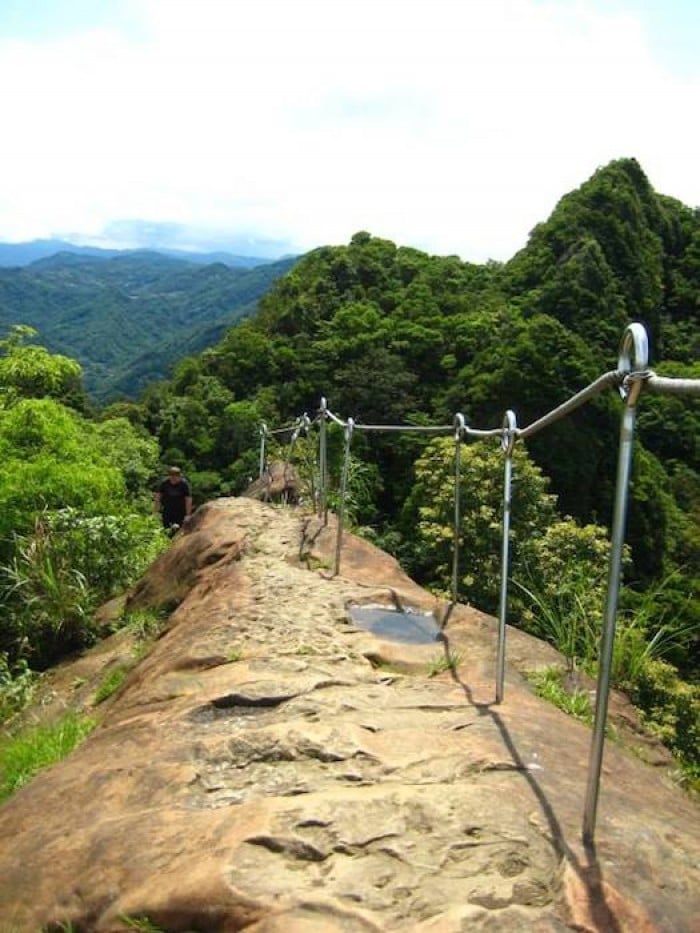 Image credit: Formosa101
If you're not an avid hiker or even a fan of excessive walking, then you should forget about Huang Di Dian. However, if you are somewhat of an adventure-seeker, this mountain is the one for you! Located in the south east of the city, you can easily make this into a day trip.
The beginning of the trek is marked with a long flight of not-so-exciting stairs. However, once you overcome this hurdle, you will be rewarded with chain ladders and rope-supported climbs over a rocky terrain. Let me point out the obvious – you will need good shoes for this trek. Very good shoes. Don't even think about coming with your worn out sneakers, you will regret it!
Do take your time to climb the mountain, as some parts can be a little tricky. Think: 20-metre vertical chain ladders! You will take about three hours to reach the top, and be rewarded with a stunning view over several other peaks. Be warned: visibility is highly affected by the weather!
Getting there: The trail up the mountain starts in the village of Shiding, which is easily reachable via bus from Taipei. Offering a few small shops and restaurants, the town will welcome you upon your return.
Also read: 5 Day-Trip Itineraries Around Taipei that are Refreshing for the Soul
Which mountain is the most demanding?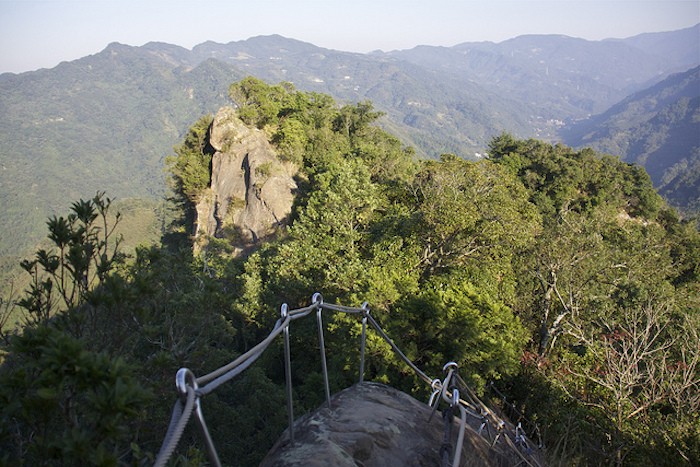 Image credit: Jennifer
The mountain – Wu Liao Jian – is another step up. For this hike/climb, you will not only need boots, but also basic climbing gear to be on the safe side. But a few ropes and a good pair of gloves will do the job as well! If you do decide to take on this challenge, you will be rewarded with absolutely stunning panoramic views that stand in stark contrast against Taipei's city centre.
Located in close proximity to Sanxia, the beginning of the Wu Liao Jian trek is rather steep and might be a little exhausting, especially if you are not used to such exertion. The way is peppered with lots of signs, so you won't lose your way! One thing is for sure – you definitely won't be bored climbing up this mountain.
The highlight for many climbers is on the exposed ridge of the mountain, where which you will have to lower yourself with ropes attached to the rock-face. I advise that you take your time to do so. It's always better to be safe than to be sorry! Depending on your speed, you should set aside at least 3-4 hours to complete this climb.
Getting there: The mountain is located about an hour away from Taipei. Take the MRT to Yongning Station, then bus 812 to Sanxia. From Sanxia, the easiest and quickest way to get to Wu Liao Jian would be via a 15-minute taxi ride.
So there you have it, four mountains that make for a pleasant day of hiking in Taiwan. Have I answered all your questions? Let me know if you have any other burning questions in the comments below. If not, happy climbing!
Also read: 10 Things to Do in Taipei