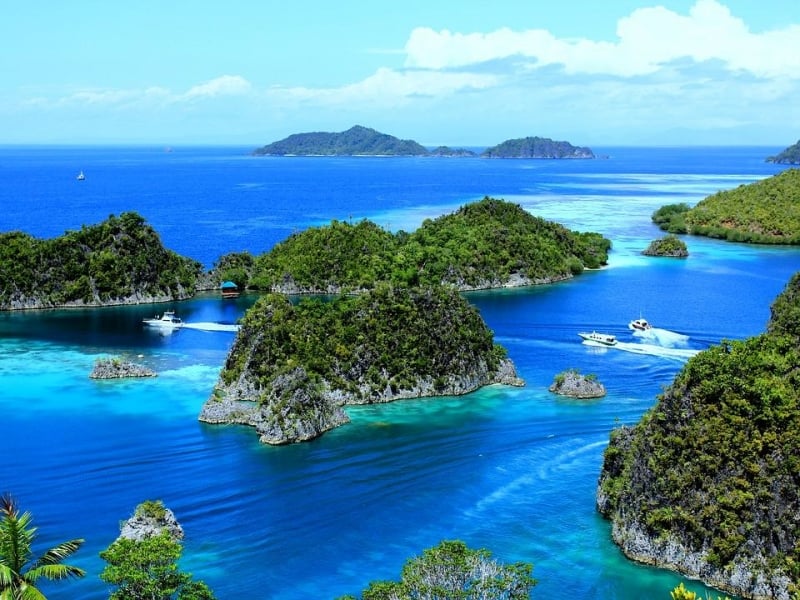 An Indonesian archipelago of over 1,500 islands, Raja Ampat is one of the most isolated groups of islands in the world. It appears to be almost untouched by the heavy influx of tourists and visitors compared to other Indonesian destinations, making it a possible option for a getaway far from the unbearable crowds and long queues.  It's also considered one of the most beautiful spots in the region as well as a snorkelling and marine life haven, presenting a challenge to more prominent hotspots like Bali.
If you're ever in the area, here's a 3D2N guide to Raja Ampat that can help you enjoy some of the best aquaventures.
Day 1 – Get an inkling of life under the ocean
What's unique about Raja Ampat's marine experiences is that you don't even need to be a scuba diver to enjoy the underwater worlds of this beautiful destination. Some of the best sea life can be seen right at the docks (aka; jetties) at Arborek Village, in less than ten feet of water. Expect to be able to watch colourful parrotfish, cute little Nemos, starfish, and stunning coral right in front of your mask.
One of the best diving spots around these parts is Batu Lima (Five Rocks). An apparent favourite with guests returning more than once to the site, there's a maximum depth of around 24m. Prepare to be amazed by Fusiliers, Triggerfish, Unicorn Fish, and Black Tip Reef Sharks that frequent Batu Lima.
Next up, there's Pianemo. Known as one of the most picturesque spots in Raja Ampat, it represents the raw beauty of this destination. Though it may be popular, there aren't that many tourists at one time here so it's pretty peaceful. Climb the dock up to a set of wooden stairs and you could witness a terrific landscape below you, made up of turquoise waters underneath a blue sky.
The round shaped restaurant in the Papua Explorers resort lets you enjoy beautiful views of the ocean and rainforest, while you sample some of the tastiest traditional Indonesian cuisine as well as an assortment of international comfort food.
Day 2 – Look out for mantas and more!
Ready to see some dolphins? Misool Island and Manta Ridge are known for having dolphins in addition to the other fish swimming about in the waters here. Sea turtles are common too and a deeper dive may even reveal groups of manta rays!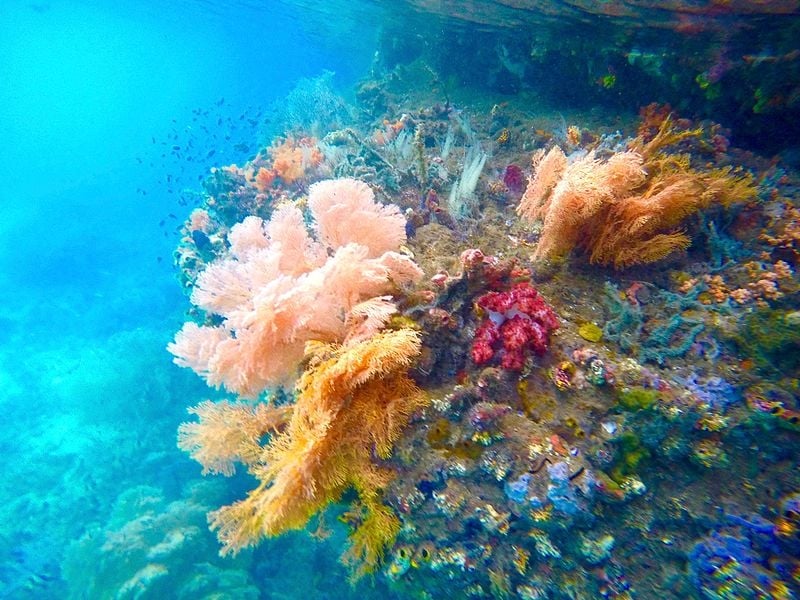 Image credit: Fabian LambeckThe Biodiversity house reef is yet another great diving spot that you may want to stop by. Featuring a gentle sloping fringe reef system that offers amazing opportunities for snorkelling and deep dives, soft and hard corals, walking sharks, squids, and the ornate ghost pipefish can all be found around here.  
By now, you must be positively exhausted from all that diving. Head on over to Rumah Makan Pondok Lesehan. This little eatery lets you refuel and kick back with a television, good Wi-Fi, and tasty food. Try the battered prawns and order a tall glass of yummy sirsak juice.
Day 3 – Immerse yourself in stunning landscapes
The Wayag islands, within the Raja Ampat archipelago, have some of the most beautiful natural landscapes with tranquil blue and emerald water containing colourful fish and coral reefs. Drop by, even if for a brief while, and witness the picturesque kart formations with big protrusions that can be hiked up for stunning views of the many islands.
You could hardly be blamed for getting tired of the water by now. If you'd like something a little different, the tiny village of Sawinggrai gives visitors the opportunity to interact with colourful fish without getting wet. Villagers concoct a flour mixture which attracts the fish while you simply sit at the end of the dock and watch dozens swarm around you. The iconic Cendrawasih bird can also be found here so don't forget to partake in a little bird watching.
You're on an island so it only makes sense that you try some fish! Along Jalan Salawati, an eatery known as Warun Begadang serves up fish dishes and various other local food that are as scrumptious as they are affordable.
Gorgeous marine attractions and unforgettable diving spots are just some of the many attractions that can be found in this beautiful Indonesian paradise. Save some time while planning and refer to this 3D2N guide to Raja Ampat so you can find out some of what else this breathtaking destination has to offer.
Also read: 10 Destinations in Indonesia for a Relaxing Holiday