Contributed by buttergoesbudget
While Santorini is undoubtedly one of the most famous destinations in Greece, it is important to always keep in mind that Greece is really more than just Santorini. There are many beautiful, underrated and less commercialised islands around Greece. Nevertheless, Santorini is nothing short of amazing, other than the fact that it is so crowded with tourists.
Ever since my travel buddies and I arrived in Athens, we were chasing sunsets everyday. After 4 days filled with daylight in Iceland, we were finally seeing sunsets. The temperature change we went through was insane too. From 13°c in Iceland to 30°c in Greece – can you imagine? The European sun was scotching hot too, and you can become tanned after just few hours in the sun. Do remember to bring along your sunblock!
In this post, I will be sharing about this leg of my 33-day journey, and I will include the amount I spent in Greece, the attractions I went to and the travel planning that we did before the trip. Before we get to that, let me get you excited with one of the sunsets I captured in Oia, Santorini.
Also Read: 7 Irresistible Reasons to Visit Folegandros, a Little-Known Island in Greece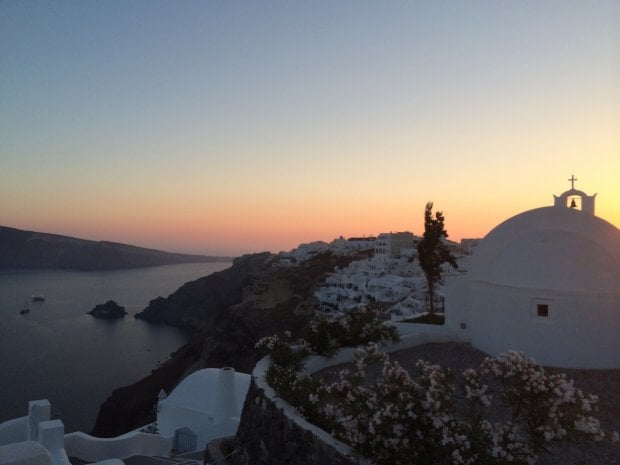 1) Getting the right ticket
a) Flight
From London, I took a flight to Athens via Pegasus Airline. The flight costs around 170 EUR (SGD 300) and is cheaper to book in advance. So book early! Like I mentioned in my previous post, there are many European budget carriers that offer really good deals like Pegasus, Wizzair, Ryanair, Easyjet and Germanwings. I particularly liked Pegasus because it provides a free 20kg check-in luggage.
b) Ferry
As we went island-hopping within Greece (Athens > Santorini >Mykonos >Athens), we had to book our ferry tickets beforehand. We booked our ferry tickets from FantasticGreece! It cost us 124 EUR (SGD 232) in total.  Remember to make a mental note to yourself about where the ferry is departing from. Athens has 2 ports, Piraeus and Rafina. Piraeus is the main port in Athens and the largest port in Greece. It serves most itineraries to the Greek islands and is conveniently located on the green line of the metro system in Athens. Rafina is the second largest port in Athens and is further away from the city center. To go to Rafina, you will have to take Suburban (KTEL) buses that leaves from Pedion Areos in Athens centre. Buses usually leave every hour and the ride takes about 70 min, depending on traffic. To go to Pedion Areos, take the green metro line to Victoria station and then walk up Heiden street. The bus ride costs 2.5 EUR (SGD 4.25)
Your ferry ticket is not an e-ticket. Before embarkation you need to pick-up your tickets from the offices of the ferry company at the port or the central agency of the ferry company at that port. You can pick-up your tickets at any time and it doesn't necessary have to be just before departure. The offices of the ferry companies or the central agencies are always open where there is a departure or arrival of their ferries. We always pick up our ticket before boarding the ferry on the day itself.
2) Getting a shelter
As usual, we booked our accommodations through Airbnb in Greece. One very important thing is to check the location and reviews. If you are in Athens, it will be best if you stay near Acropolis or Syntagma (city center). As for Santorini, it is best if you stay near Fira (the "capital of Santorini"). It doesn't really matter for Mykonos because it's smaller but it is always good to stay near to the town area called Chora. Accommodation cost us SGD 210 for the 6 nights here.
3) Getting around
So it was Athens > Santorini > Mykonos > Athens.
In Athens, it was pretty easy to get around because it is a city and places are easily accessible by metro. You can take the metro straight from the airport. Remember to buy a two-way ticket at the counter because it is cheaper than two separate tickets. And in Athens, remember to flash your student cards everywhere especially when you are buying admission tickets. There are usually discounts for students! It is best if you say you are from an university in EU. I used my card and said that I am from a Danish university and I got free admission into the Temple of Zeus but when I said I am from a Singapore university, I was charged, though at a cheaper rate of 6 EUR for admission into Acropolis.
My travel buddies and I rented car in Santorini and Mykonos because there were 3 of us in total, which makes car rental cost-effective. It costs 45 EUR in Santorini and 40 EUR in Mykonos to rent a car for the entire day. Split between 3 persons, each of us only had to pay around 13-15 EUR. Furthermore, the bus frequencies in the islands were really low and with a car, we could venture out much further to explore the non-touristy places. Fret not, there are many available options to go around the islands! Rental shop offering rental of scooters and ATV are everywhere. We wanted to rent ATV in Mykonos at first because we had already drove in Santorini but ATV costs 20 EUR each and there was 3 of us so we need to get 2 ATV which makes it 40 EUR. So we decided to rent a car, which costs the same amount of money but offers much greater comfort.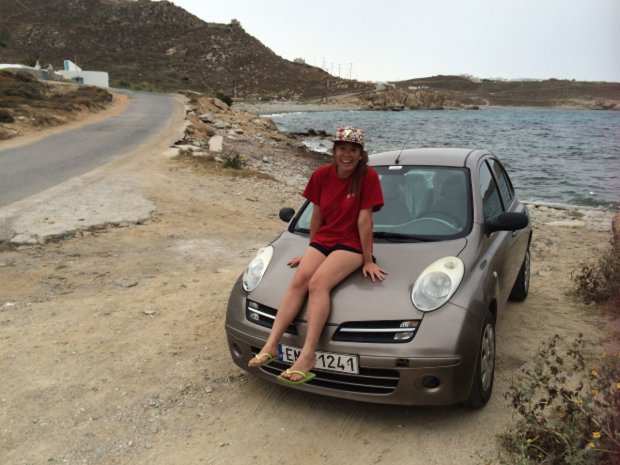 a) Where did I go in Athens
1) Acropolis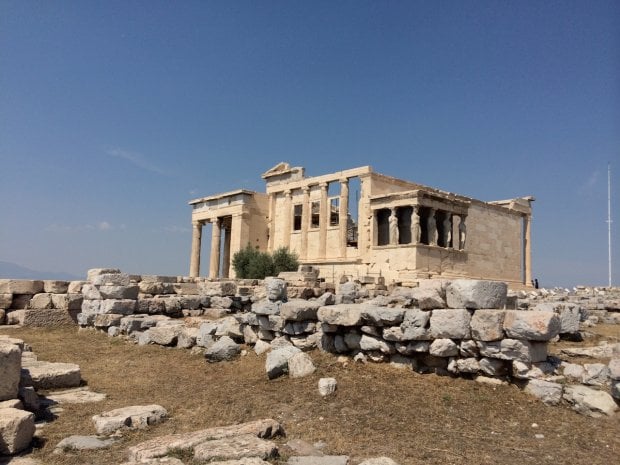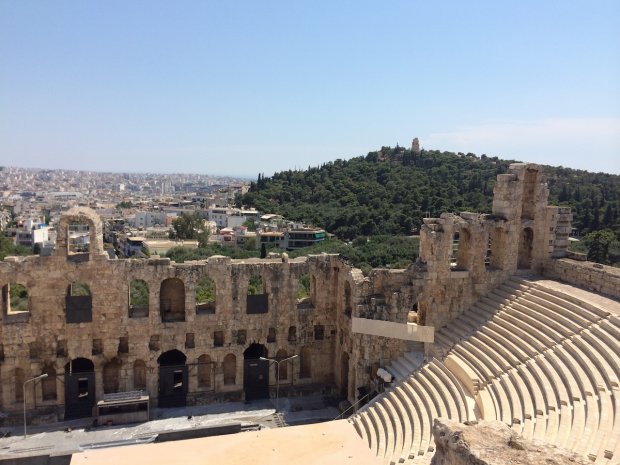 One doesn't visit Athens without visiting the magnificent Acropolis! The whole area was so huge that it can fit the whole city when Ancient Greece was in war. There is no doubt why Acropolis is the symbol of Athens – Acropolis basically overlooks the whole city.
 2) Temple of Zeus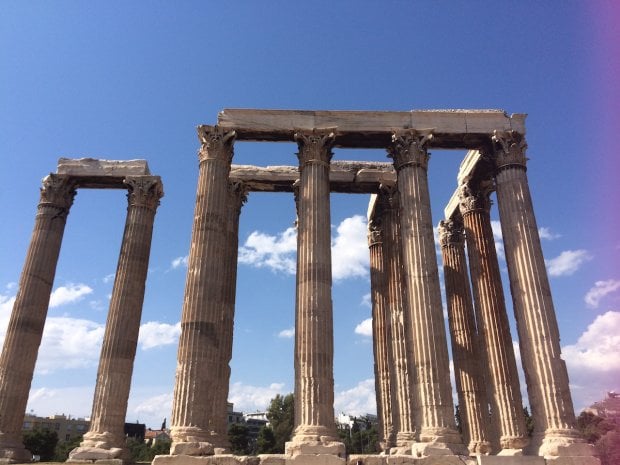 What is Athens without Greek mythology? One of the column was said to be striked by Zeus in a fit of anger.
3) Free walking tour
This is a must-go in every European city that has one! We joined the free walking tour that departs twice from the Acropolis museum entrance (next to the big yellow mailbox) everyday at 10.00 and 16.00. The free walking tour will not bring you into those attractions that require to admission fees, so you can go inside these places before/after your tour.
Aside from Acropolis and Temple of Zeus, the free walking tour also covered
Hadrian's Arch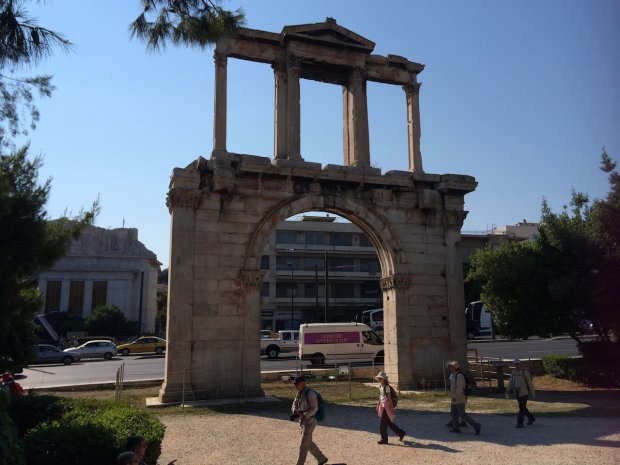 Kalimarmaro Stadium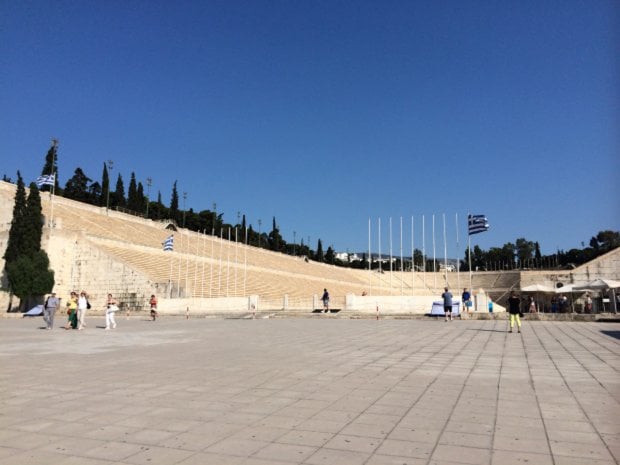 This huge marble stadium most famously used for the first modern Olympic games held in Athens in 1895.
Zappeion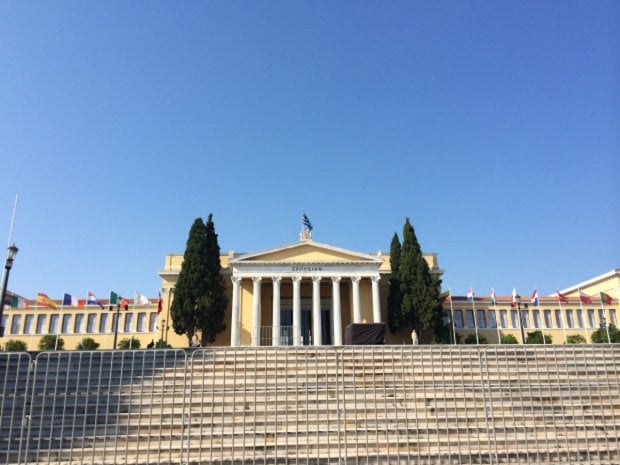 This place was used as the Olympic village.
Monastiraki markets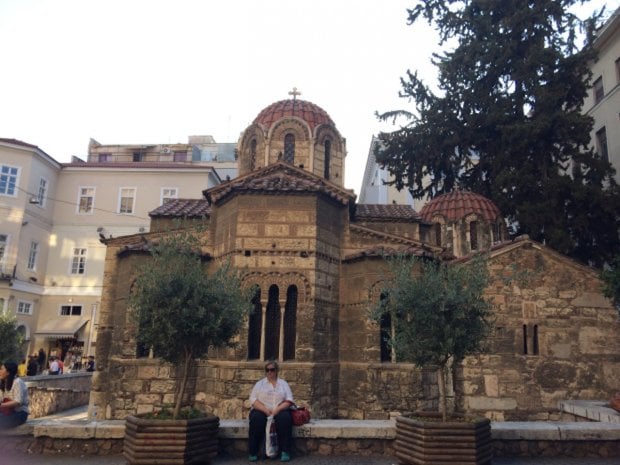 Parliament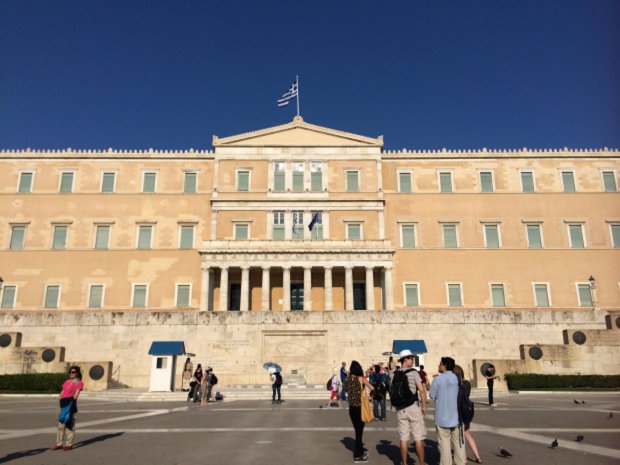 Roman and Greek agora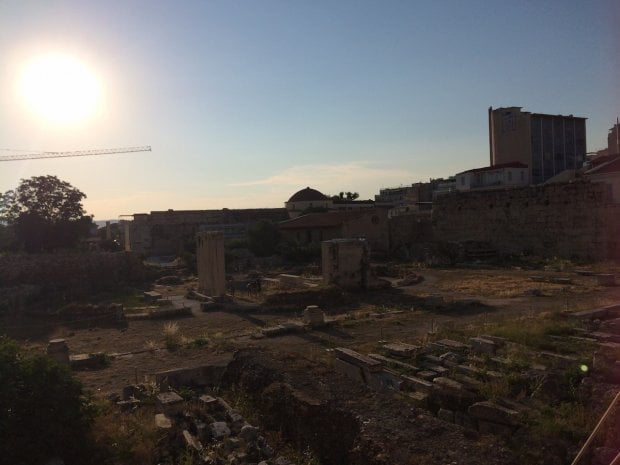 Hill of Ares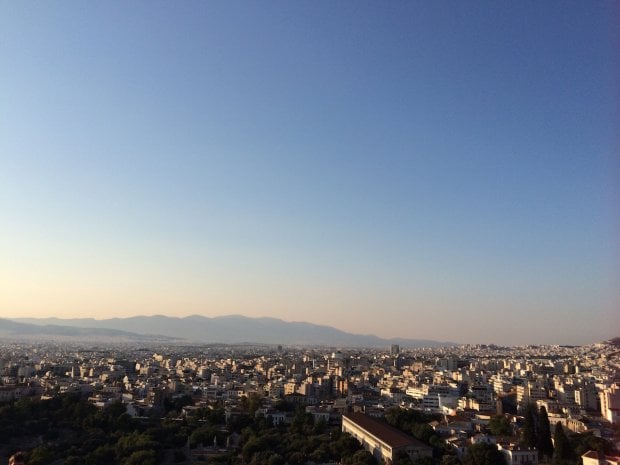 The tour will end around 7pm (if you go for the 4pm slot). This hill gives the perfect view for sunset!
b) Where did I go in Santorini
Because we had a car, we basically drove around with the help of Google maps. Did you know that you actually don't need wifi for location services? You just need wifi to load the map and location. So what we did was before we stepped out of our apartment, we loaded our map and location. Then when we are out of the wifi range, the map will still show our location.
We saw many couples having photoshoots/wedding here. I always thought it was overrated to have photoshoots here knowing that Santorini became famous among Asians because the Taiwanese drama, Love at Aegean Sea, which was filmed there. After coming here, however, I can totally understand why everybody wants to come here – it is just so romantic!
Also Read: 5 Thing to do in Santorini, Greece
1) Fira and Firostefani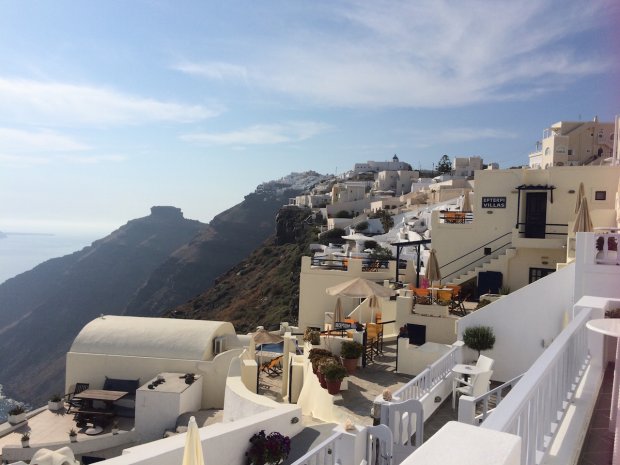 Both Fira and Firostefani are really close to each other. Fira is the main town/capitol of Santorini. Part of the town sits on steep cliffs and it is one of the most picturesque spots in all of Greece. Fira has the most restaurants, shops and hotels and is the center of Santorini's nightlife. Firostefani is a suburb of Fira, lying between Fira and Imerovigli. It is on the crest of a hill and thus has one of the spots with the best view on the island, especially looking back down to Fira.
I remembered while waiting for the sun to set, we went into a gelato shop and watched world cup together.
2) Red Beach (Akrotiri)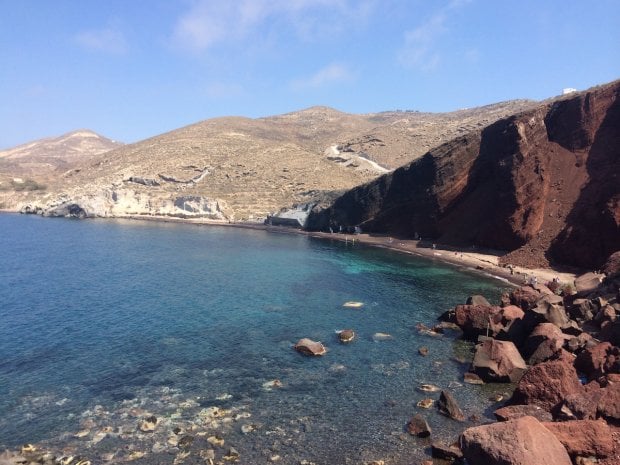 The pebbly sand here is red and the backdrop is just absolutely gorgeous! Look at the beautiful water!
3) Black Beach (Perissa)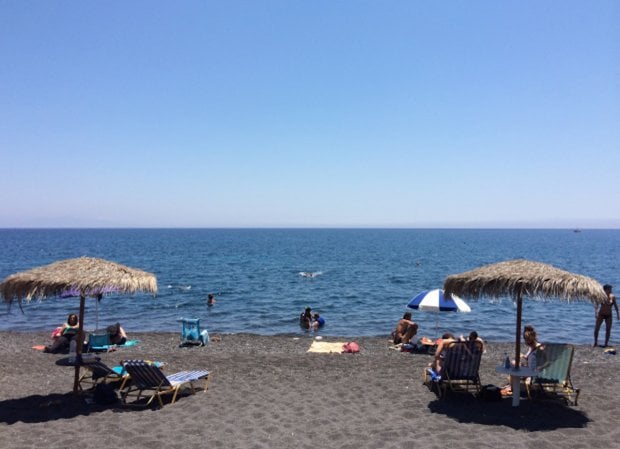 People do cliff jumping here! For some reasons, we forgot about bringing our swimwear with us here!
4) Oia village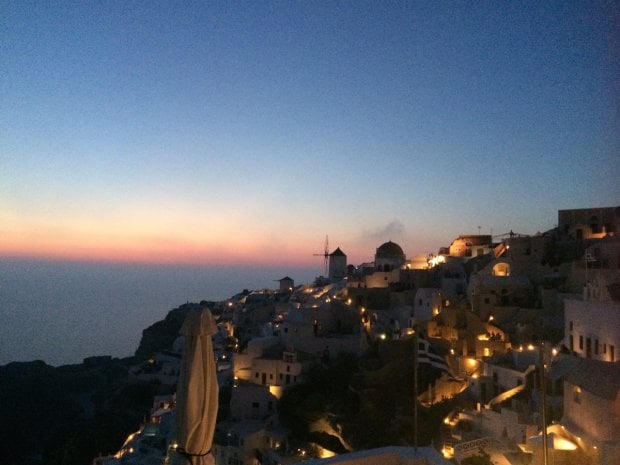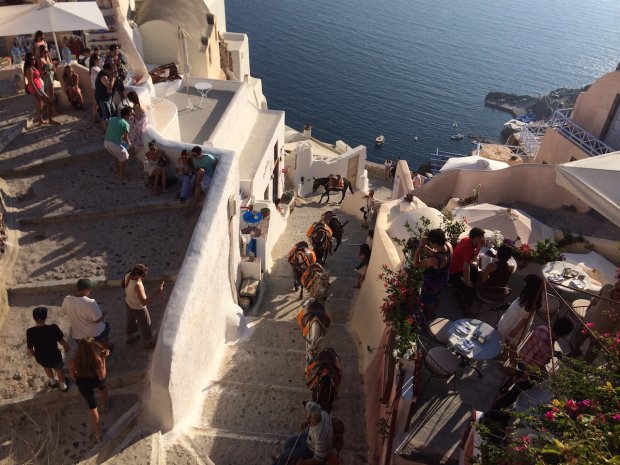 In order to catch the best view of the sunset, you need to go early to camp there because it will be so crowded. The architecture is amazing and is highlighted by the stark white of the buildings and the contrasting colourful doors and window shutters. The characteristic classic view of the village of Oia is the bright white and blue of the church contrasting with the deep blue of the Aegean Sea in the background
c) Where did I go in Mykonos
I remembered telling my friends that this place resembled the whitewashed houses with colourful doors and window frame in Mamma Mia! Walking along the street of the main street, I felt like somebody is going to pop out singing and the whole town will sing together just like in Mamma Mia. Mykonos is so different from Santorini and it definitely has its own charm. I love how the bougainvillea trees bloomed and stood out against the pristine white walls and how this island surprised me with its quirkiness.
1) Main town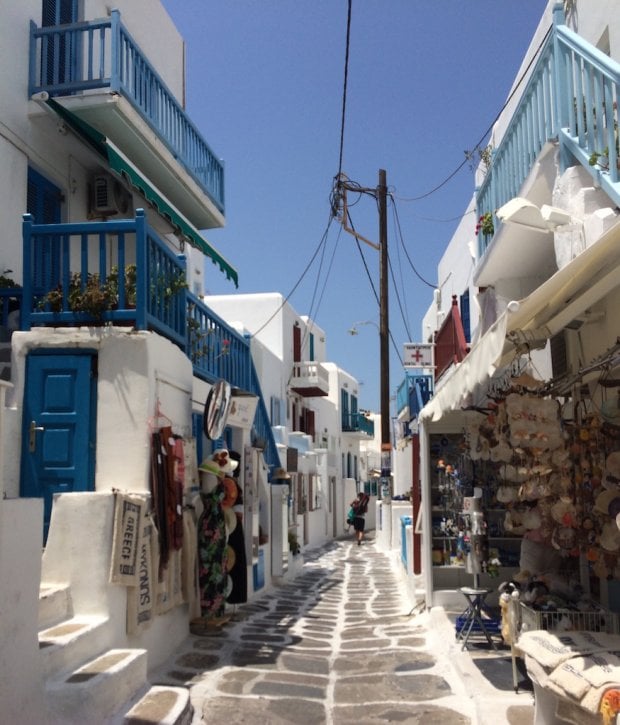 This is where most of the business are located. Cafes, bar, souvenirs shop, quirky gelato kiosk etc.
2) Little Venice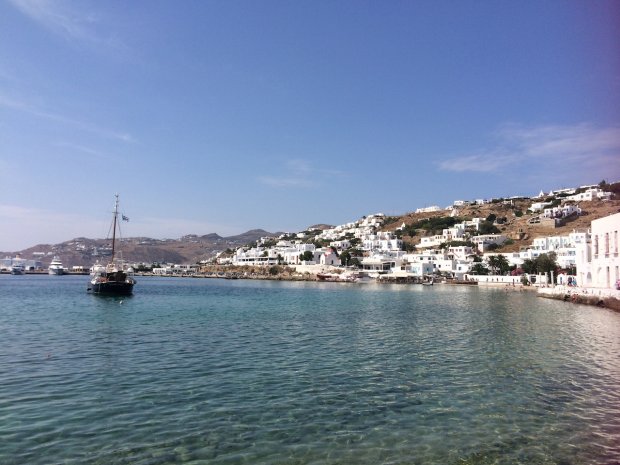 This place is really called Little Venice! Little Venice is one of the most romantic places in the whole of Mykonos. This neighbourhood is replete with elegant and gorgeous old houses that are situated precariously on the edge of the sea. Quite amazing are the sunset views from Little Venice. Its whitewashed edifices against the backdrop of the azure blue Aegean Sea is simply marvellous. The air of nonchalance that prevails in Little Venice disarms the most discerning of travellers.
3) Harbour City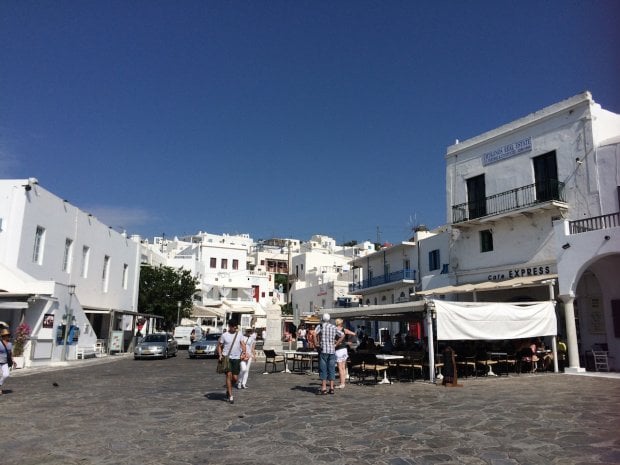 The Port has an old and a new port. The old port is mainly used for excursions with many ferries arriving. Everyday 10-12 ferries anchor at the port and 3 cruise ships arrive. It is a busy port especially in the summer months between May and September. When arriving in the old port there are a row of whitewashed houses looking over the water. Mykonos port is located a 10 minute walk from the City of Mykonos.
4) Windmills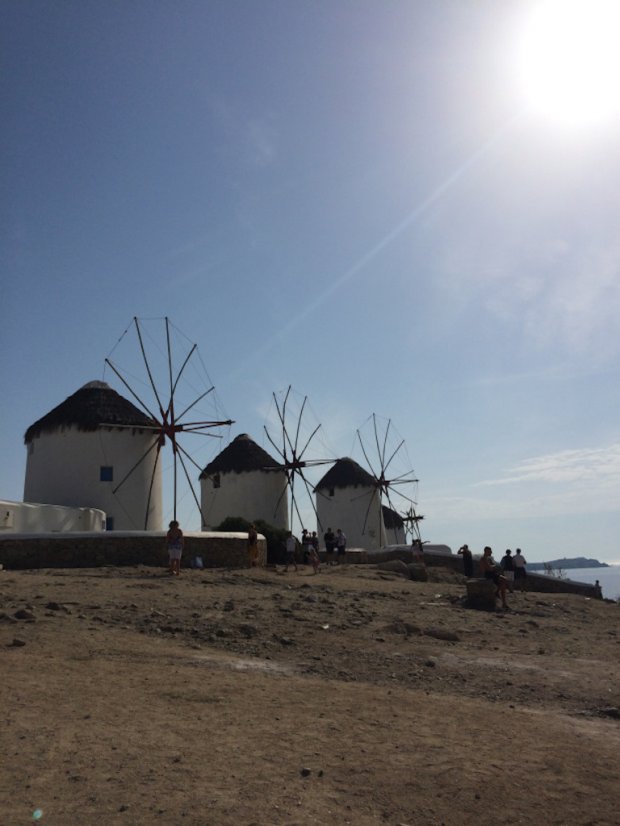 When visiting Mykonos, a popular tourist attraction and common photograph setting are the windmills. Dating back to the 16th century, the windmills came about due to the need to refine grain. The windmills were positioned near to the main port for easy access to the harbour. Originally there were more than 20 windmills, today 7 are preserved for tourists to explore and take pictures. The circular windmills were all painted in white with a wooden roof. They represent an impressive site from all angles and at night the silhouette makes the perfect picture against the sunset. The windmills were labelled as one of the most popular landmarks of the Cyclades Islands and their picture now recognised around the world.
5) Beaches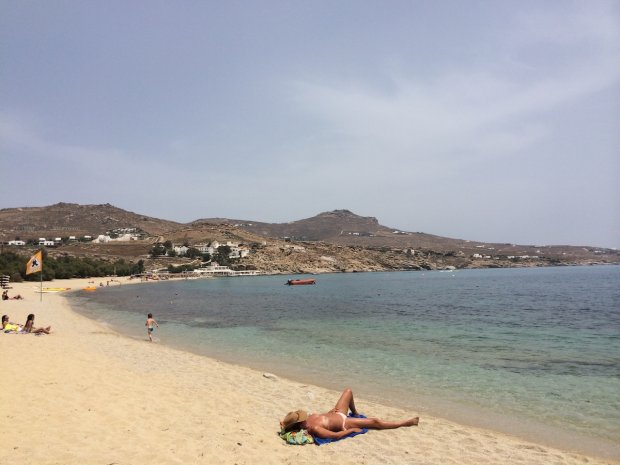 This island has countless of beaches. Set out on a trip to discover the beauties of the island, in particularly its sun-kissed beaches. Along the southern coast you will find a great selection of the most cosmopolitan ones. Here, wild parties keep the crowds rocking day and night. Paradise and Super Paradise may already be familiar to you. (Beach club) Órnos and Psaroú are favorite spots for families. Try a visit too to Platis Yalós, with a well-organized beach where you can soak up the sun lazing on a sun lounge. However, if you are looking for a serene beach to unwind with a book, pick a less organized one on the northern coast of the island, like Ayia Ánna, Houlákia, Kápari, Agrári and Ayios Stéfanos.
This island is a paradise for water sport enthusiasts! There is a great choice of beaches for windsurfing; however, the most secluded ones are considered to be the best. Choose from Kórfos, Fteliá, Meyáli Ámmos and Kalafátis, where surfing lessons are also available. The more adventurous will enjoy the trek down to the glorious hidden sands of Agios Sostis. 
6) Road tripping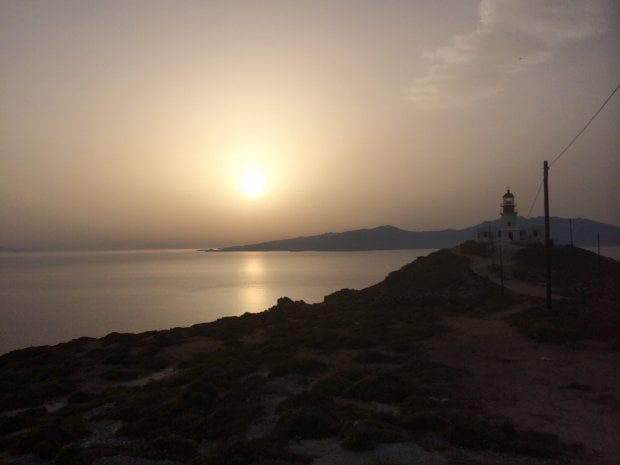 Having a car opens endless possibilities, allowing us to just drive aimlessly around the island! So we had a mini road trip, spending the day driving around the island and stopping for photo-worthy spots, beach-hopping and relaxed under the sun. We also drove up to the lighthouse that overlooks the whole island and sat on top of the car waiting for the sun to set. That sunset was golden. We also accidentally drove into somebody's home and that person has a helipad in his/her place.
3) What to eat
Mediterranean food is simply awesome. Basically we burst our pockets on food here because we had been eating out almost everyday. You definitely can save more money if you don't plan to eat as much as us, but be warned – the food is so good!
Authentic Greek Variety Platter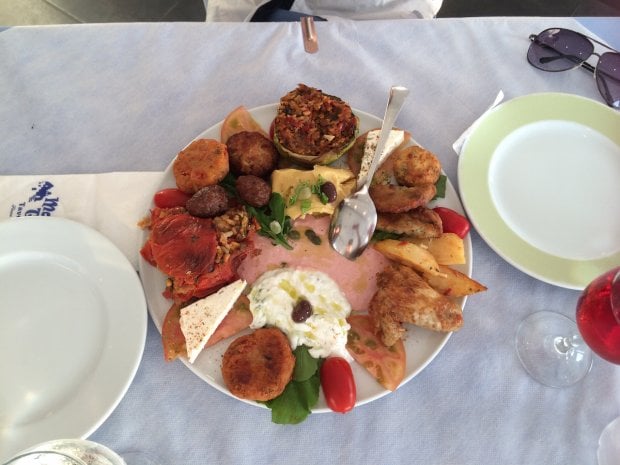 (Traditional Fave Beans, Fried Tomato Balls, Cheese Croquettes, Herbed Meatballs, Eggplant Salad-Tzatzikim Zuchinni Balls, Cheese pie, Fish Roe Salad) We decided to go for the platter so we could try everything!
Moussaka
Moussaka is a popular Mediterranean dish that is terraced with layers of cheese, potato, minced meat and eggplants. I love this!
Grilled Calamari stuffed with Feta cheese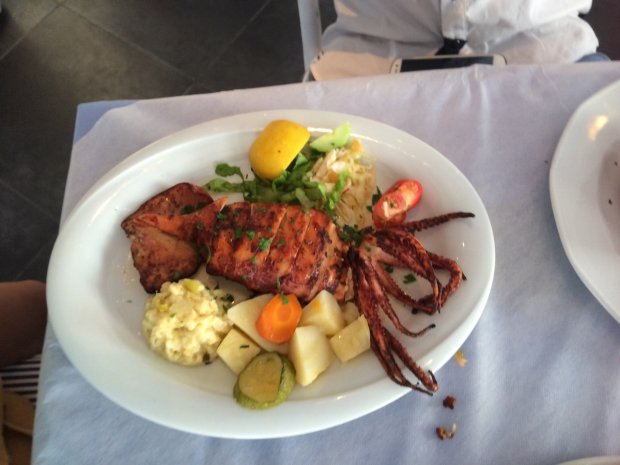 The calamari was so fresh and juicy, and it tasted really good.
I can't remember what this is called…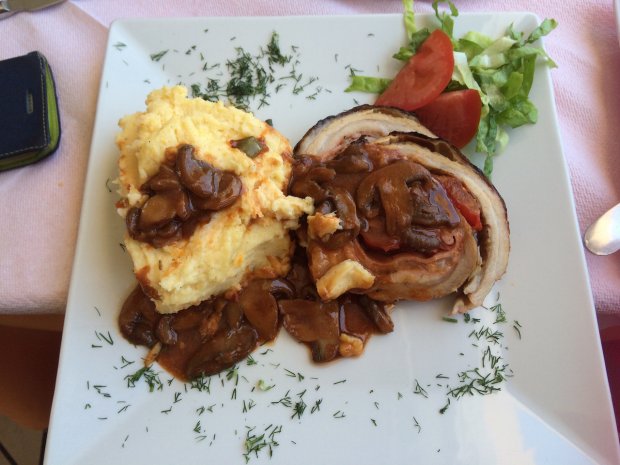 Mixed meat platter
Very sinful but very delicious.
Soulvaki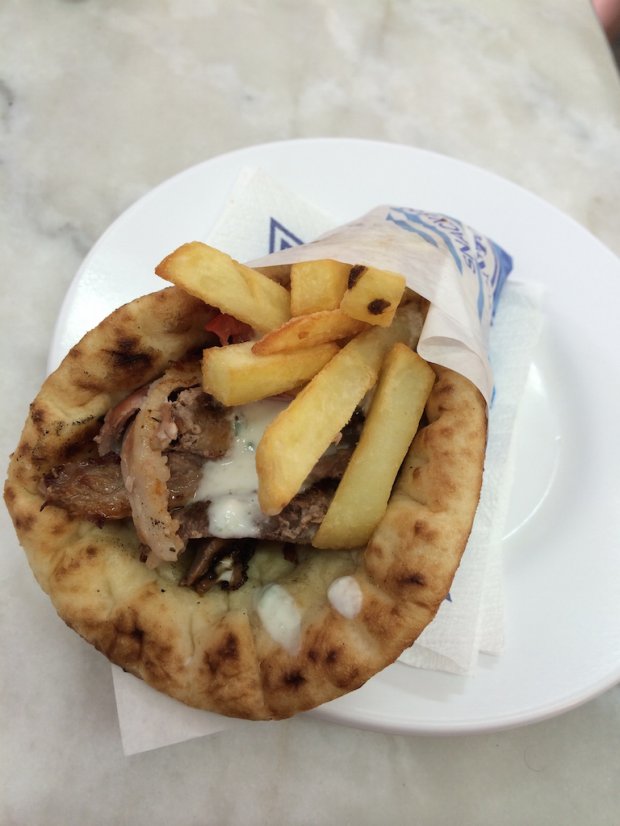 Toward the last few days in Greece, we were so tight on budget that we ate street food everyday. And one of our favourite street food is soulvaki! It is sold everywhere in town. Basically soulvaki is grilled wrap stuffed with meat, fries, tomato and mayonnaise! There are different varieties of pita with fillings such as chicken, lamb and beef, but our favourite would be gyros! It is actually very filling, and we can eat up to 3 soulvaki everyday! One soulvaki cost around EUR 2.5.
Greek yoghurt
What better ways to chill under the scotching hot European sun, than to do it while indulging in Greek yoghurt? One of the reasons why we burst our budget will be eating too much gelatos and yogurt! And one cup of gelato is not cheap, costing around EUR 2.5.
Greece is really romantic, charming and delightful. Santorini is definitely one of the best places on Earth to view a sunset. I love how the people there were so hospitable and warm especially in one of the dessert shop we chanced by, and how nice and patient our host in Athens was even though we caused her so much trouble. Basically we spent EUR 150 (SGD 255) in these 7 days for expenses like petrol, car rental, food etc. Thanks Greece, for allowing me to experience bits of Mediterranean culture. Knowing that Santorini is in almost everybody's bucket list, I hope my post would help in your planning.
Also Read: 12 Days in South Korea with Just SGD 1600