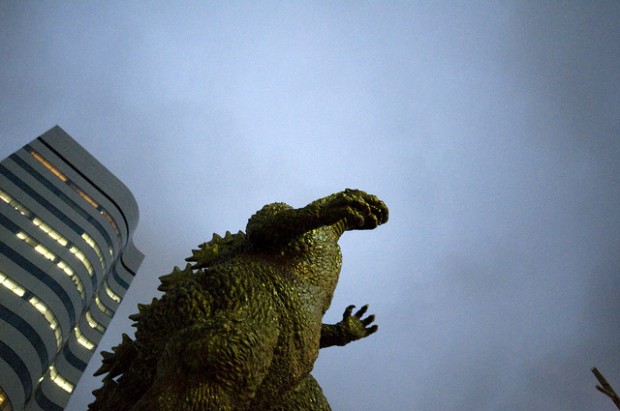 Image Credits: Brittney Bush Bollay        
All of us here at Tripzilla would like to congratulate Godzilla on its appointment as a Tourism Ambassador of Shinjuku (although that comes without diplomatic duties; we can't have Godzilla trying to destroy other cities) as well as its honorary Japanese citizenship.
While we are saddened that we might not be able to see the king of monsters destroying Tokyo again due to its new role, being a tourism ambassador can only increase Godzilla's value as an icon. And with other Japanese ambassadors who had their faces splashed on themed hotel rooms and even planes (psst, Hello Kitty), we expect great things from Godzilla too with its new appointment.


Image Credits: Shinjuku Toho
For all Godzilla fans out there who want to jet off to Shinjuku just to take a look at the place where Godzilla was granted his honorary citizenship, there is a 12 metre tall replica of Godzilla's head atop Shinkjuku's Toho Building. While the replica of Godzilla is obviously not as swanky as Godzilla itself, at least the replica will not try to hurt you in any way (we think).
Godzilla fans can also enjoy sleeping alongside their favourite monster by staying in the Godzilla Room in Hotel Gracery. With a life-sized imitation of Godzilla's paw behind the beds, Godzilla movie posters on the walls and even Godzilla merchandises for visitors, no Godzilla trip to Japan is complete without a stay in the Godzilla room.