Sometimes, all you really want in life is to take a second helping of your favourite food… Or a third… Or fourth… Or fifth. Well, why take extra helpings when you can have one whole GINORMOUS dish to yourself?! And when I say ginormous, believe me, I really mean ginormous. Presenting to you, some of the biggest, bestest, most bombastic foods from around the world!
Ready? Let's get started!!
1. Beat the heat with this mind-blowingly huge Ice Kachang!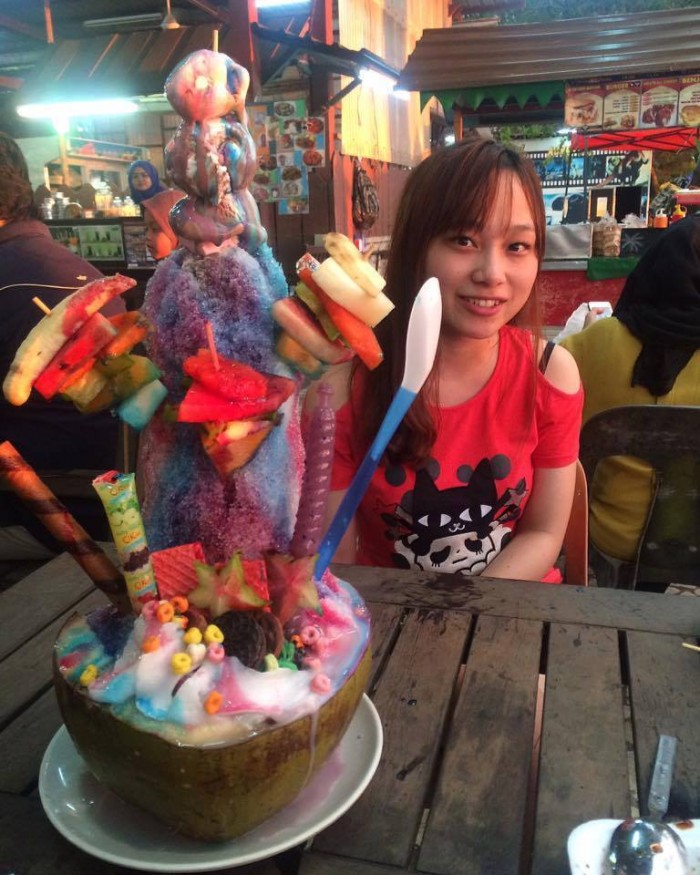 Image credit: Dougles Chan
WOW-WEE, will you just look at that?! This place sure knows how to jazz their ice kachang up, what's with those fruit loops, skewers of fruits, waffle biscuits, generous amounts of ice cream, and of course that humongous mound of ice topped with so. much. syrup. How many days do you think it took to guzzle this monster up?
Where you can find this monster: Restoran Pondok Pantai @ Tanjung Aru Beach, Jalan Aru, 88100 Kota Kinabalu, Sabah
2. How many people does it take to finish this sushi at the sushi bar?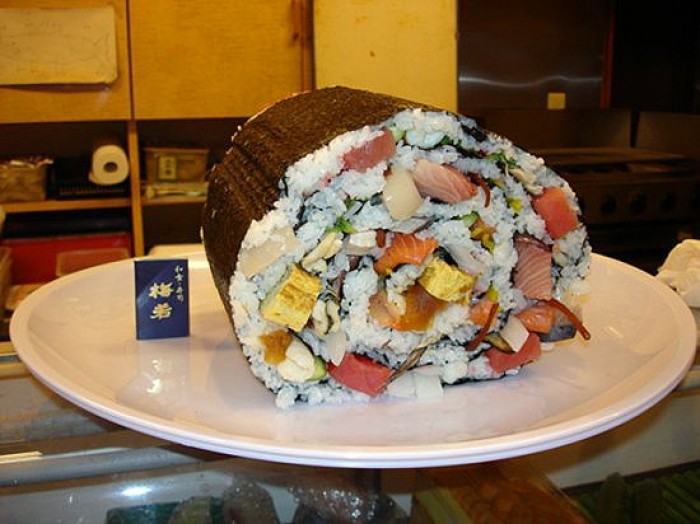 Image credit: Hissho Sushi
The answer: I have no idea. I mean, just look at this beast. Loaded with no less than TWENTY FOUR ingredients, this could probably be your breakfast, lunch, and dinner… For a few days. One thing's for sure, though: this eight-inch thick "Generous Roll" is probably one of the healthiest ginormous food options out there. Hey, you can't get any healthier than sushi, amirite?
Where you can find this monster: Umewaka Restaurant, Anjo City, Japan
3. This colossal burger ain't gonna finish itself
Image credit: Screen Door Cafe
Layers upon layers upon layers. Two enormous beef patties, a generous helping of grilled ham, massive chunks of fried onions, hearty amounts of melted cheese, topped off with just the right amount of veggies before this beast topples over… Somebody call 911, just in case someone gets a heart attack from trying to finish this thing!
Where you can find this monster: Screen Door Cafe, 12400 Burroughs Ln, Soddy-Daisy, TN 37379, United States
4. This cafe sure knows how to shake things up with this monstrous milkshake!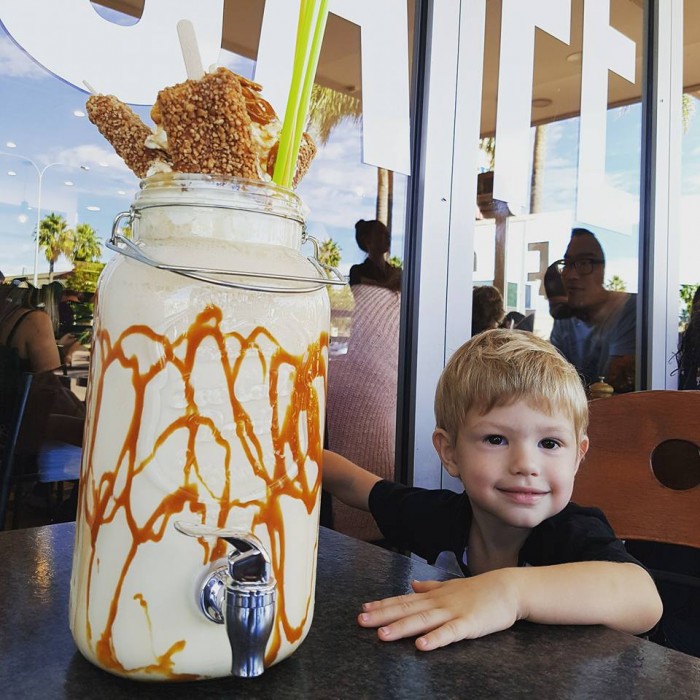 Image credit: Feedmee App
Ever seen those photos of supposed "monster milkshakes" making their rounds on social media? Well, move aside, all you pretenders, and feast your eyes on the mother of all monster shakes! I mean, for goodness' sake, there's a tap at the side! Now if that's not a sign of this milkshake being of epic proportions, I don't know what is.
Where you can find this monster: Cafe 2TwentyFour, 222 Belmont Ave, Cloverdale WA 6105, Australia
5. Do-nut tell me you do not want to try this.
Image credit: Food Porn
Okay, so this looks a little wee bit terrifying. But seriously, would you pass up the chance to take a bite out of this beauty?? I sure wouldn't! Although I'd probably go easy on the whipped cream… Too much of a good thing can be pretty overwhelming, ya know what I'm sayin'?
Where to find this monster: Sadly, I have no idea. Looks home-made, though, so maybe you might want to attempt whipping up a storm in the kitchen yourself?
6. How much laksa broth can you swallow before your tongue's on fire?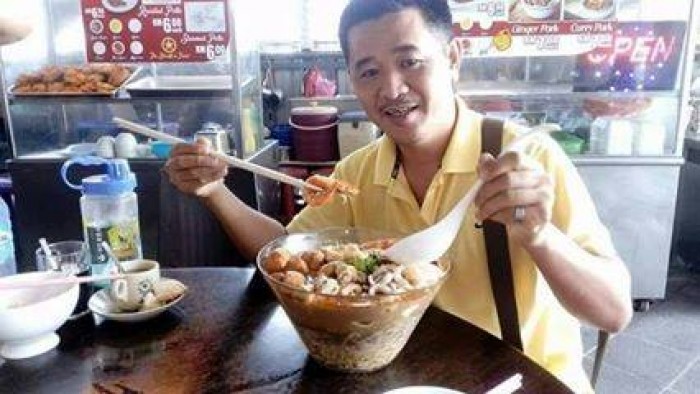 Image credit: The Makan Insider
For what it's worth, it'd probably be worth it. Think: a giant bowl of piping hot laksa, filled with oodles of noodles, prawns, sotong, tau pok, and of course, steamy, savoury, piping-hot laksa soup. Look, they even serve it in a see-through bowl for you to admire this gigantic beast in all its glory! I wonder if this dude ever managed to finish this?
Where you can find this monster: Batu Kawa, Kuching, Sarawak
Also Read: Malaysians Are Going Crazy Over These Food Now, Try Them Soon or You're Out
7. Feelin' thirsty? How about one… or two… or a few cups of teh bing?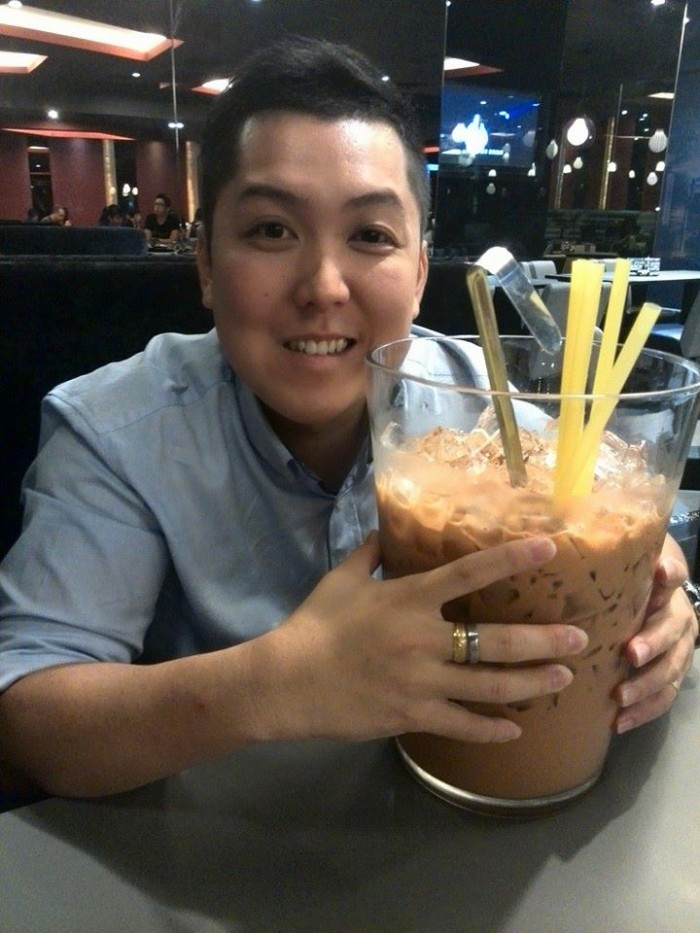 Image credit: Melvina Ashley
Look, it even comes with your very own ladle! Even with large helping of ice, it's still a pretty insane serving of teh bing nonetheless! I wonder where they got the gigantic cup from, though?
Where you can find this monster: The Roof, First Avenue, Bandar Utama Damansara, 47800 Petaling Jaya, Selangor, Malaysia
8. Curry puffs just don't get any bigger than this.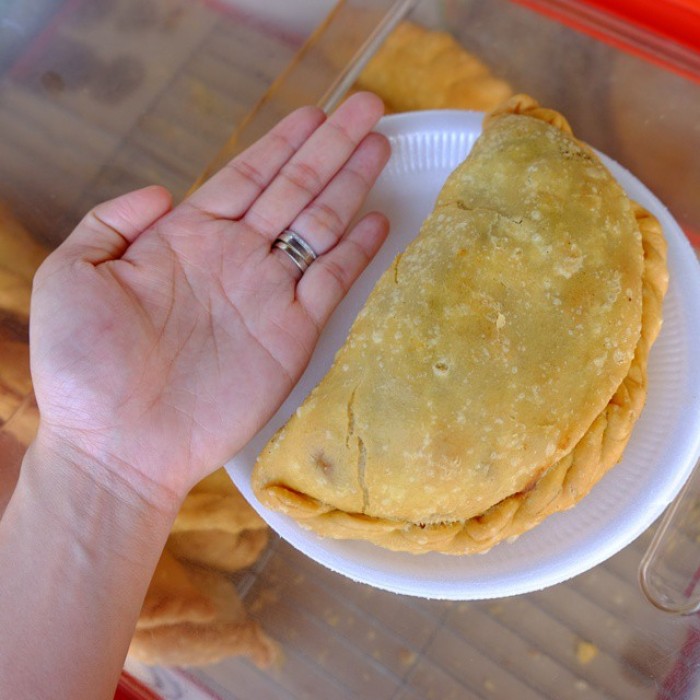 Image credit: Vi Vian's Food Blog
Aptly named the "Karipap King", this is indeed the king of all karipap, or curry puffs. I mean, just look at how insanely big this thing is! Old Chang Kee would be jealous.
Where you can find this monster: Lot 1195-1196, Batu 1, Kampung Assam Jawa, Jalan Bukit Rotan, 47000 Kuala Selangor, Selangor, Malaysia
9. Is this the real life, or is this just fantasy??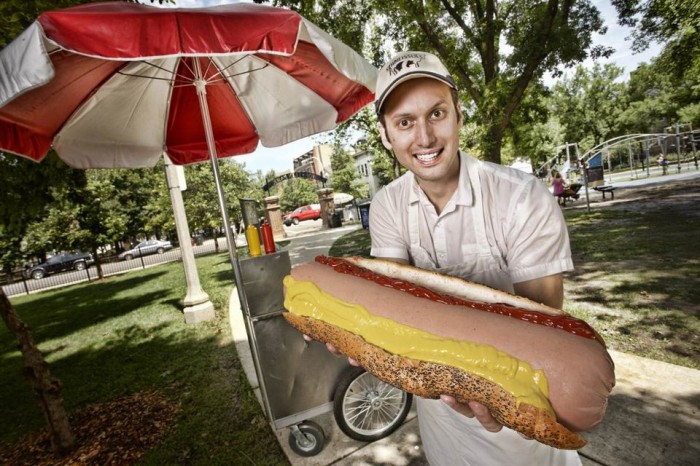 Image credit: Murphy in the Morning
One thing's for sure though… This massive monster didn't get into the Guinness World Records for being the largest commercially available hot dog for nothing! According to the inventor himself, yes, he has finished one whole serving by himself – over the course of a few weeks.
Where you can find this monster: Available for shipping in the U.S.
10. You scream, I scream, we all scream for ice cream!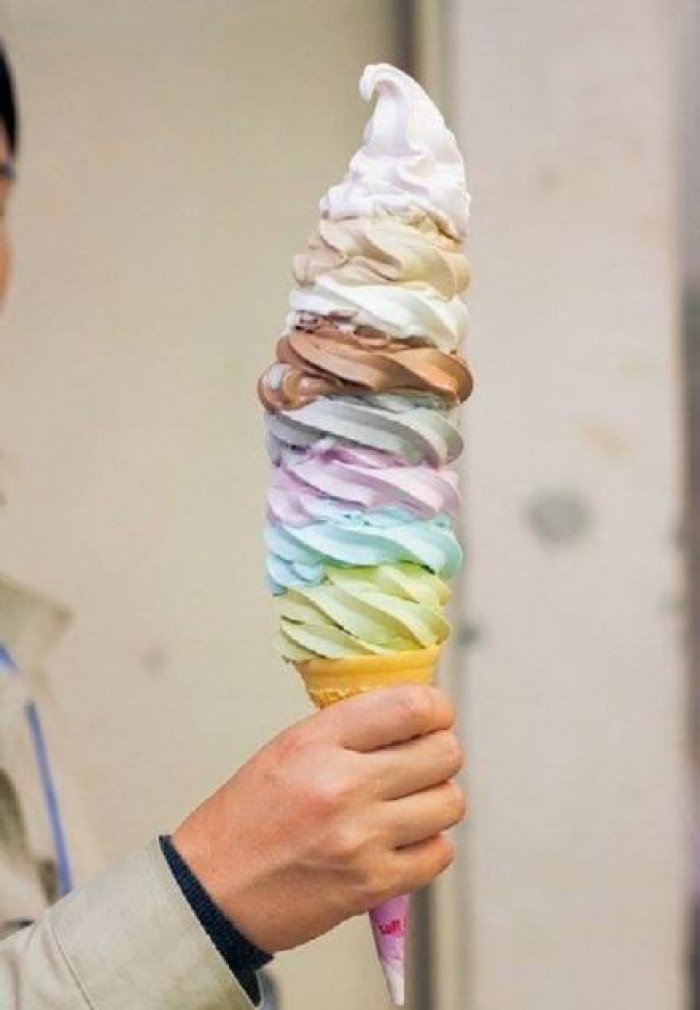 Image credit: This Can Only Happen in Japan
And no other ice cream deserves as big a shout out as this beauty right here! From top to bottom: strawberry, coffee, milk, chocolate, sesame, grape, ramune soda, and matcha. Like woah, 8 flavours in one cone?! I'm totally sold! And the massive size, of course. I would totally down this baby by myself.
Where you can find this monster: Daily Chico, Nakano 5-52-15, Nakano Broadway B1F, Tokyo-to, Nakano-ku, Japan
Also Read: What to Eat in Japan: 23 Must-Try Foods Other Than Sushi
11. Have some flowa-powa cotton candy fun with this epic construction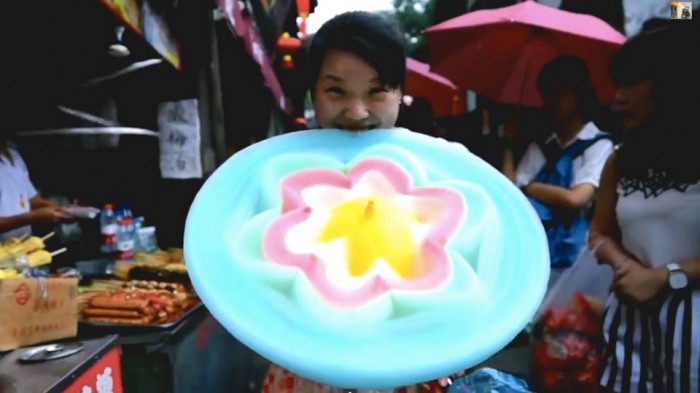 Image credit: ChefSteps
Is it me, or is this cotton candy four times of her face?! Watch your favourite childhood snack turn into a literal work of art that is the #cottoncandyflower! For most of us, this is truly a nostalgic dream come true – don't tell me you've never fantasised about sinking your teeth into a mammoth serving of sweet, sweet spun sugar?
Where you can find this monster: Street vendors in China
12. Mirror, mirror, on the wall… Who's the tallest of them all?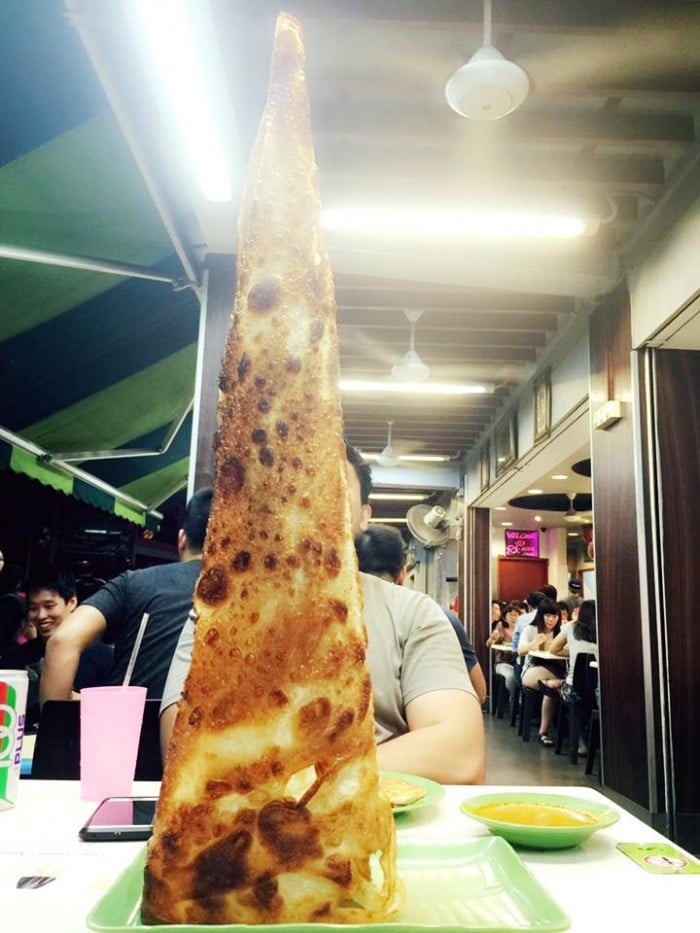 Image credit: Adora Aida
Me, me, ME, screams this tissue prata! This towering thing would definitely be taller than some of the kiddos running around. Good thing it's pretty light and hollow on the inside, or some of us are seriously going to have some massive problems when trying to finish this. Imagine how fun deconstructing this cone would be, though!
Where you can find this monster: R.K. Eating House, 1 Kensington Park Road, Singapore
13. Have your milo and drink it… All 3 litres of it.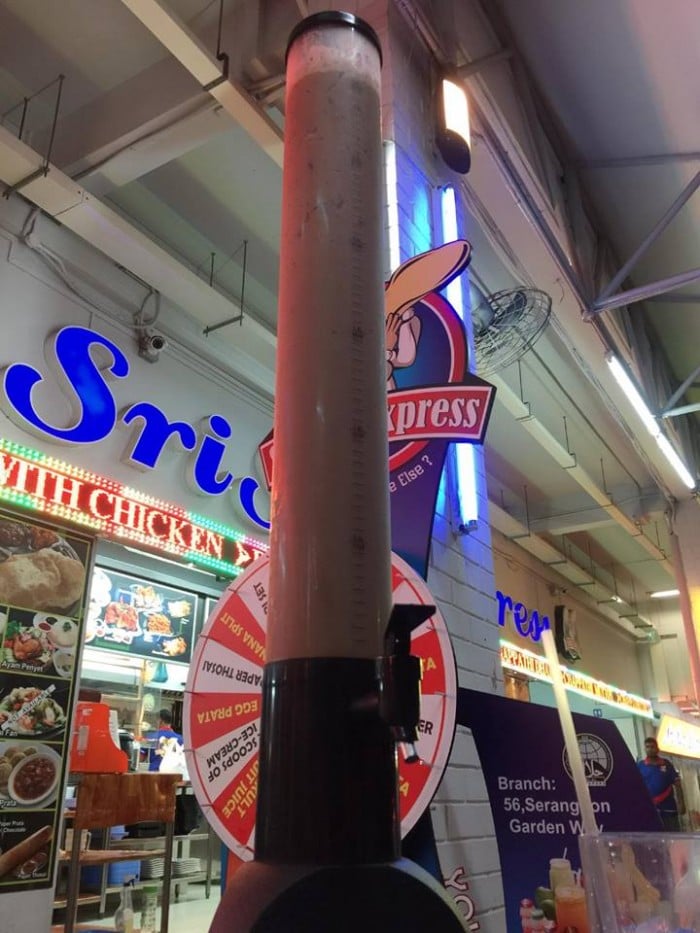 Image credit: Pebbles Tan
Move over, beer towers, milo towers are the in-thing now, and no one really does it as well as Srisun Express! Seriously, the milo towers here are legendary amongst us Singaporeans, and if you've never heard of it, well, now you have, so what are you waiting for? Time to head on over to experience this formidable beast for yourself!
Where you can find this monster: Srisun Express, #01-343, 212 Hougang Street 21, Singapore
14. How phositively gigantic…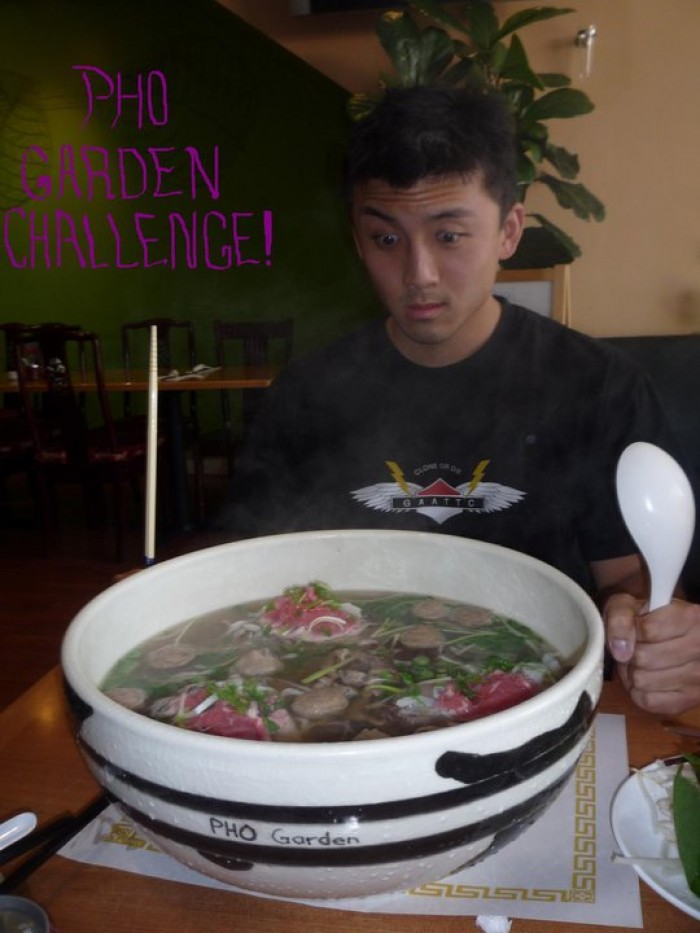 Image credit: Jason Bunnag
Just look at this dude's face of sheer terror… Can't blame him, though. If it were me doing this challenge by Pho Garden, that would totally be my face, too. But hey, #yolo, amirite? The time to do this challenge is NOW. Plus, boasting rights if you manage to finish this beast of a bowl!
Where you can find this monster: Pho Garden, 2109 Clement St, San Francisco, CA 94121, United States
15. Let them eat cake. Lots of it.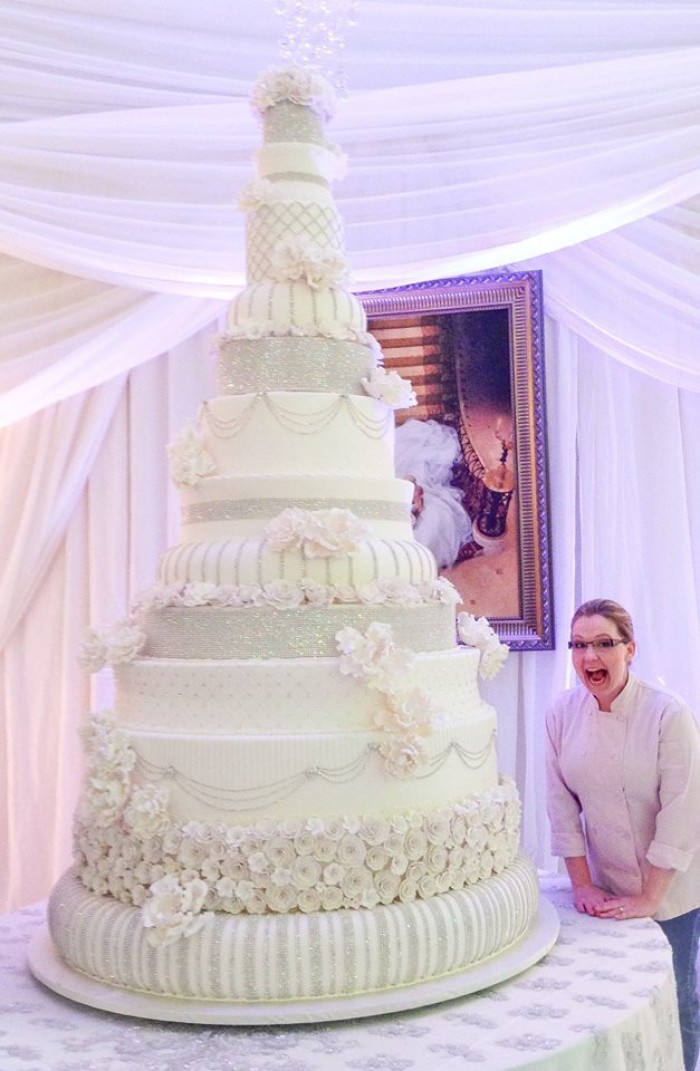 Image credit: FROSTED ART BAKERY & STUDIO
This thirteen-tiered, custom-made, monster of a wedding cake is seriously… Wow. Just, wow. Just how many guests does this happy couple have?! Either ways, this would most definitely take days to finish – that is, if the sugar rush hasn't gotten to your head yet! Maybe they cut out massive chunks from it for their guests to take home? Also, how many eggs do you think went into this???
Where you can find this monster: FROSTED ART BAKERY & STUDIO, 1546 Edison St, Dallas, TX 75207, United States
16. Does this look a-paella-ing to you?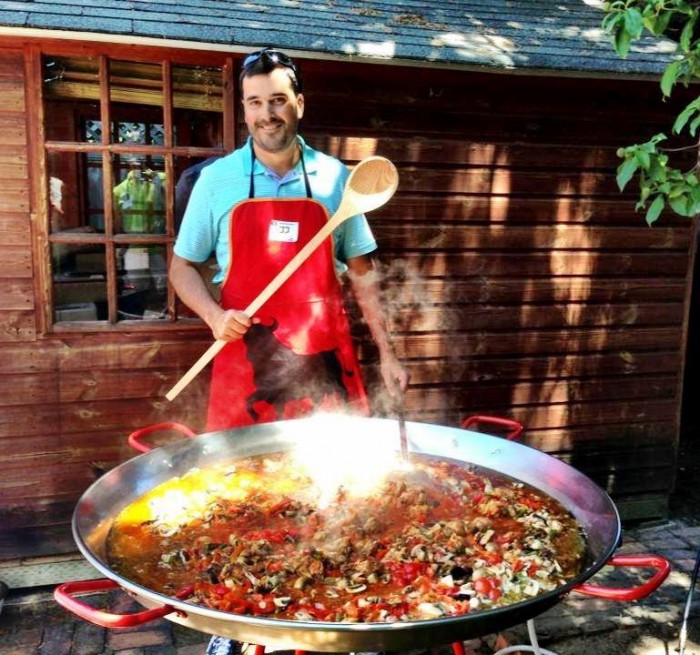 Image credit: JJPaella.com
Yes, it sure does! I have a few questions for this guy, though. For one thing, where did he get his giant spoon from? And his ginormous paella pot?? Seriously, it's enormous.
Where you can find this monster: This man goes around the U.K. with his giant paella pot, cooking LIVE at events!
17. This is lookin' pretty egg-normous to me!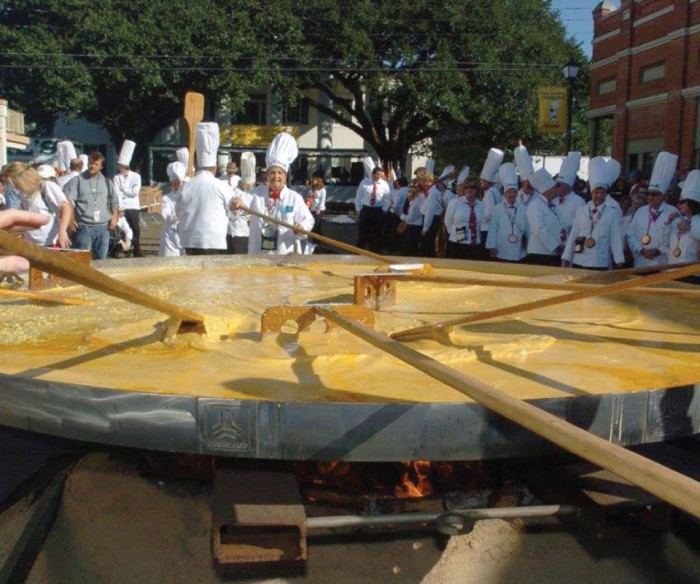 Image credit: Come Home, Louisiana
Indeed, this omelette is made up of no less than five thousand eggs! If you think about it, that's about 13 to 14 eggs per day for a whole year – eggs overload much? Unfortunately, this dish only makes a magical appearance once a year, during Abbeville's Giant Omelette Festival. If you ever find yourself there on the 6th of November… You know what to do.
Where you can find this monster: Abbeville, Louisiana, USA
18. And finally… A giant onion, just because.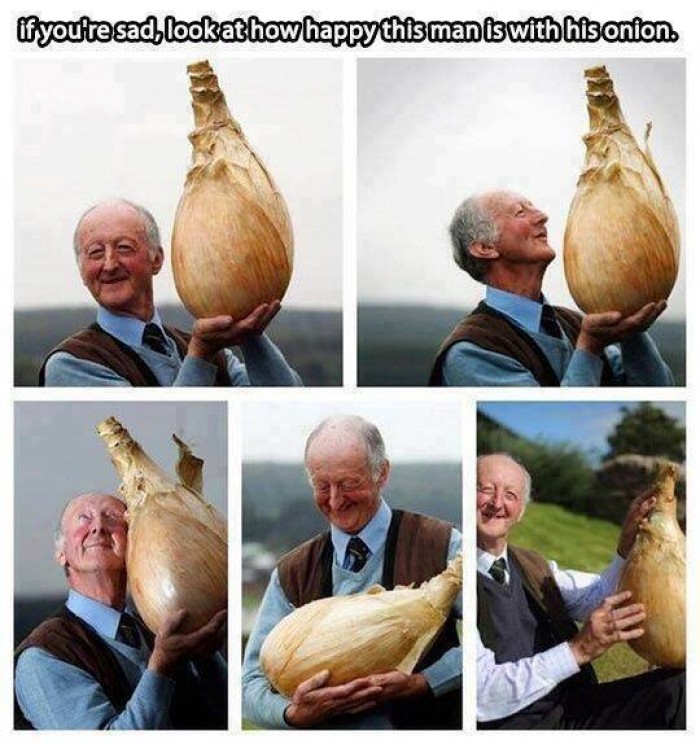 Image credit: Farmer's Pal
The caption says it all.
Where this happy man, Peter Glazebrook, and his giant onion are from: Nottinghamshire, U.K.
So there ya have it, folks, ginormous foods from around the world! Pretty impressive, huh? If you ever find yourself in the neighbourhood of any of these monsters, grab a few friends (you'll so be needing those extra stomachs) for a totally epic time!
Also Read: Spiciest Foods Around Asia! Can You Stomach Them All?