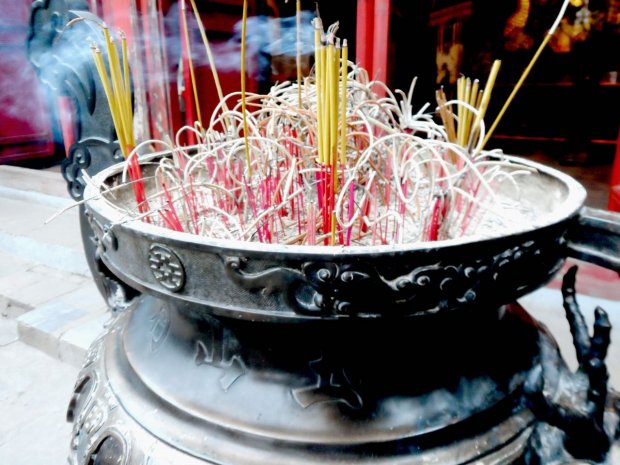 Hanoi is perhaps Asia's most graceful and exotic capital city, a land of grand old boulevards and ancient pagodas amidst tree-fringed lakes and expansive parks. It is tinged with Indo-Chinese influences, and often serves as the start or end point of any trip to Vietnam – and oh, what a refreshing welcome (or farewell) it is.
For all its timeless charm, Hanoi is a destination that has to be properly savoured. Look beyond the sea of roaring engines and beeping horns and you'll find a land of old-world Asian charm, complete with wide streets and dotted with lakes and Buddhist temples. Hanoi features a harmonious mix of old and new, and a blend of Vietnamese, Chinese, and French influences. Wrapped in an air of tranquility, Hanoi is unrivalled by its sister cities such as Ho Chi Minh.
Packed with exciting sights and activities, Hanoi is definitely a destination that you shouldn't miss. For budget travellers, this place may just be the right destination to archive more free and priceless travel experiences.
5 ways to experience Hanoi, absolutely free
1. Bask in the serenity of Hoan Kiem Lake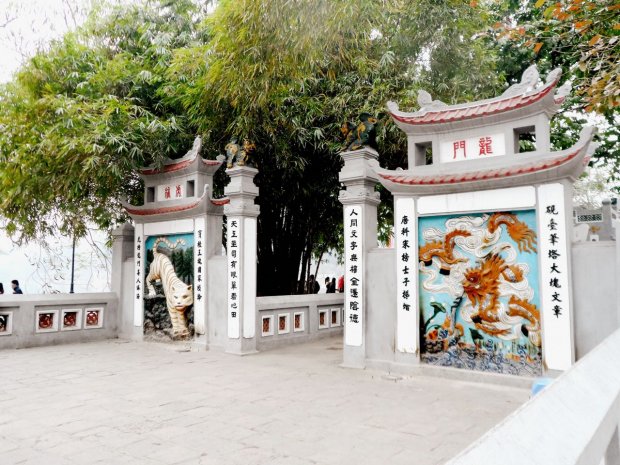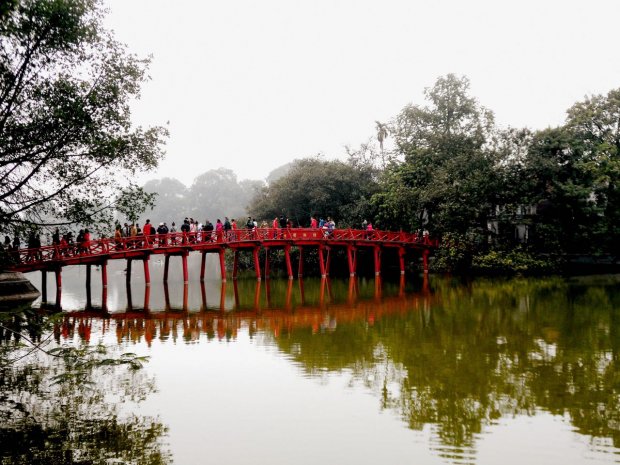 This legendary centrepiece of Hanoi, Hoan Kiem Lake, is worth visiting at any point of the day, on any given day. Located right smack in central Hanoi between the Old and French Quarters, there is simply no avoiding it – but hey, don't be on your way too quick! From the early hours until late at night, this park is a hotspot for tourists and locals alike; a perfect reprieve from dodging traffic and constantly elbowing through overcrowded footpaths.
In the mornings, take a stroll around Hoan Kiem Lake and spot sea turtles along the way, or join in a session of local tai chi. In the evenings, squeeze some time for a walk on your way to the Water Puppet Theatre. One thing for sure is that every minute spent here is a minute well spent. The endless hive of activity in Hoan Kiem Lake is the very essence of a well-fulfilled Hanoian experience that you simply must discover for yourself.
Spare Change?
Find your way into Hanoi's most-visited temple, which sits on a tiny little islet in the middle of Hoan Kiem Lake, surrounded by foliage. Also known as the Ngoc Son Temple, entrance to this picturesque shrine is facilitated by an elegant scarlet bridge constructed in quintessential Vietnamese style. This small Taoist temple is dedicated to General Tran Hung Dao (who defeated the Mongols in the 13th century), La To (patron saint of physicians) and the scholar Van Xuong. Entrance fee is VND 20000 (SGD 1.20).
2. Lose yourself in the Old Quarter – Hanoi's eternal soul of the city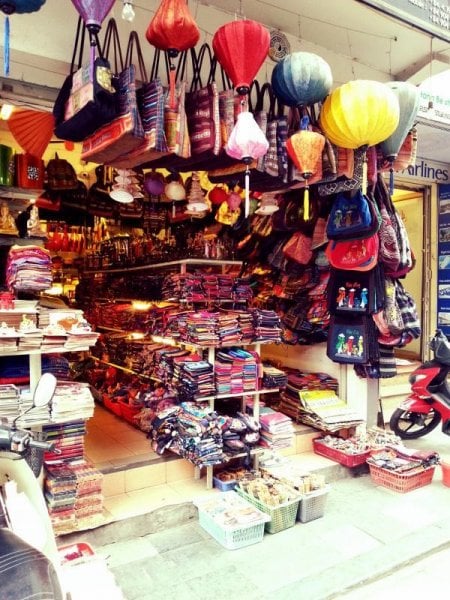 The 36 ancient streets that make up Hanoi's Old Quarter is a chaotic maze filled with treasures. The streets are narrow, but that doesn't stop the constant stream of motorbikes, cars, bicycles and cyclos (rickshaws) alongside the swarm of human bodies. Despite the crowds, the Old Quarter should not be missed. Its lanes overflow with everything you need to fill your suitcase back home – colourful kitschy trinkets, Vietnamese crafts, fine silks, hardwares and more.
To fully explore the Old Quarter in Hanoi, prepare your feet for a day of walking. You'll be rewarded with a glimpse into the daily life of locals amidst these old-style narrow streets and houses. If you're wondering why the shophouses along Hanoi's Old Quarter are so long and narrow, here's why: Feudal laws used to tax shops according to their width, which led to the emergence of these "tube houses" (gee, talk about tax evasion).
Spare Change?
Dining on the streets of the Old Quarter a must for a complete culinary immersion in Hanoi. Sample the city's many glorious street food offerings here, for the Old Quarter has some of the best food you can find in all of Vietnam. It doesn't take much effort to find an absolutely delicious bowl of humble Pho, which by the way, goes for around VND 15000 (SGD 0.90).
3. Appreciate Hanoi's architecture with a full-on walking tour
Hanoi is best explored on foot, so grab a city map, plan the route for a self-guided walking tour and head out for an afternoon of spectacular architectural delights. A short walk from Hoan Kiem Lake will take you to the French-built grand Hanoi Opera House; just across the street is the landmark Sofitel Metropole Hotel; and nearby is the Government Guest House, designed in French colonial-style. These colonial treasures are worth a visit even if it's simply to admire their magnificent facades. Along the way, don't forget to throw in a couple of landmark churches, temples and pagodas. I hardly think you'll miss Landmark 72. an iconic skyscraper which holds the current record for the tallest building in the whole of the Indochinese Peninsula. It stands at–yep, you guessed it–72 floors.
Spare Change?
Ironically, the one museum I highly recommend paying for to have a look inside is the least aesthetically pleasing of the lot. Easy to spot courtesy of the large collection of weaponry out front, the Vietnamese Military Museum displays Soviet and Chinese equipments alongside French- and US-made weapons captured during years of warfare. It has a centrepiece prominent enough to capture the attention of even the most inattentive visitor: a Soviet-built MiG-21 jet fighter, triumphant amid the wreckage of a French aircraft downed at Dien Bien Phu. Entrance fee is VND 30000 (SGD 1.80), with an additional VND 20000 (SGD 1.20) for usage of cameras. If you are a war buff like me, and are snaking your way through Vietnam all the way down to Ho Chi Minh City, I strongly suggest building up your war appetite here first. Remnants of the War get fiercer and much more intense the further down South you go, so begin here and pace yourself.
4. Discover the charming West Lake
If you love your time at Hoan Kiem Lake, you'll probably love this, possibly even more. West Lake, Hanoi's largest freshwater lake, has a circumference of 17km, and it is much, much bigger than Hoan Kiem Lake. It houses many of the city's historic sites around its perimeter, including Vietnam's oldest pagoda and one of Vietnam's four sacred temples. Situated a leisurely 30-45 minutes walk from the city, West Lake attracts many locals and tourists seeking respite from the hustle and bustle of the Old Quarter. It also plays distinguished host to some of the biggest hotel names in Hanoi, including InterContinental and Sofitel. West Lake boasts an enchanting blend of East-meets-West, and is a place to view spectacular panoramic city views as well as stunning sunsets.
Spare Change?
It's a little inappropriate to use the label of "spare change" for this point, but spoiling yourself rotten in one of Hanoi's West Lake hotels (even for just a night) is something to consider. Take your pick from the five-star choices in this location: Somerset, Moevenpick, Sheraton, and the aforementioned Intercontinental and Sofitel. Room rates range from SGD 130 to SGD 250 for a standard room. You will be guaranteed a luxurious experience amidst peaceful, serene surroundings and this splurge will be well-worth every last penny.
5. Pay your respects to Uncle Ho at the Ho Chi Minh Mausoleum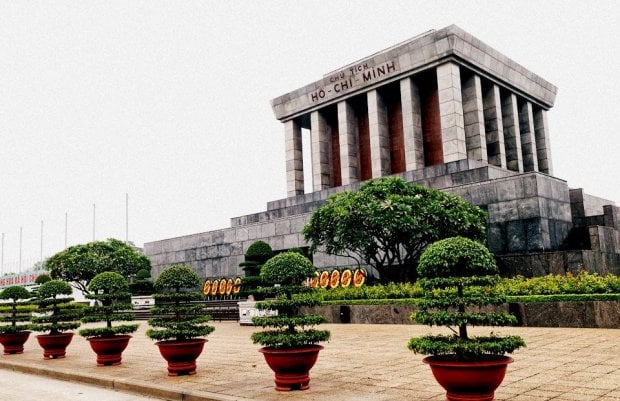 The father of Vietnam, the much-revered Ho Chi Minh who is also commonly referred to as "Uncle Ho", has passed on for more than 45 years. His body lies embalmed in a glass casket within his monumental tomb in Ho Chi Minh Mausoleum. This is despite his wishes to be cremated and his ashes scattered in the North, Centre, and South of the country.
Do take note that rules are strict in the Mausoleum: no cameras, no bags, no talking, and no laughing. Oh, and take off your hat if you're wearing one – it is a breach of etiquette to wear hats indoors. A quick word of advice: do a check before visiting the Mausoleum. Apparently, Uncle Ho's body gets packed off to Russia three months each year for major embalming maintenance. And wake up early too, because the last entry into this sacred Mausoleum is at 10.15am sharp daily.
Spare Change?
Lucky for you, the Ho Chi Minh Mausoleum is located in a complex that houses three other places of interest: the Ho Chi Minh Museum (Entrance Fee: VND 10000 / SGD 0.60), the One Pillar Pagoda (free), and the most recommended of all, the Ho Chi Minh Stilt House (Entrance Fee: VND 10000 / SGD 1.50).
During most of his reign as the President of North Vietnam, Ho Chi Minh resides in the simple Ho Chi Minh Stilt House located just behind the grand Presidential Palace. It sits humbly in a perfectly manicured garden in the midst of greenery, and its simplicity render it more fitting as a servants' quarters rather than an abode for a President. Along with his modest way of living, Ho Chi Minh exude a homely persona. Given these traits, it is no wonder that he is a well-liked leader by the masses. Even after his presidency, Uncle Ho lived a simple life, often clad similar to his fellow countrymen – in brown cotton clothes and sandals.
Also Read: Travel Guide To Exploring Vietnam's Central Coast
Perhaps the best things in life really do come free. To discover the true spirit of Vietnam, put that wallet back into your pocket and immerse your soul in the surroundings.