As is the case with most travellers stuck in any country, quarantine in the Philippines has been a bittersweet affair. We ache to get a glimpse of the outdoors, but we know that the world will recover faster if we stay put. As much as we'd like to do good ourselves, local #HelpFromHome initiatives make for better alternatives in the time of a pandemic.
Also read: 10 World-Class Islands in the Philippines Travellers Rave About
To top it all off, COVID-19 has effectively reduced (or shall we say revolutionised?) human interaction. We now turn to whatever our Internet connections can afford us: smiles onscreen, virtual yet meaningful exchanges, laughter (and tears) shared through earbuds.
Quarantine in the Philippines, as seen through the eyes of stranded foreign vloggers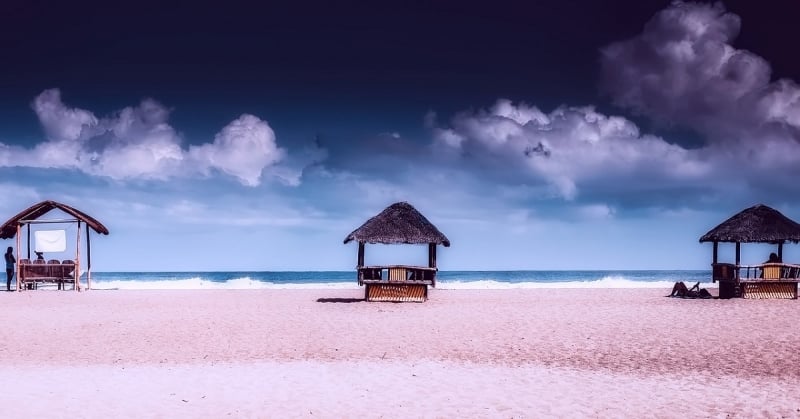 But leave it to resilient Filipinos and our sun-soaked destinations to shine through any crisis; that's the common theme among these foreign vloggers who shared their experiences during quarantine in the Philippines. Some simply couldn't wrap their heads around the tropical paradises they were lucky enough to be stuck in. Waking up to natural wonders every day is a silver lining on its own, whether you live beachside in Palawan or near the swaying palm trees of Siargao. Others, meanwhile, lauded locals' warmth and hospitality — inherent traits that Filipinos take pride in.
For these foreign vloggers, quarantine in the Philippines still lives up to the country's tourism tagline, "It's more fun!" Let's check out what they have to say about their respective COVID-19 lockdown experiences in different parts of the Philippines. May these personal accounts allow us to #TravelFromHome and dream of our future trips. Maybe one day you'll #WakeUpinPH, too.
Also read: #WakeUpInPH Video Asks Tourists to Dream of Travel in the Meantime
"Ever since 2012, we've been on this quest for finding home. Somewhere we can feel content, welcome, happy — all the feelings everyone wishes for. For a long time that was in Thailand," explains Jymayel, who for the past three and a half years, lived comfortably in Portugal with his wife Sacha and their beautiful daughter, Story. Their vlog, Eight Miles from Home, spotlights their family life on whichever continent they find themselves. They cover a wide range of topics: travel, starting a family, their vegan lifestyle, to name a few.
Watching an Eight Miles from Home episode is an absolute treat. If you're not captivated by the vlog's impressive cinematography, then three-year-old Story will definitely keep you watching. Not to mention, Jmayel and Sacha often share insights culled from their practise of day-to-day mindfulness. That's another reason to stay tuned!
Their COVID-19 lockdown experience
It was love at first visit for Jmayel and Sacha, who visited the Philippines years ago. Even if the brief encounter only showed them parts of Manila and Baguio, they know they would come back for more. When Story turned three in Portugal, the couple knew it was a good time for her to start travelling, and so they found their way back to Philippine shores. What started as a beach getaway in Siargao in early 2020 turned out to be an unforgettable lockdown experience in the tropics. Before they knew it they were locked down, "safe and sheltered on what can only be described as a paradise".
Island living in the Philippines
In Siargao, this family's days are spent filling their compost pit with vegetable scraps and listening to the gentle lapping of the water.
"Ever since we touched down on this island, our lives have completely changed. This pandemic has basically stranded us here and we think that there is a huge signal from something or somewhere that we are meant to be thinking about this as a possible home in the future. Never ever have we felt the way we do right now about a place," says Jmayel in a vlog that showed what quarantine in the Philippines looks like for them.
Sacha adds that this strong connection with Siargao is thanks to the island's locals and laid-back vibe. "The people are wonderful and it attracts a good crowd of people, I think. And there's a good vegan community here as well, there are vegan cafés and options. I love being by the sea, hearing the sound of the ocean, and just being near the water. There's just something so relaxing and peaceful about that. Being surrounded by these coconut palm trees is just incredible", she admits.
Another thing the couple loves about Siargao is how it's a haven for surfers and eco-forward individuals. "Surfing is a massive thing and with surfing comes no waste, plastic removal, people want to look after the island. And that all kind of reminds us of our recent values that we've been focusing on the past decade", notes Jmayel.
By the looks of it, this little family has truly found a home in the Philippines.
With almost 45 million views on Youtube, Mike and Nelly are veterans in the travel vlogging scene. Their vlog, as its name suggests, is all about making their #travelgoals happen in all corners of the globe. This Austrian couple is a true believer of immersive travel experiences, and by chance, their 2020 mission was "to visit all 81 provinces in the Philippines". But 2020 wasn't what they expected at all, especially when COVID-19 lockdown was declared in Metro Manila and beyond mid-March.
Before pursuing their dream of exploring the Philippine archipelago, Mike and Nelly lived in Miami and their picture-perfect hometown in Austria. The couple of 12 years have been running businesses together. About four years ago, they decided to make travelling their way of life. The rest, as they say, is history.
Their COVID-19 lockdown experience
In a recent vlog, Mike and Nelly talk about quarantine in the Philippines. These days, they find themselves stranded in Siargao as well  — a decision they had to make midway through an epic road trip in Samar. News of Enhanced Community Quarantine (ECQ) and lockdown measures across the county pushed them to pick a destination to settle down in just until they can make their way back to Manila.
Filipinos' warmth and giving spirit
After attending a Mother's Day lunch they were invited to, Mike couldn't help but gush about the hospitality they've encountered in Siargao.
"The Filipino generosity never ceases to surprise me. It's just so nice. You know, we're here on this island by ourselves but it doesn't feel that way because we have so many kind people around us, taking care of us, making sure that we feel welcome. It's just so great. I wish it were like that everywhere on planet Earth. But we're lucky to be in the situation that we can be here in the Philippines".
Nelly followed up by highlighting the sense of community displayed by their local hosts all throughout quarantine in the Philippines. "They are not only our hosts, but also we became friends because they care so much about our well-being. And it's just very touching for us. It's really nice to be part of their community, their friends".
The best part? It seems that Mike and Nelly made even more new friends recently! Since they're all quarantined on the same island, Jmayel, Sacha, and Story of Eight Miles from Home met the Making It Happen duo as seen through this heartwarming episode of the vlog.
You guessed it: Chris and Carol have been jumping from one place to another, and you can witness them do so through their travel vlog. If you browse through their content so far, you'll see that they've vlogged through several parts of Brazil, India, Vietnam, Puerto Rico, and of course, the Philippines!
Their COVID-19 lockdown experience
When they found out about the Metro Manila lockdown, Chris and Carol just came back from a full day of touring the Gigantes Island in Carles. Their hosts told them about quarantine in the Philippines, and they knew they had to make a decision. They initially arrived in the Visayas group of islands last 26 Feb for much-needed fun in the sun, but it seems that a detour was in order. It seemed that this was the end of their adventure in the Philippines, and that it was time to go home. On the contrary, they didn't expect to sign up for an extended staycation that would last months — thanks to the COVID-19 lockdown.
Instead of paying for overpriced repatriation trips, the couple chose to head back to Luzon nearer Manila. Thankfully, they got on the last flight to El Nido. The idea of staying in Palawan appealed to them because they knew that, being one of the Philippines' top destinations, it was more equipped to take in tourists. They were absolutely right.
Locals stay positive and nature scenes soothe the soul
Life in El Nido hasn't been bad at all for these sweethearts, as they narrate in this episode. They've settled in quite nicely after finding a house to rent. It helps that Chris and Carol openly and regularly express that the Philippines is their favourite country to travel to! So an extended stay on the islands doesn't trouble them at all.
"We like it here. People are super friendly. People are calm. There's plenty of food, we never had issues buying food. Everything's here. Everything's fully stocked and it's also absolutely beautiful. Believe it or not, that actually helps a lot, when I go outside to get groceries, I know we can't spend time on the beaches but just going past them and looking. It's like a reset button kind of thing", says Chris, who takes the scenic route to the market regularly. This means passing through a long stretch of sand and sea.
He adds that the Filipinos' positive outlook helps them power through the COVID-19 pandemic. Much to our surprise, Nelly and Chris don't even consider themselves stranded. 
Also read: COVID-19 Quarantine Tips: What To Do if You Get Stuck in Another Destination
"We're honestly happy. Like I said, we're not really stuck. We could go back to England if we really wanted to but we don't". One thing's for sure, it's more fun in the Philippines, and everyone's welcome to feel at home here.
"Travel tips, local food, and good fun" — three things you can expect from Anna and Trevor of the travel vlog, Delightful Travellers. Since 2015, this Canadian couple has been churning out travel content that brings viewers along their adventures. They share trips that cover all budgets, preferences, and appetites. If you're stuck at home this season, then maybe it's high time you get your fill of travel inspiration with these Delightful Travellers.
Their COVID-19 lockdown experience
Just like Chris and Carol of Jumping Places, Anna and Trevor found themselves choosing to stay in El Nido, Palawan once news of extended quarantine in the Philippines broke. They, too, thought that outrageously expensive repatriation flights paled in comparison when set against the perks of living in Palawan for the rest of the COVID-19 lockdown. Although they could fly back to Canada, they instead stayed put in Palawan.
Extended island living is always a treat and it wouldn't break the bank as much. Repatriation flight tickets go anywhere from US$5,000 to US$7,000 these days, and that's a big sum to take lightly. Considering its low number of COVID-19 cases and casualties, Palawan makes for an ideal place for worry-free quarantine in the Philippines. 
Feeling right at home
Especially in El Nido, the sight of the coast alone is enough to alleviate pandemic-related anxiety.
"We are in one of the most beautiful places in the world. That's just a really nice perk," says Trevor in a vlog entry where they weigh in on the decision to stay in El Nido. Watching the fiery sunset along calm shores, the couple muses that the El Nido's day-end light show just keeps getting better the longer they stay. Clearly, they needed no convincing; it seems that the place had already won them over.
"The Filipino people have been exceptionally nice to us and we feel right at home. We feel safe. We're grateful. We feel really good about where we are."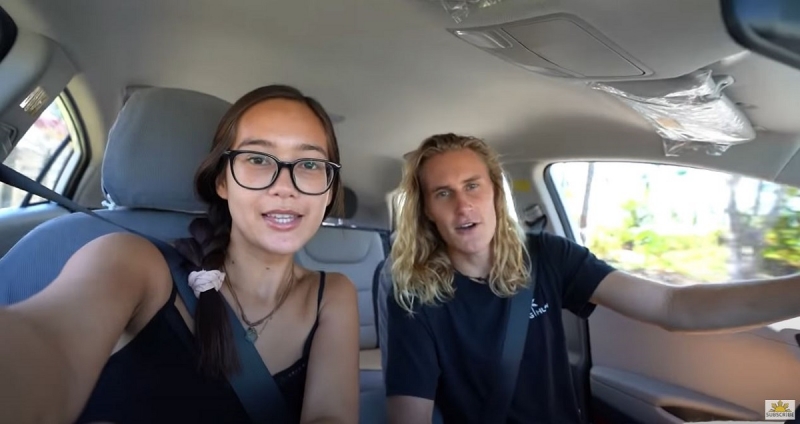 If you hear Utah-born Carson Moody speak Tagalog or Bisaya, you'd think that he's 100% Filipino. You can say that he's an honorary Filipino — considering that he has been travelling to the Philippines even way before he established his vlog, Bisayang Hilaw, in 2014. Since then, he has dedicated much of his travels to living in the Philippines like a local and immersing himself in its culture. In 2018, he made a bold move to stay long-term in the country. His vlog name roughly translates to "half-baked Visayan" in English.
In the Philippines, people who hail from the Visayan group of islands are generally called Bisaya. Carson has been travelling around the Philippines for years, so much so that he picked up the Visayan language (also called Bisaya). Hence his vlog name, Bisayang Hilaw — which means he's still learning to be a full-fledged Bisaya. From being hilaw (unripe or half-baked), Carson strives to become hinog (ripe). These days, Carson's rock-solid fan base also keeps an eye out for his girlfriend, Zowie, who is half Filipino and half Australian. 
Together they make Bisayang Hilaw a hit, coming up with breezy content as well as more controversial ones like this entry about honest taxi drivers in the Philippines. Carson is so Filipino, he has a very local nickname — Caloy.
Their COVID-19 lockdown experience
With both Carson and Zowie not strangers to the Philippines or Filipinos, their lockdown experience is more relatable. Some would even argue that it doesn't count (cause they're practically locals), but they do still qualify as foreigners affected by quarantine in the Philippines. When the lockdown was implemented, Carson and Zowie got stuck in Dumaguete. They were in the middle of a trip, which obviously had to take a backseat. What they find convenient, though, is that Dumaguete has all the creature comforts they need. Plus, the couple gets to reap the benefits of a vehicle lent to them by a popular South Korean automotive company.
Affordable comfort and the Filipino way of life
Recently Zowie and Carson also transferred from a hotel to an Airbnb with a pool. We suppose that's their way of combating cabin fever and getting the space they need to work and vlog more. In their video entries, you'll get a peek into how social distancing is applied in supermarkets and wet markets in Dumaguete. Carson also gives a shout out to their local host, who has been taking good care of them.
In his previous vlogs, Carson openly admires Filipino's resilience and simple lives. He says that's where you'll find the most enriching experiences.
"If you look closely, you'll see raw, authentic Filipino life. A young girl by herself on a bamboo boat with ramshackle homes by the river. Forget the tourist spots. This is what the Philippines is all about, and moments like this will always be my favourite," says Caloy.
When you head to The Juicy Vlog, the first thing you'll notice is the abundance of travel entries about the Philippines. That's because the adorable couple behind it has been living in the country since 2019! George and Lucy are originally from Brighton in the UK, but they decided to officially move to Manila last year because "it feels like their second home". Since then, they've settled down and adjusted quite well to life in the Philippines. Now, they vlog around the archipelago, bringing their audiences along their travel adventures.
Aside from Philippine travel content, you'll also see other destinations that George and Lucy explore. They also offer merch with their tagline, "Do the thing" — which basically means chase your dreams and make your goals come true!  
Their COVID-19 lockdown experience
The first time they heard of quarantine in the Philippines, George and Lucy admit that they freaked out. Absolutely a normal reaction; they moved to the country but they haven't even lived in Manila for an entire year! Luckily, they reside in Bonifacio Global City (BGC), one of the high-end business and commercial districts in the metro. That means they have access to everything they need, and can even stretch their legs outside for a walk as long as they abide by quarantine regulations. You can watch how a normal day goes for these two in Manila here. Spoiler alert: You'll see quarantine coping tips, skincare experiments, and some chores.
Also read: 7 Self-Care Tips to Protect Your Mental Health During the COVID-19 Pandemic
Feeling at home in the Philippines
In previous vlogs, Lucy and George have enumerated the things they like most about the Philippines. Lower cost of living, the convenience of deliveries and service, beautiful diverse landscapes, and most locals' CRAZY use of social media, to name a few.  
But these two are very honest about how they feel, especially now that we're in the midst of a pandemic. More than anything, they miss their families back in the UK and worry for their safety, too. The silver lining is how they've truly made a nest in Manila; even if they do end up deciding to go back to the UK, they know they'll always want to return to the Philippines.
"We definitely want to go back into our family afterwards, of course we do. It's not gonna be a permanent move back to the UK, we still have [the Philippines]," said George in a recent vlog entry. Rest assured, the Philippines will always welcome these two lovebirds with open arms!
A mixed family vlog, the full cast and crew of RodVivKids includes Dutch national Rod, Filipina Viv, and their six beautiful kids. A single episode is enough to illustrate their vibrant life together, in the Philippines and wherever else their journey takes them. It gets crazier when you realise that put together, the family is fluent in English, Dutch, and Bahasa. Viv, on the other hand, is a Cebu native who speaks Bisaya and Tagalog. Rod also converses in German and French. Talk about a global family!
Their COVID-19 lockdown experience
Even with most foreigners agreeing that it's more affordable to live in the Philippines, some still have a hard time getting by. This is the case, especially for big families. It was a brave move for Rod and Viv to share this part of their life to their audiences. With community quarantine in the Philippines still in effect, several industries, workplaces, and households definitely feel the economic crunch. Most means of livelihood are on a standstill, after all.
Bayanihan, or the Filipino sense of having each other's backs
Stranded in Samar in the middle of a family vacation, Rod, Viv, and the kids eventually needed some assistance. And before they knew it, help was on the way thanks to friends, fans, and generous neighbours. For this, the bunch was infinitely grateful.
In a recent vlog entry, Rod, Viv, and the children allow a peek into their simple life in the province while in lockdown. They make their own bread, carry gas for cooking into their home, and struggle to find Internet connection so that the kids can still study online. At the end of the video, they unbag groceries they were able to buy out of the generosity of Filipinos near and far. 
Been to the Philippines? If the answer's no then maybe this is a sign that you should #WakeUpInPH as soon as the world conquers COVID-19.
Also read: 5 Perfect One-Week Itineraries for Your Ultimate Vacation in the Philippines
Do you have Filipino friends? These foreigners will tell you that they're some of the warmest, most hospitable people you'll meet. And in times of crises, we soldier on with smiles on our faces and enough care to go around.
---
Information extracted from a press release issued by Department of Tourism-Philippines. Click here for the latest travel updates and advisories in relation to COVID-19.