Located in the Emilia Romagna region, Bologna is arguably my favourite city in Italy. While there are many things to love about the place, I honestly have one reason and one reason alone — the food is insanely good!
Fresh pasta, properly aged cheese, and melt-in-your-mouth cured meat awaits visitors And the list of good food is endless. Bologna's culinary culture is so rich that it has even earned the moniker, "la grassa," which translates to "the fat." Yum.
So whether it's your first trip to Bologna or travelling to la grassa for the nth time, here are 10 specialities that'll give you a taste of the city's celebrated food culture. Fair warning, though: Prepare to drool!
1. Green Lasagna
Lasagna is comfort food for many people. It's made of alternating layers of fresh spinach pasta, Ragu sauce, béchamel, and Parmigiano. While it's an Italian dish that's popular all over the world, Bologna's version is easily the best.
2. Tortellini al Brodo
Tortellini al brodo is one of the most iconic pastas of Bologna. It features small pieces of ring-shaped pasta stuffed with cheese and meat, and is served with broth. Although the dish is good on its own, it is traditional to offer parmesan cheese on the side.
3. Tagliatelle al Ragù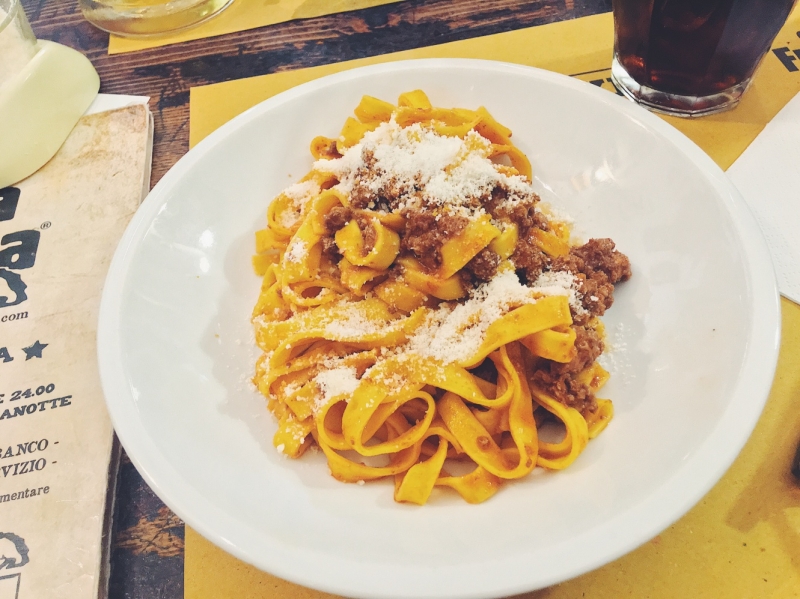 Spaghetti Bolognese is practically nonexistent in Bologna — the real deal is Tagliatelle al Ragu, a handmade fresh egg pasta. It's combined with a thick ragu of onions, carrots, pork, veal, and a little bit of tomato. Simple yet super delicious!

Tip: Pair it with a classic Italian wine.
4. Gramigna alla Salsiccia
Much less famous than lasagna but equally appetizing is Gramigna alla Salsiccia, a savoury dish made of squiggly tubes of pasta topped with a flavourful Italian sausage-based sauce. The Italian sausage is seasoned with fennel, giving it a subtle anise taste.
5. Mortadella
The speciality of Bologna, Mortadella is a large sausage made of finely chopped pork meat. The cherry on top? It's also made with 15% pork fat. It is spiced with whole or ground black pepper, myrtle berries, nutmeg, and pistachios.
6. Parmigiano Reggiano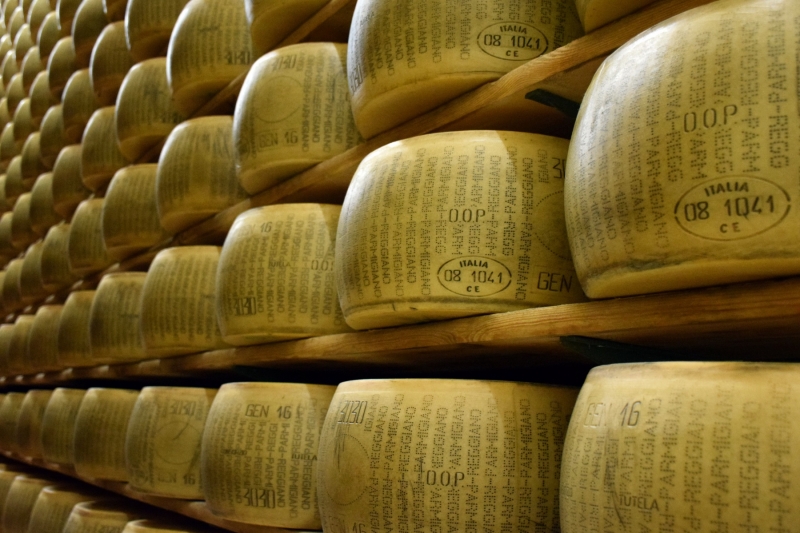 Italy's most famous cheese, Parmigiano Reggiano is a hard, granular cheese named after the areas that produce it. Is "parmesan" cheese the same as Parmigiano Reggiano? No. Parmigiano Reggiano takes years to produce and has a sharper, more concentrated flavour.
7. Balsamic di Modena
Another one of Bologna's pride, Balsamic di Modena is basically grapes boiled down to a dark syrup and then aged in wooden containers, in a controlled environment. A prized condiment, Balsamic di Modena takes more than 25 years to make. It's the perfect splash of flavour to cheese and pasta, figs, your favourite Italian pastry, and even a scoop of gelato.
8. Piadina
Folded or rolled as a wrap, piadina is the typical sandwich of Bologna. It features a thin flatbread made with flour, lard, olive oil, salt, and water, and is usually filled with ham, fresh cheese, and vegetables. Ideal for lunch, it is healthy, tasty, and inexpensive. You can eat it on-the-go, too.
9. Tigelle
Often referred to as Crescentina, Tigelle are mini, round pieces of bread sliced as a sandwich or as a pocket, and stuffed with cheese, pesto, vinegar or cured meats of all kinds. The dish is cooked in a cast iron mould called tigelliera. Soft and flavourful, it's the perfect aperitivo.
10.  Sparkling wine
It's not food, but wine definitely belongs to Bolognese food culture. Try out one of the city's specialities — Pignoletto, a white wine with delicate fruity notes.
Tip: Enjoy a bottle of Pignoletto with appetizers, tortellini, and seafood.
Now plan that trip to Bologna stat and thank me later. Buon apetito!
Also read: From Florence to the Rest of Italy: Five Day Trips You Shouldn't Miss