You may have heard of the popular Songkran festival in Thailand where millions of tourists flock to the destination annually to experience the rare spectacle of crazy water pistol fights and dunk stations. But do you know that there's another widely-celebrated festival in Thailand, which carries a similar meaning to Songkran festival? And that's the 'festival of lights' – Loy Krathong Festival!
Background of Loy Krathong Festival
Literally translated to 'floating baskets', I've long heard of the visually stunning sight that Loy Krathong festival has to offer – peaceful, still waters under the moonlight lit by twinkling candle lights of krathongs.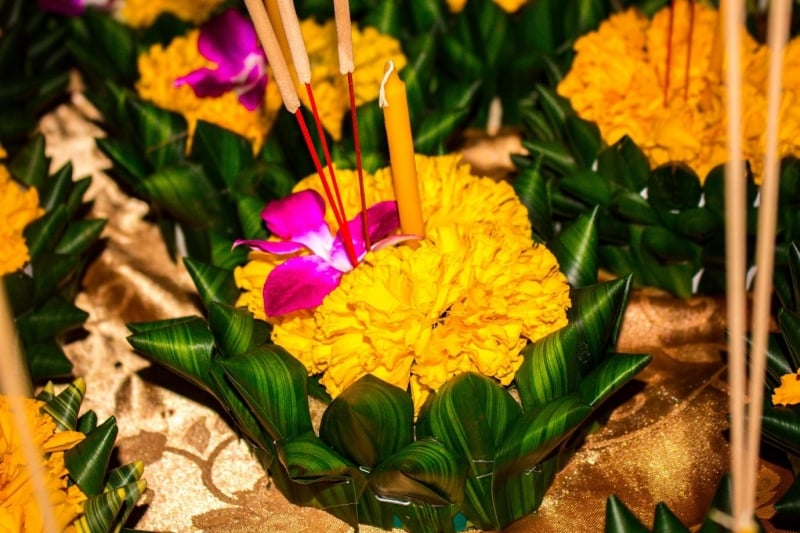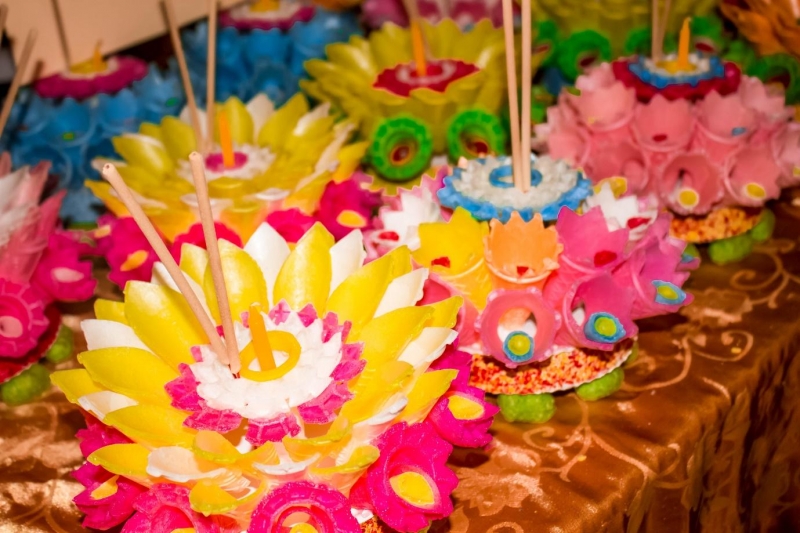 "So, what are krathongs?", you may ask. Traditionally made from banana leaves, krathong is a small lotus-shaped basket beautifully-decorated with fresh flowers, incense sticks and candles. Many Thais make their own krathong from scratch. Nowadays, a more environmentally friendly option – ice-cream cones of a kaleidoscope of colours – are also used. Yes, you heard it right – EDIBLE ice-cream cones that you can munch on at your own risk.
To pay respect to the Goddess of Water, many Thais pray for good luck and a year of new beginnings before setting adrift their krathongs at river banks. This is also known to symbolise the letting go of one's hatred and past grievances. Some Thais even put their fingernails or hair strands in the krathongs to ward off their sins! Of course, I was not so superstitious, so I skipped this step. Haha!
The festival typically falls on early to mid-November, the full moon night of the 12th lunar month. As the full moon period changes yearly, do check out updates from Tourism Authority of Thailand if you're planning to make a trip down next year!
Why Chiang Rai?
Although celebrated nationwide, Chiang Rai is one of the most popular cities in Thailand to indulge in the infectious festive vibe of Loy Krathong festival.
Being one of the few cities in Northern Thailand that co-celebrates it with the Sky Lantern festival – Yee Peng, many tourists and Thais from around the cities go to great lengths, travelling down to Chiang Rai just to partake in the dual celebrations.
I managed to catch the releasing of some sky lanterns when I was there. What a stroke of serendipity! But it was a pity that it couldn't be well-captured in a photo.
Best spots to celebrate Loy Krathong Festival
From the hyped-up atmosphere of a bustling night market to a romantic alfresco dining spot, here're some spots in Chiang Rai to visit for the best experience.
Thanam Phulae Chiang Rai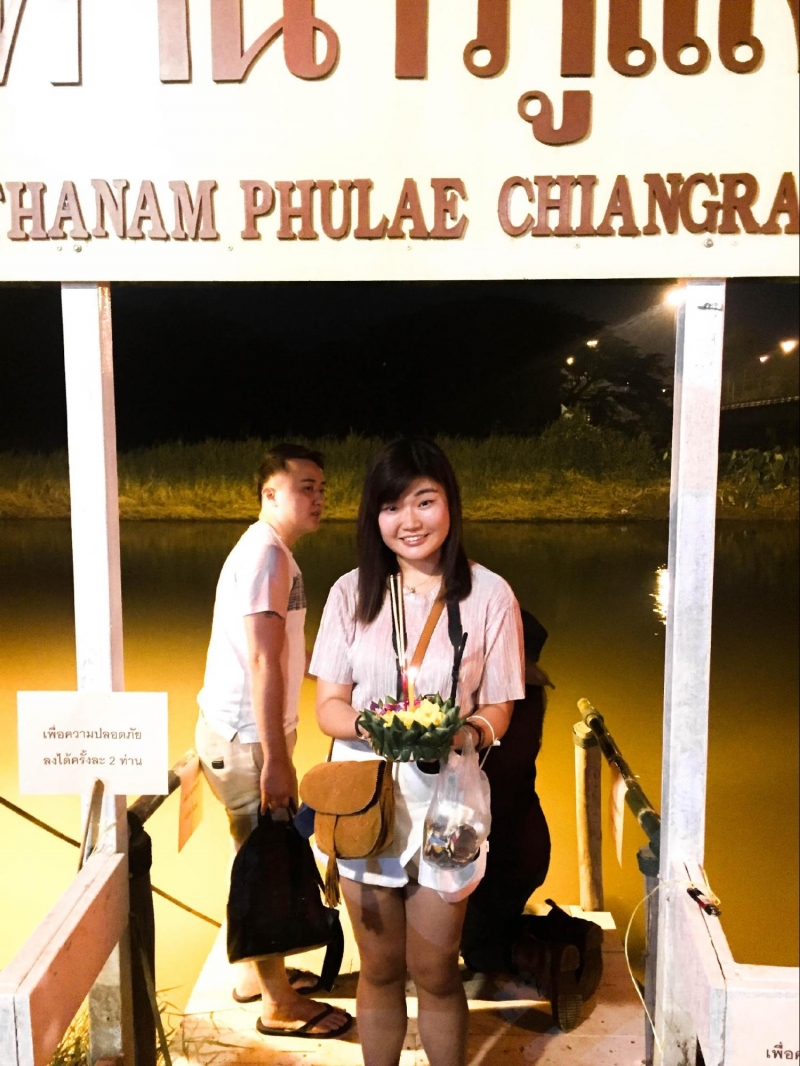 Away from the hustle and bustle of Chiang Rai city, Thanam Phulae Chiang Rai is a popular outdoor dining restaurant infused with a quiet and romantic vibe. With delectable northern Thai cuisine and a picturesque night view over the Maekok river, it's the perfect spot for lovey-dovey couples to usher in the Loy Krathong festival.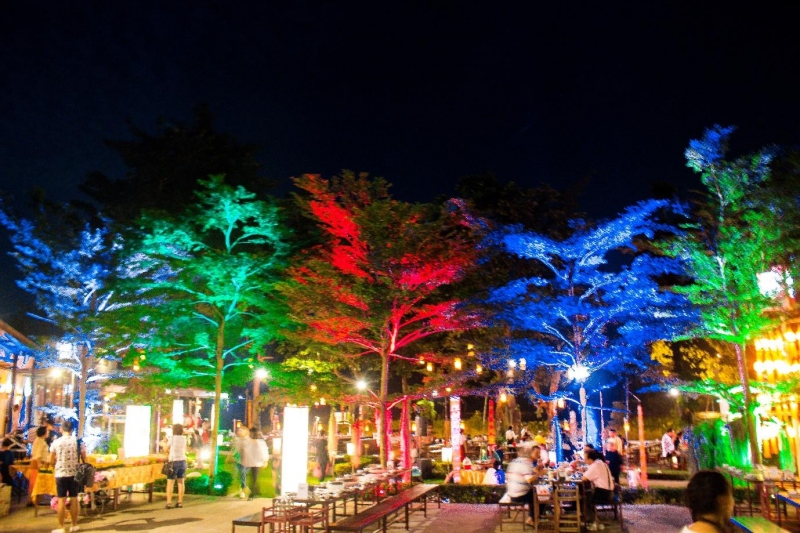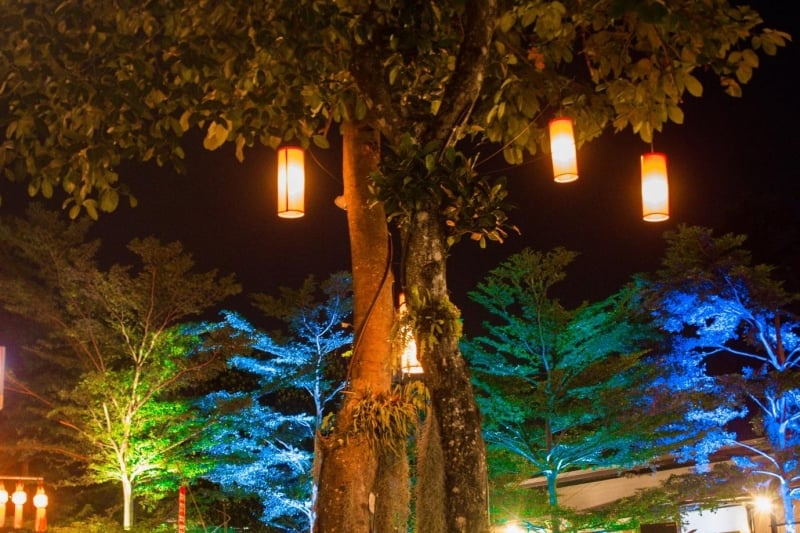 Upon entering the restaurant, I was instantly captivated by the brightly-lit, colourful LED lights that adorned the trees, illuminating the entire restaurant. It was so gorgeous!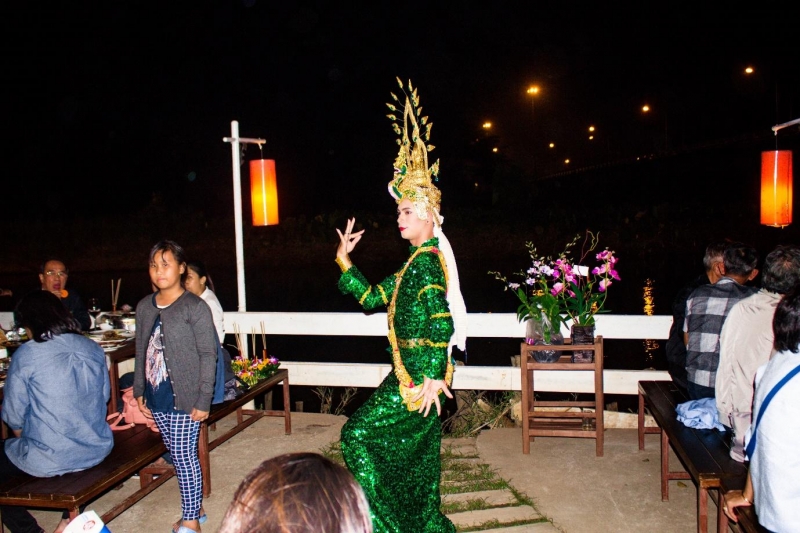 Upbeat traditional music wafted through the air as the performers danced to it; their shimmery clothes adding a whimsical feel to the performance. Be sure to Insta-story the exotic performance!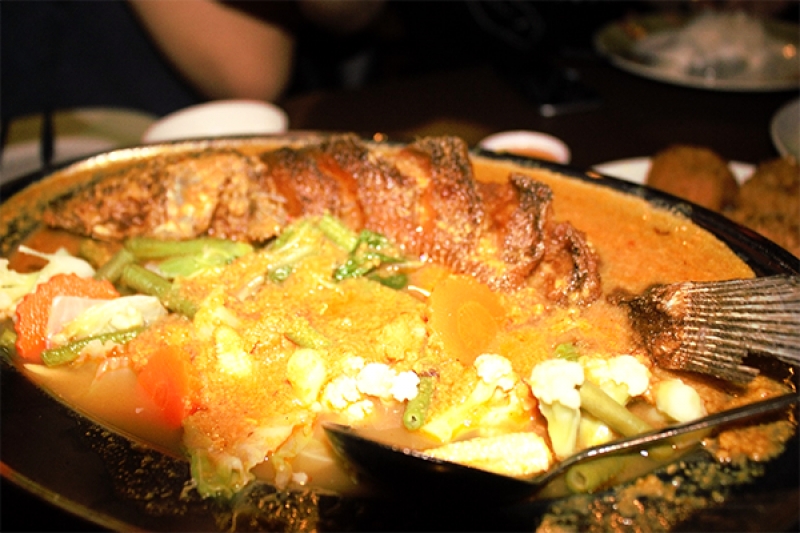 Not to mention the tantalising Lanna food served here, such as the spicy glass noodle salad (Yum Woon Sen) and Northern Thai sausage (Sai Oua)! Albeit slightly salty and spicy, the food was very appetising. I especially love the bolete mushrooms which were so succulent – the rich flavour bursts in my mouth as I sank my teeth into them. If you love food that are rich in taste, you'll adore this place!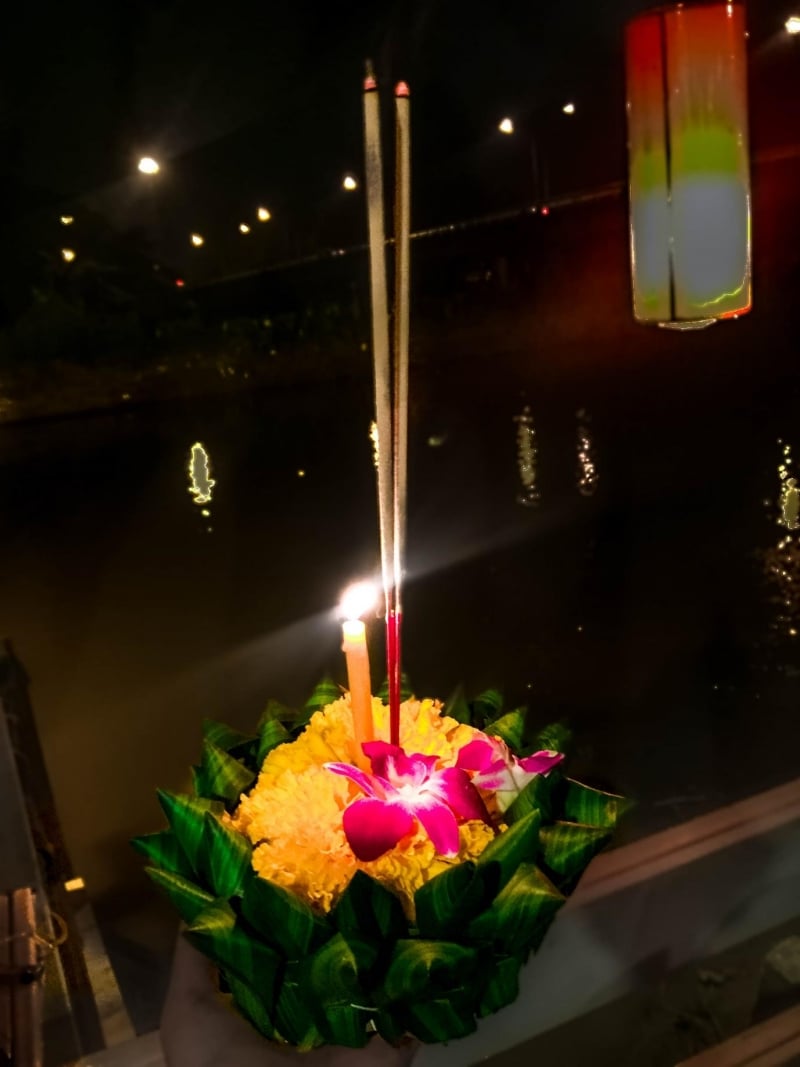 Of course, not forgetting the long-awaited Loy Krathong festival celebration. Take your pick from a wide assortment of traditional and modern krathongs neatly laid on a table near the entrance. I picked my all-time-favourite traditional krathong!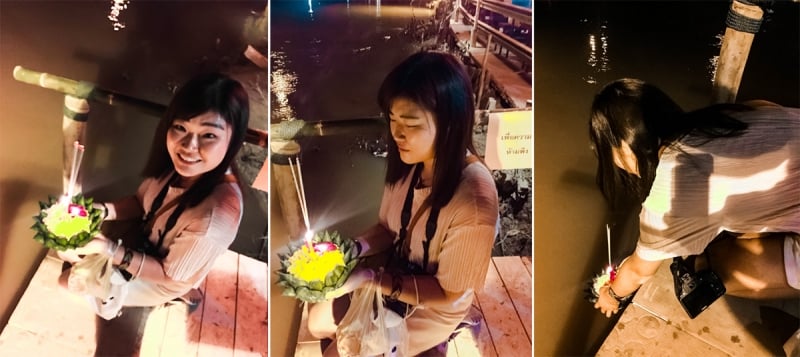 I was slightly disappointed that the view was not as majestic as I imagined – a river filled en masse with millions of candle-lit krathongs. However, seeing the stream of floating wishes gently gliding down the waterways strangely brought peace and calmness to my heart, which more than made up for the less than majestic view of the river. Truly, it's the experience that counts!
All in all, Thanam Phulae Chiang Rai is one of the more peaceful spots in Chiang Rai to soak in the festive spirit with your loved ones.
Address: Phahonyothin Road, Moo 6 Rimkok, Chiang Rai, Thailand
How to go: I'll advise going by tuk-tuk or taxi. The restaurant is located at the cross junction of Phahonyothin Road and Maekok River.
Main Festive Ground
If you're looking for a dose of celebratory excitement and overflowing zest, skip Thanam Phulae. Instead, get close and personal with the enthusiastic locals at their main festive ground – an annual night market buzzing with life at unearthly hour. Sounds exciting, huh?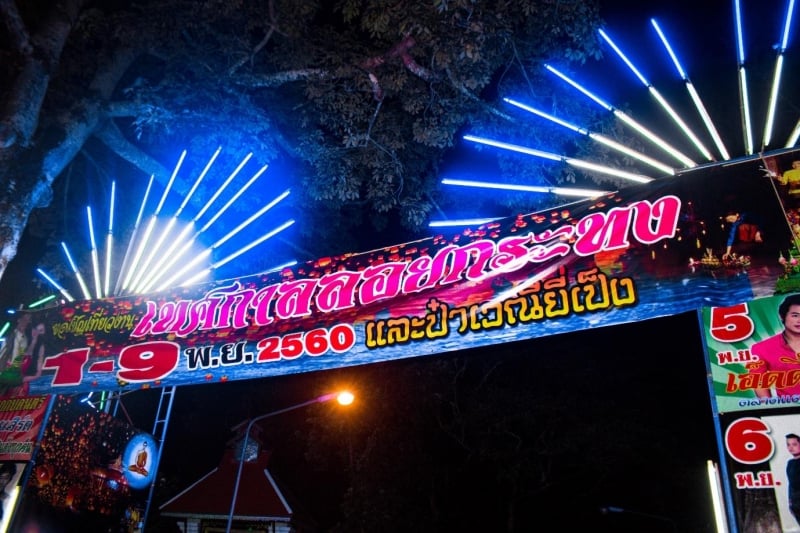 Every year, Chiang Rai celebrates the Loy Krathong festival at a different location near the Maekok river. When I was there, the festivities were held at the military training centre park – Suan Ror Dor, from 1 to 9 November 2017. Located right across the Maekok river from Wiang Indra Riverside Resort, this night market was amazeballs.
Transformed overnight from an empty ground into a bustling night market, you can easily navigate your way to Suan Ror Dor upon hearing the loud chatters and frequent shouts of "aroy mak mak!" from miles away. Traffic congestion along the roads and motorbikes adeptly weaving through joyful faces of people carrying krathongs, were common sights.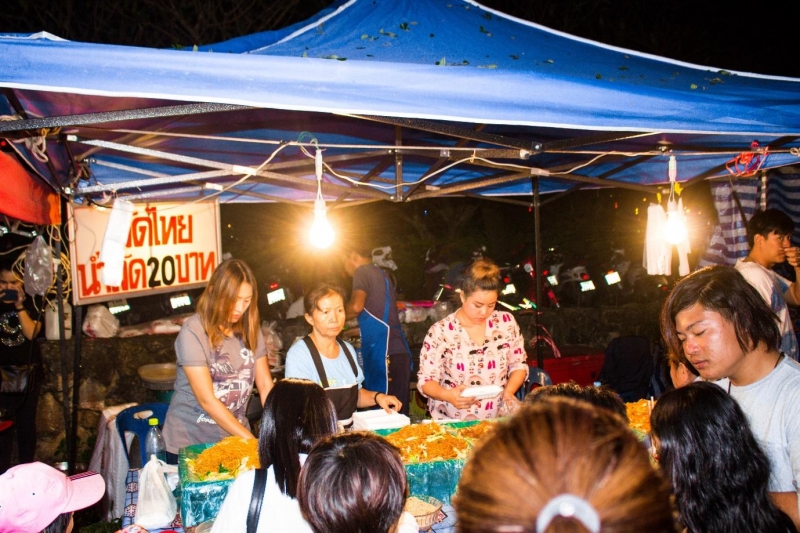 A seemingly endless row of stalls was lined side by side, selling everything from krathongs and incense offerings to a plethora of decadent food and drinks, as well as dirt-cheap clothes, bags and accessories. If you're game for it, try their local silkworm snacks (eww). And for fashionistas worrying that the things sold are too kitschy for you, fret not. I got a super gorgeous dreamcatcher earring for SGD$1!
To ignite your inner child, try your hand at the amusement park rides, toy claw machines and a wide variety of carnival game stalls!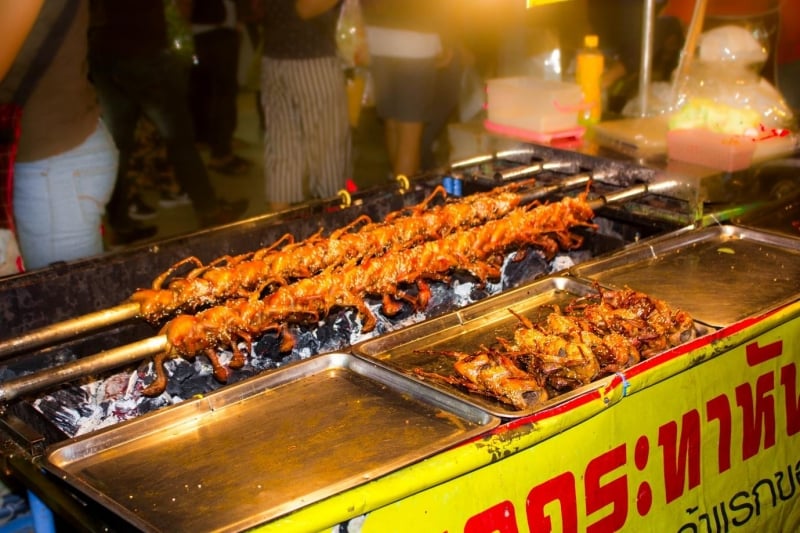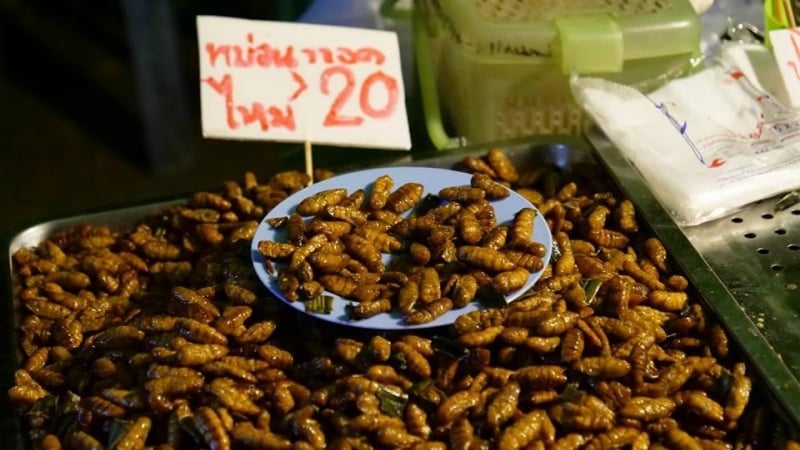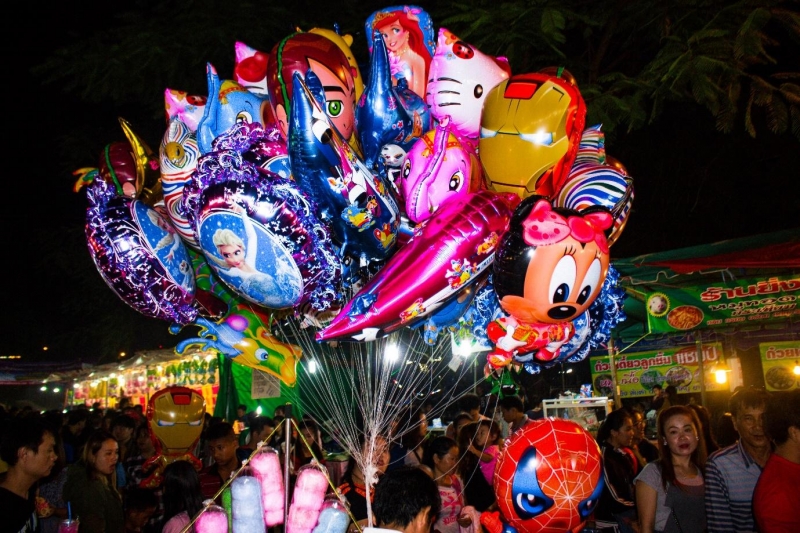 After all the fun and food, burn off your calories by taking a long walk to the far end of the market, where you can set adrift your krathong into the Maekok river. People were jostling each other while walking down the steep and slippery slope to the riverside, so be careful!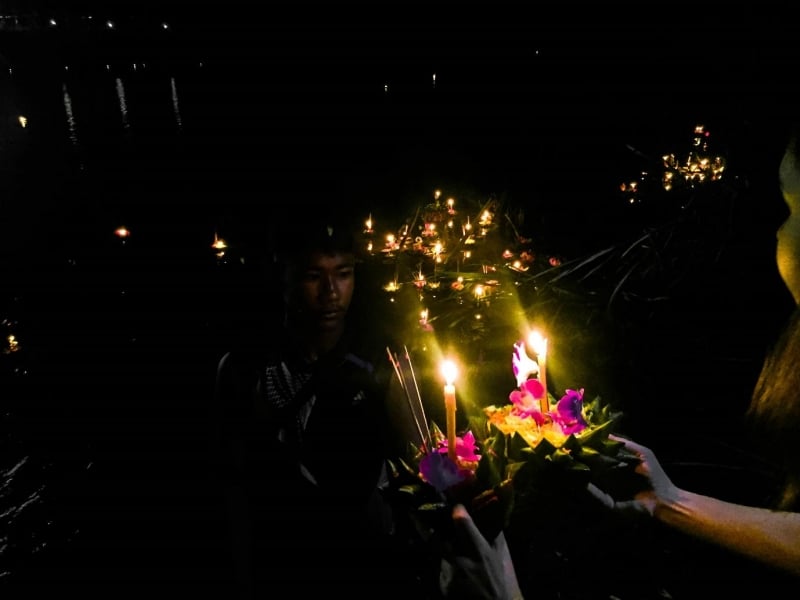 Suan Ror Dor is indeed the perfect epitome of a food and shopping haven to immerse in the atmosphere of Loy Krathong festival.
Address and how to go: As the location differs yearly, do check out this website closer to date if you'd like to go to the night market!
Nothing beats travelling for new, authentic experiences. Skip the Instagrammable husky café and Siam Paragon in Bangkok and join the locals in Chiang Rai for a spectacular Loy Krathong Festival celebration!
---
Special thanks to Tourism Authority of Thailand and Bangkok Airways for enhancing my travel experience and making this fruitful trip possible.