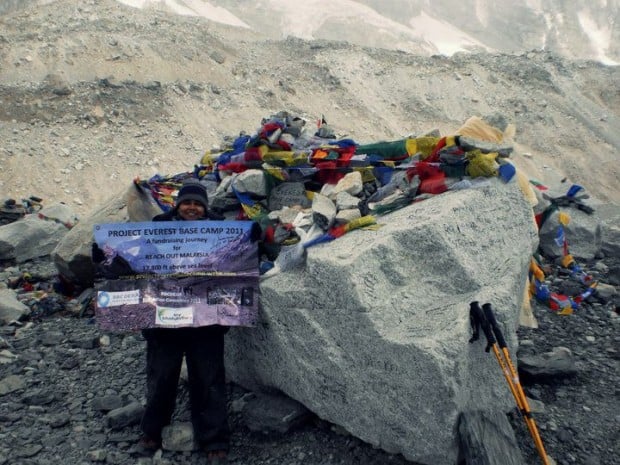 If you start researching on ways to trek to the world's highest base camp, Everest Base Camp, you will come across thousands of agencies offering the "cheapest package" which typically starts from USD1000 excluding your return airfare, food expenses and tips. In actual fact, you can pretty much do everything under USD1000 if you know how. Here's how I did it:
Flight tickets
I got my flight tickets from the now defunct GMG airlines (if it makes you feel better, AirAsia flies to Kathmandu 3 times a week), for about USD496 return which included a transit in Dhaka. This lengthy transit, I arrived in Kathmandu just a little before midnight. A cab ride to a guesthouse cost USD5 (NPR500) – rip off, it should only cost about USD3 (NPR300) – and a room with attached bath and heating costs about USD 5 (NPR500) which was another rip off, because the "hotel" did not have air conditioning, heating, hot water, or any water for the fact.
The next day, I met a travel agency owner (we made contact over the internet before I left Kuala Lumpur) to receive my return ticket between Kathmandu and Lukla. This return ticket, which costs USD230, can only be bought from travel agencies so seek one when you get there or find them online. You will have to get to the Domestic Terminal, check in, show your ticket and wait to be called or wait for the weather forecast. Flights to Lukla is weather-dependent and the runway, which is a mere 500 metres long, is flanked by two huge mountains.
Also read: Hiking in Asia: 10 Places With Stunning Trails
Lukla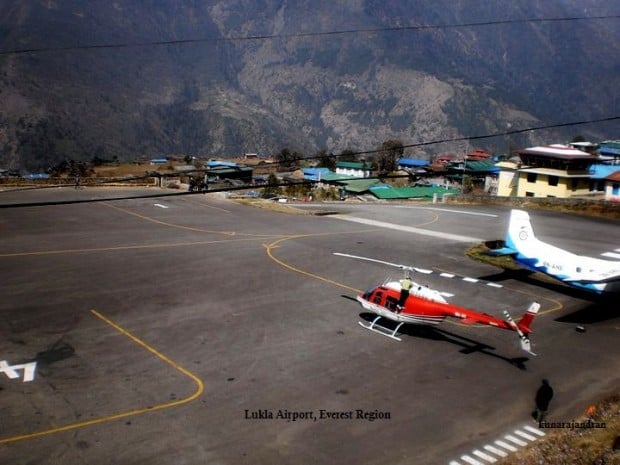 Once you land, get to the tiny terminal and wait for your bag coming on the tiny conveyor belt. While you're at it, marvel at the quaint little town of Lukla and the fact that you are in the Himalayas. You'll see young Sherpas hanging about in and around the tarmac. Approach them if they haven't approached you already, and negotiate rates for porters. They will carry your bags for you. You won't be needing a guide. That is because all 534 people who have landed in Lukla that morning are most likely heading to Everest Base Camp anyway, so the routes are pretty clear and well-marked. However, if you want to hire a guide anyway, go for it. Besides helping the economy, your guide would probably be able to tell you more about the trek itself.
Phakding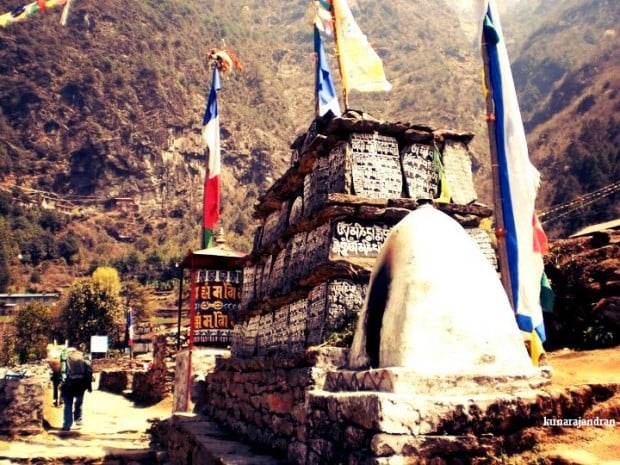 The first village you'll come to is Phakding. There's be a cluster of small guesthouses here so choose one. Chances are, your porter that you entrusted your bags to would've beaten you to it. Go in and inspect the rooms, which would most likely be a basic one. Rates vary from USD1 (NPR100) to USD3 (NPR300) and owners would expect you to also have your meals there.
Namche Bazaar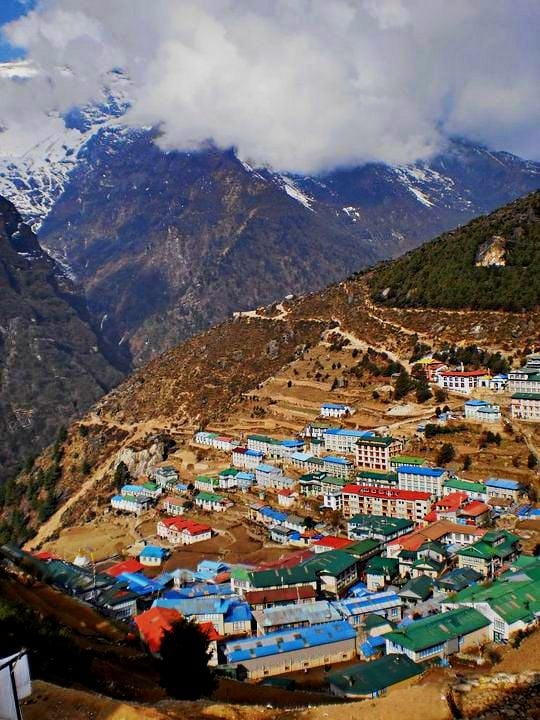 Be prepared for a long arduous trek the next day to Namche Bazaar. This is the social, economic and cultural hub of the Sherpa society, located in the Khumjung Valley. Here, you'll find guesthouses, shops, bakeries, money changers and even a premium Illy coffee outlet. More than a hundred buildings are nestled here, and you should be prepared to pay more for everything here. Pick a guesthouse (if your porter hasn't done so already) and settle in, as you will spend the next two days here acclimatizing.
Over the next two days, you can trek to the highest bakery in the world, and also catch your first glimpse of Everest. This trek will also help you to acclimatize. Walk around Namche Bazaar, buy water purification tablets and rent a all-weather sleeping bag for USD1 (NPR100) to USD2 (NPR200) a day. Sample the Nepal's famous Momos (meat dumplings) and drink black tea. You're on the right track.
Tengboche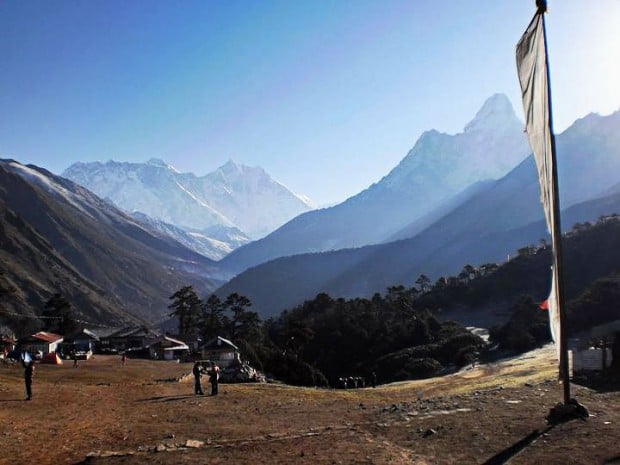 After your relaxing days are over, its time to hit the road again. If you come during the spring, along the way you will see rhododendron flowers in abundance. Today you would head to Tengboche, where the world-famous monastery is located. Stay here for a night and visit the monastery where young Nepali and Tibetan males train to become Buddhist monks. Guesthouses here would set you back about USD4 (NPR400) to USD5 (NPR500) per night.
Dingboche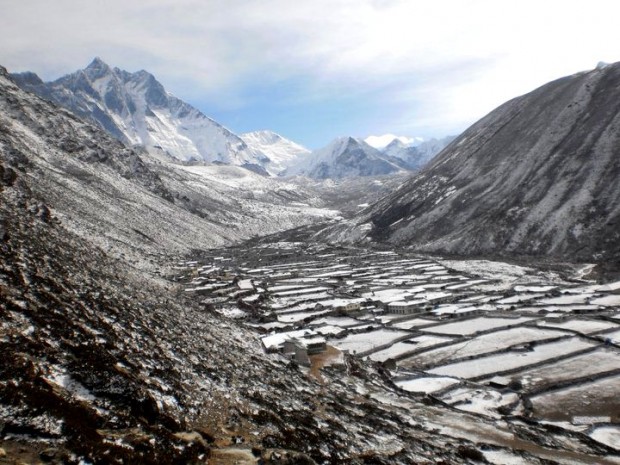 Rise and shine early the next day for you'll be trekking to Dingboche, a tiny village with beautiful view. By now you should be feeling the effects of the thin air and you might even find yourself constantly out of breath. Calm down, you are not about to pass out – It is simply the effect of the high altitude. Upon reaching Dingboche, where you will spend two nights, sit by the fireplace, warm your icy hands and drink some black tea. The guesthouse should cost USD5 (NPR500) onwards per night. You will notice the cost of goods increase the higher you climb, so always carry sufficient cash in local currency and US dollars with you.
Lobuje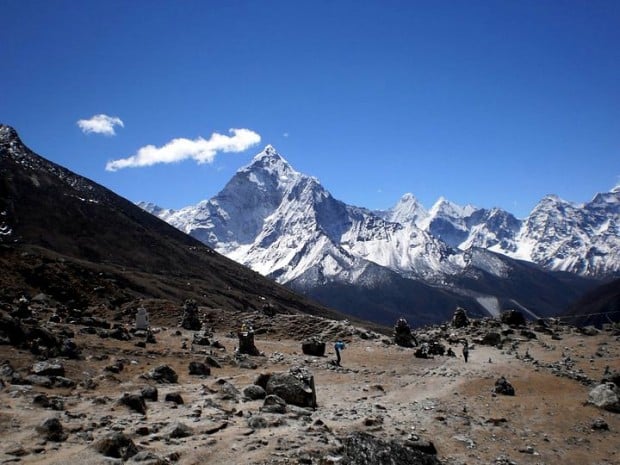 Acclimatizing days over, trek on to Lobuje, a village with only a handful of lodges. Lobuje can be crowded because there are only a few guesthouses available. Nevertheless, for about USD6 (NPR600) per night and you should be able to snag a bed. Have a hot meal, drink black tea and warm yourself by the fireplace with other fellow trekkers.
Everest Base Camp and Gorak Shep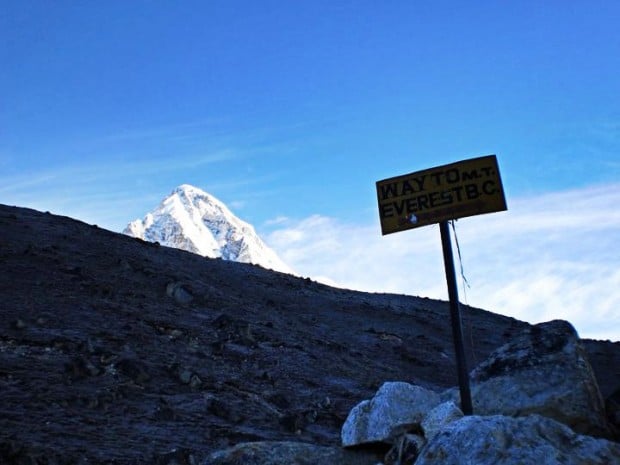 Wake up early the next day and have a good breakfast. Today you will be making the long journey to Everest Base Camp and back to Gorak Shep (the last village you will pass on your way to Everest Base Camp). If you are too tired to attempt to reach Everest Base Camp in one day, stay in Gorak Shep for a night and trek to Everest Base Camp the next morning. You should be able to reach your destination by lunchtime. Pat yourself on the back congratulate yourself for sticking through it this far. You have have huffed, puffed, hemmed and hawed to the world's highest base camp and you are still in one piece! Watch the tiny camps where climbers prepare for the climb of their lives. Walk to their tents and have a black tea with them. Trust me, they are lovely people from all over the world. Occasionally you'll see a helicopter hover by. Those are helicopters bringing supplies from Lukla or Kathmandu.
Also read: Poon Hill Trek: A Life-Changing Journey to the Himalayas
Pangboche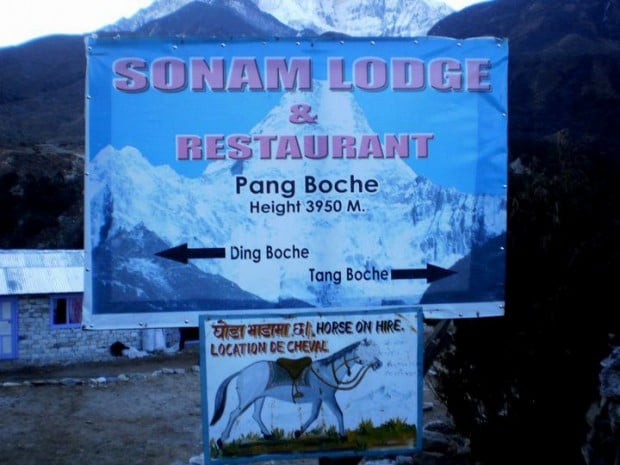 Back in Gorak Shep, sleep early and rest well. By now, your body will be screaming for oxygen, warm sunny weather, more black tea and maybe home. Don't worry, few more days to go. Today you start the trek back to where you came from. In my case, I trekked to Pangboche, where I stayed in a lovely guesthouse overlooking the gorges and the magnificent Dudh Kosi River flowing below us. It will still be cold here but you will be able to breathe better. Try to get some sleep. Have you had your black tea?
Namche or Monjo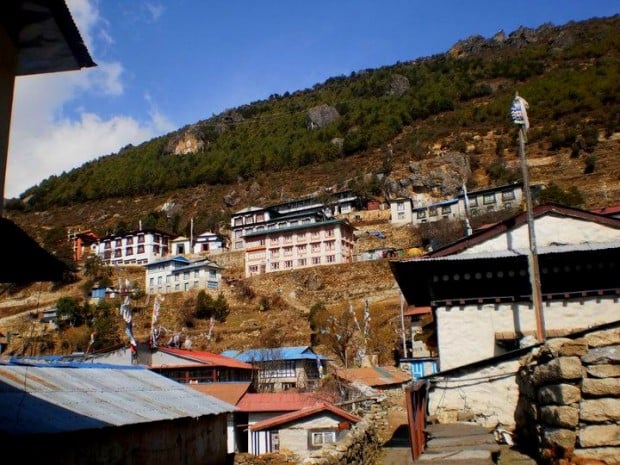 Next morning, continue the trek to Namche, although I didn't stop in Namche, I continued the trek until Monjo, a tiny hamlet of civilization. I arrived in Monjo just after dark and was too tired to continue. Monjo is about an hour from Namche, so if you arrive early you might as well continue to Monjo. Try to have a nice meal and try their famous potato soup – it's the best I have ever tasted. And once again, black tea is a must!
Lukla
Rise and shine for the last day in the Himalayas! Today you will trek to Lukla, where you first started your journey. You will most probably reach in the early afternoon or evening, and most likely need to stay a night in Lukla. Don't worry about being bored. You would have made enough friends along the trail by now and are bound to meet someone. Go to the only bar in town and have a drink of Everest beer and toast to your adventure. Tonight is all about celebration. Thank your porters and tip them if they did a good job. Forgive them if they didn't, and tip them anyway.
Check your flight schedule for tomorrow. Flights don't usually depart or arrive on time, so if your ticket says 11am and your flight only arrives at 4pm, do not strangle the pilot. This is normal in Lukla. Since all flights are weather-dependent, be prepared to be flexible and stay another night in Lukla if need be.
If your flight arrives on time, rejoice. Say your goodbyes and adieu to the majestic Himalayas, home to you for the past 16 days. Time to sit back and savor the moment. While on your way to Kathmandu, you would have one thought, and one thought only:
Have I had my black tea yet?
Also read: What You Can Buy With SGD 1 In Nepal
To summarize, this will be your journey to Everest Base Camp and back:
| | | | |
| --- | --- | --- | --- |
| Location | Number of nights | Price of guesthouse (NPR) | Price of food (NPR) |
| Lukla to Phakding | 1 | 100 – 200 | 200 – 300 |
| Phakding to Namche | 2 | 200 – 300 | 500 – 600 |
| Namche to Tengboche | 1 | 300 – 400 | 500 – 600 |
| Tengboche to Dingboche | 2 | 400 – 500 | 600 – 700 |
| Dingboche to Lobuje | 1 | 500 – 600 | 600 – 750 |
| Lobuje to Gorak Shep | 1 | 600 – 700 | 700 – 800 |
| Gorak Shep to Pangboche | 1 | 200 – 300 | 400 – 500 |
| Pangboche to Namche | 1 | 200 – 300 | 500 – 600 |
| Namche (or Monjo) to Lukla | 1 | 100 – 300 | 200 – 400 |