Vietnam is a crazy place. Between the traffic and the bustling city populations, just strolling down the street can be an insane experience. However, you can take it to the next level by having some crazy adventures on your next visit to Vietnam.
1. Canyoning in the highlands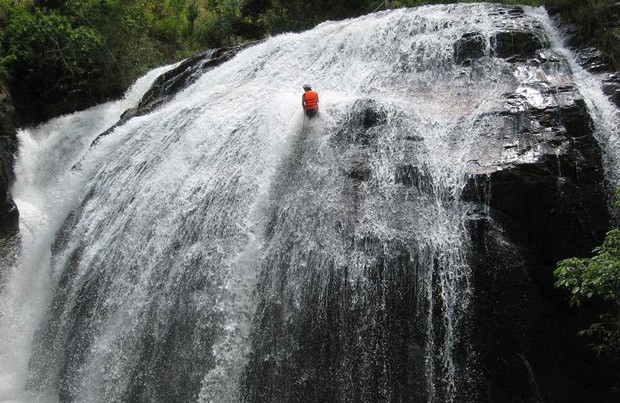 Image credit: vjtadventures
Jumping off of cliffs, repelling backwards down raging waterfalls-sound crazy? It is. The highlands of Vietnam are one of the best spots to try this adventure sport. There are plenty of companies that will take you out, show you the ropes (literally) and have you climbing down rock faces in less than 30 minutes of arriving.
You will be terrified as you try to slowly lead yourself down a vertical rock face into a raging river, but it will be worth it. And just when you think you have some down time, think again. Your guides will have you sliding backwards down natural rock slides and hiking up mountains.
2. Spend a night on castaway island
This island is not a place for those who can't handle their booze. The experience is essentially a secluded party oasis with no rules except the ones that revolve around drinking games. Castaway island is one crazy place.
A boat will drop you off on the small beach in Ha Long Bay and you will have access to the 24 hour bar, loads of delicious food and plenty of bikini-clad bunk mates who are ready to mingle. Skinny dipping is encouraged and turning off the blasting house music is highly discouraged.
Also read: 6 Places You Wouldn't Believe Exist in Vietnam
3. Drive in Hanoi traffic during rush hour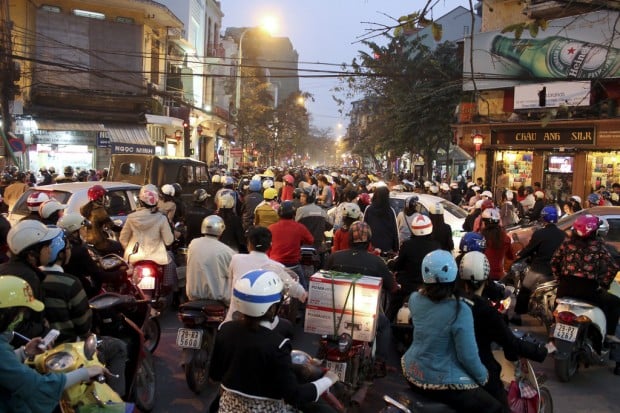 Image credit: Magalie L'Abbé
Picture a sea of helmets – that is Hanoi traffic. Anything goes and if traffic rules do exist, it isn't very apparent how. It's essentially like a real life video game where you have to dodge old women darting into the road, street dogs chasing your tires and hundreds of bikes coming at you from every direction. Good luck!
4. Avoid being asked if you want a motorbike ride
It would actually be CRAZY if you managed to spend a whole day walking around Vietnam without being asked at least once if you want to take a motorbike ride somewhere. The streets are flooded with motorbike wielding men trying to make a living off of your travels.
Also read: Amazing Load Balancing Acts on Vietnamese Bikes
The supply is much bigger than demand and they will often ask you one after the other as if you will suddenly change your mind for the next person. Their optimism is quite admirable as they will even ask people that they see either getting off their very own motorbike or carrying around their helmet, signifying that they probably have their own ride.
5. Take an overnight train down the length of the country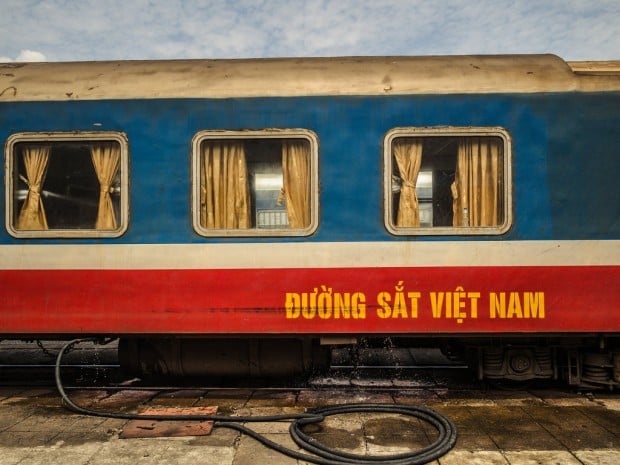 Image credit: ekvidi
If you wanted, you could take a train down the whole length of the country. There are some fancy train carts you can book, but if you want a crazy experience, take the standard car.
Share a room with a bunch of locals who don't see any problem with sitting at the foot of your bed, slurping their soup and picking their nose right on top of your sheets. You will barely have any idea what is going on, when or where to get off and what the hell the snacks are that keep going by on the carts. You will get to practice your balance as you aim over the squat toilet that is available on the shaky car while you're at it.
Also read: 10 Destinations in Vietnam You Need to Visit
6. Stay in a backpackers' hostel
Choose a real backpacker hostel, not one of those sketchy hotels that call themselves a hostel, if you want a crazy time. The building will be full of hippies, partiers and travelers all mingling together in the game room or at the bar. Parties will rage right in the lobbies and there are always interesting and strange people to get to know.
7. Get locked inside a bar in Hanoi
Right around midnight, the police start coming around to the bars in Hanoi to shut them down. The bars know better than to give in and lose potential profits, so what do they do? Pay off the police, shut their doors and lock in all of the remaining patrons to party well into the morning. You never know what sort of party is going to rage inside a locked down bar.
8. Be an extra in a Vietnamese film
One way to come by a movie extra gig is by joining some of the Vietnamese Facebook groups. There are often job postings that usually call for foreigners to act in the films. Meet some famous people, mingle with other extras, score some free dinner and drinks and get paid all at the same time. Plus, you will be kind of famous, right?
9. Drink what you can afford at a local bar
Image credit: Roger Riera
Well, maybe you shouldn't since beers cost about 75 cents for one pint. Spend a night sitting outside at one of the bia hoi drinking locations and people watch as you pound back as many as you can afford. If you are the average person, that is quite a lot of glasses and you may not be able to make it home when you finish.
10. Invite yourself to a picnic with the locals
Take a walk around any local park and you will see tons of local people having picnics in the grass. They go ALL out. You will see entire families and entire meals worth of prepared food, cases of beer and mini barbeques. Walk right up with a big smile, try to communicate and see if they will invite you to stay for a meal and a drink. Chances are that they will.
Also read: 8 Reasons Why You Should Travel to Vietnam This Year