For some, London and its countless attractions may stand for everything that the British Isles have to offer. But they couldn't be more wrong. Located close to several cities in the south of England, the capital is the perfect springboard for an exploration of the English countryside. Often comprising just a short train journey, these day trips make for easy getaways at any one of London's attractive neighbours.
1. The Seven Sisters
The lesser known but equally picturesque counterpart to the famous White Cliffs of Dover, the Seven Sisters offer visitors sweeping, panoramic views of the English Channel and, at certain points, dramatic sights of the chalk-white Sisters themselves.
While the length of the Seven Sisters is frequented by local bus services, plan a hike across the cliffs instead – the coastal walk is one of the finest available in the Kingdom. Start your journey with a picture or two by the quaint Coastguard Cottages at Cuckmere Haven, and take a lunch break in the cliff-edge cafe at Birling Gap. Head down to the beaches and go rock-pooling in the shadow of the looming Sisters.
The last stretch of the walk is also its most stunning; look out for the Belle Tout Lighthouse to guide you along your way, and nothing makes for a better photo opportunity than Beachy Head and its striking lighthouse floating right off the coast. Finishing at Eastbourne, remember to treat yourself to a celebratory dinner with some classic fish and chips.
To get to the Seven Sisters, take an early train from London's many prime stations to Seaford (Sussex). From Seaford, head out to the cliffs via Seaford Head. After completing the hike, take an evening train out from Eastbourne to return to London. The fastest train journeys are approximately one and a half hours long in both directions.
2. Bath
Just 90 minutes away from London lies perhaps the most beautiful spa town in all of England. Founded by the Romans, Bath is named for its naturally occurring hot springs, which visitors can still experience at contemporary spa facilities like the Thermae Bath Spa. If not, learn how the Romans luxuriated in this city at the historic Roman Baths.
Here, you can even taste the mineral-rich water frequently prescribed in the 17th century for its curative properties. The popularity of these spa treatments in the Georgian era also solidified the English town's enduring fame and accounts for Bath's inimitable Georgian architecture, all vividly recorded by Jane Austen when she lived there.
Indeed, check out the famous "question mark" formation comprising the Royal Crescent and the Circus. Have a picnic on the open field facing the Crescent, or spend time marvelling at the intricate architectural features of the Circus' elegant houses.
For your day trip, be sure to go on free walking tours provided by the Mayor's Guides. These are informative tours given by Bath residents themselves, who, unlike other 'free' tour guides, do not expect any tips for their service.
3. Brighton
With fluted domes and stylised minarets, the Royal Pavilion's eclectic melange of oriental architectural styles is perhaps representative of this colourful seaside town's bohemian character. Heady and hedonistic, everything about Brighton, from its balmy coastal climate to its hip hippie lanes, stands in stark contrast to the perennial urban-grey of metropolitan London.
On arrival in Brighton, head straight to its long shingle beach and its iconic landmark, Brighton Pier. A precarious monument to Victorian eccentricity, the Pier is a fairground complex offering ticketed amusement rides, penny arcades, ice-cream cones and free deck chairs from which to enjoy views of the placid sea.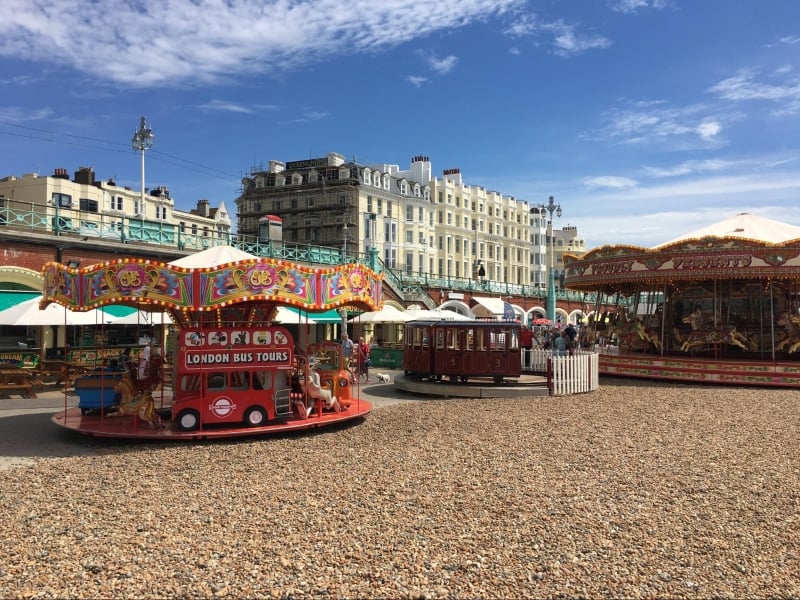 After you had your fill of fun, head inland towards the Lanes, a network of little streets lined with indie boutiques, quirky stores and relaxed eateries. Pack a snack or two and laze by the expansive grounds of the Pavilion Gardens; if not, take an easy stroll along Brighton Beach. Walk far enough and you'll catch sight of the brightly coloured Hove Beach Huts, which provide ample photo-ops for an Insta-shot that's sure to spice up your English feed.
As evening rolls around, return to the Lanes for some last-minute shopping or light dinner. Then follow Queens Road to Brighton station, where the fastest train journeys will have you back in London in slightly under an hour.
4. Oxford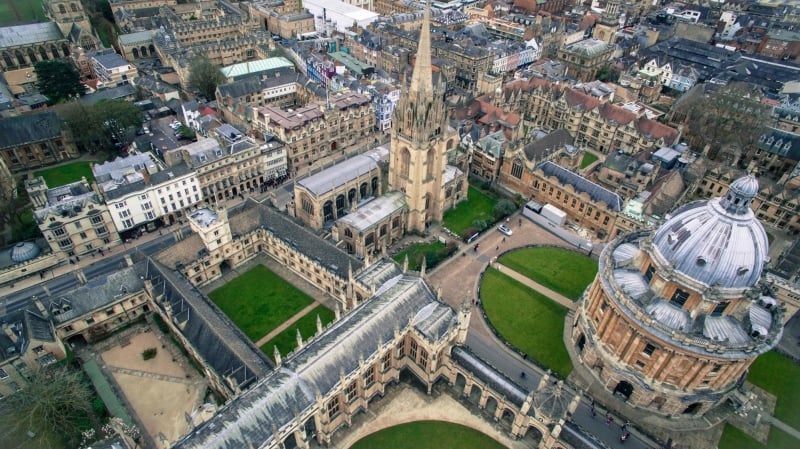 No one does British old school quite like this renowned university town, home to one of the oldest and most prestigious academic institutions in the world. Originally named for a shallow river crossing at which oxen can ford, today you'll be looking out instead for the mortarboards crossing the iconic Bridge of Sighs at Hertford College.
With dreaming spires, shadowed cloisters and lush quads, Oxford's numerous colleges (38 to be exact) are incomparable architectural gems. Popular ones to visit, perhaps by virtue of their location in the city centre, include Christ Church and Brasenose College.
Harry Potter fans will spend considerable time pottering about at familiar film locations, and along the way, might stop to marvel at the resplendent interiors of the Bodleian Library and the distinctive facades of the Sheldonian Theatre and Radcliffe Camera.
Those with a scholarly disposition will gush over Blackwell's Bookshop and its enormous Norrington Room, which holds the Guinness Book Record for the largest single room selling books. Otherwise, an afternoon is also easily spent with the university's impressive collections at the Ashmolean Museum and Pitt Rivers Museum.
Several tour companies offer day trips with a stop at Oxford; if not, plan your trip by train and arrive in the city within an hour.
5. Cambridge
There's no mentioning Oxford without also speaking about its equally famous Cambridgeshire counterpart. While the two towns may possess similarities – a love for punting, ancient college architecture and even a Bridge of Sighs at St John's College, albeit one built over water – Cambridge is altogether a substantially quieter and greener affair.
Covering little ground, the town centre and its medieval lanes make for an excellent walking experience. Have a bite or two at the many pleasant tea shops that dot the town's surrounds, before heading out to the wider college perimeter. Then wander through some of Cambridge's 31 colleges, each possessing a distinct personality matched by a variety of architectural styles, some historical, some contemporary.
Big names include Corpus Christi, Trinity and St John's, with the last boasting a world-famous choir. You will also be hard-pressed to miss King's College Chapel, with its delicate Gothic fan vaulting (an English speciality) and its enormous stained-glass facade that belongs to some of the finest made in its period.
But perhaps the best way to explore Cambridge and its charms is through a punt-hire; let students and residents take you on a lazy ride down the River Cam while relating first-hand experiences of college and town life. Sail pass The Backs, and, depending on the time of the day, watch picnickers bask in the warmth or golden rays strike the Chapel's dazzling Great East Window. The Backs' expansive greens echo the large park spaces afforded to Cambridge, which include the curiously named Christ's Pieces. A train to Cambridge from London will get you there in 45 minutes; for a cheaper but equally efficient option, try a bus instead.
Certainly, the English countryside offers much more than these five places. Consider embarking on a literary pilgrimage to Stratford-upon-Avon (only the Bard's birthplace) or Canterbury (for a certain Chaucer and his tales). Margate is well-known for its sandy beaches, and the prehistoric Stonehenge is accessible via Salisbury.
After this English taster, you might just have a mind to travel up through the Midlands and beyond!