Considering about 60% of people live in cities, it is no wonder wanderlusters constantly look for an escape from the bright city lights and constant honking of vehicles that eternally clog the streets. Cities are filled with ambition and haste but it can also be draining on one's psyche. What better escape than to rural Taiwan – where nature, furry beings and majestic mountains await you?
As I spent my days in Miaoli, Hsinchu, Chiayi and Tainan, I was completely immersed in nature and was cleansed of all the soot and noise accumulated from my Singaporean urban life.
1. Flying Cow Ranch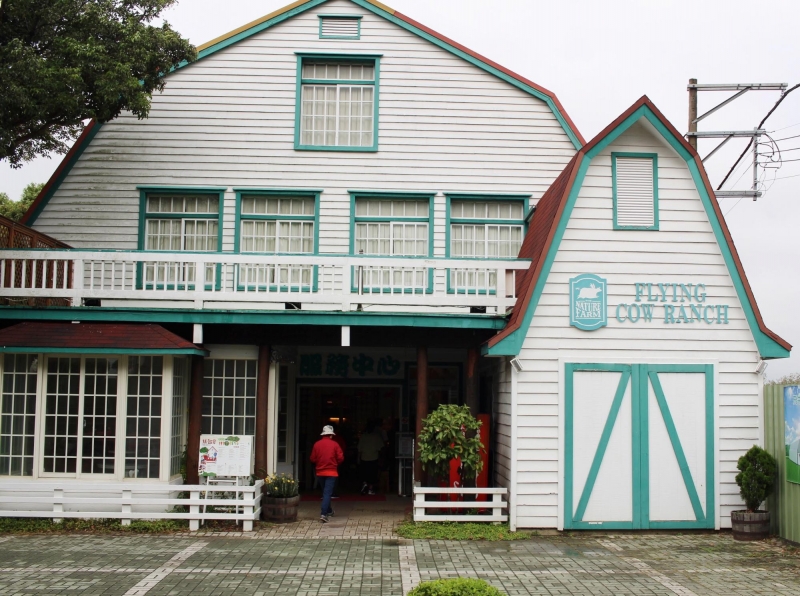 When I arrived at Flying Cow Ranch, I was greeted with fresh air – with a faint smell of cows and goats. Travelling for long distances makes anyone hungry so I was led to their in-house restaurant where a wide spread of delicious local Taiwanese cuisine was unfolded in front of me. From their steaming milk hotpot to the soft, generously-portioned mantou, it took a feast to welcome me to Miaoli. Their milk hotpot, which was harvested from the cows, was filled with a variety of seafood, while the mantou was as big as my fist and had to be doused in condensed milk for maximum enjoyment.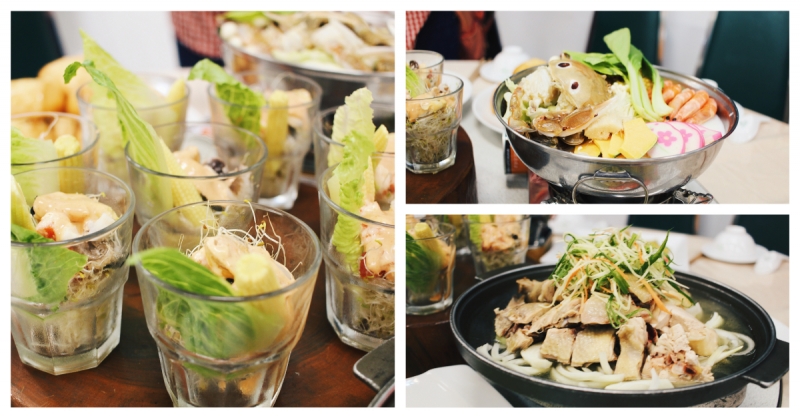 The farm animals may be asleep at night but the farm's many seasonal DIY activities was a great way to keep me occupied For one, I had a chance to show off my baking skills with a butter cookie baking session. All ingredients were portioned and ready to be mixed or kneaded into small bites of my desired shape. At the end of the session, my unique cookies were packaged, ready to be consumed or brought back as a keepsake. (When you book the farmstay with CTC Travel's 3D2N Taiwan Leisure Farmstay package, you will be able to participate in the nighttime DIY and the Flying Cow Ornament DIY sessions.)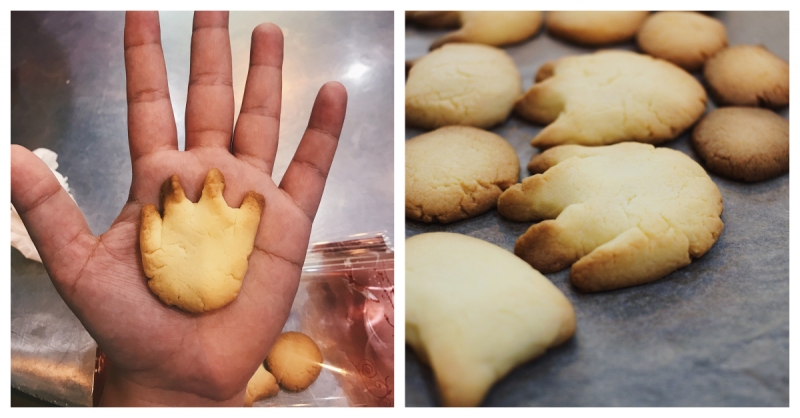 As the night winds down, I retreated into my simple and spacious country hotel-style room. Staying in their fully wood-furnished room will have you will truly immerse you in a complete farm experience. Feel free to indulge in their complimentary milk sweets in the room that you can purchase from their resident snack shop. Their milk pudding balls and vegetarian milk pudding are both a cute and delicious way to cleanse your palate after a meal.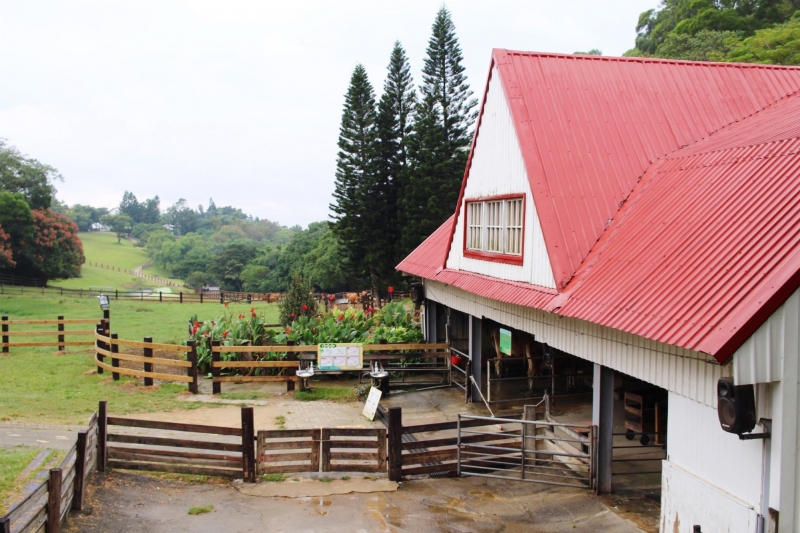 My morning might have been embraced by gloomy clouds but it did not stop the animals from greeting me. Cows, calves, goats, ducks and mountain deer – you name it – were frolicking about the vast green lands of the ranch. Be sure to check out all the feeding and activity timings for the various animals to not miss a chance to interact with the furry friends!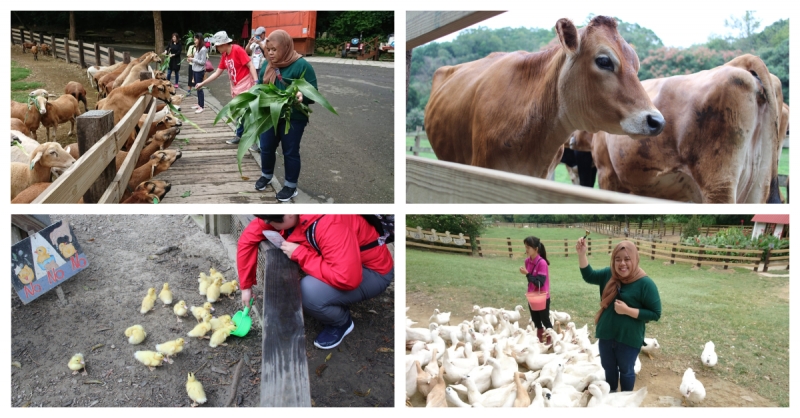 A few gentle pulls and squeezes later, I managed to successfully milk my first cow, which was collected in a bucket to eventually feed the calves. I got to feed a milk bottle to an energetic and clearly famished calf who downed it within minutes.
This was followed by equally enthusiastic mountain goats who quickly flocked to the wooden gates, ready to be fed as I waved corn leaves in the air. You have to peel each leaf individually to feed them as they tugged and fought each other. Subsequently, I watched on as an entertaining duck parade of Luffy white ducks waddled around (and over me) when I rang the bell. But of course, the cutest animals by far were the rabbits, who I had a chance to feed some sweet potato leaves. It was definitely hard to part with my new furry friends.
2. Sheipa Leisure Farm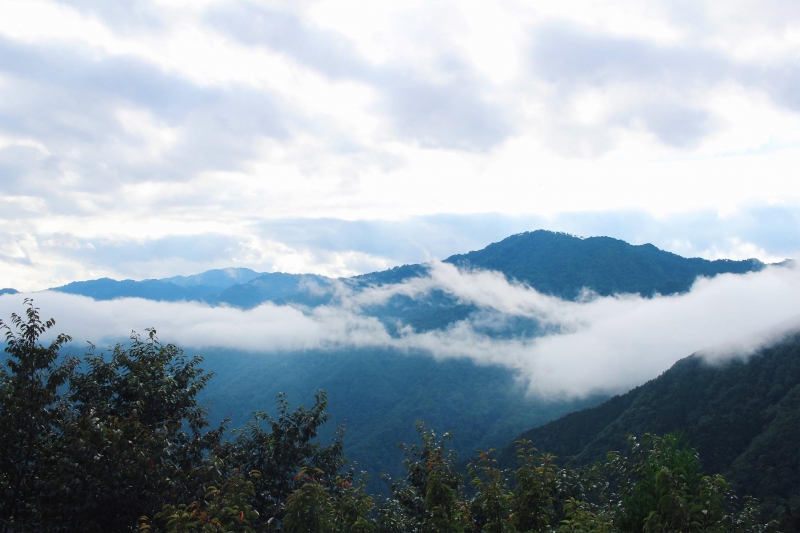 As I attempted to recover from the long and winding ride up, I was surrounded by mists and incredibly scenic mountain ranges at Sheipa Leisure Farm. The panoramic view from their cafe sealed its reputation as a paradise on earth for its visitors.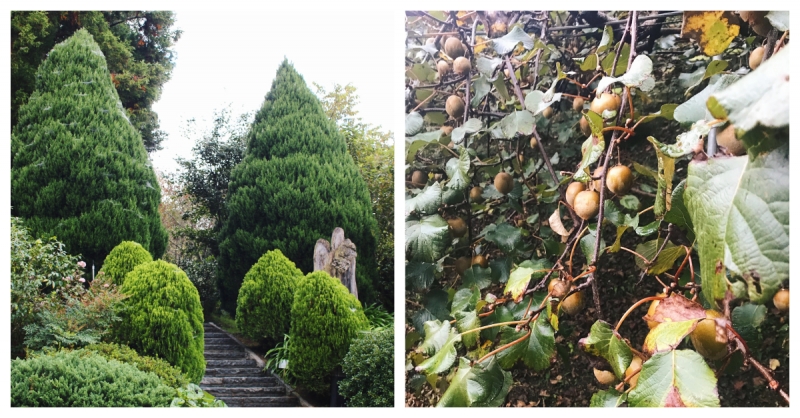 During my stroll along their gardens, I could easily spot various kinds of plants and fruits – in particular, their famous kiwis which are only ready to be harvested in November. Unfortunately, I was a month too late to see the blueberry harvest but instead, I got to taste some of the delicious jam and mochi cakes made from the same blueberries.
The cold mountain air was bearable thanks to plenty of warm clothing and tea brewed from the 'Tomorrow Leaf', a plant known for its many medicinal benefits. I was told that visiting during the different seasons would guarantee me a different harvest of fresh fruits and blooms of different flowers like the cherry blossoms. I had to take intermittent breaks as I walked to take in the view when the fog cleared and also to catch my breath from being 1,923 meters above sea level.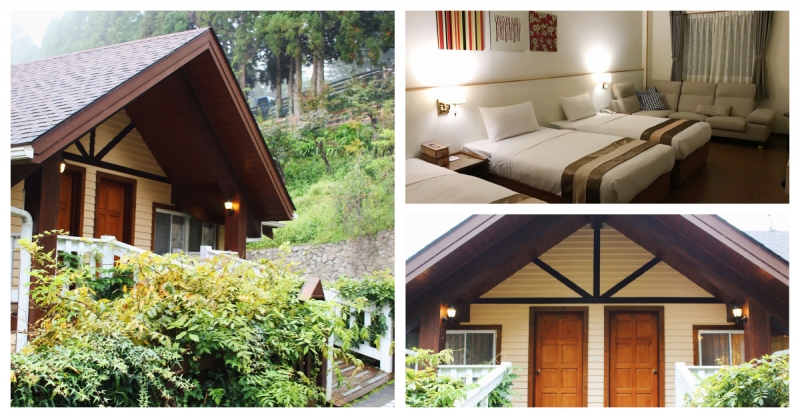 A good night's rest in my roomy European-style cottage was the perfect ailment for my altitude sickness. Though I missed an evening of muah chee making in their DIY room, I was ready to take in the morning sunrise among the mountains. Whoever scheduled the gloomy weather from the day before was thinking of the visitors' Instagram feeds – because the view was simply breathtaking in the day.
Eat: Tianmama – Yue Mei Zhuang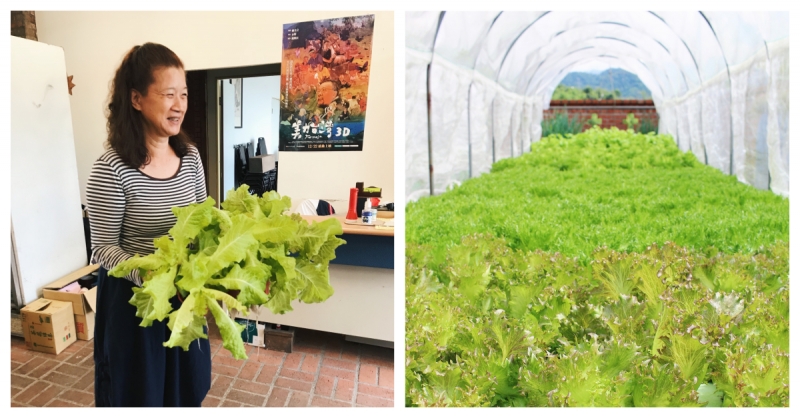 Tianmama is to Taiwan as Michelin Star is to France. Tianmama is part of a government initiative to preserve the culinary secrets of the unique Hakka cuisine from the local farmers and their wives.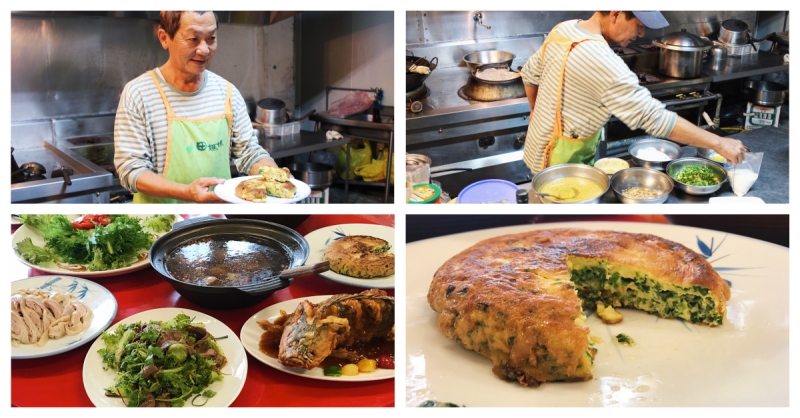 Yue Mei Zhuang started as a family catering business before becoming a gourmet restaurant focused on authentic Hakka cuisine in Hsinchu. This Tianmama restaurant specializes in farm-to-table dining, with the owner and chef growing their own vegetables in the hydroponics garden within their restaurant premises You have to try their delicious Hakka pumpkin rice and pancake egg omelette using a special technique the chef has perfected over the years. It was truly a gastronomic experience as I savoured the last of the spongy egg omelette.
3. Zhuo Ye Cottage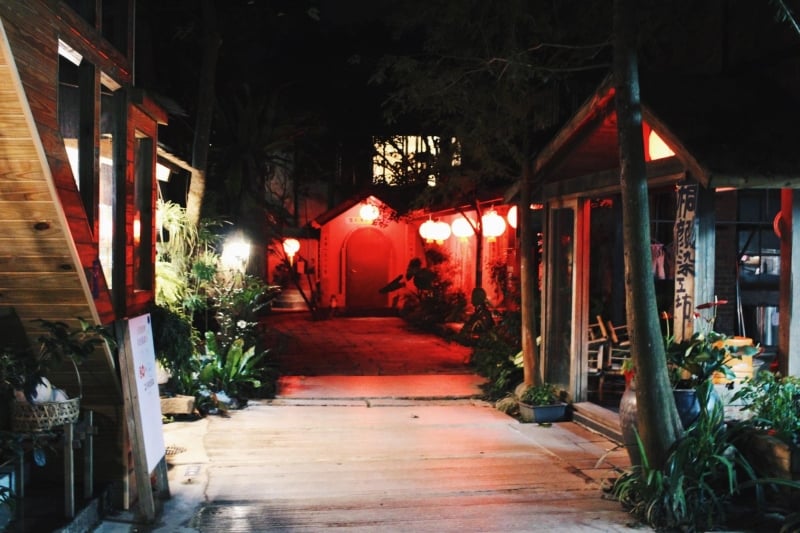 While walking past the bamboo trees and traditional villas, I was instantly transported back to old Taiwan. With large red lanterns hanging and quaint little cottages that housed their store of indigo-dyed products, I can almost sense the strong Japanese influence in Miaoli province during the colonial years as I toured around Zhuo Ye.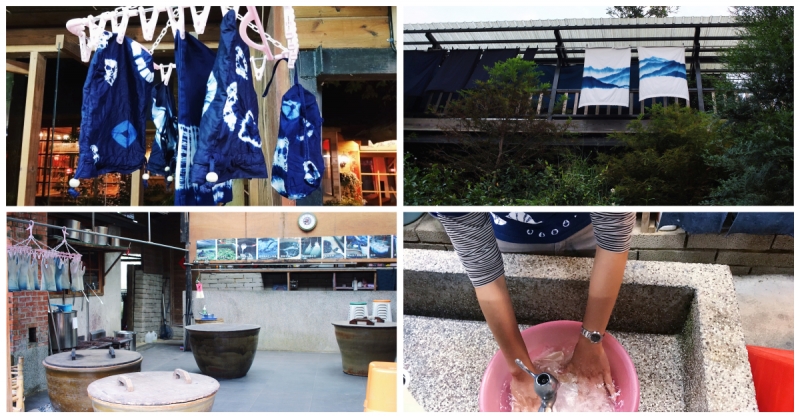 By far, my favourite activity here was the DIY Indigo Dyeing, where I could choose an item from their selection to design and dye to my own liking. The indigo dye is extracted from the Assma Indigo plants are grown and processed here, ensuring the ingredients are organic and all natural. It was a strenuous process of dying and washing but my indigo-dyed bag was the best personal keepsake of my trip.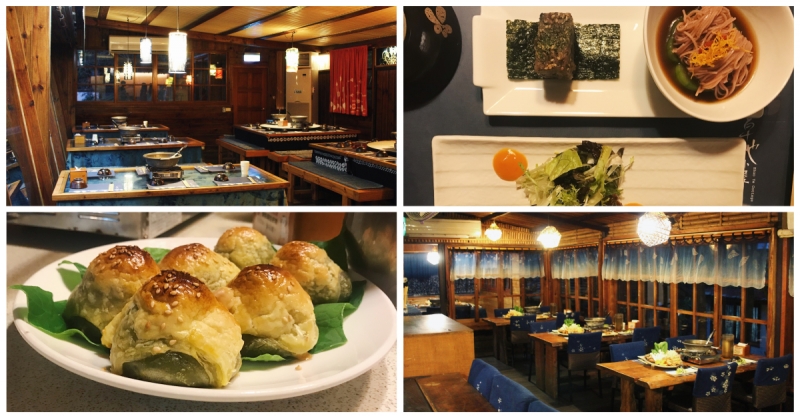 My unique experience did not end there. Their all-vegetarian restaurant, for one,  actually got me to question my need to eat meat. The carefully prepared dishes incorporated seasonal ingredients such as five corns, five vegetables and five fruits into each meal. Their herbal hotpot put the gastronomic experience over the top with freshly grown vegetables and mushrooms to fill me up. Each course of the meal felt like a culinary art designed for the enjoyment of diners here.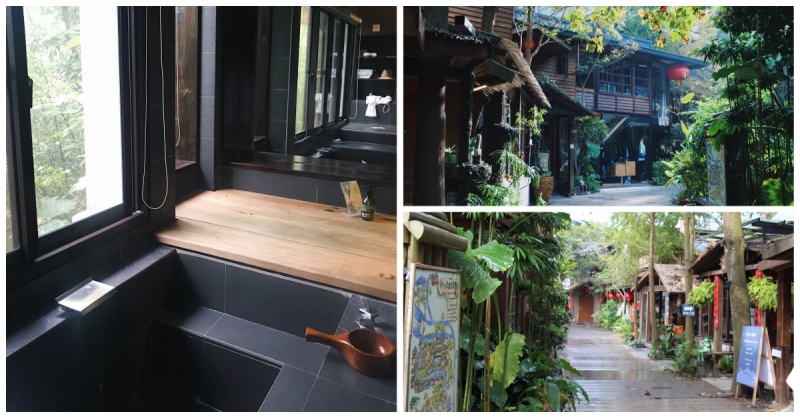 And alas – what better way to end the day than to retreat into my little traditional cottage where I could soak away my worries in my bathroom spa? For those who booked CTC Travel's 3D2N Leisure Farmstay package, I would recommend a morning soak as it will be accompanied by tranquil views of the surrounding bamboo forest. I also got to experience a good night's rest on the traditional tatami mats to seal in my fully authentic Taiwanese experience.
Explore: Green World Ecological Farm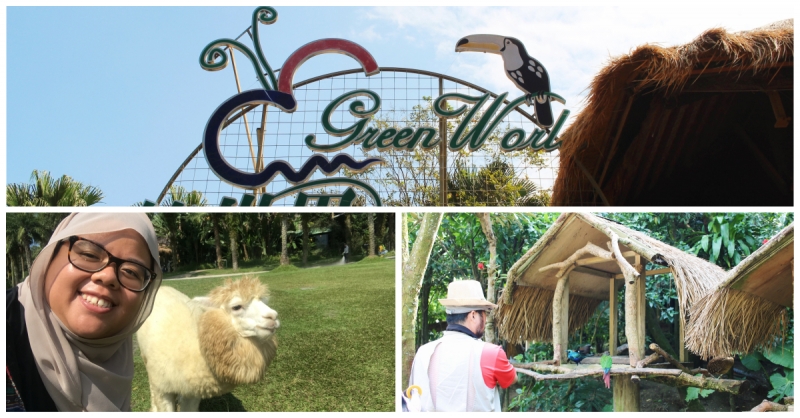 Green World Ecological Farm presents its visitors with the rare opportunity to interact up close with all kinds of animals from alpacas to birds. You will definitely need a full day and careful planning to ensure you have a chance to see all of heir six areas here, from the Discovery Land Area to the Biodiversity Adventure Zone.
This theme park is home to a whole kingdom of animals from biggest of mammals to the smallest and creepiest of insects. The moment I entered, I was greeted by a herd of alpacas roaming freely among the grasslands for food. Despite having zookeepers around, do be careful as some alpacas would abruptly roll around on the grass – which could mean an unwarranted kick in the legs if you're not careful.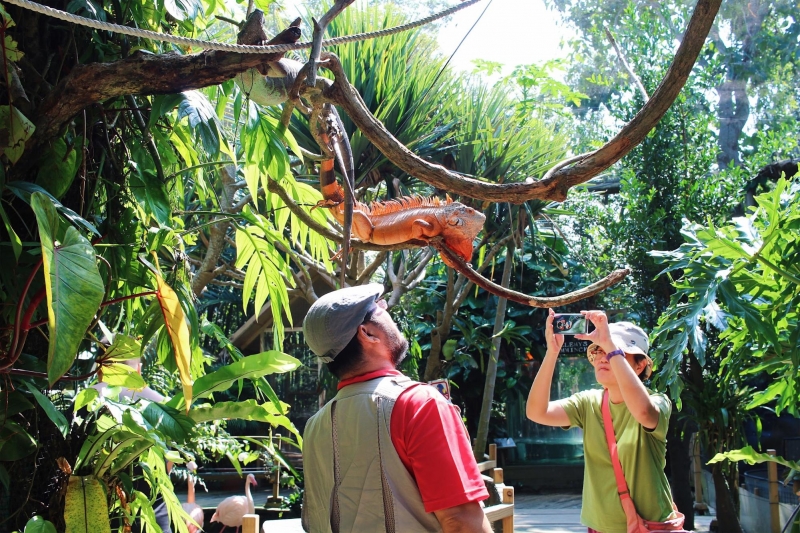 Home to over 500 species of animals and plants, you'll feel like you've entered a different world when you explore Green World. As I walked through each sanctuary, I was amazed by how the animals are mostly free to roam, with the exception of dangerous ones like reptiles and porcupines. Imagine chickens, parrots and even sloths moving around you as you observe them in their natural habitat. I was also treated to a garden full of different species of plants. The cacti garden was by far the most unique exhibition, consisting of cacti of varying sizes and types. In fact, the oldest cacti here was a 250-year-old one!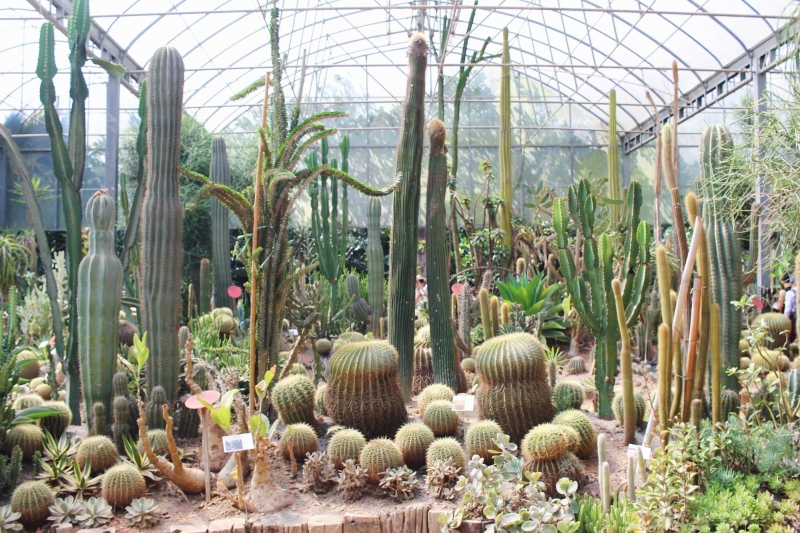 4. Long Yun Leisure Farm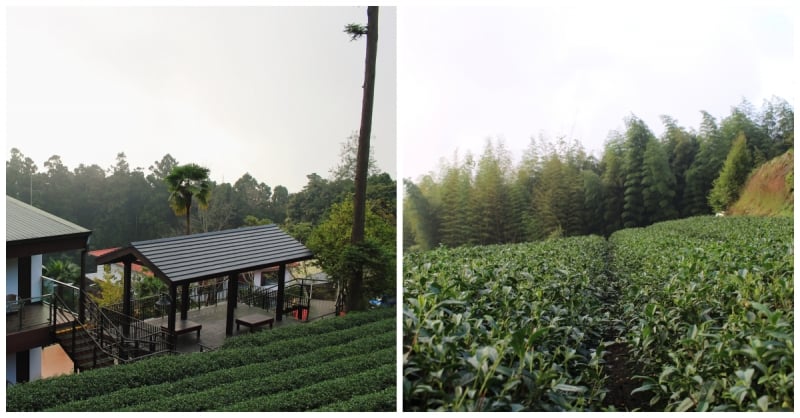 Imagine being surrounded by tall bamboo trees, mists and a very warm welcome from the owners – because that was what I received upon arriving here. Mr Jaden Teng, the owner of Long Yun Leisure Farm, grew up here before turning his family land into a leisure farm for all to enjoy the scenic beauty of Chiayi. Walk along the rows of tea leaves to smell the magic of Alishan tea while witnessing the magical scenery during the sunset. Trust me, it's almost like an art painting. Mr Teng will ensure that everyone of his guests gets a turn to snap photos of the picturesque landscape.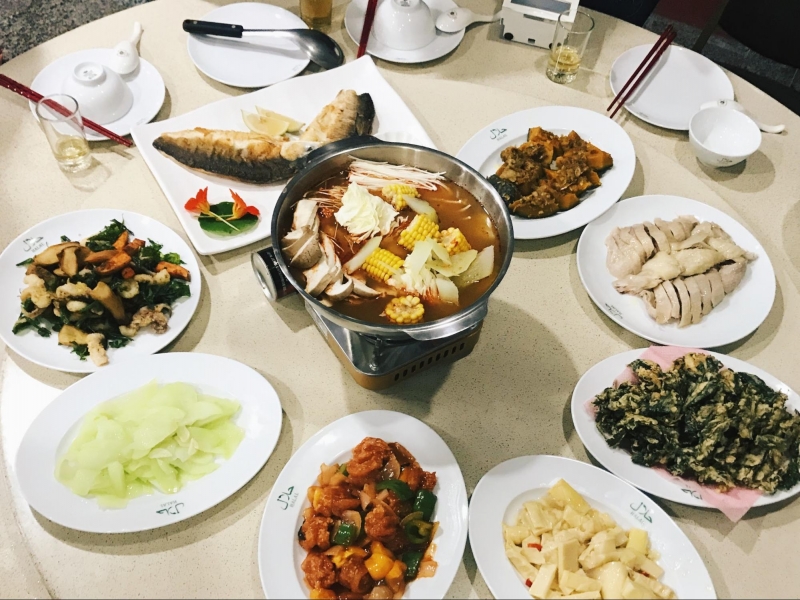 Come nightfall, I was treated to a vastly different experience. Away from the bright city lights, I was able to see the stars twinkling in the dark sky as the moon became almost a spotlight for visitors roaming around.
Dinner was served in their restaurant with a menu that ranged from local delights such as the steamed chicken and the 'Tomorrow Leaf' tempura to Southeast Asian favourites like Tom Yum soup and sweet and sour prawns. Mr Teng's trips to Southeast Asia gave him insight into what to include in his restaurant, to cater to tastes of travellers from the region. Dessert was a very interesting fusion of tree tomatoes from the farm paired with vanilla pudding and a drizzle of syrup. I was taken aback when I heard there would be tomatoes in my dessert but after taking a bite, my taste buds were delighted.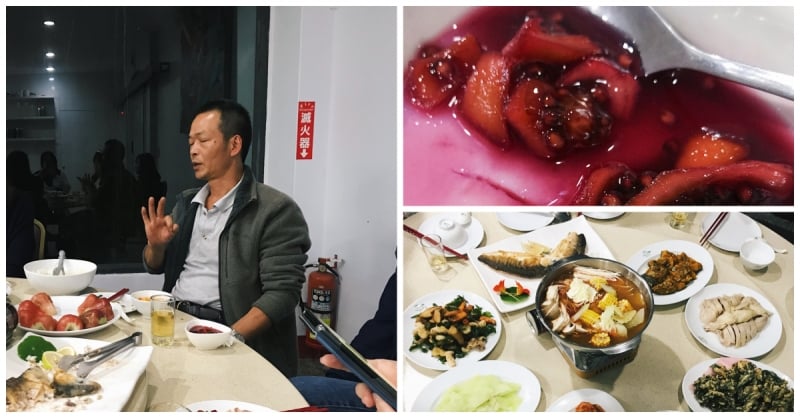 After the extremely satisfying meal, the owner's wife, Gina, guided a night walk around the compound. She introduced us to the many locally grown plants that were used in the preparation of our dinner and even showed some interesting organisms that glow in the dark. Fireflies are often spotted here seen during the summer. Also, keep a lookout for flying squirrels who roam the trees!
Afraid of the dark? You can always opt for their DIY activity. I had a chance to make muah chee the traditional way using a large wooden pestle and mortar. The process will begin the millet and will be continuously pounded until a chewy and gooey texture is achieved. It might be strenuous but totally worth it when the final product is coated with peanuts and served as your late night snack. Alternatively, take an early morning hike along their six trails and you might even get a whiff of ginseng as you trek.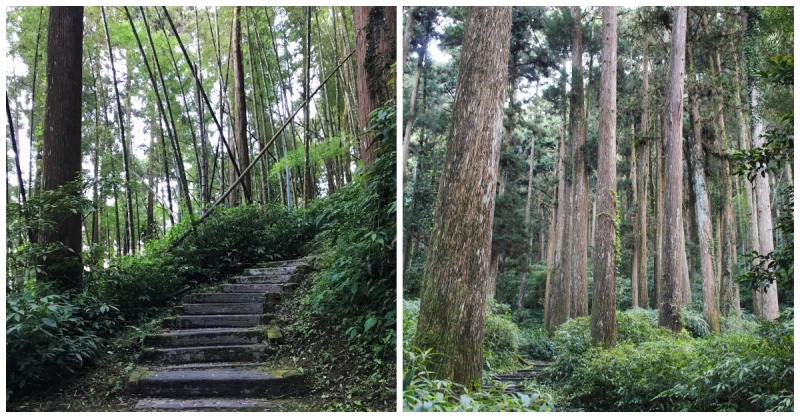 Their roomy and comfortable rooms are perfect to rest after a long day of excitement. All lodging is furnished with Hinoki furniture which is known to help you relax and improve your quality of sleep. The rooms here are designed with a large window that might seem intimidating at night but as the day approaches, it frames the panoramic scenery that surrounds Long Yun.
Explore:  Jingzaijiao Tile-paved Salt Fields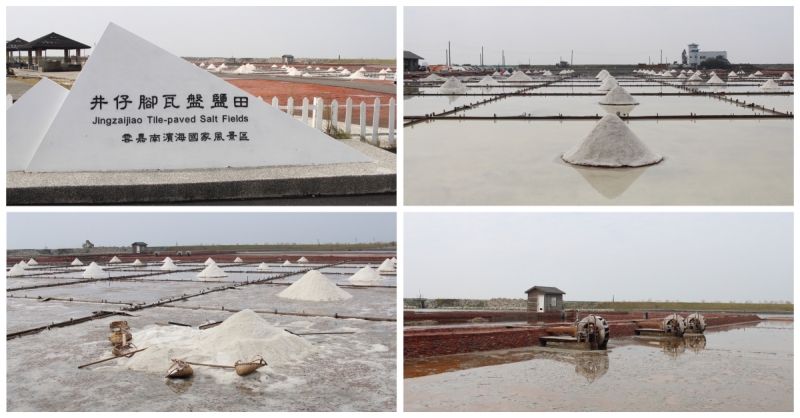 The first thing I noticed when I arrived was the carefully piled pyramids of salt in each partitioned field. Carefully directed salty seawater is left to evaporate, leaving sea salt crystals to accumulate and dry under the hot sun. After being collected, the sea salt is used to make various products from cooking salt to salted toothpaste. I had a chance to indulge their unique salted vanilla ice cream available at their store or alternatively, you can select from their other eccentric flavours like curry, garlic or tuna. (Yes, tuna ice cream!)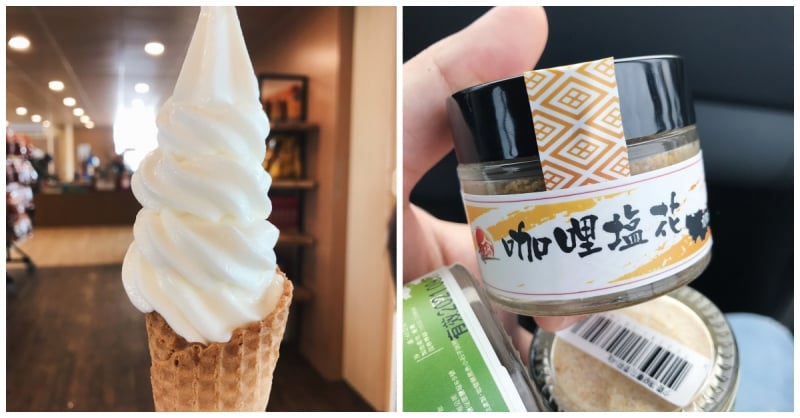 Eat: Tianmama – Chang Ying Seafood Restaurant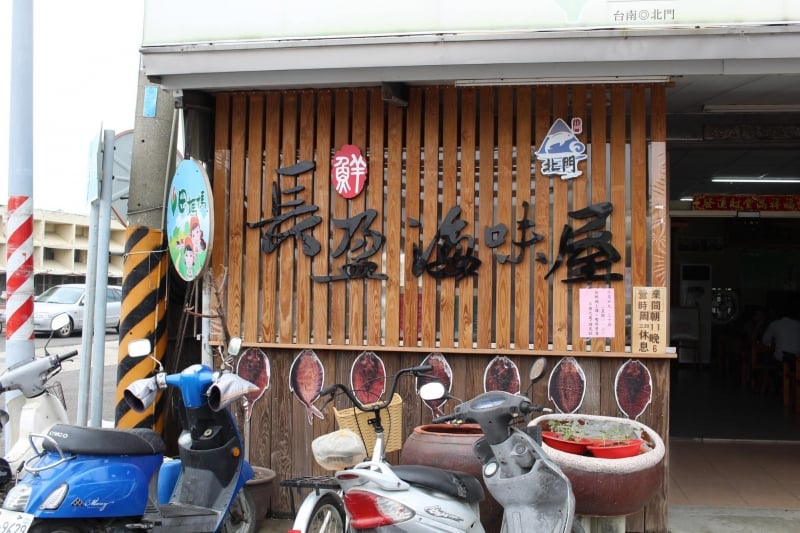 The only thing you need to try when you come here is the Milkfish. It is delicious either eaten crispy fried or in a soup. Each dish here will comprise of a different part of the fish. I slathered on some homemade chilli to go with your crispy fried milkfish. Be careful and watch out for the tiny bones when eating the fish. Besides the crisp fish, I slurped some Orh Ah Mee Sua, a Taiwanese Oyster Mee Sua dish. The oysters are so fresh that you can almost taste the ocean. The meal ended sweet and chilly with the traditional shaved ice with chewy taro bits as dessert.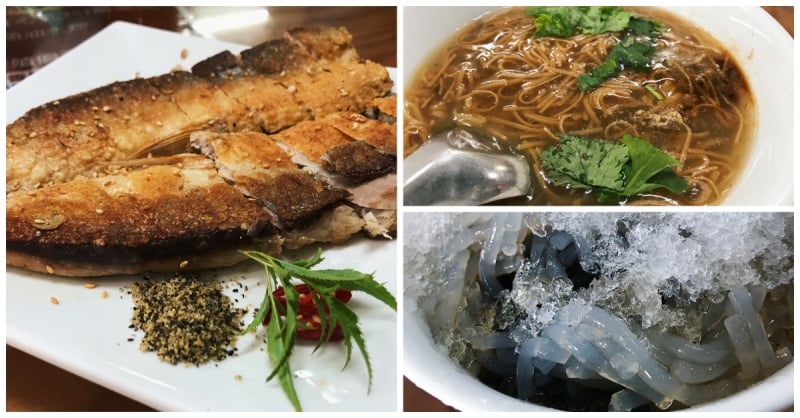 5. Tsou Ma Lai Leisure Farm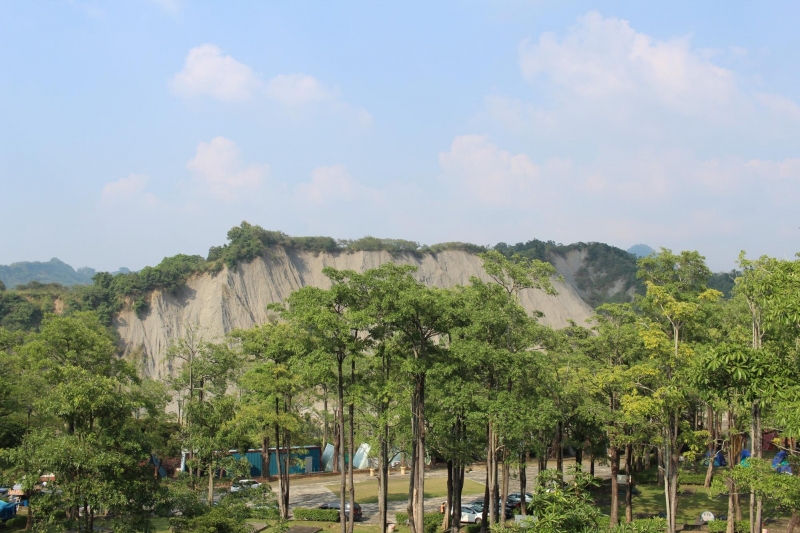 Nestled in the Danei District of Tainan city, Tsou Ma Lai Leisure Farm is the ideal getaway for fun and relaxation for the whole family. There is so much to see and do as my eyes scan the premises of this leisure farm. Swimming pools, bumper boats, archery, fruit picking and the children's square just some of the favourite facilities here. It seems no one will ever have a dull moment here!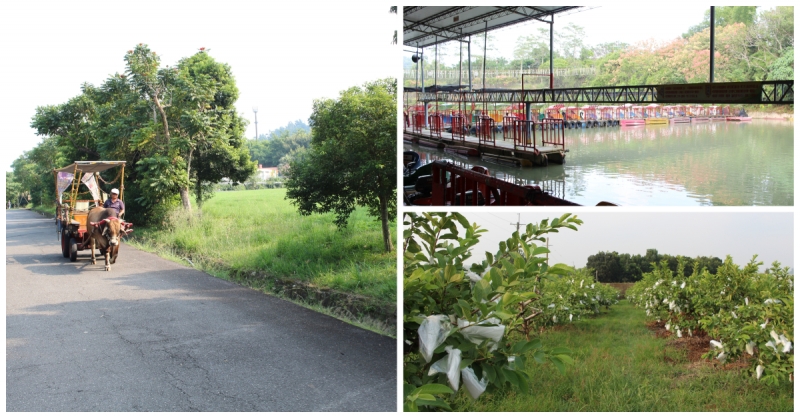 Lunch was served at the restaurant of the main hotel building named after Tainan's biggest export, orchid. The dishes were prepared using ingredients native to the Tainan area and were of 'Tianmama' quality. The restaurants available also served Southeast Asian cuisine like Roti Prata to the delight of their many Singaporean and Malaysian visitors.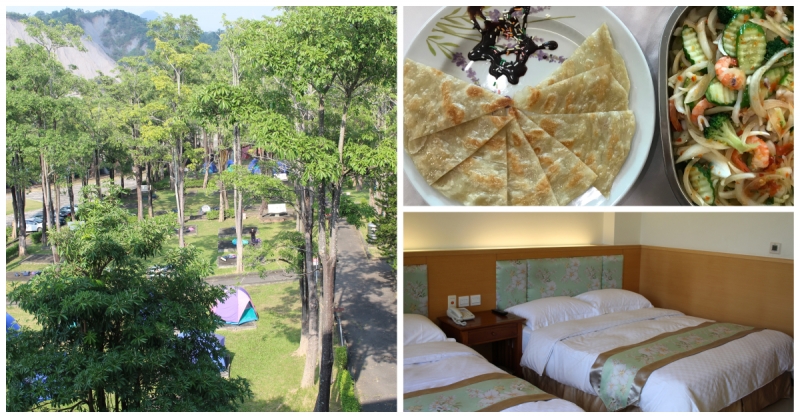 A weekend stay seems ideal for you to explore all Tsou Ma Lai has to offer. Over 30 sports and activities are available to occupy me fully during my time here. Don't feel intimidated by the vast number of people here as the 120 hectares of leisure here ensures plenty of room for everyone. They have various types of accommodations from the European-style hotel rooms in the Orchid building to various cabins and chalets.
Explore: Myseed Organic Rose Farm
As I was driven in, the path was lined with rows of Roselle flowers. Also located in Chiayi, this rose farm is home to more than 100 species of organic roses, with the main assortment being the tree rose. It is highly recommended for visitors to inquire before coming here as the owner only allows guided tours around the rose farm to allow visitors to truly learn about the roses here.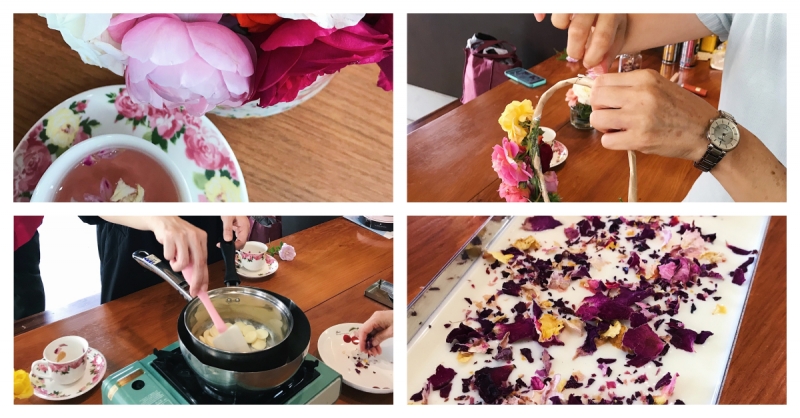 The absence use of pesticides ensures that all the roses grown here are safe for consumption. It is commonly sold as tea here on the farm, which has a calming effect making it perfect to help you sleep. They also make their own face mists from the flowers grown here which makes a perfect form of refreshment during the day. Besides roaming the farm and being introduced to the varying species of roses, I was also able to do many hands-on activities such as flower crown making and rose chocolate making.
6. Fairy Lake Leisure Farm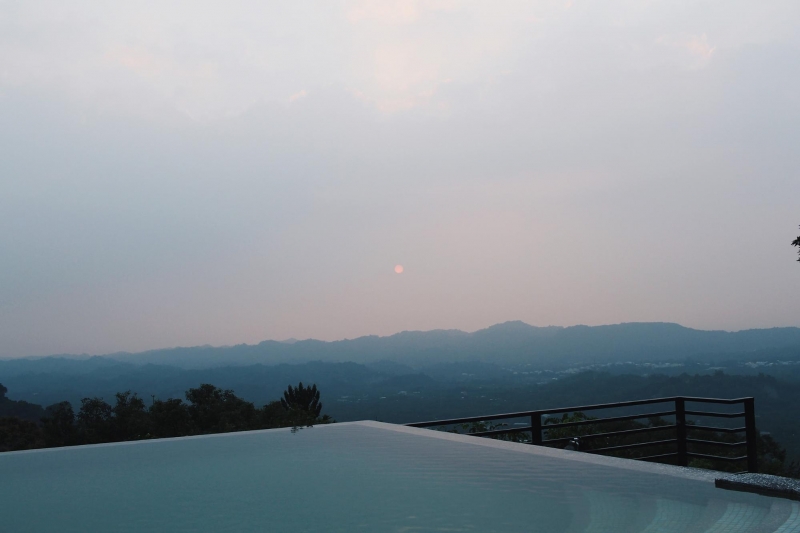 Fairy Lake Leisure Farm is not nicknamed Lake of Heaven for nothing. This independent peak with clouds surrounding in the morning and dusk and an impeccable view of the mountains will feel like a fairytale dream to you. Get your photo taken at their swimming pool with a scenic view of the mountain ranges. The pool is filled with water from the pure natural spring.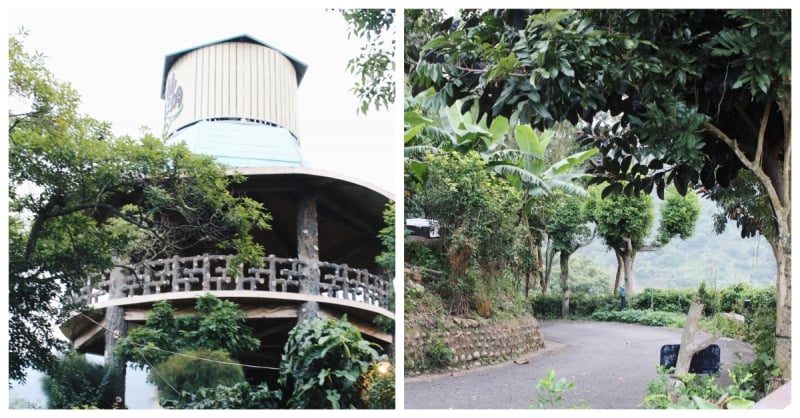 Chickens and roosters greet me as I walk towards the reception where I enjoyed a tall drink of iced longan tea, the local speciality. For those looking for a caffeine kick, why not sip their coffee, made from their very own homegrown coffee. To get my hands moving, I attended a marshmallow cookie baking session. It was definitely easier observing the teacher than kneading the marshmallow cookie mix together. Your packaged stay here with CTC Travel's Leisure Farmstay will present you and your travel buddy with a chance to experience their Happiness Doll DIY and farmer experience.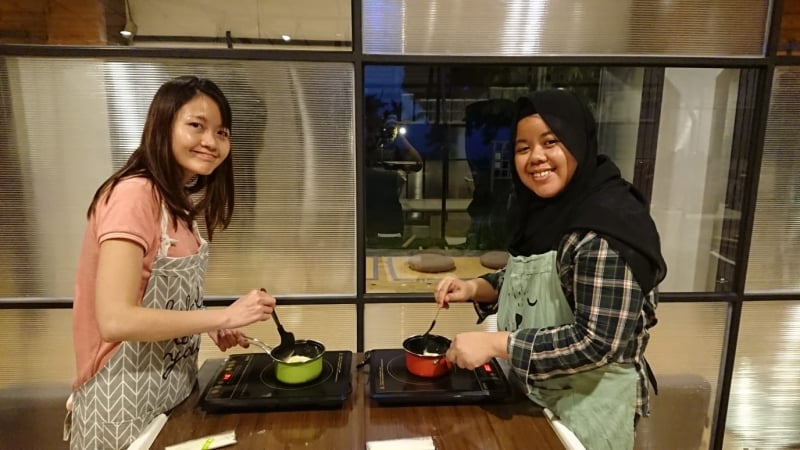 My stomach was growling from all that exploring and baking. I headed down to their mountain-view restaurant where they practice farm-to-table dining. All ingredients used in their dishes come from Fairy Lake itself or farms in the local area. The menu boasts extremely delicious Tianmama dishes without the use of any additives or seasoning.
By the end of dinner, I was ready to retreat back to my quaint hotel-style rooms with a gorgeous view of the scenic views here. My room was surrounded by coffee and longan trees as I watch the beautiful scenery unfold the next morning when the sun rose.
It must be hard to choose one experience for your well-deserved relaxing vacation. Fret not, there will no hassle when you book through CTC Travel for your 3D2N stay at any of these charming leisure farms. You will be embraced by all that nature has to offer that you would not want to return to the city.