It's hard to squeeze all of New Zealand's best attractions into a single itinerary – there are simply too many! You can find breathtaking nature spread across the North and South Island, from lofty mountains to calm lakes, and dotted amongst them are intriguing wonders like glowworm caves and maritime glaciers. Let's not forget the adventure activities that New Zealand is so famous for, such as bungy jumping and luge rides.
If you're planning your first trip to New Zealand, take your pick from some of these sights and adventures! If you'd like to experience all of them (and more), consider Dynasty Travel's 11D9N New Zealand Highlights + Farmstay package which starts from S$4,688 (+S$98 taxes). And if you'd like to zoom into the majestic South Island, consider the 9D7N Southern Alpine Wonders which starts from S$3,888 (+S$92 taxes). But we digress – let's get back to the must-see attractions in New Zealand!
South Island
1. Lake Tekapo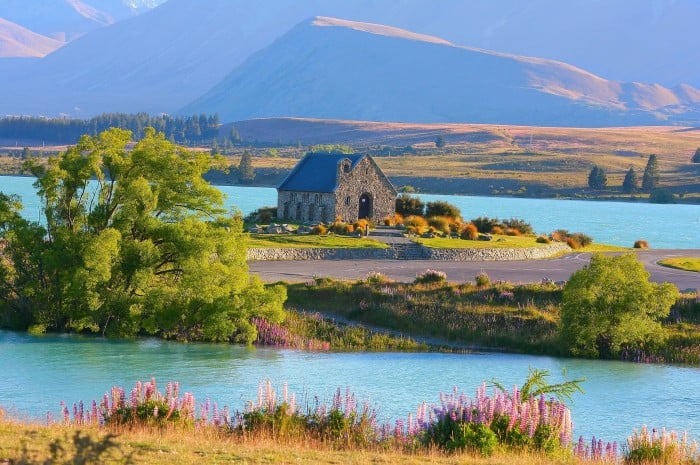 New Zealand is home to an abundance of stunning lakes, but Lake Tekapo stands out for two reasons. Firstly, on its shores against the backdrop of the Southern Alps, you can find the Church of the Good Shepherd. Built in 1935 as a memorial to the pioneers of the Mackenzie region, this church has witnessed thousands of couples tie the knot. It's easy to understand why this little church is one of the most photographed sights in New Zealand. Secondly, Lake Tekapo is one of the best spots in the country – and the world, in fact – for stargazing. Under a sky that is free from pollution, you'll able to witness a magnificent blanket of stars and spend the night spotting constellations. Join an observatory tour to learn the wonders of astronomy and peek at the world beyond through telescopes.
2. Milford Sound
Milford Sound is a spectacular natural attraction in Fiordland National Park. There are many ways to enjoy this immensely beautiful site, such as on a kayak or a scenic flight, but the most popular would be on a sightseeing cruise.  Catch sight of steep cliffs, soaring peaks and waterfalls; and don't worry when it rains because the beauty of Milford Sound will only amplify with rainbows around every corner.
3. Kawarau Bridge Bungy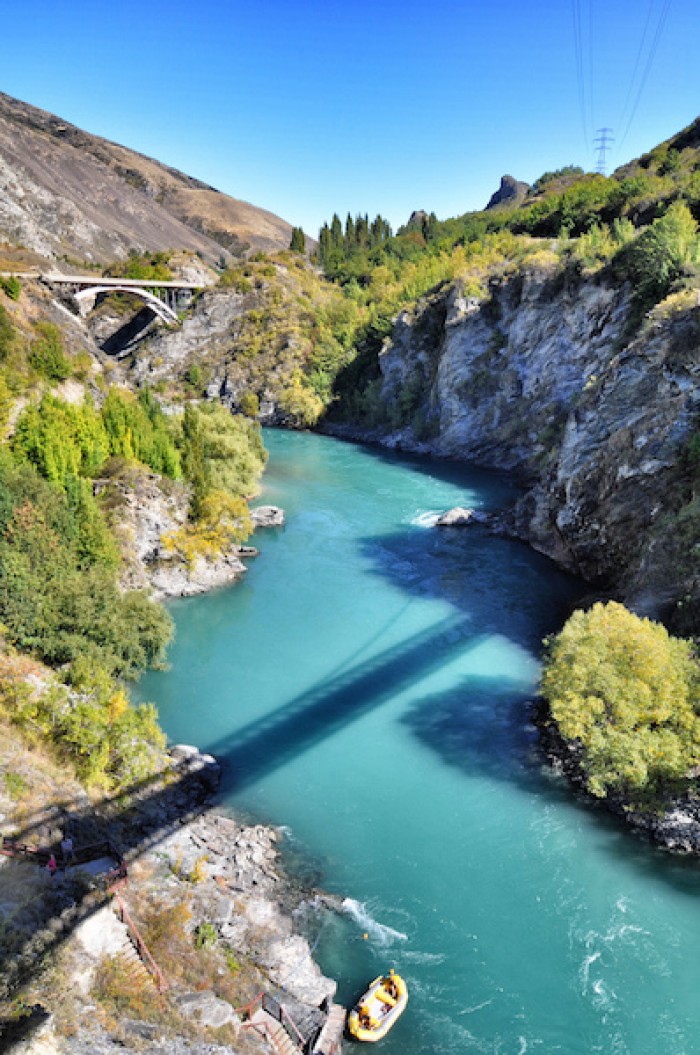 Image credit: chee.hong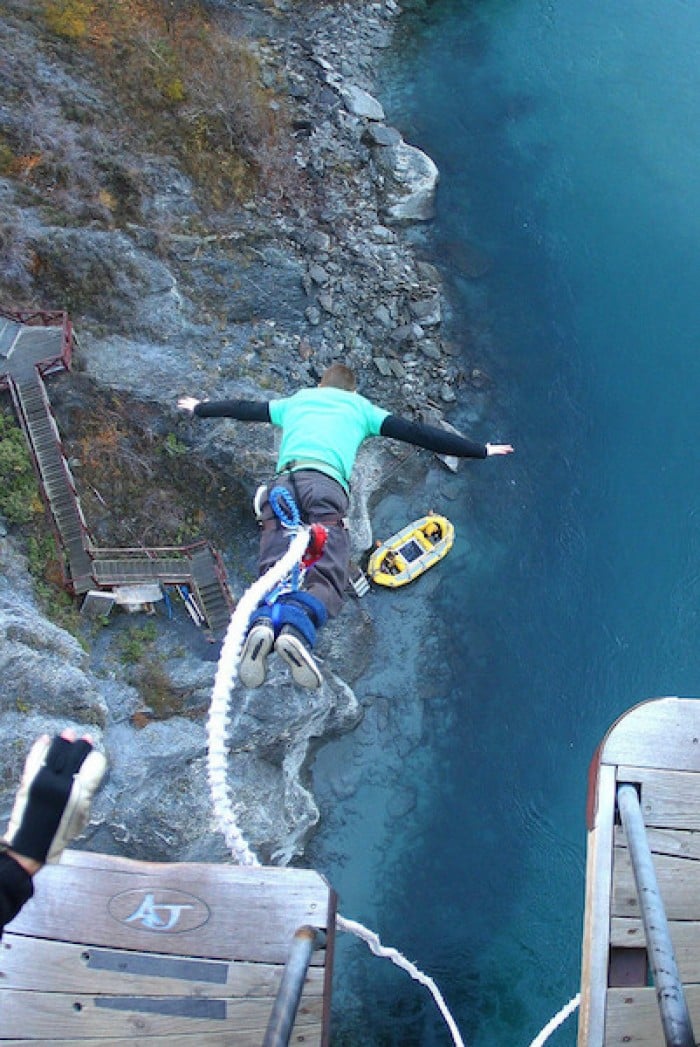 Image credit: Adam Selwood 
Bungy jumping was made famous by a New Zealander named A.J. Hackett, and this is one of the must-try adventure activities in the country. There are many spots in New Zealand where you can fling yourself off a platform into the abyss below, and one of them is at Kawarau River. Kawarau Bridge Bungy in Queenstown offers a jaw-dropping location to make the 43-metre leap of faith. You even have the option to "touch" the emerald waters or tandem jump with a buddy!
4. Arrowtown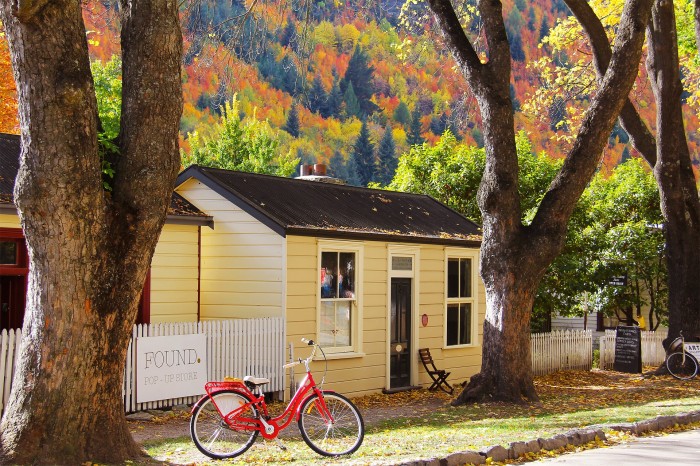 Arrowtown, just 20 minutes from Queenstown, is a historic gold-mining town nestled along Arrow River. Here, you can explore gold mining sites that sprung up in the 1860s during the Otago gold rush. Stroll along Buckingham Street for the cafes and bakeries, and drop by Lakes District Museum for an educational tour into lives of the early Maori people and the subsequent European settlers and gold miners. Also, don't miss the old huts in the restored Chinese settlement near the river! One of the best times to visit Arrowtown is during autumn when the foliage unravels in a myriad of golden orange.
5. Thunder Creek Falls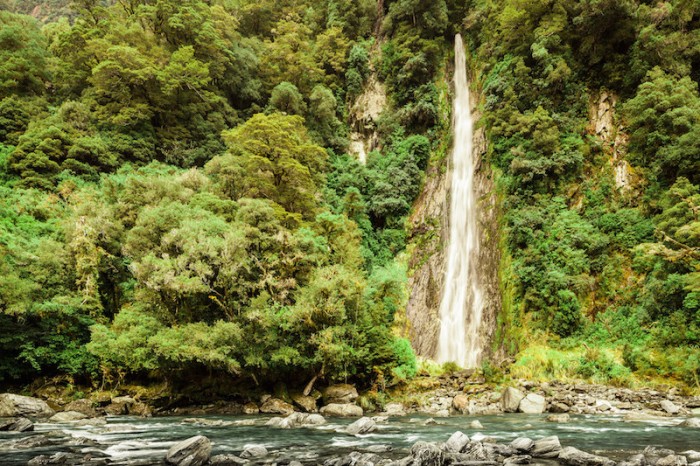 Image credit: Russellstreet
This waterfall in the Haast Valley of Mount Aspiring National Park is well-known, and part of its popularity is attributed to its easy-to-reach location. From the car park some one hour away from Wanaka, it's a short 10-minute walk to this 28-metre waterfall. Stand at the viewing platform and watch the rumbling water cascade from the mountains and plunge into the crystal clear Haast River.
6. Franz Josef Glacier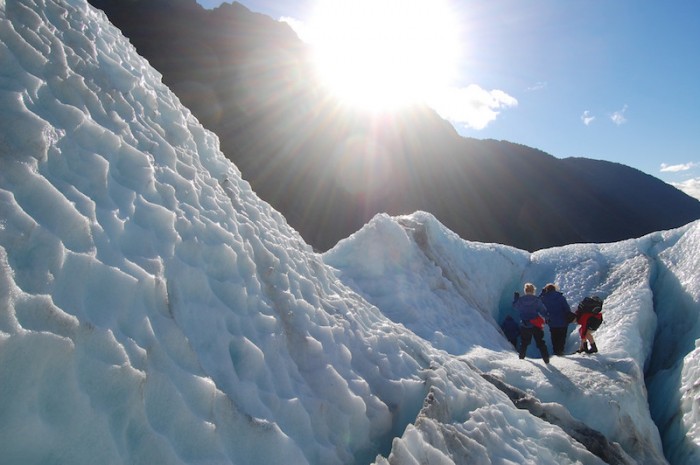 Image credit: Edwin.11
An attraction like no other, Franz Josef Glacier wows its visitors with its glacial landscape that begins from the Southern Alps and slowly dissipates into the rainforest below. Get ready for the awe-inspiring sights of crevasses, caves, and rivers of blue ice. You can choose to be deposited on the glacier from a helicopter, and go on a glacier hike or even ice-climbing. Otherwise, Franz Josef Glacier is also accessible from various hiking trails.
7. Blue pools of Makarora river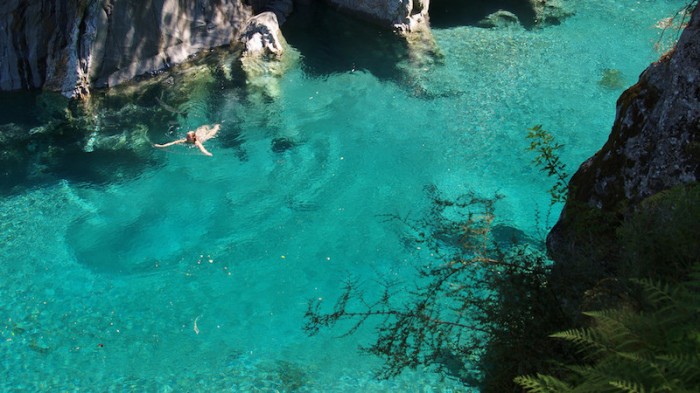 Image credit: Tomas Sobek
Gaze through the unbelievably clear teal waters of the Makarora river and you can see the riverbed beneath. The gorgeous destination can be reached via the Blue Pools Track from State Highway 6 near Makarora. An easy 15-minute walk brings you through the beech forest and across a suspension bridge to the viewing platform. Brown and rainbow trout can be frequently spotted here during autumn and winter.
8. TranzAlpine Train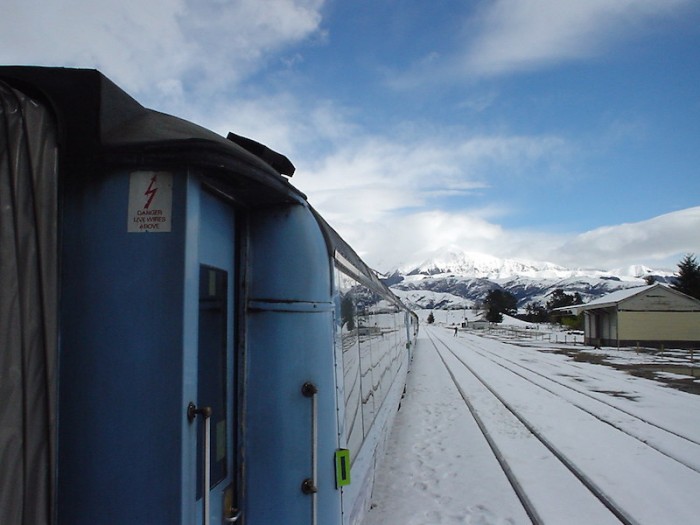 Image credit: Ken Funakoshi
Train lovers, you don't want to miss the TranzAlpine train journey from Greymouth to Christchurch. This train ride is undoubtedly a destination in itself! As the train rumbles along the Canterbury Plains, along Waimakariri River and across the Southern Alps, a non-stop feast for the eyes are an order. This 4.5-hour train ride runs once daily and offers a display of mountain sceneries, lush forests, deep gorges and farmlands. Tune in to the audio narrative as your eyes stay riveted at the diverse topography out the window.
For an immersive trip to the South Island of New Zealand, consider the 9D7N Southern Alpine Wonders from S$3,888 (+ S$92 taxes).
The itinerary brings you the best of South Island, taking you on a whirlwind adventure to the must-visit locations including Christchurch, Lake Tekapo, Queenstown and Franz Josef. In fact, you'll be able to enjoy all the experiences outlined above! Another cool spot to look forward to is the youthful city of Dunedin which is modelled after Edinburgh and steeped in architectural heritage. Don't miss Baldwin Street, the steepest street in the world. It'll take you 10 minutes to walk the 350-metre stretch, and you might just be huffing and puffing at the top!
More information about this tour package is available here. Don't miss it!
North Island
9. Waitomo Glowworm Caves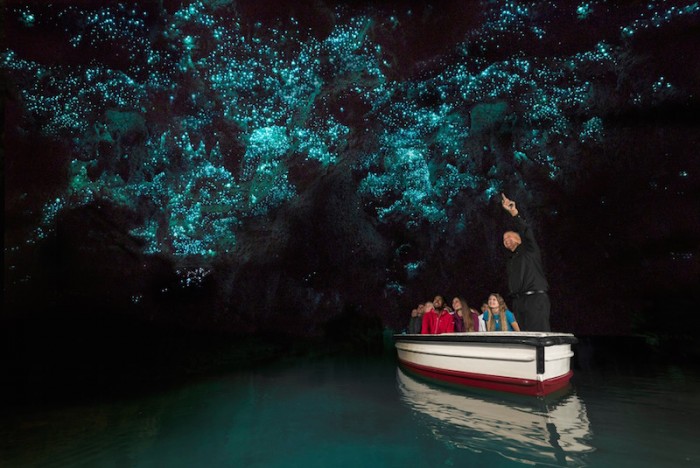 Image credit: Waitomo Glowworm Caves Facebook Page
A magical experience to have in New Zealand is cruising through the Waitomo Glowworm Caves. Imagine thousands of tiny glowing worms illuminating your way through an ancient cave network. You'll enter a surreal starry environment, surrounded by fascinating creatures that are unique to New Zealand.
10. Te Puia Thermal Reserve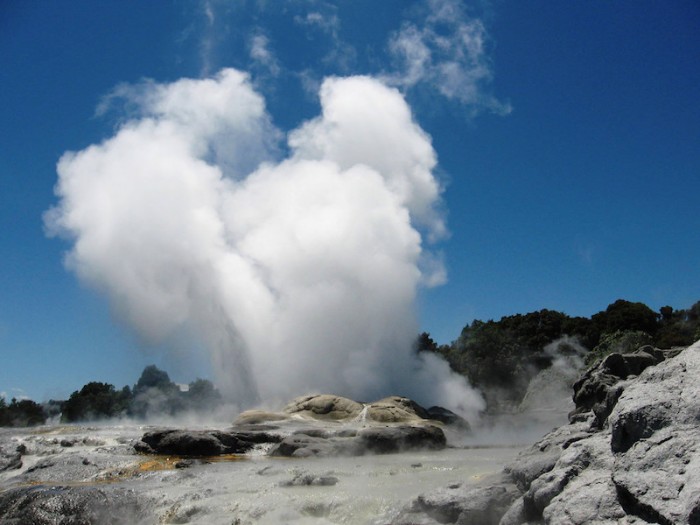 Image credit: JSilver
Step into the geothermal hotspot and also the heart of Maori culture in Te Puia, Rotorua. This is an otherworldly location not to be missed. Spewing geysers, mud pools and steaming vents are the norm here, and the scent of sulphur lingers in the air. On top of that, Te Puia is where visitors can witness traditional Maori architecture and cultural performances. Don't miss the famous Pohutu geyser and do get hands-on with Maori arts like carving and weaving.
11. Skyline Rotorua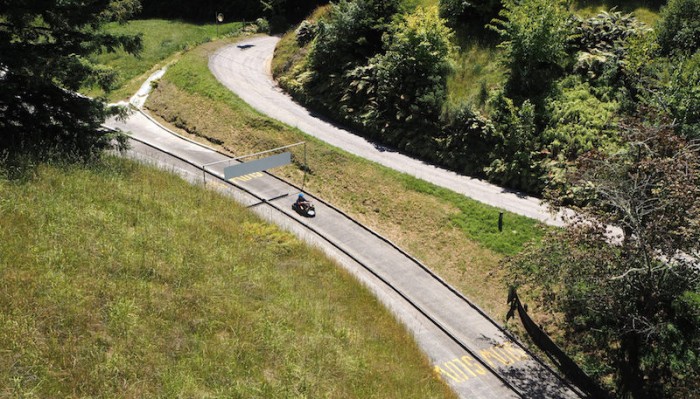 Image credit: Henry Burrows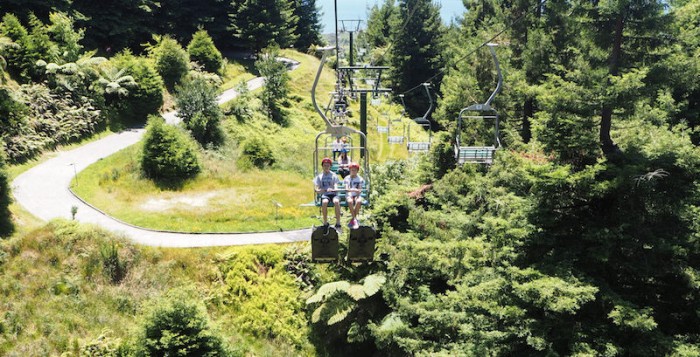 Image credit: Henry Burrows
There are two places in New Zealand where you can get behind the wheel of a luge: Queenstown and Rotorua. Skyline Rotorua is the original site that began the luge experience, which has since expanded beyond the kiwi shores to Singapore, South Korea and even Canada! The one in Rotorua offers the longest runs of all. Pick from three tracks of differing difficulties and navigate downhill through the forest in this part go-cart, part-toboggan. At the bottom, get on the chairlift to be transported to the start of the ride… and do it all over again!
12. Hobbiton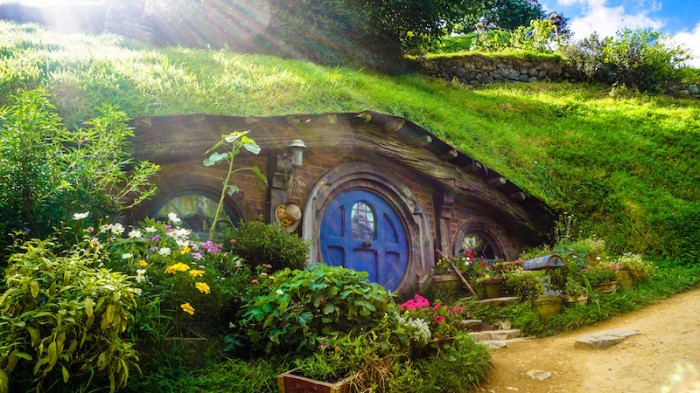 Delve into your own Middle-earth adventures in Hobbiton! Yes, this is the movie set featured in Lord of the Rings and The Hobbit trilogies. Step into The Shire – the home of the hobbit – and familiar locations like the Mill and the Green Dragon Inn. As you wander around the hillside and admire the colourful hobbit holes, take in the dramatic beauty of the Kaimai Ranges and beyond.
All pumped with motivation to visit New Zealand? Before you go, we have something to share…
Experience all these attractions and more with Dynasty Travel's 11D9N New Zealand Highlights + Farmstay starting from S$4,688 (+S$98 taxes).

You'll begin your journey in the South Island at Christchurch. After the city sights, take in the natural beauty of Lake Tekapo (pictured above) and traverse the Mt. Cook region to reach Queenstown. Spend a day in this adventure capital or opt for a full-day excursion to Milford Sound.  Following that, you'll make your way to Glacier County World Heritage Area, but not before photo stops at Lake Hawea and Lake Wanaka. Visit Franz Josef Glacier and then you can choose to hop on the TranzAlpine train from Arthur's Pass to Christchurch. From Christchurch, you'll fly to Auckland, where your adventure in the North Island begins. Enter Rotorua for an indigenous evening experience with haka performances and Maori cuisine. In Matamata, on top of visiting Hobbiton, you'll enjoy a cultural farmstay. Your last stop before heading back to Auckland is the Waitomo Glowworm Caves. What a way to wrap up this amazing holiday! 
More information about this tour package is available here.
---
Brought to you by Dynasty Travel