You wouldn't be at fault if you aren't familiar with New Zealand's Aoraki Mount Cook National Park. The country has many popular spots, after all, with Queenstown being on top of the list. Still, there is no doubt that this park is the most beautiful and awe-inspiring destination on this side of the globe. 
Don't believe us? Read on for our handy guide to this must-visit destination in the Canterbury region. 
What is Aoraki Mount Cook National Park?
Aoraki Mount Cook National Park is home to New Zealand's highest mountains, longest glaciers, and darkest skies. Mount Cook, in particular, is the highest mountain in the country, with a recorded height of 3,724 metres or 12,218 feet! It's also famous for being one of the mountains where Sir Edmund Hillary trained to be the first to climb Mount Everest.
The national park holds many mountain walks that cater to all types of fitness levels, and is not short of beautiful views for those needing inspiration. Not the type who's into hiking? The park is not short of other adrenaline-fuelled activities, such as helicopter riding, glacier boating, and skiing!
What to bring and how to get there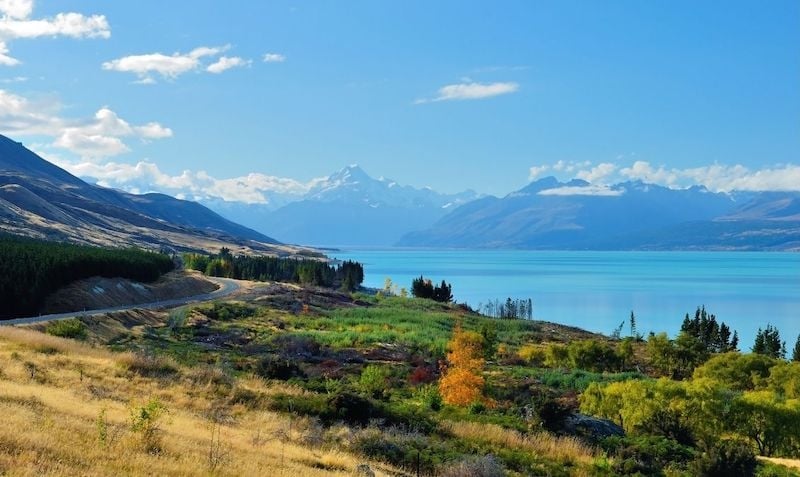 While there is no direct flight to Aoraki Mount Cook National Park, there are several ways to get to your destination. You can take a bus from Queenstown, Christchurch, or Wanaka, all of which stop at Mount Cook Village. Alternatively, you can rent a car and drive to State Highway 8 — A.K.A. the most scenic road you'll ever take in your life. It's advisable to stock up on food and other necessities, as Mount Cook Village only holds one convenience store, and it's overpriced. 
At the most basic, you will need to bring proper outdoor wear suited to hiking and tramping. If you feel like camping, you can also bring your tent and a portable stove for cooking!
Pro tip: Make sure to book far in advance as there are only a few hotels, and they all fill up quickly. You can also camp at the White Horse Hill campground, but like other accommodations, it's best to secure your slot months in advance.
Best hiking and walking tracks in Aoraki Mount Cook National Park
Below are five tracks that I'd recommend for your first visit. Whether you're a beginner or an expert, the national park has something up your alley!
1. Tasman Glacier Lake Lookout
Distance: 1km
Time: 1hr
Elevation change: 100m
Fitness level: Low
Tasman Glacier Lake Lookout is a must-do as it is easy yet supremely rewarding. From Mount Cook Village, take a quick ride and head to Tasman Valley. The parking area branches off two walks; take the Tasman Glacier track to reach the lookout, which offers the best views of the glacier lake.
Tasman Glacier Lake changes over the seasons: it's full of icebergs in the summer and completely frozen in the winter. If you're here during the former, you have the option of dodging icebergs like a boss by booking a kayaking trip!
2. Kea Point Walk
Distance: 2.8km
Time: 1hr
Elevation change: 180m
Fitness level: Low
An easy hike, the Kea Point Walk winds along a subalpine grassland to the Mueller Glacier moraine wall. It ends with a lookout to several alpine mountains, including Mount Cook.
The Kea Point Walk could be accessed directly from the White Horse Hill Campground. If you'd prefer a longer walk, you could start from Mount Cook Village's Terrace Road, which is near the visitor centre.
3. Hooker Valley Track
Distance: 10 km return
Time: 3-5hrs
Elevation change: 100m
Fitness level: Moderate
One of the country's best walks, this track is not one to miss out on. Taking you from Hooker Valley towards Aoraki Mount Cook, it boasts of three swing bridges and panoramic views of the mighty alps. Trampers are rewarded with various landscapes, from moraines and valleys to roaring rivers. It ends with an amazing view over the iceberg-dotted Hooker Lake and up to New Zealand's tallest mountain, Mount Cook!
As this walk is extremely popular, it's best to beat the crowds by walking either early in the morning or at sunset.
Pro tip: Listen closely, and you might hear the rumbling of avalanches from the distant Mount Sefton!
4. Sealy Tarns Track
Distance: 4.5km return
Duration: 2-3hrs
Elevation change: 520km
Fitness level: Moderate to advanced
Branching off the Kea Point Walk, the Sealy Tarns Track is an alternative for those looking for a legitimate challenge. Dubbed the 'stairway to heaven' (though many would beg to disagree!), Sealy Tarns contains a flight of stairs 2,200 steps high that lead to two freshwater lakes of its namesake.
While this track is steep and demanding, it's also worth your while as it provides spectacular views of Hooker Valley and the surrounding peaks. The picnic tables, charmingly located near the lakes, also offer you the chance to relax as you take in all the scenery.
5. Mueller Hut Route
Distance: 8.5km return
Time: 6-8hrs
Elevation change: 1050m
Fitness level: Advanced
Located 1,800 meters above sea level, Mueller Hut Route provides a 360-degree view of ice cliffs, mountain peaks, and glaciers. It's also home to Mueller Hut, one of the best hut accommodations in New Zealand.
This hike starts from Sealy Tarns and continues steeply upwards towards a large boulder hill. The path to the hut is rocky and full of loose gravel, which during the winter becomes a steep snow slope. Proper hiking shoes are a must to prevent slips!
Those who brave this hike are rewarded with the best views of Aoraki Mount Cook National Park. If you're lucky to have booked the hut, then you might as well stay overnight and treat yourself to a stargazing experience. After all, the park is considered one of the best places in the world to do so!
Pro tip: Bring at least 2 litres of water and pre-packed meals and snacks, as this hike will take up most of the day. There is also considerable avalanche danger on this route during April to mid-November; it's important to check the New Zealand Avalanche Advisory for the day's forecast.
Also read: Middle-Earth Calls: 10 Scenic Spots at New Zealand's South Island!
Whether you're a casual adventurer or a full-on hiker, Aoraki Mount Cook National Park should definitely be on your bucket list! There are but a few places remaining in the world that offer Mother Nature's raw, rugged beauty — and this is one of those that still do. Plan your trip in advance, and book your trip when both you and the world are ready. The mountains are waiting!