Editor's Note: As of publication date, the Philippine destinations included in this article are only open to local travellers. This disclaimer will be removed once the Philippines opens its borders to international travellers.
If you've ever travelled to the Philippines, you've probably heard of the saying, "It's more fun in the Philippines." Yes, a statement like this raises expectations, but a couple of days of sightseeing and interacting with the locals will quickly make this claim easier to believe!
Health tip: On account of the pandemic, expect operating public transportation vehicles to comply with the social distancing and passenger limit guidelines set by the Department of Transportation (DOTr) and Land Transportation Franchising and Regulatory Board (LTFRB).
As passengers, make sure you likewise abide by these safety measures. Don't forget to wear a face mask and face shield, and sanitize your hands regularly.
In 2020, tourism in the Philippines — like the rest of the world — took a long pause due to the COVID-19 pandemic; but as countries all over prepare to welcome tourists, the Philippines is also gearing to welcome you back with adventures that are more fun and one of a kind!
There are several unique things to experience in the Philippines, from the food in the streets to the corals under the sea. So if you want to know where to start and learn about COVID-19 safety protocols along the way, keep on reading. Your awesome Philippine adventure starts with this basic list!
Also read: 12 Top Philippine Destinations for Foreigners, As Recommended by Filipino Travellers
1. Try the Philippines' tempting kakanin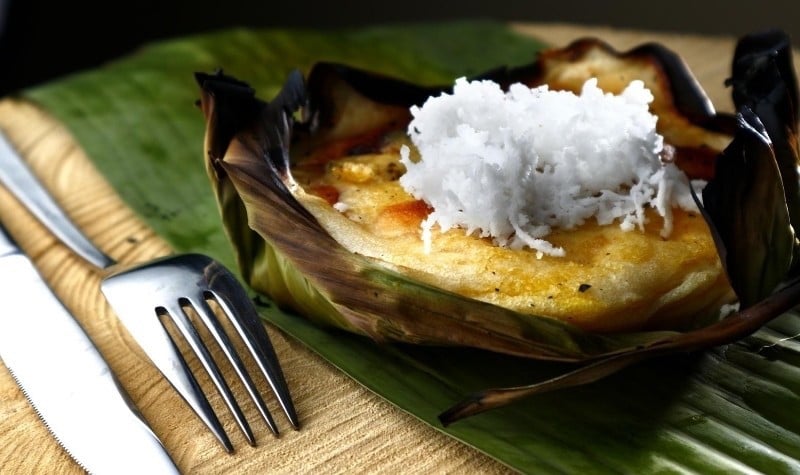 A Philippine adventure always kicks off with a taste of the country's drool-inducing food. More specifically, its unique kakanin. If you haven't heard any of your Filipino friends talk about their favourite kakanin before, here's a crash course. This umbrella term derives from the Filipino words kain (eat) and kanin (rice). So don't be surprised when you see that these delicacies are made out of glutinous rice mixed with coconut milk!  
There are several varieties of kakanin that's perfect for afternoon snacks. Biko, Puto, Suman, and Bibingka are among the staples you need to seek out when travelling in the Philippines. What's neat and very Filipino about kakanin is that many of them, such as the ones I've just mentioned, are usually wrapped and served in biodegradable banana leaf.
How about that? You get to eat traditional Filipino snacks while keeping away from single-use plastic wrappers!
Health tip: Whether you're buying a snack from a street vendor or having a full meal at a restaurant, F&B customers must always disinfect their hands with alcohol-based hand sanitizers. Your full cooperation is required as food establishments will ask you to fill out a health declaration form and take your temperature before entry. Restaurants also abide by social distancing guidelines!

2. Chow down on authentic Filipino food
Since we're on the subject, let's talk about authentic Filipino cuisine! Everywhere you go, whether it's the mall or a food hub by the beach, you'll surely find a restaurant that serves Filipino classics such as lechon (roasted pig), kare-kare (meat stew with peanut sauce), pancit (Filipino noodles), bulalo (beef marrow stew), sizzling sisig, and halo-halo among other delicious dishes! 
Want to know what all the hullabaloo over sisig is about? Sisig is traditionally composed of minced pork, onion, and chicken liver. Sometimes, it's also served with an egg you get to mix into the sizzling plate! If that doesn't get you drooling, imagine eating it with a warm cup of rice, and pairing the dish with a bottle of beer to cap off the night. 
After your sizzling meal, cool down with halo-halo. It's the best dessert to be had on your Philippine adventure. With crushed ice, evaporated milk, and ingredients such as sweetened beans, coconut juliennes, and fruit slices topped with ice cream, you'll forget about the Philippine heat when you're digging into this blend of cool and tasty ingredients. Mix them all together, and you've got yourself a unique dessert that's even better than a banana split!
3. Take home some eye-catching handcrafted souvenirs
The Philippines brims with unique handcrafted products which are, quite honestly, the best souvenirs you can take home from the Pearl of the Orient. True to its moniker, the country sells glowing pieces of jewellery and housewares decked with pearls that come straight from the sea. 
Also read: Philippine Souvenirs: 21 Trendy Gifts and Tokens to Take Home With You [UPDATED 2020]
From earrings and necklaces to mother-of-pearl plates, these handcrafted souvenirs will surely remind you of the Philippines' glistening waters. Hint: You'll find reasonable prices for these at the Greenhills Shopping Center in Manila! Davao City and Palawan are also known for ethically-sourced pearls in the country, if you'd rather take your shopping spree to sun-kissed islands.
What's more, the Philippines is among the best destinations to purchase patterned and weaved accessories or decorations. Whether you're in Iloilo (origin of a textile called hablon) or Baguio (a centre for Cordilleran weaves!), these native items make for eye-catching keepsakes. Go for something as simple as coin pouches, or bring home products as big as patterned blankets.
Travellers who are mindful of their health will be pleased to know that the Philippines' microbusinesses also sell protective face masks made from local materials such as rattan, sayabay, and abaca. With this, you won't just be travelling safe, but also supporting the local businesses in appreciation for the country's unique resources!
Health tip: To enhance the protective capability of your cloth or fabric face masks, you can insert a disposable filter between it and your mouth. Remember to wash your cloth masks after every use!
4. Spot Tarsiers in Bohol
The smallest primate on earth is a "near threatened" animal which can be found in parts of the Philippines such as Samar, Leyte, and Mindanao. However, the Philippine Tarsier Foundation, dedicated to the conservation of this charming species, is in Corella, Bohol.
So, what makes Tarsiers interesting aside from their size? 
Well, its tail is longer than its body, it's a nocturnal animal, and it can rotate its head 180 degrees in each direction like an owl! You can find out more about Tarsiers and see them for yourself at the Philippine Tarsier and Wildlife Sanctuary in Corella. The visitor's centre comes with an exhibition area, audio-visual room, and a souvenir counter. Don't worry, you'll still be partaking in ethical wildlife tourism!
Health tip: Seeing tarsiers for the first time would get anyone excited. But for your own safety and to give these protected animals their due space, don't crowd them and keep your distance from your fellow tourists. After taking a photo with them, sanitize your hands right away. 
5. Meet a Philippine Eagle in Davao
The Philippine Eagle, considered to be one of the largest and most powerful forest raptors in the world, is, unfortunately, an endangered species. As of 2015, there's only an estimate of 450 Philippine Eagles left in the wild. The government is working hard to preserve these magnificent creatures by protecting and allowing them to breed in sanctuaries. The go-to sanctuary which tourists — both foreign and local — are encouraged to support is the Philippine Eagle Center under the Philippine Eagle Foundation in Malagos, Davao.
Not only will you behold the haunting blue-grey eyes and the seven-foot wingspan of Philippine Eagles, but you'll also see other birds, mammals, and reptiles that are endemic to the country. 
Go on an educational tour in the sanctuary and view the in-house documentaries to understand just how important these animals are to the country and environment. You can even donate and volunteer to help their cause!
Health tip: When in the Philippine Eagle Center, you will be requested to keep a safe distance from the eagles as the guides take a photo of you with these magnificent raptors. Follow these safety protocols and don't ask for too many shots. Other tourists will be waiting for their turn and you don't want to crowd the place.
6. Visit world-class snorkelling sites and surfing spots
A true-blue Philippine adventure usually means taking a dip in the ocean, and for good reason. The Philippines is home to one of the best diving, snorkelling, and surfing spots in the world. Want to see diverse marine life and vibrant coral reefs? Take the plunge in Siete Pecados in Palawan, Crocodile Island in Boracay, and Anilao in Batangas, just to name a few. 
Also read: Boracay in the New Normal: What to Expect & Things to Do
On the other hand, surfers will never go wrong with Siargao. Siargao's Cloud 9 beach was pushed into the spotlight in 1995 when the American magazine, Surfer, named it one of the "Ten Best Surf Trips Of All Time". As a relatively affordable destination, both professionals and beginners flock here all year 'round. Got more time to catch the waves in the Philippines? Baler, La Union, and Zambales are great surfing destinations, too!
Health tip: When picking accommodations, there's no shortage of certified hotels and resorts in the Philippines' staple destinations that follow strict guidelines under the new normal. Rest assured that your health and safety are of utmost priority to these establishments. 
Be mindful of guest policies such as health declaration procedures, pre-booking, physical distancing, wearing of face masks and face shields, temperature checks, and contactless payment options. Guests can take comfort in the fact that across the country, hotels certified to operate for leisure stays are not allowed to house travellers in quarantine. In the Philippines, your stay is guaranteed safe and secure!
7. Take easy island-hopping opportunities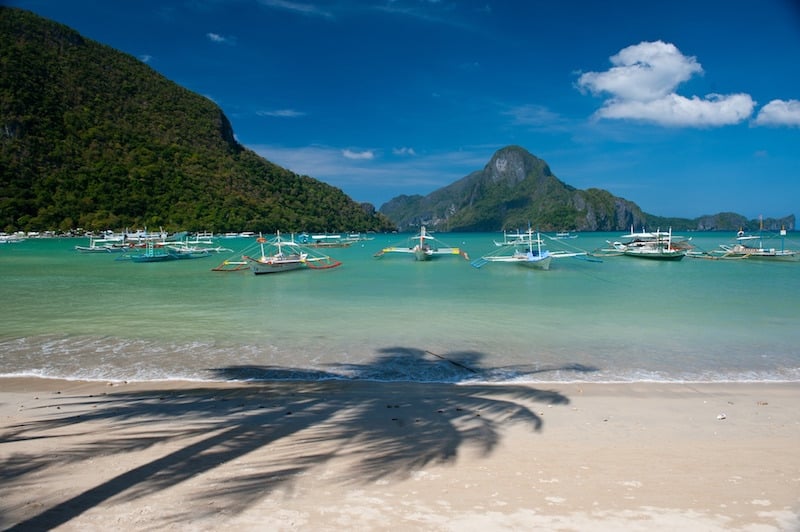 You don't really have to indulge in any water sport to appreciate the beaches in the country. Once you're already in an island region such as Bicol, Cebu, and Palawan, you can easily hire a boat and tour guide to hop from one island to another in the same region all in a day or two. 
In Bicol, for instance, island-hopping in Caramoan is the fad! This area is composed of sub-islands where travellers can marvel at green cliffs, crystal clear water, and a tranquil beachfront. They are said to be more isolated, but just as beautiful and lush, compared to the island destinations in Palawan. If getting those castaway vibes while enjoying a picture-perfect view has been a dream of yours, then spend an idyllic afternoon on the Caramoan islands of Katanawan, Cagbalinad, Matukad, and Lahos!
Don't get carried away, though! While you're enjoying the beaches in the Philippines, you still have to be a responsible traveller and dispose of your trash in the proper bins, eat only where it's permitted, and respect the habitats of marine creatures whenever you encounter them.
Remember, Boracay's rehabilitation took six months because of irresponsible tourists! The more vigilant beach-goers are, the better the experience everyone's going to have. In your free time, why not join beach cleanups on your Philippine adventure? These cleanups are held all around the country!
Health tip: As much as possible, don't schedule an activity right away after a beach cleanup. After thoroughly and thoughtfully helping locals clean their beach, it's best to head straight back to your accommodation to wash up properly before heading out again. 
8. Explore the Underground River in Puerto Princesa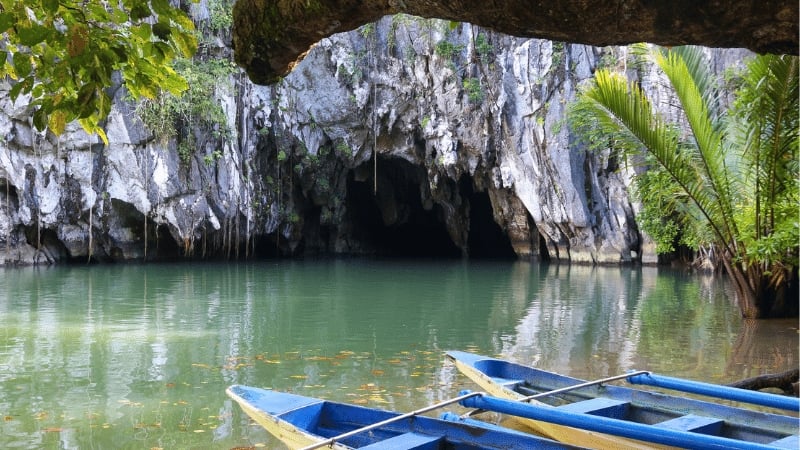 Puerto Princesa in Palawan is proudly home to the UNESCO World Heritage Site, the Underground River — also known as the Puerto Princesa Subterranean River National Park. The river leads into a cave with unique stalagmite and stalactite formations which eerily resemble animals, humans, and even the holy family. It's still considered a very mysterious cave since the deeper areas have never been explored by researchers due to oxygen deprivation.
However, throughout the years, there have already been a handful of discoveries such as the cave dome which measures 980 ft. above the river, a deep water hole, more river channels, and even larger bats and marine creatures. So if you're not afraid to kayak inside the cave with bats overhead, this Philippine adventure could be an experience of a lifetime!
Also read: I Travelled to Palawan in a 'Travel Bubble' and This Is What It Was Like
Health tip: The most important safety protocol to follow at the Underground River is to wear a helmet to avoid bat droppings. That said, don't forget that you should still bring a face mask and face shield to ensure further protection during your river exploration. Sanitizing your hands before and after the boat ride is paramount. 
9. See the Hanging Coffins in Sagada
If you're about to freak out, don't! Though the idea of hanging coffins may sound bizarre, there's actually a sacredness to it that ought to be respected. The Hanging Coffins in the mountain province of Sagada are manifestations of an ancient Igorot tradition. Before the Spaniards colonised the country, Igorots, an ethnic group in the Philippines, believed that this custom brought their deceased relatives closer to heaven. The higher the coffin, the more beloved the person was. 
These coffins are held up by wires and ropes, but how the Igorots managed to do that on limestone cliffs, we can only guess. One thing's for sure; it wasn't an easy feat, which makes the view of the hanging coffins all the more impressive. Today, tourists can still view these hanging coffins after a long trek at Echo Valley.
Travel tip: Don't be a culturally insensitive traveller! Do your research or ask locals and your guide about the social relevance of attractions such as this to become a more informed tourist on your Philippine adventure. And as always, after a tiring yet fulfilling hike, head straight back to your accommodation to clean up and avoid any chance of getting sick!
10. Dive to the WWII sunken battleships in Coron
We bet you've never seen battleships under the sea — World War II shipwrecks, no less. Well, you can finally witness them with your own eyes in Coron, Palawan! Before you dive right in, so to speak, be sure to check out diving protocols in the new normal here.
There are seven known sunken battleships in Coron. They were all Japanese warships that were bombed by US aircraft in 1944. You won't just get a glimpse of world history by diving to see the shipwrecks in Coron; you'll also get a view of marine life that has settled in the battleships. Yes, including colourful corals! It's a paradox of visual appeal, but that's what draws tourists to these sites every single time!
Travel tip: While international travel hasn't resumed in the country just yet, the Philippines' tourism arm has been making travel easier for local tourists. If you're a Filipino tourist entering a destination that requires a RT-PCR test, have it subsidised! That way, you'll only pay for 50% of the test's price. Know more about the requirements and procedure here.
We know that it could take a while before the world fully recovers from the COVID-19 pandemic and we definitely want everyone to put their health and safety first above everything else. In the meantime, it wouldn't hurt to sprinkle a little inspiration to your day by going through all the unique things to experience in the Pearl of the Orient. This list we've laid out is exactly why "It's more fun in the Philippines"! 
While you're planning your trip, you might want to consider signing up for these immersive, advocacy-driven travel experiences in the country. With so many activities to do, you definitely need to take your time in every Philippine destination as each locality and island carries its own uniqueness. 
Don't forget, be respectful of the environment so that when you come back, your favourite spots will be just as rejuvenating and exciting as before. If you've already had your epic Philippine adventure, spread the word and tell your friends about all the unique things to experience in the Philippines!
For more information, please visit app.philippines.travel, philippines.travel/safetrip, and DOT's official Facebook page.
---
Brought to you by Department of Tourism – Philippines.