Editor's Note: As of publication date, the Philippine destinations included in this article are only open to local travellers. This disclaimer will be removed once the Philippines opens its borders to international travellers.
Thinking about travelling to the Philippines in the new normal? You definitely won't regret it!
On top of the dreamy islands that have more than likely captured your attention, prepare to witness some of the most breathtaking natural wonders, mouth-watering flavours, and bang-for-your-buck shopping. Does that sound like your kind of vacation? 
START PLANNING YOUR DREAM VACATION
As someone who proudly calls this country my home, I'm more than happy to let you in on all the exciting sights and experiences it has in store for you. Keep reading, and you'll soon discover why the Philippines is worthy of your #TravelGoals in the new normal!
Why you should visit the Philippines in the new normal
1. The country's gorgeous islands are studded with white sand beaches
Let's start with what you probably already know by now: the Philippines is studded with beaches that boast of beautiful, powdery white sand you won't find just anywhere. Trust me — we locals always find ourselves comparing foreign beaches to our very own. The verdict? Philippine beaches win every single time!
Also read: COVID-19 Philippines Travel Advisory for Filipinos & Foreign Visitors
It won't come as a surprise if Boracay, Palawan, and Bohol, with their stunning white sand beaches and pristine blue waters, have made it to your list of places to visit. If you're looking to go off the beaten path, the Philippines is dotted with under-the-radar islands to explore in the new normal! Bantayan Island in Cebu and Islas de Gigantes in Iloilo are two of many unspoiled islands you'll easily fall in love with. 
Get to know these slices of paradise by going island hopping, snorkelling, or diving. At some of these destinations, you can also enjoy other exciting island activities like stand-up paddling, surfing, and kayaking!
Note: The Philippines has yet to open its borders to international tourists, but it has been slowly opening its destinations to local travellers. While not all tourist locations are back to regular operations, Filipino travellers can check here to know which destinations are open. Travel bubbles or travel corridors like the Ridge and Reef Travel Corridor allow tourists to travel directly to select provinces and island destinations in the country without the need to self-quarantine upon arrival! They just need to follow COVID-19 safety protocols discussed below.
COVID-19 safety protocols in the new normal
To ensure everyone's safety, protocols are in place at each of the aforementioned destinations: COVID-19 testing before travelling (only when required by the local government unit of intended destination), completion of health declaration forms, pre-booking DOT-certified accommodations, wearing of face masks, frequent hand-washing and sanitizing, and physical distancing must be strictly followed.
Also read: Filipino Tourists Can Now Apply for a 50% RT-PCR Test Subsidy for Safer Travels
All those arriving at each destination's respective airports will go through mandatory screening for flu-like symptoms; those showing symptoms will be isolated, quarantined, and monitored. Tourism activities shall operate at reduced capacity to avoid crowding and over-tourism.
Boracay has reopened to tourists, starting with local visitors from the Philippines. Tourism-related establishments are all cleared by the local government before returning to operations. While swimming and sunbathing at the beach are now allowed at various intervals, visitors must all register names, addresses, and contact information before entering. Lifeguards are also on duty to screen tourists before entering, and to ensure that wearing of face masks and physical distancing are strictly observed.
Also read: Boracay in the New Normal: What to Expect & Things to Do
Palawan has followed suit, reopening top tourist spots such as El Nido, Coron, Culion, and Puerto Princesa. Tourism and leisure activities are presently open to Filipino citizens at limited capacity. El Nido resorts have been open to domestic tourists, even in General Community Quarantine (GCQ) areas, via point-to-point air travel, and visitors are required to get tested for COVID-19 and present recent RT-PCR test results from DOH-accredited hospitals.
Palawan travel bubble packages such as this one in the sunny municipality of Culion helps travellers experience the province safely in the new normal. Depending on the package you choose, your Palawan getaway could include airfare, accommodations, boat transfers, and even a spa treatment. Now that's a total steal!
2. The Philippines is home to a diverse marine life well worth exploring
Home to rich marine biodiversity, the Philippines is teeming with diving destinations worthy of any scuba diver's bucket list. Whether you're up for an extensive underwater adventure, or just want to snorkel and marvel from a distance, witnessing such beauty will make for an unforgettable experience.
In Batangas, Anilao is a short drive from Manila, and a favourite weekend spot for divers who need their weekly dose of the underwater. Apo Reef in Occidental Mindoro is many a Filipino diver's dream come true: it's the country's largest coral reef system, and the second largest in the world. Palawan's Tubbataha Reef is considered one of the world's top diving destinations, and is a UNESCO World Heritage site. Prepare to be wowed by some of the most gorgeous coral reefs in the world!
If you're an experienced diver, you probably know the rules by now — and if not, always be reminded that you should never disturb animals in their natural habitat. Avoid any animal wildlife tourism activities that may disrupt their behavioural patterns in the wild. Make sure to leave no trace, either — slather on some reef-safe sunscreen, and never, ever litter! The underwater is their home, after all.
COVID-19 safety protocols in the new normal
Batangas has already reopened to local tourists. Visitors must be equipped with face masks and will be required to observe strict physical distancing. Restaurants and tourism establishments that have received certification to operate from the Department of Tourism are currently operating at reduced capacity; with lower occupancy rate, safe physical distancing may be properly observed. Contactless booking and cashless payments are highly encouraged, and health declaration forms must be filled up upon arrival. 
Protocols for diving and related underwater activities are being imposed. Potential visitors are encouraged to take advantage of virtual tours and 360-degree photos available online; with these, anyone can virtually enjoy views of Tubbataha Reef and Apo Island.
Also read: Scuba Diving During COVID-19? Here's What You Need to Know
3. Countless breathtaking natural wonders await
As locals, we love taking every chance we can get to explore the beauty our country has to offer. On weekends and holidays, you won't just find us at the beach — we'll be climbing mountains, chasing waterfalls, or venturing out to see some of the Philippines' hidden gems for ourselves! With so many natural wonders within reach, how could we possibly resist?
If you love a good hike, then the Philippines is definitely the right place to visit in the new normal. Mount Pinatubo in Zambales is a popular climb that attracts both beginners and experienced hikers. One of the country's highest peaks, Mount Pulag borders three different regions: Benguet, Ifugao, and Nueva Vizcaya. This one is best for overnight trips — at the summit, you're guaranteed to witness some of the most spectacular sunrises you'll ever see.
There isn't a shortage of stunning waterfalls in the Philippines, either. These majestic scenes aren't just perfect for the 'gram — they also offer a cool escape from the heat! In Cebu, the gorgeous Kawasan Falls is a popular tourist spot; the Tangadan Falls in San Juan, La Union will surely take your breath away; and the Daranak Falls in Rizal will leave you amazed at how such beautiful wonders are just a short drive from the city!
When going on climbs, visiting waterfalls, or any other natural sites, trash receptacles aren't always readily available. Never litter — if you have anything you'll need to throw, keep it with you until you're able to dispose of it properly.
COVID-19 safety protocols in the new normal
No matter where you decide to travel in the Philippines in the new normal, your health shall be of utmost priority. Once these spots reopen to international travellers, visitors must book their tours in advance; contactless payments are highly encouraged as well. Wearing of face masks and face shields shall be mandatory, along with temperature screening and filling up of health declaration forms. Employees shall be in personal protective equipment, and will always have a first-aid kit and essentials for sanitizing and disinfection.
LATEST PHILIPPINE TRAVEL UPDATES
4. The Philippines is sprawling with awe-inspiring historical sites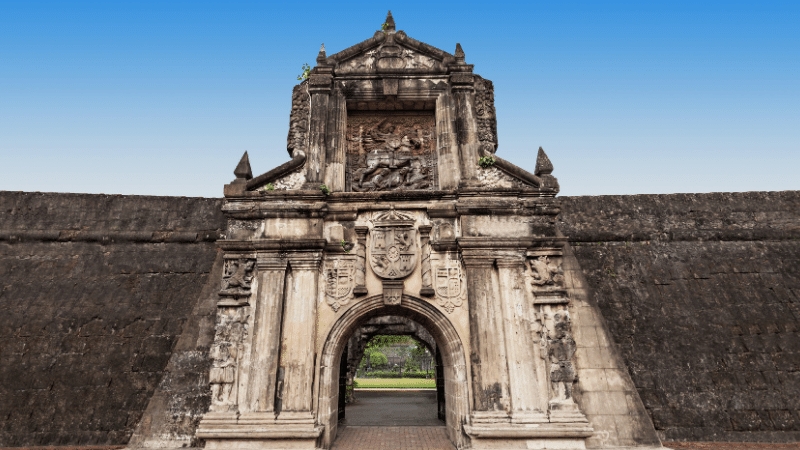 In addition to its awe-inspiring natural wonders, the Philippines is rich with must-see spots steeped in history. Its charming old towns and historical sites will transport you to another era and leave you breathless. 
Intramuros, Manila's old 'Walled City' is studded with restored Spanish-era homes, museums, historical landmarks, stunning parks, and beautiful old churches. Without a doubt, it's one of the top places to get lost in Philippine history.
In Vigan, Calle Crisologo is a charming cobbled street lined with heritage homes. Along the street, enjoy a calesa (horse-drawn carriage) ride, street food favourites like fish balls and sorbetes (local ice cream), and shop for local handwoven products!
Bataan's Las Casas Filipinas de Acuzar is a heritage hotel known for its collection of Spanish-era houses. Each with an interesting story of its own, these homes were dismantled brick by brick, and later transported, reassembled, and restored on-site! What's more, Las Casas Filipinas de Acuzar boasts of operations anchored on safe tourism in the new normal. More about updated travel requirements for a trip to Bataan here.
Especially when visiting tourist spots, historical sites, and sacred spaces, avoid being a culturally insensitive traveller. Keep in mind that you should always respect local culture and customs. Do a little research when planning your visit, dress accordingly, and act appropriately.
5. You'll never run out of mouth-watering flavours to try
What's a must-visit destination without an exciting culinary scene? Luckily, Pinoys love to eat, and you can grab a delicious bite just about anywhere you find yourself in the country. From delectable Filipino dishes to authentic foreign cuisine, the Philippines' restaurants and eateries have it all!
Enjoy the best of Filipino cuisine at local establishments
At almost any local restaurant, you'll enjoy famous Pinoy dishes like adobo and sinigang — best paired with a cup of rice or two! Get a taste of crispy lechon (roasted suckling pig) in Cebu, chicken inasal (grilled chicken prepared in a special marinade of vinegar and tanglad or lemongrass) in Bacolod, and the freshest seafood at just about any seaside destination.
COVID-19 safety protocols in the new normal
Rest assured, you'll be able to dine with ease when visiting the Philippines in the new normal. With strict protocols in place, the health and safety of both diners and employees are of utmost importance at operating dining establishments. Here are some of the things you can expect for your dining experience:
No mask, no face shield, no entry

Contact tracing and health declaration upon entry for all customers

Body temperature monitoring for all employees and diners

Physical distancing for queues and seating

Safety apparel to be worn by those on duty

Strategically placed hand sanitizing stations

Maximum capacity limited to 50%

Cashless payments encouraged

Regular, mandatory deep cleaning and disinfection
LEARN MORE ABOUT COVID-19 SAFETY PROTOCOLS
Gear up for an epic boodle fight!
Nowadays, enjoying Filipino food over a boodle fight (the Filipino military practice of eating with your hands) is a must when visiting the Philippines. Just imagine this: a mouth-watering spread of grilled meat (like liempo or pork belly) and seafood (like bangus or milkfish and butter garlic shrimps), veggies, rice, and fresh fruits — all laid out before you on banana leaves. The best part? You can have a boodle fight delivered straight to your accommodation. Don't be afraid to get your hands dirty, either — some say eating with your hands makes food taste even better!
Note: Boodle fights are typically served to large groups of people, and are commonly served after long days spent island-hopping! For the time being, however, we recommend having one delivered to your accommodation. As for enjoying your boodle fight the traditional way? Well, all the more reason to visit the Philippines again once the world is COVID-free!
As much as possible, avoid single-use plastics when dining at a restaurant or grabbing a meal to go. If the opportunity presents itself, go for a recyclable or biodegradable takeout container; skip the plastic straw and opt for one made of bamboo — or go straw-less! Even better, you can choose to always be prepared and travel with eco-friendly must-have items.
6. You're in for loads of bang-for-your-buck shopping
Besides eating, Pinoys also love to shop! While you'll find a lot of malls in the cities, your money will go a much longer way if you venture to shopping centers, ukay-ukay shops (thrift stores that sell secondhand clothes), and local markets. Just don't forget about the basics of mask-wearing and physical distancing when you head to these places as precautions.
If you love a good bargain, then head to Manila's popular shopping centers, Greenhills and Divisoria. You'll be surprised at how similar (or the very same) products you can find at the mall — like clothes, shoes, gadgets, and accessories — are sold for way cheaper here.
Scattered across the metro, ukay-ukay shops can get really exciting when you find great steals: we're talking clothes and shoes with luxury-brand labels sold for really cheap prices (sometimes dirt-cheap — under S$2)! 
For local handcrafted goods and souvenirs, local markets are great places to check out. Baguio's Public Market and Night Market are perfect examples. There, you'll find food, coffee, and beautiful woven clothes, bags, and accessories you're not likely to find anywhere else (at the same prices, at least!).
7. The nightlife scene is all sorts of exciting
You read that right — Pinoys know how to party, too! Manila's nightlife scene is certainly proof: Bonifacio Global City and Makati are particularly known for being home to some of the most popular bars and clubs, while you'll find the coolest speakeasies scattered all across Metro Manila. Whether you're up for a night of partying or simply enjoying good music over quality cocktails, the local club and bar scene certainly won't disappoint.
It isn't just in the city that you'll find an exciting nightlife — island parties are something else altogether! Pub crawls in Boracay, happy hours in Siargao, and parties in San Juan, La Union are just some of the nighttime festivities you won't want to miss when COVID-19 restrictions are eased. No matter where you end up, you're definitely in for a good time!
Something to keep in mind, though: Boracay was closed for a much-needed six-month rehabilitation — and the litter from parties on the beach was a big part of why this had to happen. Be more responsible when enjoying parties in the Philippines in the new normal: avoid smoking (unless there's a designated smoking area), and always dispose of your trash responsibly.
COVID-19 safety protocols in the new normal
As soon as these establishments reopen, you can expect that they will strictly follow health and sanitation protocols such as contact tracing, health declaration, and temperature monitoring. No mask, no face shield, no entry policies shall be strictly enforced, and disinfecting foot baths and hand sanitizing stations shall be placed at all entrances. Establishments will only be able to operate at reduced capacity, and a cashless pay-as-you-order system will be highly encouraged. 
If you're looking to pamper yourself in the new normal after drinking responsibly during a night out in Manila, consider a staycation! As part of COVID-19 accommodations protocols, only a handful of hotels are allowed to operate for leisure stays. Click here for the complete list of Manila hotels certified to offer staycations in the new normal.
8. The locals are some of the friendliest people you'll ever meet
It always helps when you know you're travelling to a place where locals are known to be kind —  don't you agree? No matter where you find yourself in the Philippines, you're likely to receive the warmest welcome and run into friendly faces. It comes naturally to Filipinos to make guests feel at home and to readily lend a helping hand when it's needed. Plus, we always know how to have a good time! 
In addition to the gorgeous sights and amazing food, the locals you meet and befriend along the way will contribute to the memories you'll fondly look back on!
9. There's no shortage of eco-friendly tourist sites
In this day and age, ecotourism plays such an important role in keeping tourist sites in tip-top shape, especially for generations to come. Eco-conscious travellers will be happy to find that more and more tourist sites, hotels, and resorts have gotten on board with the movement. This being said, be on the lookout for eco-tours when planning your visit to the Philippines in the new normal! 
In need of some recommendations? Palawan is home to several ecotourism sites, including the famous Tubbataha Reefs National Park. Also worth checking out is the enchanting Sohoton Cove — a boat ride away from Siargao this natural attraction is an idyllic passageway to stunning lagoons surrounded by lush greenery. Up north, the whole of Batanes is famous for its beautiful rolling hills and coastline. Finally, in Banaue, you'll find the breathtaking, man-made Batad Rice Terraces — one of the five clusters of the world-renowned Banaue Rice Terraces. 
And if you want to take things a step further, you can even join one of the many beach cleanups around the country!
COVID-19 safety protocols in the new normal
Once these attractions reopen to the public, be reminded to book your eco-tours in advance. Contactless bookings and payments are highly recommended, and temperature checks will be made upon entry. Those feeling unwell or presenting flu-like symptoms will not be allowed entry, and will instead be transported to the nearest healthcare facility. Masks and face shields must be worn at all times, and tour groups will operate at reduced capacity to allow for physical distancing.
10. The accommodations range from budget-friendly to splurge-worthy
Planning to save or to splurge? The Philippines is an ideal destination no matter your budget! Whether you're looking to go glamping, meet fellow travellers at a budget-friendly hostel, or enjoy an ultra-luxurious island getaway, you won't run out of accommodations to choose from!
For a step up from your run-of-the-mill camping experience, beachside glamping is a must when visiting the Philippines. Local hostels, on the other hand, are best for backpackers looking to actively tour their chosen destinations.
The country is also studded with luxurious hotels and resorts that offer the perfect balance of privacy and comfort. Whatever it is you're after, you'll undoubtedly find the perfect place to complete your island vacay.
COVID-19 safety protocols in the new normal
You can be assured that when staying at a DOT-certified accommodation in the Philippines in the new normal, health and sanitation measures will strictly be observed in order to protect guests' and employees' safety. Mandatory protocols for hotels and resorts include the following:
Hotels and resorts are required to comply with health and safety guidelines based on protocols issued by the World Health Organization

Online payment upon booking is highly encouraged

Body temperature checks via thermal scanner will be done by qualified health/medical staff or trained health personnel at hotel entrances

Guests must complete health declaration forms upon checking in

Entrance will be granted only to guests who are cleared during screening

Wearing of masks, regular hand washing and sanitizing, and physical distancing will be mandatory

In the event that guests start showing symptoms, guests are assured that they will be provided with the necessary assistance
LEARN MORE ABOUT SAFE TRAVELS TO THE PHILIPPINES
If all this hasn't convinced you to make the Philippines your new normal destination, then we don't know what will! While its gorgeous islands are what our #TravelGoals are made of and more, it's absolutely comforting to know that health and safety is a priority, too.
Also read: Slowly But Surely: Here's What Tourism Reopening Looks Like in the Philippines
So, how about you start planning that vacation? Once you set foot in the Philippines, I dare you not to fall in love with this gorgeous country! (Spoiler alert: It's not possible.)
For more information, please visit app.philippines.travel, philippines.travel/safetrip, and DOT's official Facebook page.
---
Brought to you by Department of Tourism – Philippines.