It's no secret that beach holidays rank high on travel bucket lists around the world. From the perfect golden tan, hanging out on the beach sipping cocktails, or getting a spike on your adrenaline with a round of water sports – there's something for everyone.
Today, we set off to explore The Samal Islands, just a 20-minute ferry ride from the city of Davao. The goal? To uncover some cool diving spots and pristine beaches free from the tourist crowds.
How to get to The Samal Islands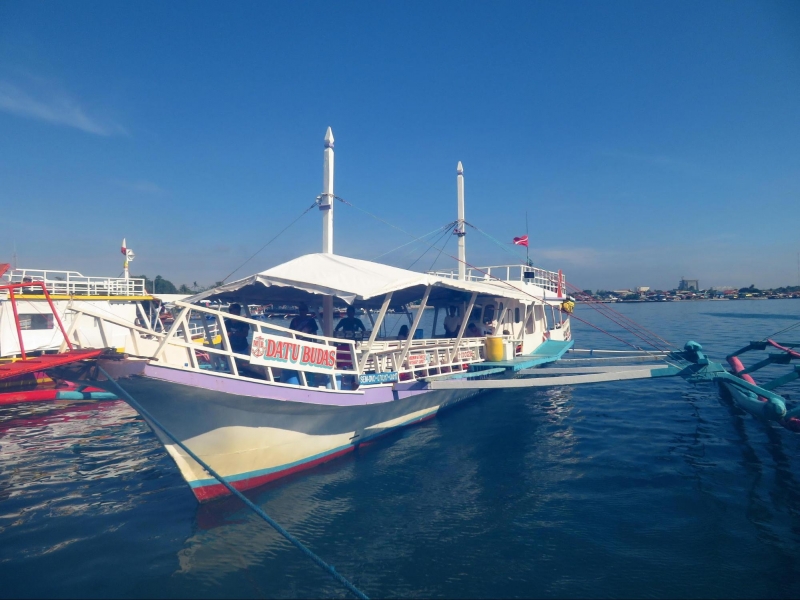 The Sasa wharf, the gateway to the Samal Islands, is only a 20-minute Jeepney or taxi ride from the city centre of Davao. We hopped on our boat which was already there waiting for us at 8.30am in the morning. We had a full, exciting day ahead of us and no time to lose!
Where are the best spots to check out
Even from the wharf, it was hard not to notice how blue and crystal clear the waters were. Our guide, appropriately nicknamed "Blue," welcomed us warmly. He then gave us a short brief of the spots we were about to check out for the day.
Coral Garden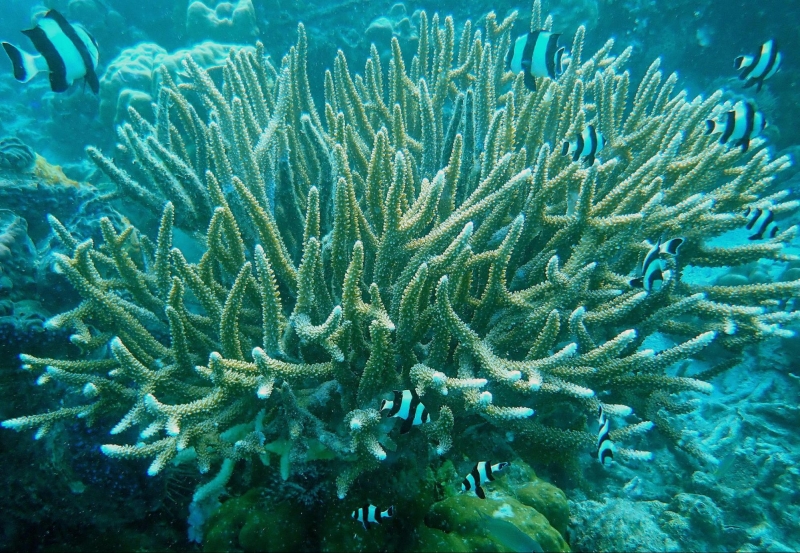 As the name suggests, it wasn't surprising at all when we took our first splash in the Davao Gulf to be met by endless reefs of coral at every turn. The best part was, as we had set off rather early, we were the first boat there and had the entire place to ourselves! You can also try your hand at diving as well, as the waters are relatively calm. More advanced divers can easily head out into deeper waters, but Samal is a great area for beginners! Don't forget to slather on that sunscreen though as you will be spending a lot of time in the water getting up close and personal with the native marine life.
Angel Cove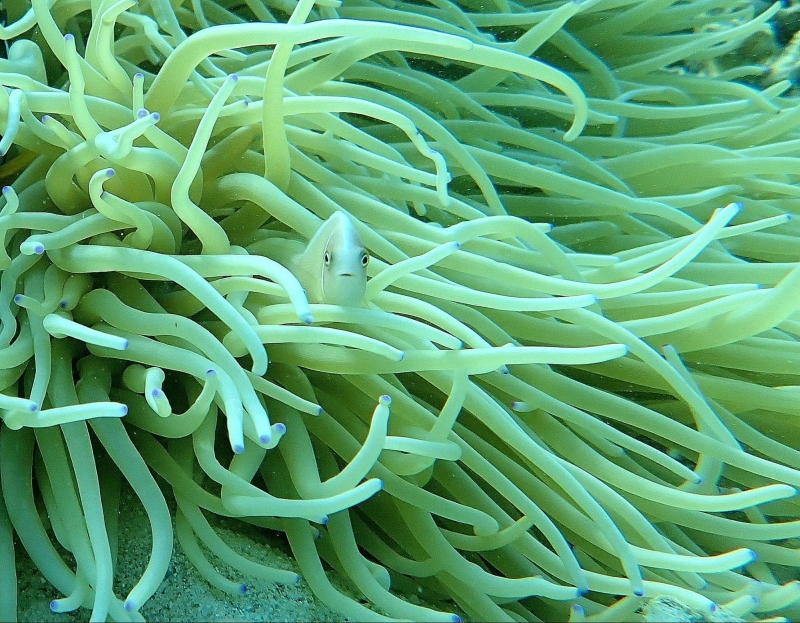 Our next stop was a not so little cove with a coral wall, which was home to more species of coral endemic to The Philippines. This was one of the many dive spots in the Samal Islands as well. I was happy to hang back by the boat to spend some time with the colourful fishes. We even spotted a sea snake which was sucha sight to behold!  
Taklobo Giant Clam Sanctuary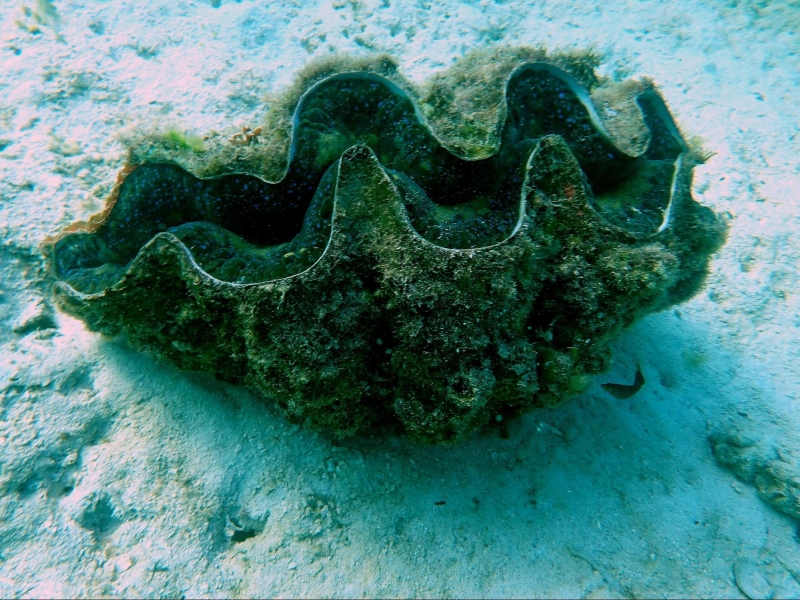 This was by far one of the most unique experiences during our time in the Samal Islands: We got to snorkel in a giant clam sanctuary. Life jackets were compulsory, and we had a guide with a lead rope guiding our route through the sanctuary. It was pretty incredible swimming with these gentle giants, some as big as 1m across in diameter. We were told not to brush up against them, accidentally or otherwise, as they clam up in self-defense and it takes 10 to 15 minutes for the shells to open again.
Entrance fee: 100 pesos    
How long does it take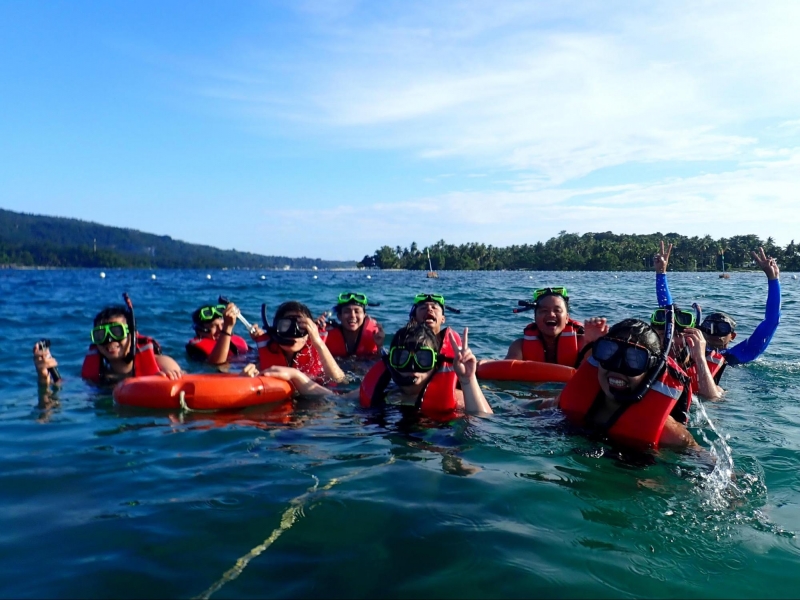 We took a good five to six hours to go around the islands. This was partly because everyone wanted a shot at trying out diving, and we were also taking our leisure time because the boat was ours for the day. We were definitely sun-kissed, well fed, and exhausted by the end of a very fruitful day.
Where to stay after a day of island-hopping
You have the option of returning to the same wharf you took off from in the morning from Davao City. Or, you could explore the inland gems of The Samal Islands (which was what we did). Our boat captain took us to the luxurious Pearl Farm Beach Resort for the evening, where we took in beautiful fiery sunsets, sipped on cocktails, and enjoyed a live band.
It was definitely an eventful day out on the water, and I would absolutely return in a heartbeat with more of my beach buddies and island life–loving friends in tow.
Getting to Davao and The Samal Islands used to be slightly more challenging with often delayed transfers in Manila, but starting 21 December 2017, AirAsia offers direct flights from Kuala Lumpur to Davao.
---
Many thanks to AirAsia for their hospitality and for making this trip to Davao and the Samal Islands of the Philippines happen.