ZUJI x TripZilla: Presenting to you, our nifty 'ZUJI Keeps It Real' series!
Straight up, no fluff: arm yourself with candid travel cheat sheets that contain authentic stories, real life experiences and insider tips for fellow travellers. We've been inspired and we hope you will be too!
---
If you think that Bangkok is simply for shopping, massage and street food, think again. The colourful capital of the Land of Smiles offers much, much more – you just have to know where to look. On my multiple trips to the bustling city, I've discovered (with much glee, I might add) that Bangkok is also a great starting point for many day trips around the area!
NOTE: THIS FLASH SALE HAS EXPIRED, BUT DON'T MISS THE NEXT ONE! FOR INSIDER INFORMATION ABOUT THE NEXT FLASH DEAL, JUST:
And it has NEVER been cheaper to fly to Bangkok – 
flights are going from S$88 with ZUJI!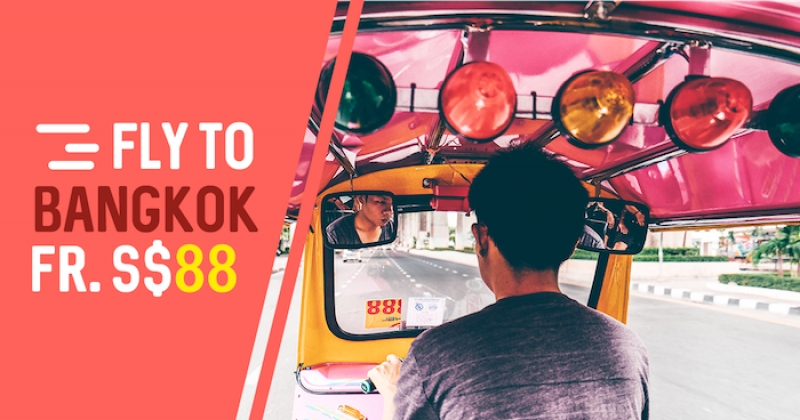 In addition, enjoy ADDITIONAL perks such as:
S$15 iShopChangi voucher for all return flight bookings

S$50 rebate with a minimum spending of S$800

S$100 rebate with min spend of S$1,600

12% hotel coupon code

Cabin-sized luggage*
GRAB YOUR TICKETS TO BANGKOK NOW!
*Applies to Maybank Card users, with min $2,500 spend in a single booking and limited to first 50 redemptions.
Elusive and off the beaten path, these six day trips
from Bangkok
will completely change the way you view the country. Let me show you a side of Thailand rarely seen!
1. Khao Yai – 2.5 hours from Bangkok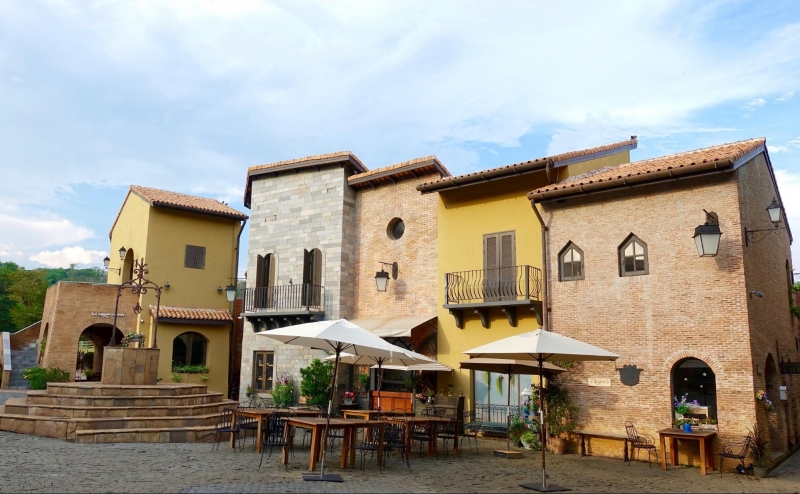 Doesn't this sight remind you of a quaint town in Tuscany? Well, now there's no need to travel all the way to Italy when you can visit this gorgeous installation just a 2.5-hour flight away from Singapore – simply fly to Bangkok and take a day trip to Khao Yai to experience this for yourself!

I barely remembered that I was in Thailand when I stepped into the premises of Primo Piazza. Who would have thought to find such a stunning European-style establishment in the middle of Khao Yai? I was completely won over by this place! Instagram addicts, take note – this place is perfect for the #gram. In fact, I took a couple of shots here and managed to convince my friends that I was on a whirlwind trip in Europe. That's how realistic the entire place is!
Travel Cheat Sheet Tip: Complete the experience with people-watching at any of Primo Piazza's cafés. They even have coffee made with French Arabica beans, which I found great to have with a freshly baked pastry. They even have alpacas here if you're a fan of anything cute and furry!
Just like any other Lord of the Rings fan, I've always wanted to visit The Shire in New Zealand. However, why go to New Zealand when there's one right here in Khao Yai? Baan Suan Noi caters to both supporters of the Lord of the Rings and fairytales – I was delighted to discover that they offered an array of costumes to try on! Choose to be Bilbo Baggins from the Lord of the Rings, or even Elsa from Disney's Frozen. I must admit, unabashedly, that I couldn't resist to try on one (or a few), but I'll keep those embarrassing photos for myself.  
Travel Cheat Sheet Tip: Pair your trip to Baan Suan Noi with a dinner at the Midwinter Green, a restaurant cum complex that resembles German castles! It's about a half hour drive away, and serves generous portions The exterior is enough to blow you away. What's more, it also serves generous portions of meat and is only half an hour drive away from Baan Suan Noi!
2. Ayutthaya – 1 hour from Bangkok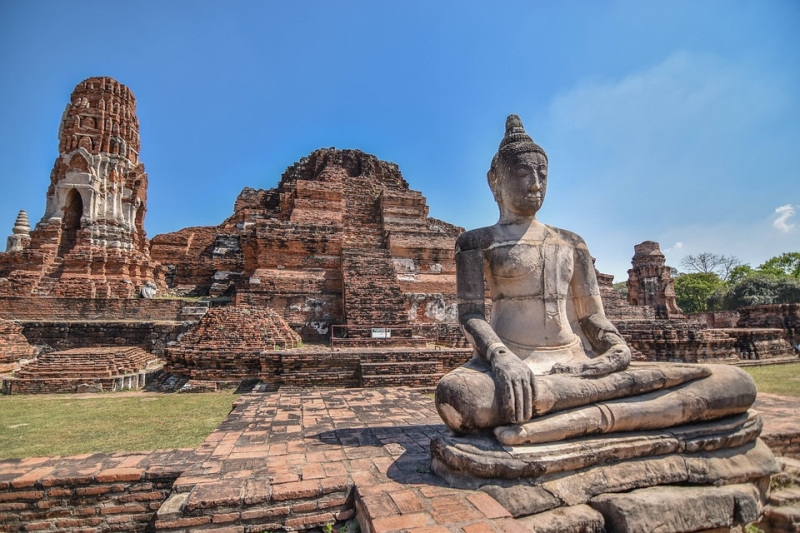 70km to the north of Bangkok lies the venerable ruins of Ayutthaya, the ancient capital of Thailand. Founded nearly 700 years ago in 1350, Ayutthaya was once the trading capital of Asia until its desolation by Burmese invaders in 1767. Visually rich and architecturally astounding, I was utterly awed in every direction that I looked!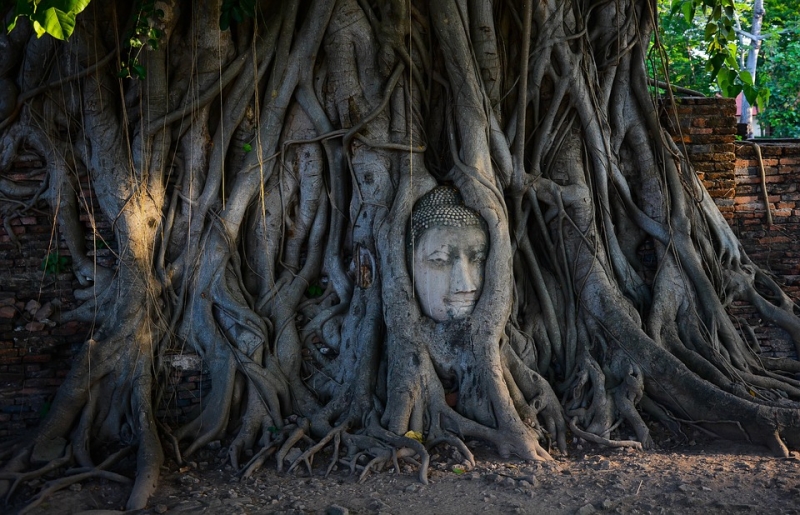 Upon entering Ayutthaya, I found myself walking among blackened bricks and plaster ruins, all of which are palpable reminders of the devastation that took place in this ancient city. In an inconspicuous corner of the ruins, I stumbled across the renowned buddha head that is entwined in the root of a fig tree. I hate to say it, but the haunting sight brought goosebumps all over me. Although I have seen it in pictures, it was a different experience seeing it right before your eyes. Furthermore, the enigmatic aura that shrouded this monument only enhanced its mystery – I was told that nobody is sure of the origins of the Buddha head…  
Travel Cheat Sheet Tip: Do dress appropriately for your visit to Ayutthaya. For girls out there who have low heat tolerance, I suggest bringing along a scarf to wrap yourself when you enter into religious grounds so that you don't have to wear long-sleeved shirts or pants. In addition, remember that you should never stand higher than the Buddha structures when taking photos (especially when you snap photos with the Buddha head in a tree) – unless, of course, you wish to attract odd stares from the locals.
A veritable treasure-house for photographers, both Ayutthaya and Khao Yai offers many photo opportunities! If you're already dreaming about going on an inspiring
photo excursion, your wish might very well come true!
Book your tickets to Bangkok with ZUJI from just S$88
and enjoy all these perks:
S$15 iShopChangi voucher for all return flight bookings

S$50 rebate with a minimum spending of $800

S$100 rebate with min spend of $1,600

12% hotel coupon code

Cabin-sized luggage*
There's really no better time than now. 
*Applies to Maybank Card users, with min $2,500 spend in a single booking and limited to first 50 redemptions.
3. Hua Hin – 3 hours from Bangkok
As I was planning my itinerary to Bangkok, I was astonished to learn that there is a theme park in Thailand that bore an uncanny resemblance to Santorini. Seriously, Santorini! It stirred my curiosity and I eagerly included a day trip to Santorini Park into my travel plans. The eponymous Santorini Park is a spectacular theme park modelled after the classic white washed buildings in Santorini, Greece. Power-packed with thrilling rides and boutique shops, I was not the least bit disappointed with my experience here!
After I had my fair share of the amusement rides, I wandered around the premises in anticipation. I found something different around every corner – from murals on the wall and artistic sculptures to quirky shops, I felt like I was exploring some sort of whimsical blue and white wonderland.
I had such a great time at Santorini Park that I was so reluctant to leave! Everything about it appealed to me – the architecture, the facilities, the food, and most importantly, the ambience. Because every little detail was so meticulously accounted for, there was an air of romance and serenity in the Park – just as you would find in Santorini too.
Travel Cheat Sheet Tip: My only regret was that I did not have enough time to photograph the place. If you have more time, I suggest staying a night in the Park's hotel. The rooms are gorgeous and you'll be able take your time to photograph the place at or after sunset without having to rush back to Bangkok since it's a bit of a drive away!
4. Kanchanaburi – 2.5 hours from Bangkok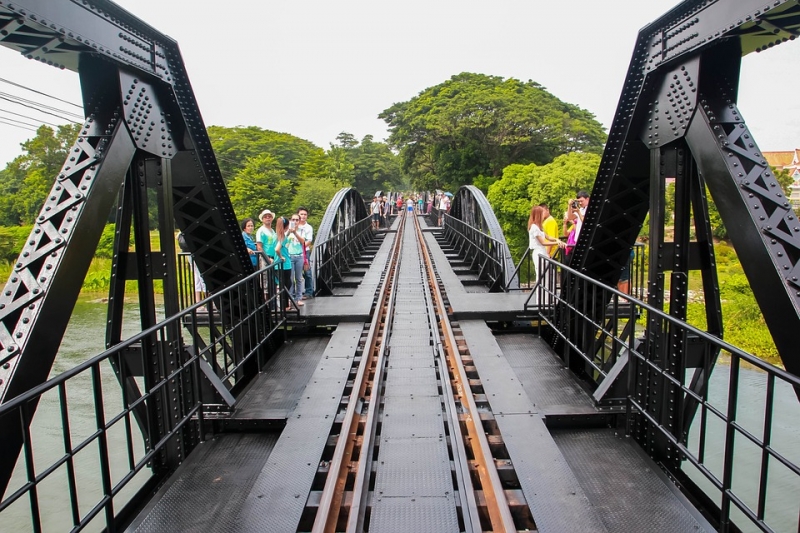 Just a few hours west of Bangkok, history and nature weave together to bring you the rustic town of Kanchanaburi. I'm not so much of a history buff myself, but a visit to Kanchanaburi was intriguing to say the least. Leaving behind enduring stories from World War II, the entire place speaks of a dark past. This somber bridge, where (ironically) instagram-worthy photos of the beautiful River Kwai can be taken, was built by the very people who laboured for the Hellfire Pass, a valley named as so because the scene of prisoners labouring at night with torchlights was said to resemble Hell.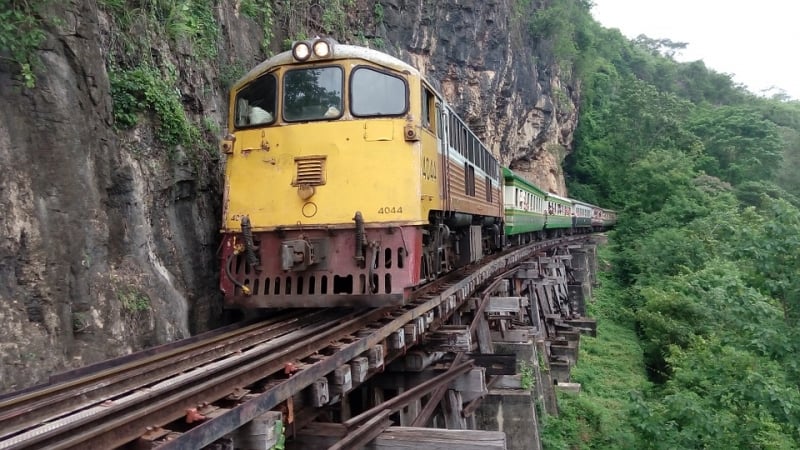 Travel Cheat Sheet Tip: Don't miss out on a trip on the actual Death Railway itself, which entails a scenic two-hour ride from Kanchanaburi to Nam Tok. For the best views along the Death Railway, sit on the left-hand side when you are on the journey towards Nam Tok, and on the right-hand side when you are journeying back to Kanchanaburi.
I chanced upon this chic Bohemian camp in Kanchanaburi, which had the girl guide in me jumping for joy! I called up some of my old mates from my guiding days and off we went! At the camp, we spent a great deal of time relaxing at our tents and, you guessed as much, taking photos. A friend rightfully said, "We collect memories, not souvenirs" – so remember to bring your Bohemian outfits so you can take as many memorable Instagram-worthy photos as you like!
Although it was meant to be a day trip from Bangkok, I ended up staying the night as the tents were just too attractive! I woke up to fresh mountain air, the tranquil break of dawn and a fully-recharged body. What a retreat!
Travel Cheat Sheet Tip: Packages came with dinner, a barbecue set, soft drinks and breakfast. After dinner, everyone sat around a campfire and sang along to music performances. As the fire cackled and bottles of beers clang together, new friendships were forged and old friendships strengthened.
We are barely halfway there yet, but these day trips already sound SO exciting! If you are looking for a
SWEET
deal to take you to Bangkok for these phenomenal travel experiences,
book your tickets with ZUJI from just S$88
– quickly grab this deal to enjoy this
incredible
promotion!
5. Pattaya – 2 hours from Bangkok
Cartoon Network was the basis of my childhood and I bet it's many of yours too! I've even stayed up till 5am watching Powerpuff Girls. #noregrets In 2014, they opened their FIRST waterpark in Pattaya, Thailand and I've been dying to go there ever since. When my friend suggested a trip to Bangkok, I knew right there and then that I must make full use of this opportunity to sneak in a day trip to the Cartoon Network Waterpark!
There are so many exciting rides there that I don't even know where to begin. I highly recommend the 'Goop Loop' ride: first, you enter into an enclosed capsule, after which a trapdoor beneath your feet releases, dropping you into a WHOOPING 12m free fall, followed by a gravity-defying 360 degrees loop around the giant slide. Watch the Goop Loop in action here!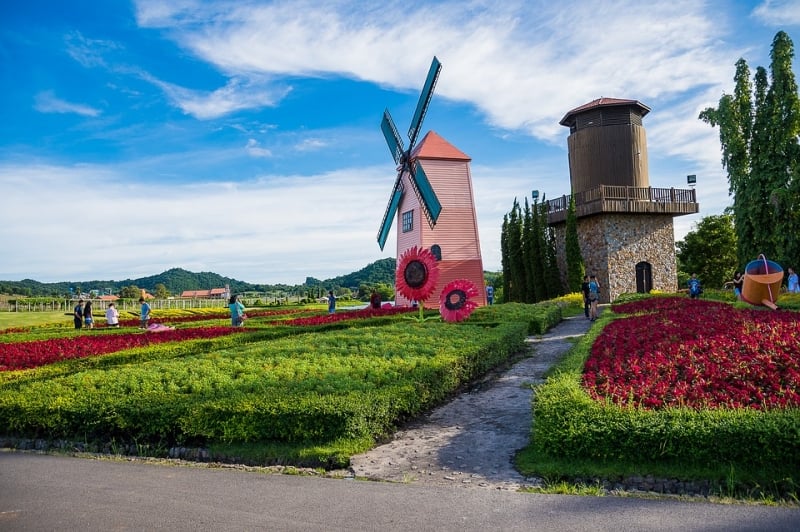 On my second day trip to Pattaya, I stumbled across this manicured garden with breathtaking views. The kaleidoscope of colours, landscaped views and pictorial lake made it felt like a sanctuary that's out of this world! To my surprise, I discovered that this was actually a winery and vineyard named Silverlake Vineyard. The owners are pioneers in wine production in Thailand, where the climate is vastly different from that in the conventional wine-producing company. Known as New Latitude Wine, its production has been rather successful due to the strong coastal sun, rich soil and long growing season in Thailand.
Travel Cheat Sheet Tip:  Apart from being renowned for its mesmerizing scenery and tasty wine, Silverlake Vineyard is also a huge supporter of local and international music talents! In the evening, you can enjoy live music ranging from jazz to rock at the Vineyard. It even hosts an annual music festival which attracts tens of thousands of music lovers. Do remember to check their website for updates on the upcoming music events before you head out!
6. Samut Songkhram – 2 hours from Bangkok
On my visit to Bangkok, I had to choose between a plethora of markets to visit. While each market had its own speciality, I eventually settled on the Maeklong Railway Market, purely because it's not everyday that one gets to see a train drive through a market!
The market sold a wide variety of food, from fresh seafood and vegetables to cooked and ready-to-eat dishes. As I waited in anticipation for the train to appear (which took much longer than I had expected), I noticed the locals shifting their produces off the tracks very slowly and calmly. Even as they adjusted the awnings, they did so with such nonchalance. They must be very used to this particular occurrence! Watch how everything happens in this video.
After all that excitement, I finally got back to my food hunt. I had to admit that it took a little bravery to try some of these queer looking street food. As for these chicken satay sticks, I had no qualms because they smelled and looked so mouthwatering good! The fruits here were also cheap and sweet, and were exceptionally refreshing on a hot day in the market.
Travel Cheat Sheet Tip: Listen out for the horn! This signals that the train is arriving, and when you should leap out of the way.
For first-hand information about ZUJI's upcoming deals and promotions, simply subscribe to their mailing list right here and have them delivered right to your doorstep: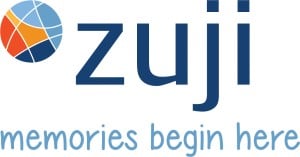 Thank you for your subscription.
By subscribing to ZUJI's mailing list, you will:
Be the FIRST to know about flash sales, special conditions, and exclusive airfares/promotions

Receive hints about flash sale timings – every minute counts!

Have first-hand information about ZUJI special promotions
While you prepare for your trip to Bangkok, do remember to stay tuned for the next instalment of our 'ZUJI Keeps It Real' series. Have fun exploring off the beaten path!
---
Brought to you by ZUJI.