Christmas in Singapore is like no other. For one, we have the combination of heat and humidity instead of snow. While we'll never be able to experience a truly "White Christmas" in Singapore, there is still a plethora of exciting activities to do here every Christmas. This year, you will be missing out on plenty if you plan to just lounge around at home. If you still haven't an inkling of what to do for Christmas, take your pick from this list, set out for the day and paint the town red and green!
1. Countdown to Christmas in The Rink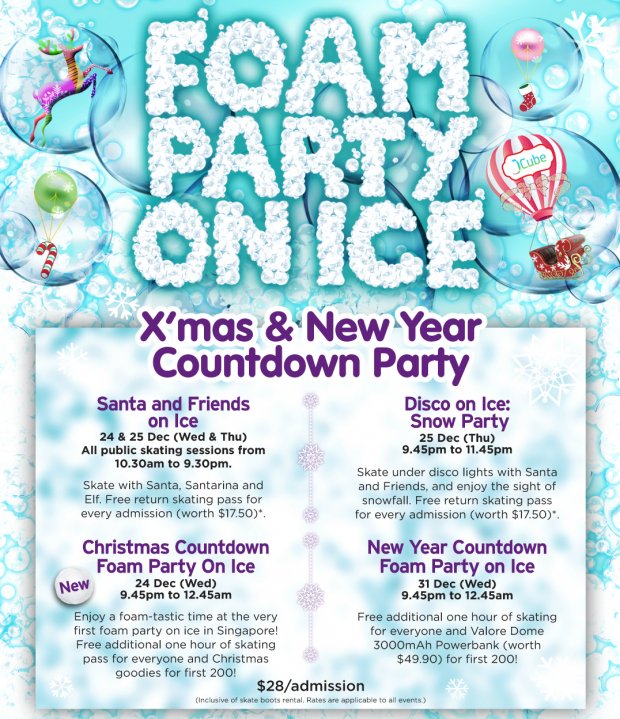 Image Credits: The Rink
Ever wanted a Christmas on ice? Here's you answer: The Rink at JCube Shopping Mall brings you a Christmas Countdown Foam Party! Make your way down on Christmas Eve to enjoy the first-ever foam party on ice in Singapore! Hey, it's as close to a white Christmas you can get in Singapore, with low temperatures, white puffs, and skating on ice.
On Christmas eve, there will be an additional free hour of skating for everyone, as well as Christmas goodies for the first 200, so make your way down early. Come down with your friends and family and turn this into the party of the year!
2. Get foamy in Tanglin Mall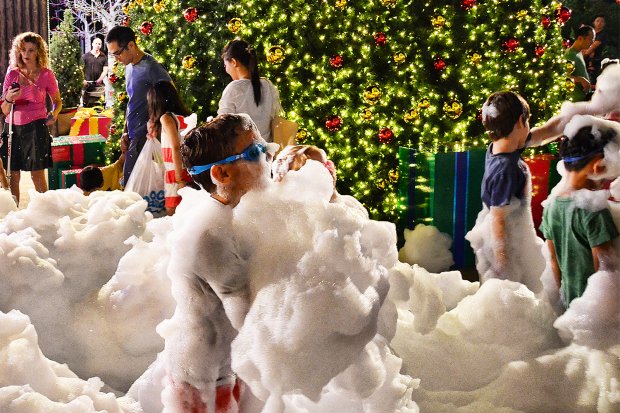 Image Credit: Choo Yut Shing
For those who cannot ice-skate to save their lives but still want some foam action, an alternative destination is Tanglin Mall. This family-friendly foam party is a tradition that has been a mainstay of Tanglin Mall's Christmas festivities. Take it from me, I was there several times as a kid, and that was a long time ago. It's a proven favourite with children—anything to get down and dirty (or in this case soapy) is a wonderful activity! Most adults enjoy it too, though some of them pretend to only be there only for their kids. *winks*
Avalanches and snowfalls happen daily with varying schedules, so check before going! Also, remember to bring a change of clothes, as it can get pretty sticky and messy after the fun.
3. Stroll along Gardens by the Bay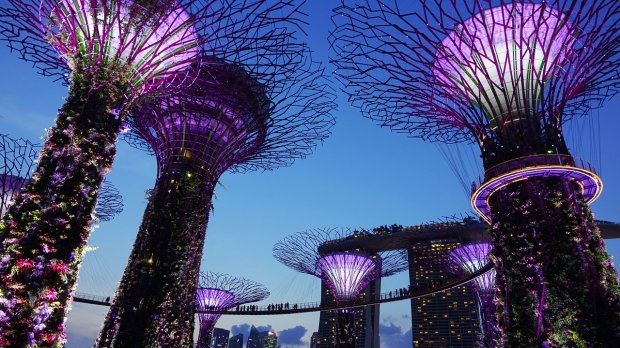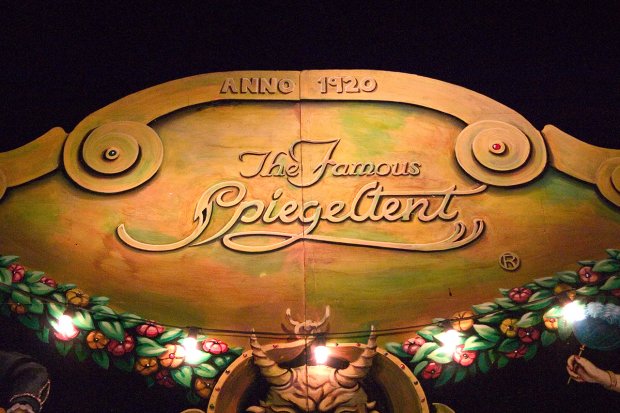 Image Credits: Tim Lucas
Be transported to a Christmas Wonderland at Gardens by the Bay this December! Soak up the beautiful sights and sweet-smelling floral scents in the flower dome, and admire the brightly lit flower snowmen. After that, head outside for a stroll under the stunning Luminarie light structures.
This Christmas, you can also be mesmerised by the stained glass and mirrors in the 200-year-old Spiegeltent, specially brought in from the Netherlands and painstakingly pieced together by hand. If that's not enough action in Gardens By The Bay, you can also indulge in some shopping at the European-style Festive Market – yes, a market in the midst of all that greenery! With so much going on in Gardens by the Bay this Christmas, you have every reason to pay it a visit.
4. Go museum-hopping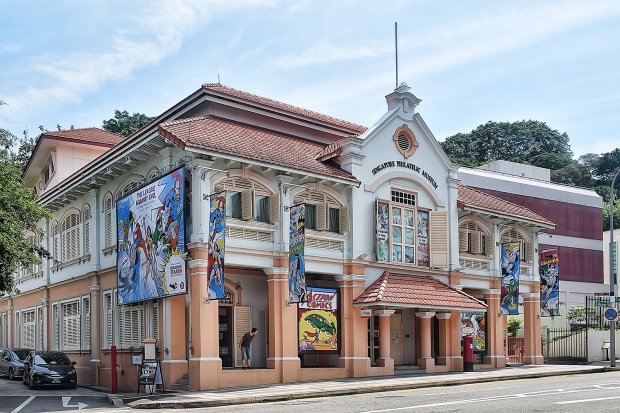 Image Credits: Choo Yut Shing
Admission to all museums under the National Heritage Board is free on public holidays, and Christmas Day is no exception. Museum-lovers, grab this chance to drop by and explore some museums! Get to know Singapore's history at the National Museum; learn more about the Peranakans' history and culture at the Peranakan Museum; or drop by the Philatelic Museum to admire the many collections of stamps.
5. Watch Peter Pan, The Never Ending Story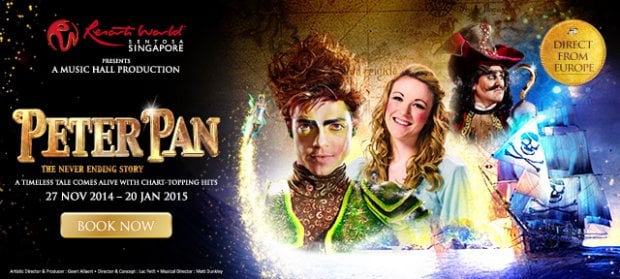 Image Credit: Resorts World Sentosa
You've read the book. You've seen the movie. Now, watch this classic fairytale by J.M. Barrie come to life on the big stage. Peter Pan will keep you entertained in the theatre seats of Resorts World Sentosa with his mischief and adventurous spirit. This two-hours show will be filled with thrilling action, magnificent swordplay and enchanting fairy dusts. Who knows, that little bit of fairy dust may just bring Santa Claus riding past your window on Christmas Eve!
For those who already have too many activities scheduled during the week of Christmas but still want to catch this, don't worry because Peter Pan, The Never Ending Story runs from 27 November to 20 January. Purchase your tickets here.
6. Join in a mass carolling
What's Christmas without carolling? Volunteer as a caroller in Celebrate Christmas in Singapore's mass carolling event. In its fourth run this year, Celebrate Christmas in Singapore will see carollers at Tong Building Plaza on Christmas Eve, singing traditional Christmas carols from 7pm to 8pm. The audience will be encouraged to join in as well, so even if you can't carry a tune well enough to be part of the choir, swing by the area and have a great Christmassy sing-along session!
7. Learn the origins of Christmas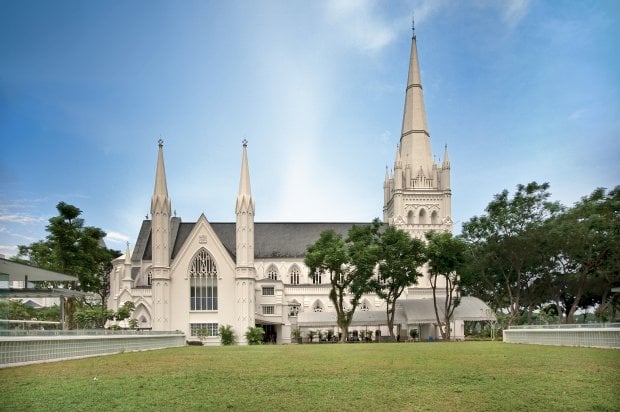 Image Credits: Wikipedia
Make this holiday an educational one, and learn about the origins of Christmas at St. Andrew's Cathedral. You can walk through the brightly coloured life-sized displays of Bethlehem, where Jesus Christ was born and also the Nativity scene. Join churchgoers and other members of the public for three days of celebrations (22 – 24 Dec) as they share the significance of Christmas. There will be open air performances in the evenings as well as a food fair on the eve of Christmas.
8. Shop along Orchard Road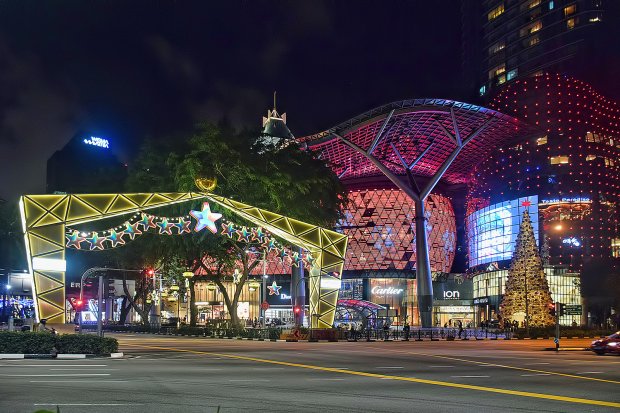 Image Credits: Choo Yut Shing
With Christmas round the corner, sales are aplenty in Orchard Road. 'Tis the best season to shop for X'mas gifts and even for clothes for the coming Lunar New Year! As you weave through the crowds in search of fantastic shopping deals, don't forget to take in the colourful decorations put up by each mall. My favourites this year are the ones along Orchard Central. Stepping out of the shopping malls will bring into view the festive lights along Orchard Road – be prepared to go "Wow!".

9. Watch the Christmas Concert in Orchard Road
On Christmas Day itself, be sure to be back in Orchard. This year, Celebrate Christmas in Singapore (yes, there is a committee dedicated to spreading the Christmas cheer) will be staging a Christmas Concert on Orchard Road. Yes, I do mean the actual road; Orchard Road will be closed to vehicles for this event. Enjoy the various performances and after that, burn off some calories by joining other merrymakers in a mass exercise workout under the twinkling lights. Uniquely Singapore, don't you think?
10. Pig out at Christmas Buffets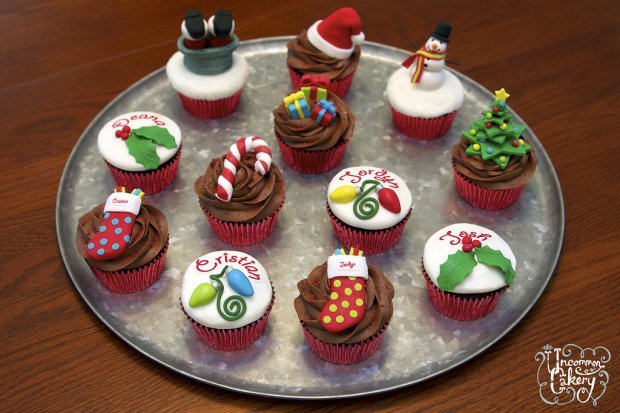 Image Credits: Karen McCown
To all the foodies out there: it's time to loosen your belts and prepare your digestive pills! Singapore is not known as a food paradise for nothing, and Christmas spells buffet galore for this small city. I mean it. There are all kinds of buffets you can possibly think of so there's definitely something for everyone.  Savour the traditional Christmas dishes, or mix it up with a dash of Asian flavour.
Chew on steak cuts, ham, and turkey. Tease the meat out of lobsters, prawns, and clams. Slurp down pasta, soup, and stews. Indulge in the cakes, puddings, and other desserts. Wash down bites of French cheeses with mouthfuls of wine. Ahhh, this is the life! I suggest you make your reservations early though; Singaporeans really do love their food very much and seats get snatched up real fast.
Any other exciting activities in Singapore on Christmas? I'd love to hear all about them in the comments section below! Also, happy Holidays!
Also read: Christmas in Singapore 2015: Events & Attractions