Singapore has a hot (literally) new destination: the newly reopened Sembawang Hot Spring Park! Located off Gambas Avenue, this natural hot spring in Singapore's northern town had quite the makeover after undergoing a one-year-and-a-half renovation! It's now a full-fledged park and an accessible getaway — especially to those looking for a quick escape from the hustle and bustle of city life. 
Don't believe us? Read on to find out why you should check out this hot new destination — A.K.A. the only hot spring in Singapore! 
Also read: New Laws in Singapore starting from January 2020
1. It's definitely new and improved!
Bigger means better, and better means bigger — at least when it comes to the newly revamped Sembawang Hot Spring Park. It has expanded to more than one hectare, so you can definitely expect more fantastic facilities and other interesting sights!
2. The new facilities are exciting…
Yay for renovations that also mean more facilities! Perhaps Sembawang Hot Spring Park's coolest new feature is the cascading pool that replaced the old taps. It's four-tiered that brings geothermally heated groundwater closer to visitors. Each tier has varying water temperatures; the water cools naturally as it flows down each tier. Visitors can dip their feet in and just relax. 
There's also a main water collection section for those who want to dip their feet on their own with pails. You can either bring your own pail and scoop, or borrow some from the park. Though, a fair warning: water from the water collection area is quite hot! So unless you go to onsens or saunas on a regular basis, better mix it with cooler water from the pool area to avoid getting scalded.
3. …and also very inclusive!
The lowest tier of the cascading pool is specially designed for children, elderly folks, and PWDs on wheelchairs! The main water collection point also has taps of different heights. There are specifically designed taps for PWDs that feature a 'shielded water collection.' No need to worry about wheelchairs getting backsplash! 
There's also a 'two-level collection' feature designed for kids or shorter folks. And above all else, the park has many wheelchair-friendly ramps! So hot spring relaxation time is easier and better for all. 
Note: Swimming and soaking of clothes in the hot spring are strictly prohibited. 
4. Got eggs?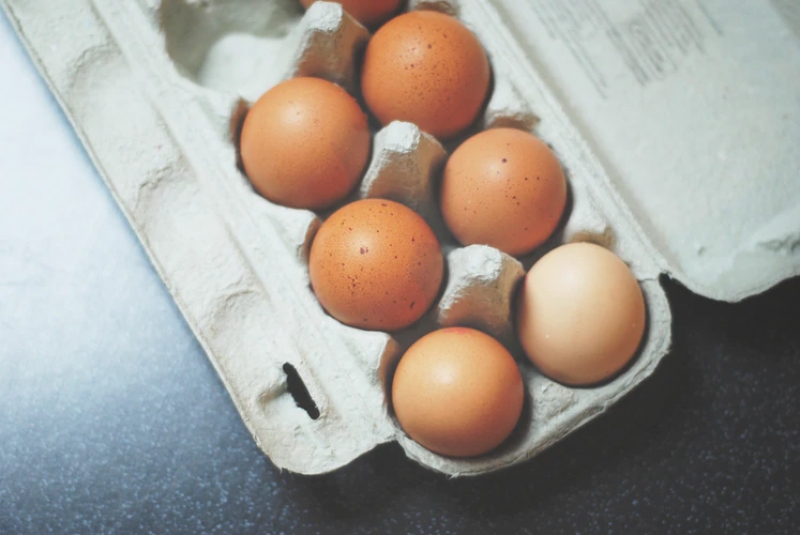 Ever tried boiling eggs with geothermal water? If you haven't tried this out, then you're missing out! At the only hot spring in Singapore, you can have some tasty soft-boiled courtesy of nature. 
Visitors can boil eggs at the water collection station. There's a section specifically made for this interesting activity! Borrow a wooden scoop (or bring your own!) and one of the small deep pails, then fill it up with hot spring water. And while waiting, enjoy a foot spa with the bigger pail. Just don't try to eat your eggs with the scoops —  I think this goes without saying.  
5. A dose of nostalgia is always nice
Most locals grew up visiting the Sembawang Hot Spring Park. Visiting the only hot spring in Singapore and enjoying Sembawang's serene surroundings is always something worth looking forward to. So why not come back now that it's better and even more interesting? And while you're at it, enjoy the throwback to your good ol' childhood days! 
6. You can enjoy the quiet company of nature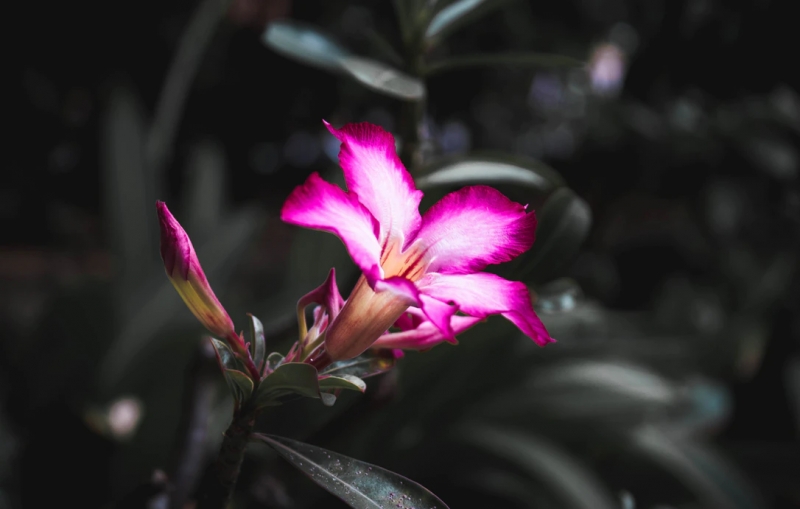 Fortunately, Sembawang Hot Spring Park retained its 'kampung-like' environment that makes for a rustic nature-centric vibe. Around the park, you'll find a lot of plants and trees, as well as a Floral Walk by the entrance! It aims to capture the tranquil kampung life that offers refuge from the bustling urban living that many of us are used to. 
Enjoy the lush green landscape lined with vibrant plants commonly found in actual kampungs. There are shaded seating areas for those who just want to take in the calm environment. And then there's a little stream that cuts along the park, leading to a pretty nature grove on the other side. Though do take note that even the waters of this stream are also hot!
7. It allows for a cool educational experience
Aside from getting some much-needed rest and relaxation, visitors can also learn more about the history and geology of Sembawang Hot Spring Park. You'll find several educational panels around the place for fuss-free self-guided touring. At the Floral Walk, you can see fruit trees and edible plants often found in kampungs. You can also check out the well from the old site, which has been preserved for viewing.
There's an interactive water play feature that shows how hot springs are formed. Don't worry — the water at this section is at a safe temperature for kids to play with! Who would have thought learning about the geothermal processes can be this interesting? No need to go to a science museum for this one! 
8. Hot springs are good for you!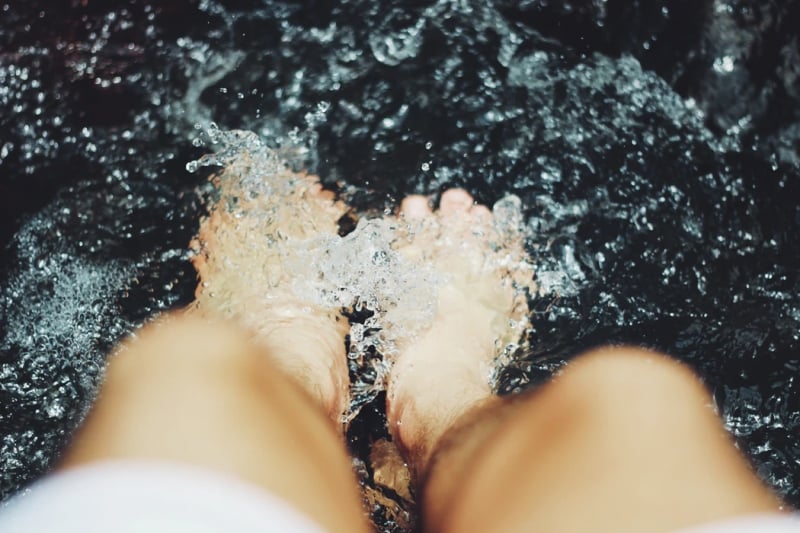 Many of you probably already know this: hot springs are not just fun, but also good for your health. And thanks to this only hot spring in Singapore, the following therapeutic benefits are just a drive away for locals! 
For starters, hot springs carry an especially high mineral content. Since heated water can hold more dissolved solids, most hot springs contain good stuff like calcium, magnesium, potassium, and silica! These can help you achieve softer skin and better blood circulation. Dipping in a hot spring is also a remedy for aching joints and muscles. That said, it's also an actual stress reliever — which makes for overall wellness! After all, a sound body makes for a sound mind, and vice versa. 
9. There's even a pretty café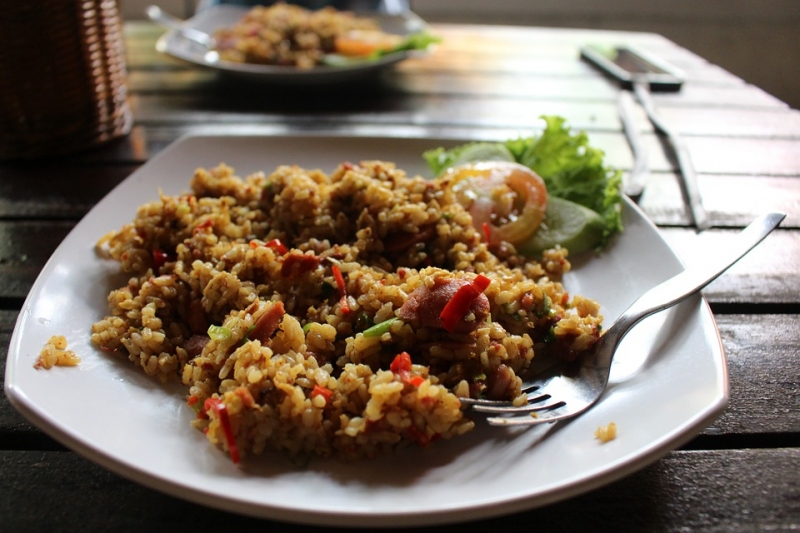 After taking in all the sights, sounds, and relaxing waters, head over to Sembawang Eating House for some makan! Dig into the hearty food served up by this newly built glasshouse eatery. While you're at it, you can even do some classic people-watching or simply enjoy the garden view. 
Some of their must-try dishes include laksa, nasi lemak, and kaya toast. Don't forget to cool down with a glass of Milo dinosaur or iced tea with milk. Yum! 
10. It's unlike anything else in Singapore!
True enough, there's nothing quite like Sembawang Hot Spring Park! And not just because it's the only hot spring in Singapore. With its exciting new amenities and other new features, getting some rest and relaxation (sans exorbitant spa fees!) has never been easier. And the idyllic natural scenery bringing out the unique character of Sembawang? It's so lovely that you'd wish you could stay here overnight! 
Read more: Top 5 Hot Spring Resorts in Malaysia
Plan your next weekend getaway to Sembawang Hot Spring Park! Or if you're travelling to Singapore, don't forget to add this to your itinerary. And then afterwards, do tell us all about it! We'd love to hear about your trip to this spectacular hot spring in Singapore.